Looking for a ideas on how to celebrate Valentine's Day with your sweetheart? Here is a list of restaurants that are offering special Valentine's Day meals, features or takeout this year; things to do or see; and gift ideas for Valentine's Day Vancouver 2022.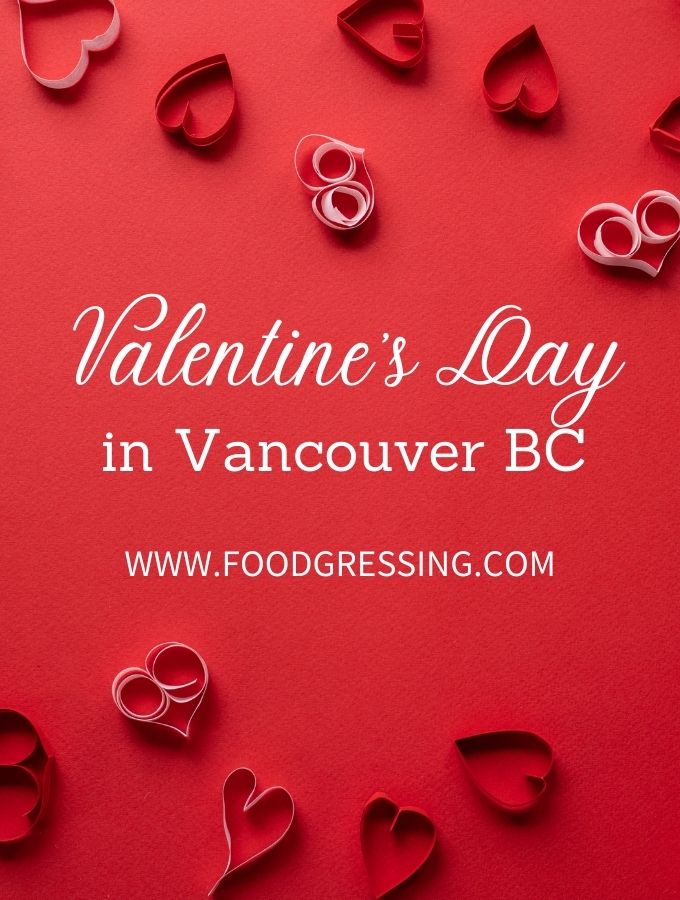 If you have any more suggestions or are a business where you want to be featured, contact me at [email protected] or on social media @foodgressing.
If you like this post, please share with your friends and family. This would help support the website and for me to continue doing these roundups.
Valentine's Day Vancouver 2022 Restaurants Special Menus
Water St. Cafe & 2nd Floor Gastown
On February 13 and 14, celebrate the ones you love with Water Street Cafe's Chef created 4 course $79 set menu or order from their reduced a la carte menu. This reservation is their main dining room with floor to ceiling windows over looking Gastown's famous cobble stone streets. For Live Music reservations, book through 2nd Floor Gastown – Live Music Reservation.
Torafuku
Torafuku readies for Valentine's weekend with a multi-course menu bursting with vibrant flavours presented in an elevated yet approachable fashion that's just so perfectly Vancouver. Chef Baker Hsu's menu features a variety of international flavours and techniques; the result is a playful and memorable lineup worth gathering with that special someone.
Torafuku's Valentine's Chef Tasting Menu features seven courses including four shared appetizers, choice of main with paired starch, and dessert to finish. The menu will be available available for $65.00 per person from February 11-13.
Menu highlights include starter options of Hokkaido Scallop Crudo with ponzu, grape, cara cara orange and dill, a perfectly piquant Korean Gochujang Fried Chicken is another option. An elevated congee with steamed lobster and Szechuan chili peanuts is a perfect warming winter option. A Grilled Pork Belly takes center stage with a sweet and tangy pickled umeboshi sauce made of Japanese plums. Chef's tiramisu made of bold Vietnamese coffee makes for a memorable finish to this menu designed for two to share.
Special options from the bar include sake pairings and a limited-time Valentine's cocktail, Ladylike. This smooth sipper of Haku Vodka, Aperol, lemon, grapefruit and champagne vinegar presents the perfect balance of sweet and tart "Just like any relationship," shares Steve Kuan, Torafuku Owner.
Edge Catering
Edge Catering is offering a take-home Valentine's Day package for 2. Order by 12PM on Wednesday, Feb. 9th. Pickup is Monday, Feb. 14th between 11AM and 4PM at 1927 East Hastings (back alley entrance).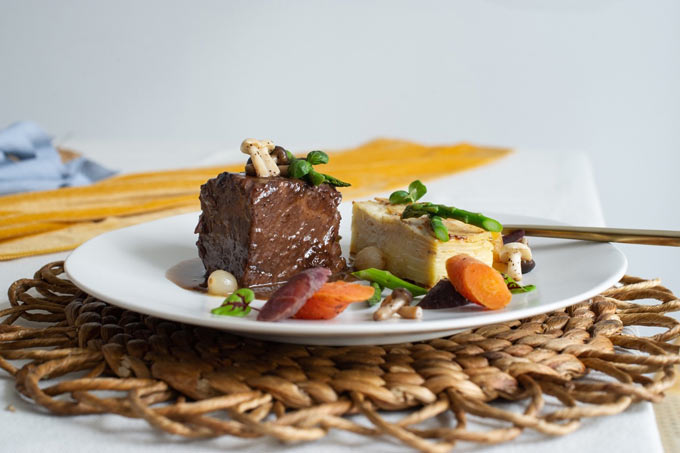 FIRST COURSE: Taster Charcuterie + Cheese
Italian cured meats, local and imported cheeses, red beet hummus, crostini, house crisps
CHOICE OF ENTRÉE:
Braised Beef Short Ribs
port + red wine jus, potato pave, celeriac purée, seasonal vegetables
Wild Sockeye Salmon Wellington
leek, spinach + mascarpone fricassee, puff pastry, 7 grain + quinoa ragout, season vegetables
Vegetable Strudel
vegetables medley, lentils, golden crispy pastry, smoked red pepper sauce
DESSERT: Chocolate Mousse Terrine
dark chocolate cake, rich chocolate mousse, brandied raspberries
Check out the menu plans together (starters, main courses, decadent desserts and little extra somethings) for you to choose from – how about charcuterie, short ribs, and chocolate? Add a bouquet of flowers and a bottle of BC wine for a one stop-shop!
Land & Sea
Land & Sea is offering an exclusive four-course Valentine's Day dinner ($150) highlighting Ora King Salmon, Wagyu Beef Cheeks, Uni & Prawn dumpling, and more. Additional add-ons like winter truffles, caviar, seared Quebec foie gras, and Hokkaido uni are available. Enjoy this set menu with feature cocktails like Hershey's Kiss (Jameson, Kahlua, Affogato, shaved Hershey's Kisses.) Reservations are recommended.

PAUL Bakery, Café and Restaurant
PAUL is celebrating Valentine's Day from February 11-14 with a special $75 eight-course dinner and love-themed cocktail like La Vie En Rose, French Kiss, J'adore Kir Royale. Reservations are available.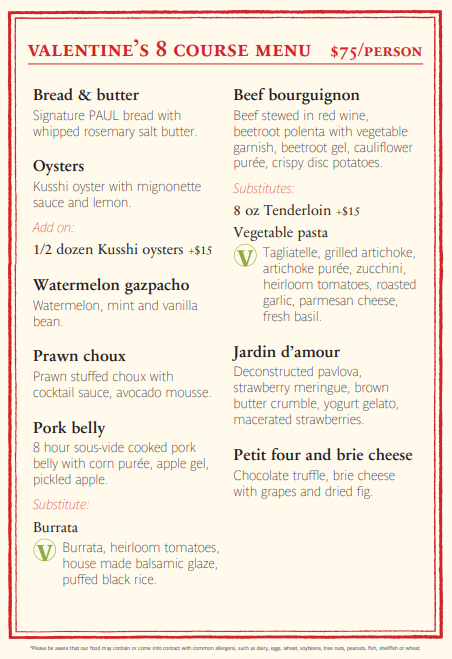 Cocktails and Canapés
Join Chef Jason Harper for a Valentine's Day Cooking Class, perfect for couples and single friends to do together. Price of the Live Cooking Class, Ingredient Box & Poplar Grove Merlot 2018 with delivery between 12pm – 5pm: $210.00 (+taxes), add on a cocktail kit, Rose Gin Sour for $45.
2 class dates available to book:Saturday February 12th and Monday February 14thBoth classes will take place at 6pm over a live zoom call.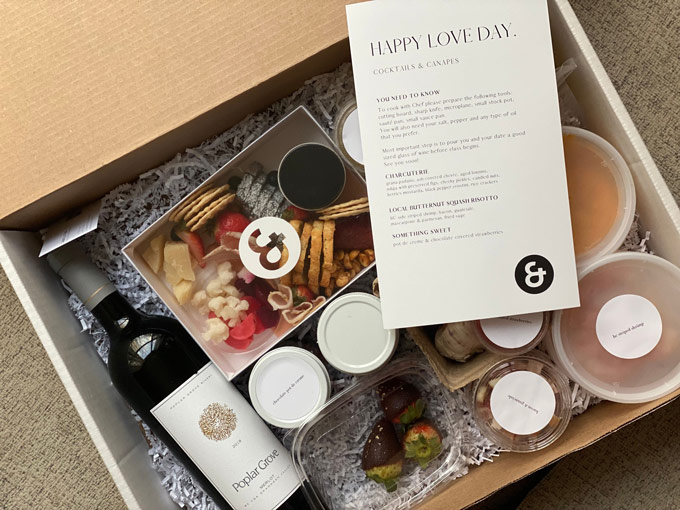 Ingredients boxes will be delivered between right to your door between 12pm and 5pm the day of your cooking class by one of C&C's team members.
Boxes will include:
Charcuterie Box
Fresh ingredients to make a risotto with Chef Jason Harper
Chocolate pot de creme with strawberry ganache
Poplar Grove Merlot '18
Classes will be available to purchase through Cocktails and Canapés' website. For more information about Valentine's Day Virtual Cooking Class and Date Night Box: https://www.cocktailsandcanapes.ca/market-shop
Acqua Restaurant
Acqua Restaurant in Burnaby is offering a prix-fixe menu on February 12 – 14 priced at $90 per couple.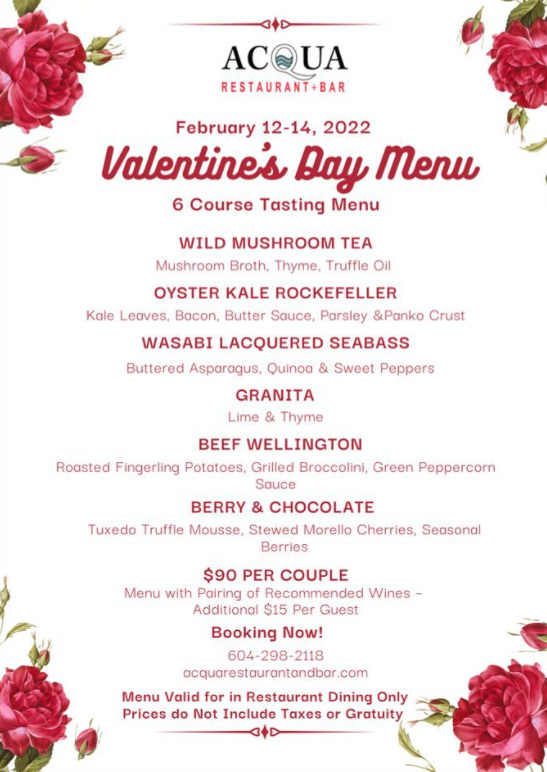 The Wild Fig
The Wild Fig in Coquitlam is offering a special 3 course dinner, a glass of champagne and an evening with live Band playing romantic hits. Available Sunday, February 13 and February 14. Priced at $120 per couple.
Notch8 Restaurant & Bar at Fairmont Hotel Vancouver
Notch8 Restaurant & Bar at Fairmont Hotel Vancouver invites love birds to cozy up with a special three-course dinner menu this Valentine's Day. Priced at $85.00 CAD per person, this decadent dinner begins with a choice of starter, option of entrées such as Maple Glazed Beef Short Rib or Roasted Lingcod with Dungeness Crab and Ginger Miso Broth, and a Spiced Chocolate Mille-Fueille for a sweet ending. This dinner will be available Saturday, February 12 through Monday, February 14 with seatings from 5:30pm to 9:45pm.
Botanist at Fairmont Pacific Rim
Botanist's Executive Chef Hector Laguna at Fairmont Pacific Rim has put together an exclusive six-course tasting menu experience to celebrate Valentine's Day. This menu features decadent dishes such as Salt Roasted Root Vegetables, Buffalo Burrata Crown Pasta, Charred Stripe Sea Bass, Roasted Lamb Saddle and a sweet finish from Executive Pastry Chef, Kate Siegel. Priced at $156.00 CAD per person with optional wine pairings that can be added for $70.00 CAD per person, this dinner menu will be available February 11, 12 and 14 with seatings from 5:30pm to 10:00pm. Reservations are recommended and can be booked via OpenTable.
Fairmont Vancouver Airport
Fairmont Vancouver Airport's [email protected] Restaurant will feature a spectacular Valentine's Day three-course dinner menu showcasing options such as Duck Confit Empanadas, Calamansi Butter Basted Beef Tenderloin, Vanilla Bean Crusted Sablefish and Hand Cut Pappardelle. To finish the evening, diners will enjoy a Passion Fruit and White Chocolate Gateaux. This special dinner menu is priced at $79.00 CAD per person and is available February 12, 13, and 14 from 5:00pm to 10:00pm. For an extra splash of romance, order the Mi Amor Cocktail ($14.00 CAD) from Jetside Lounge featuring Hibiscus Vodka from local producer Arbutus Distillery, Crème de Cacao White, and Chambord. Those looking to spoil their special someone at home this Valentine's Day can enjoy the three-course Sweetheart Dinner To-Go featuring a Chilled Seafood Platter for Two, choice of entrée, including the option of an Okanagan Mission Hill Cabernet Sauvignon 18-Hour Braised Short Rib, and finished with a decadent dessert. With simple heat and serve instructions for home, there will be plenty of time for romance. Priced at $169.00 CAD, the Sweetheart Dinner To-Go is available for pick-up February 12, 13 and 14.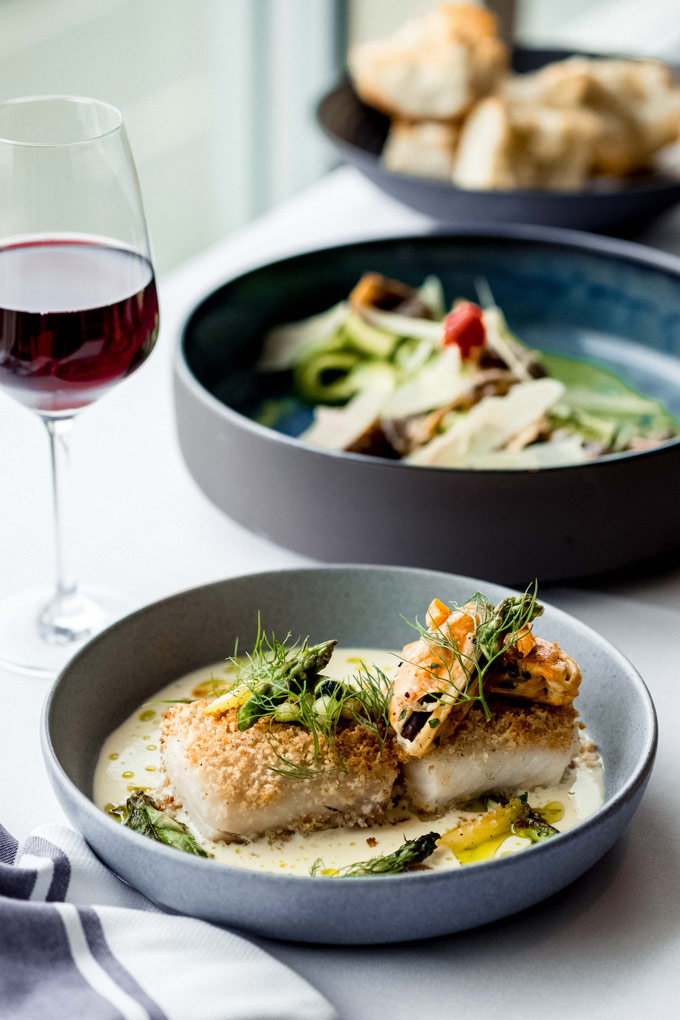 ARC Restaurant at Fairmont Waterfront
ARC Restaurant at Fairmont Waterfront's ever-popular ARC After Dark bottomless entrée dining experience will get a romantic twist this Valentine's Day with the specialty themed Heart After Dark. Diners will have 15 share-plate-style dishes to choose from, including the exclusive Valentine's Day themed Belgian Dark Chocolate Fondue complete with all the trimmings. This all-inclusive Heart After Dark menu was made for sharing, so bring the better (and hungrier) half to indulge in a unlimited culinary journey. Priced at $79.00 CAD per person, diners will also enjoy low-key live tunes from DJ Remsta and the option to add on an exclusive room rate at Fairmont Waterfront, setting the mood for a perfect night.
Teahouse in Stanley Park
At the Teahouse in Stanley Park, lovers can enjoy those long, lingering glances and a multi-course menu for $85 per person plus tax and gratuity that offers an amuse-bouche of Goat Cheese Truffle; an appetizer selection of Prawn Ceviche, Beet & Burrata, or Peppercorn-Crusted Beef Carpaccio; a palate cleanser of Granny Smith Apple Sorbet; classic Steak Diane, Pumpkin Seed-Crusted Albacore Tuna, Crab-Crusted BC Ling Cod, or Chile Relleno for an entrée; and either Lavender Crème Brûlée or Old-Fashioned Dark Chocolate Cake as a dessert course.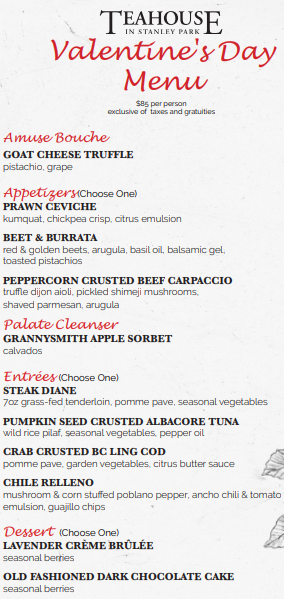 Seasons in the Park
Across town at Seasons in the Park, gourmands can cozy up and celebrate the special occasion with their special someone by savouring a three-course prix-fixe feast for $85 per person plus tax and gratuity that features a Pan-Seared Scallop as an amuse-bouche; Seasons-Stuffed Mushrooms, Lobster Bisque or Beef Carpaccio as an appetizer course; a Blueberry Sorbet palate cleanser; entrée selections that include a choice of Filet Neptune, Duck Two Ways(Confit, Pan-Seared), or Seafood Duo(Grilled Steelhead Salmon, Garlic Prawns); and a sweet finishing-note selection of either Crème Brûlée or Chocolate Lava Cake.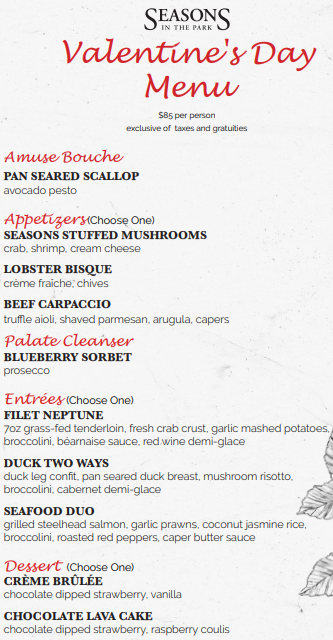 Cardero's
Over on the edge of Coal Harbour, Cardero's will cast a spell for Valentine's Day and tempt its guests with waterfront and mountain views and special features that include Beef Carpaccio ($22), Crab & Shrimp Stuffed Mushrooms ($18), and Black & Blue Ahi Tuna ($22) as appetizers; Entrée selections such as Arctic Char ($35), Brome Lake Duck Confit ($33), Chorizo & Mussel Pappardelle ($29), and Espresso-Rubbed Short Rib ($42); and Molten Lava Cake ($15) for dessert.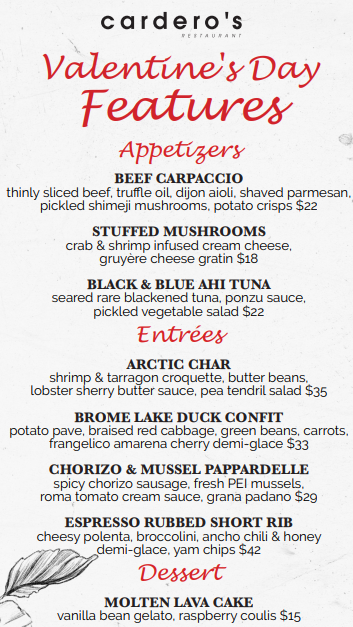 The Sandbar
On Granville Island, lovers can take a romantic stroll before enjoying an intimate and elegant evening together and a special menu at The Sandbar that offers appetizers such as Spaghetti Aglio e Olio ($19), Burrata ($23) or Dynamite Spicy Tuna Cone Duo ($17.5); entrée courses that include Steak Diane & Lobster Tail ($65) or Salmon Wellington for Two ($60); and the Sandbar's spin on a traditional Baked Alaska ($15) as a decadent dessert selection.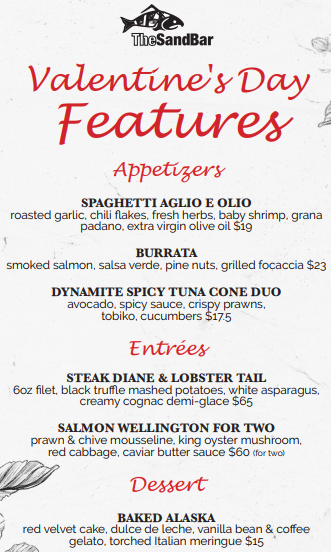 Winston (North Vancouver)
Chef Douglas Lee has put together a special Four-Course Valentine's Day Menu ($65 per person) that will be available from Feb 11 to 14 for evening only. Reservations are available online.

Fable Diner
Celebrate love day at Fable Diner with special features inspired by cinema's famous date scenes, the features are available a-la-carte or as a three-course for $70 per couple with an optional wine pairings at $15 per person from Feb 11 to 14.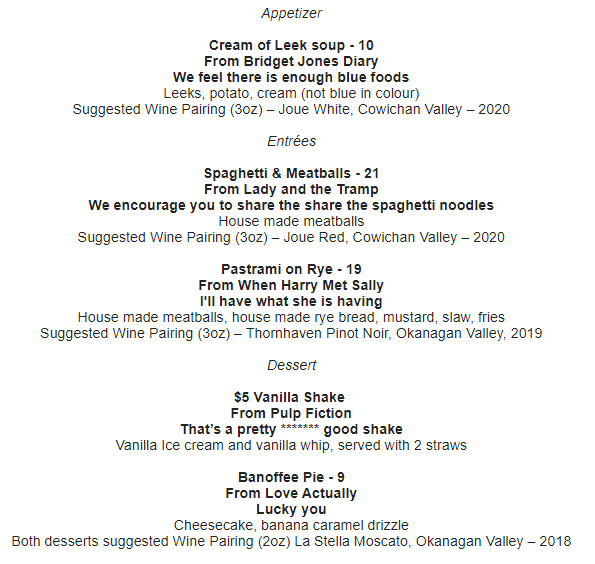 Fable Kitchen
This Valentine's Day, Chef Max Straczek at Fable Kitchen has created a three-course dinner menu with optional wine pairings with Castelliria Wines. The dinner is $70 per person and available on Valentine's Day, Feb 14th.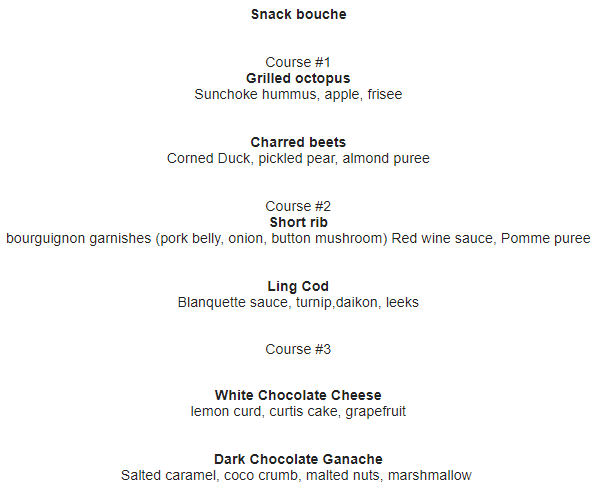 C|Prime
This Valentine's Day, Chef Behshad Zolnasr at C|Prime is offering a three-course menu for $89 per person and optional wine pairings for $35. The menu is available Feb 11 to 14 and reservations are available online or via phone.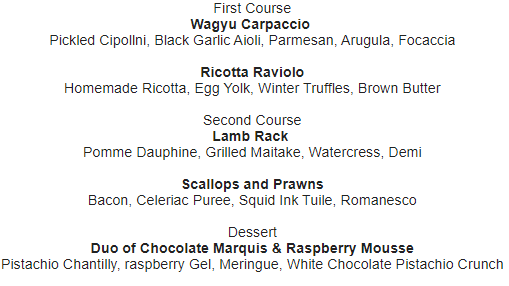 Trattoria – Kitslano, Park Royal, Burnaby
Sharing is caring at Trattoria! This Valentine's Day, enjoy a sharing Platter for Two ($95 per couple) with Roasted Rack of Lamb and Brown Butter Poached Lobster Tails served with delectable sides. Finish the meal with something sweet, Love Platter for Two with Cappuccino Mousse, White Chocolate Panna Cotta and Long Stem Chocolate Covered Strawberries. This is available from Feb 11 to 14.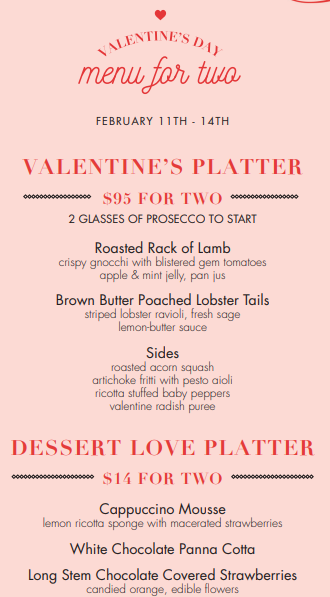 Glowbal Restaurant
Fall in love with Glowbal's a-la-carte or three-course ($95 per person) Valentine's Day menus, featuring your favourites alongside features like the Poached Prawns Salad, Quebec Seared Duck Breast, Valentine's Chocolate Tasting and more. This special menu is available Feb 11 to 14.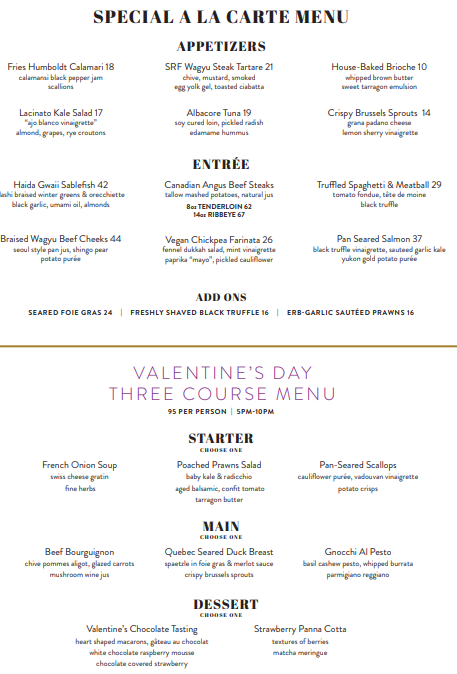 Black+Blue
Don't miss out on a stunning three-course (with add-ons available) Valentine's Day feast ($120 per person) at Black+Blue. Enjoy delicious dishes like In-House Duck Prosciutto, Tableside Caesar salad, 45 Day Aged Prime Striplion or upgrade to Wagyu, Prime Beef Wellington and Tableside Baked Alaska etc. This menu is available only on Feb 14th from 4PM.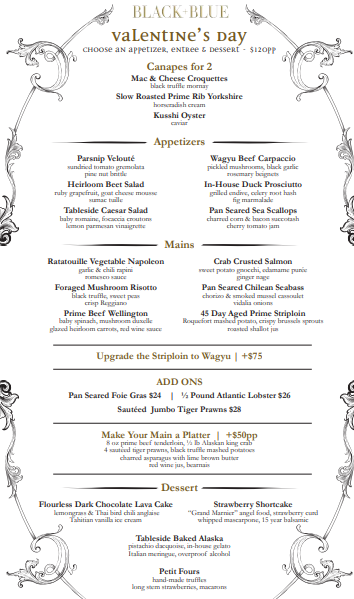 Italian Kitchen
Celebrate with your loved one Italian style with a-la-carte or three-course ($90 per person) sharing menu including a Feature Platter with 10oz Grilled Striploin, Halibut & Salmon Roll and Butternut Squash Ravioli or IK's famous Tableside 2lb Lobster Cacio & Pepe. This is available from Feb 11 to 14. Reserve here.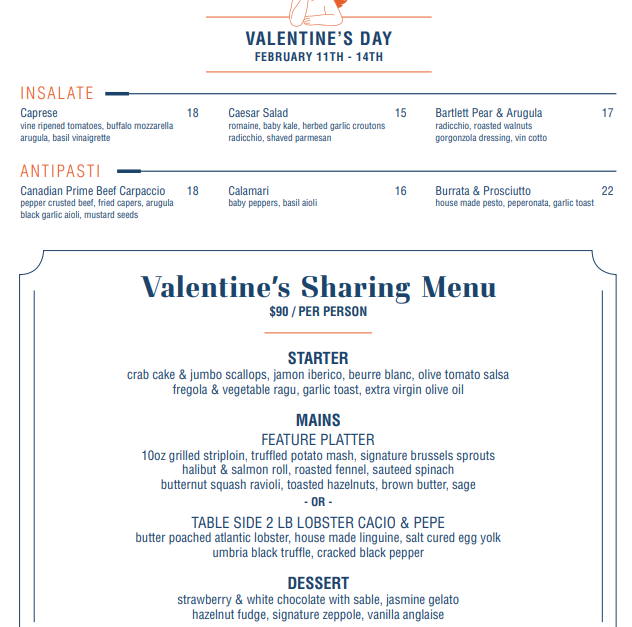 Five Sails
Intimate dining at its best, enjoy Five Sails' special Valentine's Day Menu ($150 per person) with your beloved, the menu is available from Feb 11 to 14.

Feast, The Neighbourhood Table
Celebrate Valentine's Day with a three-course dinner ($85 per person) with optional wine pairings ($45), reservations are encouraged and regular menu and Valentine's Day menu are available on Feb 11 to 13 and only Valentine's Day menu available on the 14th. Reserve here.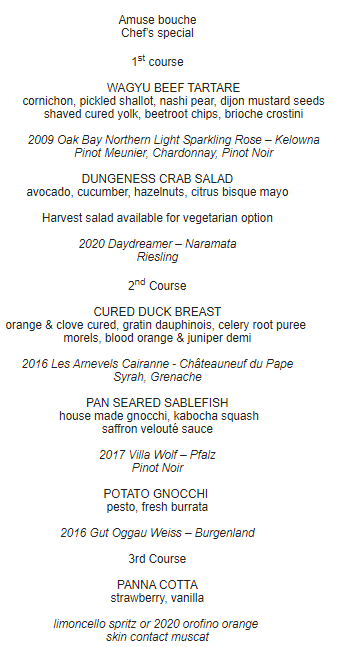 The Flying Pig
From February 11 – 14, enjoy Lovers Platter for Two ($39) which includes 10oz "AAA" Alberta Beef Striploin-Brandy Peppercorn Sauce, Jumbo Tiger Prawns with Sauce Provençale, Bay Scallop and Citrus Risotto, Charred Broccolini, Heirloom Tomato and Baby Arugula Salad. In addition, enjoy a Valentine's Day cocktail: Don't Call Me Baby with Sheringham Kabuki Gin, Strawberry Syrup, Fresh Lime Juice, Bella Sparkling Gamay garnished with half strawberry and fresh basil leaf. Reserve here.
Jules Bistro
One of the most romantic and intimate restaurants in Vancouver, Jules Bistro will be celebrating Valentine's Day with Chef's special feature and a cocktail feature: Raspberry Martini with vodka, lemon juice, raspberry puree, St. Germain shaken and topped with sparkling wine for $12. Reservations are available and highly recommended.
The Victor
The Victor's Valentine's Day Three-Course Dinner Menu is available from for $105 per person and optional wine pairings for $69. Start with Northern Divine Caviar with potato rosti, crème fraîche, chives.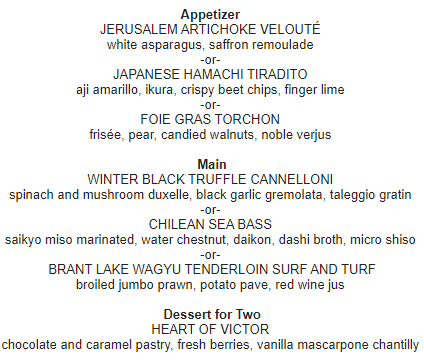 The Westin Bayshore
H Tasting Lounge will be providing exactly that when it hosts an indulgent six-course Valentine's Day dinner in its famed outdoor Winterlust domes, a cozy (and safe) environment for couples and friends seeking something truly exclusive.
Retreat into your private dome, where sheepskin throws, faux fur pillows and woodland-inspired décor impart Nordic charm, while efficient heating, fresh-air circulation and independent sound systems provide comfort and a personalized atmosphere.
Your menu for the evening includes the following, all prepared with the highest-quality ingredients by HTL's culinary team, led by Chef Homer Baisa: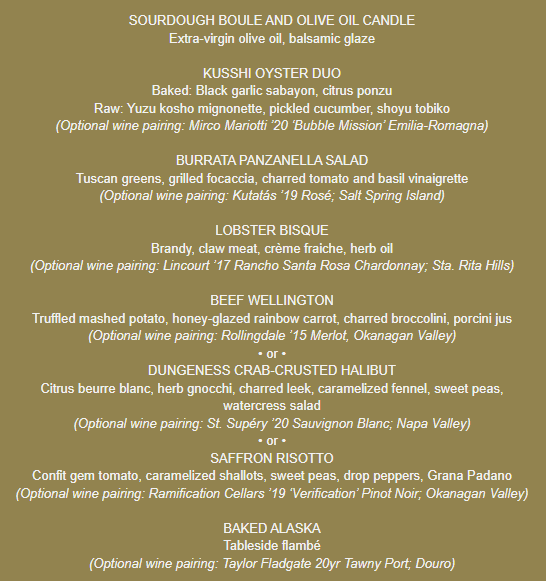 The Winterlust Valentine's Day Dinner is $140 per person. Optional wine pairings are $70 per person. Minimum spend is $500 excluding taxes and gratuity.
Reservations go live on Wednesday, January 19 at 3pm.
Make your Valentine's Day even more special and spend the night at The Westin Bayshore, Vancouver with their 'Discover Vancouver' package. Starting at $247 per night, including a daily $50 hotel credit and complimentary self-parking. Reserve here.
Fanny Bay Oyster Bar
Available from 3 to 10 p.m. Friday, February 11 through Monday, February 14, Chef Tommy Shorthouse and his culinary team at Fanny Bay Oyster Bar will spice things up with features that include: Steak & Lobster (6oz AAA beef tenderloin with lobster and a Bearnaise sauce over asparagus), $55; Lobster Ravioli (heart-shaped pasta in tomato bisque with herb mascarpone), $35; and a Raspberry Macaron Ice Cream Sandwich, $16. A full complement of à-la-carte seafood-forward selections will also be offered throughout the weekend.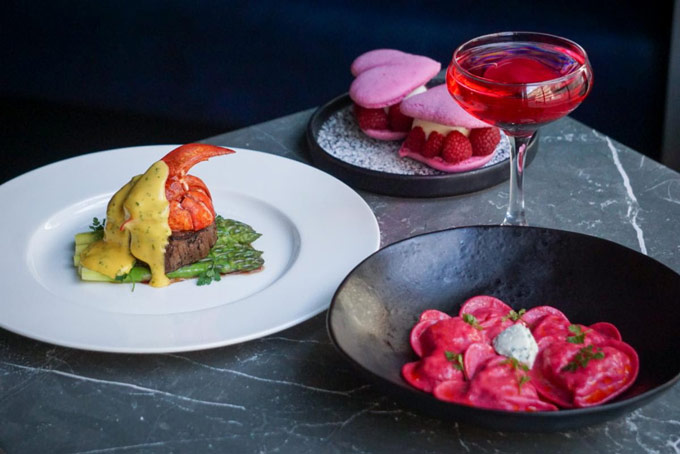 The Fanny Bay bartending team will add their own unique twist to Valentine's Day celebrations by shaking up a special Bleeding Heart Cocktail mingling Sheringham vodka, Triple Sec and fresh-squeezed lemon & lime juice and a slow-melting cranberry heart garnish for a lip-smacking libation that conjues up Cosmopolitan vibes for $16.
Those interested in hosting their own special experiences can also pre-order Fanny Bay's popular Seafood Boil Feast Kits — a ready-made romantic repast for two to four people that includes Dungeness crab, Manila clams, mussels, prawns, Fanny Bay's signature boil broth & spices, chorizo, green beans, potatoes, red peppers, corn salsa, lemon and all instructions for preparation for $62 per kit. A selection of Old and New-world wines are also available to add additional spice to celebrations for at-home chefs and guests to enjoy in the comfort of their own kitchens.
Versante Hotel (Richmond)
Love is in the air at Bruno. From February 11 – 14, savour a share-style four-course spread that begins with Scroll Loaf, Fresh Oysters & Caviar, and Chilled Shellfish. For the second course, a Burrata Fig Strawberry Salad and Iberico Melon are served to prepare guests for the mouthwatering main of Truffle King Crab Filet Mignon Oscar & Smoked Wild Sablefish. The luxe affair ends on a sweet note with the Cherry Espresso Baked Alaska served with cherry gelée and ruby chocolate ganache. $125 per person. Reservations available here.
Indulge in a multi-course feast at Cask Whisky Vault, February 11 – 13. Start off with a Sashimi Platter alongside Kusshi Oysters, then move on to the second course of Lobster Motoyaki, Wagyu Steak and Truffle Potato Pavé "Okonomiyaki"; save room for the final course which includes a sweet trifecta of Japanese Chocolate Cheesecake, Condensed Milk Ice Cream, and Yuzu Marshmallow. $98 per person. Reservations available here.
Why limit the Valentine's celebrations to one night? Rev up the romance from February 4 – 27 with the ultimate Valentine's Date Night Out Package that includes an overnight stay, $100 dining credit (valid at Bruno or Cask), and complimentary valet parking. Rates from $299. Book your Valentine's escape here.
Tojo's
For Valentine's (February 12-14), Tojo's is offering an indulgent Wagyu Omakase available for $280 per person..
For those celebrating at home, chef Tojo will be offering a luxe menu built for two. Menu highlights include a Sukiyaki bowl of premium melt-in-your-mouth Miyazaki Wagyu; a seafood Nimono brimming with scallop, lobster and flounder in dashi broth; and a selection of BC and Japanese sushi.
Railtown Catering
Railtown Catering is pleased to offer a special Valentine's Day package to go. Their five-course menu comes completely ready to eat.
Menu highlights include a packed with flavour Duck Consommé complete with foie gras ravioli, Jerusalem artichoke and black winter truffles. A standout Warm Lobster Salad with classic Thermidor garnish is herbed with sweet and ocean-like salsify. To finish, a heart-shaped Strawberry & Rose Saint Honore blushes with Valentine's colours and promises to satisfy those with a sweet tooth.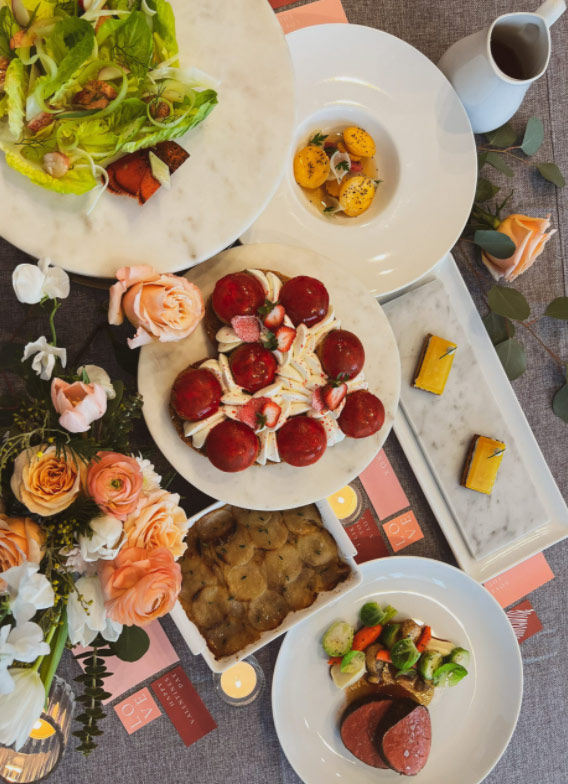 Railtown Catering offers a variety of add-on options to assist customers with checking off their Valentine's to-do list, including wine pairings, floral arrangements ($85.00), Cheese & Charcuterie ($30.00) and a Mezze Platter ($30.00).
Orders can be made on the Railtown Catering website or by calling 604-568-8811, orders must be received by February 9 at 12:00pm.
Meals will be available for pickup from 397 Railway Street, February 13-14 between 11:00am – 4:00pm.
Bacchus Restaurant & Lounge
Executive Chef Montgomery Lau has created a sumptuous four-course Valentine's Day dinner menu for you and your favourite person to savour.
Dine in the romantic atmosphere of Bacchus Restaurant & Lounge featuring live Piano entertainment from Sean Allen.
2.5 hour (2hr30min) seating time
Discover their four-course Valentine's Day menu at $168 per person; plus applicable taxes and gratuity.
Live Piano entertainment.
Full pre-payment (with a 3-days prior to event cancellation policy) is required.
Tables may be allocated in the Lounge or Dining Room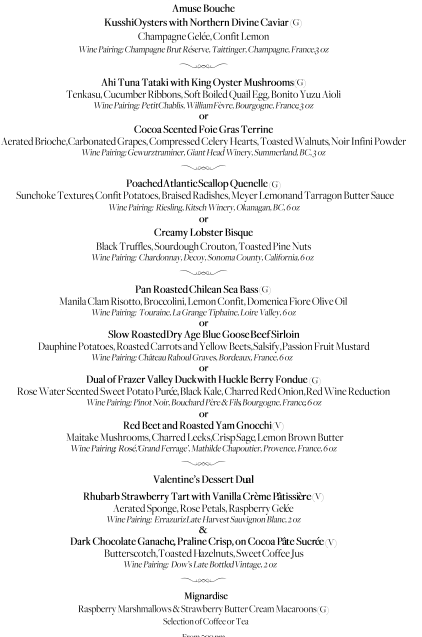 B House
B House is offering a 3-course prix-fixe menu on Valentine's Day priced at $100 per couple.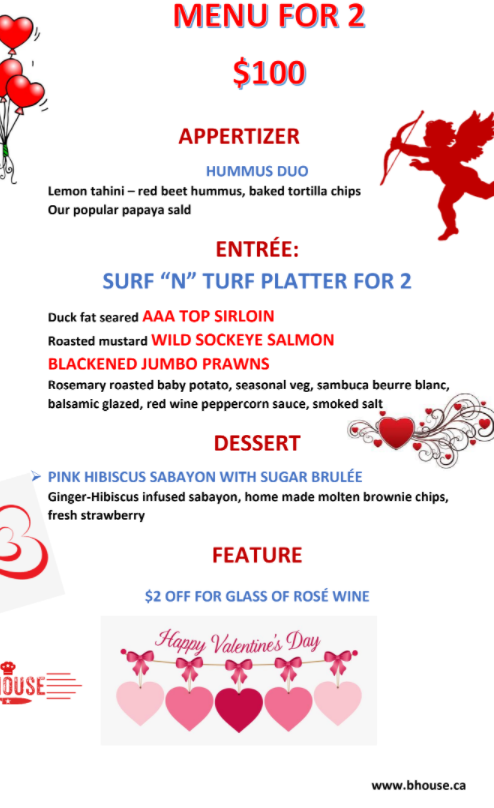 Popina Cantina
Celebrate Valentine's Day with a sweet treat and a waterfront stroll on Granville Island—con cariño! In Mexico, El Día del Amor y la Amistad (The Day of Love and Friendship) is celebrated on February 14. As a tasty way to honour the special people in your life who make the good times even better, Popina Cantina (located in Granville Island's Net Loft) will be dishing up a special Puffcream flavour featuring Mexican chocolate. Exclusively available from February 9 through 18, Popina Cantina's Sweetheart Puffcream ($8 regular, $6 kids) is filled with Popina's proprietary soft-serve ice cream and topped with freeze-dried strawberries, almond praline, and Mexican chocolate.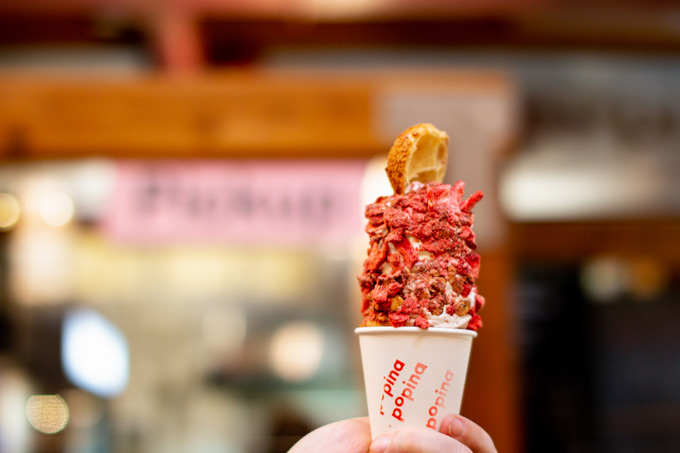 If a fun and easy Valentine's dinner is what you have in mind, Popina Cantina's Taco Kits for two are an effortlessly delicious takeout option: simply heat up soft corn tortillas and your choice of three fillings, serve, and enjoy. Creative taco fillings include Cha Siu Pork Shoulder; Chupacabra Beef Belly; Dizi Lamb Shoulder and Chickpeas; Foghorn Chicken Chicharron and Potato; and Lentil Falafel,Tahini Yogurt, and Sumac. Valued at $70 and priced at $39, Popina Cantina's Taco Kits for two include guacamole, crispy tortilla chips, three of your favourite taco fillings, an assortment of salsas, twelve soft corn tortillas (makes six tacos), fresh limes, plus gift cards for two Puffcreams of your choice (including featured flavours) on your next visit.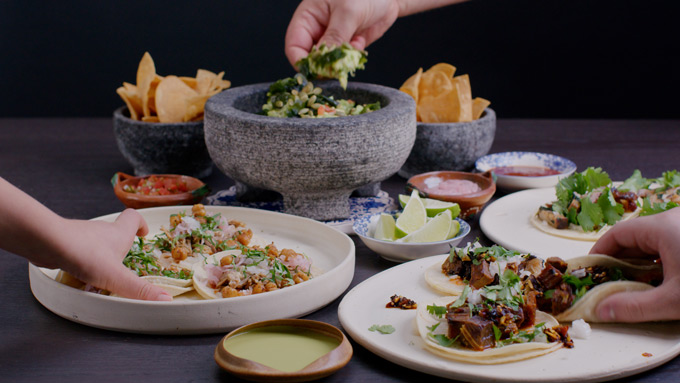 ARC Restaurant
ARC Restaurant at Fairmont Hotel Waterfront is hosting "ARC after dark" – a dinner of unlimited tasting plates and a sweet Belgian chocolate fondue to finish the evening. Priced at $79 per person. Reservations for February 14 from 5pm – 10pm.
Juke Fried Chicken
Once again, Juke is sharing the love this Valentine's Day with the return of its fan favourite 'Let's Cluck' Fried Chicken Bouquets available exclusively for pickup on Monday, February 14. Each bouquet swaps out the been-there, done-that Valentine's Day floral arrangement in favour of eight mouth-watering pieces of Juke's trademark gluten-free, crispy fried chicken in decorative wrap for $31 plus tax.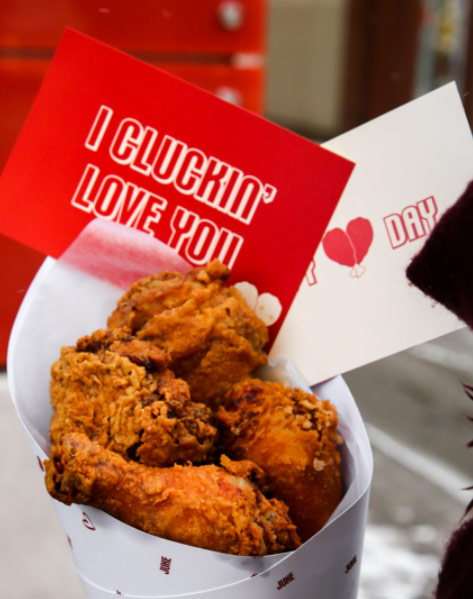 Beetbox
Vancouver plant-based favourite Beetbox is putting the 'V' in Valentine's Day again this year by bringing back last year's sold out vegan- and vegetarian-friendly Fried Chick-Un Finger Bouquets, available for pickup from Saturday, February 12 until Monday, February 14.

Each Beetbox CLB (Certified Lover Bouquet) includes a dozen of Beetbox's popular Fried Chick-Un Fingers (made from breaded and fried seitan) accompanied with housemade Maple Mustard Dip packaged in decorative Valentine's Day wrap for $25 plus tax per bouquet.
Beetbox Certified Lover Bouquets are priced at $25 plus tax and available in limited quantities for pickup at Beetbox (1074 Davie Street) from Saturday, February 12 until Monday, February 14. Orders can be placed online at beetboxveg.com/valentines-chickun-bouquets.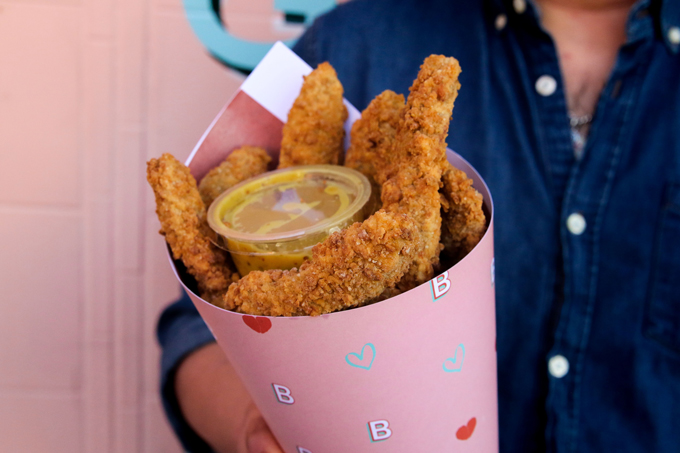 Carlino
Celebrate San Valentino at Carlino with a special set dinner menu on Valentine's Day. The evening begins with a special handcrafted aperitivo cocktail by Bar Manager Gianluigi Bosco, followed by a romance-inspired fai tu dinner designed by Chef Mark Perrier. Couples will receive a Valentine's favour to cap off dinner, with a specially bottled cocktail and house-baked Venetian cookies to take home.
The San Valentino set menu will be available for dinner service on Monday, February 14, for $220 per couple. Reservations are recommended and are available on the Carlino website.
Pizzeria Farina and sister restaurant Farina a Legna
Main Street's Pizzeria Farina and sister restaurant Farina a Legna in North Vancouver will once again be bringing back their exclusive Valentine's Day heart-shaped margherita pizzas, available only on February 14 with a limited quantity available. Pizzeria Farina will also be offering customers $5 off their order total with the purchase of a bottle of the featured Lambrusco.
The pizzas are available for $18 at both locations, and only one heart-shaped pizza is available per order. Ordering will be available on February 14 via the Pizzeria Farina and Farina a Legna websites.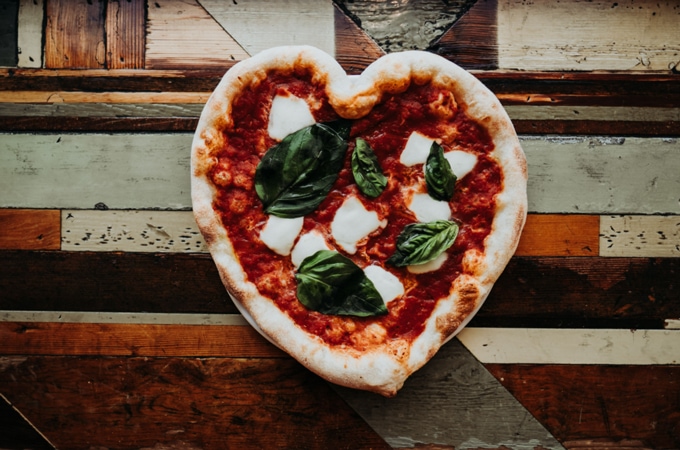 Giovane Bacaro
Giovane Bacaro will be offering guests a special five course Valentine's menu starting with their cult favourite thin, crispy chips with herbs served with a spritz to drink, followed by your choices of cicchetti and antipasti, then their classic flower-shaped sbocciare pasta with caciocavallo, brown butter and black truffle, your choice of secondi and a crostata al cioccolato with hazelnuts and fior di latte gelato to finish dinner on a sweet note.
The Valentine's menu at Giovane Bacaro will only be available on Monday, February 14 for $79 per person. Wine pairings available for an additional cost. Reservations can be booked through Tock.
Nuba
Vancouver's favourite Lebanese restaurants, Nuba, will be offering an exclusive dessert to celebrate Valentine's Day. The vegan and gluten-free chocolate mousse tart, topped with candied rose and pistachios, served with raspberries and Nora's vegan ice cream will be available at all locations (Mount Pleasant, Gastown, Yaletown and Kitsilano) from Saturday, February 12 to Monday, February 14.
Acquafarina
Acquafarina is offering a 6-course prix-fixe menu priced at $225 per person on February 14. No phones are allowed.
Maenam
Designed for sharing and packed with bold flavour, Maenam's Chef's Tasting Menu will ignite a spark between you and your perfect match this Valentine's Day. Whether you'll be painting the town red or cozying up at home, Maenam's flavourful dine-in and takeout Chef's Tasting Menus give food lovers the luxury of choice.
Available February 11 – 14, Valentine's to-go dinner sets include soup, salad, curry, stir-fry and dessert, with omnivore, pescatarian, and vegetarian options, and are priced at $130 (feeds two to three people).
The dine-in menu includes five courses served family style with a variety of dishes to choose from plus a selection of snacks, and is priced at $75 per person (minimum two people).
For an intimate dine-in meal, choice courses from the Valentine's Day Chef's Tasting Menu include spicy ahi tuna cupcakes, hot and sour duck soup, banana blossom salad, Massaman leg of lamb curry, and chocolate csemifreddo. View the complete menu with course options at maenam.ca.
Maenam Take-Home Valentine's Dinner Sets
Omnivore
Hot and Sour Duck Soup
Crispy Lingcod Larb Salad
Massaman Leg of Lamb Curry
Prawn and Mussel Stir-Fry
Hazelnut Mor Kaeng and Buo Loy Dumpling
Pescatarian
Sablefish and Turmeric Soup
Crispy Lingcod Larb Salad
Seafood Yellow Gati Curry
Prawn and Mussel Stir-Fry
Hazelnut Mor Kaeng and Buo Loy Dumpling
Vegetarian
Tom Ka Coconut Mushroom Soup
Banana Blossom Salad
Massaman Vegetable Curry
Tofu Vegetable Stir-Fry
Hazelnut Mor Kaeng and Buo loy Dumpling
Dine-in reservations are available on a first-come, first-served basis by calling Maenam at 604-730-5579; booking well in advance is highly recommended. Takeout slots can be booked via direct phone call to the restaurant, and 24 hours' advance reservation is strongly encouraged.
S+L Kitchen & Bar and The Italian Osteria & Cheesebar
S+L Kitchen & Bar and The Italian Osteria & Cheesebar is offering live music on February 11, 12 and 14; amuse & mignardise; $100 bottles of Moet; and complimentary nitro ice cream at S+L locations. Visit www.jrg.ca to find out more.
Townhall Langley
Townhall Langley is offering a wine or beer pairing dinner on Saturday, February 12 at 7:00 pm and Monday, February 14 at 6:00 pm at $63 per person.
Kissa Tanto
On this day for lovers, Kisssa Tanto invites you to the House of Plenty to cherish one another in dark romantic corners, hold hands, and linger over the delectables dishes of a special 4 course table d'hôte menu. Priced at $151.20 per person.
Burdock & Co.
Chef Andrea Carlson has put together a special tasting menu for Valentine's Day! Priced at $115 per person. Reserve here for February 14 from 5 pm – 9:30 pm.
Botanist at Fairmont Pacific Rim
Celebrate this Valentine's Day at Botanist with a romantic dinner featuring Chef Hector Laguna's six-course tasting menu including Salt Roasted Root Vegetables, Buffalo Burrata Crown Pasta, Charred Stripe Sea Bass, Roasted Lamb Saddle and a sweet dessert from Executive Pastry Chef, Kate Siegel. Available for $156 per person with optional wine pairings that can be added for $70 per person.
The Acorn Restaurant
The Acorn is celebrating Valentine's twofold this year with a 2-night unique tasting menu designed by chef Devon Latte for you and yours. Whether you're in for Valentine's, Palentine's and everything in between, this menu will fill your hearts and your stomachs.
Feel like focusing on each other and want to avoid getting distracted by all the decisions you might have to make? Jump on the optional natural wine pairing adventure! Yannick, the sommelier, has curated a collection of six natural wines of all styles that will have you and your date brimming with interest.
Reservations for February 14 and 15 at 5:30 pm and 8:30 pm.
The Mackenzie Room
Sparks fly! Come feel the love with a 5-course meal at The Mackenzie Room this Valentine's Day. 💘 Priced at $68 per person. Reservations for February 14 from 5:30 pm – 9:30 pm.
1 – Chicken of the Sea // Sea Urchin Parfait, Hazelnut, Pickled Pears, Squid Ink Brioche
2 – #beefbaby // Beef Heart Tartare, Potato Gaufrette, Egg Yolk Emulsion, Comté
3 – Prince Char-ming // Arctic Char, Onion Soubise, Liaison, Winter Vegetables, Lemon
4 – Duck-Duck-Ganoush // Pan Seared Duck Breast, Chanterelles, Swiss Chard, Raisin Agro Dolce, Black Garlic Shoyu Jus
5 – Tea Time // Choux Pastry, Chocolate, Diplomat Cream, Almond
Collective Goods
All you need is love and steak frites! 💖 Collective Goods will be spreading the love this February 14 at their cozy, French-ish bistro! Come enjoy Cupid's 3-course pre-fixe menu this Valentines Day from 5:30 pm – 9:30 pm. Priced at $70 per person.
Course One – Butter Lettuce Salad or Chicken Liver Mousse (Optional Add-On Bison Tartare)
Course Two – Duck Breast or Steak Frites
Course Three – Chocolate Bonet or Lemon Tart
Say Mercy!
Feelings Bubble Up at Say Mercy! This Valentines Day. 💖 You're invited to a 6-course meal at Say Mercy! — guaranteed to make you feel warm and fuzzy. Reservations for February 14 from 5:30 pm – 9:30 pm. Priced at $72 per person.
1 – Amberjack Crudo // Caper-Dill Dressing. Olive-Serrano Relish, Fingerling Potato Chips
2 – Salisbury Carpaccio // Blue Goose Beef, Mushroom Gravy Mayo, Pecorino Toscano, Watercress
3 – Caesar // Iceberg & Radicchio, White Anchovies, Castelvetrano, Grana Padano, Croutons
4 – BBQ Bolo // Spaghetti, Pancetta, Smoked Pork Butt, Grana Padano
5 – Catfish // Gigante Bean Ribollita, 'Nduja, Fennel Sausage, Pigs Ears, Old Bay
6 – Eggnog Panna Cotta // Compressed Apples, Amaretti, Rum Caramel
Top of Vancouver Revolving Restaurant
Top of Vancouver Revolving Restaurant is offering a 3 course set menu for the entire Valentine's Day weekend (Fri Feb 11 – Mon Feb 14 2022). Priced at $130 per person.
Delara
Delara is offering a prix-fixe Valentine's dinner priced at $80 per person on February 13 and 15 from 5 pm – 8 pm.
PiDGiN
PiDGiN is offering a prix-fixe menu on Valentine's Day priced at $165 per person from 5 pm – 9:45 pm.
Blue Hat Bistro at Pacific Institute of Culinary Arts
This Valentine's Day, cozy up with your sweetie and take in the stunning, marina-side views at Blue Hat Bistro. The new Bistro & Café chef, Alex Lavroff, has created a special prix-fixe menu with curated wine pairings to celebrate the most romantic day of the year. Please plan to arrive by 6PM.

M E N U
3-Course Menu with Bubbles & Wine Pairings – $135/person*
3-Course Menu with Bubbles Only – $75/person*

BUBBLES
Reserve Sparkling NV, Mission Hill Family Estate, Okanagan, BC
FIRST COURSE
Steak Tartare
crispy shallot, capers, cornichons, egg yolk, garlic crostini
– or –
Citrus Beet Salad
shaved vegetables, coconut milk yogurt, harissa, rose
Ardèche Chardonay 2018, Louis Latour, Coteaux de l'Ardèche, France
MAIN
Braised Lamb
asparagus and potato pavé, celeriac cream, horseradish
– or –
Seared Halibut
beluga lentils with chorizo vinaigrette, white winter vegetables, frisée

Naramata Ranch Vineyard Pinot Noir 2016, Martin's Lane Winery, Okanagan, BC
DESSERT
Cherry Heart
cherry mascarpone, cherry vinaigrette, cherry chip, cherry gel, cherry yogurt sorbet, Valrhona Guanaja milk chocolate crumb

10-Year-Old Tawny Port 2006, Graham's, Douro, Portugal
Cibo Trattoria
Cibo Trattoria is taking reservations for February 14.
Treat your plus one to a three-course menu for two at Moxies.
Between February 11th to 14th, enjoy your choice of an appetizer, two entrees and a dessert to share.
Pick from Moxies' favourites, including Chipotle Mango Chicken, Lemon Basil Salmon, Steak Frites, and delicious desserts like the White Chocolate Brownie, Sticky Toffee Pudding, or Key Lime Pie.
Celebrating from home? Bring home their three-course menu for two, DIY meal or cocktail kits, or favourites from our full menu.
They are offering 50% off all bottles of wine on phoned in or online pick-up orders from the Moxies location nearest you.
Autostrada Main St
Autostrada Main St is taking reservations for February 14.
Di Beppe Restaurant
Di Beppe Restaurant is taking reservations for their Dining Room and Caffe Lounge on February 14.
D6
Two special cocktail creations to celebrate Valentine's Day, available Feb 11 to 13, Dulcis Amor: Stoli Vanilla, Agave, Passionfruit Puree, Henkel, Egg White and Single Syrup for $14; Aromat: Chilii Infused Sombra, Triple Sec, Simple Syrup, Pineapple and Star Anise Bitters for $16.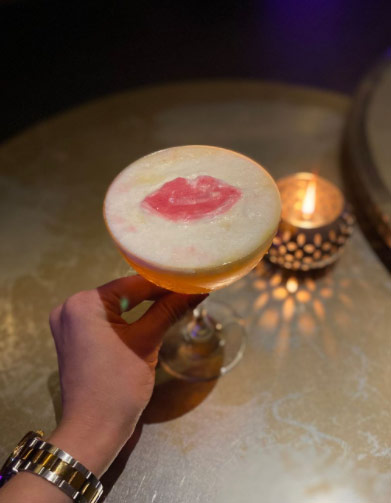 Meal Kit Delivery Services
Chef's Plate
In time for Valentine's Day, food loving Canadians can now create a foolproof, homemade 3-course meal at home as Chefs Plate officially launches its new Add On feature to offer craveable appetizers, and delectable desserts – in addition to its 16 mouthwatering mains on the menu weekly.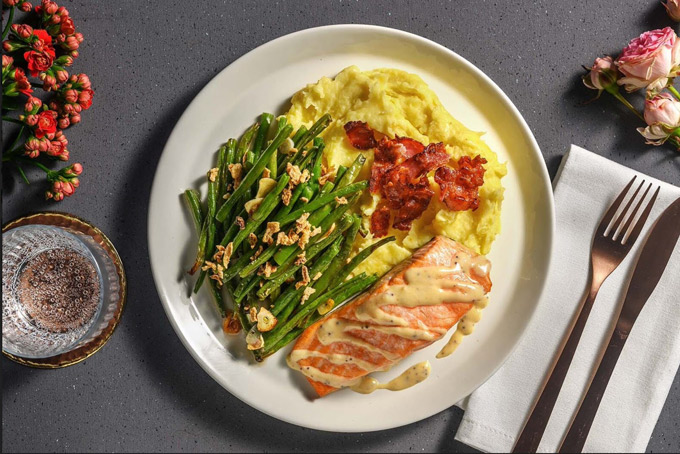 Canadians can order by February 3 to receive meal kits in time for the big day.
Chefs Plate sends all of the pre-portioned fresh ingredients and step-by-step recipe instructions to doorsteps so consumers can focus on the fun parts of cooking. So while preparing the Feb. 14 meal for that special someone is sweet, making dinner together with Chefs Plate can also make for a fun activity.
In time for Valentine's Day, Chefs Plate offers:
Appetizer options include: Simple spinach caesar salad, Easy peasy garlic knots and Fuss-free jalapeno cheddar biscuits. Delectable desserts include No-Bake Peanut Butter Cups, Death by Chocolate Bowls and Cinnamon Roasted Pears.
Meals can be prepared in 15 or 30 minutes or less, while add ons take as little as 20 minutes.
Valentine's Day Desserts & Treats
Buttermere Patisserie
Buttermere Patisserie is offering two cakes with subtle, fun-provoking messages.
Cupid is a 6-inch chocolate hazelnut madeleine with apricot jelly, caramel crunch, and caramel mousse.
Beauty and the Beast is a 4.5 inch espresso panna cotta with alunga biscuit, chocolate cream, and coffee mousse, topped with a sugar dome. This showpiece cake features a real rose encased in the sugar dome.
At $68 for Cupid and $52 for Beauty and the Beast, both Valentines' cakes will be available for order on the Buttermere website starting February 1st with the cut-off date of February 10th. Cake pick up will be at Torafuku (958 Main Street) and delivery is also available in the Greater Vancouver Regional District from February 12th to 14th.
Kafka's
Treat yourself or someone special to fresh baked cookies and treats made with love by Kafka's pastry chef, Adi Kesselman. Kafka's Ultimate Sweets Box is back and making you swoon with a colourful assortment of delicious cookies, macarons, and brownies, priced at $32 and available at all three Kafka's locations (Main St., Great Northern Way and Gastown) from February 11 to 14. Individual Valentine treats will also be featured at Kafka's coffee shops for $4 each starting February 8.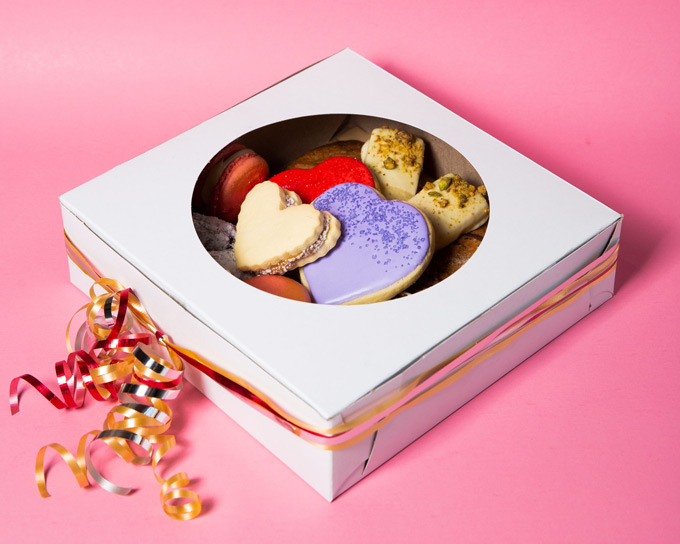 Kafka's Ultimate Sweets Box (includes eight treats):
Two heart-shaped Sugar Cookies frosted with purple and red icing
Raspberry Fudge Brownie
Pistachio Shortbread dipped in white chocolate
Alfajor
Blueberry Macaron
Raspberry Linzer
Kafka's famous Salted Chocolate Chip
Check out Kafka's website to preorder the Ultimate Sweets Box online now for pick-up at any of Kafka's three Vancouver locations from February 11 through 14.
Ganache Patisserie
Ganache Pâtisserie is offering the Saint Valentin Hojicha Fraises Melon 2022 featuring a fragrant hojicha-black sesame chiffon cake with a light strawberry-melon diplomat cream, a layer of strawberry curd and a smooth hojicha cremeux. The entire cake is coated in a pink strawberry chocolate glaze, with a crown of vanilla meringues and vanilla Chantilly rosettes, fresh raspberries and dark chocolate hearts.
Designed to be shared generously with that special someone, though able to feed 4-6 people, Saint Valentin Hojicha Fraises Melon 2022 ($48.95) will be available starting Friday February 11th and pre-orders are strongly recommended for pickups during the Valentine's weekend, on Saturday February 12th and Monday February 14th. .
Mon Paris Patisserie
Exquisite chocolates and cakes from Burnaby's Mon Paris Pâtisserie will melt your beloved's heart. To feature its exclusive 2022 Valentine Collection, Mon Paris Pâtisserie is extending its operating hours to include Monday, February 14.
The Heart-Shaped Strawberry Brownie Cake (serves two) $30 is designed to share with someone 'berry' special, a decadent pecan brownie biscuit is topped with strawberry compote and strawberry mousse.
Classic boxes of chocolate bonbons, delicate macarons, and sublime cakes are all available now through Valentine's Day, along with a sweet selection of edible gifts designed specifically with loved ones in mind.
From charming Chocolate Heart Lollies that say, "my heart pops for you" ($4.50), to gorgeous Potted Camellias made entirely of chocolate ($27), Mon Paris has a treat for Valentines of all ages.
The 2022 Valentine's Day collection is available now at Mon Paris Pâtisserie. Heart-shaped Brownie Cakes and Mon Paris Signature Desserts Collection must be ordered in advance for pickup on February 13 and 14. Orders for cakes, Valentine's Day treats, macarons, and chocolate boxes can be made online at monparis.ca/monparis-shop; in-person at 4396 Beresford St., Burnaby; through email at [email protected]; or by phone at 604-564-5665.
YUM Ice Creamery and Sweet Shop
From heart-shaped chocolate caramels, berry-flavoured 'I (Almost) Love You More Than Candy' and cherry-flavoured 'You Are My Cherry On Top' heart gummies, and artisan chocolate boxes, YUM Ice Creamery and Sweet Shop (4150 Main St. – Vancouver) got all the ways to show your valentines — galentines and palentines included, how much you love them. Valentine's Day-inspired treats are now available online and in-store for a limited time only.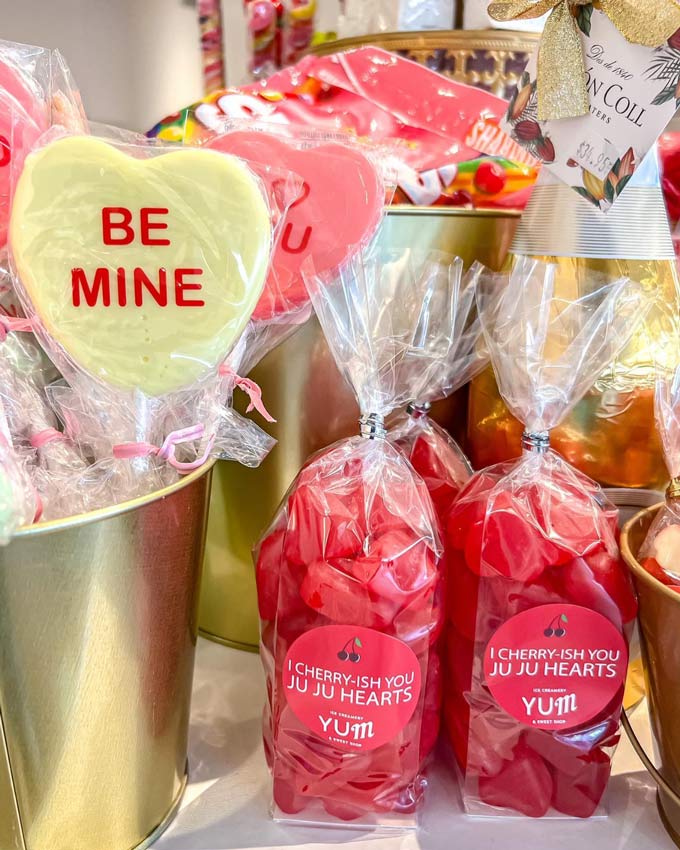 The Bench Bakehouse
The Bench Bakehouse has the following Valentine's Day offerings: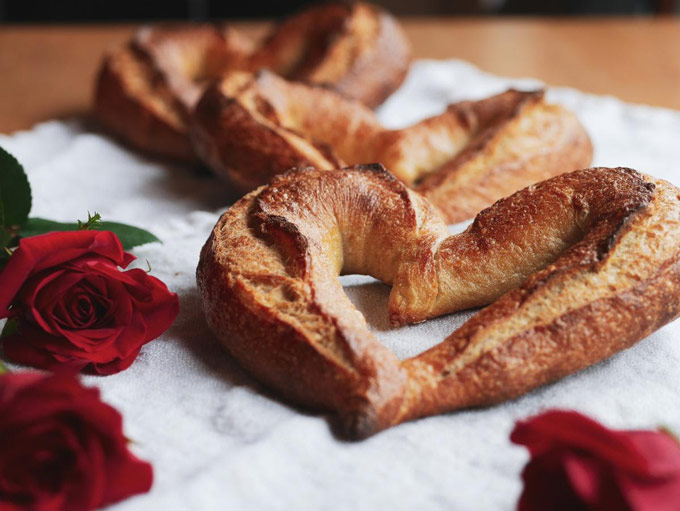 Shortbread Cookie Boxes ($25): The Bench Bakehouse's signature shortbread cookies in heart shapes. Includes Original, Double Chocolate, Hazelnut and London Fog. Perfect for letting someone know you care; these cookies are boxed up with a bow.
Chocolate Lovers Gift Box ($20): A trio of favourite chocolate treats: black forest granola, chocolate hazelnut spread, and the Double Chocolate shortbread.
Cookie Decorating Kit ($30): Six freshly baked heart-shaped sugar cookies, royal icing (in red, white, and pink) and plenty of candy embellishments.
Sugar Cookies ($5.50): Heart-shaped sugar cookies, each one hand-decorated with a unique message.
Heart-Shaped Baguettes ($8): A once-a-year offering of love, these sourdough baguettes are exclusively available from February 11 until February 13.
Heart-Shaped Baguettes ($8): New this year for you to take and bake. Sourdough baguettes shaped like hearts that are partially baked. Take them with you on a weekend getaway to enjoy a warm fresh baguette on Valentine's Day. Advanced ordering online is encouraged as these will sell out fast!
Croissants ($14 for a four-pack): Made from scratch with high quality butter.
Pain au Chocolat ($15 for a four-pack): Filled with delicious dark chocolate and ready for baking at home.
Cinnamon Buns ($17 for a four-pack): Topped with cream cheese.
The Graze Company
The Graze Company is known for their artfully presented and delicious Graze Boxes, Boards and Tables.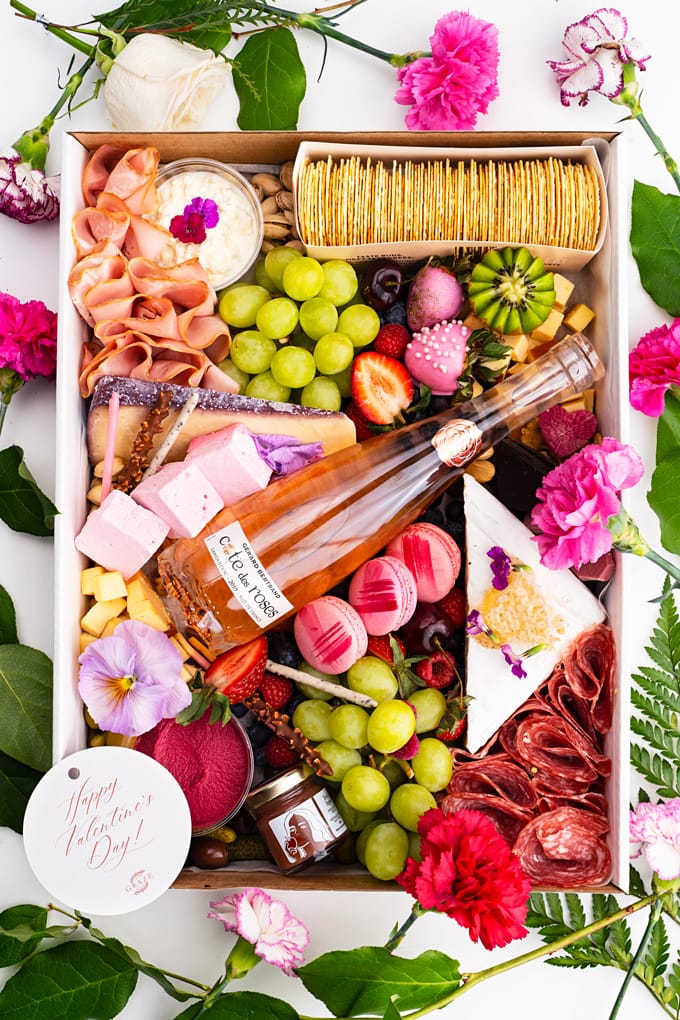 Gary Patisserie
The Rose and Lychee filling from Gary Patisserie would make a beautiful and delicious cake for Valentine's Day.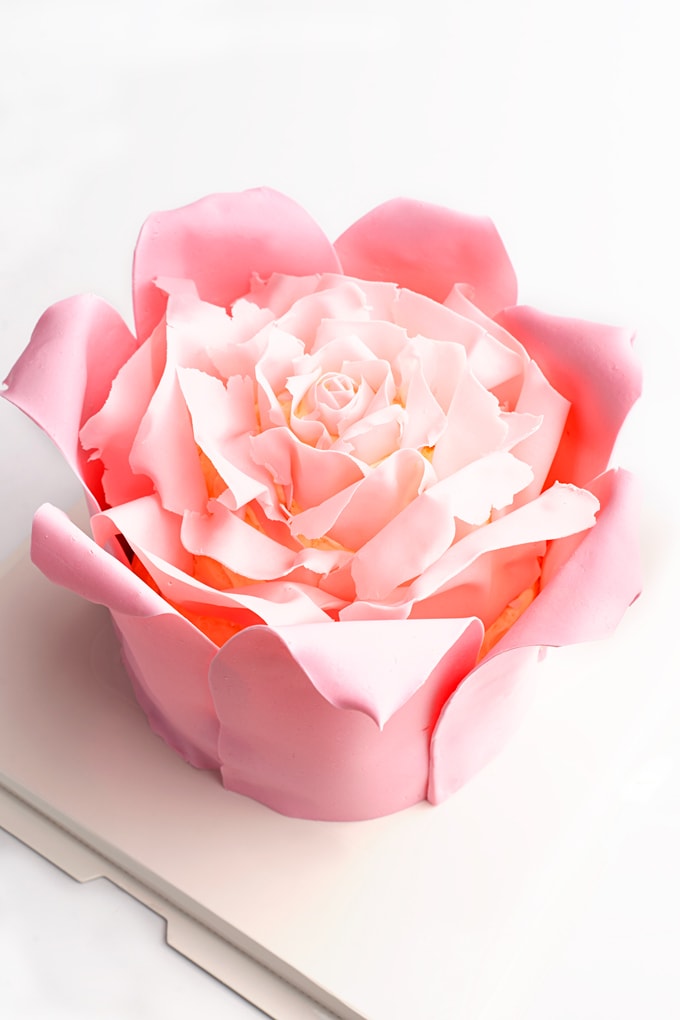 Temper Pastry
The full lineup of divinely decadent Valentine's Day offerings from Temper Chocolate & Pastry includes:
Edible Heart Showpieces, filled with specialty heart chocolates available in small ($25) or large ($35) sizes;
Strawberry Dessert Cakes, featuring lip-smacking layers of strawberry confit, strawberry mascarpone and whipped cream cheese and Sable biscuit, available by the slice ($7.60) or entire cake ($38);
Temper Chocolate Boxes, featuring an assortment of individual chocolates and specialty heart chocolates available in 4-piece ($12), 6-piece ($15), 9-piece ($20), 16-piece ($32) and 28-piece ($56) sizes;
A four- and six-piece Heart Chocolate Box, featuring specialty heart chocolates in 70% ganache, strawberry, yuzu or dulce flavours ($15 and $18, respectively);
Signature, solid, heart-shaped milk or dark chocolate 'Frictures' ($5 ea.);
Chocolate Lollipops in milk and dark chocolate varieties ($4.25 ea.);
A heart-shaped Peppermint Patty ($5.50 ea.);
Heart-shaped, jam-filled Linzer Cookies ($3.75 ea.); and
Specialty Chocolate Hearts (70% ganache, strawberry, yuzu or dulce, $2.25 ea.).
Temper's signature Valentine's Day confections will be available for purchase in store at the Dundarave neighbourhood café until Sunday, February 13 or while quantities last. As this year's lineup of Temper Valentine's treats are being handcrafted in limited supply, guests are encouraged to order or shop early to avoid disappointment.
Temper is located at 2409 Marine Drive and is open for takeout orders and pickup on Tuesdays through Saturdays from 7 a.m. to 4 p.m. and on Sundays from 8 a.m. to 3 p.m. For more information about Temper Chocolate & Pastry, visit temperpastry.com.
Romantic Hotel Packages
Fairmont Waterfront & Sky Helicopters
What could be more romantic than a private Canadian backcountry picnic accessed only by helicopter? Experience the best of the West Coast with Fairmont Waterfront and SKY Helicopters; flying over the mountains, taking in waterfalls, alpine lakes, and untouched backcountry. This once-in-a-lifetime adventure starts at $1,478.00 CAD (based on double occupancy) and includes luxurious overnight accommodations, a remote backcountry landing to enjoy a romantic picnic basket for two created and prepared by Fairmont Waterfront's culinary team. Enjoy lunch from one of SKY Helicopter's magical backcountry remote landing sites, each with its own magic and romantic splendor. Learn more here.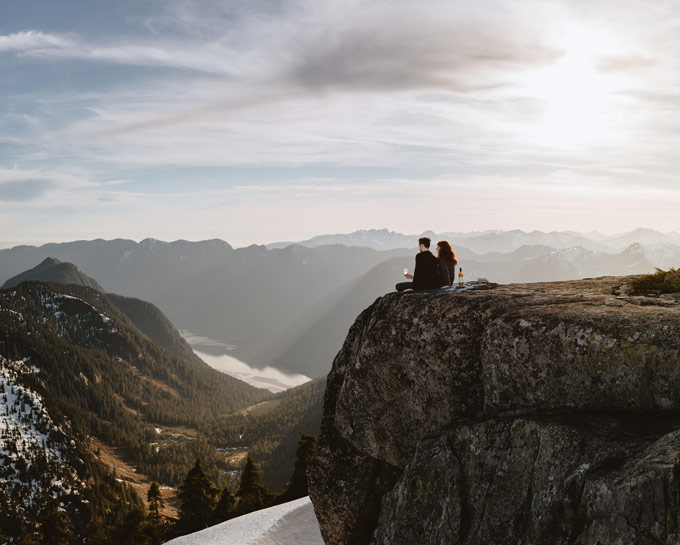 Fairmont Pacific Rim
Fairmont Pacific Rim invites starry-eyed lovers to skip the night out and spend this Valentine's Day between the sheets (or in the tub) with the exclusive Grand Romance Getaway Package. Indulge in a night that offers a mix of ambiance and amenities, guaranteed to turn up the romance. Starting at $619.00 CAD, this romantic retreat includes luxurious accommodations featuring a spacious marble spa bathroom, chocolates and a bottle of sparkling wine upon arrival, and breakfast in bed.
Make the month of February sparkle with Willow Stream Spa at Fairmont Pacific Rim's exclusive Kiss From a Rose spa offer. Available only for the month of February, this limited-time spa experience uses aromas of rose and Neroli-infused oil in a meditative, soul renewing massage. A luxurious scalp and foot massage complete this full body rejuvenation and leaves the body feeling refreshed and in bloom. The treatment is available for $269.00 CAD per person on weekdays and $295.00 CAD per person on weekends. Book this service (90 minutes) or any Couples Massage (60, 75, or 90 minute) in February and enjoy complimentary bubbles post-treatment. Contact spa reception to book in the couples' suite or to make your treatment reservation at [email protected].
Best Romantic Restaurants In Metro Vancouver
Check out my guide on the best romantic restaurants in Vancouver which have beautiful settings for a lovely night out or serve up some sexy food for a date night in.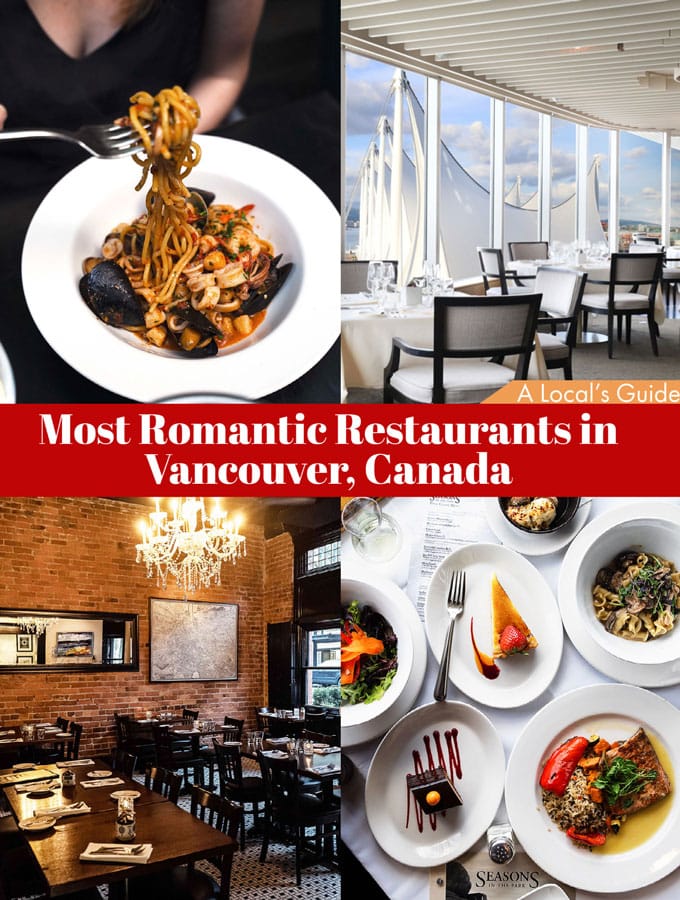 Valentine's Day Things to Do in Vancouver
Romantic Things to Do in Vancouver [Guide]
Check out my guide which covers romantic things to do in Vancouver including fun activities, affordable (free) ideas, seasonal adventures, where to eat and drink and more.
Hot Chocolate Festival 2022
Hot Chocolate Festival 2022 makes it return January 15 – February 14, 2022.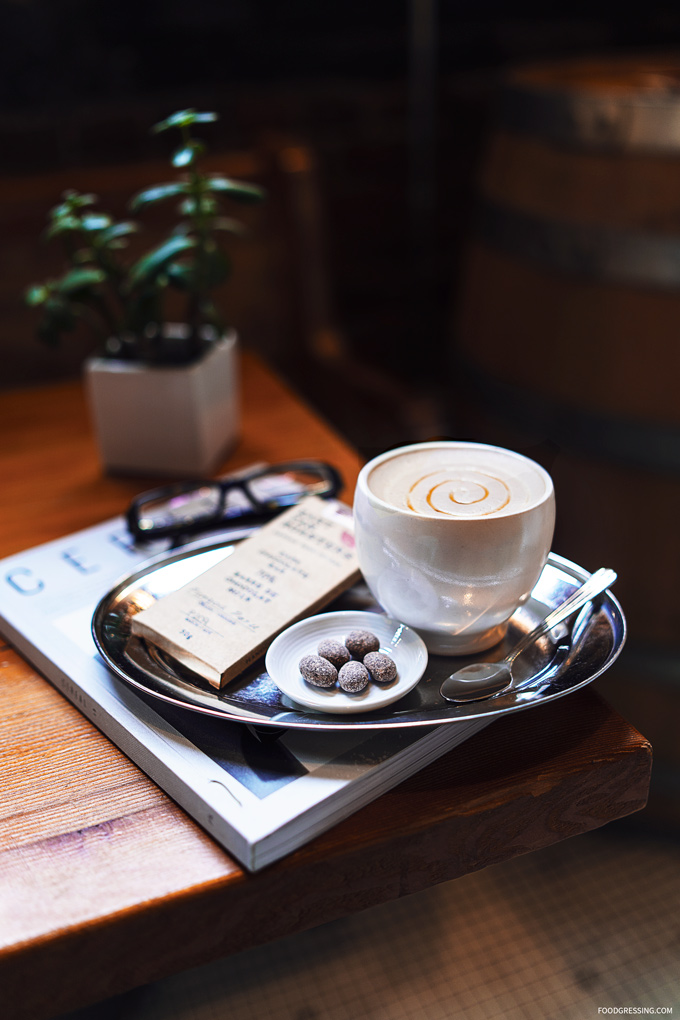 Family Valentine's Day Ideas [Guide]
There are plenty of fun activities that you can do with little ones that are sure to make them feel the love on this special holiday.
Check out my post on family Valentine's Day ideas to make the day exciting for both you and the kids.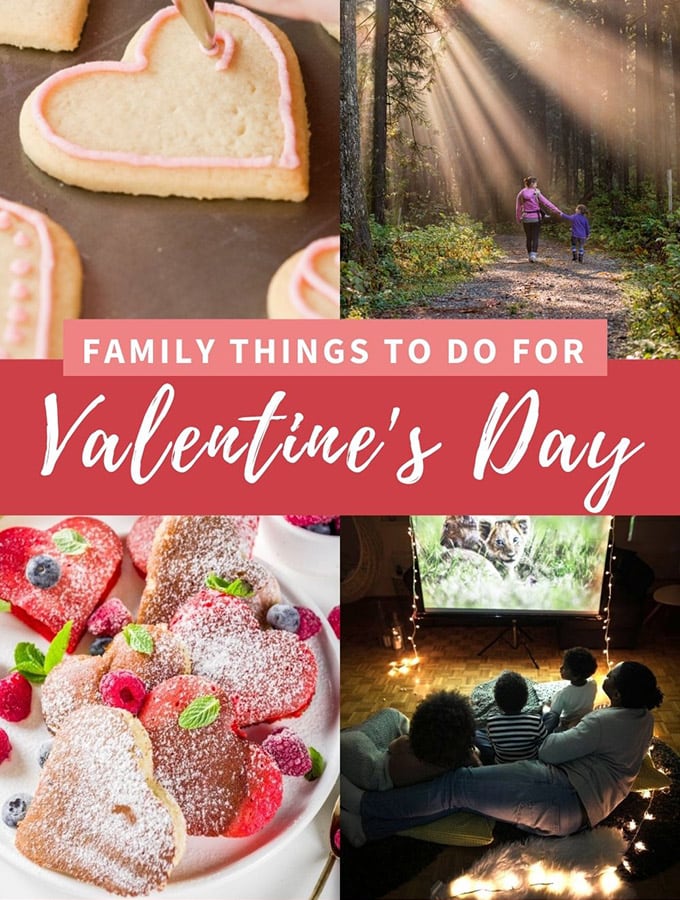 Cheap Valentine's Day Ideas that are Super Fun [Guide]
Valentine's Day doesn't need to be expensive in order to impress. In this roundup, I'll give you some cheap Valentine's Day ideas that are affordable (including some FREE options.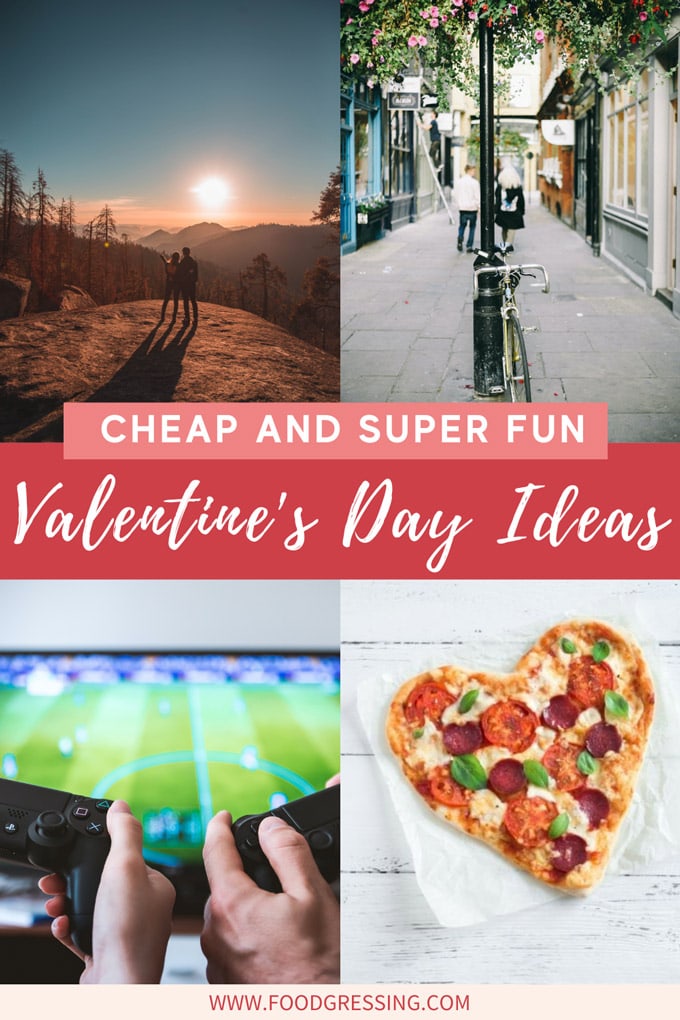 Go on a food/drink crawl
If you and your significant other share a common love of a type of food and drink, why not embark on a food or drink crawl?
Here are some themes that you can plan a day around featuring my own guides as well as guides from my food blogger friends:
At Home Celebration Ideas for Valentine's Day Vancouver 2022
Here are some ideas on how to spend Valentine's Day at Home this year.
Enjoy a Movie Date Night at Home [Guide]
Check out this guide on how to have a romantic movie night at home. With these as your jumping-off point, you're well on your way to planning the perfect date night in.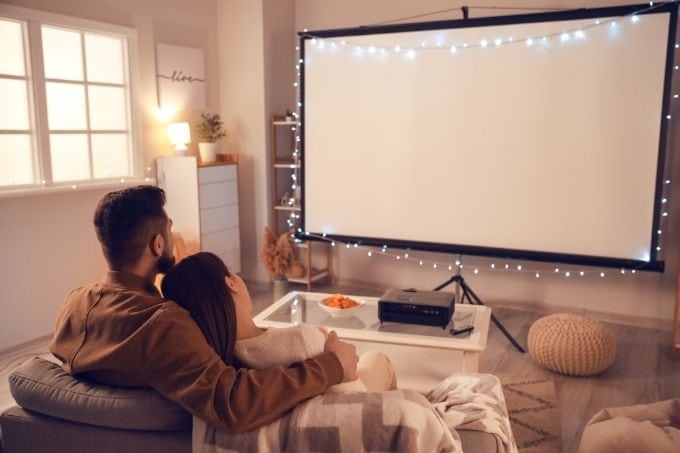 Valentine's Day Table Decor Ideas [Guide]
Check out my guide on 5 DIY Valentine's Day table decor ideas that will add that special romantic touch to your evening at home.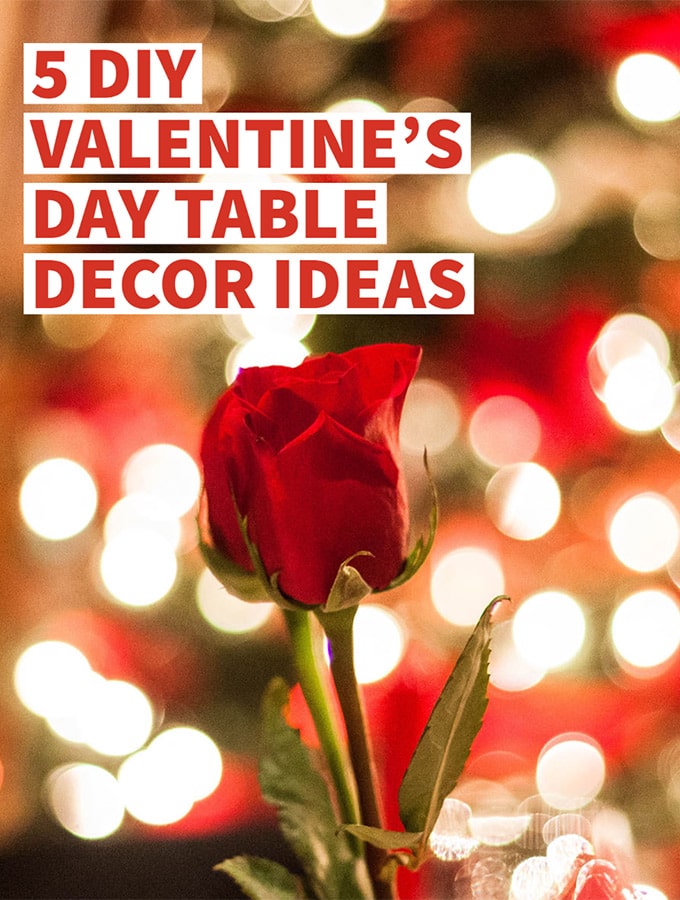 More ideas:
Valentine's Day Gift Ideas & Services
Valentine's Day Vancouver 2022 Gift Delivery Services
Locvl Delivery is a delivery service serving the Lower Mainland to help you send flowers, cakes, and gifts to that special person in your life for any occasion. Their marketplace includes beautiful bouquets, delicious cakes, novelty balloons, sweet confections and more. It is really helpful if you want to bundle things together and have it conveniently delivered. www.locvldelivery.com
Practical Valentine's Day Gifts
If your significant other doesn't need flowers, poetry, or fancy words, this guide on practical Valentine's Day gifts for her and for him is right up your alley.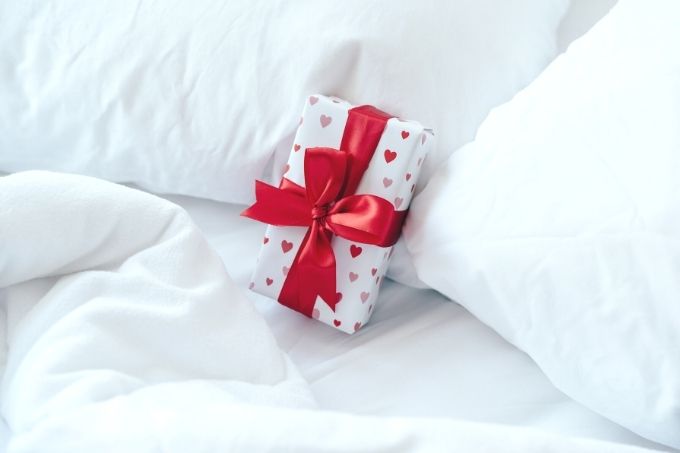 Valentine's Day Flowers
Here are some places in Metro Vancouver for Valentine's Day flowers and celebration bouquets. Please check out their websites for offerings and pickup/delivery options.
Valentine's Day Quotes and Captions
If you struggle to find the right words to say on Valentine's Day, check out my list of 120+ Valentine's Day Quotes.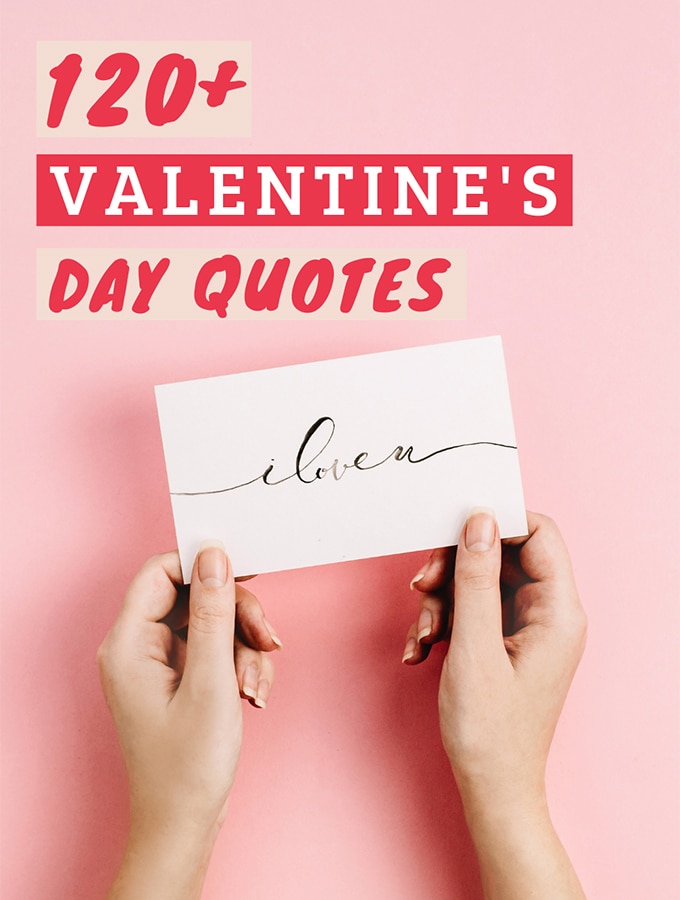 You'll find Valentine's Day quotes for him, for friends, for singles, for boyfriend, for girlfriend and more.
Instagram Captions about Love, Marriage, Family, Friendship, Self-Love
Here is a list of the best Instagram captions about love to complement your picture with your spouse, partner, family member, friend, or anyone else you love.