In this roundup, I'll give you some cheap Valentine's Day ideas that are affordable (including some FREE options) and which are social-distancing friendly.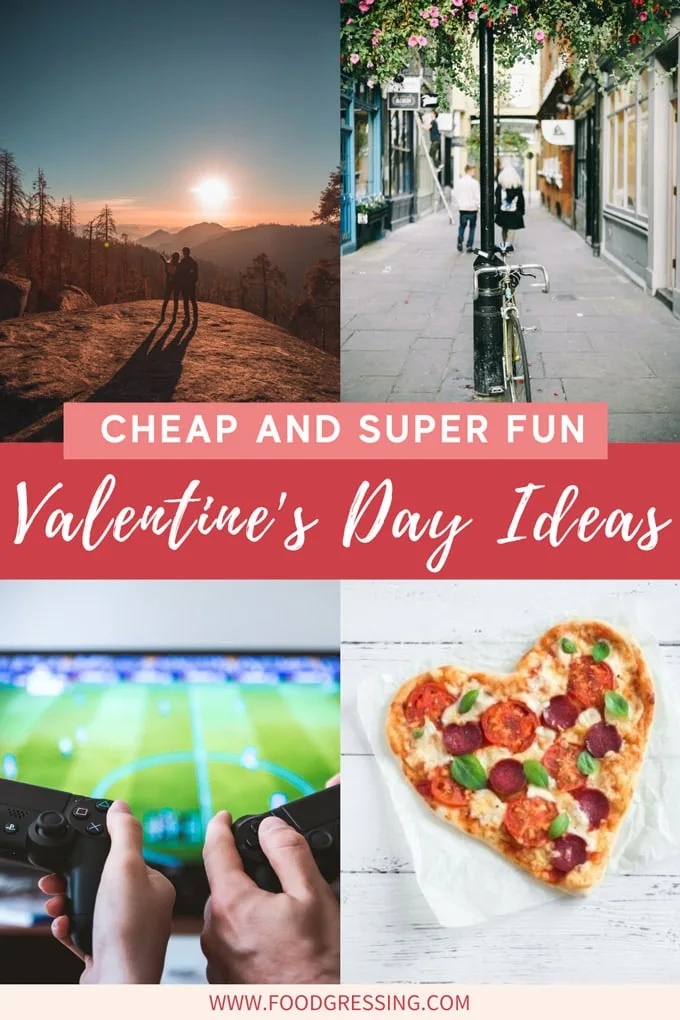 Even with a small budget and pandemic restrictions in place, there are many ways to celebrate Valentine's Day with the person you love. Check out the list below for some inspiration.
As an Amazon Associate I earn from qualifying purchases.
1. Romantic dinner at home (make from scratch or get a DIY meal kit)
This Valentine's Day why not take the time to make a romantic dinner at home?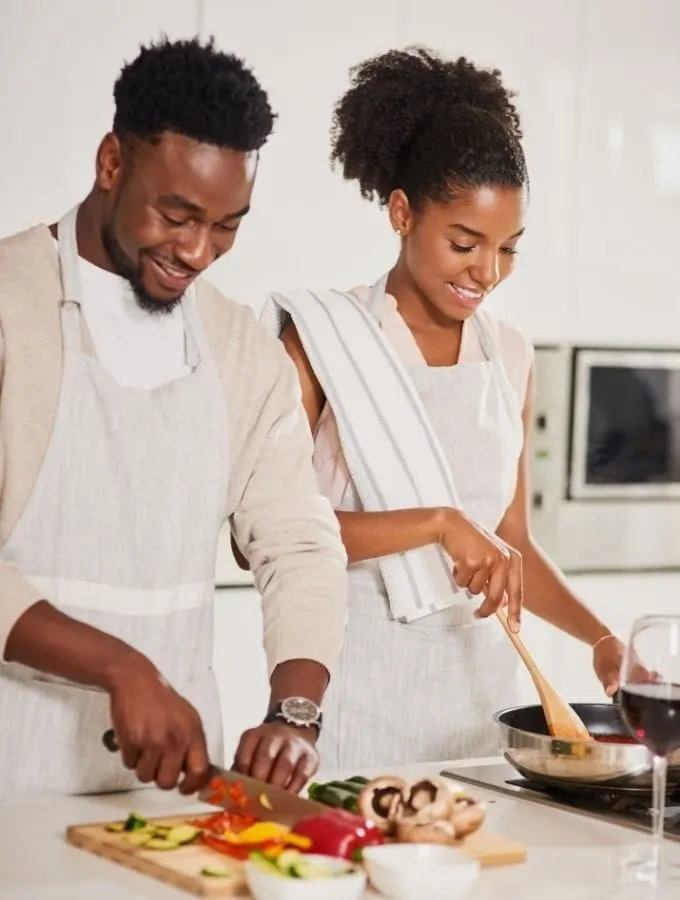 Set your table with a beautiful centerpiece, some candles, and your best dishes.
Cook your partner his or her favorite meal on your own, or you could add to the fun by making dinner together.
A very cute and simple but also cheap and easy Valentine's Day dinner idea is heart-shaped pizzas. Customize the toppings to your liking.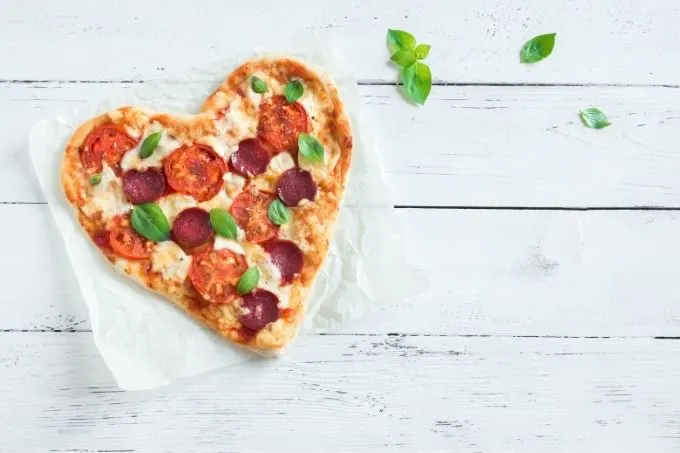 If cooking isn't your strong suit, you can support a local restaurant by ordering something for delivery or takeaway.
Many restaurants offer more than the usual takeout. Look out for meal kits (precooked), DIY meal kits (where they give you the ingredients and you cook), as well as cocktail kits, brunch kits and more.
Restaurants and businesses have gotten creative so if you look around you might just find some unique kit options.
You can also do a couples cooking class (available in person or virtual). Some offered themed Valentine's Day couples cooking classes over Zoom.
2. Have a movie date night at home
Now that many movie theaters are closed, you can find big-name new releases streaming on demand so you can watch something new that you haven't seen yet.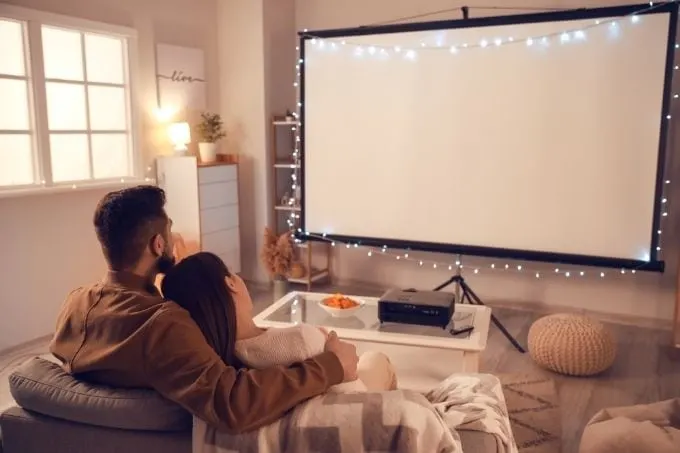 If you're looking for something more sentimental, you could revisit an old favorite, maybe something meaningful to your relationship like the first movie you went to the theater to see together, or something you both really enjoy.
One of the best things about an at-home movie night is you can snuggle in and be as comfy as you want.
Make an at home movie date night special with a nest or even a fort out of your favorite pillows and blankets.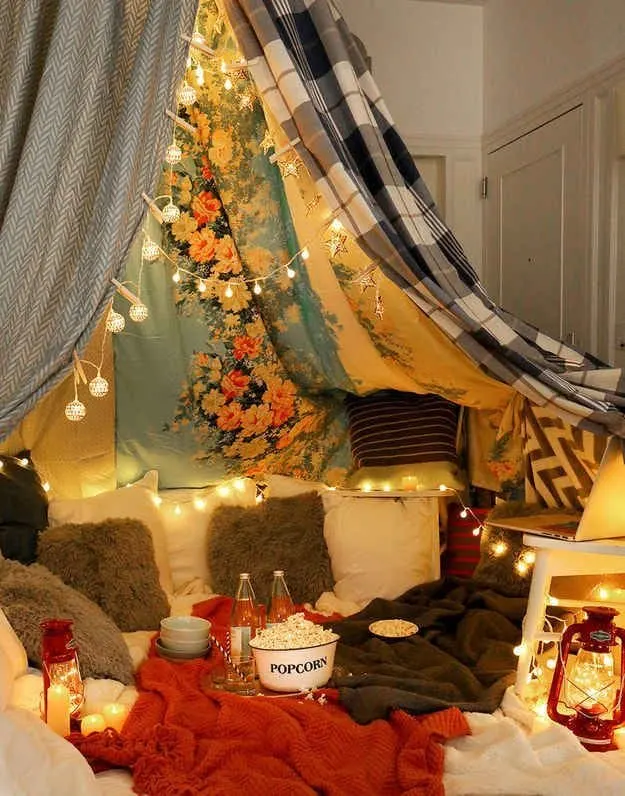 Building a movie night fort includes layering sheets, blankets and throws on furniture and building around them.
You might need to get some ceiling hooks, hooks on doors, a stand of some sort (like a photo booth or tripod) stand to build a teepee style.
Use some battery-operated lights or candles for some romantic lighting to create a cozy ambiance.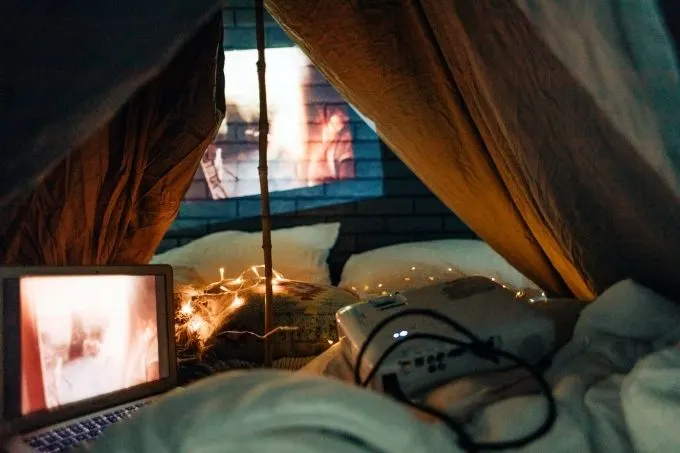 You can even sprinkle some rose petals on the floor or have some fresh flowers on the table nearby.
If you're stuck on ideas, here are a few romantic movie recommendations to watch on Netflix:
Always Be My Maybe
Jerry McGuire
When Harry Met Sally
To All The Boys I've Loved Before
She's All That
The Age of Adaline
The Notebook
Ghost
How to Lose a Guy in 10 Days
The Lake House
Serendipity
Meet the Parents
Check out my post on movie date night ideas at home for more inspiration.
In that post, I talk about snacks, outfit ideas, and even how to set up a projector (that can be attached to your smartphone) to recreate that movie theatre experience.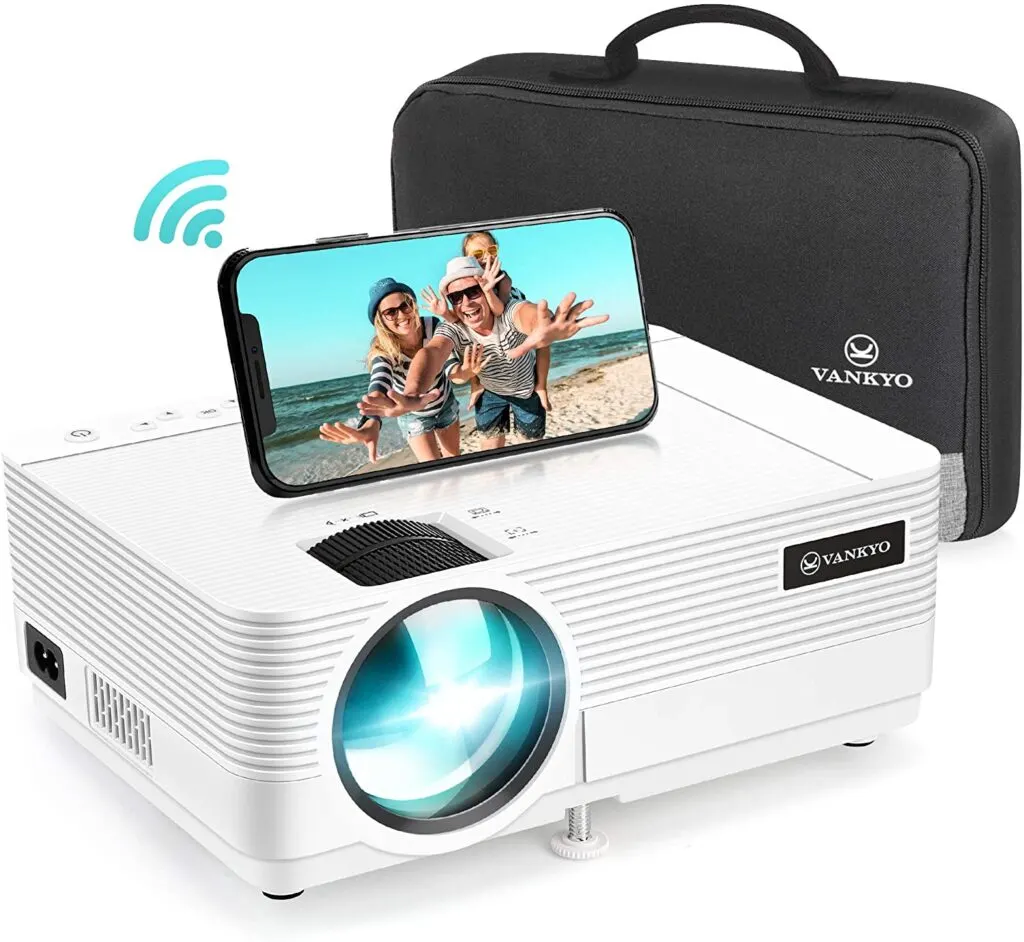 3. Take a hike on a scenic local trail and have a picnic
Hiking is a great way to spend time together and if you've been cooped up in your house for a while it's a great way to get some fresh air.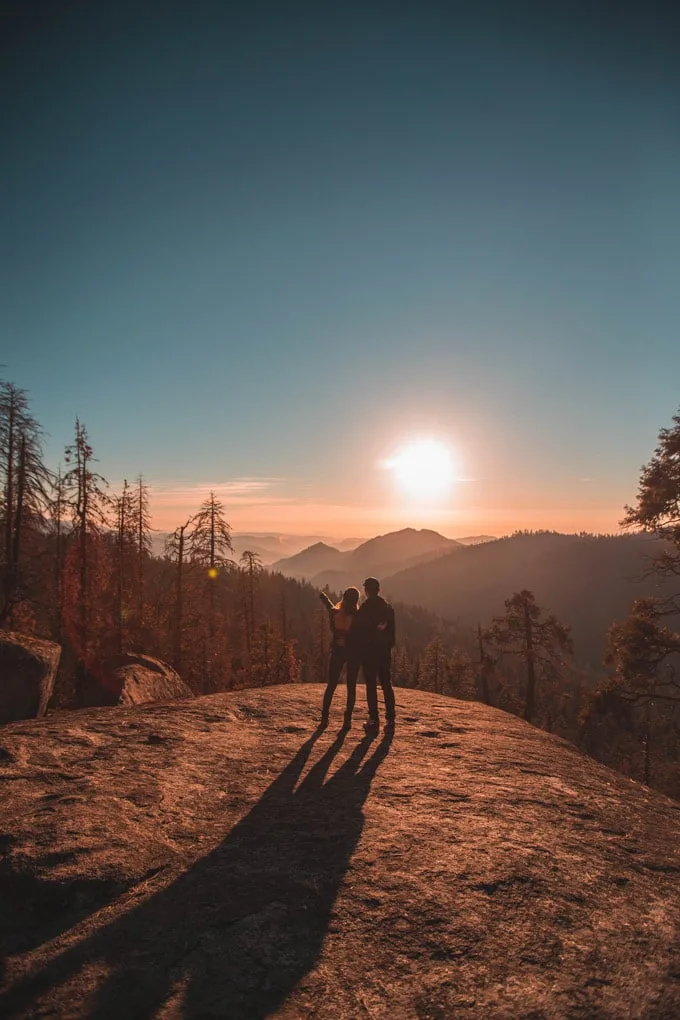 For an easy Valentine's Day activity, choose a favorite trail, or find a new one and explore nature together. If you live in the city, you could take a walk in a local park.
Many cities have beautiful parks or outdoor flower gardens and since they're outside and typically consist of fairly large open areas, it should be easy to stick to social distancing guidelines while you're strolling together.
If you live in an area where it's warm enough, you could pack a picnic lunch and find a beautiful spot to enjoy it together.
4. Set out on foot and explore a neighbourhood
You and your sweetheart can explore neighbourhoods that you don't know that well.
You'll get the feeling of seeing something new, something unexpected and wanderlust.
If you have transit in your city, write down the names of transit stops or stations on pieces of paper and toss them in a bowl.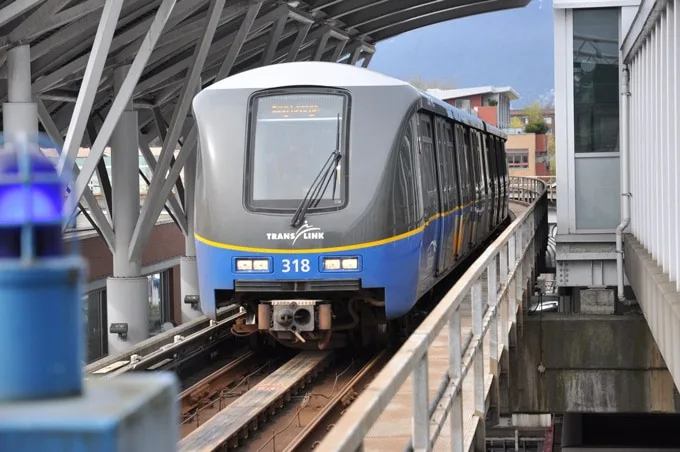 Draw out one or more of the destinations to explore together.
Plan an itinerary of nearby sights; visit landmarks; local businesses; local restaurants, cafes, bars and more.
Explore the area by foot and let the day unfold spontaneously.
5. Have a couples game night
When was the last time you sat down and played a board game together?
Inexpensive Valentine's Day ideas #4 is to bring out your playful, competitive sides with a couples game night!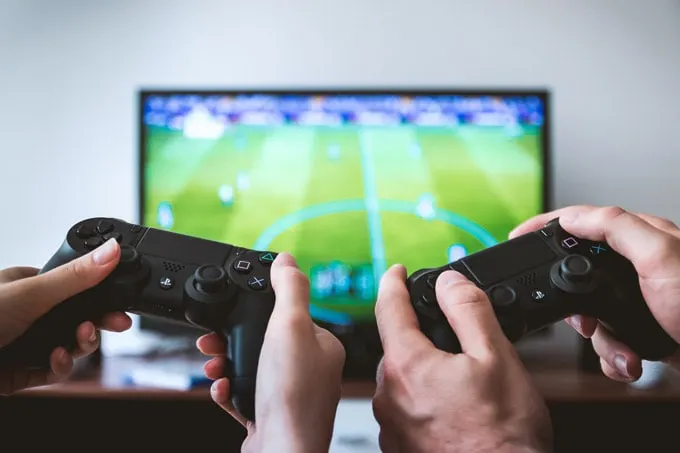 You could dust off a couple of old favorites, or find a new game that sounds interesting.
This is a great cheap valentine's day idea for him especially if digital gaming is his thing.
You can challenge each other to a tournament with your favorite single player game, or pick a multi-player console or computer game to play together.
Add in some wine and your favorite snacks and you've got a fun night at home together making some new memories.
6. Visit art murals and take some selfies to remember
One affordable Valentine's Day idea is to take your sweetie to tour some of the beautiful murals in your neighbourhood. Capture some fun moments and memories along the way.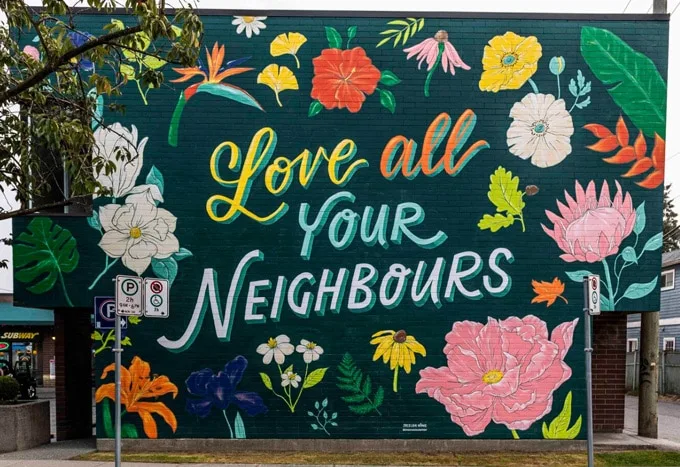 6. Go through your photos
Speaking of memories, everyone has photos on their phones that they haven't gotten around to printing, or photos in boxes or albums that haven't made it into frames.
Go through your photos together, reminisce about the things you were doing in them.
Looking at old photos is sure to bring up all the fun times you've had together.
You can pick a few nice ones to put in frames and display in your home.
Maybe even make them into magnets you can put on the fridge or onto a mug.
These would make affordable Valentine's Day gifts that you can you make.
You can think about the great times you've had during your relationship every time you see them.
7. Bake a delicious dessert
We've already discussed how fun it can be cooking dinner together, but what if you'd prefer something sweet?
Whether it's something you've been dying to try or something you know you love, research some delicious desserts and pick one to bake together.
From brownies, to cakes, to cookies there's sure to be something you both enjoy that you can learn to bake together.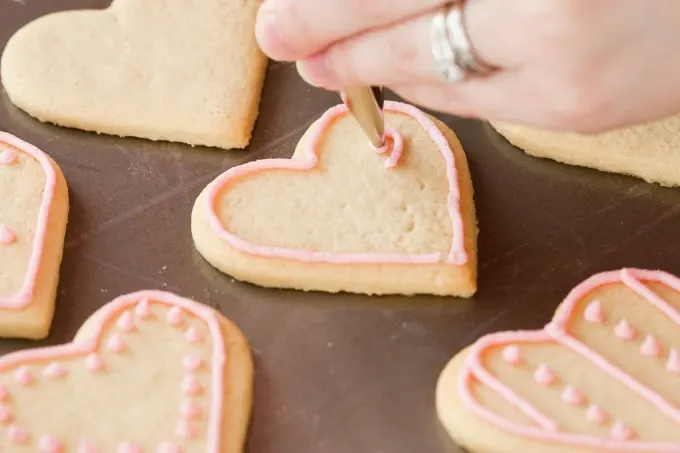 Enjoy your dessert with your favorite cocktail or a good bottle of wine. This option would also go together nicely with a game night or going through your old photos.
8. Bike your way around town
A cute and cheap Valentine's Day idea is simply to bike around town with your sweetheart.
Biking is an active but also green and ecofriendly activity. You might even consider get a tandem bike for some extra fun. Stop by a cute coffee shop for break while exploring around.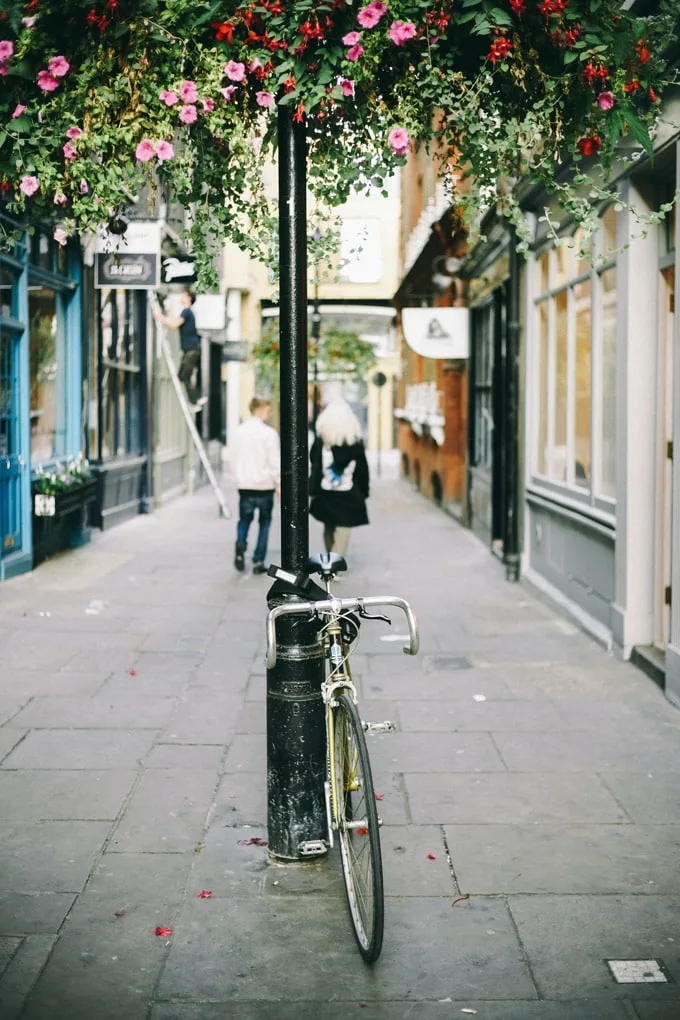 Family Valentine's Day
For those with kids, there are plenty of fun activities that you can do with little ones that are sure to make them feel the love on this special holiday.
Check out my post on family Valentine's Day ideas to make the day exciting for both you and the kids.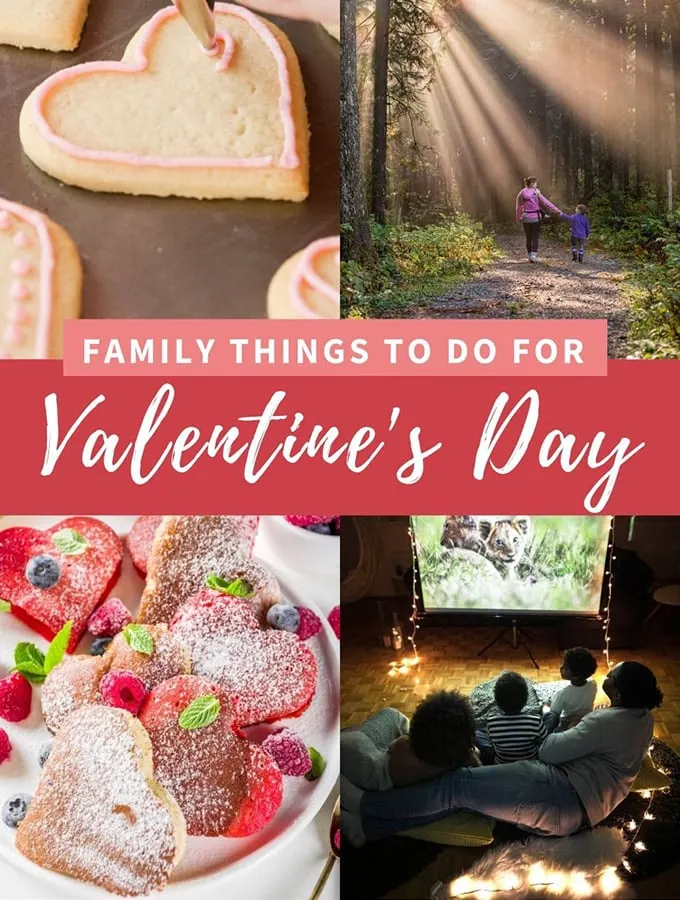 Hopefully, you've enjoyed this post on Cheap Valentine's Day Ideas list. Do you have any recommendations? Leave a comment below and let me know.