Thanksgiving is a wonderful time to eat, drink and be thankful. Looking for ways to celebrate Thanksgiving this year? Here is a list of restaurants and businesses in Ottawa that have special Thanksgiving Ottawa 2020 offerings this year.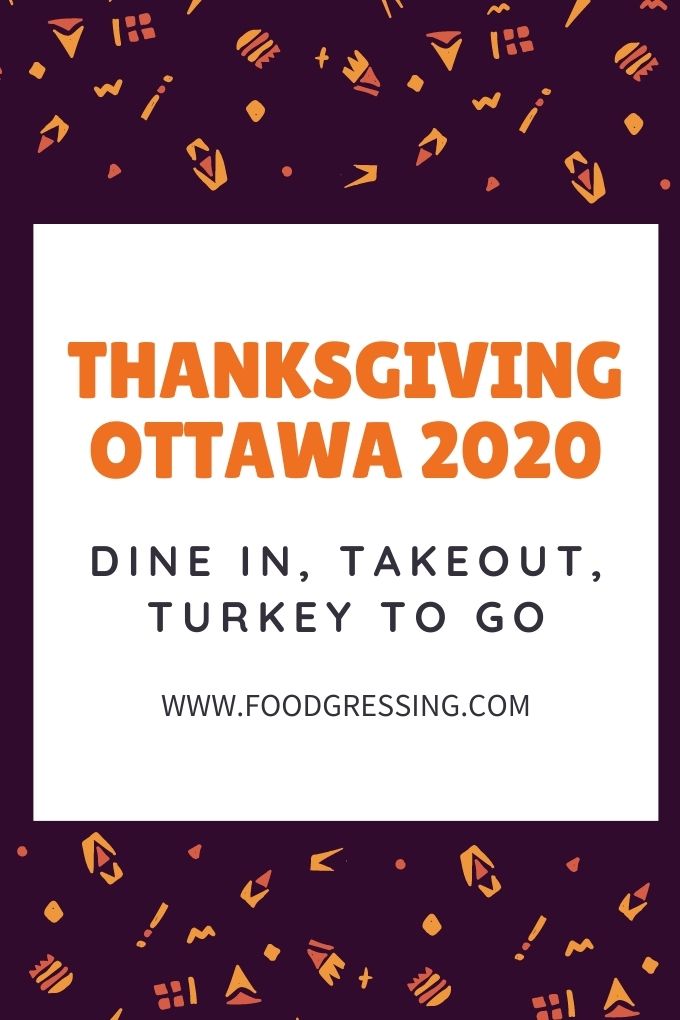 Of course, any support to local businesses is appreciated in these times. Thanksgiving celebrations can take on different forms from traditional, fusion to modern. Please use this list as an inspiration for ideas on how to put together your own Thanksgiving celebration.
This list is updated as information becomes available. Please reach out to me foodgressing@gmail.com or @foodgressing on social media for any suggestions.
Dine In
Grill 41 @ Lord Elgin Hotel
Grill 41 at the Lord Elgin Hotel is offering a 3-course Thanksgiving dinner at $54 per person on Oct 11 & 12.
Welcome sparkling toast and chef's amuse bouche
Harvest beet soup with painted crème fraise or Quick pickled heirloom carrot, pecans, aged goat cheese and fried leeks with rocket greens
Lord Elgin's traditional turkey dinner with the trimmings marble mashed potato and seasonal harvest vegetables or Roasted Prime Rib of beef with yorkshire pudding, red wine glaze, blue cheese compound butter, marble mashed potato and seasonal harvest vegetables
Chef's Thanksgiving dessert selection
Chances R Restaurant
Chances R Restaurant is offering Thanksgiving Table d'hôte Features on Oct 8 – 12 (noon till 8 pm) ($30):
Chef salad with balsamic vinaigrette
Roast turkey with stuffing, honey glazed carrots, cranberry sauce, mashed potatoes and gravy
Choice of homemade pumpkin pie or coconut cream pie
Lunch & Dinner Menu only available on Thursday and Friday. There are also Thanksgiving weekend features.
Turkey To Go Ottawa
Brookstreet Hotel
The Brookstreet Hotel is offering Thanksgiving Turkey Dinner To Go ($249) which serves 10 ppl. Available on Oct 10 & 11.
A whole roasted free range turkey (15 -18 lbs)
Thyme & confit garlic bread stuffing (1kg/2.2lbs)
Gratin dauphinoise potato made with cream and emmental cheese
Medley of maple glazed carrot, butternut squash, brussels sprouts, dried cranberries and spiced pecans
Steamed green beans (1kg/2.2lbs)
Cranberry Compote (500mL)
Turkey Giblet Gravy (1L)
Occo Kitchen
Occo Kitchen is offering Turkey to Go in two packages: 5 ppl ($130) or 10 ppl ($225 ppl). These include Roasted Ontario Tom Turkey; Sliced Turkey Breast And Roasted Leg; Glazed Carrots – Seasonal Vegetables; Buttermilk Yukon Gold Mashed Potatoes; Savoury Stuffing – Spiced Orange & Cranberry Chutney – Turkey Drippings Gravy; and Thanksgiving Pie.
Red Apron
Red Apron is offering 1/2 Turkey Dinners or Turkey dinners for 2 only. If your bubble is bigger, you can order multiple dinners for 2, and multiple half turkey dinners.
One Half of a Butter & Herb Basted Local Turkey with all the Trimmings!
Includes Savoury Apple & Sage Stuffing, Mixed Seasonal
Vegetables, Mashed Sweet & White Potatoes with Pecan Crumble,
House Made Gravy & Cranberry Sauce
$139 | Feeds 6-8
Turkey Dinner for 2
Includes Savoury Apple & Sage Stuffing, Mixed
Seasonal Vegetables, Mashed Potatoes,
House Made Gravy & Cranberry Sauce
$39 | Feeds 2
Thanksgiving menu items are available for pre-order and pick up in their retail store on Friday October 9 (9am – 5pm) and Saturday October 10 (9am – 4pm).
Epicuria
Epicuria is offering a Thanksgiving Dinner Package which serves 6 people ($150).
Stuffed Turkey Breast
Artisan Bread Herb Stuffing
Dominion City Beer Gravy
Upper Canada Cranberry Compote
Classic Potato Gratin
Heirloom Carrots, Green Beans and Brussels Sprouts
Lemon Parsley Pesto
Overbrook Honey Spiced Pumpkin Pie
Deadline for orders is Monday October 6th. Curbside Pick-up 9:30 am to 4 pm on Saturday October 10th.
Farm Boy
Farm Boy is offering Ham or Turkey Dinner packages ($149.99). Pickup in store (Oct 9 – 11), advance purchase required, limited quantities available.
Ontario Glazed Ham (4-5 kg), along with Maple Mustard Glaze and Honey Mustard Sauce, both made in the Farm Boy Kitchen.
Brined and Fully Cooked Turkey from Hayter's Family Farm (Dashwood, Ontario) – 4-5 kg, along with Farm Boy Turkey Gravy and Farm Boy Cranberry Ginger Sauce, both made in the Farm Boy Kitchen.
Choice of 4 sides: Autumn Smash (butternut squash, carrots, and parsnips); Chive Mashed Potatoes; Cranberry Apple Sausage Stuffing; Roasted Beets; Roasted Brussels Sprouts; Roasted Carrots; Roasted Tri-Colour Potatoes; or Sweet Potato Mash.
SupperWorks
SupperWorks has a Thanksgiving Dinner Package ($169) which serves 6 – 8 people.
This package includes Roast Turkey Breast with Cranberry Sauce as your main along with the following sides; Maple-Crumble Mashed Sweet Potatoes, Traditional Bread Stuffing, Low-Carb Cauliflower Sauté, Parmesan-Parsley Peas & Corn, Rosemary Focaccia and Gravy. For Dessert you'll enjoy a Pumpkin Cheesecake Pie.
NEXT
NEXT is offering a Thanksgiving Turkey to Go package priced at $205 serving up to 10 ppl. Available Oct 10, 11 & 12 for pickup between 3 – 5 pm.