Here's a roundup of Easter Ottawa 2022 celebration ideas featuring special menus by local restaurants for Easter brunch, Easter lunch, Easter dinner plus desserts and treats.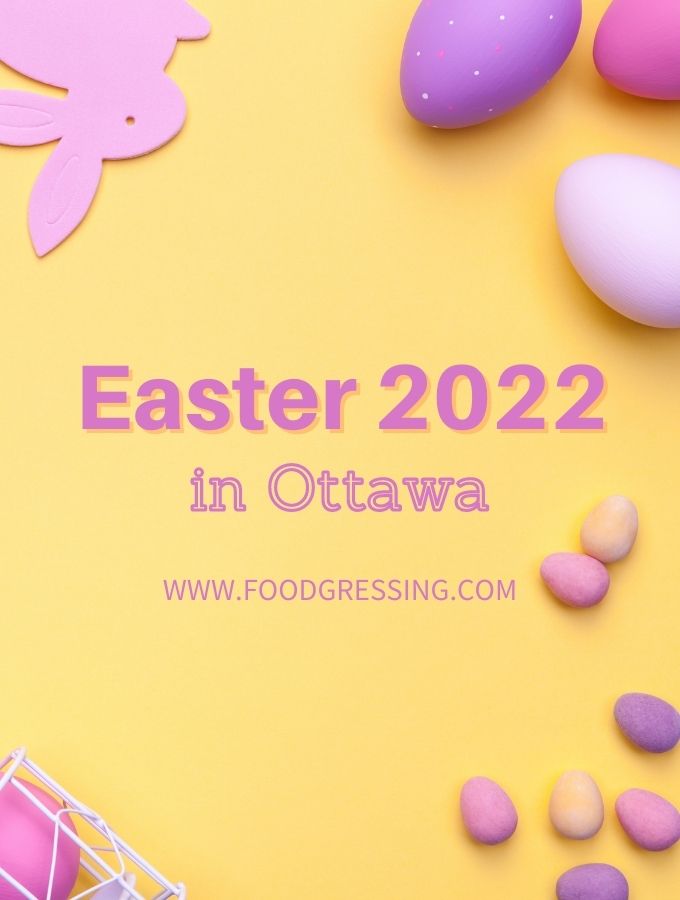 Easter Friday is April 15, 2022 and Easter Sunday is April 17, 2022.
Please reach out to me [email protected] or @foodgressing on social media if you are a restaurant that wants to be featured. Provide all the details of your holiday offering in your message. For faster processing, please provide a ready to copy and paste excerpt in paragraph form in a similar format to the restaurants featured below.
This list is not exhaustive and is updated as information becomes available. I try to feature as much as I can but certainly this is not all that is out there. If your favorite restaurant is not on the list, contact them to see what they are offering.
Easter Ottawa 2022: Brunch, Lunch, Dinner, Restaurants
Baccanalle
Check out this Easter Ottawa 2022 menu brought to you by Chef Resa of Baccanalle – recently listed among one of Canada's best Woman-owned restaurants by Food Network Canada. Baccanalle is offering a preorder (heat & serve and DIY) menu for pickup & delivery April 14-16. Single/Double Entrées and Family Style options, starting at $20pp. Key features – Geera Lamb, Pineapple-Gingerbeer Ham, Pan-seared Salmon, Vegan Curry Pot Pie, their classic Ocho Jerk Chicken and Signature Patties including a special Lamb edition. Wake up sweet on Sunday morning with their Tiramisu Crepes/Red Velvet Waffles, Chocolate Mango Cheesecake Bars or a Hibiscus Mocktail.
Pre-order at www.baccanalle.com or contact them at [email protected] or 613-859-6297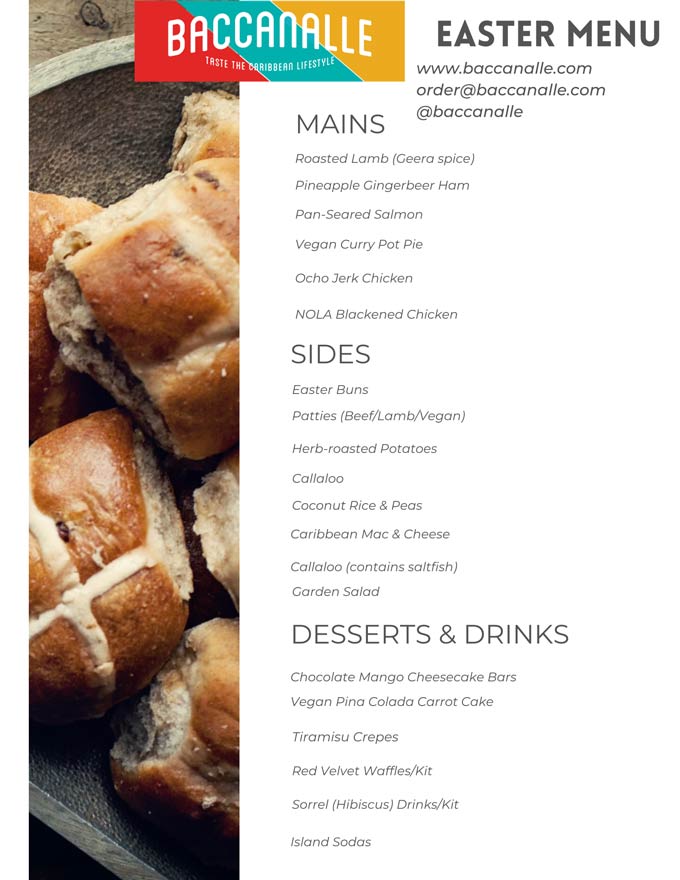 Wilfrid's Restaurant – Fairmont Chateau Laurier
Wilfrid's Restaurant – Fairmont Chateau Laurier is offering an Easter Brunch on April 17. Priced at $95 per adult, 1/2 price for kids.
1. Amuse bouche: Raspberry Mouhalabieh, honey pistachios, raspberry jam, micro cilantro
2. Starters: Charred Vidalia onion / Roasted fingerling potatoes / Pinto Beans / Cucumber salad
3. Table Side Ordering: Milk Bread French Toast / Eggs Benedict / Rosti / Quiche / Shashuka / Grilled Cheese Slider / Braised Pork Shank / Whole Roasted Hen
4. Sweets: Maple Crepes / "Peeps" / Cocoa nib and honey bavarois
Grill Forty One
Grill Forty One is offering an Easter brunch buffet on April 17 from 10 am – 2 pm. Adults $50, Children under 12 $25.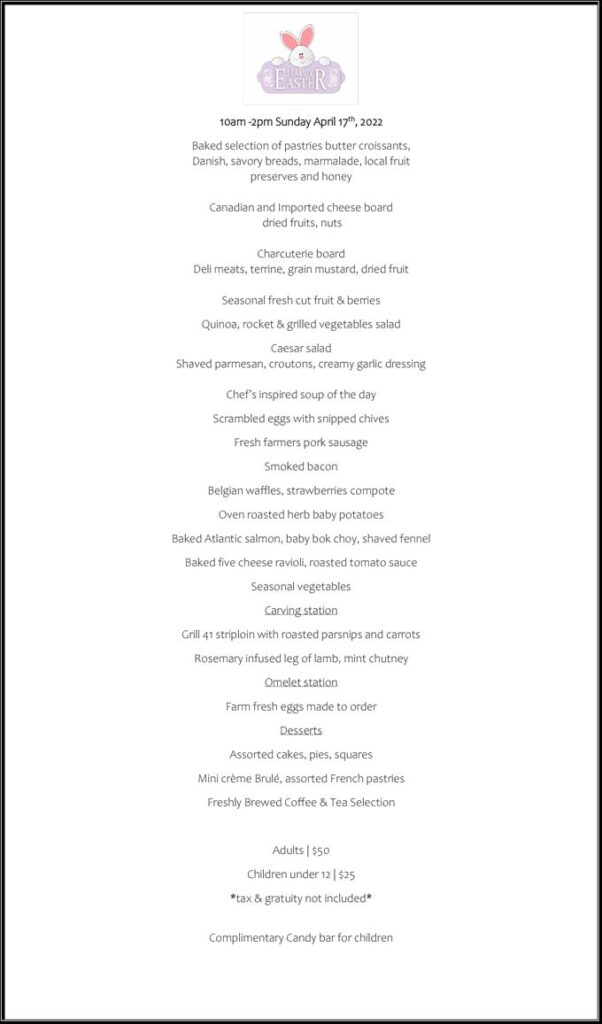 1 Elgin
1 Elgin is offering Easter Brunch on April 17 from 11:30 am-2:00 pm.
$46 – 2 courses
$56 – 3 courses
$25 kids (half portion) – 2 courses
$30 Kids (half portion) – 3 course
Breadbaskets and mini pastries included.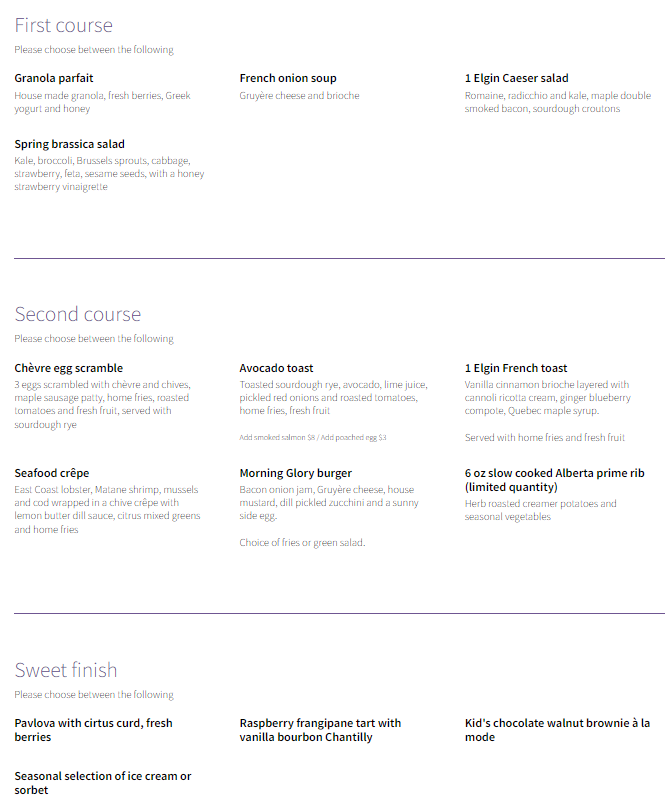 Brookstreet Hotel
Brookstreet Hotel is offering Easter Brunch on April 16 and 17 from 9 am – 2 pm.

Thyme & Again
Thyme & Again is offering dinner packages for four, dinners for two and all the sweets and treats you need to make Easter a success. Pickup available on April 15 and 16.
Marinated Burrata
Spring Salad
Trio of Pates with Baguette
Ham Dinner for Two
Potato Gnocchi Dinner for Two
Easter Ham Dinner Package with Maple Dijon Ham with Scalloped Potatoes, Glazed Carrots, Grilled Asparagus & Ham Gravy
Easter Roast Chicken Dinner
Easter Spice-Crusted Prime Rib (GF)
Grilled Striped Bass
Easter Brunch Box
Easter Egg Bake
Carrot Cake with Maple Cream Cheese Icing
Maple Pecan Cheesecake
ChancesR
ChancesR will offer their famous turkey dinner feature either dine in or takeaway. Dinner for 1 ($33.50) or 2 ($62). Available April 15 – 18. All pre-orders must be placed by Thursday, April 13th at 2 pm.
Chef salad with balsamic vinaigrette
Roasted Butterball turkey with seasonal vegetables, garlic and bacon stuffing, cranberry sauce, Yukon Gold mashed potatoes and gravy.
Choice of baklava cheesecake or chocolate mousse cake
Courtyard Restaurant
Courtyard Restaurant is offering a Special Table D'hôte Menu available only on Sunday April 17th, 2022. Priced at $41 per person.
Farm Boy
Farm Boy is offering Turkey and Ham Easter Dinner Boxes full of all the fixings you know and love plus four delicious sides. Step away from the stove and sit down with family instead. $179.99 serves 6 – 8 people.
The star of your holiday spread is either a succulent Roasted Turkey, served with tart Cranberry Ginger Sauce and a rich Turkey Gravy OR a juicy Maple-Glazed Ham served with tangy Honey Mustard Cream Sauce. Joining them is our rustic Cranberry Apple Sausage Stuffing—made with Farm Boy™️ Sweet Italian Sausage—as well as creamy Chive Mashed Potatoes, vibrant Roasted Carrots, and a colourful Shredded Vegetable Medley.
Next Food
Next is offering Easter brunch ($60 per person) and dinner packages ($90 per person) at home.


Signatures Restaurant
Signatures Restaurant is offering an Easter Meal Package. Start your meal with two appetizers and enjoy a beautiful vegetables macedoine and tuna salad as well as a cream of asparagus with cod fish acras. Once you are ready for your main course, simply re-heat their mouthwatering confit lamb shank, then finish your meal with a unique Easter dessert: A chocolate trilogy cake decorated with a special easter chocolate egg.
Order by April 12 for pickup on April 16 from 2 pm – 4 pm. 4 Course Dinner Package for 2: $195.00 + tax.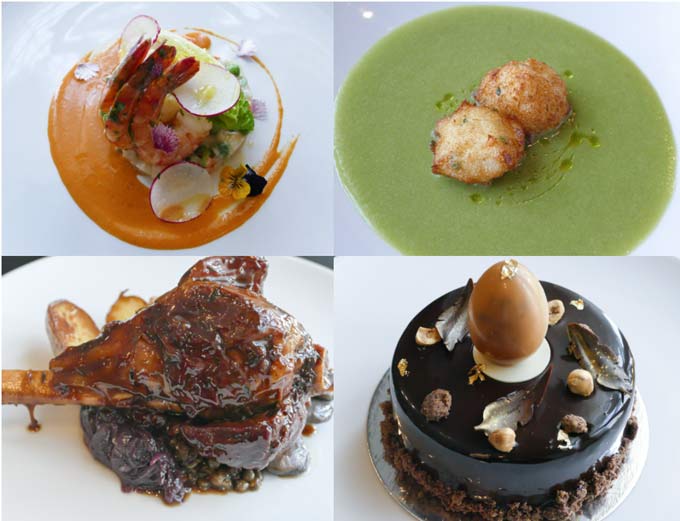 Red Apron
Red Apron is offering Quiches and other Easter goodies to make the holiday simply enjoyable.
They are taking orders now for their Easter quiches. This year they are making 2 varieties. Berkshire ham with St. Albert cheddar or Asparagus, Leek and Chévre.
Pick up available on Friday April 15th or Saturday April 16th. Call 613-696-0417 or email [email protected] to reserve yours.
They also have Easter chocolates, seasonal baked treats, Easter-inspired meals, meat pies, Berkshire hams, dips, spreads, cheeses and so much more in store this month.
The Swan at Carp
The Swan at Carp is offering Easter Sunday brunch take out. $30/person +Tax. Pick up time 10:30pm – 1pm.
Bacon, Sausage, Ham Egg Benedict, Potatoes, Scrambled eggs
Homemade waffle,
Side salad, Fruit salad, Chocolate raspberry triple
Milestones Grill + Bar – Pinecrest
Milestones Grill + Bar – Pinecrest is taking reservations for Easter Sunday Brunch and Dinner.
Check back later as new offerings are added to this list.