Thanksgiving is a wonderful time to eat, drink and be thankful. Looking for ways to celebrate Thanksgiving in Ottawa 2022? This post covers Thanksgiving dinner in Ottawa, restaurants open for Thanksgiving in Ottawa as well as turkey to go and takeout options.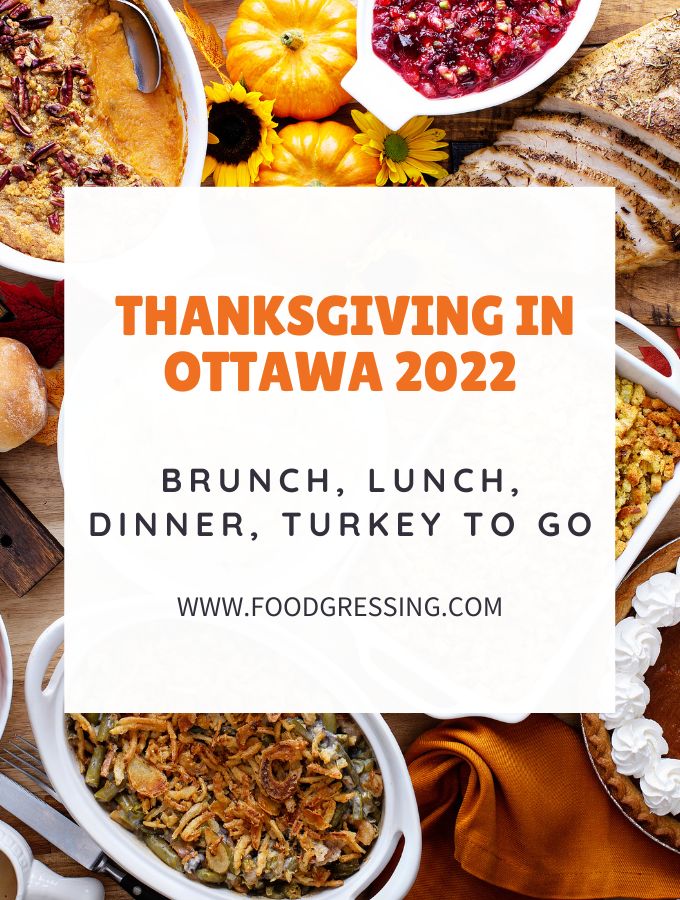 Thanksgiving in Canada is Monday, October 10, 2022.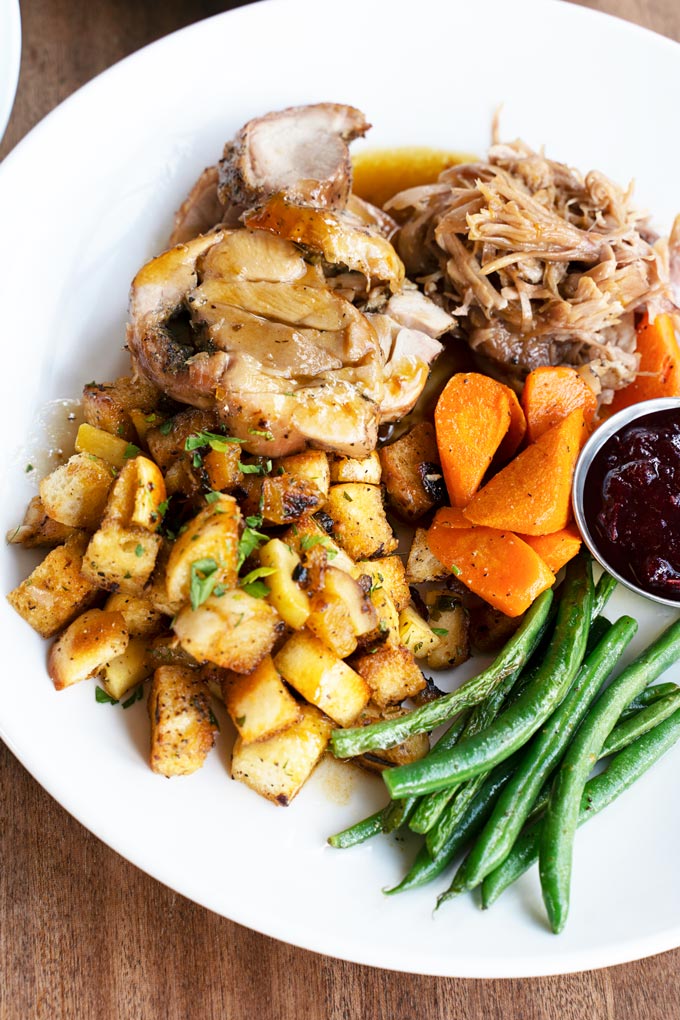 Please reach out to me [email protected] or @foodgressing on social media if you are a restaurant that wants to be featured. Provide all the details of your holiday offering in your message. For faster processing, please provide a ready to copy and paste excerpt in paragraph form in a similar format to the restaurants featured below.
This list is not exhaustive and is updated as information becomes available. I try to feature as much as I can but certainly this is not all that is out there. If your favorite restaurant is not on the list, contact them to see what they are offering.
Thanksgiving in Ottawa 2022
The Brookstreet Hotel
The Brookstreet Hotel is offering Thanksgiving Turkey to Go on Sunday, October 9. Priced at $350 and serves up to 10 people and includes:
A whole roasted free-range turkey (7kg/15 lbs)
Traditional bread stuffing (1kg/2.2lbs)
Gratin dauphinoise potato made with cream & emmental cheese
Medley of maple glazed carrot, butternut squash, brussel sprouts, dried cranberries
Steamed green beans (1kg/2.2lbs)
Cranberry Compote (500mL)
Turkey Giblet Gravy (1L)
Next
Next is offering Thanksgiving Dinner to Go for delivery on Saturday October 8 – Monday October 10. Priced at $59 per person.
Chef Blackie will be with you every step of the way, with his all in 1 box takeout solution. You can either have your order delivered for free or pickup your order if you wish.
When you get home you will have not only access to a video walking you thru all steps, but more importantly chef has designed the process of cooking and plating your Thanksgiving evening, organized and stress free.
The menu includes:
2 Little bites each, 8 pieces in total per order
6 course plated menu for each guest
1 Cocktail per person, 4 drinks in total
1 Bottle 750 ml Bottle of wine

The Red Apron
The Red Apron Thanksgiving menu items are available for pre-order. Their store hours are 9am – 6pm on Friday October 7th, and 9am – 5pm on Saturday October 8th. They will have a limited number of delivery spots available on Friday (Feasts) and Saturday (Half Turkeys).
Friday Feast – Turkey Dinner – Available for Pick up or Delivery on October 7th
Herb Roasted Turkey with Gravy & Cranberry Sauce
Apple & Sage Stuffing
Mixed Seasonal Vegetables
Mashed Potatoes
$95.95 serves 4-6 Generously
Half of a Whole Butter & Herb Basted Local Turkey with all the Trimmings – Available for Pick up or Delivery on October 8th
1/2 Butter & Herb Basted Turkey
Savoury Apple & Sage Stuffing
Mixed Seasonal Vegetables
Mashed Sweet & White Potatoes with Pecan Crumble
House Made Gravy & Cranberry Sauce
$159.95, serves 8 or more
October 7th-8th (Pick up)
Turkey Dinner for 2
Includes turkey, apple & sage stuffing, mixed seasonal vegetables, mashed potatoes, house made gravy & cranberry sauce
$42 / Serves 2
Fairmont Chateau Laurier
Fairmont Chateau Laurier is offering a Thanksgiving Brunch. Priced at $79 per person, $39 per child 6 to 13 years of age, children 5 and under dine free.
Sunday, October 9 only First service: 11:00 AM, Last service: 1:30 PM.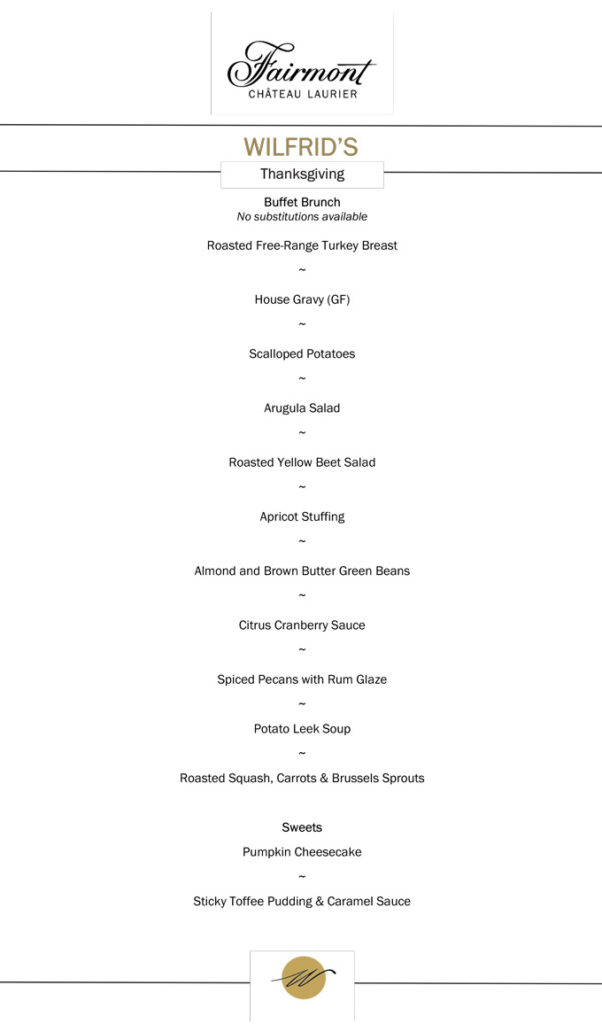 Swiss Chalet
Swiss Chalet is offering Thanksgiving features until October 10.
The Thanksgiving Feast features famous Quarter Chicken served with stuffing, cranberry sauce, your choice of side, a Lindor milk chocolate truffle and a slice of pie. They also recommend a delicious pumpkin pie. They're also offering Double Leg; White Meat; and Beef Entree options.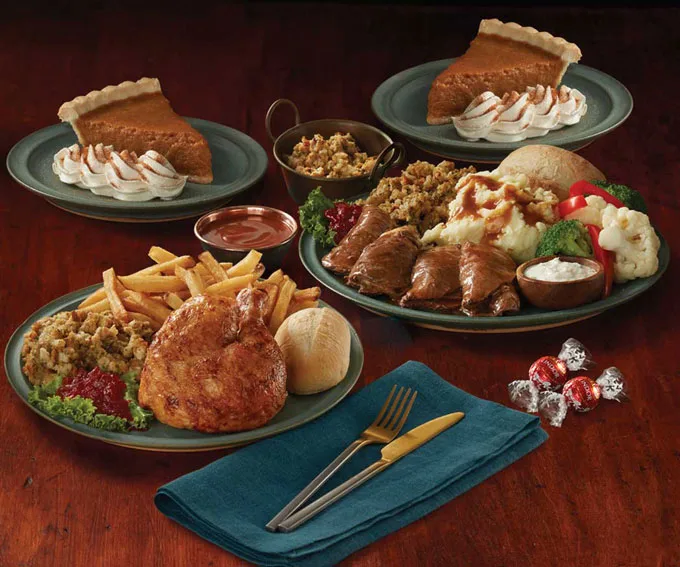 Gray Jay
Gray Jay is offering a Thanksgiving Package for 2 priced at $140 per package. Available for pickup on October 7, 8, and 9.
The menu includes:
Bread and Butter
Brussel Sprouts and Sweet Potato, Cranberry
Root Veg Salad (Carrot, Beets, Fennel, Cheddar, Gem Lettuce)
Pumpkin Rigatoni, Brown Butter Pecan+Peppitas Crumble
Smoked and Stuffed Turkey Roulade, Gravy, Princess Potatoes
Stuffing – Apple, Fennel Sausage, Chestnut, Sourdough
Dessert – Pumpkin Pie with Spiced Whipped Cream
T&T Supermarket
T&T Supermarket offers Thanksgiving platters. Check your local T&T to see what is being offered.
Premium Combo includes Chinese Style Bountiful Stuffed Turkey + Assorted Stirred Fried Vegetables + Fresh Fruit Cut Party Tray + Select Dessert + 2 Bottles of Fruit Soda Drink
Classic Combo includes Roasted Turkey (whole) + Harvest Thanksgiving Sushi Tray + Select Dessert + 1 Bottle Fruit Soda Drink
Happy Combo includes Turkey Slices + Cold Appetizer 5 Items Platter + Select Dessert + 1 Bottle Fruit Soda Drink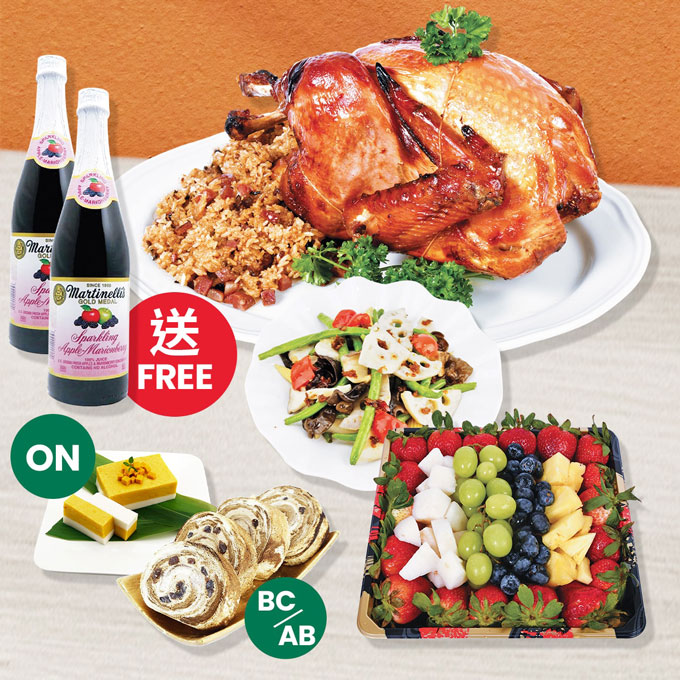 DIY Thanksgiving in Ottawa 2022 Meal Ideas
Holiday entertaining tips
Here are some tips on holiday entertaining including charcuterie board tips, how to cook the perfect turkey like a Chef, and virtual holiday party ideas.
Thanksgiving food list
Here is a Thanksgiving Food List to help you prepare or get inspired for your Thanksgiving celebration. You'll find ideas for Mains, Stuffing, Vegetables, Salads, Desserts and more.
Thanksgiving Quotes
Check out these Thanksgiving quotes and messages to demonstrate your gratitude for your loved ones this holiday season.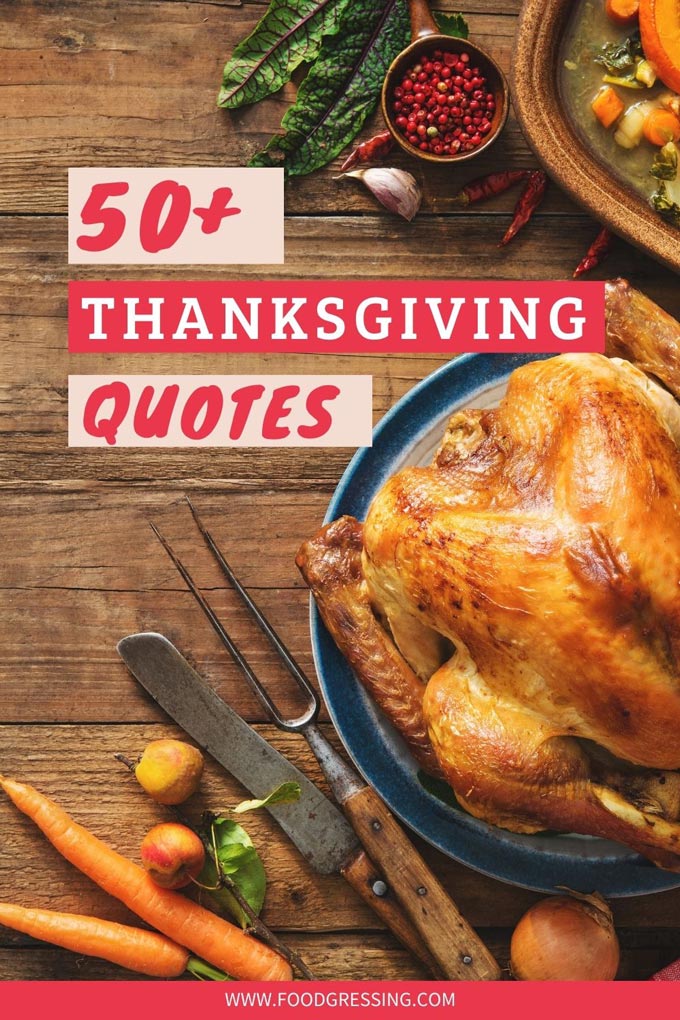 Captions about Family
Looking for captions about family for your social media post? Check out my post on 105+ creative and original captions for family pictures.