If you're visiting Canada's capital or are a local wanting to check off his or her Ottawa foodie bucket list, check out this roundup of Best Restaurants in Ottawa for inspiration.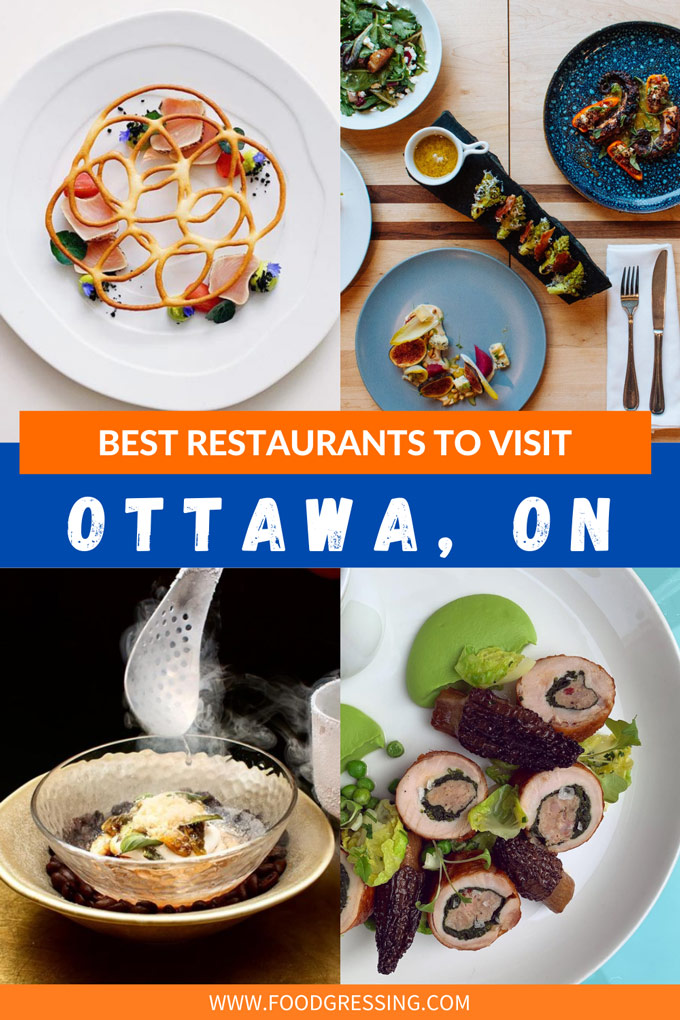 The restaurants are listed in no particular order.
Atelier
Atelier is one of the most unique dining destinations in Canada and has been serving customers for over a decade.
The restaurant is chef-owned and operated by Marc Lapine, who has been named Canada's Most Innovative Chef by Canada's 100 Best Restaurants magazine
The restaurant was exclusively serving a blind 12-course tasting menu.
However, as of January 2021, they reinvented the entire concept and are offering a never-before-seen 44-course, interactive tasting menu.
This interactive dining experience takes around 4 hours, with approximately 10 courses per hour.
The restaurant welcomes guests to capture this unique gastronomic experience.
Riviera
If you are looking for a fine dining experience in Canada's capital or are wanting to splurge on an amazing dinner, check out Riviera for high-end, creative Canadian cuisine.
As one of the best restaurants in Ottawa, Rivera serves rich, hearty meals that are sure to leave you satisfied.
Highlights of the menu include Lacquered Cornish Hen, Fogo Island Cod, and Lobster Spaghetti.
Riviera also makes for a great date-night location.
The restaurant is uniquely located in a former bank building offering a lovely ambiance and beautiful interior design.
Restaurant Les Fougeres (Les Fougères)
Overlooking the decadent scenery the Quebec woodlands have to offer, Les Fougères is an all-encompassing dining experience.
The restaurant has won multiple regional and national-level awards since opening in 1993.
Les Fougères is committed to providing patrons with true culinary excellence, that is fostered through the use of fresh, local ingredients of the West Quebec terroir.
The use of clean ingredients are a vital part of the restaurant's philosophy showcasing their commitment to real, healthy (yet tasty) food that is free from artificial flavourings and unhealthy additives.
Furthermore, Les Fougères embraces the art of hospitality with a warm, knowledgeable staff team, and a dining environment that is welcoming and non pretentious.
Some highlights of the menu include Confit of Quebec Duck and Mouth of the St-Lawrence featuring seared Grand Banks scallops, Matane shrimps, salt cod ravioli, PEI mussel fumet and seaweed.
Les Fougères is 15 minutes from Downtown Ottawa.
Alice
Food and art are often companions, but rarely as elaborately intertwined as they are at Alice, a new addition to Ottawa's culinary scene.
With a vegetable and fermentation-focused tasting menu, Alice puts an entirely new spin on the concept of fine-dining.
It's no surprise that Alice is such a success and being named as one of the Best Restaurants in Ottawa.
The restaurant is owned and operated by award-winning Chef Briana Kim, who previously represented Ottawa at the Canadian Culinary Championships, and won.
Kim's newest venture is quaint, with just 20 seats available in its neutral-toned design scheme.
Alice offers one dining option: an 8 course blind tasting menu at $125 per person, and wine and fermented juice pairings at $75 per person.
Head to Alice's new location in Little Italy to enjoy a truly innovative fine-dining experience.
Baker Street Café
Baker Street Café is one of the best restaurants in Ottawa with an all-day breakfast, and you'll often see a line out the door for their scrumptious menu.
For breakfast, indulge in their Eggs Florentine; A la Montreal Benedict with Montreal smoked meat; and Atlantic Smoked Salmon Benedict.
Not to be missed are housemade and huge, Cinnamon buns.
For lunch, they have a delicious Monte Cristo Club with bone in ham, cheddar cheese, slice roasted chicken breast and a four cheese blend between three slices of French Toast.
If you're a morning person, head there early to beat the crowds.
Carben Food + Drink
Next up on this list of Best Restaurants in Ottawa is Carben.
The name "Carben" is taken from the owners' names (husband and wife duo Caroline Ngo and Kevin Benes) and is also a play on the element 'Carbon' – found in all things; everything is inspiration.
Both local and international flavours are showcased on the menu, which features unique, contemporary offerings like gin cured salmon and tomato panna cotta.
Check out their Signature Cocktails like Walk in the Woods (Ungava Gin, Sweet Vermouth, Fig & Rosemary Syrup, Fernet Branca) and A Sweet Butterfly (Altos Tequila, Guava, Passion Fruit, Aloe, Butterfly Pea Tea).
Overall, Carben provides an inviting space that is industrial-chic and community-centric, with a strong focus on excellent customer-service.
Arlo
During the summer, Arlo's quaint patio is the perfect place to spend an evening with your loved ones.
Serving comforting and simple, yet refined food and natural wines, Arlo will make you feel like you're on an idyllic cottage getaway (even if you're only 20 minutes from home).
The food menu is small and focused and changes regularly with the seasons.
You can expect dishes like New Brunswick Striped Bass; Pork Frites; and Flank Steak.
The restaurant's indoor dining room set to reopen in Fall of 2021.
Brassica
Brassica is a true gem in the Ottawa restaurant scene.
On the menu are plates of bright, vibrant flavours and exciting combinations that highlight local and sustainable products.
Chef-owner Arup Jana and his team have made quite the comeback with Brassica, after their first restaurant, Allium, was destroyed by a fire in March 2019.
The restaurant aims to provide guests with an extremely welcoming atmosphere, with dishes that are meant to be shared amongst friends and family.
Some highlights of the menu include Octopus & Pork Belly; Patagonian Shrimp Cavatelli; and Filet of Sea Bream in corn and coconut milk chowder.
Aiana Restaurant Collective
Aiana is an upscale, fine dining restaurant in Downtown Ottawa that offers a seasonally-inspired menu inspired by Canada's multicultural background and heritage.
Aiana's humble roots are planted in a desire to bring the abundance of Canada's food products – many of which grow wild in or around Ottawa – to the forefront of flavourful dishes.
The restaurant is open for lunch and dinner Monday through Friday and dinner only on Saturday.
Some highlights of the menu are Ontario Lamb; Brome Lake Duck; Digby Scallops; Eastern Passage Halibut and more.
With grey, teal, black, and gold feature colours, the restaurant's decor is elegant and aesthetic.
Aiana supports their employees by paying the staff a living wage so service charges are included in the price of the menu items.
Belmont
Belmont is where you will find inventive tasty small plates, great cocktails, beautiful all-natural wines in a cozy and inviting atmosphere.
Chef-owned and operated by Phil Denny, the Belmont is a true gem where dishes are executed to the highest standard, so that you'll be savouring every last morsel.
Stop by for brunch where you can enjoy favourites like BBQ pork biscuit featuring brown sugar braised pork and Caroline BBQ on a homemade buttermilk biscuit.
Belmont is a popular date night spot with its intimate, low-lit setting. They have a dedicated 5-course Date Night Menu ($100 for 2 people) featuring Beef Tataki; Bara Flatbread with chickpea curry; Whipped Feta; Sablefish; and Chocolate Panna Cotta.
If you're hoping to take a special someone out soon, the Belmont is the place to go.
On Sundays, they offer Dim Sum with dishes like BBQ Pork Bao; Seafood Dumplings; Shrimp & Turnip Cake; and Shrimp & Coriander Shumai.
North and Navy
North and Navy is one of the best restaurants in Ottawa for Italian food.
The culinary team plays off the similarities between the climates of Eastern Ontario and Northeast Italy, and create their own take on classic dishes made with seasonal game, seafood and vegetables.
For the antipasti, start off with Farm Tomatoes & Ricotta or Braised Fennel & Yogurt.
Next, try the Corzetti with Walnut & Pancetta, Ricotta & Pea Crema Farfalle, Smoked Duck Breast & Farmer's Chard or Chamomile Halibut & Snap Peas.
Finish off with a luscious Tiramisu. Pair your dinner with fine Italian wines from their wine list.
The customer service experience at North and Navy is also known to be top-notch.
Tomo
Tomo is a funky, laid-back joint and one of the best restaurants in Ottawa to grab some delicious Pan-Asian fare.
From tuna tataki to creative sushi rolls, to Pad Thai, even the pickiest of eaters and those who avoid raw fish will be able to find a dish they love at Tomo.
Try the Mohawk Roll which has tempura shrimp, masago, avocado, cucumber, spicy mayo, topped with lightly seared salmon and scallion.
There's also the Yaki Ika featuring grilled squid brushed with house-made sauce.
They have a great selection of classic cocktails, wine and beer, and, of course, sake, which pair well with the menu.
Street Fighter fans, anyone? There's the Chun-Li Kick made with Gin, Campari, lychee juice, lemongrass syrup, lemon juice, and lavender bitters.
Play Food and Wine
Play Food & Wine is a modern, small-plates restaurant with dishes made from ingredients that are local, sustainable and seasonal.
This is one of the best restaurants in Ottawa to visit with a group so that you can order a variety of small plates to try.
On average, most guests order three small plates at dinner for a full meal.
Some of their savoury plates include Patagonia Prawns with mango, pineapple and chili salsa; Crispy Quail with bbq suace; Scallops with double smoked bacon and more.
They also have some vegan options like Tempeh with herb roasted cauliflower, mushrooms, cherry tomatoes and marsala sauce; Folgio d'Ulivo with olives, gremolata, spinach, walnut pesto and so forth.
Play Food & Wine has a unique restaurant layout, with an open-concept kitchen that overlooks the second-floor dining room.
Grounded Kitchen, Coffee & Bar
Grounded Kitchen is the place to go for food that is truly great- so says their motto.
The team at Grounded Kitchen takes pride in making their food from scratch, and takes a hands-on approach to everything from cooking to customer service.
Grounded Kitchen serves up a variety of mouth-watering dishes, including carefully curated pasta and oysters, but they really shine in BBQ and gastro-pub fare.
If you can't decide what to order (because it all just looks too good), their BBQ Plate is a great smorgasbord of their best offerings and includes a good variety of meats and sides- all grilled to perfection, of course.
Grounded Kitchen is also quite the coffee connoisseur, and has a great range of high-quality, third-wave caffeinated beverages.
Even if you aren't in the mood to commit to a sit-down meal, Grounded Kitchen still has you covered.
They also keep a fully-stocked general store with both ingredients and ready-made food, meaning your next meal just got ten times easier and more delicious.
There is truly no downside- Grounded Kitchen is a restaurant you don't want to miss out on.
Thr33's Company Snack Bar
Thr33's Company Snack Bar is passionate about the wonderful city it resides in, and proudly showcases its love for Ottawa.
With locally sourced ingredients, Thr33's Company Snack Bar utilizes global cuisine (including everything from frog legs to gnocchi) and creates some truly awe-inspiring dishes.
The management team at Thr33's Company Snack Bar is nothing short of excellent, and the Thr33's website describes them perfectly:
"With a combined 50+ years' experience Tam, Ian and Tyler are "Thr33" guys who've played a part in the city's bar and culinary scene over the past decade."
Thanks to strong leadership, friendly staff and accessible prices, Thr33's Company Snack Bar is the best place to spend time with friends.
Next time you're looking for somewhere with great food and cocktails in a fun atmosphere, Thr33's Company Snack Bar is the perfect spot.
Heartbreakers
Heartbreakers' pizza is so good, it will break your heart when you finish it – pun absolutely intended.
They serve classic New York-style pizza in Ottawa made with organic stone-milled flour and locally sourced ingredients.
Go for The Sweetheart – a popular choice featuring tomato sauce, aged and fresh mozzarella, dry-cured pepperoni, jalapeño, oregano, and finished with honey.
They also have a vegan choice, Easy Peasy Vegan 2.0, which has tomato sauce, mad faux cashew cheese, kale, confit cherry tomatoes, Le Coprin mushroom mix, and finished with nutritional yeast.
Naturally, pizza and wine are the perfect pair. That's why Heartbreakers has a full selection of natural wines, so that you can always find the perfect wine to pair with your pizza.
If you're not in the mood for pizza, Heartbreakers has a modest selection of salad and chicken wings – and dessert, if that's more up your alley.
City Goose
City Goose is a relatively new in the Ottawa restaurant scene, but has quickly become one of the best restaurants in Ottawa.
Co-founded by restaurant industry veterans Eric Robertson-Tait and John Macklem, City Goose was opened with the goal of being a comforting space.
City Goose is the type of restaurant where you feel welcomed the second you walk in the door, and where you look forward to spending time with friends and family.
The food itself at City Goose is to die for- much of their food made is in-house (including their bread, sauces, dressings, pizzas, soups and more,) and is often locally sourced.
There is a high level of genuine care and passion that goes into the food at City Goose, and it shows.
CRAFT Beer Market
CRAFT Beer Market is a premium casual restaurant and bar chain with a passion for fresh local comfort food and great craft beer.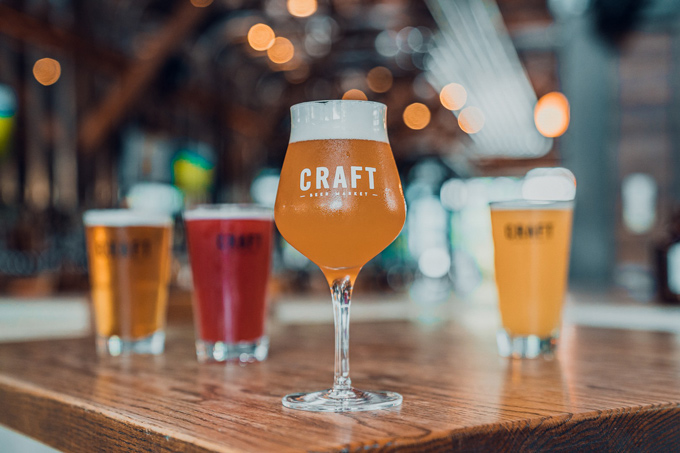 The brand has expanded with now 8 locations in 7 Canadian cities.
A visit to CRAFT means connecting you to the community, culture, and specifically craft beer culture.
They offer 100 beers on tap but also serve also up some tasty wines, cocktails, spirits and more.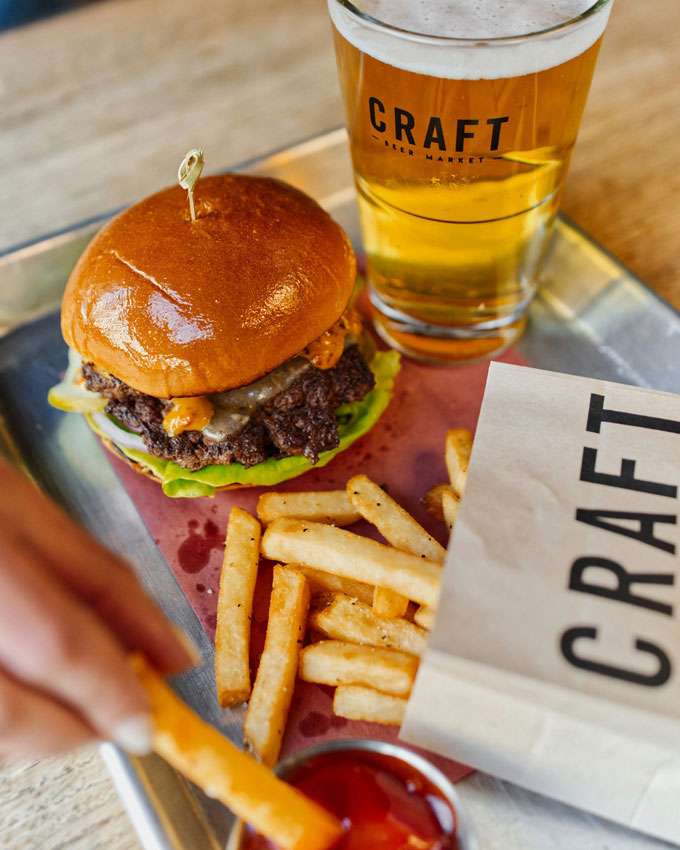 Be sure to check out their Happy Hour which boasts some great deals on food and drinks.
Town
Town is one of the best restaurants in Ottawa serving modern, seasonal Italian fare.
With a welcoming atmosphere that's never snobby, Town has friendly staff, accessible prices, and downright mouth-watering food that will instantly turn you into a regular.
Chef and owner Marc Doiron is a true artist, and knows how to expertly balance flavours to provide only the best food for his customers.
Town is a place to gather with friends and family for a wonderful meal that's accompanied by an even more wonderful drink menu.
Town encourages a community among its patrons that is so rarely seen nowadays.
The food is a delicious mix of "modern Italian" and French Canadian inspired dishes, which come together in a beautiful medley.
Since Doiron has a past as a pastry chef, you won't want to turn your nose up at dessert, either.
Beckta Dining & Wine
Beckta Dining & Wine is a stunning fine-dining restaurant in Ottawa, with modern, seasonal cuisine that is locally sourced and prepared fresh.
If you venture to the gorgeous restored heritage building in which Beckta is located, you will be provided with two options: their à la carte menu, or a five-course, interactive chef's tasting menu.
The latter, which can include a wine pairing if you so wish, is an elaborate fine dining experience that will provide you with a lavish, all-encompassing meal.
If you live a plant-based lifestyle, you aren't excluded from this option, either- you can choose an omnivore or vegan tasting menu, though the specific dishes are served blind.
From the highest level of hospitality provided by Beckta's staff, to the artfully curated and skillfully prepared menu, you will be fully satisfied.
If you prefer to have more control over your meal, Beckta's regular menu is something to be revered- with delicious options like seared foie gras and grass-fed ribeye, you can't go wrong.
Fauna Food + Bar
Located in Centretown, Ottawa's Fauna Food + Bar serves up an everchanging, seasonally-inspired menu that is sourced fresh, from local farmers and producers.
To maximize sharing potential, Fauna offers up both small and large plates, so that your group can easily try a little bit of everything.
Fauna's team has also put a great effort into making its dining room a warm, welcoming space where you want to spend time.
With funky art and mood lighting, Fauna's interior design takes the entire experience to the next level.
To accompany your dining, Fauna also offers several unique craft cocktails and an expansive natural wine list. No matter which dish(es) you choose, you'll find the perfect pairing.