Here's a look at things to do for New Year's Eve Ottawa 2021 and where to go for New Year's Day Ottawa Brunch 2022.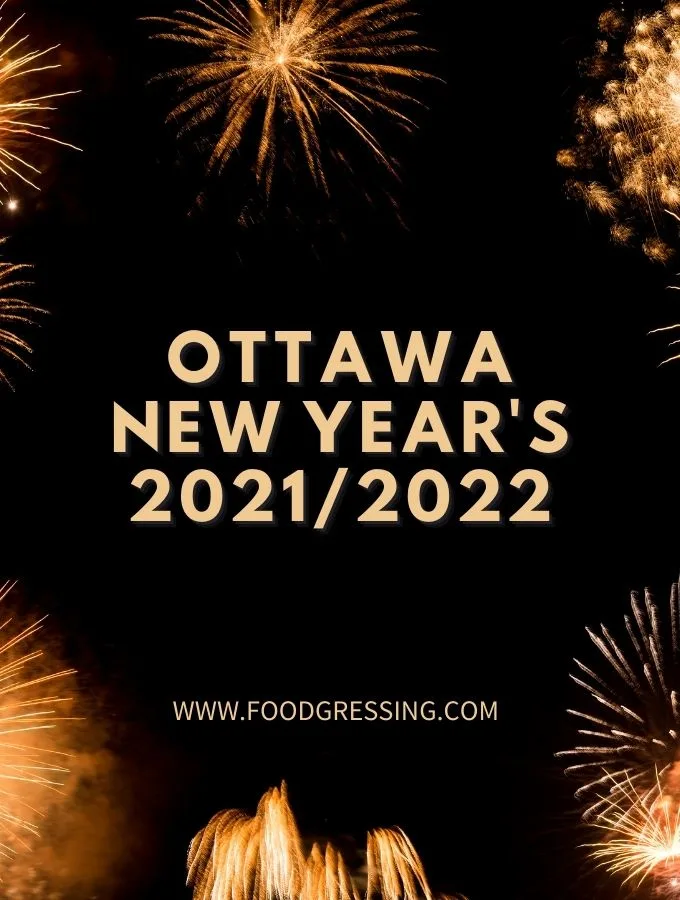 New Year's Eve 2021 is Friday, December 31.
New Year's Day 2022 is Saturday, January 1.
Please use this list as an inspiration for ideas on how to put together your own New Year's Eve and Day celebration.
This list is updated as information becomes available.
Please reach out to me [email protected] or @foodgressing on social media if you are a restaurant that wants to be featured. Provide all the details of your holiday offering in your message. For faster processing, please provide a ready to copy and paste excerpt in paragraph form in a similar format to the restaurants featured below.
This list is not exhaustive. If your favorite restaurant is not on the list, contact them to see what they are offering.
New Year's Eve Ottawa 2021 and Day Brunch 2022
Fairmont Chateau Laurier
Fairmont Chateau Laurier has the following New Year offerings:
NEW YEAR'S EVE DINNER
Wilfrid's Restaurant | Friday, December 31 | 5 – 10 pm
5-5:30 pm – First Seating $129
8-8:30 pm – Second Seating $159
NEW YEAR'S EVE DINNER
Zoe's Restaurant | Friday, December 31
5 pm – Early Seating $109
8 pm – Celebration Seating $139
NEW YEAR'S DAY BRUNCH
Wilfrid's Restaurant | Saturday, January 1 | 11 am – 3 pm
$72 per adult; $36 per child (ages 6 to 12)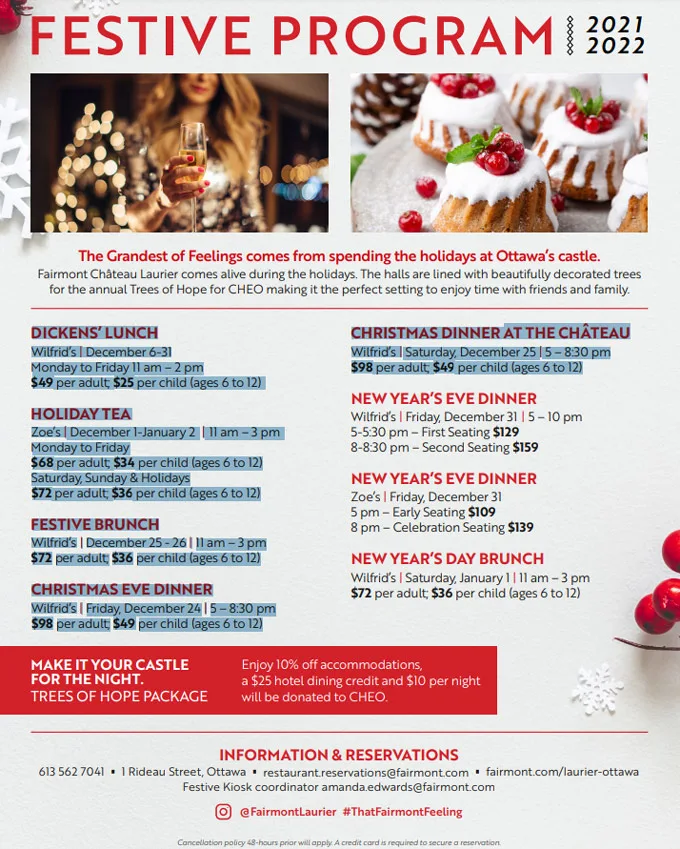 Marzitelli
Marzitelli is offering 2 dinner seatings on New Year's Eve to accommodate guests varying plans.
Both are a 5-course Italian service (tasting menu).
$75 per person + tax & gratuity (first seating)
Early Celebration. (**no live music performance**)
6pm (arrival 5:45-6:15pm)
Finished by 8:45pm
$95 per person + tax & gratuity (second seating)
Welcome 2022 at Marzitelli – later celebration
Live music performance during dinner.
9pm (arrival 8:45-9:15pm)
Gray Jay
Gray Jay is offering a special Chef's tasting menu complete with caviar service and lots of fun surprises! Optional wine pairing will be available along with our full list of cocktails, beer and wine. Priced at $150 per person. Reservations between 5:30 pm – 7:30 pm. Pickup on December 31 between 4 pm and 8:15 pm.
They are also offering New Year's Eve at home priced at $180 per package.
Caviar service
Cheese and mushroom croquettes
Fogo island crab
Charcoal cooked pheasant stuffed with foie
Rutabaga and carrots with herbed paste
Cheese course
Heart and soul dessert
Perch
Perch is offering a 5 course tasting menu ($95 per person, 5:30 pm seating) and 9 course tasting menu ($150 per person, 8 pm seating) on New Year's Eve.
Fauna
Fauna is offering a New Year's Eve Chef's tasting menu priced at $140 per person plus tax and 18% gratuity will consist of six courses; each featuring primarily Canadian fauna. Certain dietary restrictions will not be able to be supported, please call the restaurant if you have any questions. They will have early seatings with start times between 5:30 and 6:30 and a later seating with starting times from 8:00 to 9:30.
Raphaël Express Peruvian Cuisine
Celebrate the new year at Raphaël Express's dine-in Warique, a humble, rather hidden place, where amazing food is served. You will enjoy a five-course menu with traditional and unique Peruvian favourites from Chef Lizardo Becerra. The menu, with pescatarian, vegetarian and vegan options, includes: Cauliflower Escabeche and Beet Causa; Hokkaido Scallop or Cucumber Tiradito; Chupe with Wild Pacific Shrimp or Tofu; Carapulcra with Panca-Marinated Pork Belly or Sockeye or "Impossible Meat Balls"; and Peruvian Key Lime Pie or Vegan Chocolate Tart. Seating times begin at 5pm, 7:30pm and 9:45pm. The tasting menu is $105 per person and does not include taxes or service fees. Optional drink pairings will be available for an additional cost.
Soif Bar à Vin
Soif Bar à Vin (Gatineau) is taking reservations for New Year's Eve from 4 pm – 9 pm.