Easter Holiday 2021 is happening Sunday, April 4. Here's an Easter Ottawa 2021 guide covering things to do during Easter weekend; restaurant offerings and special menus; desserts and treats and more.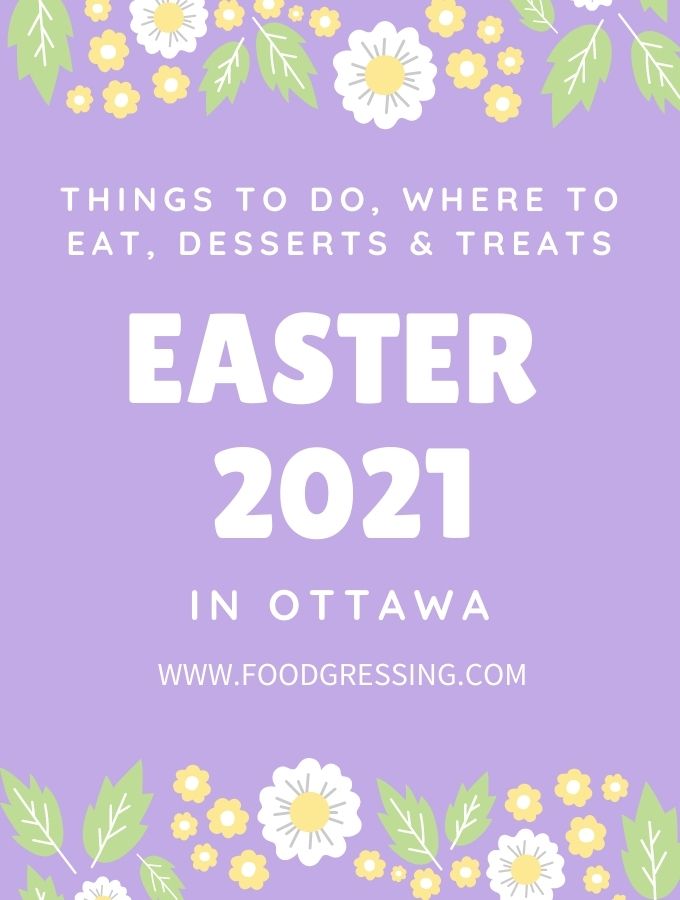 This list is updated as information becomes available. Please reach out to me [email protected] or @foodgressing on social media (Instagram, Facebook, Twitter, TikTok) for any suggestions.
Any support to local businesses is appreciated in these times. Holiday celebrations can take on different forms from traditional, fusion to modern.
Please use this list as an inspiration for ideas on how to put together your own Easter celebration.
Easter Ottawa 2021 Brunch, Lunch, Dinner and Features
Brookstreet Hotel
Brookstreet Hotel is offering Easter Brunch at home priced at $145 for 4 people.
Available pickup times are 10:00am – 12pm on April 3 and 4. Order deadline is March 31.
Flakey croissant
Country style sausage
Bacon
Eggs frittata: sweet bell peppers, aged cheddar
Potato au gratin
Vegetarian lasagna: spinach, broccoli, onions, béchamel
Brick roasted chicken: citrus & herb marinated
Brown sugar ham: apricot & mustard glaze
Curry potato salad: mayo, masala, turmeric, coriander, sweet peas
Creamy pasta salad: onions, peppers, celery, broccoli
Tossed greens: tomato, cucumber, radish, spun carrots, lemon balm
Pain au chocolat
Belgian waffles
Crème brûlée
Zoe's at Fairmont Chateau Laurier
Zoe's at Fairmont Chateau Laurier is offering Easter Dinner for 2 ($199) for pickup on April 2, 3 and 4.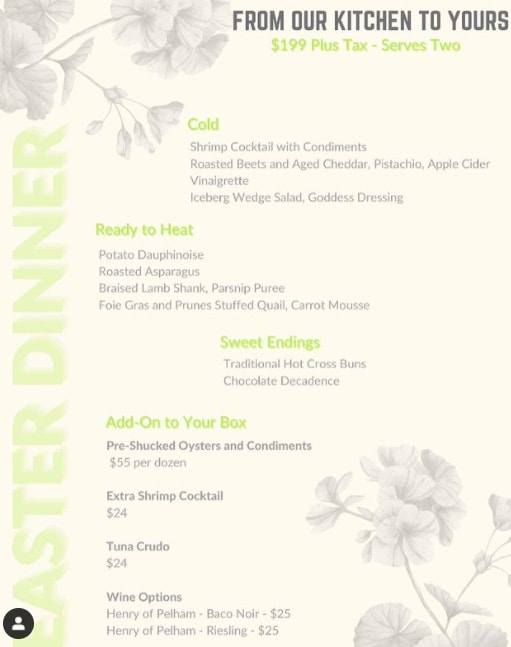 The dinner includes:
COLD: Shrimp Cocktail with Condiments; Roasted Beets & Aged Cheddar, Pistachio, Apple Cider Vinaigrette; Iceberg Wedge Salad with Goddess Dressing
READY TO HEAT: Potato Dauphinoise; Roasted Asparagus; Braised Lamb Shank, Parsnip Puree; Foie Gras & Prune Stuffed Quail, Carrot Mousse
SWEET ENDINGS: Traditional Hot Cross Buns; Chocolate Decadence
Baccanalle
Baccanalle is offering an Easter To Go Menu for pickup on April 2 and 3. Preorder by March 30.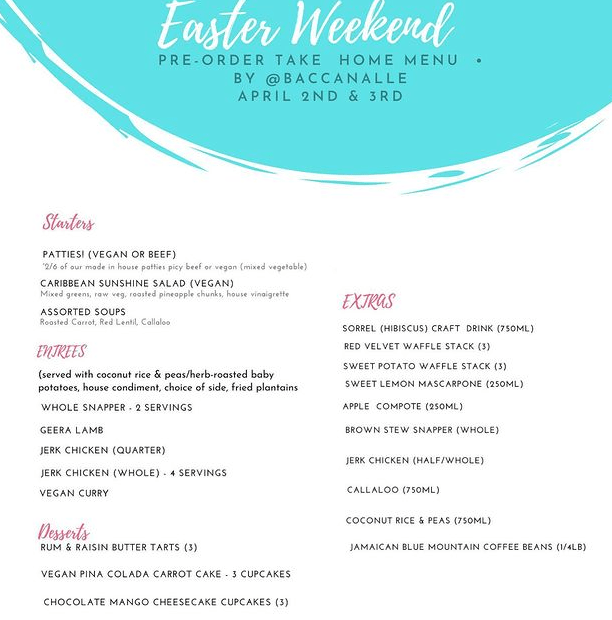 le St-Laurent Restaurant
le St-Laurent Restaurant is offering a seven course Easter Lunch tasting menu. Priced at $65 per person or $105 per person with wine pairing.
Reservations for April 4 for seatings at noon or 3 PM. Reservations by phone (613) 421-1444 or email [email protected]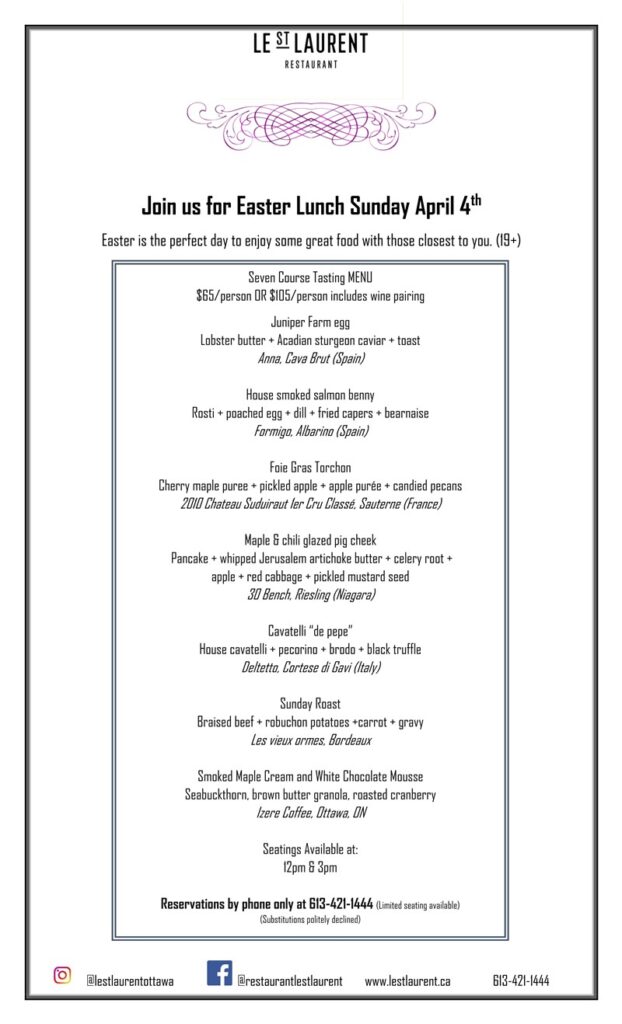 The Wellington Gastropub
The Wellington Gastropub is offering an Easter take away meal for two available April 2, 3, and 4 ($110).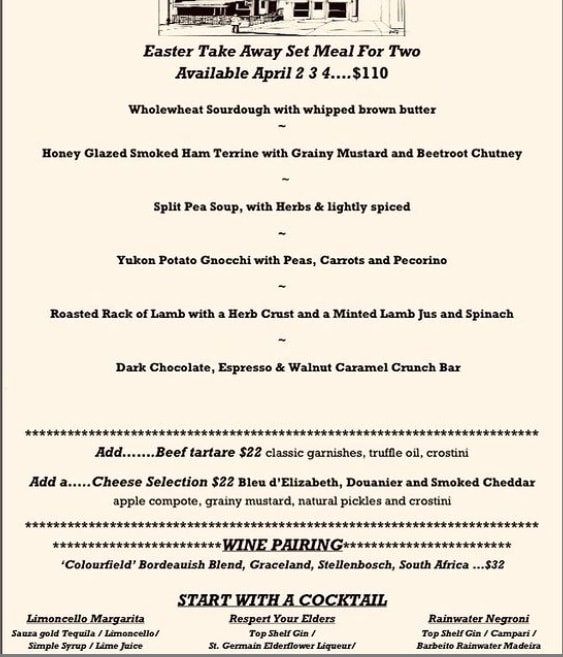 JOEY Restaurants
JOEY Restaurants is offering an Easter Dinner to go ($185) which serves 4 to 6 people. Preorder by April 1 for pickup on April 2 or 3.
The menu includes:
Oven roasted turkey with gravy
Double smoked bacon stuffing
Roasted garlic mashed potatoes
Spring carrots and asparagus with dill butter
Pan roasted brussels sprouts with parmesan and lemon
Fall kale salad
Dinner buns
Cranberry sauce with orange zest
Fresh baked apple cranberry pie with maple ice cream
Denny's
Participating Denny's is offering an Easter Turkey Dinner ($62.99, serves 4 people) available for pickup or delivery April 2 – 5.
The package includes tender carved turkey breast, savoury stuffing, garlic red-skinned mashed potatoes, turkey gravy, cranberry sauce and your choice of broccoli or sweet petite corn. Pick up cold and reheat at home.
Please check on whether the package is offered at your local Denny's.
Moxie's
Moxie's is offering a special three-course Turkey Dinner on April 4 and 5.
Their Easter feature menu will be available through pre-ordered phoned-in pick-up, or dine-in service at a participating Moxie's restaurant location.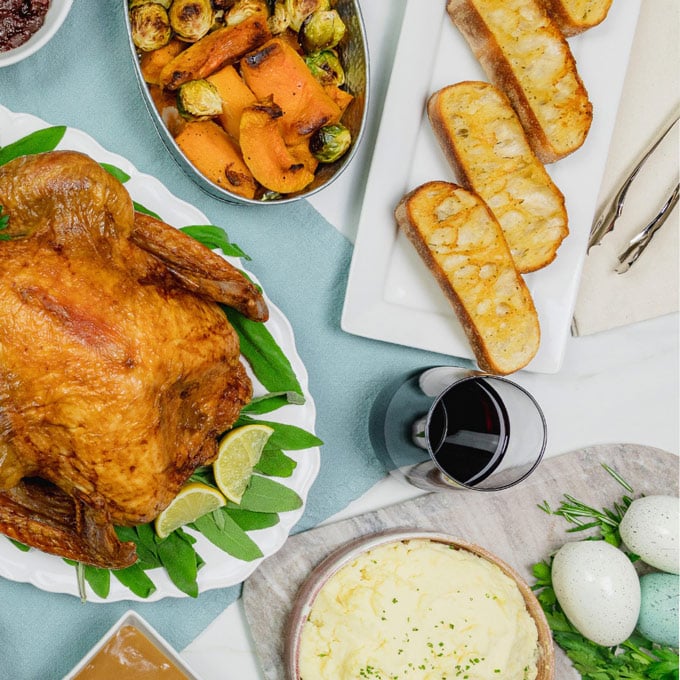 The Moxie's Easter Menu is $30 per person and is highlighted by Roasted Turkey Dinner, with tender carved turkey, savoury bread stuffing, buttered mashed potatoes, fresh seasonal vegetables, cranberry sauce & gravy.
Each dinner also includes a starter Caesar Salad and a White Chocolate Brownie bite for dessert.
All Easter Dinner pick-up orders must be placed by Thursday, April 1st at 12pm local time for pick-up on April 4th & 5th. To pre-order, please call the Moxie's location nearest you.
Participating Moxie's restaurant locations are open for seated dining service and are pleased to be offering the Easter feature menu on April 4 and 5.
Taj Indian Cuisine
Taj Indian Cuisine is offering Easter Dinner Specials for 2 on April 3 and 4.
Non-Vegetarian ($90): Onion Bhaji, Alu Gobi Masala, Lamb Bhuna, Veg Biriyani, Garlic Naan, North Indian Salad and Gulab Jamun.
Vegetarian ($80): Onion Bhaji, Alu Saag, Makhani Paneer, Veg Biriyani, Garlic Naan, North Indian Salad and Gulab Jamun.
Stofa Restaurant
Stofa Restaurant is offering Easter Dinner for 2 ($150) and 4 ($180).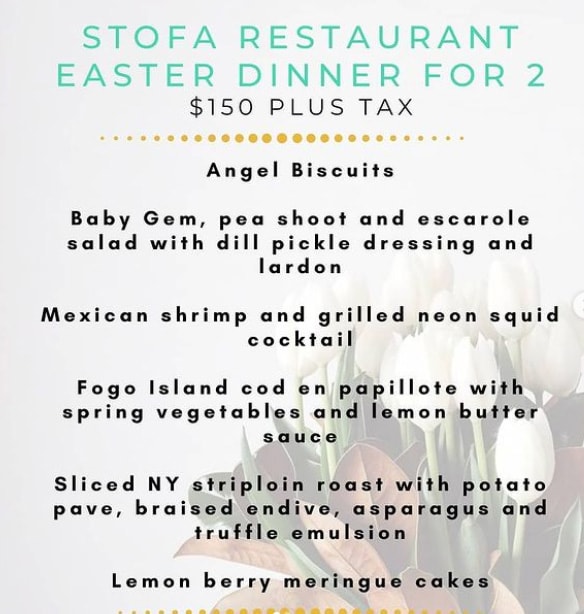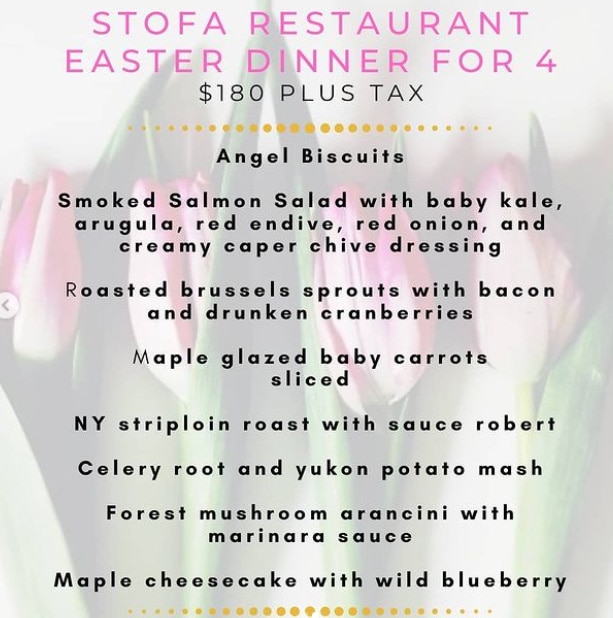 Pelican Seafood Market & Grill
Pelican Seafood Market & Grill is offering a Heat & Eat Easter Dinner ($125, serves 4 – 6 people). Pickup April 1 – 3.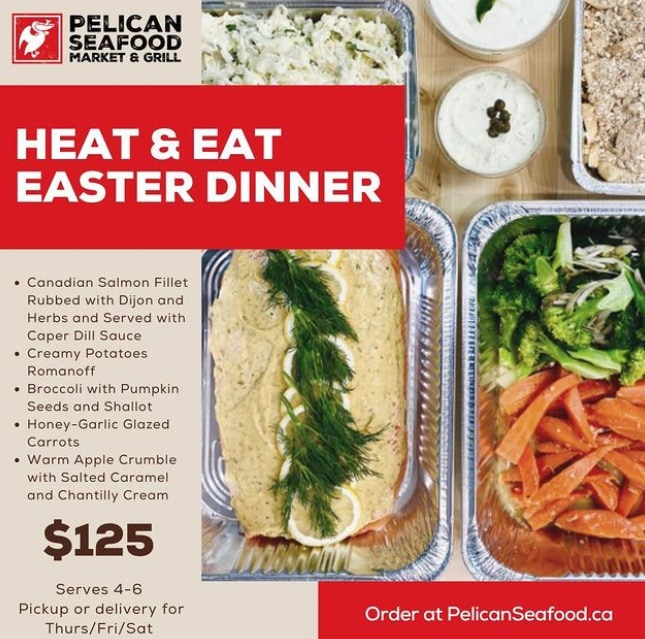 Ottawa Easter Hotel Packages | Staycation Ideas
Brookstreet Hotel
The Brookstreet Package at The Brookstreet Hotel is priced at around $100 per person and includes:
One night of luxury accommodation
$50 food & beverage credit
Access to indoor & outdoor saltwater pools, whirlpools, saunas, & fitness center (as they become available based on government restrictions)
Complimentary internet
Parking
They also have a Family Getaway package, Overnight Spa package and Book 2 Nights, Save $100.
Ottawa Easter/Spring Flowers
Here are some florists in Ottawa where you might find spring bouquets.
Easter Wines Recommendations
Saintly Rosé
With the warmer months on the horizon, the best wine to pair it with is a bottle of Saintly Rosé.
This angelic rosé is a medium-bodied wine and has aromas and flavours of strawberry, citrus, bergamot and rhubarb.
This wine is perfect to pair with a hummus plate or raspberry almond tart. MSRP: $17.95/750mL.
Kim Crawford Sauvignon Blanc
Kim Crawford Wines offer different varietals perfect for any holiday party, imported all the way from New Zealand.
Kim Crawford Sauvignon Blanc is vivid and refreshing and is the #1 selling wine in Canada; it pairs well with steamed clams or mussels with asparagus risotto, or grilled chicken. MSRP: $21.95/750mL.
About Easter Holiday: Dates, Food Traditions, Easter Egg Origins
Have you wondered how Easter actually became a holiday, or where its trademark bunnies and eggs came from?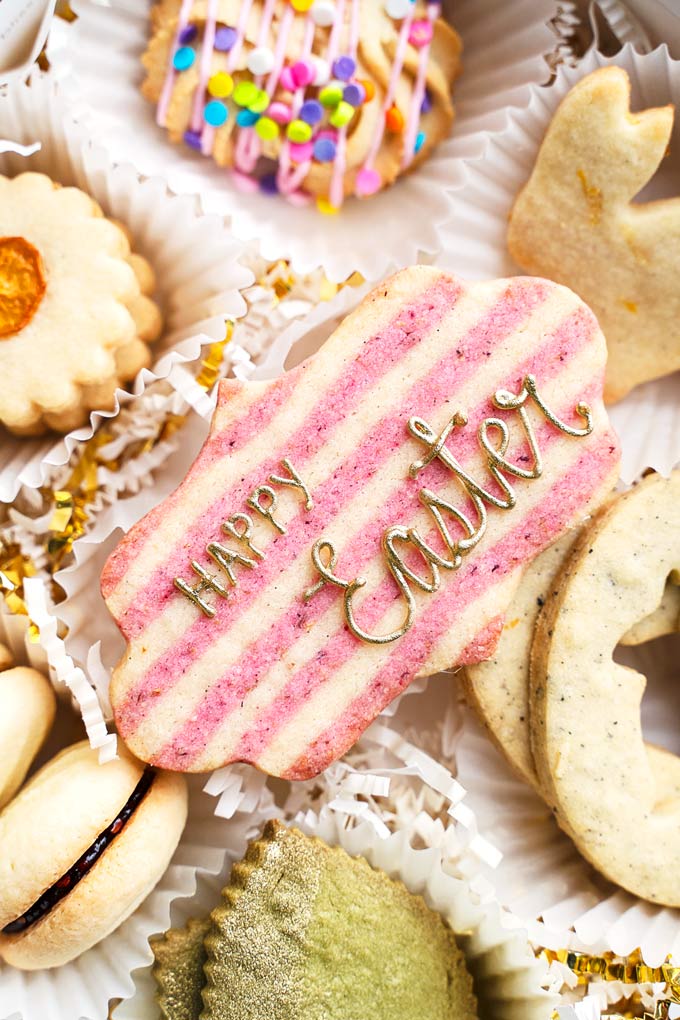 Check out my Easter Holiday post which looks at the origins of Easter, some of the traditions and a few fun facts on Easter Eggs and the Easter Bunny.
Easter Quotes, Wishes and Captions
Whether your Easter is all about fun, or a bit of fun mixed with the holiday's religious significance, here is a roundup of some Easter quotes, wishes and captions for that holiday Instagram post or greeting card.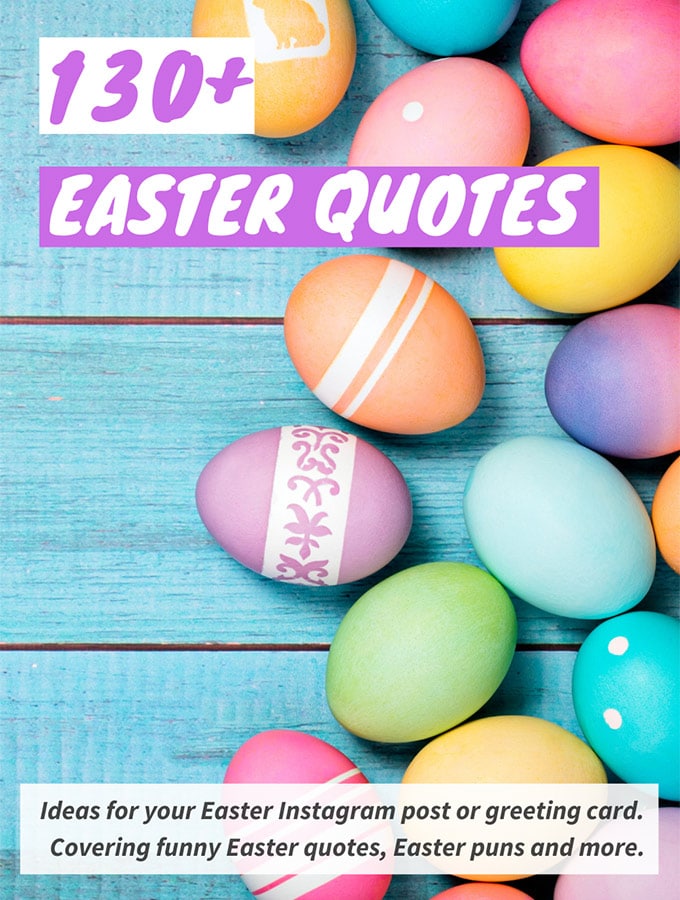 Some of the quotes I have in the post include:
Filling my basket with love and joy… and also chocolate. Lots of chocolate.
Biting the head off my chocolate bunny, but I won't bite you!
There's nothing better than a friend… except a friend with chocolate.
Free Easter Greeting Cards
If you're looking to send an Easter greeting card, check out Canva.com (referral link) for free Easter card templates and start designing.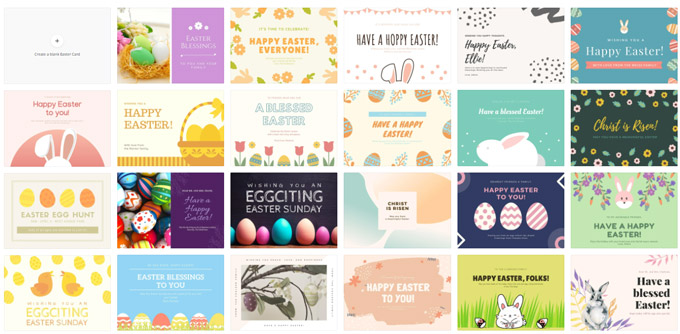 I have been using Canva for years and if you're new to Canva, please feel free to use my Canva referral link to sign up for free.
It's a great graphic design platform used to create social media graphics, presentations, posters, documents and other visual content.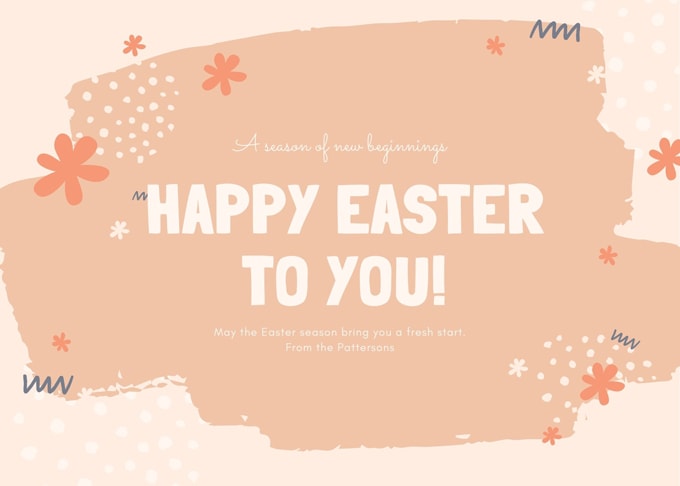 Even though there is a premium version, you can do A LOT on the free version.