Springtime, bright colors, Easter bunnies, chocolate – there are so many Easter quotes to share.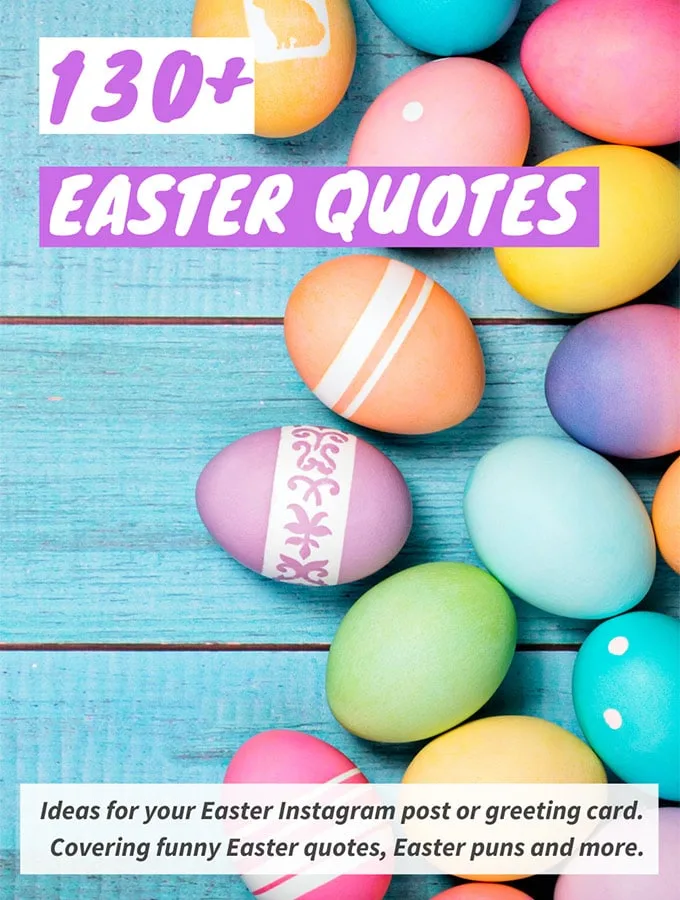 Whether your Easter is all about fun, or a bit of fun mixed with the holiday's religious significance, here are some ideas for finding the perfect words for that Easter holiday 2021 Instagram post or Easter greeting card.
Cute Easter Quotes
Filling my basket with love and joy… and also chocolate. Lots of chocolate.
Biting the head off my chocolate bunny, but I won't bite you!
There's nothing better than a friend… except a friend with chocolate.
Lent's finally over. Now where's dessert?!
(Cad)bury me in all this chocolate.
All the best holidays revolve around chocolate, right?
I like my eggs scrambled… or chocolate.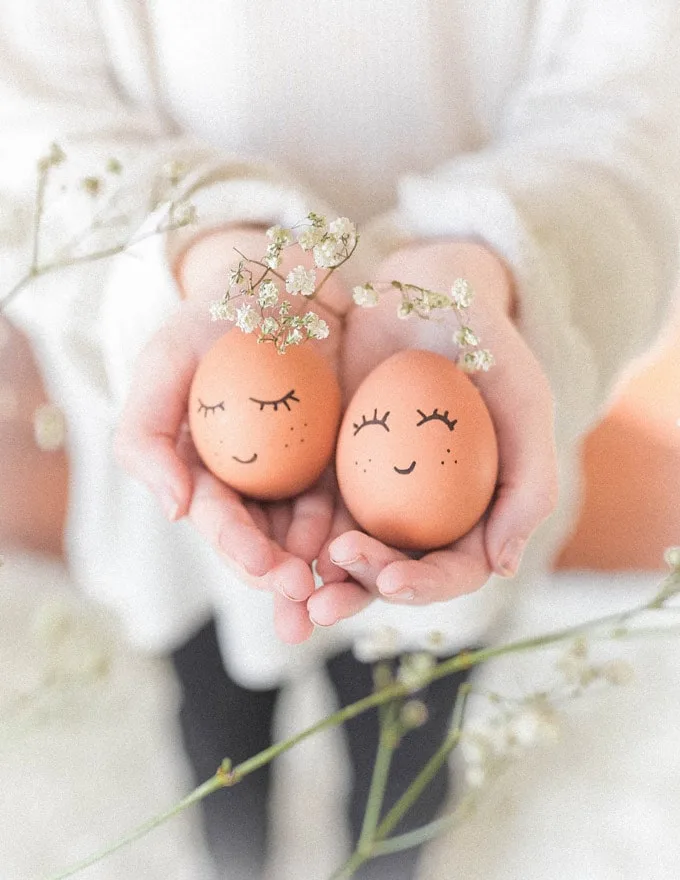 All my friends have chocolate. Therefore, if you have chocolate, you're my friend.
The cutest bun of all.
Some-bunny loves ya!
A real cute chick.
We're eggstremely cute.
"I said a hip hop… the hippie to the hip hip hop." — Sugarhill Gang, "Rapper's Delight"
As cute as a bunny on this eggstremely special day.
And that's all, yolks!
Who could be sad with a bunny in their hands?
Easter always puts a spring in my step.
You crack me up.
I dyed you an egg, don't let it break!
We're back in full bloom.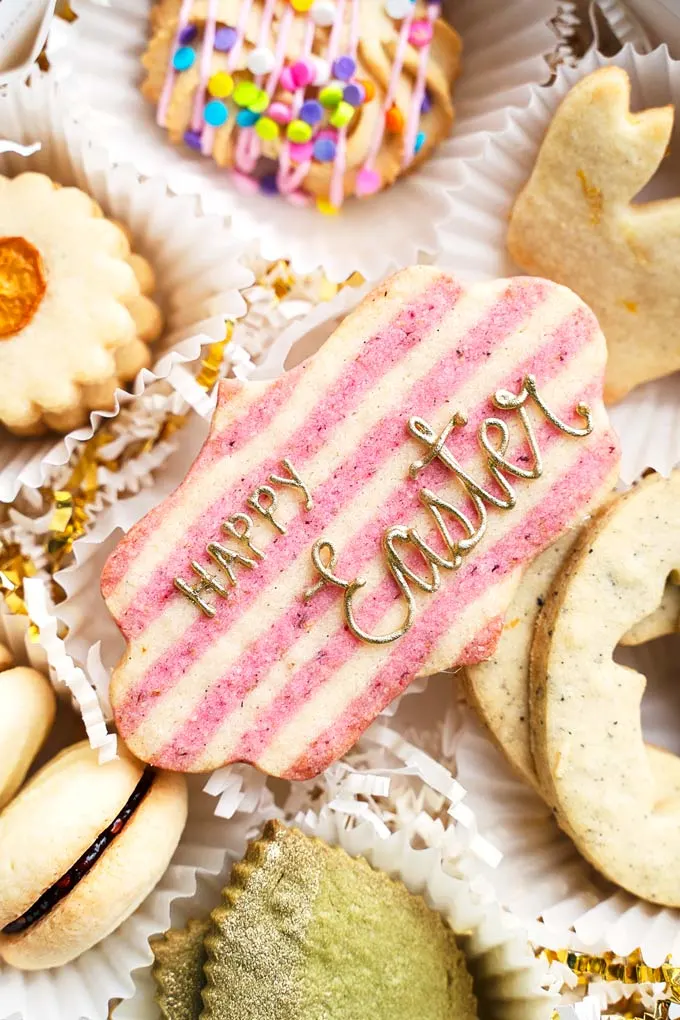 With buds like these, April showers aren't a problem.
Dolled up in pastel from head to toe.
Woke up feeling kind of hip-hoppy.
To All The Buns I've Loved Before.
Cottontail cutie reporting for duty!
Surely not every bunny was kung-fu fighting.
Just a little bunny hoppin' along.
"Spring is nature's way of saying, 'Let's party!'" — Robin Williams
No matter how long winter lasts, spring is always sure to follow.
Spring's got me like…
Funny Easter Quotes
When life offers you lemons, throw them back and ask for chocolate.
Life, love, and the pursuit of hoppy-ness.
Don't worry, be hoppy.
I'm so egg-cited about Easter!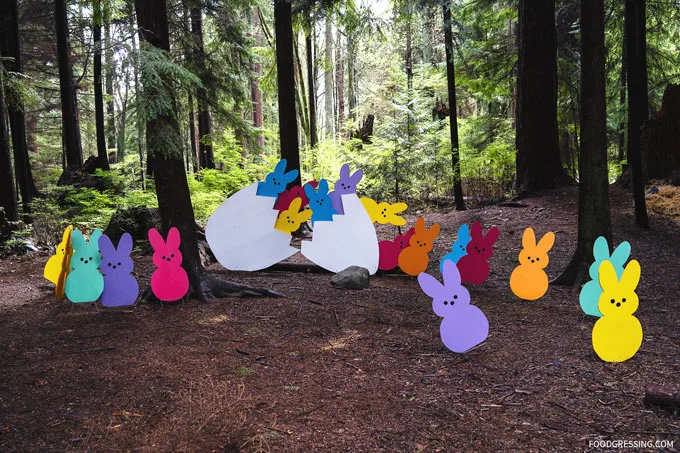 Spending Easter with the cutest chicks around.
Using Easter as my official excuse to eat chocolate for every meal.
People keep telling me there's more to Easter than chocolate, and I'm like "Sorry, I can't hear you, too busy unwrapping this Cadbury egg."
How do I like my eggs, you ask? Cadbury, please.
Easter Puns
I carrot even.
All my Peeps love Easter.
I had an Easter joke, but it's not all it's cracked up to be.
I have so many Easter puns ready to go, it's not even bunny.
Just feeling a little egg-stra today.
Too egg-cellent to deny.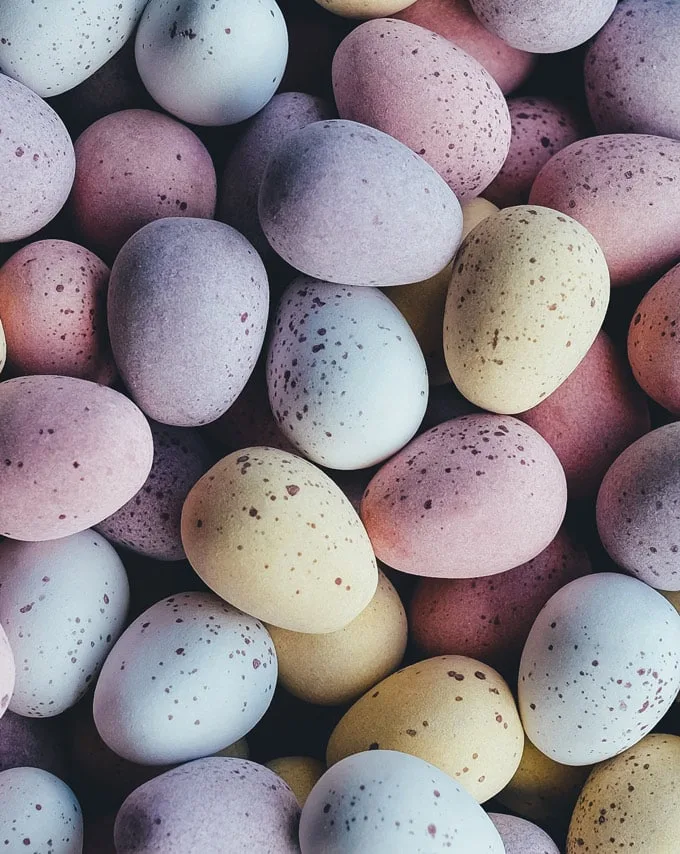 Just looking for somebunny to love.
Springing into Easter!
We're hopped up on Easter candy.
I've been tryin' not to go off the Peep end.
For Peeps' sake, it's Easter, everybunny! Let's get hoppy!
Egg-cited? Me? How could you tell?
Easter Quotes Religious
"He is risen." -Matthew 28:6
Let us rejoice and be glad.
Put all your Easter eggs in one basket, and put all your spiritual eggs in His basket.
1 Peter 1:3: "Praise be to the God and Father of our Lord Jesus Christ! In his great mercy he has given us new birth into a living hope through the resurrection of Jesus Christ from the dead."
Luke 24:6-7: "He is not here; he has risen!"
Springtime is the time to renew your trust in the Lord.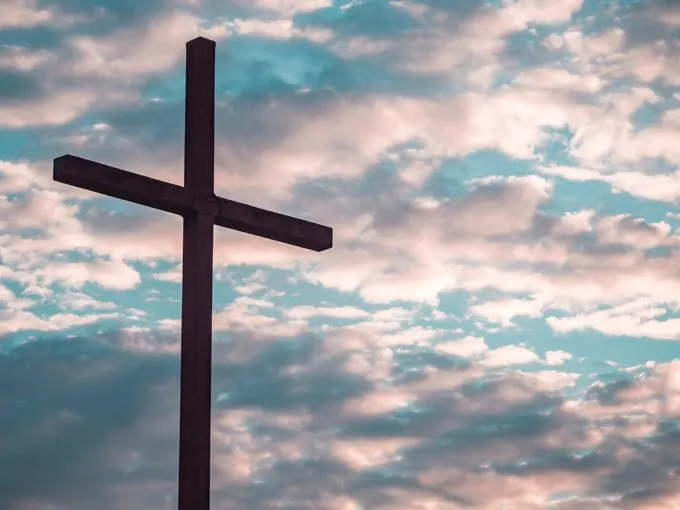 And as the world blooms anew, through Him so can we.
1 Corinthians 6:14: "And God raised the Lord and will also raise us up by his power."
Romans 6:9: "We know that Christ, being raised from the dead, will never die again; death no longer has dominion over him."
Romans 6:8-11: "The death he died, he died to sin once for all; but the life he lives, he lives to God. In the same way, count yourselves dead to sin but alive to God in Christ Jesus. "
Luke 24:6-7: "Remember how he told you, while he was still with you in Galilee: 'The Son of Man must be delivered over to the hands of sinners, be crucified and on the third day be raised again.'"
Acts 3:15: "You killed the author of life, but God raised him from the dead."
Romans 6:8-11: "Now if we died with Christ, we believe that we will also live with him. For we know that since Christ was raised from the dead, he cannot die again; death no longer has mastery over him."
John 11:25-26: "Jesus said to her, 'I am the resurrection and the life. The one who believes in me will live, even though they die; and whoever lives by believing in me will never die. Do you believe this?'"
"Easter says you can put truth in a grave, but it won't stay there." –Clarence W. Hall
"It's not about the bunny; it's about the Lamb."
Greek Easter Quotes
Christos Anesti!
"My mom used to say that Greek Easter was later because then you get stuff cheaper." – Amy Sedaris
"Easter spells out beauty, the rare beauty of new life." – S.D. Gordon
"Easter is the demonstration of God that life is essentially spiritual and timeless." – Charles M. Crowe
"The day the Lord created hope was probably the same day He created spring." – Bernard Williams
He knows the way because He is the way.
Easter Captions for Couples
Spending the day with some-bunny special.
He makes me so hoppy.
She's my egg-stra special lady.
Easter power couple.
Chick magnets.
He's a good egg.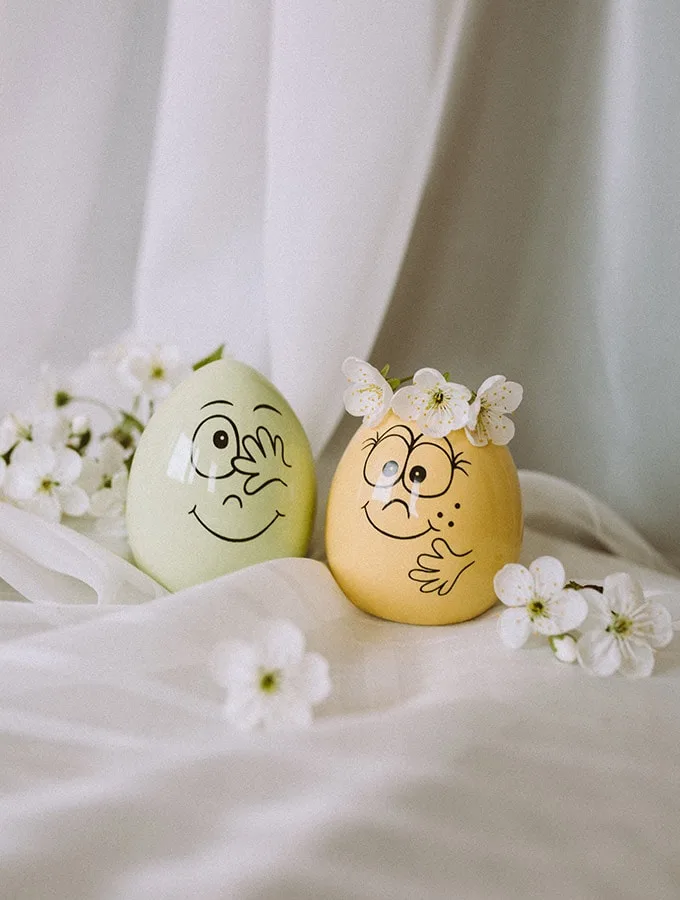 He's got the bunny ears, I've got the cottontail, we're ready to crush this Easter egg hunt.
He cracks me up.
Together, we're the cutest chicks I know.
Got my favorite honey bunny right here.
The most egg-cellent wife around.
She always puts a spring in my step.
Easter Weekend Quotes
The best weekend to spend with your Peeps.
An egg-cellent weekend with egg-cellent people!
A hoppy day with the whole gang.
We'd better hop to it if we don't want to be late for Easter brunch.
Real eggs now, chocolate eggs later. Easter brunch is all about balance.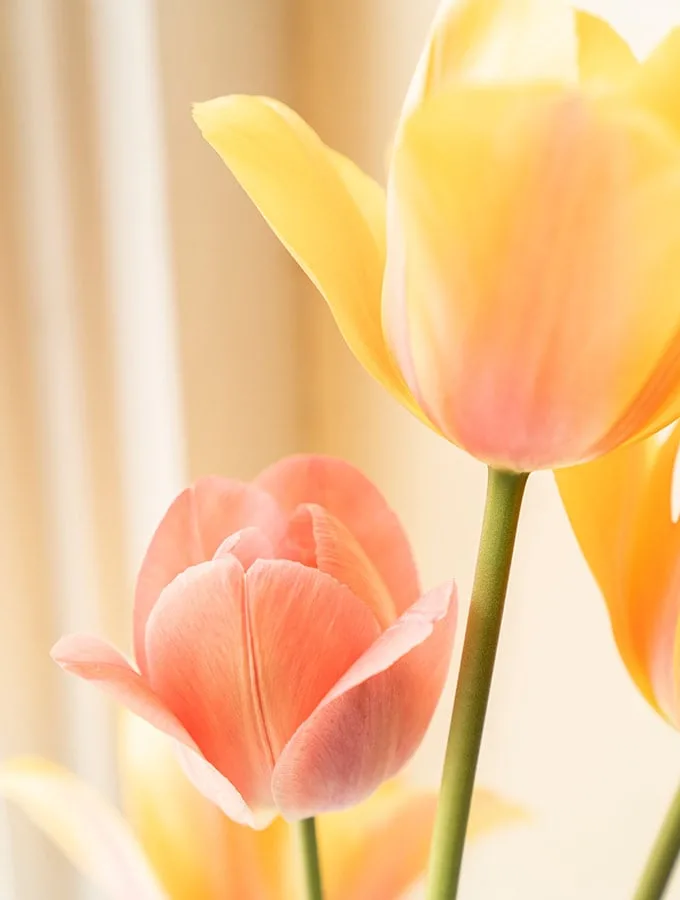 Church now, chocolate later.
Dyed eggs, full hearts, can't lose.
May your Easter be as colorful as these eggs.
Even old yolks wanna have fun sometimes.
Eggs, I'm warning you… You can either go in my stomach, or get ready to dye.
Eggs for brunch aren't all they're cracked up to be. Personally, I'd go with the chocolate kind.
Funny Easter Egg Hunt Quotes
Easter Egg Hunt: Extreme Edition.
Got my heat-vision goggles, got my combat boots… Ready to crush this Easter egg hunt.
You know you're the cool Aunt when you still do the Easter egg hunt.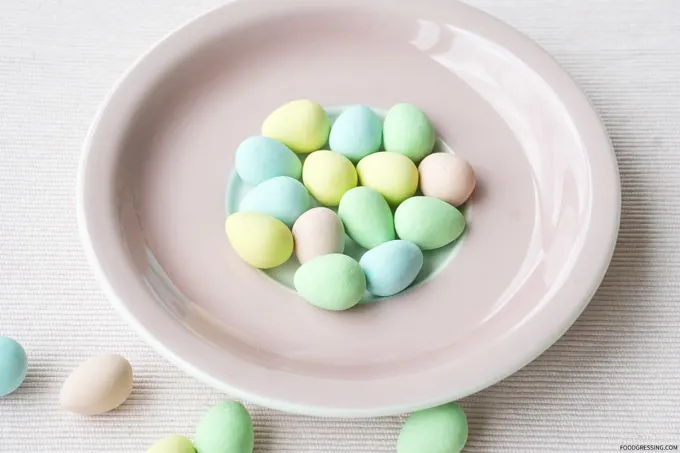 Definitely let my nieces and nephews win.
Why did the Easter egg hide? Well, he was a little chicken…
They'll never find where I hid the candy for the Easter egg hunt! …It's in my tummy.
Oops, I put all my eggs in one basket.
Easter egg hunts are fun, but they're always so egg-hausting.
Someone told me I was too old for Easter egg hunts… So I challenged them to a one-on-one.
All my homies fw the Easter Bunny.
Funny Easter Bunny Quotes
No bunny but you.
I carrot wait for my buddy, the Easter Bunny.
Silly rabbit… Easter is for Jesus!
No bunny loves ya like Jesus loves ya.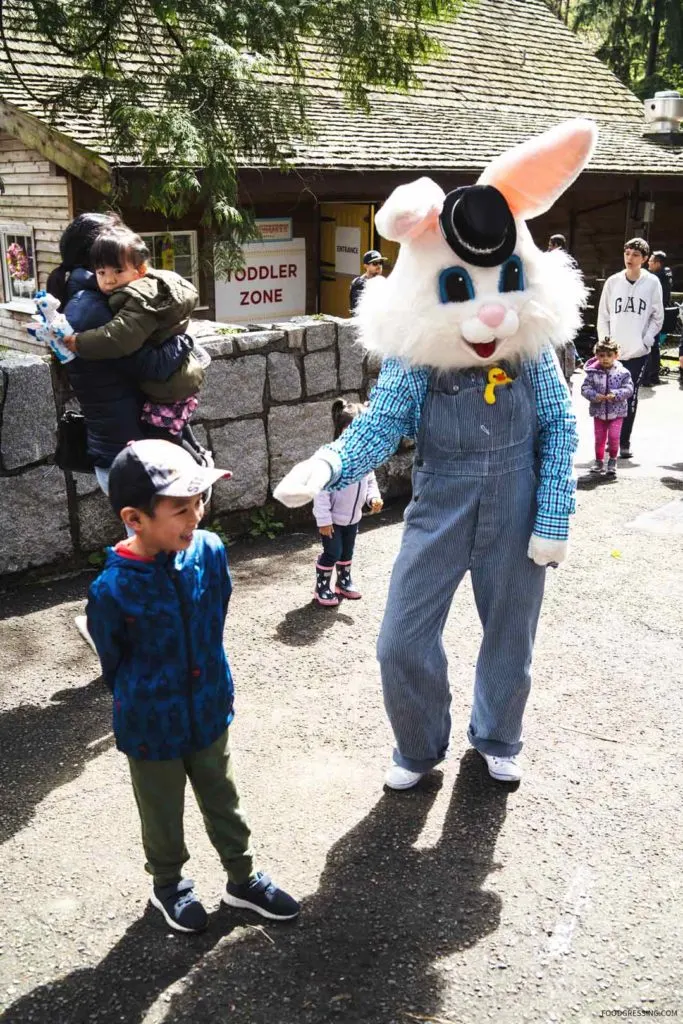 The Easter Bunny's like Santa, but better – he doesn't care if you've been bad or good.
Don't tell the Easter Bunny I copied his outfit.
I did the Easter Bunny's job for him… Don't rat me out!
Follow the bunny. He has chocolate.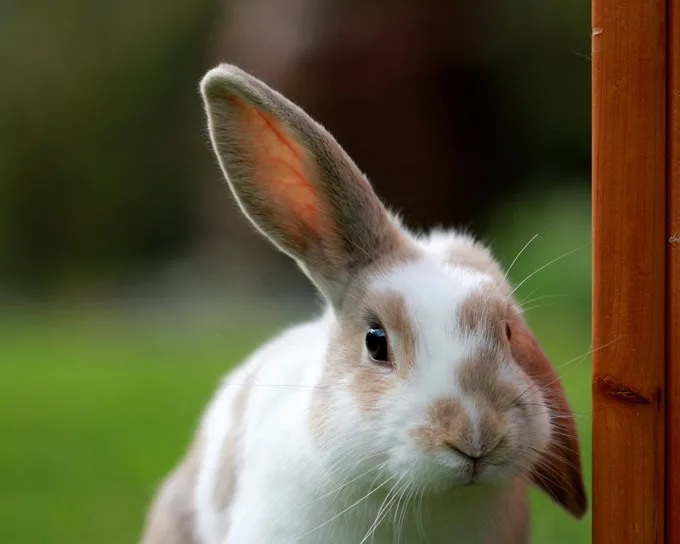 I think I chased the wrong bunny, now I'm in Wonderland. Send help?
Me and the Easter Bunny? Oh yeah, we go way back. Nice guy.
Don't worry, I talked to the Easter Bunny and he's got the hook-up.
Easter Bunny's running late, as usual.
I told my niece her mom's the Easter Bunny. That'll throw her off the trail.
Caught Peter Cottontail and the Easter Bunny throwing hands in the parking lot. My money's on the bunny.
"I still believe in Santa, the Easter Bunny, the Tooth Fairy and true love. Don't even try to tell me different." — Dolly Parton
Easter Captions For Dogs
He was up all night waiting for the Easter Bunny.
Told him he couldn't chase the Easter Bunny and he gave me this face.
He's a good egg.
He's cosplaying as a bunny today.
Fluffy kisses, Easter wishes.
She's all dressed up and ready to go.
She doesn't know why there are so many bunnies around. All she knows is she's excited.
24-carrot magic in the air~
You'd better talk to the tail, 'cause the bunny ears don't wanna hear it.
I feel hollow inside, just like this chocolate bunny. I think that means I need more chocolate.
Let your happy thoughts multiply as fast as rabbits.
I've got great egg-spectations.
Whether you're big on the Easter puns or keep it simple and classy with a Bible verse, hopefully this list has given you some inspiration for the perfect Easter quote or Easter caption.
Also check out my Easter holiday 2021 post which discusses the dates for Easter 2021, the origins of Easter, some of the traditions and a few fun facts on Easter Eggs and the Easter Bunny.