IKEA plant-based meatballs are now available at IKEA locations in Canada.
Known as HUVUDROLL, the IKEA plant-based balls are sustainable, vegetarian alternatives to the much-loved traditional Swiss meatball that they offer.
IKEA Plant-Based Meatballs Ingredients
IKEA plant-based meatballs are made with pea protein, oats, potatoes, onion, and apples.
They give customers a familiar experience with the same taste and texture to its meaty counterpart, just without the meat.
The new recipe contains no animal ingredients, making it a delicious option for meat lovers, flexitarians, vegetarians, and vegans alike.
IKEA Plant-Based Meatballs Price
You can now enjoy the plant ball at home – with frozen bags available for only $6.99 for 1 lb 2 oz (500 g) in Swedish Food Markets (located near the cash) nationwide.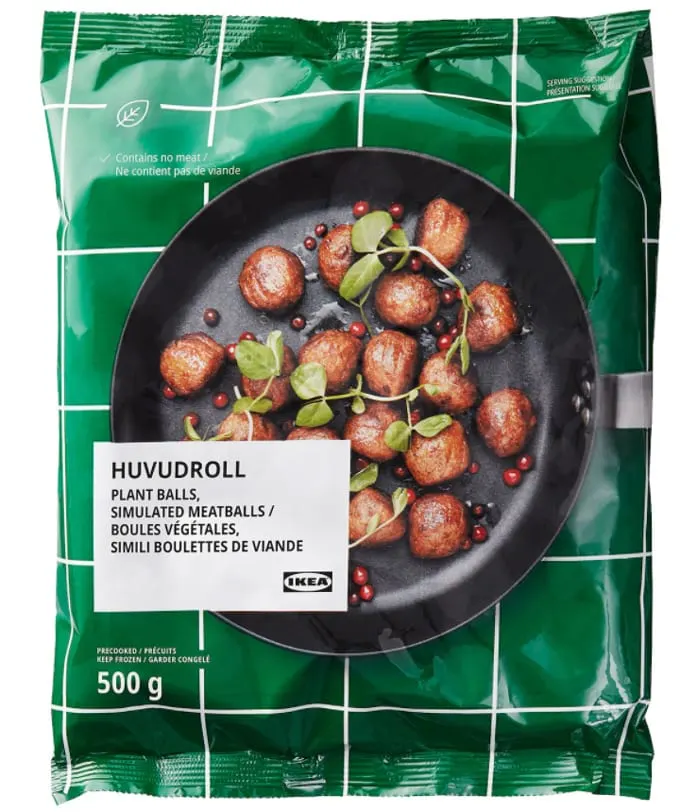 HUVUDROLL is also available for the same price at IKEA Restaurants across Canada, classically served with mashed potatoes, broccoli, lingonberries and cream sauce.
Sustainability
The new plant ball has only 4 per cent of the climate footprint as the traditional meatball and contributes to the IKEA's goal to become climate positive by 2030.
IKEA's Plant-Based Menu
In addition to the plant ball, you can also enjoy the veggie hot dog at IKEA Bistros nationwide and strawberry vegan soft ice as part of the retailer's latest plant-based offerings.
Dine in or Take out
You can choose to dine-in or takeout, based on what's available in their region. Check online in advance to see what's open at your local store.
About IKEA's meatballs
IKEA's iconic meatball was developed in 1985 with more than 1.375 million meatball plates served every year across Canada. That is an amazing number of meatballs served!
In 2015, both the veggie ball and chicken meatball were introduced, followed by the salmon ball in 2018.