Easter Holiday 2021 is happening Sunday, April 4. Here's an Easter Toronto 2021 guide covering things to do during Easter weekend; restaurant offerings and special menus; desserts and treats and more.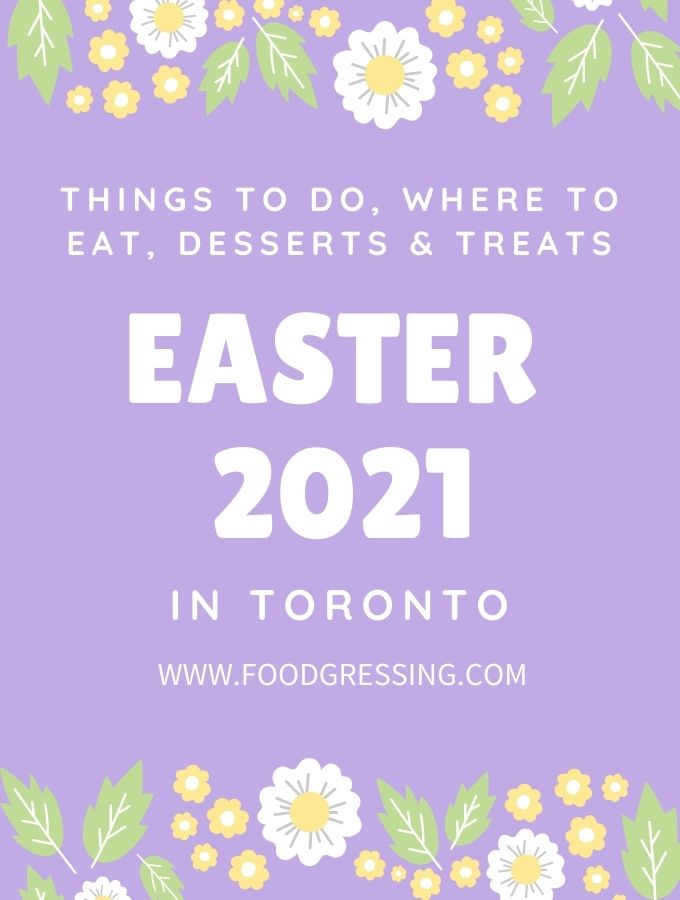 This list is updated as information becomes available. Please reach out to me [email protected] or @foodgressing on social media (Instagram, Facebook, Twitter, TikTok) for any suggestions.
Any support to local businesses is appreciated in these times. Holiday celebrations can take on different forms from traditional, fusion to modern.
Please use this list as an inspiration for ideas on how to put together your own Easter celebration.
Easter Toronto 2021 Brunch, Lunch, Dinner and Features
TOCA by The Ritz-Carlton
TOCA is offering a Family Easter Dinner for 2 – 4 people ($275) or 6 – 8 people ($425).
Order by March 14th and receive $25* off the regular price. *Use Discount Code: Easter2021.
Orders must be placed by 12pm on March 29th. Pick-up between 2 – 6pm on Sunday April 4th.
SOUP
Asparagus Soup with Lemongrass
Tarragon & Olive Oil Croutons | Toasted Pine Nuts
SNACK
Chef's Signature Deviled Eggs (3 per guest)
Toppings Include: Pickled Onions | Pesto | Smoked Salmon
SALAD
Romaine & Kale Mixed Salad with Frisée | Parmesan | Toasted Almonds | Cured Tomatoes | Herb & Chili Pangrattato
Lemon Garlic & Parmesan Dressing
ENTRÉE
Oven Roasted Ontario Natural Free Range Turkey

Average 7 – 8 lbs Turkey (2 – 4 guests)
Average 13 – 15 lbs Turkey (6 – 8 guests)

Add On: Sliced Rosemary & Garlic Roasted Leg of Lamb ($15.00 per guest)
Mustard Sauce | Mint Jelly
SIDES
Butter Whipped Potatoes with Cheese Curds
Cauliflower & Broccoli Gratin | Classic Béchamel | Herb Crumble
Apple & Sage Stuffing | Brown Butter & Savory Gravy | Cranberry Sauce
DESSERTS
Apple Pie with Caramel Sauce & Vanilla Bourbon Whipped Cream
Phancy's Bodega
Phancy's Bodega has an Easter Dinner for pickup or delivery from April 2 – 5 12 PM – 5 PM. Priced at $49.99 per person.
The menu includes:
Choice of Main:
Orange & cranberry decorated mini ham roast, house-made by Helenda's Meats. Served with orange cranberry glaze & triple crunch mustard OR
-Stuffed portobello mushroom wellington, stuffed with cashew creamed spinach. *vegetarian, can be made vegan upon request.
Sides:
French onion potato pave: a finely layered potato terrine with swiss cheese & caramelized french onions
Green peas served with garlic & herb compound butter
Devilled egg lettuce cups. Classic deviled eggs served in Boston lettuce cups with buttermilk ranch, pickles, & shaved radish.
Carrot cake
Enigma Fine Dining
Enigma Fine Dining is offering the following for pickup or delivery on April 2, 3 or 4 from 11 AM – 6 PM.
Easter Weekend Hamper ($120)
40% Valrhona Golden Eggs filled with White Chocolate Crémeux & Passionfruit
Freshly baked Brown Sugar & Cinnamon Brioche
34% Mini White Chocolates
Toasted White Chocolate Bar
Spiked Chocolate Milk Cocktail
Easter Gift Box ($45)
40% Valrhona Golden Eggs filled with White Chocolate Crémeux & Passionfruit
34% Mini White Chocolates
Toasted Hazelnut Parfaits
JOEY Restaurants
JOEY Restaurants is offering an Easter Dinner to go ($195) which serves 4 to 6 people. Preorder by April 1 for pickup on April 2 or 3.
The menu includes:
Oven roasted turkey with gravy
Double smoked bacon stuffing
Roasted garlic mashed potatoes
Spring carrots and asparagus with dill butter
Pan roasted brussels sprouts with parmesan and lemon
Fall kale salad
Dinner buns
Cranberry sauce with orange zest
Fresh baked apple cranberry pie with maple ice cream
Richmond Station
Richmond Station is offering Easter Dinner for pickup or delivery. Priced at $55 per person, it includes a 3 course meal featuring incredible pastured lamb from Buschbeck Farms, and the first shoots, sprouts and wild harvest from 2021. Fully prepared and packed cold with simple handling and plating isntructions.
Spring Harvest Salad
Ontario Lamb Ballotine
Organic Whole Wheat Dinner Rolls
Rhubarb Galette
Available on April 3 & 4 for pickup (12 PM – 8 PM ) or delivery (12:30 PM – 8 PM).
Aria
Aria is offering an Easter Prix Fixe Menu ($90) for pickup on April 2, 3 and 4 from 5 PM – 9 PM.
Caviar & Truffle To Go (Groupe Axyon)
Caviar & Truffle To Go (Groupe Axyon) is offering an Easter Caviar Tasting Kit ($335, serves 4 people). Available for delivery on April 3 from 10 AM – 7 PM.
30g Transmontanus Sturgeon Caviar
30g Osetra Prestige Sturgeon Caviar
10g Kristal Sturgeon Caviar
50g Wild Salmon Caviar
50g Organic Trout Caviar
4 tasting spoons
1 caviar tin opener
Complimentary: Cocktail blinis
TANTO
Tanto is offering an Easter meal package priced at $55 per person (minimum order of 2). Available for pickup or delivery April 1 – 4 from 5 PM – 9 PM.
House Baked Bread
Smoked White Fish Rillettes with Rye Crackers, Bread and Butter Pickles
Burrata with Spring Peas and Grilled Lemon Jam
House Made Smoked Ham with Sage-Roasted Grapes and Scalloped Potatoes OR Poached Salmon with Horseradish Cream and Scalloped Potatoes
Rhubarb-Pistachio Cake with Whipped Yoghurt
Some courses will require re-heating at home.
Alobar Yorkville
Alobar Yorkville is offering Easter Dinner for pickup on April 4 and 5 from 5 PM – 6:30 PM. Priced at $120 per person.
The menu includes:
Chilled Lobster with lime aioli & jalapeño
Beef Carpaccio with mustard aioli & pickled mushroom
Bibb Lettuce with honeycrisp apple, gouda & candied pepitas
Truffle Risotto with peas & pecorino romano
Grilled Asparagus with gribiche & tarragon
Ontario Lamb Loin & Grilled Tenderloin with mushroom jus
Bread & Butter
Mille-Feuille with vanilla chantilly & raspberry parfait
ten
ten is offering an Easter Feast for 2 for pickup or delivery on April 1 – 4 from 5 PM – 7 PM.
The menu features lamb shoulder (or maitake mushroom if you are vegetarian) barbacoa served with wild onions, tortillas and a cabbage cilantro slaw, an asparagus salad, a sunchoke and potato gratin and a rhubarb crumble for dessert.
Salt Wine Bar
Salt Wine Bar is offering a 5-course Easter dinner for pickup or delivery on April 2 – 4 from 4 PM – 8 PM.
House Smoked Wild Salmon, lemon-dill creme fresh, pickled red onion, blackbird sourdough baguette
Heirloom Beets, soft goat cheese, cara cara orange, watercress, candied pecans, citrus dressing
Truffle Gnocchi , asparagus, sweet pea, honey mushroom, porcini cream sauce, white truffle oil
Crispy Duck Confit, Yukon gold mashed potato, pickled grapes, watercress , port wine jus
Dark Chocolate Terrine, almond, sea salt, sponge toffee, olive oil
Denny's
Participating Denny's is offering an Easter Turkey Dinner ($62.99, serves 4 people) available for pickup or delivery April 2 – 5.
The package includes tender carved turkey breast, savoury stuffing, garlic red-skinned mashed potatoes, turkey gravy, cranberry sauce and your choice of broccoli or sweet petite corn. Pick up cold and reheat at home.
Please check on whether the package is offered at your local Denny's.
Moxie's
Moxie's is offering a special three-course Turkey Dinner on April 4 and 5.
Their Easter feature menu will be available through pre-ordered phoned-in pick-up, or dine-in service at a participating Moxie's restaurant location.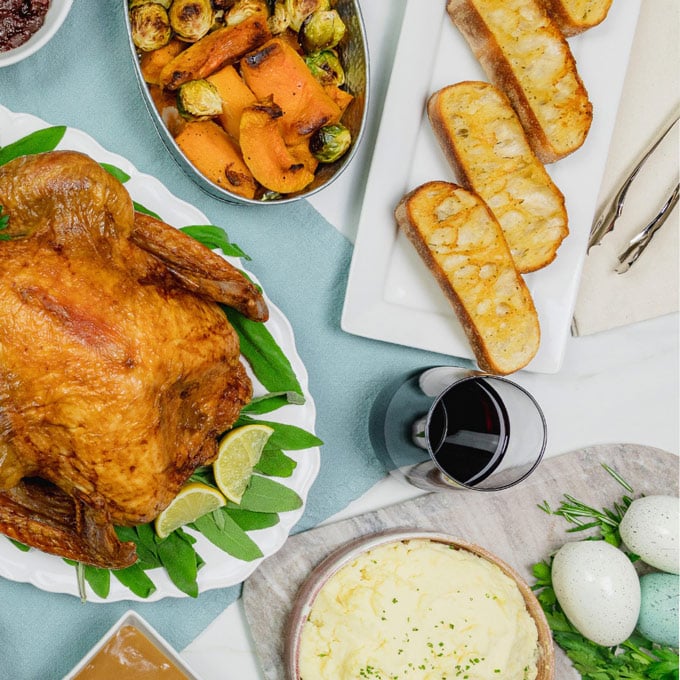 The Moxie's Easter Menu is $30 per person and is highlighted by Roasted Turkey Dinner, with tender carved turkey, savoury bread stuffing, buttered mashed potatoes, fresh seasonal vegetables, cranberry sauce & gravy.
Each dinner also includes a starter Caesar Salad and a White Chocolate Brownie bite for dessert.
All Easter Dinner pick-up orders must be placed by Thursday, April 1st at 12pm local time for pick-up on April 4th & 5th. To pre-order, please call the Moxie's location nearest you.
Participating Moxie's restaurant locations are open for seated dining service and are pleased to be offering the Easter feature menu on April 4 and 5.
Pompette
Pompette has an Easter menu to go for pickup on April 2 – 4 from 5 PM – 7 PM. Priced at $65 per person.
The menu includes:
Sourdough bread, Chagnon butter
Mini garden, white bean, winter veg
Oeuf parfait, roasted leeks, goat cheese
Tamarack Farm lamb, herbs viennoise, gratin dauphinois, Mustard condiment
Chocolate, orange, hay
Easter Wines Recommendations
Saintly Rosé
With the warmer months on the horizon, the best wine to pair it with is a bottle of Saintly Rosé.
This angelic rosé is a medium-bodied wine and has aromas and flavours of strawberry, citrus, bergamot and rhubarb.
This wine is perfect to pair with a hummus plate or raspberry almond tart. MSRP: $17.95/750mL.
Kim Crawford Sauvignon Blanc
Kim Crawford Wines offer different varietals perfect for any holiday party, imported all the way from New Zealand.
Kim Crawford Sauvignon Blanc is vivid and refreshing and is the #1 selling wine in Canada; it pairs well with steamed clams or mussels with asparagus risotto, or grilled chicken. MSRP: $21.95/750mL.
Toronto Easter/Spring Flowers
Here are some places in Toronto where you might get spring flowers.
About Easter Holiday: Dates, Food Traditions, Easter Egg Origins
Have you wondered how Easter actually became a holiday, or where its trademark bunnies and eggs came from?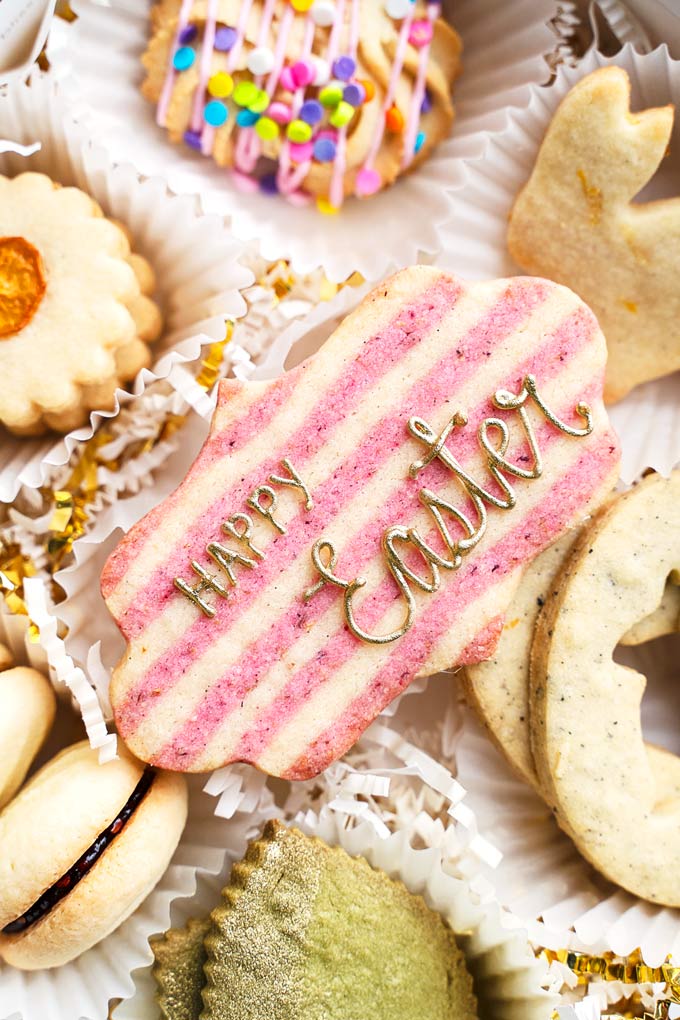 Check out my Easter Holiday post which looks at the origins of Easter, some of the traditions and a few fun facts on Easter Eggs and the Easter Bunny.
Easter Quotes, Wishes and Captions
Whether your Easter is all about fun, or a bit of fun mixed with the holiday's religious significance, here is a roundup of some Easter quotes, wishes and captions for that holiday Instagram post or greeting card.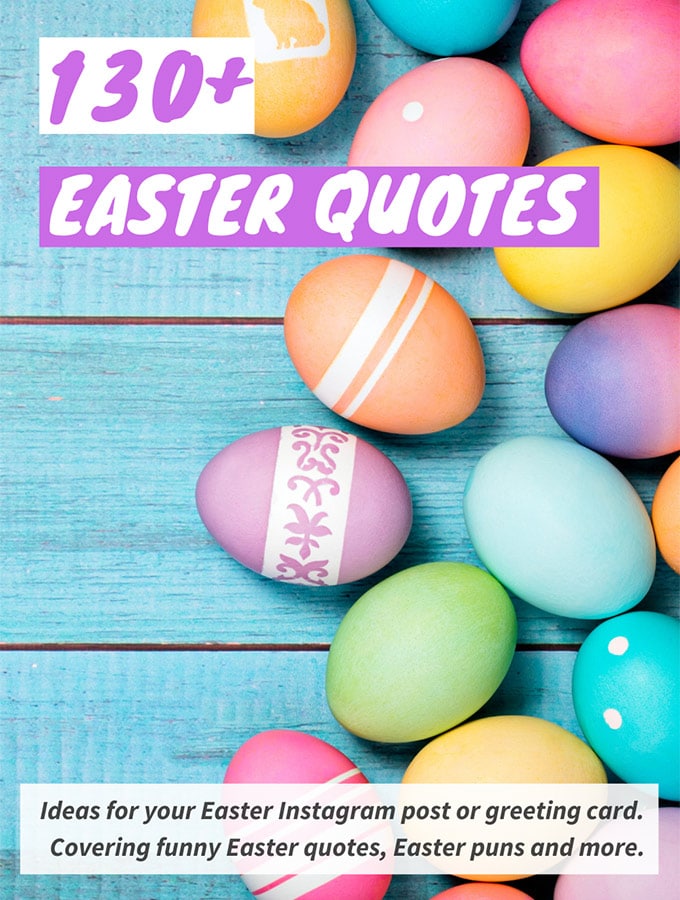 Some of the quotes I have in the post include:
Filling my basket with love and joy… and also chocolate. Lots of chocolate.
Biting the head off my chocolate bunny, but I won't bite you!
There's nothing better than a friend… except a friend with chocolate.
Free Easter Greeting Cards
If you're looking to send an Easter greeting card, check out Canva.com (referral link) for free Easter card templates and start designing.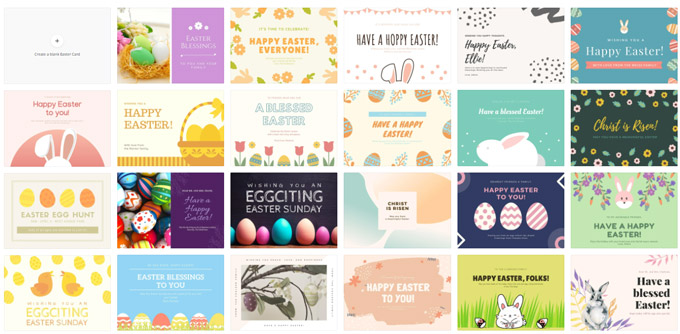 I have been using Canva for years and if you're new to Canva, please feel free to use my Canva referral link to sign up for free.
It's a great graphic design platform used to create social media graphics, presentations, posters, documents and other visual content.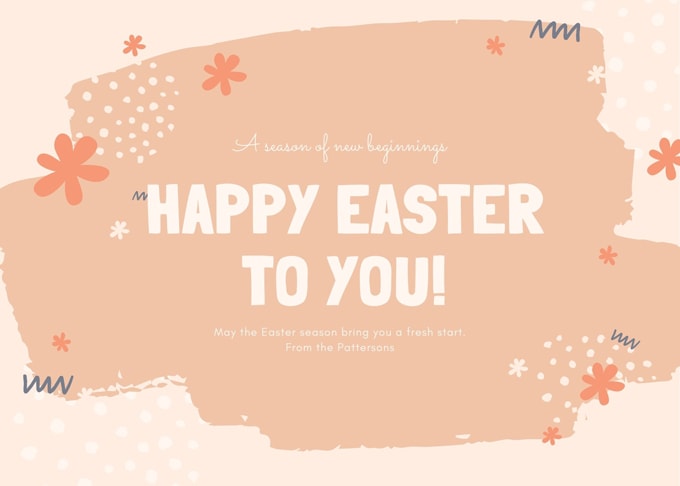 Even though there is a premium version, you can do A LOT on the free version.