Easter Holiday 2021 is happening Sunday, April 4. Here's an Easter Edmonton 2021 guide covering things to do during Easter weekend; restaurant offerings and special menus; desserts and treats and more.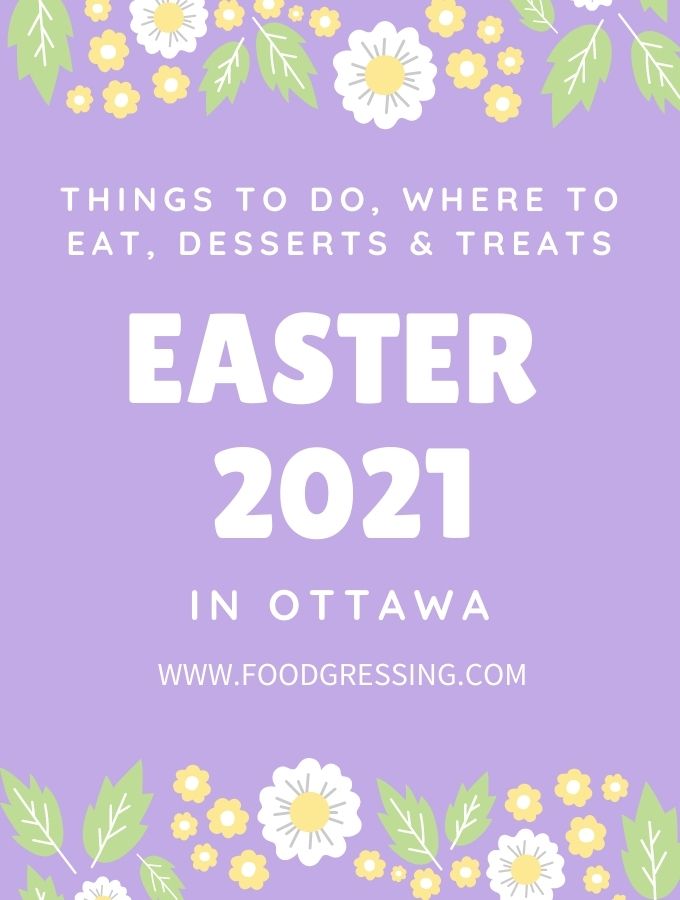 This list is updated as information becomes available. Please reach out to me [email protected] or @foodgressing on social media (Instagram, Facebook, Twitter, TikTok) for any suggestions.
Any support to local businesses is appreciated in these times. Holiday celebrations can take on different forms from traditional, fusion to modern.
Please use this list as an inspiration for ideas on how to put together your own Easter celebration.
Easter Edmonton 2021 Brunch, Lunch, Dinner and Features
Fairmont Hotel Macdonald
Fairmont Hotel Macdonald has a variety of Easter offerings:
Easter Dinner | Harvest Room
Saturday, April 3 & Sunday, April 4
5:30 PM – 9:00 PM
$79 per person
Easter Dinner | Curbside Pickup
Saturday, April 3 to Monday, April 5
$149-159, serves 2
Easter Brunch | Plated
Sunday, April 4
8:00 AM – 1:00 PM
$49 per person
Afternoon Tea
Saturday, April 3 to Monday, April 5
$59 per person
2:30 PM seating only
Curbside pickup 2:00 PM – 4:00 PM, daily
Call (780) 424-5181 to book your table or reserve online.
Madison's Grill – Union Bank Inn
Madison's Grill – Union Bank Inn is offering a special three course Easter Brunch on April 4. Enjoy seasonal flavours using only the freshest ingredients, set amongst the history and grandeur of their renowned dining room. Reservations are required and seating is limited.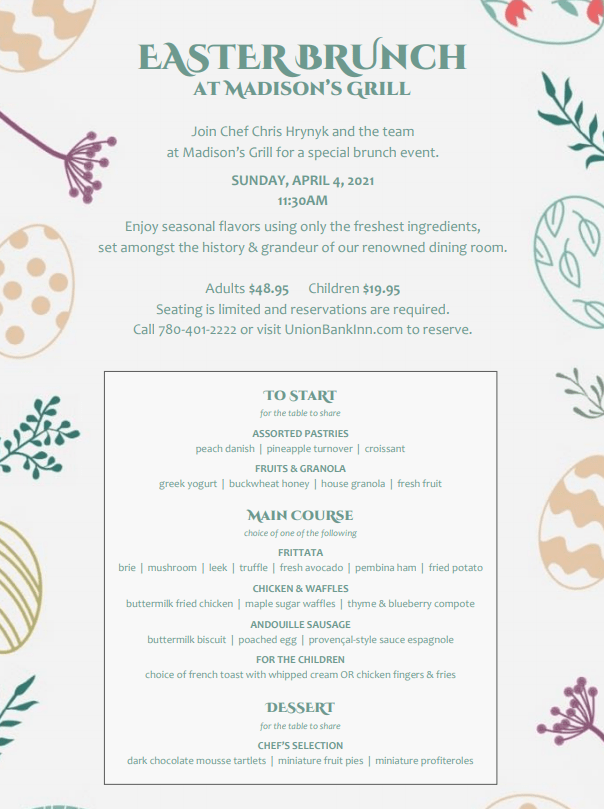 They are also offering Easter takeout for pickup between 1 PM – 4 PM on April 4. Designed for a family of four to six, with leftovers, and is packaged to easily reheat.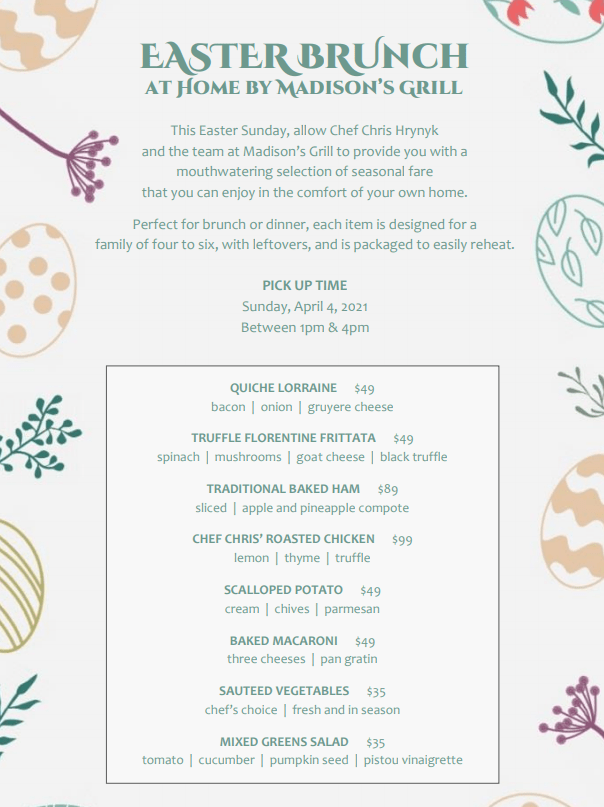 Royal Coach Dining Room – Chateau Louis Hotel & Conference Centre
Royal Coach Dining Room – Chateau Louis Hotel & Conference Centre is offering Easter Weekend Dinner from April 2 – 5 from 4 PM – 7 PM.
It is a 5 course Ukrainian style Easter dinner featuring Pyrogies, cabbage rolls, beef stroganoff, sumptuous salads & desserts. Reservations are highly recommended.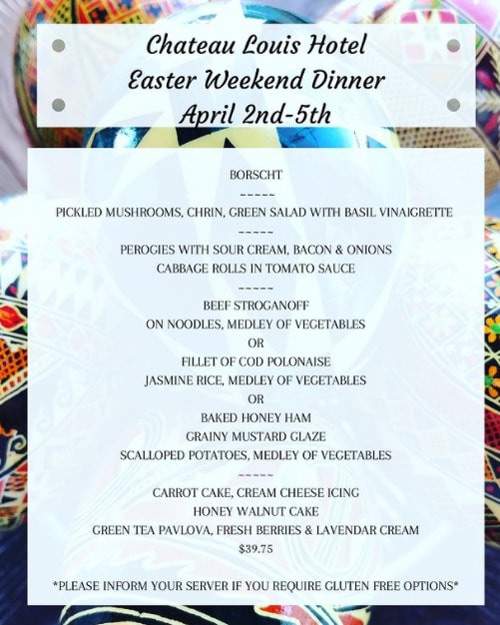 The Butternut Tree
The Butternut Tree is offering an Easter-themed afternoon tea for dine-in on April 4 from 11 AM – 2:30 PM. To-go pickup version is available from 11:30 AM – 2:30 PM.
Menu price of $65 per person includes: A tiered selection of sweet, savoury & baked items and Canadian Herbal Tea.
Cocktails, wine & additional beverages available to order upon arrival day of high tea.
Hart's Table
Hart's Table is offering Easter Brunch on April 2 – 5 from 10 AM – 2 PM. Priced at $65 per person.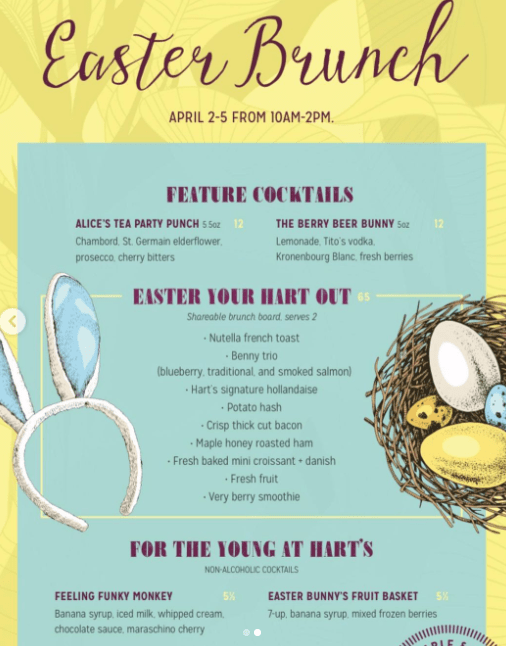 Three Vikings Food + Drink
Three Vikings Food + Drink is offering a heat-at-home Easter Dinner for pick up on April 3. Preorder by March 27. Priced at $35.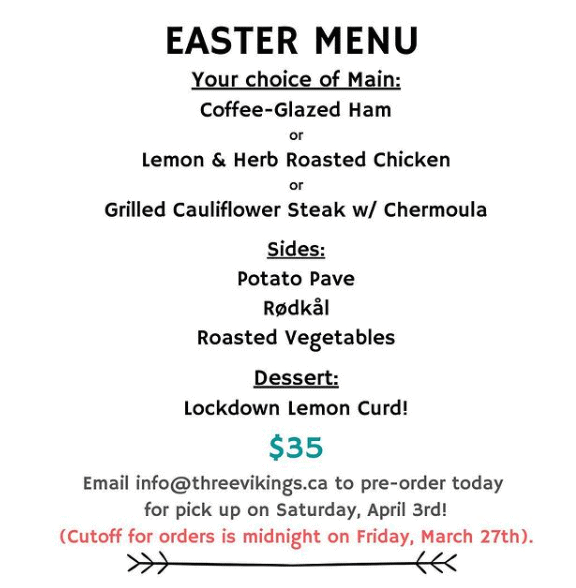 Santa Maria Goretti Centre
Santa Maria Goretti Centre is offering an Easter Take Out meal that comes with an antipasto platter, potatoes, vegetables, pasta, your choice of entrée and dessert.
Preorder by April 2 for pickup on April 4. Priced at $35 per person.
Antipasto Platter
A selection of Italian cold cuts, cheese and olives
Sides
Scalloped Potato
Green Bean and Roma Tomato
Pasta
Baked cheese tortellini in a marinara sauce
Entrée*
Pesto rubbed lamb legs
OR
Pesto rubbed pork loin
*Choose one (1)
Dessert
Berry Panna Cotta
Options for those with dietary restrictions are available upon request.
A Cappella Catering
A Cappella Catering is offering an Easter Take and Bake priced at $97 + GST. Serves 4 – 6 people. Preorder by March 30 12 PM. Delivery/pickup on April 3. $5 from each package will be donated to Ronald McDonald House.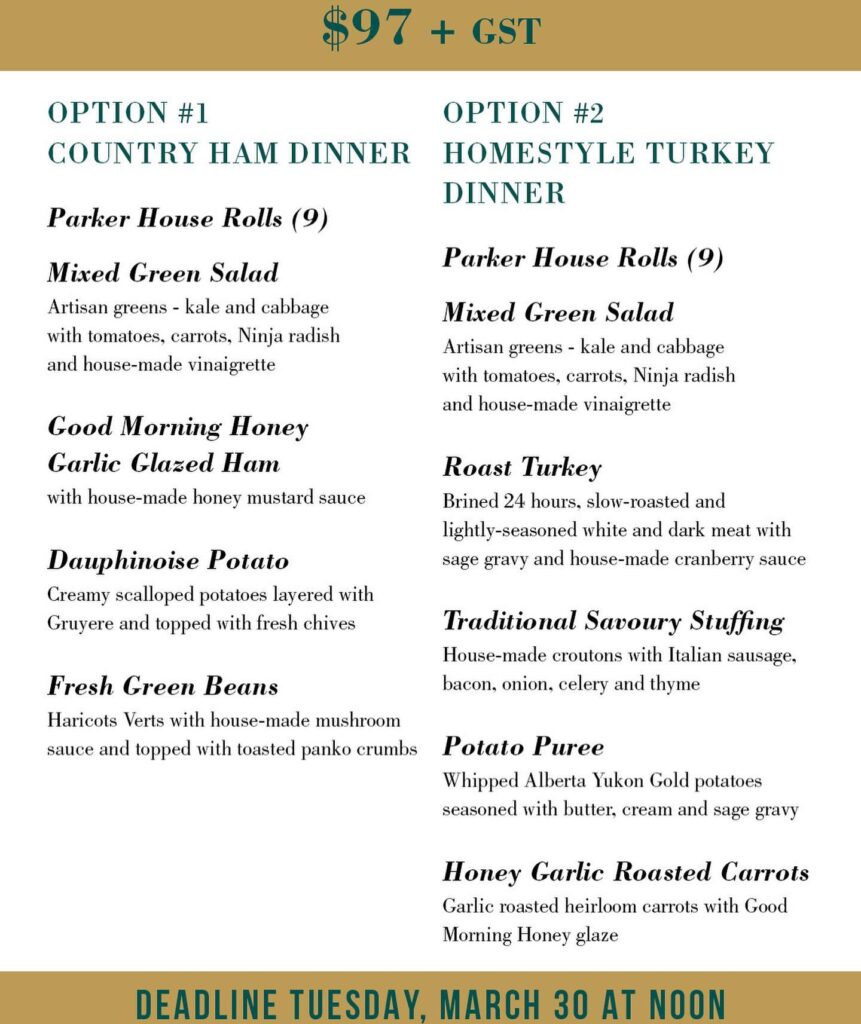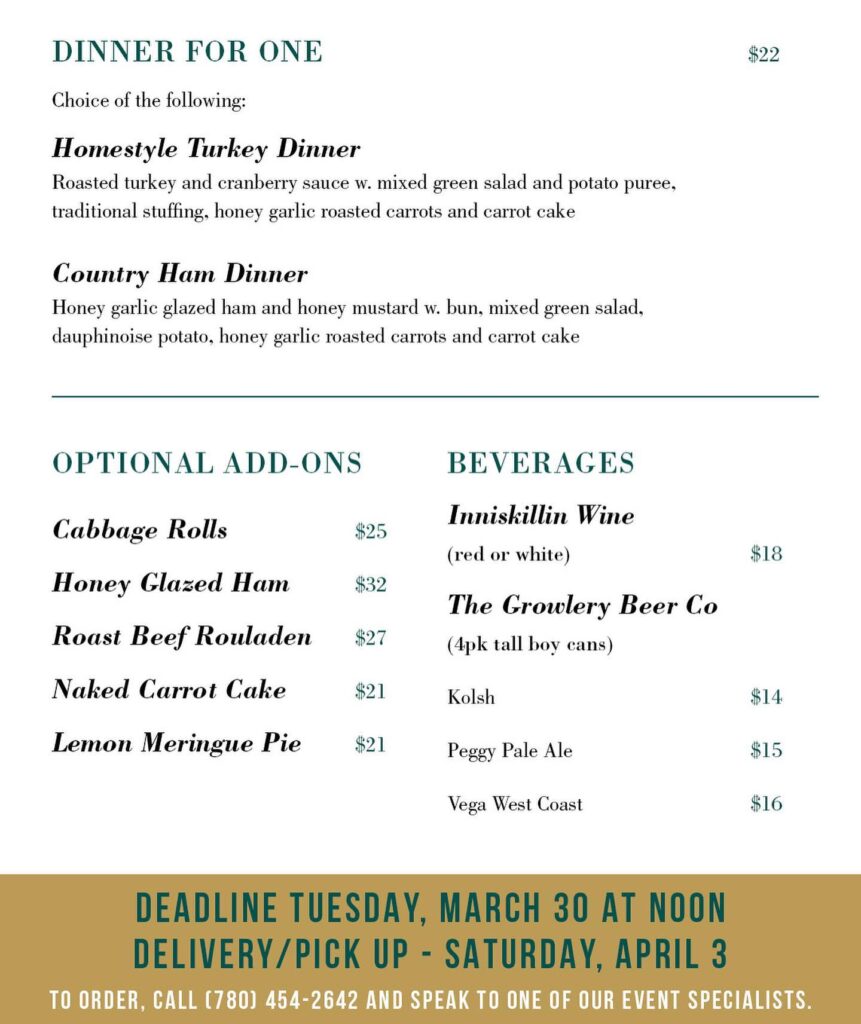 Sarah's Kitchen
Sarah's Kitchen (St. Albert) has an Easter Dinner to Go priced at $30 per person.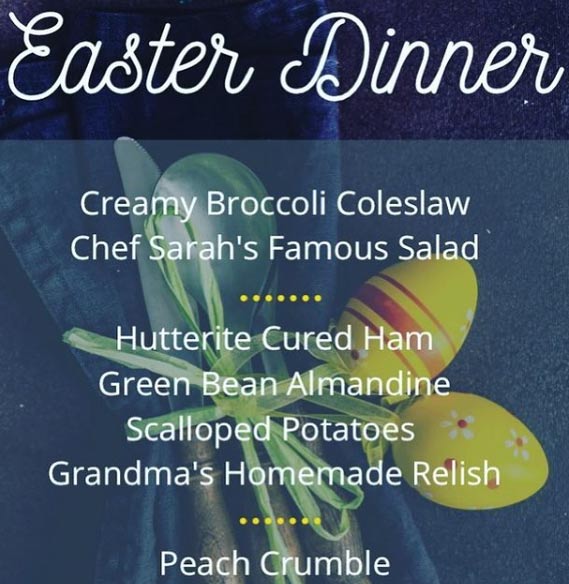 Ruth's Steakhouse
Ruth's Steakhouse is offering features like their Easter Surf & Turf starting at $69, plus for a limited time choose to add a Lobster Tail to any entrée for just $20. Available April 2 – 4.
They also have a take home sides and desserts for Easter. Medium (serves 6-8) Large (serves 12-15)
SALADS
Medium $20 Large $34
STEAK HOUSE SALAD
CAESAR SALAD
SIDES
Medium $29 Large $49
SWEET POTATO CASSEROLE
MASHED POTATOES
AU GRATIN POTATOES
MAC & CHEESE
CREAMED SPINACH
DESSERTS
Individuals (serves 1-2)
CHEESECAKE $15
BANANA CREAM PIE $15
Chocolate Sin Cake $13
CREME BRULEE $13
White Spot
White Spot Easter Dinner 2021 features a single Turkey Dinner for $19.99 OR order ahead, their Heat & Serve Turkey Dinner For Two including all the same fixings plus an Apple Pie to share for only $39.99. Available March 29 – April 5.
JOEY Restaurants
JOEY Restaurants is offering an Easter Dinner to go ($185) which serves 4 to 6 people. Preorder by April 1 for pickup on April 2 or 3.
The menu includes:
Oven roasted turkey with gravy
Double smoked bacon stuffing
Roasted garlic mashed potatoes
Spring carrots and asparagus with dill butter
Pan roasted brussels sprouts with parmesan and lemon
Fall kale salad
Dinner buns
Cranberry sauce with orange zest
Fresh baked apple cranberry pie with maple ice cream
Denny's
Participating Denny's is offering an Easter Turkey Dinner ($62.99, serves 4 people) available for pickup or delivery April 2 – 5.
The package includes tender carved turkey breast, savoury stuffing, garlic red-skinned mashed potatoes, turkey gravy, cranberry sauce and your choice of broccoli or sweet petite corn. Pick up cold and reheat at home.
Please check on whether the package is offered at your local Denny's.
Moxie's
Moxie's is offering a special three-course Turkey Dinner on April 4 and 5.
Their Easter feature menu will be available through pre-ordered phoned-in pick-up, or dine-in service at a participating Moxie's restaurant location.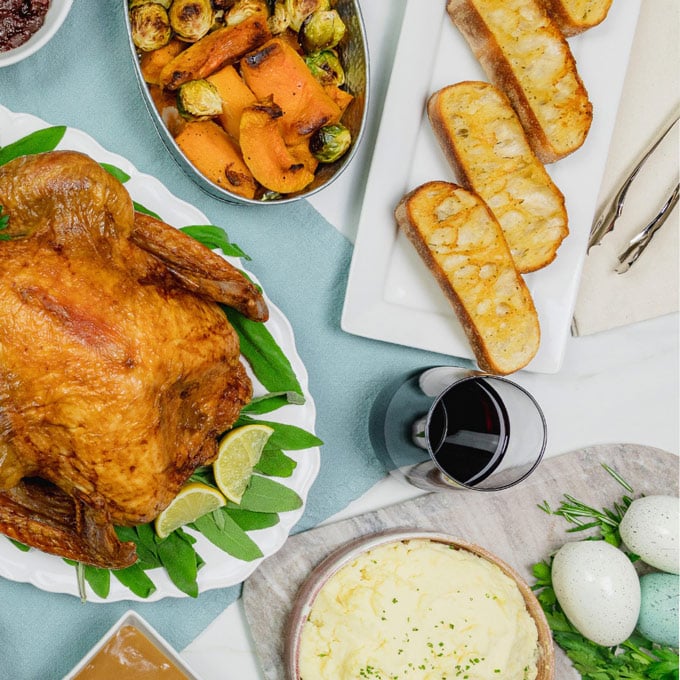 The Moxie's Easter Menu is $30 per person and is highlighted by Roasted Turkey Dinner, with tender carved turkey, savoury bread stuffing, buttered mashed potatoes, fresh seasonal vegetables, cranberry sauce & gravy.
Each dinner also includes a starter Caesar Salad and a White Chocolate Brownie bite for dessert.
All Easter Dinner pick-up orders must be placed by Thursday, April 1st at 12pm local time for pick-up on April 4th & 5th. To pre-order, please call the Moxie's location nearest you.
Participating Moxie's restaurant locations are open for seated dining service and are pleased to be offering the Easter feature menu on April 4 and 5.
Century Hospitality Group
Century Hospitality Group is offering an Easter Dinner Package serves 2 ($65).
The menu includes:
Just Like Baba Makes! – Pan seared perogies, perfectly caramelized onions, bacon, topped with sour cream
Grilled & Ready – Juicy Mundare Ukranian Sausage, seasoned with pickled mustard seeds
Rock n Rolls – Cabbage rolls stuffed with rice, onions, tomato sauce, savoy cabbage
Bring The Ham Home – Rotisserie ham with a honey pineapple glaze, roasted baby potatoes, house-made gravy, fresh seasonal vegetables
Easter Egg Cheesecake – House-made Cadburys mini easter egg cheesecake
Pickup locations are Hart's Table & Bar; Rebel Food and Drink; Parloiur Italian Kitchen; and MKT Fresh Food Beer Market.
Edmonton Easter Hotel Packages | Staycation Ideas
The Westin Edmonton
The Westin Edmonton has an Easter Day Magic Show & Dinner Event ($389.83 for 2 people). This event includes:
A 3-course plated dinner for 2 people
A 50 min. magic show performance by Sheldon Casavant – http://www.sheldoncasavant.com/
One Night Accommodation in a King Guest Room
Complimentary underground and secured parking
In-Room Bottle of white or red wine after the event ( 1 bottle)
This is a structured , space-designed and socially distanced event with no mingling in the ballroom.
Masks are required in the hotel. Guests will be asked to register upon arrival and will have their temperature taken.
Floor plan is designed with our 9,500 sq. foot to allow enough space between audience and performer. Dinner will be enjoyed prior to show .
Due to social distance requirements, only 12tickets ( 24 guest) will be sold.
Dinner menu is as follows: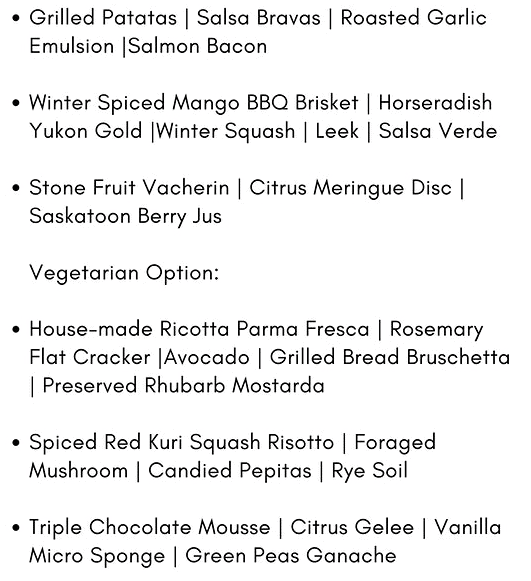 Fairmont Hotel Macdonald
Fairmont Hotel Macdonald has a Stay Close package where you book one night and receive a complimentary second night during the same stay. Available for stays until June 30, 2021.
Edmonton Easter/Spring Flowers
Here are some florists in Edmonton where you might find spring bouquets.
Easter Wines Recommendations
Saintly Rosé
With the warmer months on the horizon, the best wine to pair it with is a bottle of Saintly Rosé.
This angelic rosé is a medium-bodied wine and has aromas and flavours of strawberry, citrus, bergamot and rhubarb.
This wine is perfect to pair with a hummus plate or raspberry almond tart. MSRP: $17.95/750mL.
Kim Crawford Sauvignon Blanc
Kim Crawford Wines offer different varietals perfect for any holiday party, imported all the way from New Zealand.
Kim Crawford Sauvignon Blanc is vivid and refreshing and is the #1 selling wine in Canada; it pairs well with steamed clams or mussels with asparagus risotto, or grilled chicken. MSRP: $21.95/750mL.
About Easter Holiday: Dates, Food Traditions, Easter Egg Origins
Have you wondered how Easter actually became a holiday, or where its trademark bunnies and eggs came from?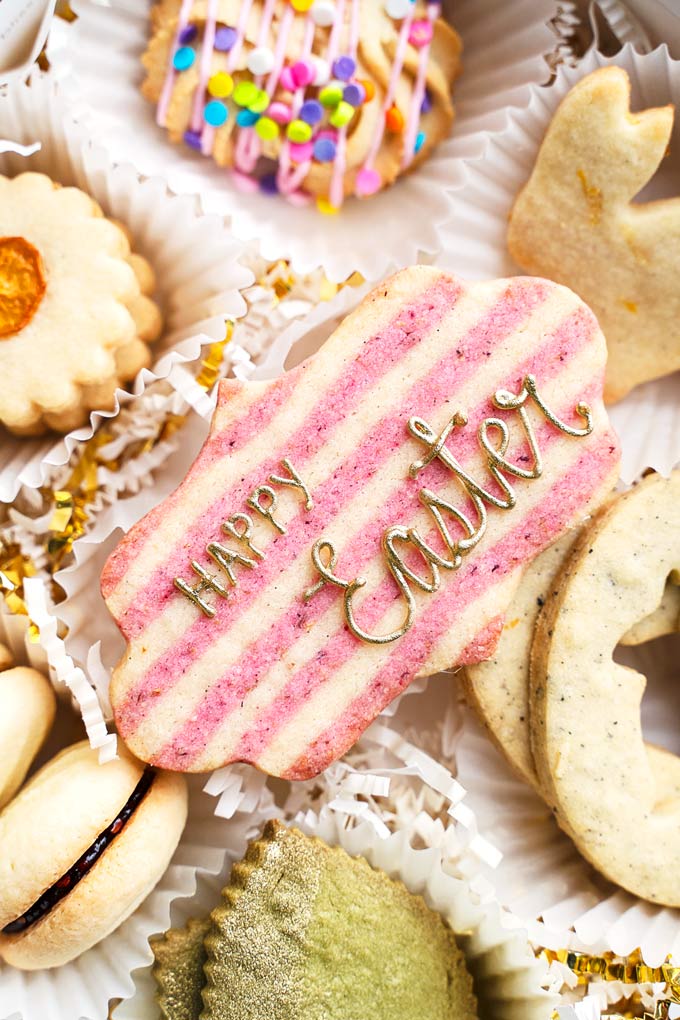 Check out my Easter Holiday post which looks at the origins of Easter, some of the traditions and a few fun facts on Easter Eggs and the Easter Bunny.
Easter Quotes, Wishes and Captions
Whether your Easter is all about fun, or a bit of fun mixed with the holiday's religious significance, here is a roundup of some Easter quotes, wishes and captions for that holiday Instagram post or greeting card.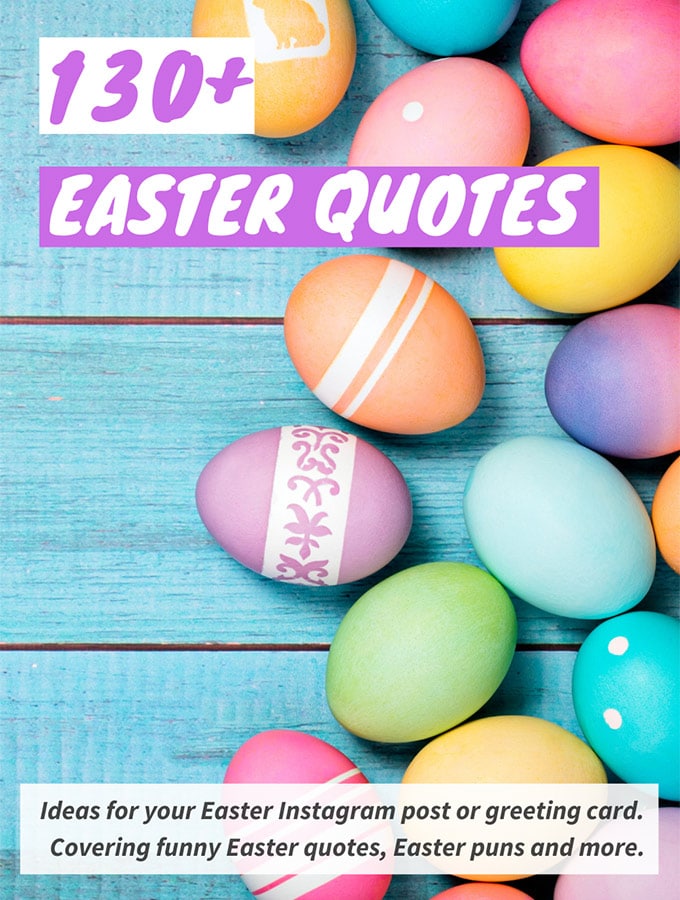 Some of the quotes I have in the post include:
Filling my basket with love and joy… and also chocolate. Lots of chocolate.
Biting the head off my chocolate bunny, but I won't bite you!
There's nothing better than a friend… except a friend with chocolate.
Free Easter Greeting Cards
If you're looking to send an Easter greeting card, check out Canva.com (referral link) for free Easter card templates and start designing.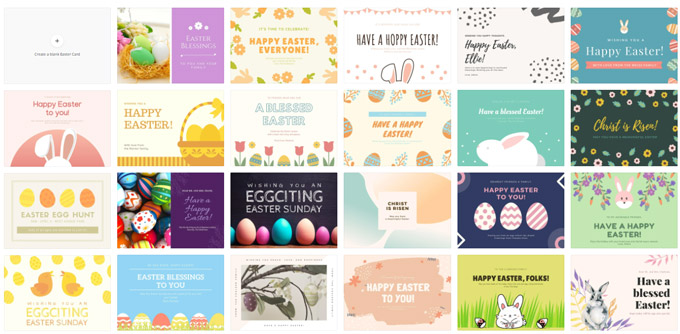 I have been using Canva for years and if you're new to Canva, please feel free to use my Canva referral link to sign up for free.
It's a great graphic design platform used to create social media graphics, presentations, posters, documents and other visual content.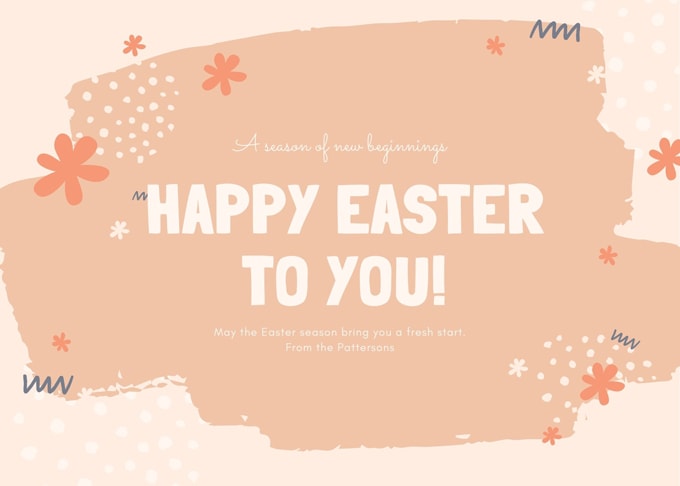 Even though there is a premium version, you can do A LOT on the free version.