Easter Holiday 2021 is happening Sunday, April 4. Here's an Easter Calgary 2021 guide covering things to do during Easter weekend; restaurant offerings and special menus; desserts and treats and more.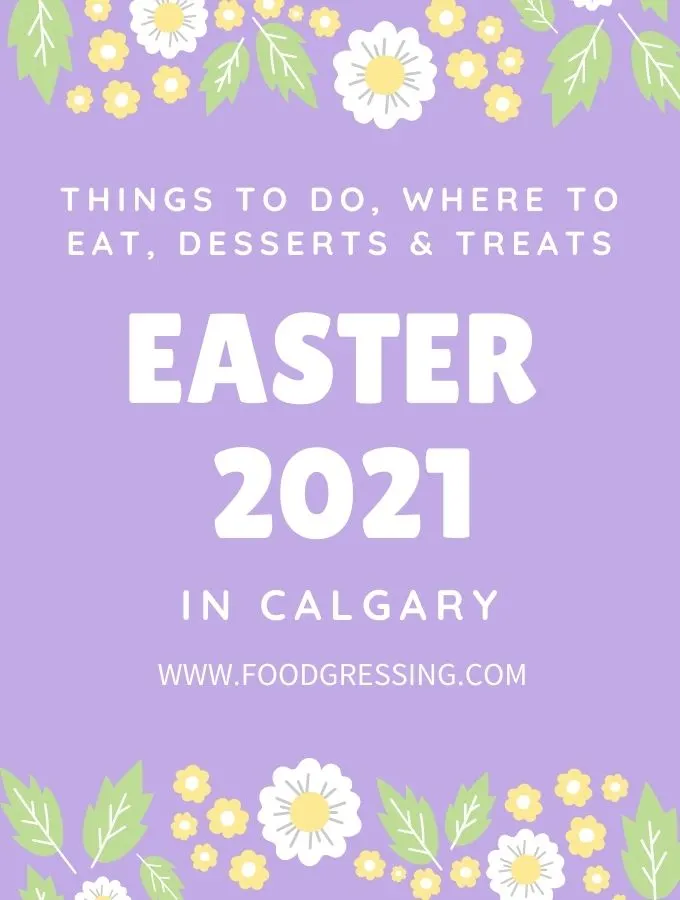 This list is updated as information becomes available. Please reach out to me [email protected] or @foodgressing on social media (Instagram, Facebook, Twitter, TikTok) for any suggestions.
Any support to local businesses is appreciated in these times. Holiday celebrations can take on different forms from traditional, fusion to modern.
Please use this list as an inspiration for ideas on how to put together your own Easter celebration.
Easter Calgary 2021 Brunch, Lunch, Dinner and Features
Thomsons Kitchen & Bar
Thomsons Kitchen & Bar is offering an Easter A la Carte Brunch Buffet on April 4 from 10:30 AM – 2 PM. Adults $73, Kids 6 – 12 $35, Kids 5 and Under Free.
Parking is FREE for 3 hours depending on availability with server's validation.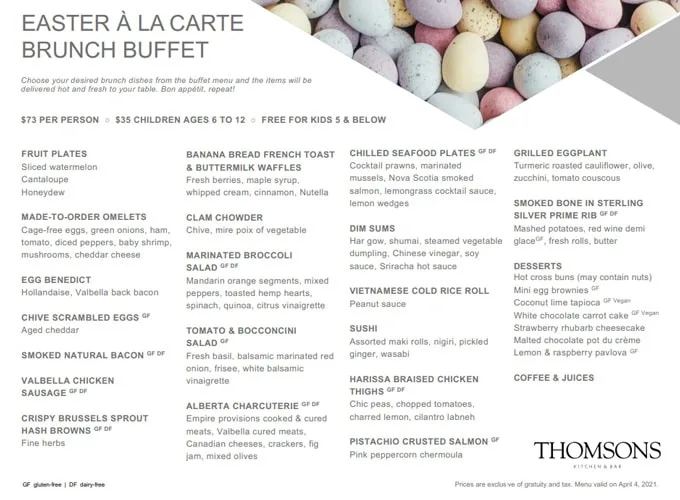 Hotel Blackfoot
Hotel Blackfoot has 3-course plated Easter dinner for dine-in on April 4. Reserve through Green's Restaurant (403) 212-1728. View the full menu here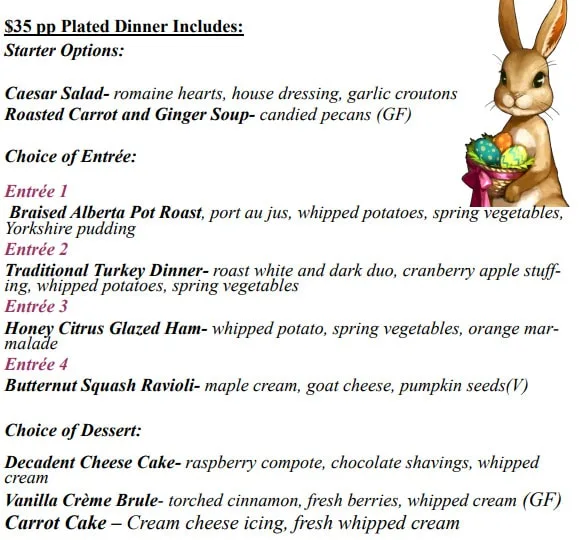 Hotel Blackfoot is also offering an Easter meal at home from April 2 – April 5. Reserve through Green's Restaurant (403) 212-1728. Pick-up times every 30 minutes from 12:00 PM to 7:00 PM.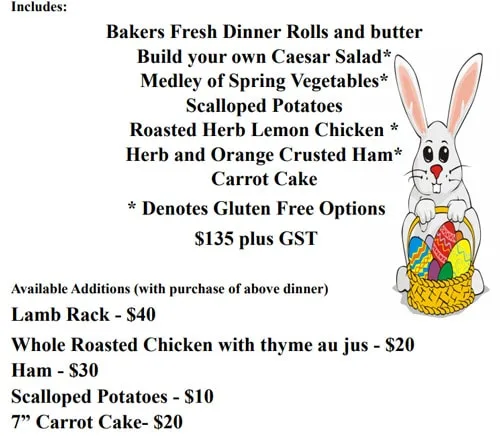 The Cookbook Co. Cooks
The Cookbook Co. Cooks is offering Easter Dinner priced at $125 and. It includes your choice between two wonderful main courses, fabulous accompaniments, and a scrumptious dessert for four people.
Order by 6 pm Monday, March 29 (or until sold out) for pick-up on
Sunday, April 4, between 3 and 5:30 pm. Call 403-265-6066
to place your order.
Appetizer
Beet-Cured Devilled Eggs
with Fresh Chives
Main Course
(select one of the following options)
Slow-Roasted Lamb Shoulder
with Mint Pesto
OR
Spragg's Ham
with Treacle Glaze
Accompaniments
Roasted Baby Carrots
with Tahini-Yogurt and Fresh Dill
Crispy Twice-Cooked New Potatoes
with Warm Black Garlic Vinaigrette
Green Beans, Peas, and Radishes
with Crushed Hazelnuts and Tarragon
Dessert
Almond and Raspberry Blancmange
with Sablés de Breton
Suggested Wine Pairings
Add a bottle of wine
from Metrovino to your order.
White
Domaine Schoech Pinot Gris
(Alsace, France) – $31
Classic, round and pillowy, barely off-dry wine from France's northeast region of Alsace. Capable of taking on both of the protein options on this menu.
Red
Dr. Deinhard Spätburgunder Trocken
(Pfalz, Germany) – $29
Germans say "Spätburgunder," we say Pinot Noir. Dry, not oaky – an unmistakable Pinot Noir that is a clarion call for Spring, Easter dinner, and celebration.
Sheraton Calgary
Flower & Wolf at Sheraton Calgary is offering Easter Brunch on April 4 from 10 AM – 2 PM.
JOEY Restaurants
JOEY Restaurants is offering an Easter Dinner to go ($185) which serves 4 to 6 people. Preorder by April 1 for pickup on April 2 or 3.
The menu includes:
Oven roasted turkey with gravy
Double smoked bacon stuffing
Roasted garlic mashed potatoes
Spring carrots and asparagus with dill butter
Pan roasted brussels sprouts with parmesan and lemon
Fall kale salad
Dinner buns
Cranberry sauce with orange zest
Fresh baked apple cranberry pie with maple ice cream
Denny's
Participating Denny's is offering an Easter Turkey Dinner ($62.99, serves 4 people) available for pickup or delivery April 2 – 5.
The package includes tender carved turkey breast, savoury stuffing, garlic red-skinned mashed potatoes, turkey gravy, cranberry sauce and your choice of broccoli or sweet petite corn. Pick up cold and reheat at home.
Please check on whether the package is offered at your local Denny's.
Moxie's
Moxie's is offering a special three-course Turkey Dinner on April 4 and 5.
Their Easter feature menu will be available through pre-ordered phoned-in pick-up, or dine-in service at a participating Moxie's restaurant location.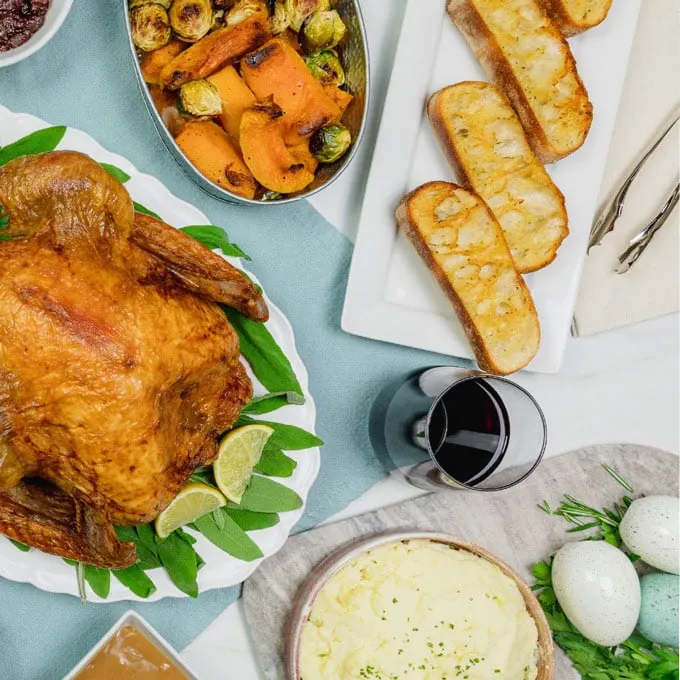 The Moxie's Easter Menu is $30 per person and is highlighted by Roasted Turkey Dinner, with tender carved turkey, savoury bread stuffing, buttered mashed potatoes, fresh seasonal vegetables, cranberry sauce & gravy.
Each dinner also includes a starter Caesar Salad and a White Chocolate Brownie bite for dessert.
All Easter Dinner pick-up orders must be placed by Thursday, April 1st at 12pm local time for pick-up on April 4th & 5th. To pre-order, please call the Moxie's location nearest you.
Participating Moxie's restaurant locations are open for seated dining service and are pleased to be offering the Easter feature menu on April 4 and 5.
Rouge Restaurant
Rouge Restaurant is offering an Easter meal kit priced at $65 per person. Available for pickup on April 2 and 3.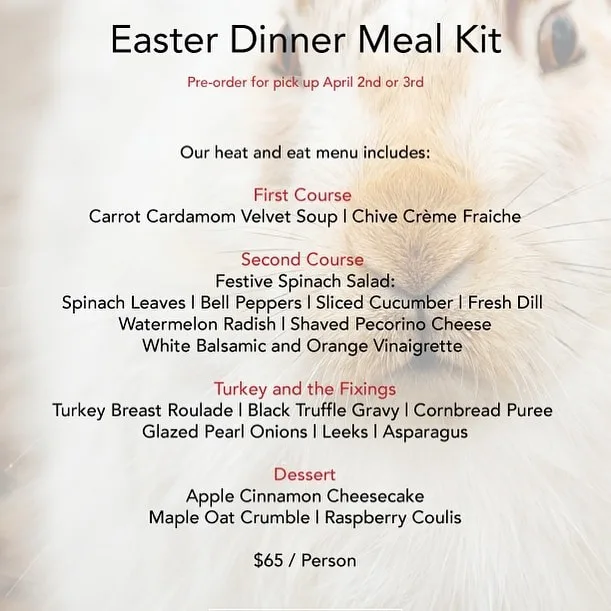 Ruth's Steakhouse
Ruth's Steakhouse is offering features like their Easter Surf & Turf starting at $69, plus for a limited time choose to add a Lobster Tail to any entrée for just $20. Available April 2 – 4.
They also have a take home sides and desserts for Easter. Medium (serves 6-8) Large (serves 12-15)
SALADS
Medium $20 Large $34
STEAK HOUSE SALAD
CAESAR SALAD
SIDES
Medium $29 Large $49
SWEET POTATO CASSEROLE
MASHED POTATOES
AU GRATIN POTATOES
MAC & CHEESE
CREAMED SPINACH
DESSERTS
Individuals (serves 1-2)
CHEESECAKE $15
BANANA CREAM PIE $15
Chocolate Sin Cake $13
CREME BRULEE $13
Forage
Forage has an Easter Weekend Menu for pickup on April 1 or April 3. Order by March 29 7 pm.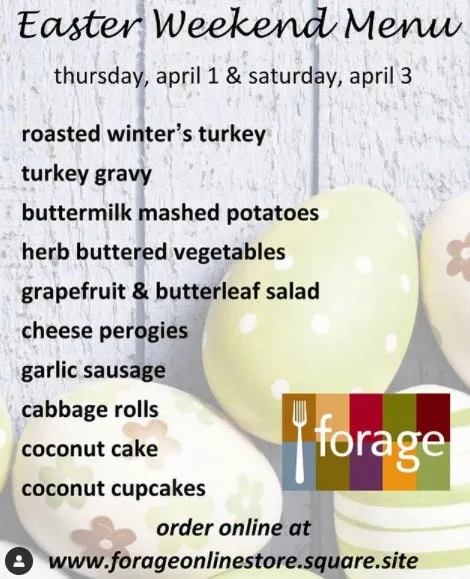 The Cheesecake Cafe
The Cheesecake Cafe has carrot cake and a Cadbury Creme Egg Cheesecake for preorder.
Things to do during Easter in Calgary
Calgary Zoo
The Calgary Zoo annual Eggstravaganza is on from April 2 – 5. The zoo is open 9 am – 5 pm daily with 9 am – 10 am being member only hour.
Highlights
Treat Stations – while exploring the zoo ground, youngsters will be delighted to find treat stations throughout the zoo where Zoo Staff will be ready to hand out some treats.
Virtual Easter Egg Hunt– NEW this year. Bring your cell phone because you won't want to miss out on the fun of the virtual Easter egg hunt.
All activities taking place for Easter Eggstravaganza are included with Daily Admission or Memberships.
Timed tickets are required as they continue to operate with daily on-grounds attendance capacity limits.
Non-member admission: General (16 – 59) $24.95; Child (3 – 15) $14.95; Senior (60+) $22.95.
Calgary Easter Hotel Packages | Staycation Ideas
Hotel Blackfoot
Hotel Blackfoot has a variety of specials and packages including Calgary Zoo Family Package, Heritage Park Package, Shopping Package, Comedy Package and more.
Easter Wines Recommendations
Saintly Rosé
With the warmer months on the horizon, the best wine to pair it with is a bottle of Saintly Rosé.
This angelic rosé is a medium-bodied wine and has aromas and flavours of strawberry, citrus, bergamot and rhubarb.
This wine is perfect to pair with a hummus plate or raspberry almond tart. MSRP: $17.95/750mL.
Kim Crawford Sauvignon Blanc
Kim Crawford Wines offer different varietals perfect for any holiday party, imported all the way from New Zealand.
Kim Crawford Sauvignon Blanc is vivid and refreshing and is the #1 selling wine in Canada; it pairs well with steamed clams or mussels with asparagus risotto, or grilled chicken. MSRP: $21.95/750mL.
Calgary Easter/Spring Flowers
Here are some florists in Calgary where you might find spring bouquets.
About Easter Holiday: Dates, Food Traditions, Easter Egg Origins
Have you wondered how Easter actually became a holiday, or where its trademark bunnies and eggs came from?
Check out my Easter Holiday post which looks at the origins of Easter, some of the traditions and a few fun facts on Easter Eggs and the Easter Bunny.
Easter Quotes, Wishes and Captions
Whether your Easter is all about fun, or a bit of fun mixed with the holiday's religious significance, here is a roundup of some Easter quotes, wishes and captions for that holiday Instagram post or greeting card.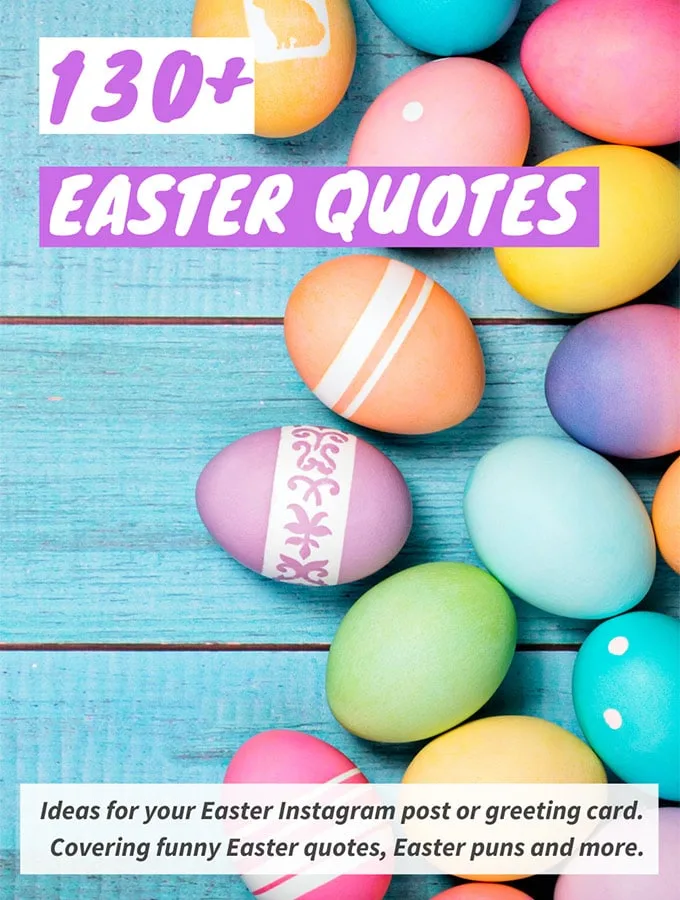 Some of the quotes I have in the post include:
Filling my basket with love and joy… and also chocolate. Lots of chocolate.
Biting the head off my chocolate bunny, but I won't bite you!
There's nothing better than a friend… except a friend with chocolate.
Free Easter Greeting Cards
If you're looking to send an Easter greeting card, check out Canva.com (referral link) for free Easter card templates and start designing.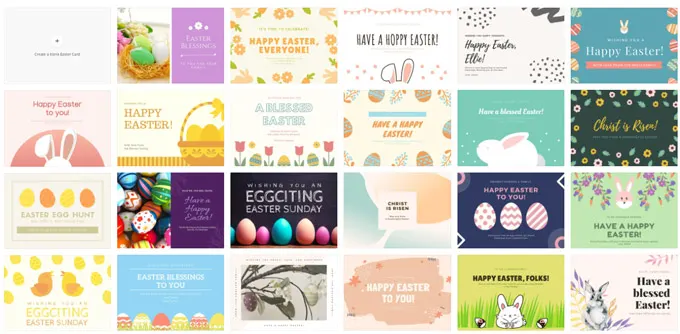 I have been using Canva for years and if you're new to Canva, please feel free to use my Canva referral link to sign up for free.
It's a great graphic design platform used to create social media graphics, presentations, posters, documents and other visual content.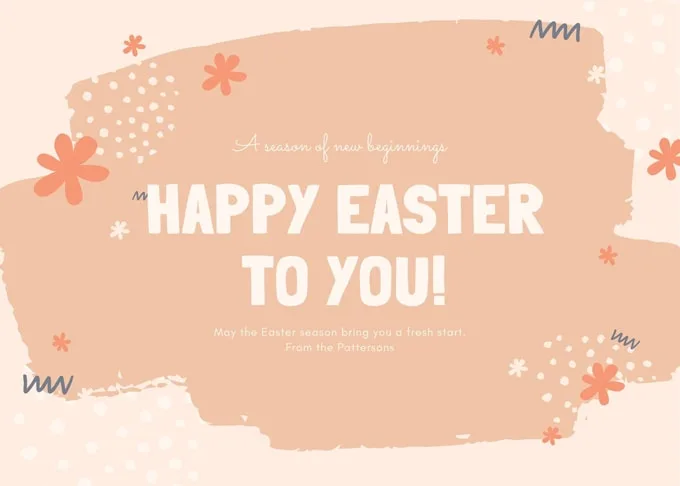 Even though there is a premium version, you can do A LOT on the free version.