Here's a look at Valentine's Day Ottawa 2022 featuring special offerings by restaurants.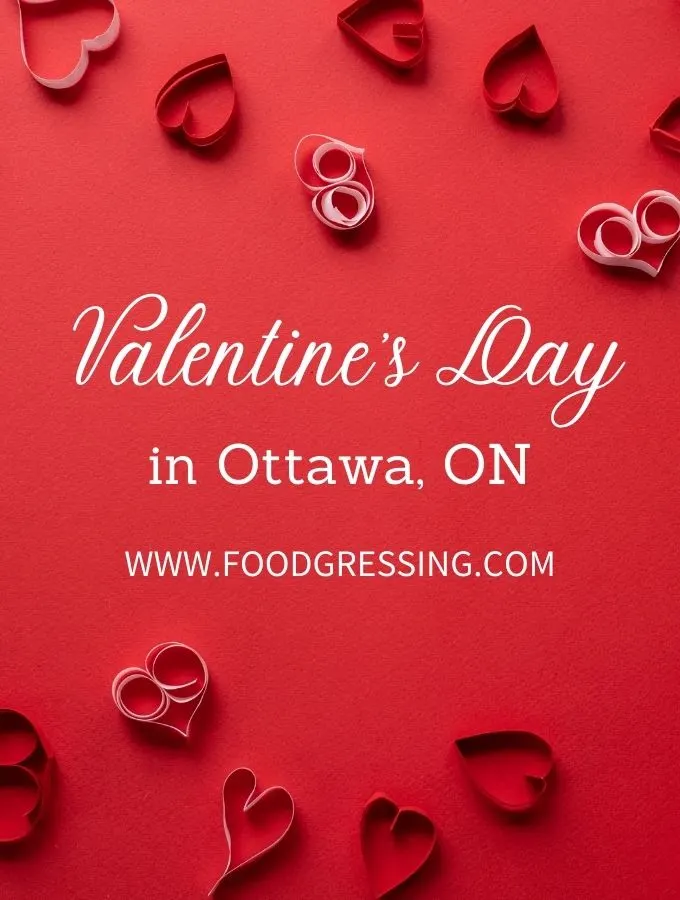 Valentine's Day 2022 is Monday, February 14, 2022.
If you are a business that wants to be featured, please email me a ready to copy and paste excerpt of your offerings.
Valentine's Day Ottawa 2022: Restaurant Special Menus
Zoe's at Fairmont Chateau Laurier
Zoe's at Fairmont Chateau Laurier is taking reservations for February 14. They will be offering a Valentine's dinner menu at $98 per person.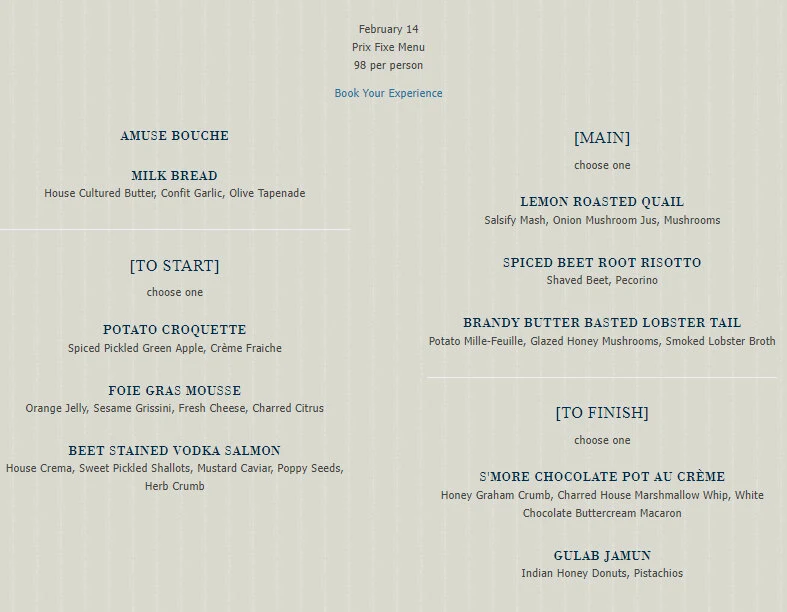 Wilfrid's Restaurant – Fairmont Chateau Laurier
Wilfrid's Restaurant – Fairmont Chateau Laurier is taking reservations for February 11 to 14. They will be offering a Valentine's dinner menu at $98 per person.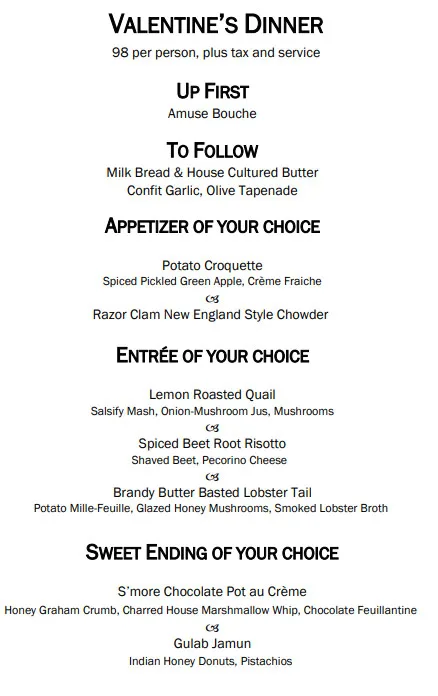 Baccanalle
Take a trip down South from the comfort of your home with an easy Heat & Serve Caribbean Lifestyle menu from with Baccanalle!
Special menu available Feb 12-14. Entrees range $20-$40 – from their acclaimed Jerk Chicken, Tamarind Glaze Salmon to Surf & Turf (Sweet Jerk BBQ Beef Ribs with Southern Fried Shrimp). Great vegan options. Don't forget their signature patties – made for you or try one of their DIY Patty Kits!
Order at www.baccanalle.com. Pickup and delivery options available. Call 613-859-6297 or email [email protected] for more info.
Fauna
Fauna is offering a five course set Valentine's menu priced at $110 plus tax and 18% gratuity. They will not be offering their regular menu today and will not be able to support vegan, vegetarian or dairy free diets for Valentine's Day. Dinner will begin with Bread, then Oysters, Bison Tartare, Crab Tortelini, Duck and a Fairinella Ice Cream Sunday for dessert.
Raphaël Express Peruvian Cuisine
Enjoy Peruvian culinary delights with their Valentine's tasting menu priced at $95 per person. Reserve here.
MACA BRIOCHE | Maiz Morado Butter
SHAMBAR | Traditional Peruvian Wheat Soup
CHORITOS CHALACOS | Marinated Mussels or Marinated King Mushrooms, Ají Limo & Cilantro Tiger's Milk, Lupin Chalaquita Salad, Sweet Potato
SALTADO | Charcoal Oil-marinated Beef Tenderloin or Wild Blue Shrimp or Marinated Tempeh, Saltado Jus, Peruvian Potatoes, Charred Tomatoes
POSTRE | Vegan Passionfruit Cheesecake or Lucuma Tiramisu
The Savoy Brasserie
For this Valentines Day come experience a skillful demonstration of culinary passion to rival your own. A 3 course tailored menu with wine and spirit pairing for $220 a couple. Reserve here.
Marzitelli
Marzitelli is offering a 4-course Valentine's Day dinner on Friday February 11 and Saturday February 12.
$60 per person + tax & gratuity
Early Celebration. (**no live music performance**)
6pm (arrival 5:45-6:15pm)
Finished by 8:45pm
$90 per person + tax & gratuity
Later Celebration. Live music during dinner and the entire evening.
8pm (arrival 7:45-8:15pm)
Finish when you finish 🙂
Gray Jay
Join Gray Jay on Saturday February 12th from 5 pm – 8 pm to celebrate Valentine's Day with a 5 course tasting menu ($90) and optional wine pairings.
Treat your plus one to a three-course menu for two at Moxies.
Between February 11th to 14th, enjoy your choice of an appetizer, two entrees and a dessert to share.
Pick from Moxies' favourites, including Chipotle Mango Chicken, Lemon Basil Salmon, Steak Frites, and delicious desserts like the White Chocolate Brownie, Sticky Toffee Pudding, or Key Lime Pie.
Celebrating from home? Bring home their three-course menu for two, DIY meal or cocktail kits, or favourites from our full menu.
They are offering 50% off all bottles of wine on phoned in or online pick-up orders from the Moxies location nearest you.
Aiāna Restaurant Collective
Aiāna Restaurant Collective will offer a luxurious Valentine's Day Chef's Tasting Menu that will sweep you off your feet and across some of Canada's most tantalizing flavours. Carefully curated and masterfully planned by Chef Raghav, the 11-course dining experience is one to remember and will debut on our website on February 1st. A pre-payment of $225 (plus HST) per guest is required to secure a seating time, and will be credited to the final bill due at Aiāna.
Soif Bar à Vin
Soif Bar à Vin (Gatineau) will be serving a special 5 course sharing menu only on February 11th and 12th.
Meal Kit Delivery Services
Chef's Plate
In time for Valentine's Day, food loving Canadians can now create a foolproof, homemade 3-course meal at home as Chefs Plate officially launches its new Add On feature to offer craveable appetizers, and delectable desserts – in addition to its 16 mouthwatering mains on the menu weekly.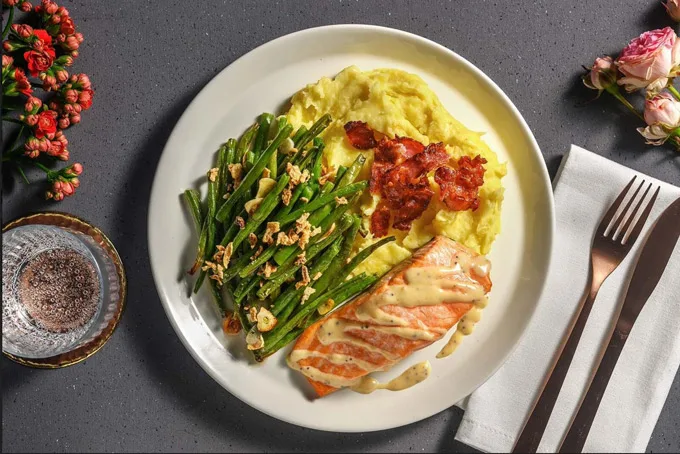 Canadians can order by February 3 to receive meal kits in time for the big day.
Chefs Plate sends all of the pre-portioned fresh ingredients and step-by-step recipe instructions to doorsteps so consumers can focus on the fun parts of cooking. So while preparing the Feb. 14 meal for that special someone is sweet, making dinner together with Chefs Plate can also make for a fun activity.
In time for Valentine's Day, Chefs Plate offers:
Appetizer options include: Simple spinach caesar salad, Easy peasy garlic knots and Fuss-free jalapeno cheddar biscuits. Delectable desserts include No-Bake Peanut Butter Cups, Death by Chocolate Bowls and Cinnamon Roasted Pears.
Meals can be prepared in 15 or 30 minutes or less, while add ons take as little as 20 minutes.