Here's a look at Valentine's Day Toronto 2022 featuring special offerings by restaurants.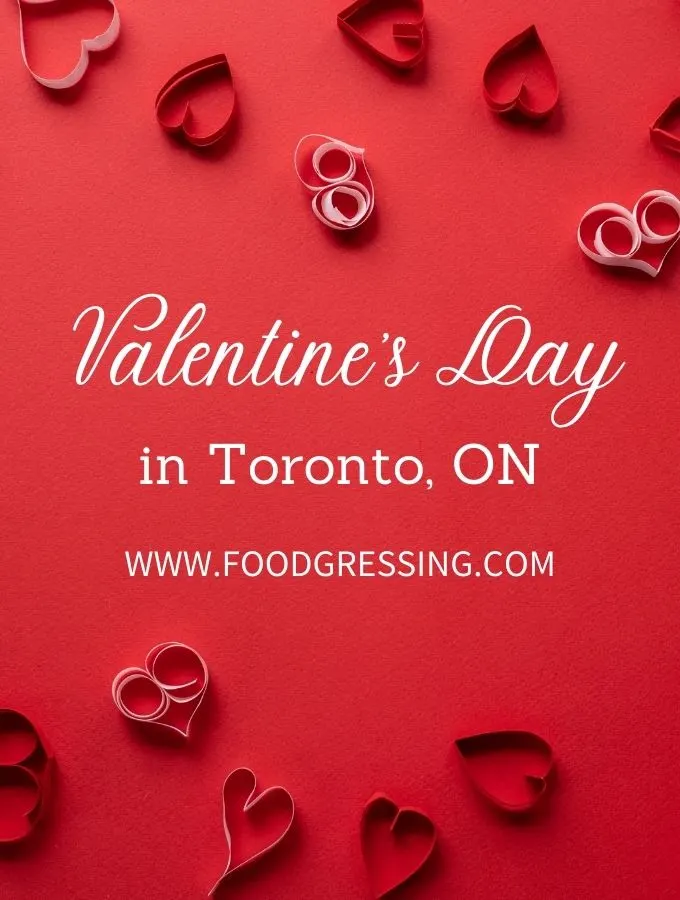 Valentine's Day 2022 is Monday, February 14, 2022.
If you are a business that wants to be featured, please email me a ready to copy and paste excerpt of your offerings.
Valentine's Day Toronto 2022: Restaurant Special Menus
Café Boulud
Café Boulud is taking reservations for February 14 from 5:30pm to 9:30pm. They will be offering a 3-course menu at $145 per person.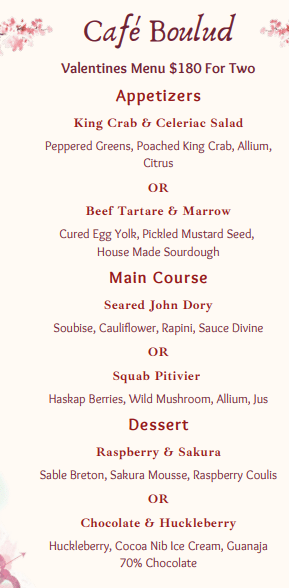 12 Tables
12 Tables is offering a 3 course menu priced at $99 per person on February 13 and 14, available for dine-in or takeout.
Starters
Butternut squash and yam soup topped with sage and rosemary
Pan seared Fillet Mignon; ginger, white wine, course pepper
Classic Caesar salad
Burrata with Peach compote, candid pumpkin seeds, basil and mint
Black Tiger shrimp cocktail
Mains
Honey glazed oven baked Duck; caramelized apple and orange, horseradish mash potatoes
Marinated in red wine half rack of Lamb; green vegetables, horseradish mash potatoes
Miso glazed Black Cod; green vegetables, horseradish mash potatoes
Lobster tail & shrimps; saffron tagliatelle, green vegetables
Dessert
Key lime & Belgium Brownie
Shook Kitchen
Shook Kitchen is taking reservations for February 14. They will be offering a Valentine's dinner at $75 per person. Wine pairings are also available.
FIRST COURSE (Choice of)
Labneh, Honey, Sumac, Dried Mint
Halloumi, Preserved Pear, Amba Sauce, Sumac Cracker Black Salsify
Baharat Roasted Salsify, Date, Almond, Pearl Onion
Okra, Charred Okra, Fermented Tomato, Sumac & Preserved Lemon Labneh
SECOND COURSE (Choice of)
Kreplach Dumplings Smoked Eggplant, Pomegranate, Mint
Roasted Garlic Tofu Skewer, Eggplant, Saffron, Basmati Rice, Ajvar Sauce, Sabzi Herbs
Eggplant Shnitzel Ajvar Sauce,Toum, Feta Cheese, Fermented Cabbage
Mushroom Mujadara Basmati Rice, Wild Mushrooms, Lentils, Confit Shallots
DESSERT (Choice of)
Baked Meringue Almond Cream, Strawberries, Filo Crisp
Chocolate Hazelnut Namelaka, Pistachio Ice Cream, Sesame Praline, Orange
Coconut Basbousa Pear, Cardamom, Rose
Baldini Restaurant
Baldini Restaurant is offering a 3-course prix-fixe menu on Valentine's Day priced at $89 per person.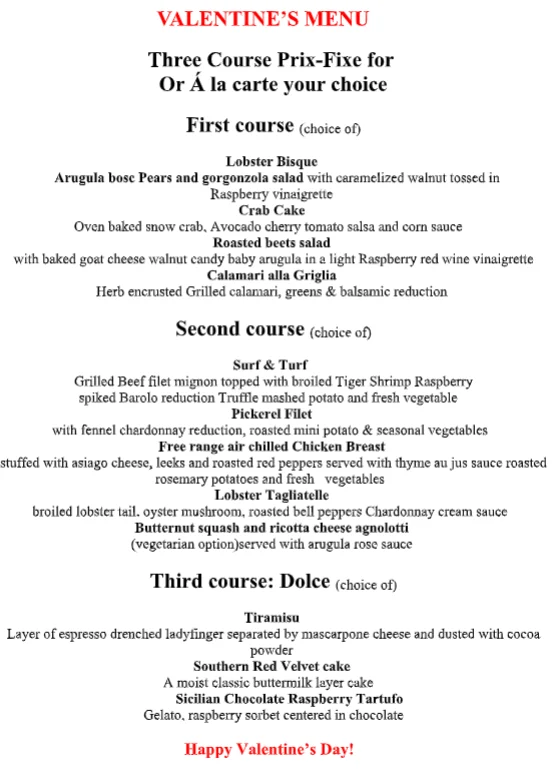 Lamesa Filipino Kitchen
Lamesa Filipino Kitchen is taking reservations for February 14. The Lamesa Valentines Menu will also be available for pick up on February 11, 12, 13 and 14.
Lamesa Valentines Menu $60 Per Person
Amuse Bouche
Choice of:
Longanisa Wonton
Sweet Longanisa, Gruyere, Waterchestnut, Sweet Chili Glazeor
Adobo Duxelle (vegetarian)
Oyster Mushroom, Cremini Mushroom, Shitake Mushroom, Pickled Shallots, Parmesan
Appetizer
Choice of:
Milkfish Rillette
Bangus, Crème Fraîche, Dill, Shallots, Citrus, Pan De Leche Crostini
Or
Chopped Papaya Salad (vegetarian)
Green Beans, Cherry Tomatoes, Candied Peanuts, Calamansi, Bird Eye Chili, Atchara
Or
Ukoy
Crispy Shrimp and Vegetable Fritter, Alavar Sauce
Main Course
Choice of:
Seared Adobo
Chicken Thighs, Chimichurri, Garlic Puree
Served with Steamed Jasmine Rice
Or
Spicy Kare Kare Pancit (vegetarian)
Shanghai Noodles, Peanut Butter, Chili Oil , Bok Choy, Crispy Tofu
Or
Lechon Liempo
Pork Belly, Lemon Grass, Mang Tomas Gravy, Roasted Carrots
Serve with Steamed Jasmine Rice
Dessert
Mango or Ube Tiramisu with Latik
Aloette
Aloette is offering a Valentine's Day at-home package for February 11, 12, 13 and 14. Priced at $80 per person. Available for pickup or delivery.
Enjoy a custom prix-fixe menu curated by the team at Aloette Restaurant. Please note, for this menu they are unable to accommodate dietary restrictions. The Valentine's day menu includes:
Cheese bread with roasted yeast butter
Tuna tartare with wasabi, chive, rice chip
Beet salad with lola rosa, smoked sheep yogurt, pecan
Burrata with pistachio, lemon, crouton
Orecchiette with prawns, Bianco DiNapoli tomato, chili
Miami cut Striplion with crab hollandaise, wilted kale, cipollini onion
Ruby chocolate mousse with freeze dried raspberry, lemon balm
Chocolate Truffles
Lapinou
Lapinou is taking reservations for February 14. They will be offering a 3 course menu at $85 per person. Wine pairings are also available.
FIRST COURSE (Choose 1 per person)
WINTER GREENS SALAD: Baby gem, fennel, ricotta salata, bay leaf vinaigrette
FRIED ACORN SQUASH: Honey, yogurt, espelette
BEEF TARTARE: Radish, caper, black garlic, crisp potato
STRACCIATELLA: Beets, blueberry, almond
SECOND COURSE (Choose 1 per person)
MUSHROOM TART: Poached egg, sunchoke, truffle, gouda
SEARED SCALLOPS: Lentil, pancetta, brown butter, egg yolk, frisee
WAGYU FLAT IRON: Beets, horseradish, beef fat vinaigrette
DUCK BREAST: Baby turnip, sesame, XO
THIRD COURSE (Choose 1 per person)
RUM BABA: Banana cream, cocoa nib
CHOCOLATE TART: Salted caramel, truffle cream
MEYER LEMON PIE: Pink peppercorn, crisp meringue
Pusateri's
A fully catered, three course meal is the perfect way to someone's heart and comes complete with a beet salad, surf & turf entree and decadent chocolate-covered strawberries & Nügateau éclairs for dessert.
Pusateri's has always prided itself on providing elevated, high-quality prepared meals to Torontonians.
Setting itself apart from other food retailers, Pusateri's offers a diverse range of gourmet, artisanal and imported fine food products.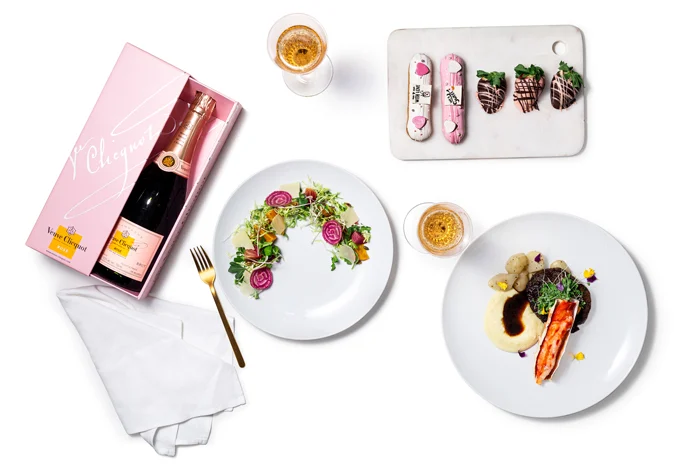 If you're looking for other gifting ideas Pusateri's has brought back some of their favourite items from last year including heart-shaped beef wellington, Sweet Nola heart-shaped cake, Delysées Cakes and much more. In addition, they are also offering some brand new items not seen in store before.
New item offerings:
Madeleine's Chocolate Roses
Drizzle Berry Chocolate Dipped Strawberries
Seasonal Stuffed Pasta: Heart Shaped or Ricotta Roses
Dog & Tiger
Dog & Tiger is offering a prix-fixe menu from 6 pm – 8 pm on February 14. Enjoy 3-courses made with ethically-sourced local ingredients, complete with half-price bottles of wine.
Donna's
Donna's Valentine's Day menu to be enjoyed at home includes a spread of appetizers, a main course and dessert.
1 package will feed 1 person. $80 per person. Orders for multiple people will be packed in as few containers as required.
Pickup on February 11, 12 and 14 from 4 pm – 8 pm.
Marinated Octopus, Salt Spring Mussels & Shrimp
with paprika, white onion and basil
Stracciatella
with castelvetrano olives
Winter Salad
with celery, fennel, pear & pistachio
Sourdough Bread & Butter
—
Beef Cheek
with peppercorn sauce, collard greens
and a twice baked potato w/ sunchokes & cheddar*
—
Chocolate Custard Pie
with peanut butter cream
Pre-orders end on February 9 + pick-ups are Feb 11,12 & 14.
*requires a basic re-heating at home
Francobollo
Francobollo is taking reservations for February 14. They will be offering 2 optional menu. Menu 1 costs $75 per person while menu 2 costs $99 per person.
Menu #1
– Appetizer – Choice of:
Artisanal Greens Salad
Calamari Fritti
Caesar Salad
– Main Course – Choice of:
Pan-Roasted Potato Gnocchi
Crackling Oven Roasted Chicken
Grilled Irish Organic Salmon
Rigatoni Bolognese
Veal Limone
Eggplant & Zucchini Parmigiana – deliciously plant-based –
– Dessert –
Menu #2
– Appetizer – Choice of:
Franco's Famous 'G' Salad
Prawns Diavola
Caesar Salad
Burrata
– Main Course – Choice of:
Pan-Roasted Potato Gnocchi
Crackling Oven Roasted Chicken
Steak Frites
Seafood Spaghettini Aglio e Olio
Grilled Spigola Filet
Veal Parmigiana
Eggplant & Zucchini Parmigiana – deliciously plant-based –
– Dessert –
Brazen Head Irish Pub
Brazen Head Irish Pub is taking reservations for February 14. Dine under the stars in your own personal Igloo this winter at Brazen Head! Enjoy their legendary cocktails alongside a droolworthy a la carte menu while you sit back and relax in a heated personal dining Igloo.
Ascari King West/Gare de L'Est/Ascari Enoteca
Ascari Hospitality Group, Pearl Morissette and Somm™ invite you to a stunning virtual Three-Course Dinner for two, showcasing the iconic wines made in the signature style of this famed winery. Included in each kit is a restaurant-quality, three-course meal, two bottles of wine, linked to pre-recorded video instructions featuring Executive Chef and Co-Owner, John Sinopoli. $230 per package (serves 2).
Tune in on February 12th for a live Q & A, as John explores the menu and the winemaker's obsession with low intervention, high-quality wines alongside the one and only, Svetlana Atcheva, Pearl Morisette's Wine Director and ever-passionate sommelier.
*Price includes delivery in Toronto, additional fees applicable for GTA
DETAILS
Event date: Saturday February 12 2022
Pre-recorded instructional food demo
Two bottles of wine:
2019 Irreverence (White Blend)
2020 Racines du Ciel (Cabernet Franc)
Live Q&A at 7:00pm with AHG Executive Chef and Owner, John Sinopoli and Pearl Morissette Wine Director Svetlana Atcheva.
Dinner for two (requires light preparation at-home)
$230.00 for 3-course meal, 2 bottles of Pearl Morissette and free Toronto delivery
Delivery on Friday February 11, 2022, deadline to Order is Monday, Feb 7, 2022
MENU:
To Start:
LA CORONA CASUNZIEI
stuffed pasta "crown" / smoked ricotta and beet filling / brown butter sauce / poppyseed
Main:
POLLO E TARTUFO
brioche crusted chicken breast / layered black truffles / madeira jus
(Veg Option: Cavolfiore e Tartufo – brioche crusted cauliflower, layered black perigord truffles, madeira jus)
ROASTED MUSHROOM
cremini mushroom / honey mushroom / salmoriglio
HERB SALAD
green leaf lettuce / red leaf lettuce / boston bibb lettuce / fresh mint, chives and dill / dill cream
Dessert:
CHOCOLATE RASPBERRY TART
Dark Chocolate Cremeux / Milk Chocolate Caramel / Almond Praline / Almond Dacquoise / Raspberry Gelee
ASSORTED CHOCOLATE BONBONS
ADD ON OPTIONS:
OYSTERS:
12 oysters, shucker, mignonette, boss sauce, horseradish. $50.00 + Tax
TRUFFLES:
20gm Black Truffle w/slicer $75+tax
You can also book here:
EDO-ko
EDO-ko is offering a $135 dinner for two for dine-in, pickup or delivery. It is available on February 11th, 12th, 13th, and 14th from EDO-ko in Forest Hill Village (425 Spadina Road).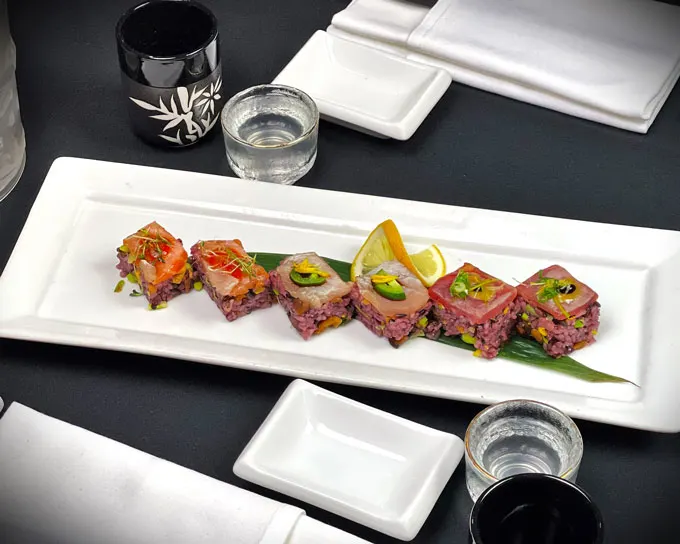 Maison T
Let your taste buds know how much you love them with Chef's 4-Course Special to Go. $90 per package. Pickup on February 14 from 5 – 6 pm.
Hokkaido Scallops, Shrimp, Broccoli Salad, Yuzu, Green Peppercorn Dressing
Wild Mushroom Fricasse, Roasted Chicken, Truffle Cream Sauce
Quebec Venison, Celery Root and Potato Puree, Root Vegetables, Chartreuse Sauce
White Chocolate Mousse, Berries, Caramelized Pastry, Pistachio Creme Anglaise
Gia
Gia is offering a Vegan/Vegetarian Menu for 2 to go. $120 set for two. Available for pickup on February 14.
INCLUDES:
Focaccia – Barese style, with potato, rosemary & garlic oil *vegan
Baby Gem Salad – enoki mushroom, crispy shallot, pangrattato & almond vinaigrette *vegan, contains soy
Sautéed Rapini – roasted garlic olive oil, lemon juice, peperoncino, violife parmesan *vegan

MAIN – choice of:
Porcini Agnolotti for 2 – porcini, wild mushroom, butter & 3 year gouda *vegetarian
Vegan Lasagna for 2 – tomato sugo, creamy cashew bechamel, bolognese ragû, vegan mozzarella, violife parmesan
Spaghetti Funghi for 2 – truffle butter, cashew ricotta, Tuscan kale, mushrooms, violife parmesan *vegan

DESSERT:
Chef's surprise for two *vegan
Richmond Station
Richmond Station is offering a Valentine's Day package to go for pickup on February 13 and 14 from 12 pm – 8:45 pm. $99.50 per person.
Gougères
gruyère, chives
–
Endive Salad
beemster, brown butter croutons, granny smith apple vinaigrette
–
Hand Cut Macaroni "Caccio e Pepe"
black pepper, garlic chilli bread crumbs, pecorino romano
–
Braised Grass-Fed Organic Beef Shank
truffle polenta, grilled broccolini, black olive gremolata
OR
Roasted Maitaked Mushroom Steak
truffle polenta, grilled broccolini, black olive gremolata
–
Pain au Lait
–
Cocoa Meringue with Salted Caramel and Candied Hazelnuts
–
Chocolates by Nishant
dark chocolate chilli, white chocolate orange, baileys
+
Kew Vineyards Sparkling Pinot Munier (750ml)
Packed cold with simple reheating and plating instructions.
Eataly Toronto
Back again for this Valentine's Day season is Eataly's Salumi e Formaggi bouquet featuring artisanal Italian cured meats, cheeses, and antipasti composed into a special edible bouquet.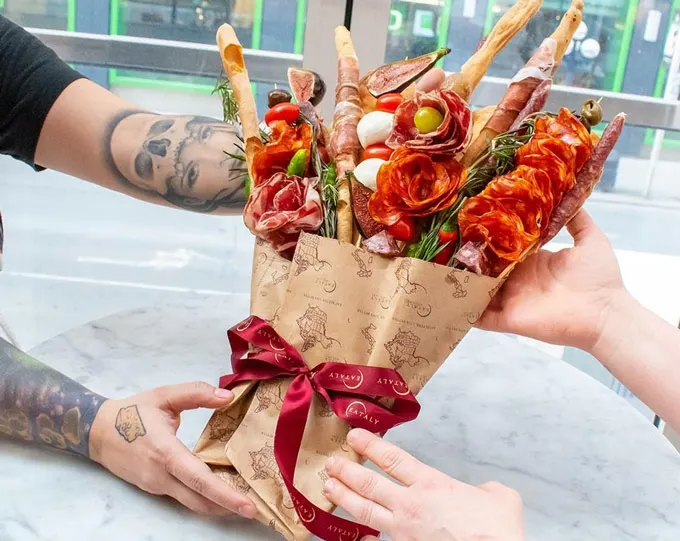 Made with the finest ingredients from Italy like pistachios from Sicilia and hazelnuts from Piemonte, Eataly's pastry team's intricate works of art include heart-shaped pastries and biscotti, full cakes and special filled-to-order cannoli. Swing by their pastry counter to pick out your favourites!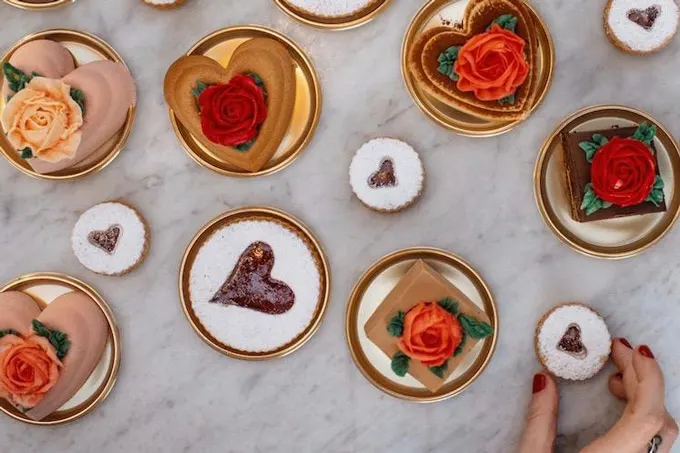 Eataly Toronto has partnered with Scarborough-based Diana's Seafood to bring in high-quality seafood from across the coasts of Canada and beyond. This Valentine's Day, bring home fresh oysters paired with one of Diana's Seafood's sauces.
Give the gift of artisanal cioccolati italiani with festive boxes of chocolate by Venchi, Caffarel, and Perugina. Made by artisanal chocolatiers in Italy, these chocolates are a love story all their own.
Storm Crow Manor
This Valentine's Day roll a natural 20 in love with Storm Crow Manor's special Critical Hit of the Heart menu. Their limited edition menu is the perfect way to treat yourself or someone you love to an epic epicurean experience.
$65 per person, includes appetizer, entrée and dessert. Reservations for February 12, 13 and 14 from 4 pm – 8:30 pm.
APPETIZERS
Chickpea Fries (Vegan)
Cupid's Salad (Vegan possible)
Couple's Charcuterie Board (To be shared)
Baked Brie (To be shared) (Vegetarian)
ENTREES
Pan-Seared Salmon
Stuffed Chicken Leg
Braised Beef Pappardelle
Risotto (Vegan)
SHARED DESSERTS
Dessert Thruple
Valentine's Donut Holes
TOCA by The Ritz-Carlton, Toronto
TOCA by The Ritz-Carlton, Toronto is offering Valentine's Day at Home. Priced at $125 per person.
Truffle Infused Leek and Potato Soup
Lobster & Crab Salad with Fine Herbs | Sunchoke Chips
***
Carpaccio of Ahi Tuna
Citrus | Fennel | Chili Oil | Smoked Trout Caviar | Warm Buttermilk Chive Emulsion
***
Braised Ontario Beef Short Rib & Roasted King Oyster Mushrooms
Parsnip and Green Apple Purée | Creamed Spinach | Heirloom Carrots | Crispy Shallots | Sauce Perigourdine
-Or Spinach & Mushroom Cannelloni
Classic Béchamel | Sultana Raisins | Pine Nuts | Black Truffle Gremolata | Vegetarian Jus
***
Molten Chocolate Cake
***
Chocolate Covered Strawberries
Preparation and heating instructions are included. Order by Feb 9, 2022 (12:00PM) for pick up on Feb 14 2022 2-5 PM.
On February 12, 13 and 14, Toca is offering a celebratory 4-course dine-in dinner featuring lobster ravioli, rack of lamb and hamachi crudo. Also, reduced a la carte menu will be available. Priced at $165 per person.
George Restaurant
George Restaurant is offering a 5 course dinner on February 12, 13 and 14. Please note that a la carte dining will not be available on these nights. Priced at $180 per person.
LOUIX LOUIS
Celebrate this Valentine's Day at Louix Louis, high above downtown Toronto on the 31st floor of The St. Regis Hotel. You will be fêted with opulent luxury in our stunning dining room on this most romantic day of the year. The four course prix fixe menu is $175 per guest and includes a glass of Louis Roededer Collection Brut Premier Champagne to welcome you to Louix Louis.
Treat your plus one to a three-course menu for two at Moxies.
Between February 11th to 14th, enjoy your choice of an appetizer, two entrees and a dessert to share.
Pick from Moxies' favourites, including Chipotle Mango Chicken, Lemon Basil Salmon, Steak Frites, and delicious desserts like the White Chocolate Brownie, Sticky Toffee Pudding, or Key Lime Pie.
Celebrating from home? Bring home their three-course menu for two, DIY meal or cocktail kits, or favourites from our full menu.
They are offering 50% off all bottles of wine on phoned in or online pick-up orders from the Moxies location nearest you.
Grey Gardens
Grey Gardens is offering a set 5-course sharing menu for $95/person+tax and gratuity on February 14.
Azhar Kitchen & Bar
Azhar Kitchen & Bar is offering a Valentine's Day to go package priced at $90 per package (serves 2). Priced at $110 after February 1. Available for pickup February 11 and 12.
Oyster Boy
Oyster Boy is offering Seafood Towers and Lobster Boil Dinners. Pre shucked oyster platters are available as well as unshucked oysters. Available for pickup or delivery.
Meal Kit Delivery Services
Chef's Plate
In time for Valentine's Day, food loving Canadians can now create a foolproof, homemade 3-course meal at home as Chefs Plate officially launches its new Add On feature to offer craveable appetizers, and delectable desserts – in addition to its 16 mouthwatering mains on the menu weekly.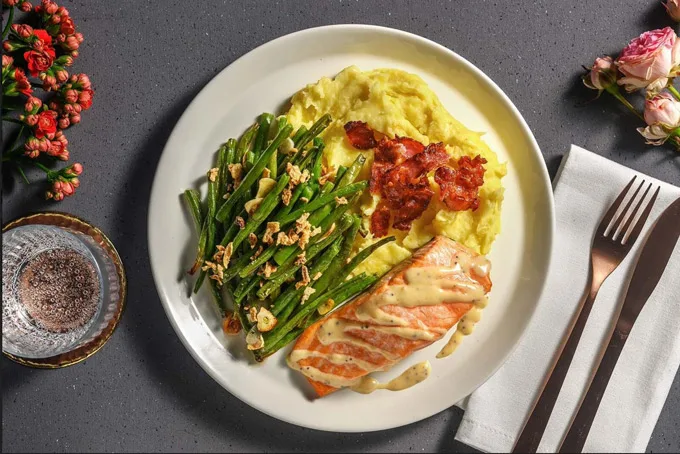 Canadians can order by February 3 to receive meal kits in time for the big day.
Chefs Plate sends all of the pre-portioned fresh ingredients and step-by-step recipe instructions to doorsteps so consumers can focus on the fun parts of cooking. So while preparing the Feb. 14 meal for that special someone is sweet, making dinner together with Chefs Plate can also make for a fun activity.
In time for Valentine's Day, Chefs Plate offers:
Appetizer options include: Simple spinach caesar salad, Easy peasy garlic knots and Fuss-free jalapeno cheddar biscuits. Delectable desserts include No-Bake Peanut Butter Cups, Death by Chocolate Bowls and Cinnamon Roasted Pears.
Meals can be prepared in 15 or 30 minutes or less, while add ons take as little as 20 minutes.
PORTA
In just 15 minutes or less, PORTA makes it easy to wow your partner with restaurant-quality dishes and a curated menu. Plus, there is little prep work and limited mess to clean up, which means more time to spend together! Along with treating your loved one to PORTA, here are a few more top tips to bring the romance of Italy to the comfort of your own home:
Cocktails anyone?: There is nothing more classically Italian than a Negroni. To create this custom craft cocktail, all you need is gin, Campari, sweet vermouth and an orange twist for garnish!
Ignite the Ambiance: Light an Italian-inspired candle and find yourself whisked away to shimmering aqua waters, endless stretches of sky, and air gently kissed with juicy orange, mandarin and lemon.
Dress up your Decor!: Add a pop of colour to your dinner table by bringing a piece of Italy into your home. A bowl of lemons is a simple way to elevate your dining setup, or splurge on a decorative collection piece like a serving bowl or nice wine glasses.
Sounds of Italy: Music is a great way to connect with culture and where you can really feel the rhythm and pulse of a nation. Good music has a magical ability to bond itself to experiences, places and memories and captures the spirit. PORTA has created a playlist of their favourite Italian songs to enjoy this Valentine's Day.
Cuddle up to a Classic: Wind down after dinner by popping on a beloved film set in Italy. You will be transported to the bustle of Rome, the rolling Tuscan countryside, the luxe Lake Como, or beyond in no time.
With Valentine's Day around the corner, be sure to start prepping your Italian experience today! Visit EATPORTA.com to place your order and make your date night-in as romantic as an escape to Italy.
Romantic Staycation Ideas
The Ritz-Carlton, Toronto
What could be a better gift than a luxurious staycation at The Ritz-Carlton, Toronto? Enjoy the hotel's exclusive offerings, dining experiences and holiday celebrations. Perfect for a romantic surprise!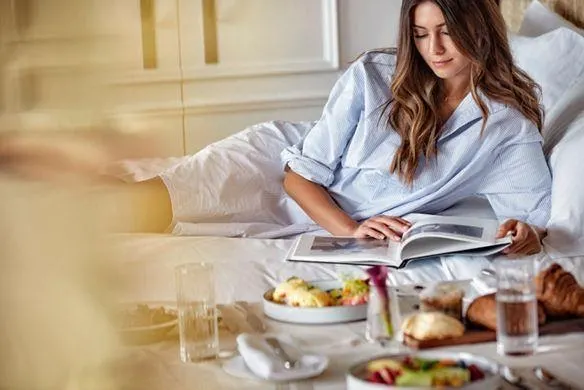 Create memorable moments and enhance your in-suite experience with a Romantic Evening package at The Ritz-Carlton, Toronto. Begin the night with a bottle of bubbly, rose petal turndown and a delectable dessert platter featuring a mix of Chef's Choice macaroons, bon bons and Chocolate covered strawberries.
Select the SweetHeart Package with sparkling wine: $175
Select the Romance Package with Piper Heidsieck Champagne: $245
Treat the love of your life to a magnificent in-suite bath filled with bubbles, infused with salts and topped with fresh rose petals at Toronto's most luxurious hotel, The Ritz-Carlton, Toronto.
Guests can also upgrade to an In-Suite Body Treatment Experience featuring exclusive Elizabeth W bath salts and candles to bring you into a state of bliss as well as curated selections from our Clarins Body Collection.
Following a step-by-step guide experience your very own body scrub & moisturizing massage, just as if our expert estheticians were right there with you!
Following your body treatment, soak and sip with your choice of Sparkling wine & berries or a non-alcoholic beverage.
Please contact the Guest Relations team to pre-order your experience at 416-585-2500 or email: [email protected].