The latest viral food trend to hit Vancouver is Korean-style "Egg Drop" sandwiches.
What is "Egg Drop"?
Egg Drop (에그드랍) is a popular breakfast franchise in South Korea which is known for their Instagram worthy egg sandwiches. They offer various kinds of egg sandwiches with different fillings which all feature fluffy scrambled eggs and their signature sauce.
What is a typical Korean-Style "Egg Drop" Sandwich?
This classic Korean Egg Drop Sandwich consists of fluffy scrambled eggs, slices of bacon, and melted cheddar cheese served in thick bread slices and topped with a sweet creamy sauce. You'll also find the sandwiches to be served in a paper box with a minimalistic design.
Where to get Korean-style "Egg Drop" sandwiches in Metro Vancouver
Here are some places in Metro Vancouver which serve copy-cat versions of the Korean-style "Egg Drop" sandwich.
1. Egg Bomb (Langley)
Egg Bomb is an all-day brunch cafe in Langley and offers copycat "Egg Bomb" sandwiches in a few varieties: Egg Smile, Italiano, Avocado Holic, Teriyaki Beef, Ham & Cheese, Bacon & Double Cheese, and Grilled Prawn.
Egg Bomb
20300 Fraser Hwy #301, Langley City, BC
www.eggbomb.online
2. 六福巢 Luckful Nest Natural Drink (Richmond – Steveston)
Luckful Nest Natural Drink is a newly opened eatery in Richmond's Steveston Village.
They offer a few Korean-style egg toast sandwiches including Bomb Bacon Cheese; American Ham Cheese; Garlic Prawn Cheese; Luckful Avocado and more.
You can preorder ahead using Fantuan as the sandwiches take half an hour to make. Enjoy 10% pickup order using Fantuan as well.
Luckful Nest Natural Drink
#125-3531 Bayview St, Richmond
www.facebook.com/pages/category/Tea-Room/Luckful-Nest-Natural-Drink-103768847638446/
3. Miracle Sandi Egg (Coquitlam)
Miracle Sandi Egg
2950 Glen Dr, Coquitlam, BC
www.miraclewaffle.com
4. Bread x Butter (Vancouver)
Bread x Butter Cafe is a gourmet sandwich cafe by rising celebrity chef Chef Felix Zhou and is inside Cathedral Place at the corner of Hornby and West Georgia.
They offer egg toast sandwiches in Classic (ham or bacon); Truffle (with mushroom truffle aioli); Hawaiian Luau (with spam and seaweed); Avocado; and Prawn (with poached prawns and lemon caper aioli).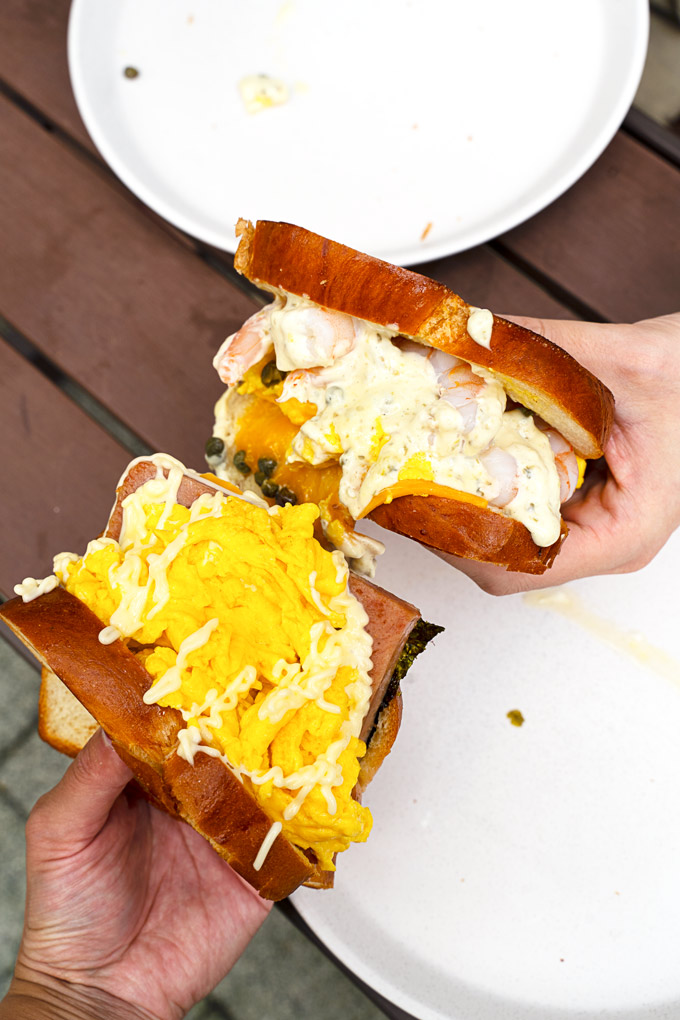 YOU MIGHT LIKE: My review of Bread x Butter Cafe
Bread and Butter
925 West Georgia Street, Vancouver
www.breadxbuttercafe.com