For Starbucks lovers, the holiday season is one of the best times of the year as the company rolls out their Holiday Cups along with a seasonal Food & Drink menu. Here's a look at what is in store this holiday season at Starbucks.
Starbucks Christmas 2020 Cups
Starbucks Holiday Cups is back and this year's theme, Carry the Merry, is an invitation to enjoy the little moments of brightness around you.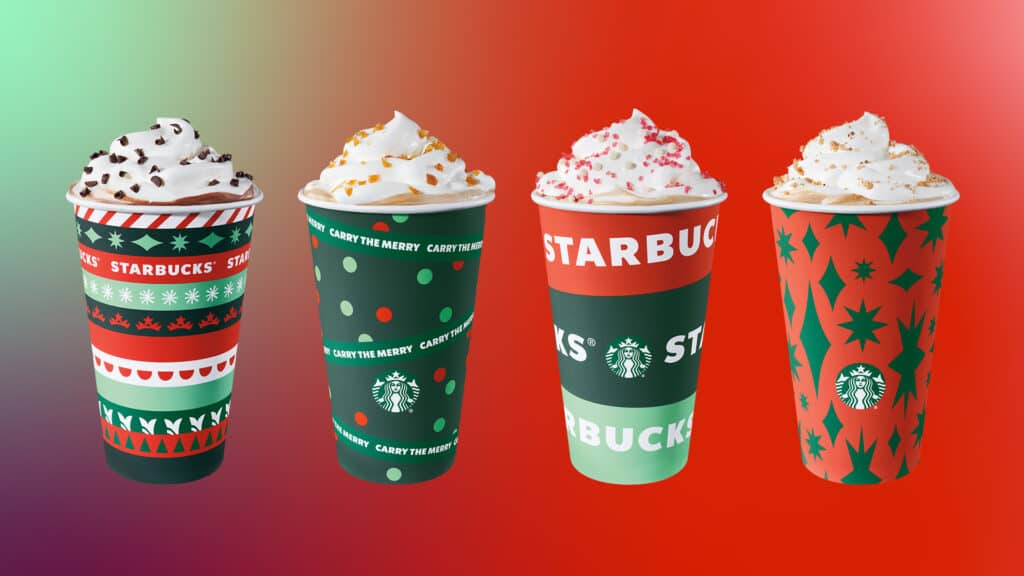 "When we started designing the cups over a year ago, we didn't know anything about what 2020 would bring. Our mindset was about people carrying them out in the world as messengers of joy," said Jeff Wilkson, Creative Director for Starbucks. "In a way that message deepened as we got further and further into the year. We want to be that beacon for people, a brief moment that they can look forward to."
Jeff Wilkson, Creative Director for Starbucks
How many Starbucks Christmas Cups 2020 are there?
The team landed on the following four different cup designs, the same number as the first holiday cup collection in 1997.
Ribbon
This design features ribbons of greens and a jolly red like a cozy holiday sweater. Look closely and you'll see the Siren's crown, tail, and scales.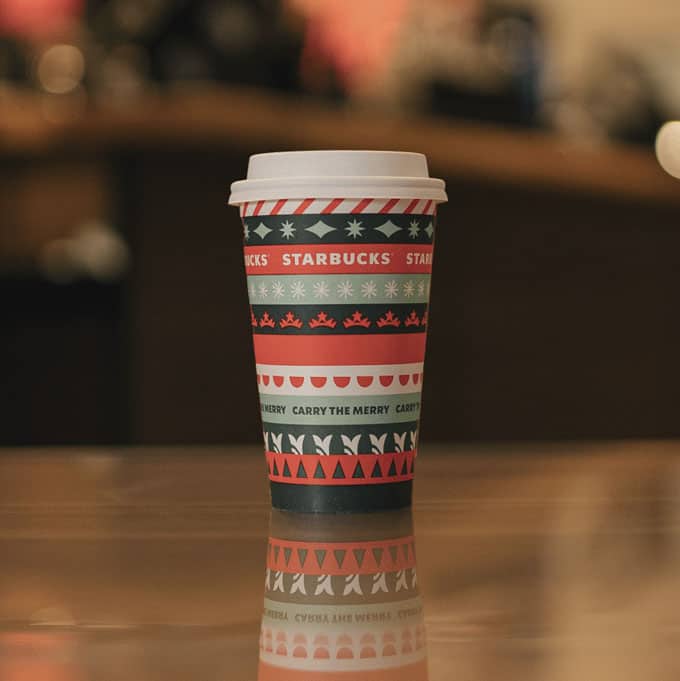 Dot
The dot design has stripes swirl around a field of Starbucks house green punctuated by playful polka dots.
Brand Wrap
This modern, scaled-up version of the ribbon design features bold bands of holiday colour and the Starbucks wordmark, designer street style.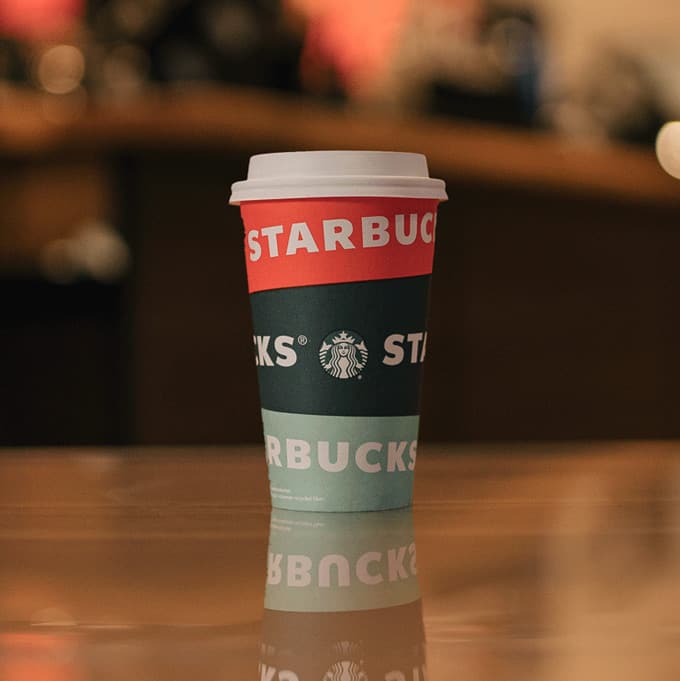 Sparkle
This red cup has vintage vibes, with cutout shapes in green like glittering holiday ornaments.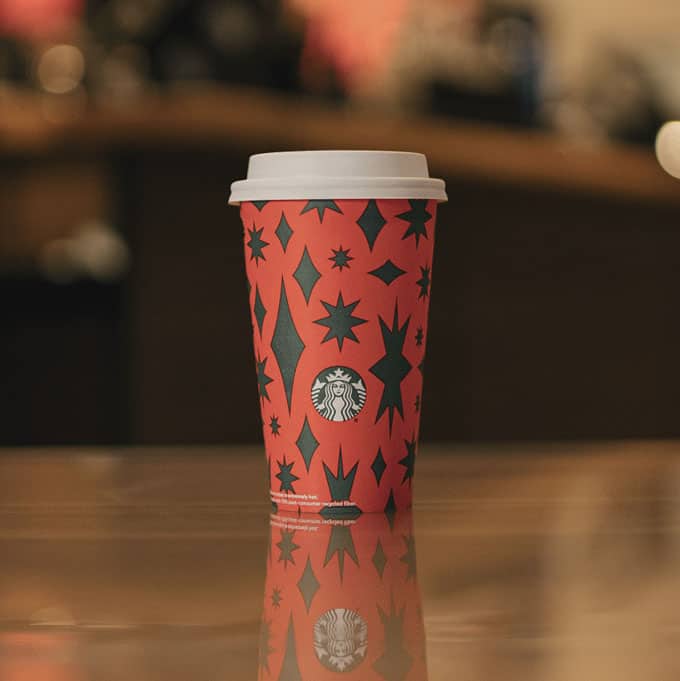 The motif is repeated in a snowy white on Starbucks® cold beverage cups.
Starbucks Holiday 2020 Drink Menu
The Starbucks Christmas Drink Menu includes the following:
Peppermint Mocha
Back for its 18th year, this holiday classic is made with signature Starbucks espresso, steamed milk, sweet mocha sauce and peppermint-flavoured syrup. It's all topped off with whipped cream and dark chocolate curls.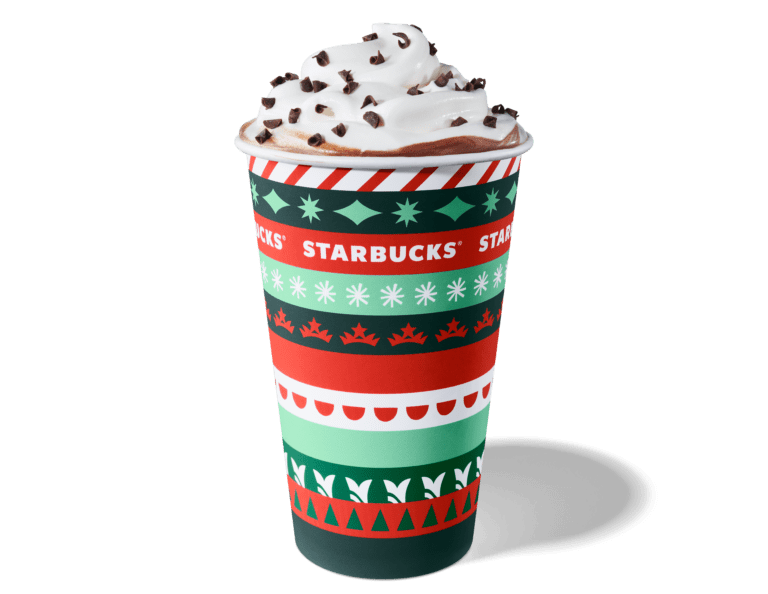 Caramel Brulee Latte
The Caramel Brûlé Latte combines espresso, steamed milk and rich Caramel Brûlé Sauce, and is topped with whipped cream and Caramel Brûlé Topping.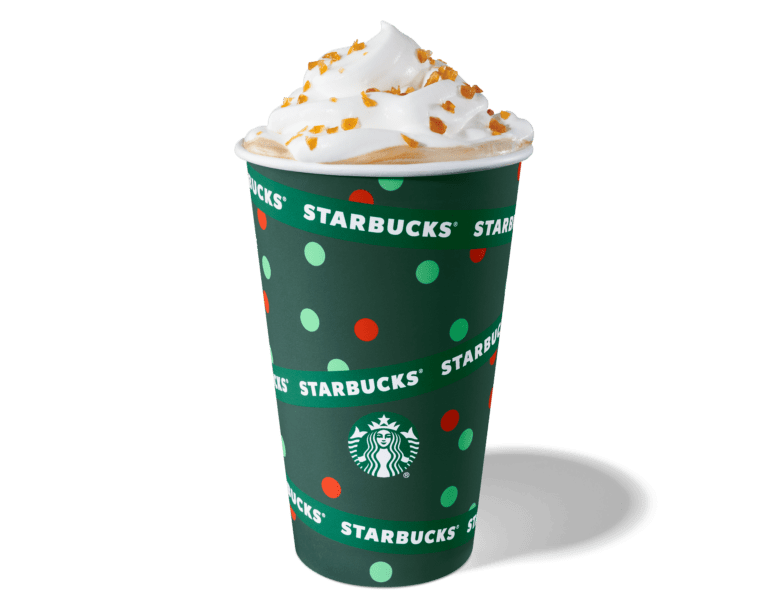 Chestnut Praline Latte
The Chestnut Praline Latte combines espresso, steamed milk and flavours of caramelized chestnuts and spices before being topped with whipped cream and spiced praline crumbs.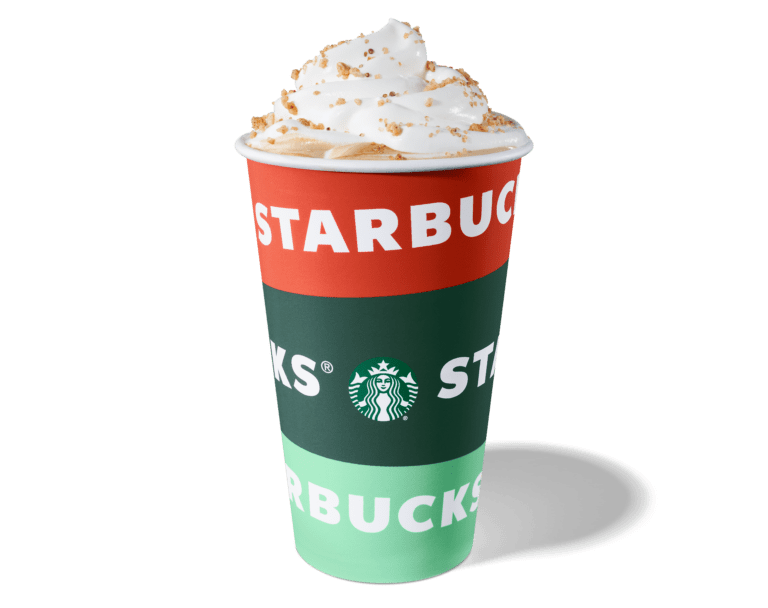 Eggnog Latte
The Eggnog Latte is made with rich, steamed eggnog and our signature espresso. Topped off with a dusting of ground nutmeg for the perfect finish.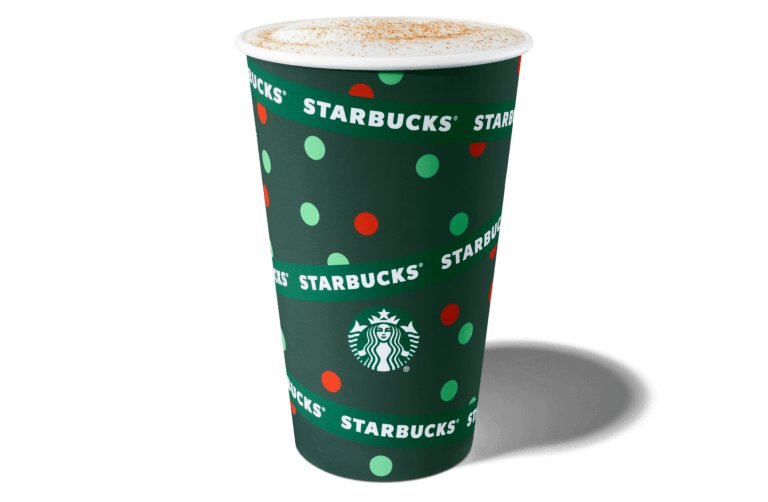 Irish Cream Americano
This Canadian exclusive is based on the classic Americano Misto! It's espresso flavoured with Irish Cream syrup, combined with hot water, steamed milk and a light layer of foam, and finished with a strike of cocoa powder topping.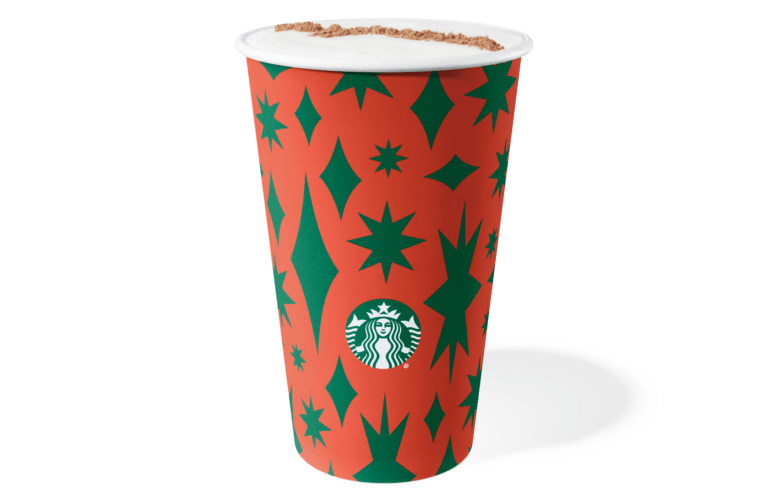 Irish Cream Cold Brew
Made with Starbucks®Cold Brew or Nitro Cold Brew with Irish Cream syrup, this drink is topped with a frothy cap of Vanilla Sweet Cream Cold Foam and a dusting of cocoa powder.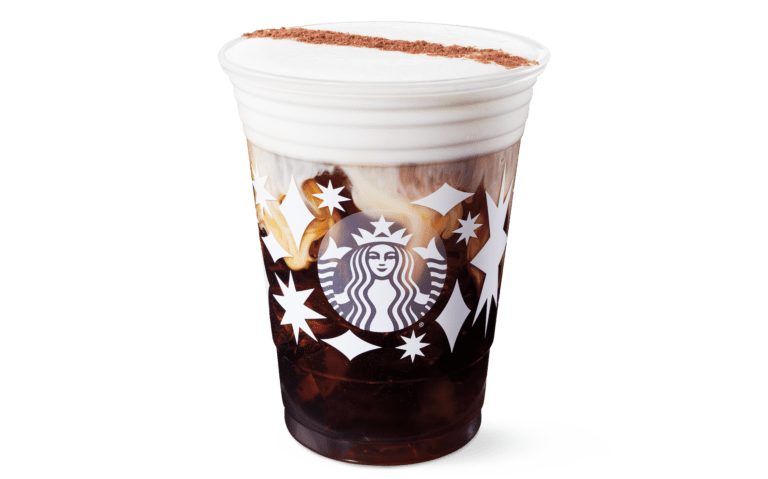 Gingerbread Latte
Sweet and spicy Gingerbread syrup is combined with espresso and steamed milk, and topped with whipped cream and ground nutmeg.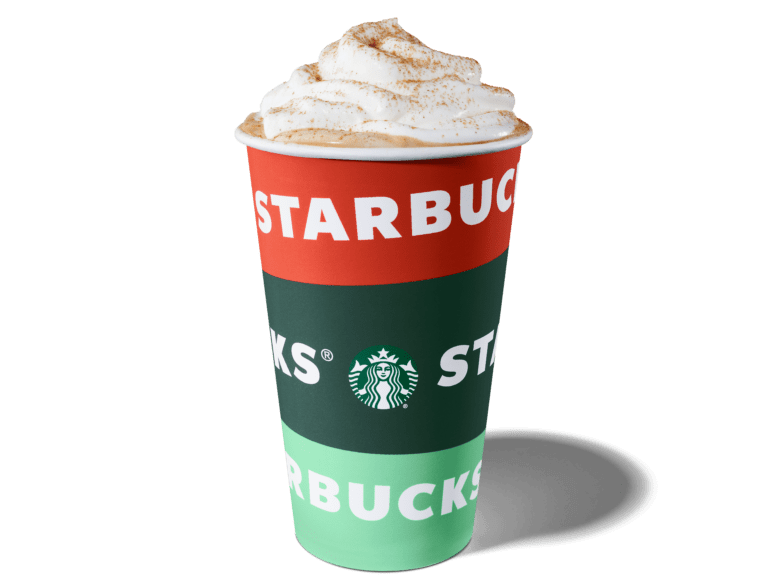 Starbucks Holiday 2020 Food Menu
Savor the flavors of holiday food at Starbucks. The Starbucks Christmas food offerings include:
*New* Cranberry Orange Scone
More information to come.
Cranberry Bliss Bar
A blondie cake with dried cranberries, finished with a layer of cream-cheese icing flecked with orange zest and a sprinkle of dried cranberries.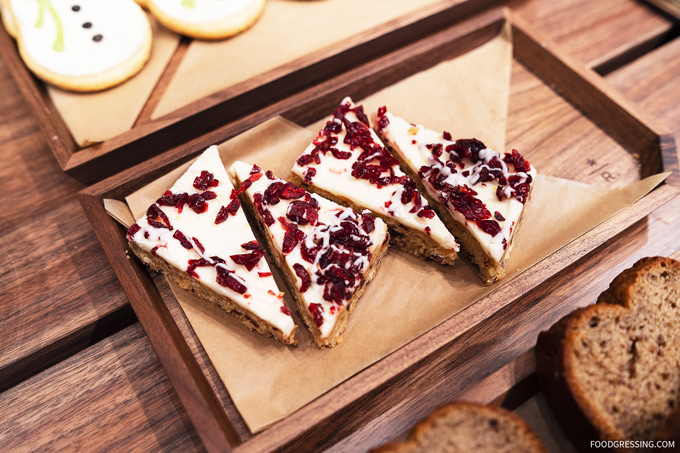 Nutrition: 290 Cals, 13 g of fat, 38 g of carbs, 3 g of protein
Snowman Cookie
A buttery shortbread snowman cookie dressed up in white chocolaty icing.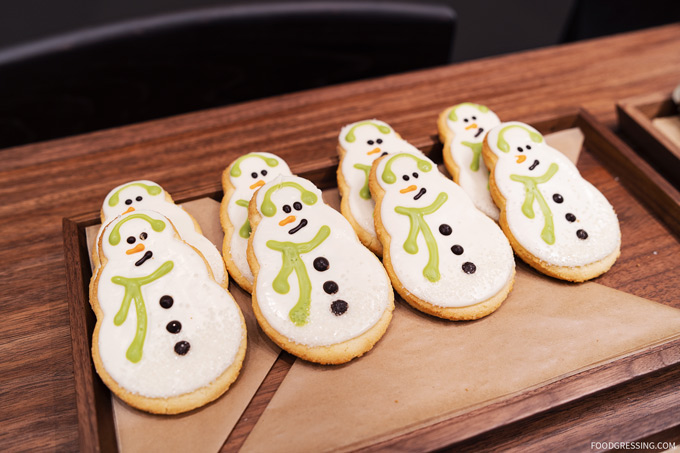 Nutrition: 390 Cals, 23 g of fat, 45 g of carbs, 4 g of protein
Gingerbread Loaf
A classic gingerbread with ginger-spice flavours.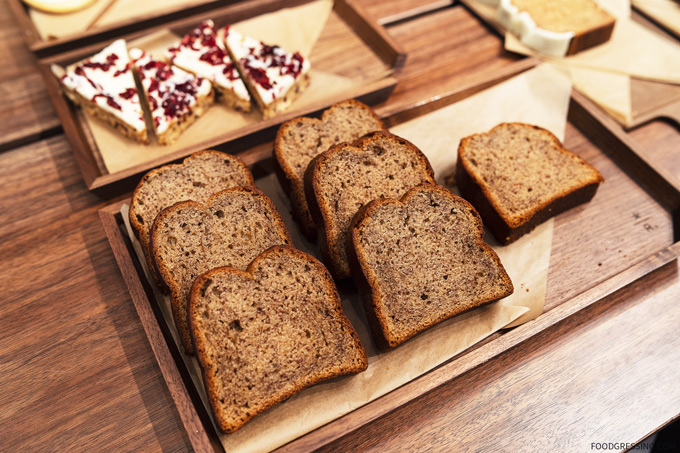 Nutrition: 4000 Cals, 12 g of fat, 70 g of carbs, 5 g of protein
Snowman Cake Pop
More information to come.
Sugar Plum Cheese Danish
More information to come.
Starbucks Christmas Blends 2020
Starbucks Christmas Blend whole bean coffee is also making its annual return to along with Starbucks Christmas Blend Espresso Roast, Starbucks Holiday Blend and Starbucks Reserve Christmas 2020 (in select stores).
Starbucks Christmas Gifts 2020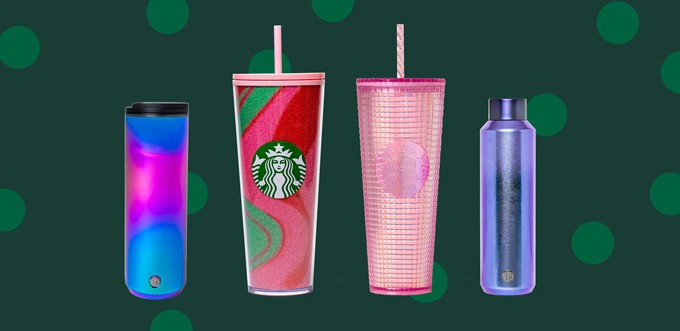 For the Starbucks lover in your life, Starbucks must-have gifts for the 2020 holiday season include shimmering cold cups, iridescent tumblers, sleek water bottles, festive Starbucks Cards and more. Select merchandise is also available on the Starbucks app.
Holiday Colour Changing Cup (16 oz)
Starbucks new Holiday Colour Changing Cup transforms from green to red when the cup contains hot liquid. Price: $4.00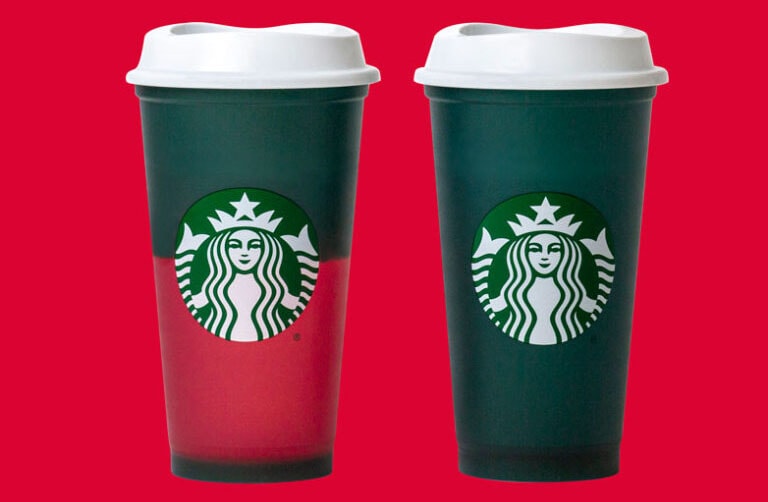 Starbucks Red Cup Ornament
Price: $11.95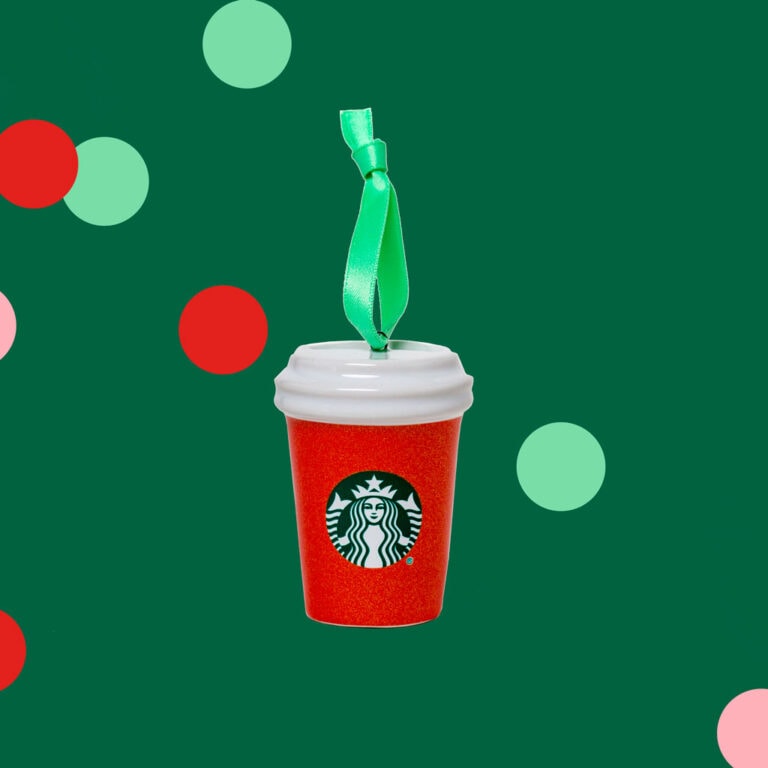 Colour Changing Hot Cup Set (6-pack, 16 oz each)
Starbucks new 6-pack of Colour Changing Hot Cups are detailed with candy cane prints that change colours when the cups contain hot liquid. Price: $23.95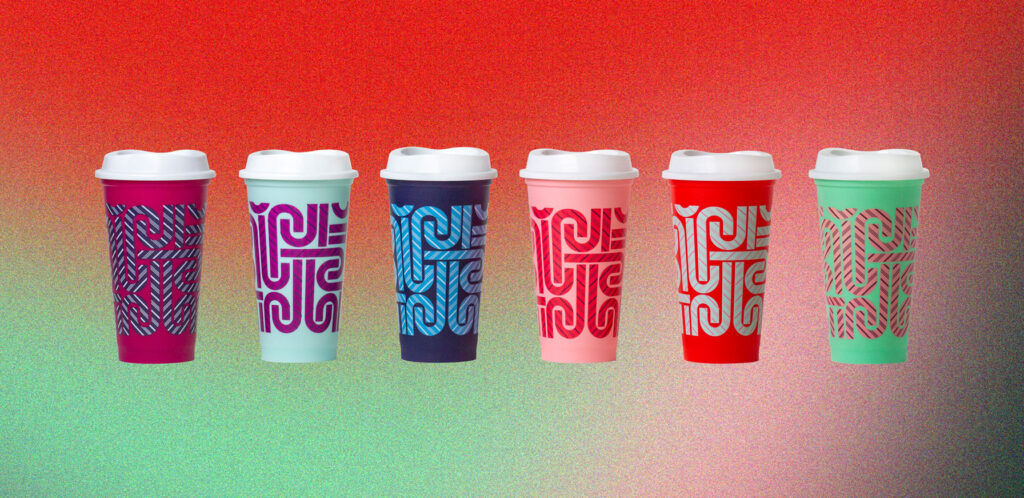 Glitter Cold Cup Set (5-pack, 24 oz each)
The 5-pack of Glitter Cold Cups are available in an assortment of colours with a subtle glitter finish. Price: $26.95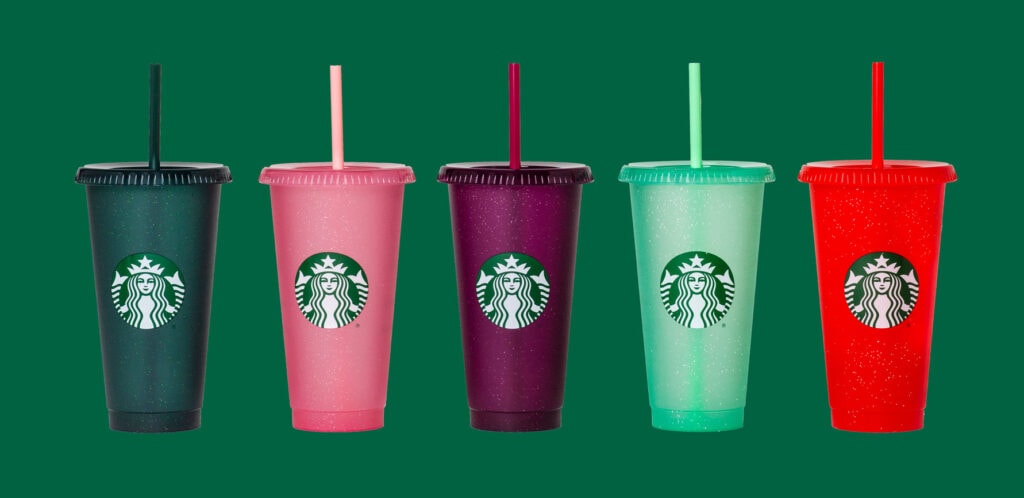 Sequin Cold Cups (24 oz)
The Sequin Cold Cups are available in light and dark variations. Price: $26.95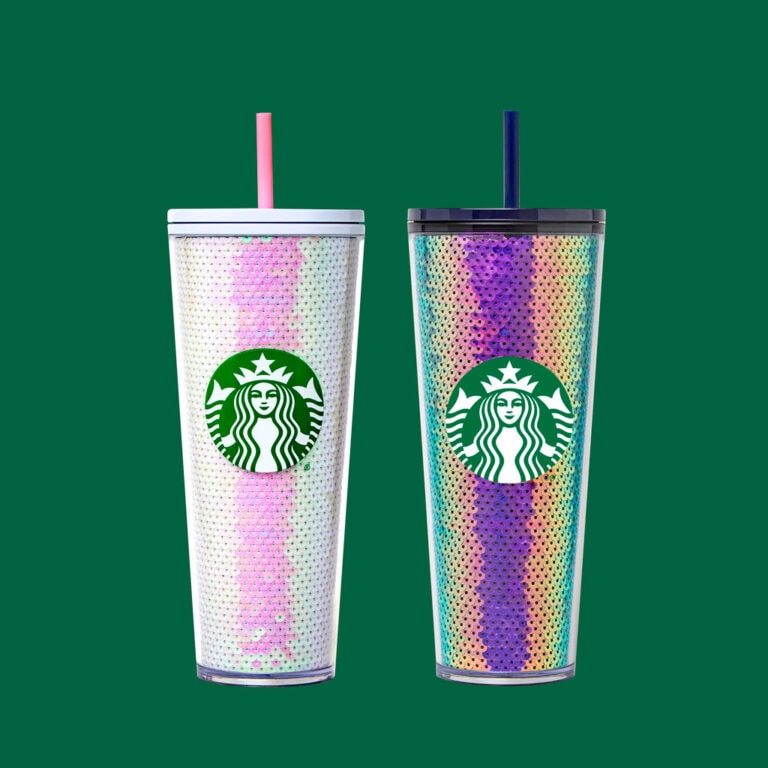 Grid Cold Cups (24 oz)
The Grid Cold Cups are available in three colours – Pink, Silver, and Purple – and feature a grid-like texture similar to the fan-favourite Starbucks Bling Cold Cups. Price: $27.95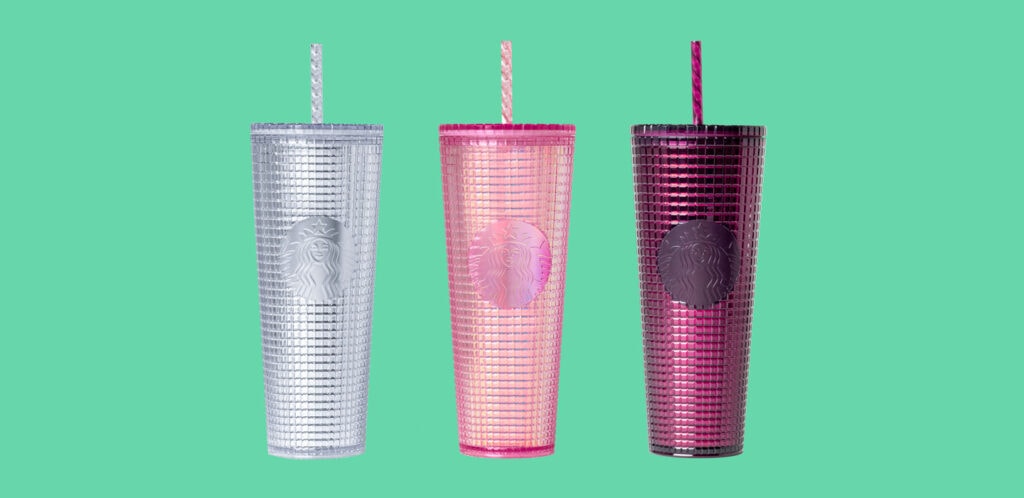 Bubble Mint Cold Cup (24 oz)
A minty green cold cup. Price: $26.95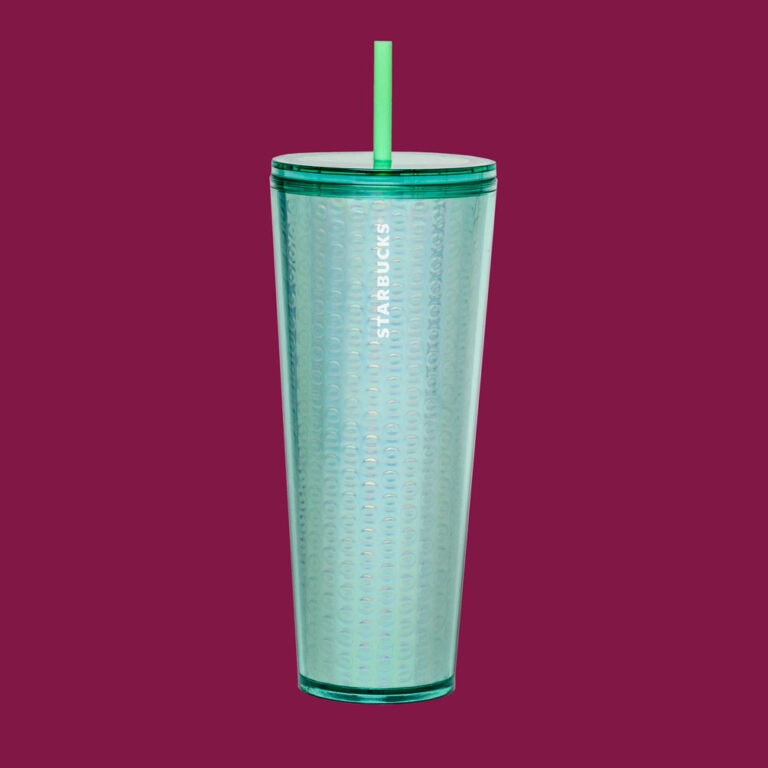 Stripe Straw Pack
Starbucks new set of two reusable straws, made for a 24-oz cup, that also conveniently comes with a cleaning brush and beautifully designed zipper pouch. Price: $11.95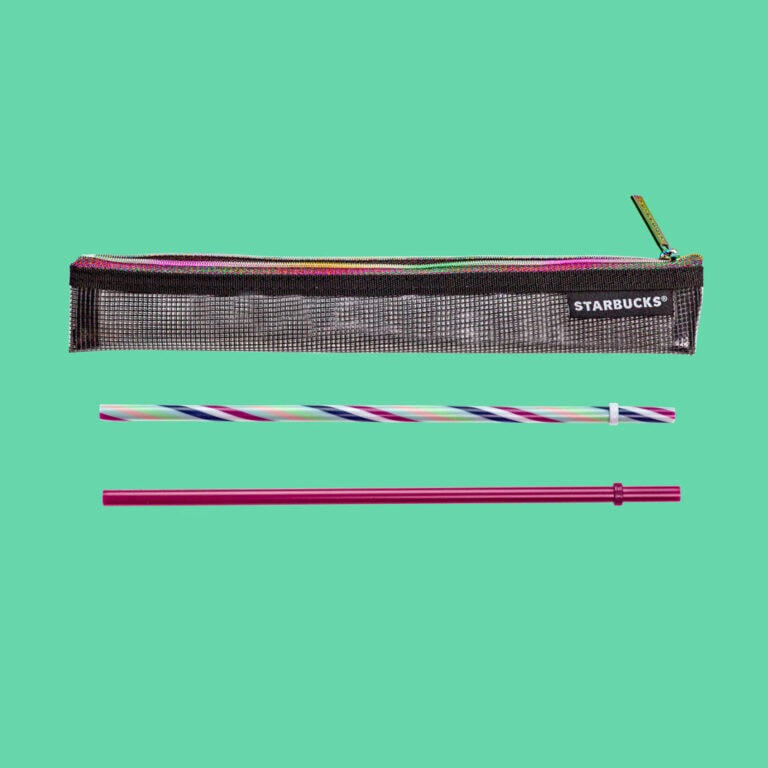 Starbucks Christmas Gift Cards
For those who won't be exchanging gifts with their friends or loved ones in person this year, a Starbucks gift card or an eGift is a great way to show you're thinking of them (with eGift, you can even send your gift via messaging platforms like iMessage).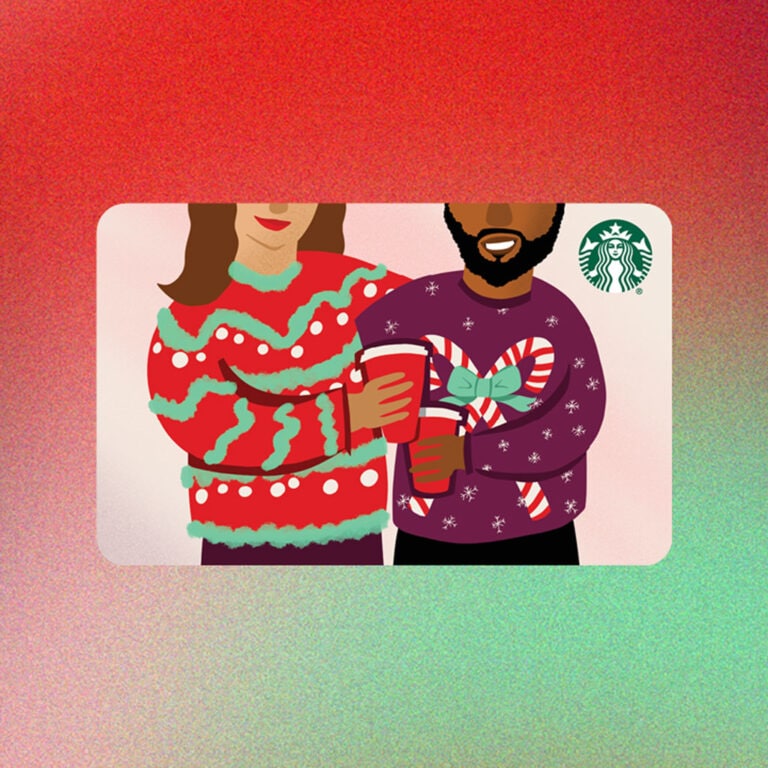 Starbucks gift cards come in a variety of festive designs and can be loaded with amounts from $5 – $500.
Starbucks Holiday Deals 2020
Starbucks is ready to turn up the seasonal giving spirit with special deals and ways to give on the Starbucks app, through Starbucks Delivers, and in stores.
From affordable tumblers to special offers, customers can find the perfect gifts for those on their list this holiday season. Throughout the coming weeks, Starbucks customers can enjoy:
Starbucks Buy One Get One Free
Until November 23, you can enjoy buy one get one free at Starbucks on any grande or larger handcrafted drink. The free drink must be equal or lesser value.
Special Starbucks delivery with Uber Eats
Customers can enjoy $0 Delivery Fee on orders of $15 or more November 16 – December 27
Sparkling deals on Starbucks festive tumblers
Starting Tuesday, Nov. 24, Starbucks Sparkling Hot Tumblers are $9.95 each (originally $14.95).
The tumblers will be available at participating Starbucks stores in Canada in an assortment of colours including pink, silver and gold while supplies last.
Reward yourself with bonus stars November 24 – 27
Starting Nov. 24-27 customers who download the app, become a member of Starbucks Rewards and spend $20, will earn 50 bonus stars.
Starbucks Cyber Monday Deal (November 30)
Starbucks Rewards members who use the app to order ahead a handcrafted beverage (grande or larger), will be sent a coupon to their account for a free bakery item that ca be redeemed the following week (December 7 – 13).
Starbucks Christmas Hours
2020
Is Starbucks open on Christmas Day? Each location varies on their holiday hours so you should with the individual Starbucks shop to see if their are open.
You can use the Starbucks location finder to get their contact information and reach out to see if they are open.
You could also try ordering ahead using the Starbucks app to see if the location is open.