Here are 5 Valentine's Day table decor ideas that will add that special romantic touch to your evening at home.
Once you've got your table set and your Valentine's Day table top decor in place, you'll feel like you're about to dine in your favorite romantic restaurant – all from the comfort of your own home.
1. Photos in elegant picture frames
If you're looking for something sentimental and specific to you and your significant other, then you might consider putting some special photos in a grouping of elegant picture frames.
Choose pictures that mean a lot to you both like wedding photos, pictures from vacations, or a couple of favorites from early in your relationship.
Get the pictures printed and place them in nice frames of varying sizes. Silver plated, white, or black frames would be nice colors for Valentine's dinner.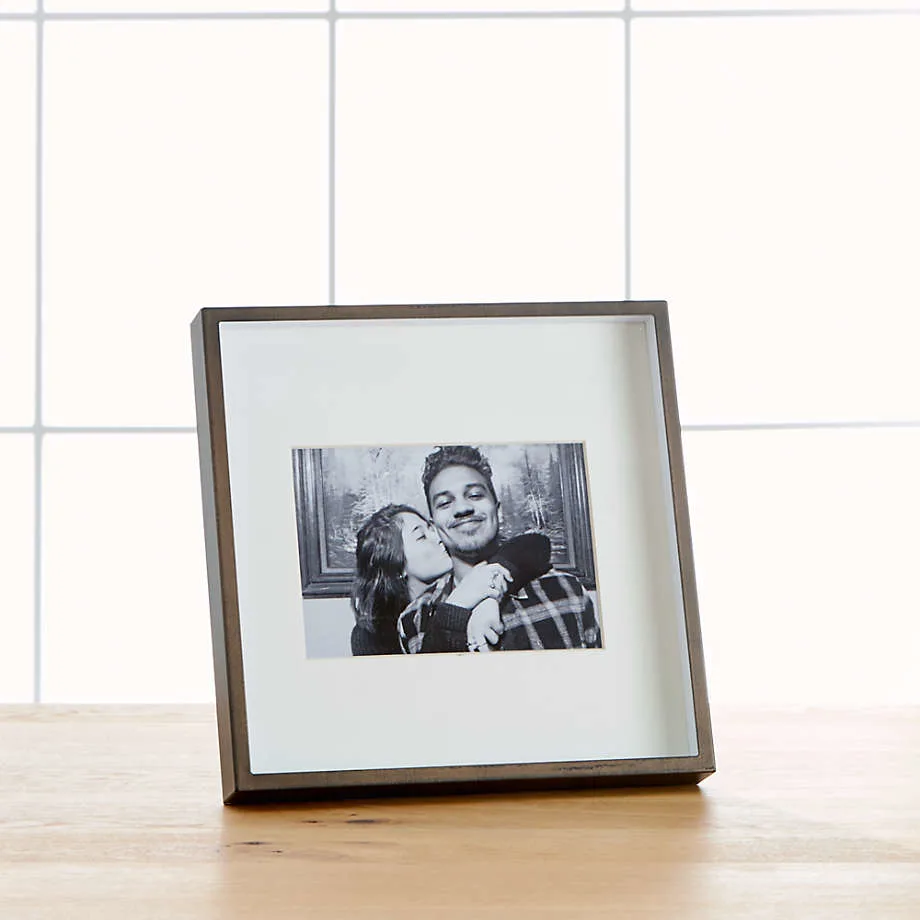 Once you've got your photos framed, group them in the center of your table.
When you're placing your picture frames make sure that you have pictures facing both sides of the table so that each of you can see them.
When you're happy with the arrangement of the picture frames, you can add decorations to embellish the display.
Place some nice candles in pretty candle holders in between some of the frames.
You can tuck some pink, red, and white flowers (faux or real) in between them.
Sprinkle some colored pebbles or sequins around them. You'll end up with a beautiful, DIY Valentine's Day table decoration that'll be sure to have you reminiscing about the happy times you've spent together.
2. Clear glass vases with candles and decorative pebbles
This is a simple Valentine's day table decor idea that is classically beautiful.
You can find them at home decor retailers like Pottery Barn or they can be Valentine's Day table decorations to make.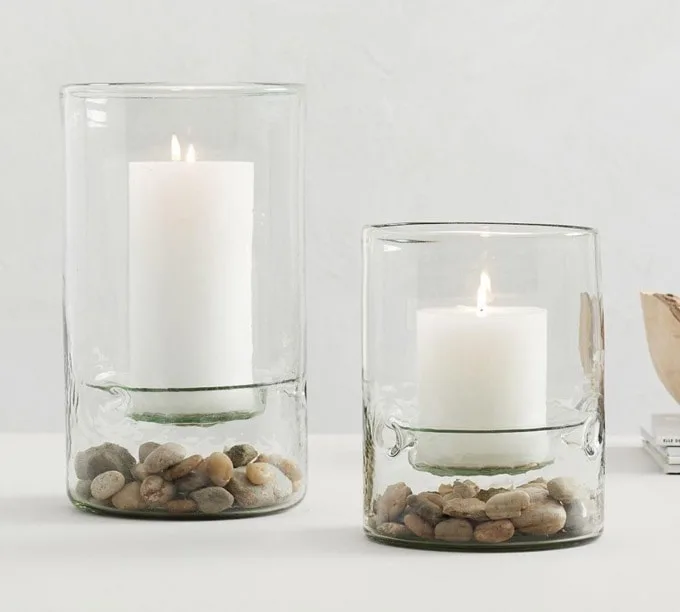 Visit your local craft store to find a few nice clear vases in varying sizes and shapes, and then get some pillar candles that will fit inside them.
Make sure you pick candles that are wide enough at the bottom that they'll stand on their own.
Don't pick taper candles, you don't want them to fall over inside your vase.
Next, pick out some decorative pebbles to put in the bottom of the vases.
You'll find everything from clear stones in a rainbow of colors, to actual pebbles in natural colors in most craft stores.
You can go with traditional Valentine's Day colors like pink and red, or you can choose colors that match your home décor, whatever fits your aesthetic.
Once you've purchased your supplies, it's time to put together your vases.
Place a candle inside each vase then place the colored pebbles around the bottom of the candle.
It looks best if you add enough stones to cover the bottom inch or two of the candle.
If you want, you can wrap some pretty ribbon around the vases and secure it with a bow and some glue.
Group your vases in the center of your table and light the candles.
If you've chosen pebbles made from reflective material the light from the candle will prettily shimmer off the pebbles.
3. DIY mason jar flower arrangements
Flowers are always a great idea for romantic table décor.
If you're looking for something a little different than the traditional vase of flowers you can try putting the flowers in some mason jars.
Find some mason jars in a couple of different sizes. If you want you can spray paint them a color that coordinates with your choice of flowers, matte white looks very classy and will go with any color.
Put some water in the jars and arrange flowers of your choosing inside.
Arrange the jars in the center of your Valentine's Day dining table.
If you want to take it up a notch, you can wrap burlap ribbon around the outside of the jars and secure it with glue for a country chic vibe, or you can choose a ribbon in a color that matches your flowers.
4. Pillar candles wrapped with twine and small sprigs of flowers
You can make really easy to make but elegant Valentine's day table decor from large pillar candles, twine, and small sprigs of flowers.
White pillar candles look very nice for this. Secure one end of the twine with glue and wrap it tightly around the candle a few times, secure the other end of the twine.
Clip some small sprigs from a bunch of lavender and a bunch of baby's breath and glue those to the front of your candle.
Lavender works nicely because it also has a nice fragrance but you can use any small flower you prefer.
Small rosebuds, carnations, or pieces of eucalyptus would also look lovely.
Once you've secured your twine and flowers and the glue has dried arrange your candles in the center of your table.
If you plan to light them you can place them on a serving tray, or candle dishes to protect your table.
5. Votive candles on a bed of rose petals
Nothing beats a classic, and when most people think of Valentine's Day they think of lush red roses.
Pick up a bag of petals from a local florist, or find some faux petals online to complete this breathtaking centerpiece.
Set a few nice votive candles around the center of your table, making sure to leave some space between them.
Fill in the spaces with the rose petals, making sure to cover the surface of your table.
You'll be left with gorgeous Valentine's Day dinner table decorations that only took a couple of minutes to design.
All of these decor ideas can be finished off with a nice tablecloth or Valentine's day table runner, pretty coordinating placemats and napkins, and your best dishes and glassware.
Also consider…using colored glassware
Colored glassware has the power to transform your regular, ordinary dining setting into the extraordinary. This Valentine's Day, add some colored drinking pieces to your beautiful tablescape.
A gorgeous burgundy coloured glassware for wine can enhance a romantic dinner.
Planning for Valentine's Day? Check out my other Valentine's Day guides below: