If your significant other doesn't need flowers, poetry, or fancy words, this guide on practical Valentine's Day gifts for her and for him is right up your alley.
One of the great things about a practical gift is that the receiver can use it every day (or almost every day!)
A great way to know what practical Valentine's Day gifts to get is to keep a running tab of ideas on your phone, through a notes app or Google document or otherwise.
Don't wait until three days before to start thinking — when he or she mentions that he might need something, make a note of it!
Don't be afraid to keep tabs on the smaller stuff like favourite foods or snacks and so forth.
Still not sure what to get? Don't worry, I'll discuss some practical gifts below that he or she is sure to love.
Disclosure: As an Amazon Associate I earn from qualifying purchases.
Practical Valentine's Day Gifts for Her
1. For the Reader Type: A Good Book
If she's the type of woman who loves to sit down at the end of the day with a good book, then she'll probably love it if you get her a new one to for her to-read pile.
If you're not sure what to buy, take a look at her bookshelves to see what she's into.
When you're at the store, you can ask someone to help you find something in her favorite genre that other readers are enjoying.
If her favorite book is a classic, then you may be able to find a really nice edition of that book for her.
Try poking around at your local used bookstore as well. You can often find beautiful old cloth bound books collecting dust on the shelves.
If you have the money to spend, Easton Press sells lovely leather bound editions of many old classics, and even some new favorites available.
They even carry illustrated and signed editions of some of the books they sell.
She'll be sure to love a nice copy of a favorite book, and she'll think of you whenever she reads it.
2. For the Home Chef: A Personalized Wooden Cutting Board
If she's into cooking, she'll probably love a personalized wooden cutting board that she can use while she whips up delicious meals.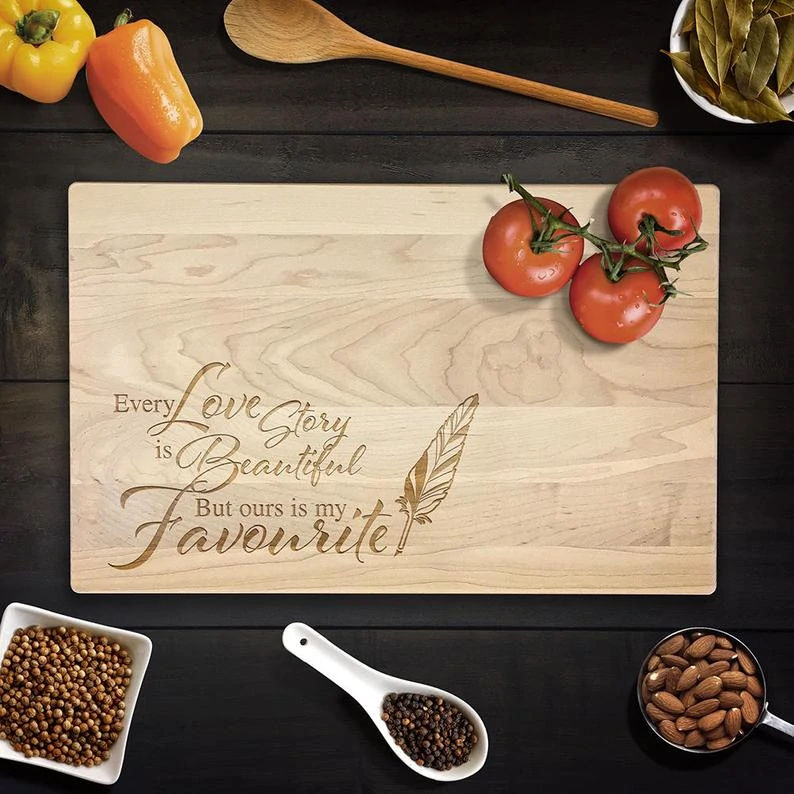 A quick Etsy search will help you find dozens of artisans who carry cutting boards that you can personalize with your last name, your wedding date, or a favorite saying.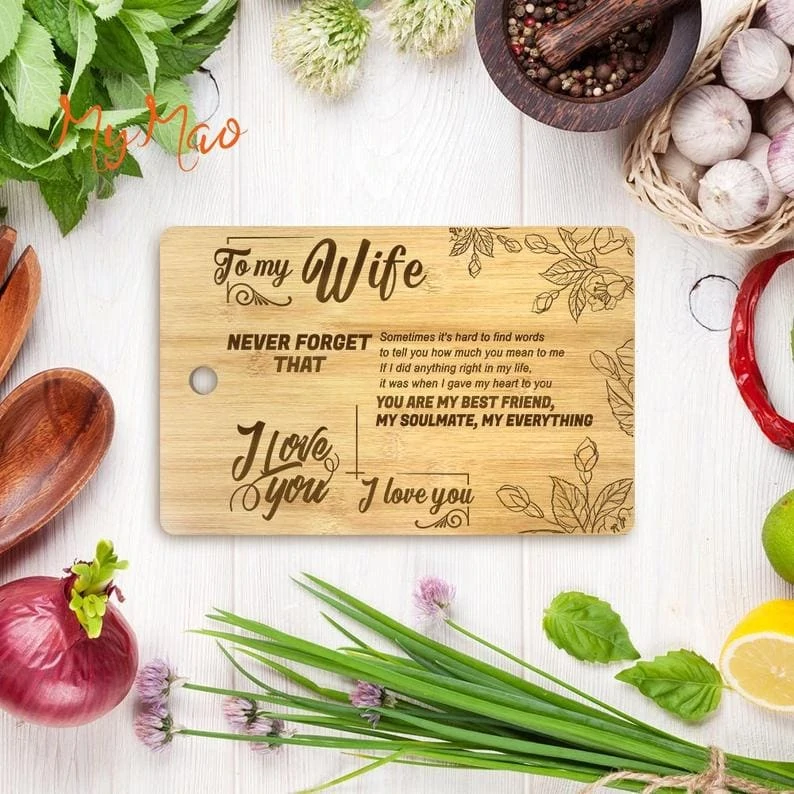 You can even find cutting boards that are pre-made with beautiful designs, or images relating to her favorite shows or movies. As an added bonus, you'll be supporting a small business!
3. For the Tea Lover: an Electric Hot Water Kettle and a Tea Organizer
Does she like to unwind with a cup of tea on a chilly afternoon? She'd love to have an electric hot water kettle to quickly heat up water for steeping those leaves.
Electric tea kettles heat up water within a couple of minutes and most have built in automatic shut-off features that turn them off when the water reaches boiling temperatures.
Some of the nicer kettles even have settings that you can use to heat water to a specific temperature so that she'll always have the optimal water temperature for the tea she's making.
You could also throw in a nice tea organizer so she can neatly store all of her teabags.
There are tea organizers she can sit on her counter, and tea organizers that fit inside of drawers if she doesn't like to have clutter on her countertops.
She'll be able to see what teas she has without digging through boxes or loose bags.
4. To Help Her Unwind: Bath Bombs and a Bathtub Caddy to Hold Wine and a Book, or Tablet
A lot of women enjoy a relaxing soak in the tub, why not get her an assortment of bath bombs and a bathtub caddy to hold her wine and something to entertain her while she soaks?
Bath bombs come in a variety of scents so make sure to pick a few of her favorites. Many contain moisturizing oils to soothe dry skin.
For example, Lush has an ethical and handmade bath bomb called "Heart Beat" – a Rose Jam-scented, cocoa butter packed fizzer that'll send hearts racing for the tub.
Bath caddys are stylish shelves that lay across your tub. They come in a variety of styles and colors so it'll be easy to find one to match her décor.
Many have slots for holding wine glass stems and rests for a book or tablet so she can read or watch one of her favorite shows.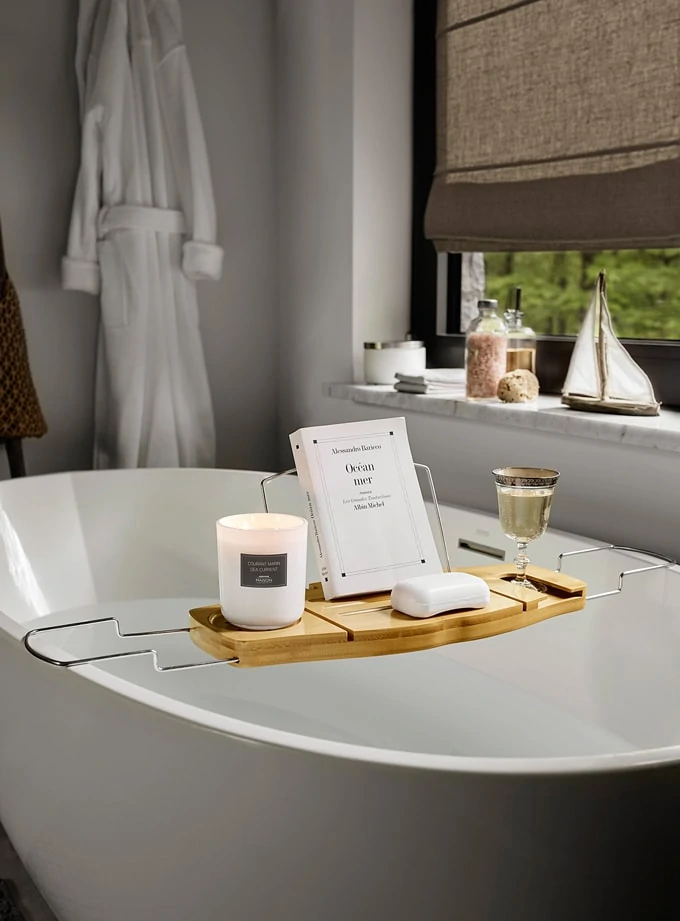 Who wouldn't love some time to relax and catch up on a good story?
5. For the type who has too many things to do: take some tasks off her hands
Is she a busy woman with a lot of things to do and not enough time to do them?
Imagine how much she'd love it if you took some of those tasks off her hands.
Maybe you run a few errands for her, clean the kitchen, or do some laundry.
Has she been adding things to your honey do list? You could take some time to knock a couple of things off the list that would make her life easier.
Taking the time to do some of the things that she typically does around the house will give her some much needed free time so she can pursue the things she enjoys doing.
6. For the athletic type: New athletic gear
Workout gear is always a good choice for the athletic woman in your life.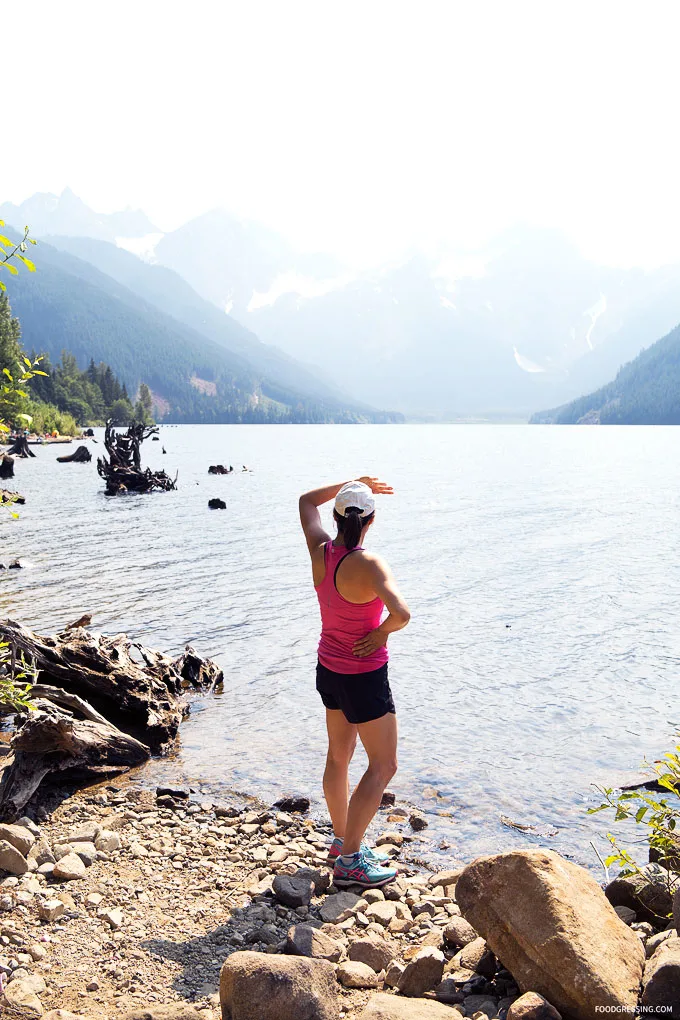 You could get her some new workout clothes and a yoga mat if she likes to work out at home.
If she's a runner a new pair of running shoes or some wireless headphones to wear on a run would be a great gift.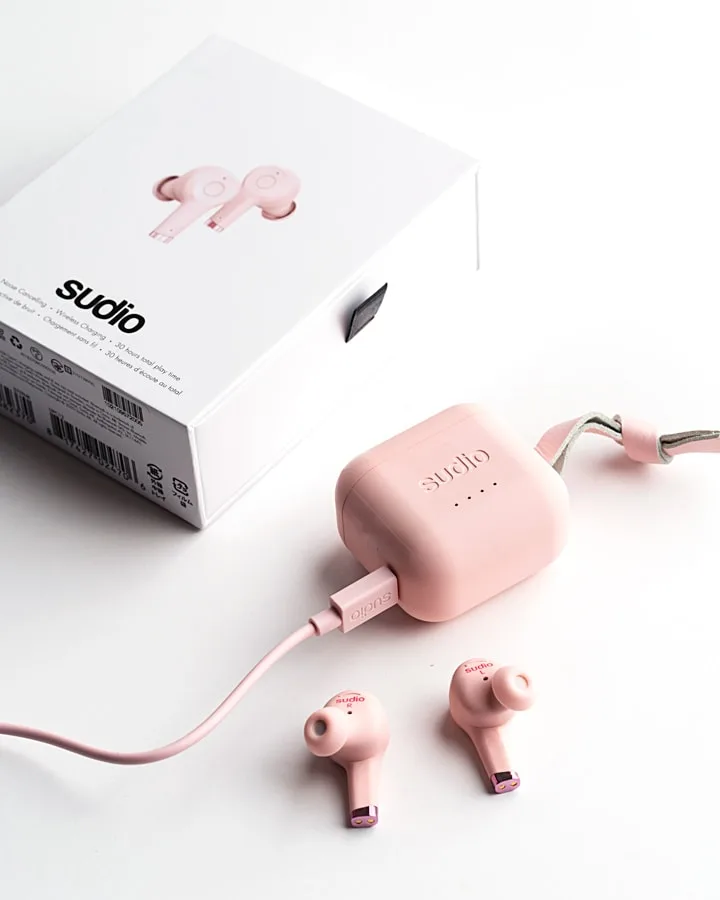 Does she play a sport? You could get her a new tennis racket, or a golf bag.
If she's stuck in her fitness journey, or maybe a beginner you could purchase a few sessions with a personal trainer so she can get some advice from a professional.
You'll be showing her you care by helping her pursue activities that keep her happy and healthy.
7. For the foodie: make an edible gift
They say the way to someone's heart is through his or her stomach. Some cute but also mouthwatering edible gift suggestions include fried chicken bouquets and macaron bouquets.
You can try to package your own using food grade wrapping paper or look for some offerings by local restaurants and businesses.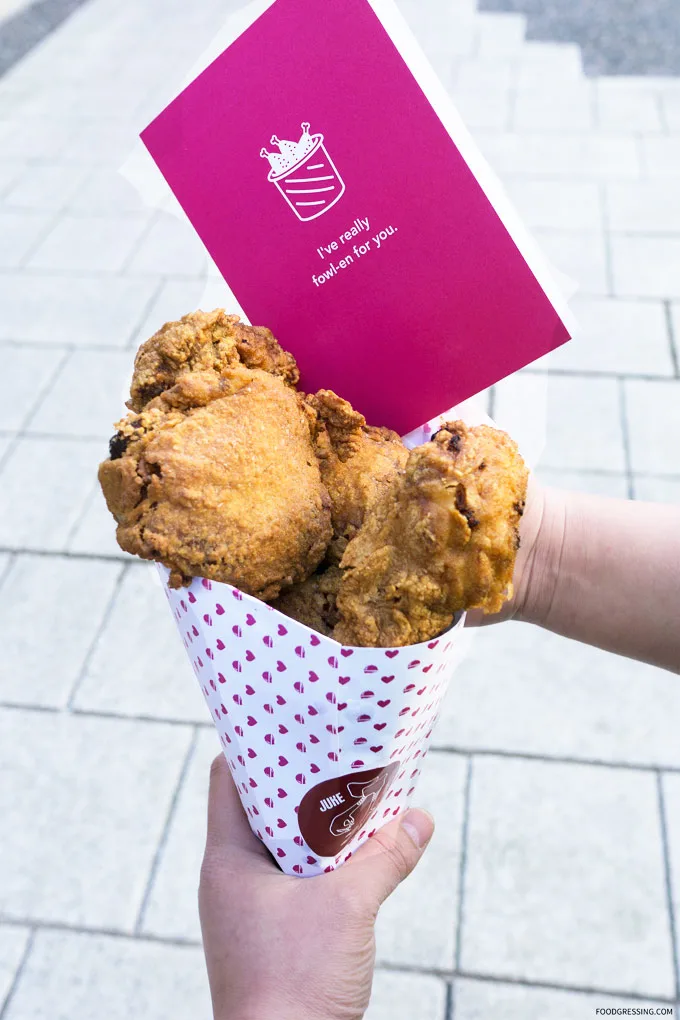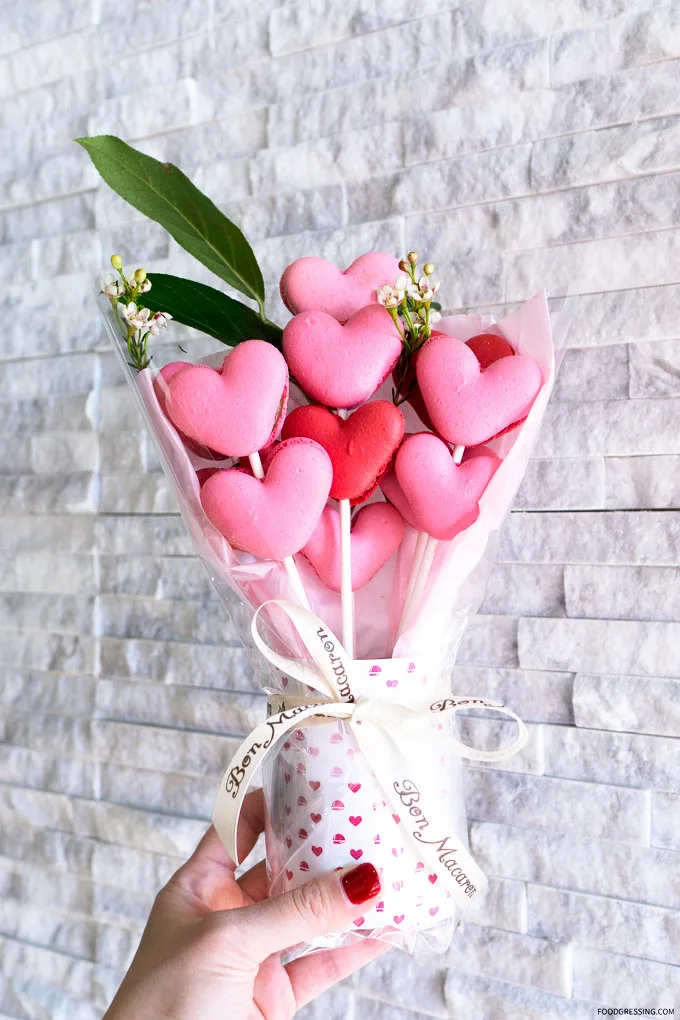 Practical Valentine's Day Gifts for Him
There are multiple ways to make practical Valentine's Day gifts for him great.
1. Bundle it!
There's the go-big-or-go-home method. That is, bundle it!
Bundle Valentine's Day, a birthday, a promotion, a fitness goal and more into one gift that you give.
Rather than a series of smaller gifts, give him one big gift on the day he doesn't expect — Valentine's Day.
With a practical gift, that will tell him that you really care for him; you put in the effort to care when it wasn't necessary.
2. For the Grillmaster: Grill Accessories or Upgrades
If your man is the type that likes to grill out any time of the year, get him something that has to do with his favorite (and perhaps his only!) way to cook.
There are an array of options here from fancy sauces, great tongs and spatulas, crazy electronic brushes, durable racks, and more.
There's the unique routes that include portable options, smoker supplies, and deluxe charcoals that depend on the type of griller you're in love with.
If your significant other is the type of griller looking for an upgrade on the old or hand-me-down equipment, this grilling set from Cuisinart is one of your best bets.
It includes a spatula, thermometer, tongs, sauce brush, grill brush, and corn skewers.
There really isn't anything better for that griller looking for an upgrade.
3. For the Fashion Challenged: New Fashion Accessories
While it might not seem that way at first, many men are just waiting to get a great accessory that they can use all the time.
Many men don't seem so "fashion-forward," but when they have that accessory that they love, you've got a great, practical Valentine's Day gift for him.
You could go with something simple, like the tie, the belt, the shoes, or the cuff links. All of those would appeal to one man or another.
However, if you've looking for some gifts that pretty much any man wanting the practical side will love, the two main options are the watch, and the wallet.
Watches make great gifts for men. There's something about them that really sell, "manly, adult," and more.
Of course, not everyone has $200 to spend on a crazy watch. If you're wanting to get something high-quality and durable without busting the budget, one of your best options are Timex watches.
They do sell the $200 variety watches, but they also have affordable $40 to $50 watches that still look fantastic and come with interchangeable straps.
Wear the leather for fancy occasions or the cloth straps for day-to-day wear.
Wallets also scream, "fashionably manly but practical!" A sleek leather or hide watch will make any man's Valentine's Day.
There are many varieties from expensive to cheap, but when it comes to quality yet style, look no further than Fossil Men's wallets. They are practical and have lots of slots while not being overwhelming.
If you're looking for a personal twist, get that wallet — and as an added bonus, put a polaroid or a wallet-sized picture of you both or just you inside/
4. For the Techie: find unique tech options
Some guys are more tech-y than others, but all will appreciate an upgrade, a new purchase, or a gift that they didn't see themselves able to get for a while or were putting off.
There are the usuals: AirPods, earbuds, speakers, and more. However, you can find presents that aim higher and are more specialized, maybe gifts he didn't even know he needed.
Some more fun gifts could be a projector and screen, a camera tripod, powerful mini flashlights, a portable battery for charging all of their gear as they travel.
One hot tech item this year is a folding bluetooth keyboard that is compatible with phones.
If you're like us, you find yourself using your phone for things you never wanted to — writing long emails, using the notes app on your phone for lengthy information, or even doing work.
With this keyboard and stand that easily travels in a small bag, rather than bringing the whole laptop, the keyboard can come with you.
5. For the tool guy: don't go for something cliche
This is the default for "practical Valentine's Day." Or practical any day, really: birthday, holiday, anniversary…
However, there are ways to make the "tools" not seem so cliche. You could go for the tool bags, the power tools, the work benches, the replacements parts, the knives. The list goes on and on.
For a mix of technology, tool, and grill master, and something that isn't so cliche, there's this laser thermometer.
With the pandemic, these sorts of infrared thermometers have been more popular.
It takes readings on brakes, meat on the grill, an exhaust pipe, whatever, this multipurpose instrument works to take readings from up to a foot away.
It's a great gift in the tools as well as the grill and tech departments!
I hope you found some inspiration with this practical Valentine's Day gift guide.
Make this next Valentine's Day great through sincere, practical gift-giving.
YOU MIGHT ALSO LIKE: