In this list of Best Ramen Vancouver 2021, I share with you my top picks for your next go-to ramen adventure. Happy slurping!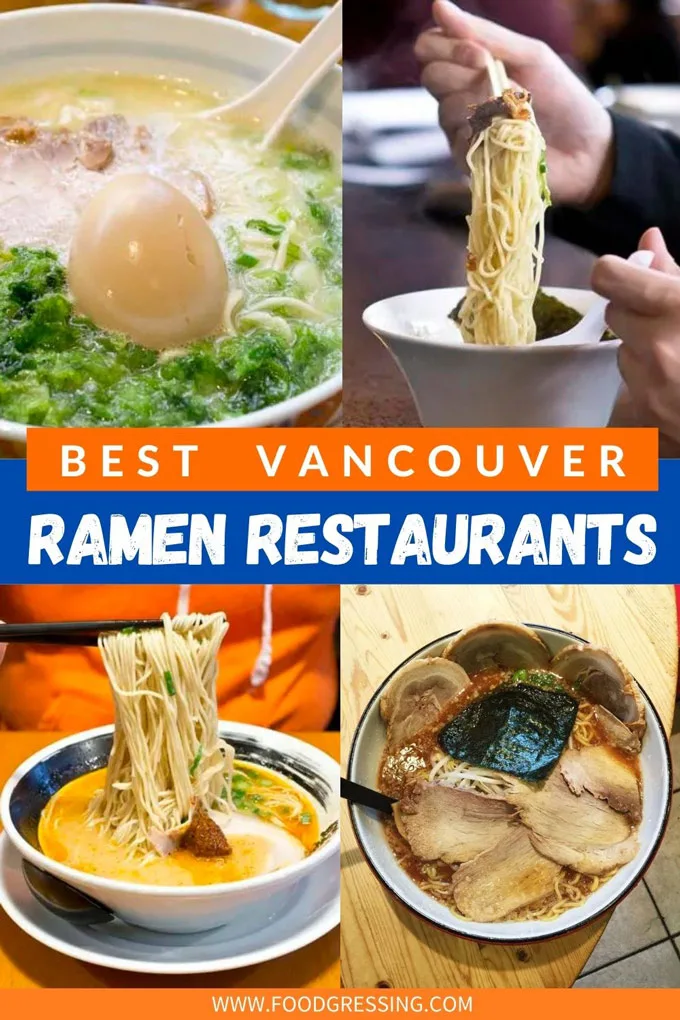 These best ramen in Vancouver restaurants are listed in no particular order.
Marutama Ra-men
For a bowl of ramen that tastes like it's straight out of Tokyo, head to Marutama Ramen.
Founder Tetsuyo Kudo opened his first Marutama Ramen in Kawaguchi, Japan over twenty years ago before sharing his recipes with the rest of the world.
Their most popular item is the Tamago Ramen which is topped with seaweed, green onions, soft boiled eggs in soy sauce, and cha-shu which is a Japanese braised pork belly with honey, soy sauce, and rice wine.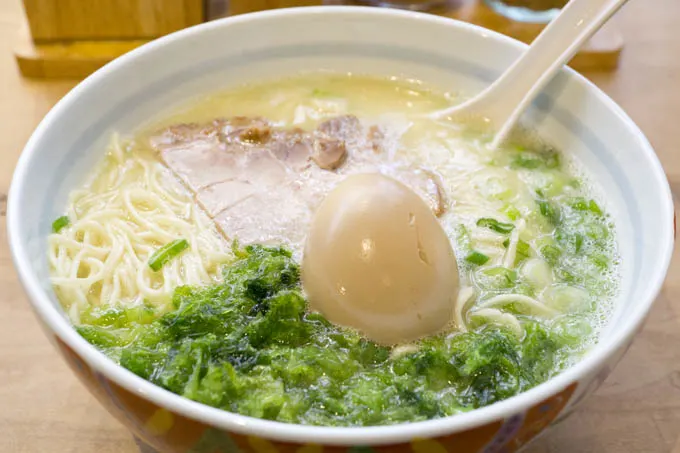 His famous Tori Paitan, or creamy chicken broth, can be found in three locations across Vancouver.
Do keep in mind, Marutama is one of the most popular ramen spots in Vancouver and there are often long wait times and lines.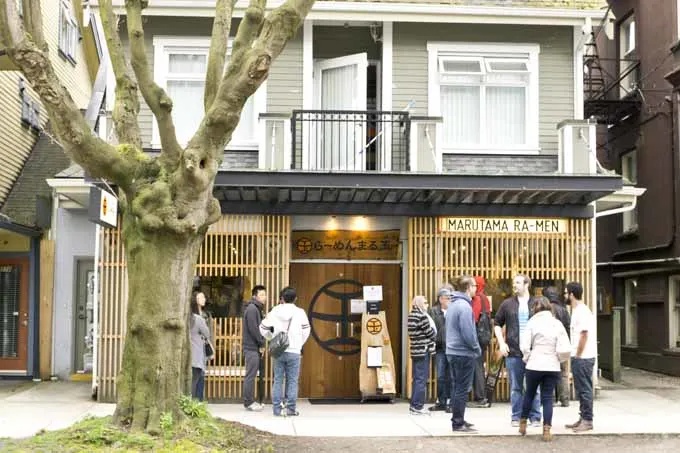 You can also order their ramen to-go with their very user friendly online system. I use it regularly.
My ABSOLUTE favourite ramen from Marutama is the Aosa Ramen and I tend to order extra aosa seaweed with it.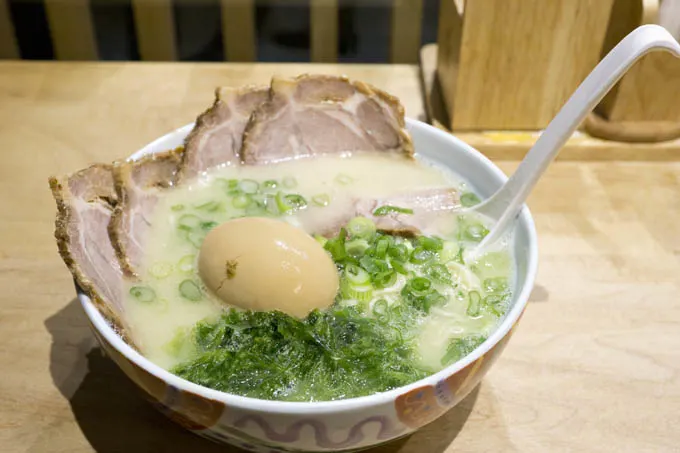 Marutama Ramen Central Library – 270 Robson St, Vancouver, BC
Marutama Ramen Vancouver Downtown Westend – 780 Bidwell St, Vancouver, BC
Marutama Gaiden – 2858 Main St, Vancouver, BC
Ramen Gojiro
For heaping portions of noodles and toppings, you'll want jiro-style ramen.
At Ramen Gojiro, they specialize in these over-the-top bowls filled with mouthwatering ingredients and complex flavors.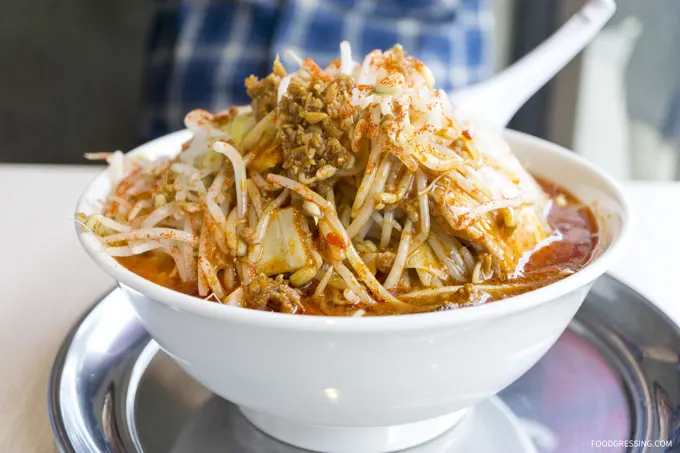 Each of their ramen varieties comes with two protein options (fried chicken or marinated pork) and the choice of a rich or a light soup.
Their varieties range from authentic Japanese flavors to spicy bowls, and vegetarian ramen.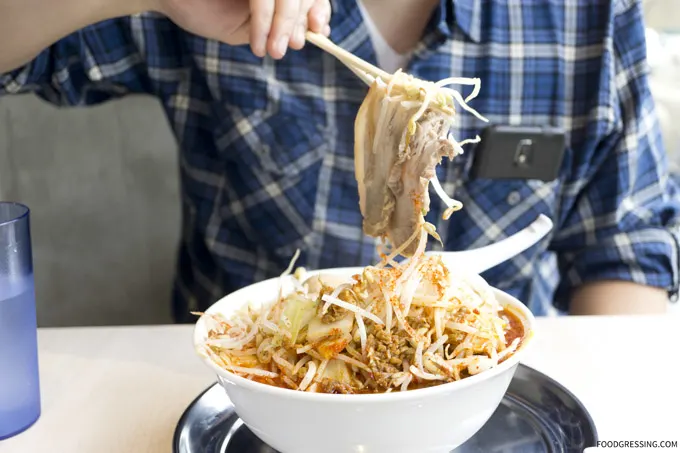 If a member of your party isn't in the mood for noodles, the menu is fairly diverse with options such as donburi (protein, rice, and veggies), fried rice, and more.
501 Dunsmuir St, Vancouver, BC
ZUBU Ramen
ZUBU ramen is a locally owned and operated ramen chain in Vancouver.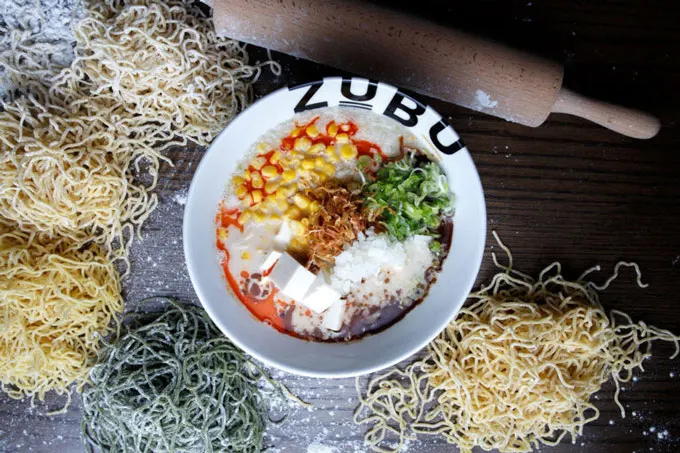 Diners can expect to discover authentic, traditional Japanese flavours, complemented by local ingredients.
Several ramen options are available to satisfy a variety of palates, including all the classics and modern renditions such as the Mazesoba – while brothless, this wholesome mess-free variation doesn't skimp on flavour.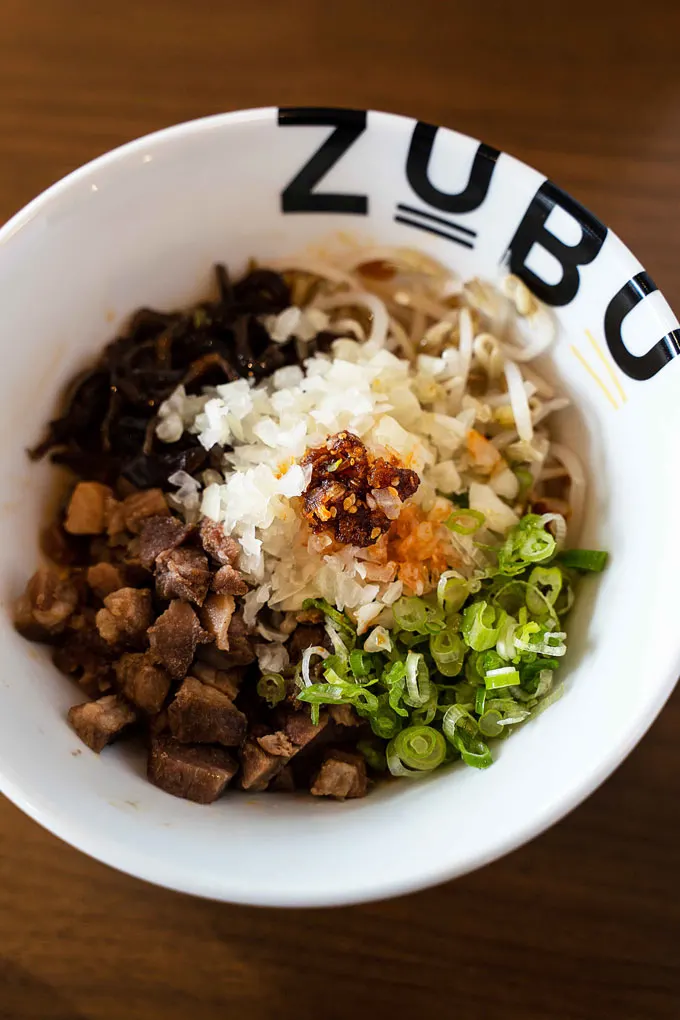 ZUBU Ramen – Kerrisdale – 2129 W 41st Ave, Vancouver, BC
Food Hall by ZUBU – 159 W 4th Ave, Vancouver, BC
Kinton Ramen Vancouver
Toronto-based Kinton Ramen expanded their brand to the West Coast with the opening of an outpost at the University of British Columbia.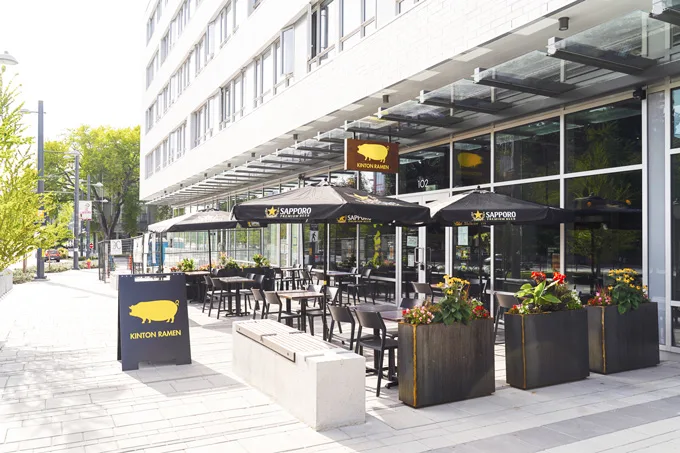 The celebrated ramen chain boasts more than 20 locations around the world in Canada, Japan and the U.S.
The menu, developed by Kinton Ramen Executive Chef Aki Urata, includes a range of hearty ramen bowls prepared with slow-cooked pork or chicken broth in five distinct styles – Original, Shoyu, Miso, Spicy Garlic and Spicy Jalapeño.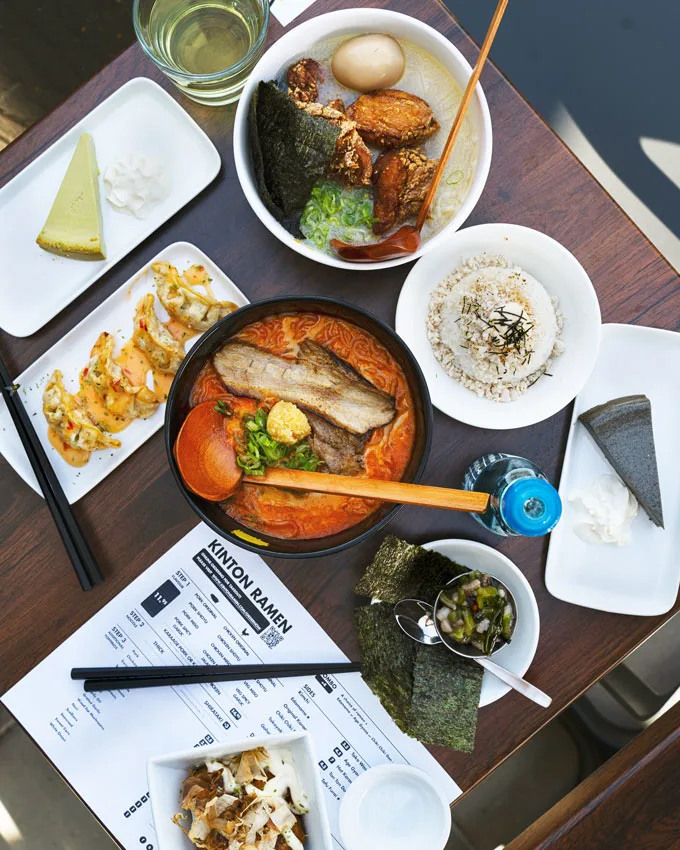 They also offer four vegetarian ramen bowls featuring a 100% plant-based broth in Original, Veg Shoyu, Veg Miso and Veg Spicy varieties.
Ramen bowls are served with a choice of thick, thin or shirataki noodles and finished with traditional and modern toppings like bamboo shoots, wood ear mushrooms, Swiss cheese, nori and sweet corn.
6111 University Boulevard, Vancouver, BC
Ramen DANBO Vancouver
Ramen DANBO is an absolute must-try in Vancouver's Kitsilano and Robson neighborhoods.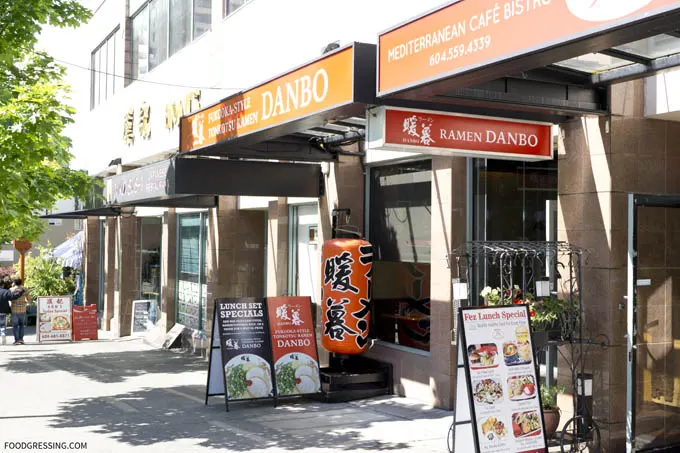 These Vancouver outposts were the first outside of Japan.
The original shop is on the Southern island of Kyushu.
The humble shop drew loyal customers that placed it number one in a TV poll of top ramen shops, catapulting the small restaurant onto the restaurant scene across Kyushu and Japan.
Their Tonkotsu (pork broth) ramen is crafted in the original Kyushu Hakata style which has uniquely thin noodles.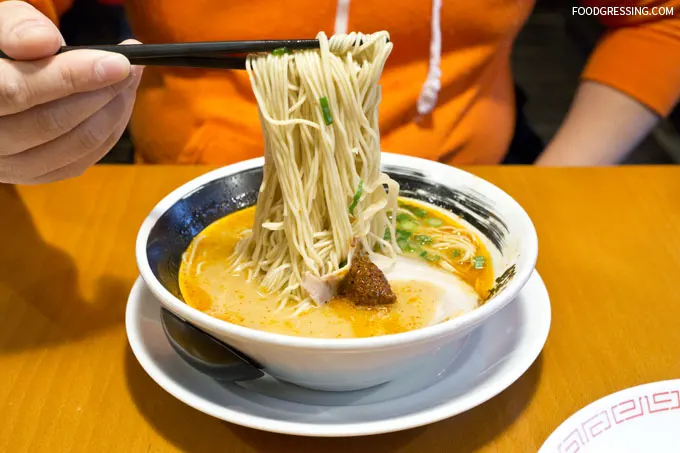 The broth is made with only the highest quality pork and specially treated water which is then boiled at extremely high heat on-site at every location and mixed with a base that is imported directly from Japan.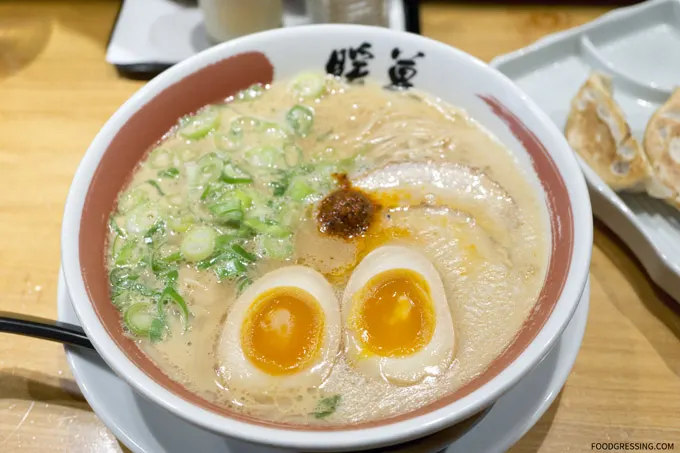 You'll see lines of eager guests waiting for a taste on any given day of the week.
1333 Robson St, Vancouver, BC
1833 W 4th Ave, Vancouver, BC
Kintaro
Kintaro has remained an iconic Vancouver ramen joint since 1999.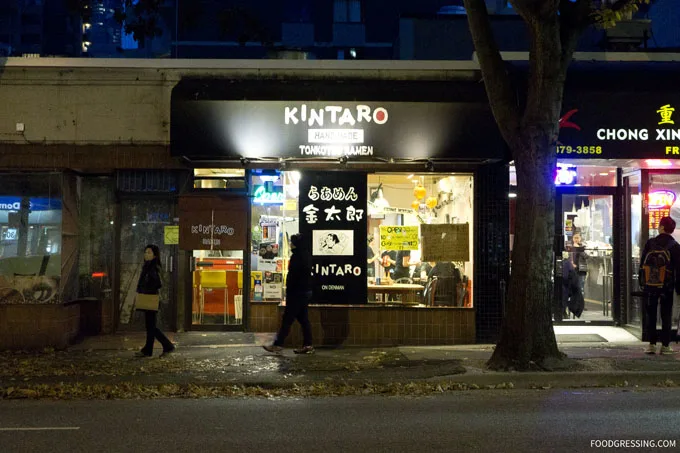 Located in Vancouver's West End, Kintaro's homey, unpretentious shop often has lines out the door and a packed dining room buzzing with ramen-loving locals.
Most of the seating is at the bar overlooking the kitchen where you'll see over fourteen varieties of ramen being prepared.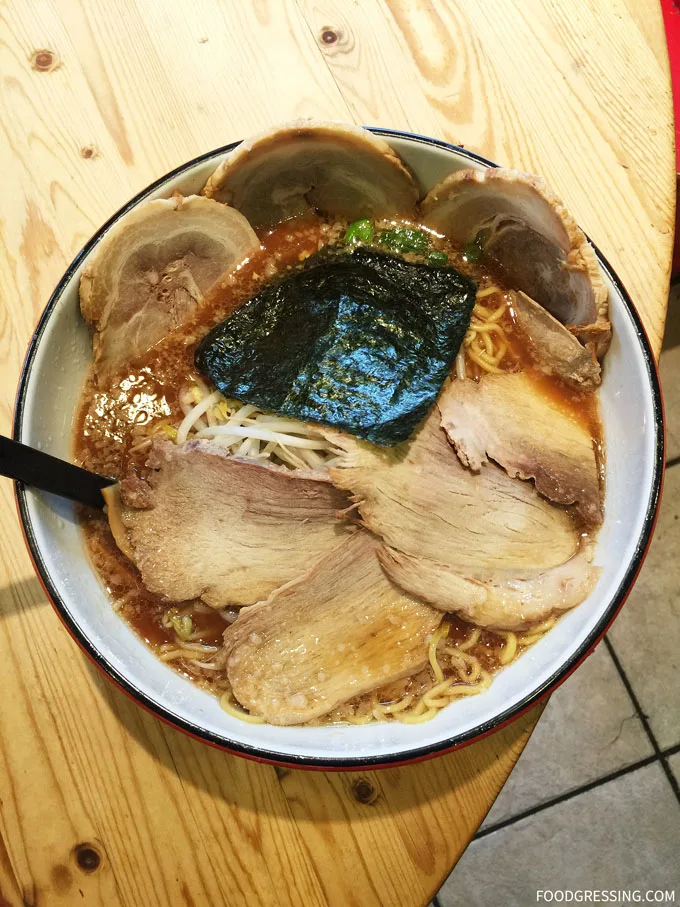 Kintaro delivers your typical flavors, like shoyu, miso, and shio, as well as less common bowls like the spicy garlic or cheese ramen.
Expect each bowl to come to your table piping hot and overflowing with delicious toppings.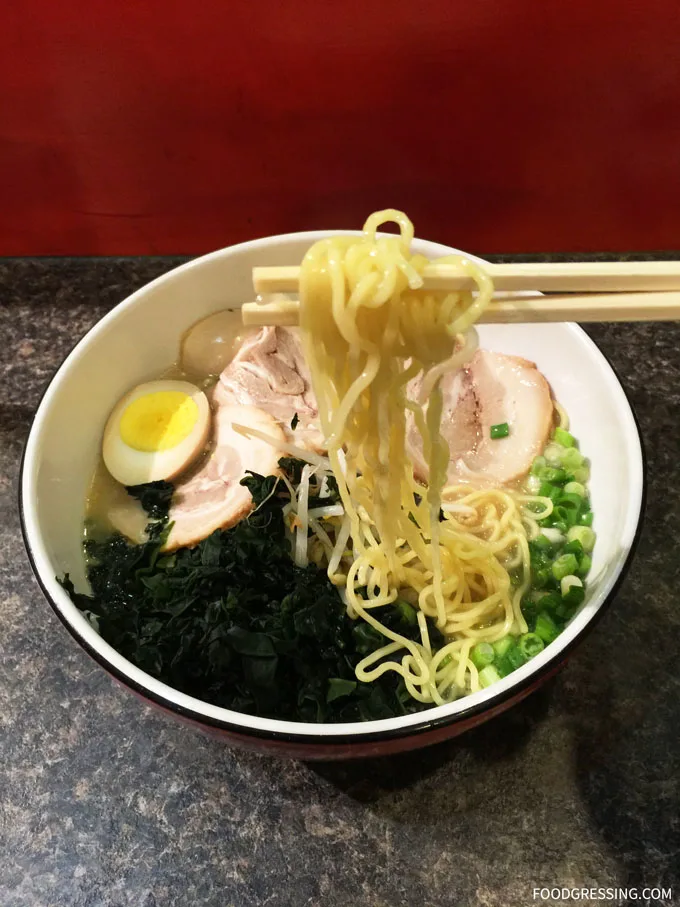 Kintaro does allow guests to customize their bowls by adding additional noodles, proteins, and toppings to get the flavor combination you desire.
788 Denman St, Vancouver, BC
Taishoken Ramen
Taishoken Ramen is a popular Japanese ramen chain with a location in Vancouver's Gastown/Chinatown border.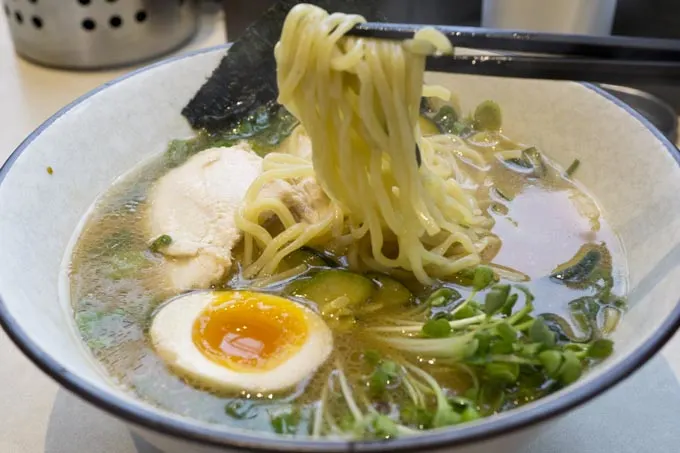 They're famous for their Tsukemen-style ramen that is said to be created by the founders.
This style is known as dipping ramen because the cold noodles are served separately on a plate which is then dipped in the savory soup, allowing the noodles to not soften too much.
Taishoken does have other ramen staples, such as the miso broths or the traditional Tonkotsu which is a pan-fried pork cutlet.
In addition, Taishoken offers a vegetarian bowl complete with tofu, caramelized onion, corn, basil pesto, tomato, and parmesan cheese.
515 Abbott St, Vancouver, BC
Menya Raizo
When you walk into Menya Raizo, you'll be greeted by a retro-style interior, lanterns, and Japanese photographs from the 1920's all the way to the 1990's.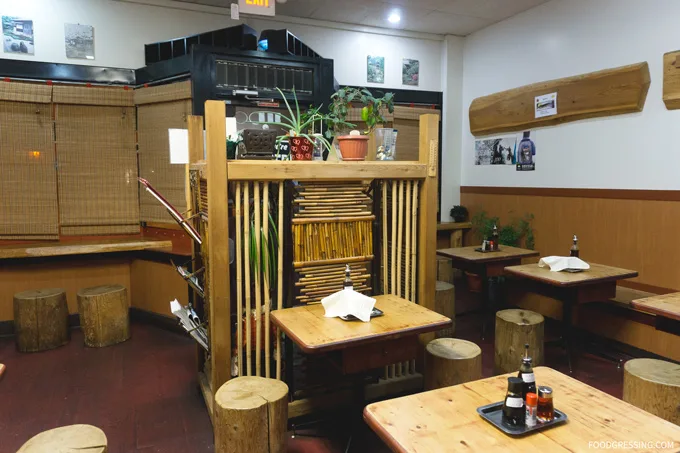 The ramen is made in a tori-pota style with rich chicken broth and a mixture of vegetables, kelp, dried shiitake mushrooms, and Japanese soup stock from green tea leaves.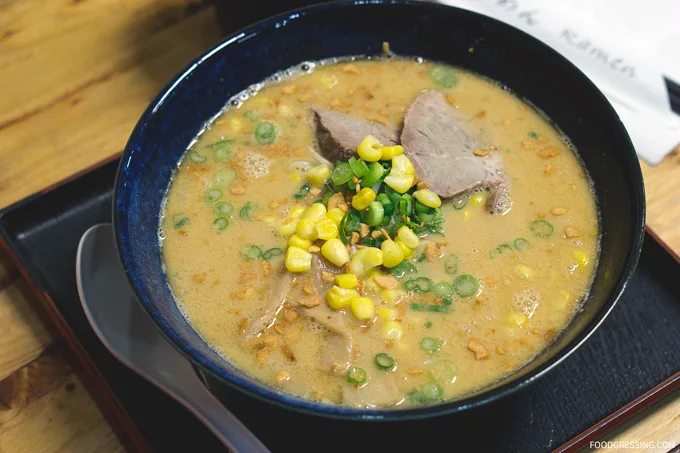 For an appetizer, make sure to munch on a Japanese otsumami, or snack food that is often served alongside alcohol and beer and is salty in taste.
The karaage (fried chicken), or gyoza (potstickers) are popular choices to be enjoyed with an imported beer right from Tokyo.
401 W Broadway, Vancouver, BC
Hokkaido Ramen Santouka Vancouver
Hokkaido Ramen Santouka began in the 1980s when founder Hitoshi Hatanaka told his family he was going to make delicious ramen.
After years of perfecting the method and flavor of his tonkotsu (pork bone) broth, Hokkaido Ramen Santouka was opened.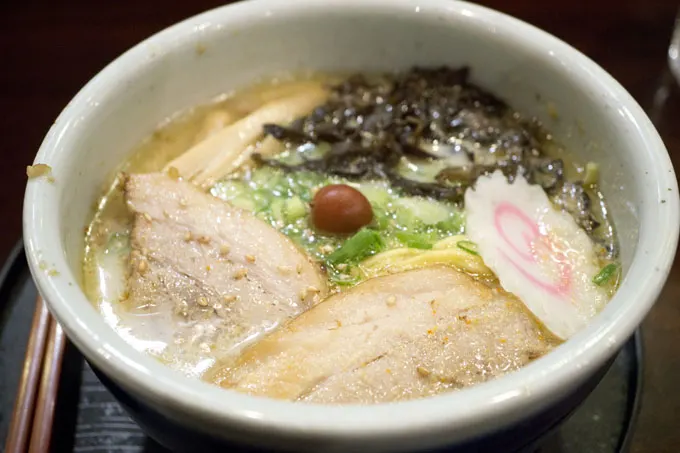 This nine-seat restaurant in Hokkaido, Japan offered one menu item: Shio (salt) ramen.
The goal was to make "family friendly, delicious, and healthy ramen" by reducing the amount of salt and artificial seasonings found in so many ramens by making each broth completely from scratch.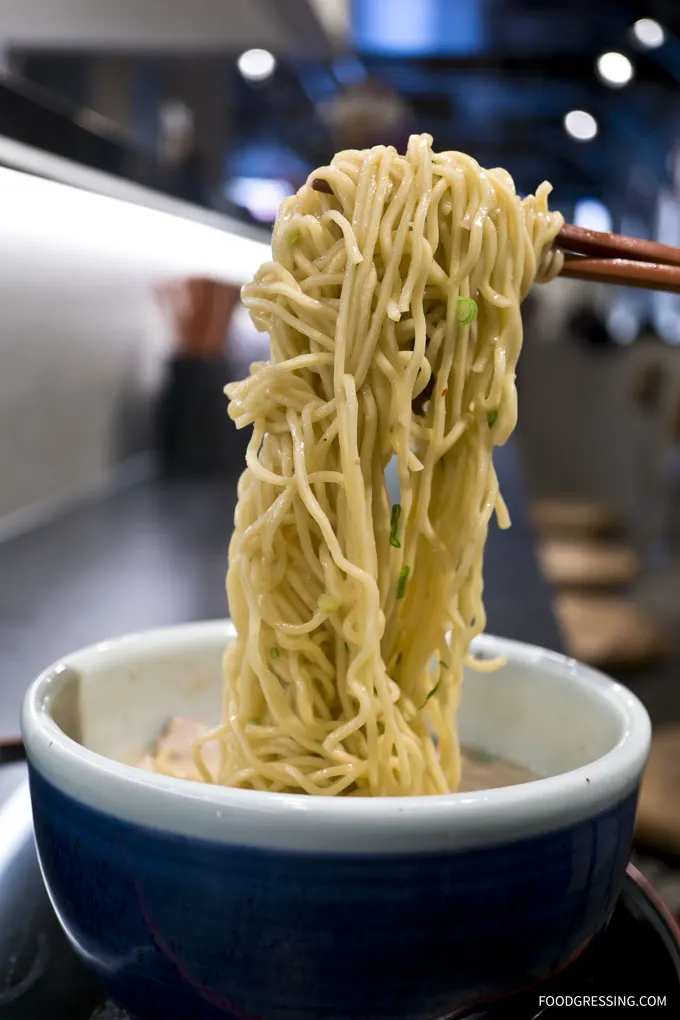 Hokkaido Ramen Santouka found great success in Japan and equally loyal patrons in Vancouver as well.
Their Downtown location often has lines out the door, waiting for a bowl of Shio ramen or venturing to the other side of the menu where you'll find spicy miso ramen too.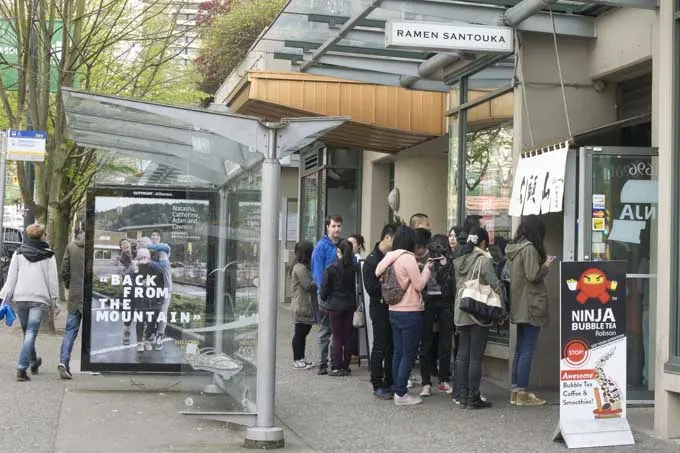 558 W Broadway, Vancouver, BC
1690 Robson St, Vancouver, BC
JINYA Ramen Bar
JINYA is a casual Tokyo-founded ramen chain with locations in the Los Angeles area, Las Vegas, Houston, Vancouver, and Seattle.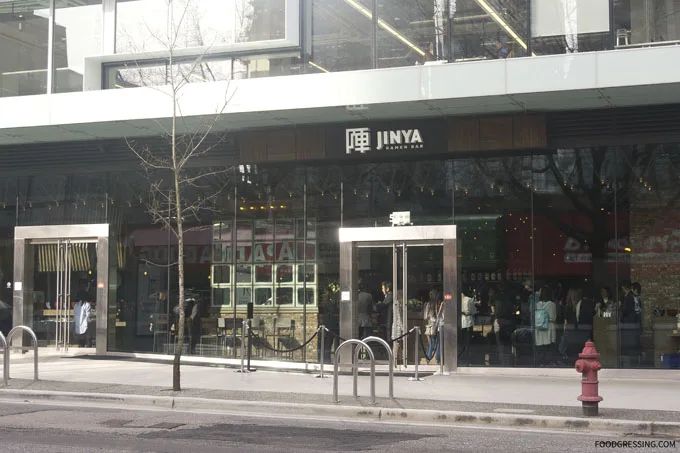 When the first JINYA Ramen Bar was created, founder Tomo Takashi had dreams of bringing an authentic Japanese experience to the West Coast.
JINYA found booming success through his patrons that devoured the housemade noodles and authentic toppings.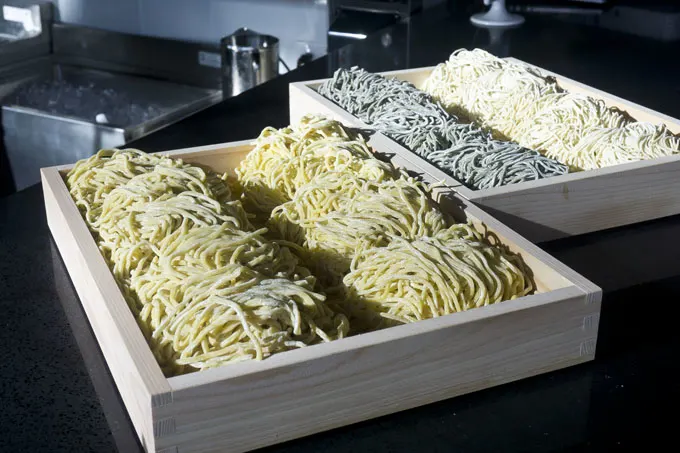 The star of the restaurant is undoubtedly the broth.
Their thick, signature recipe is simmered for more than twenty hours in classic Japanese ingredients and whole pork bones before it is served with delicious toppings like the pork chashu or poached egg and fresh garlic.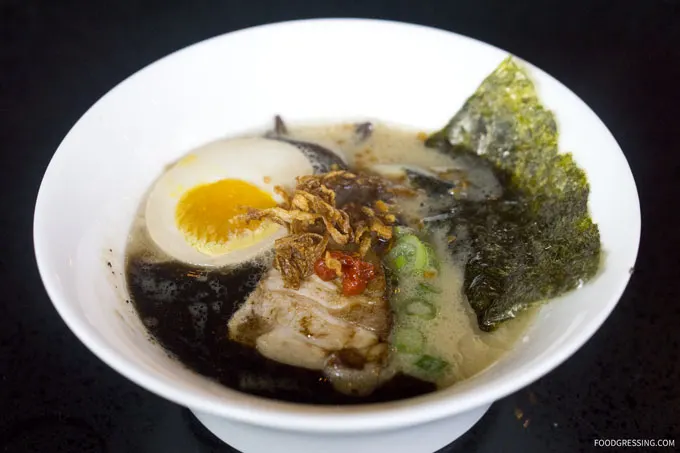 Ramen Jinya Vancouver is located on Robson Street in Downtown Vancouver.
541 Robson St, Vancouver, BC
Kokoro Yokyo Mazesoba
Mazesoba-style ramen is not your average dish.
Mazesoba translates to "mixed noodle" and is a popular version of ramen served without a broth.
Some even refer to it as Taiwan Mazesoba because of its resemblance to a Taiwanese recipe.
As this style of ramen grew in popularity within Japan, chef Takuma Ishikawa created Kokoro Mazesoba in Tokyo which quickly became the standard for delicious mazesoba ramen.
In 2014 the restaurant won the Best Mazesoba Award in Japan to which Chef Ishikawa began spreading his mouth watering creations overseas.
In addition to noodles, a standard bowl is filled with spicy minced pork, egg yolk, seaweed flakes, slow-braised chashu, green onion, bamboo shoot, minced garlic, and Japanese spices.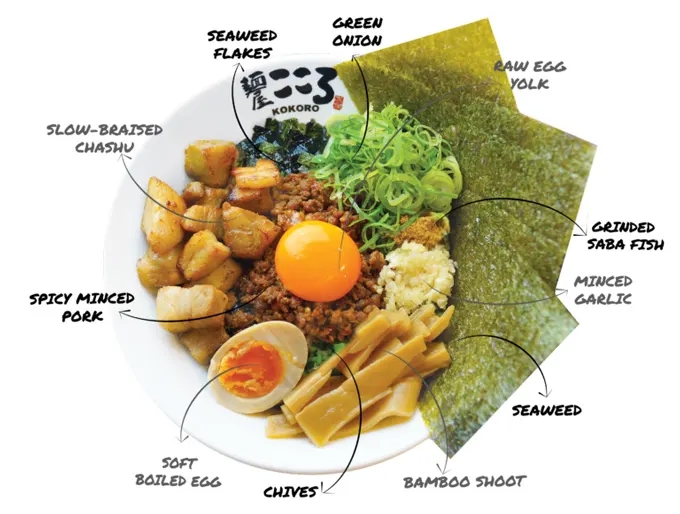 551 Seymour St, Vancouver, BC
#206-5728 University Blvd. Vancouver, BC
Gyo Para –Gyoza & Ramen Bar
The original Gyo restaurant opened in 1993 and went by the name of Gyoza Paradise.
Today, Gyo Para serves the same authentic ramen and hand-made gyozas in a new location.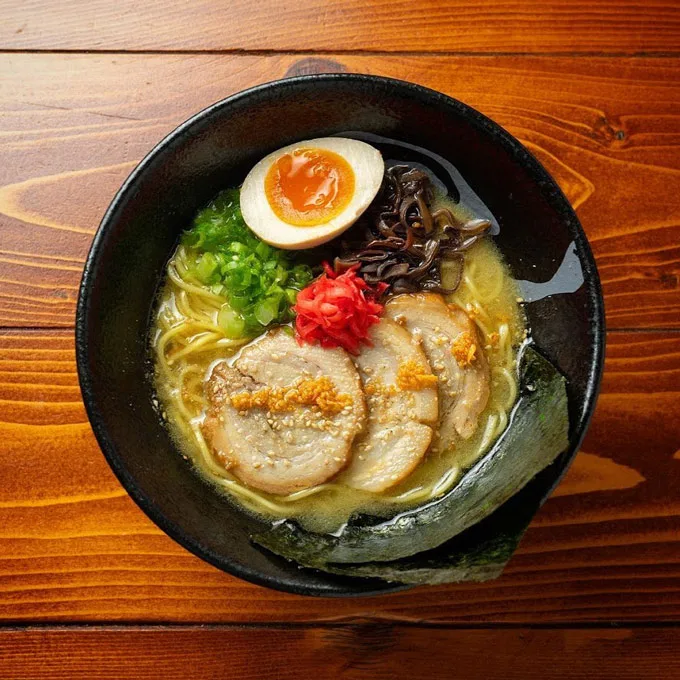 The founder, Tak Aramaki, was raised in Japan and grew up watching his parents run their own successful ramen restaurant and company.
When Tak made the move to Canada, he wanted to bring a piece of his culture with him, resulting in Gyo Para.
This family run restaurant is managed by Tak and his son, Ryutaro, who serves family recipes as the Head Chef.
Every broth is made from scratch using an in-house water activation system for pure water and the finest ingredients available.
Stop by for a taste of their delicious Tonkotsu and Shio ramen, and mouthwatering gyoza (Japanese potstickers).
2120 W Broadway, Vancouver, BC
Horin Ramen + Sake
Horin Ramen + Sake's seeks to capture "the soul of ramen" through relentless study of Japanese food and a commitment to create expressive, tasteful bowls by hand daily.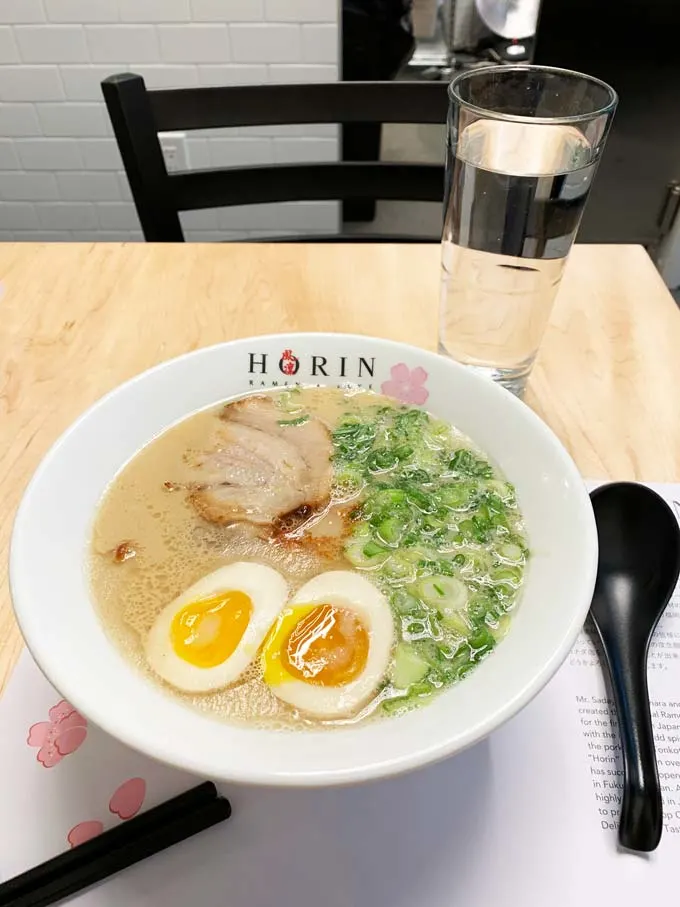 Their broth is an uncomplicated tonkotsu broth which is made with pork bone and rich, earthy flavors.
You won't be able to get enough of the unique tare sauce which sets a bowl of Horin Ramen apart from the rest.
This spicy sauce was first pioneered by their founder in Japan and was the first of its kind.
Enjoy this legacy alongside a bowl of Kikurage Mushroom Ramen or Moyashi Ramen with bean sprouts.
They also make their ramen noodles in house.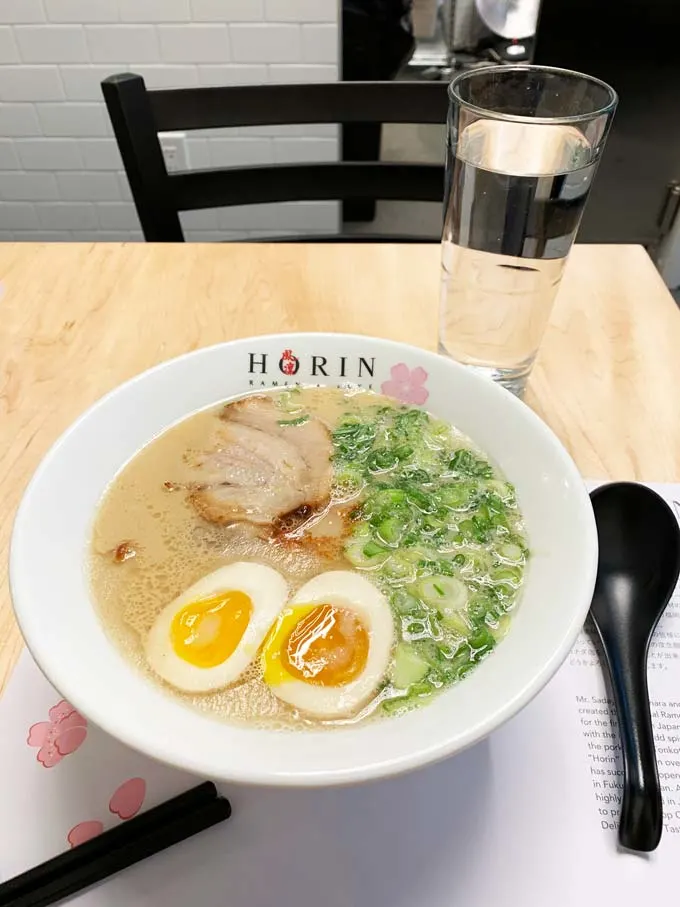 1226 Robson St, Vancouver, BC
Benkei Ramen
Head over to West Broadway for delicious flavors and some of the most affordable prices in the city at Benkei Ramen.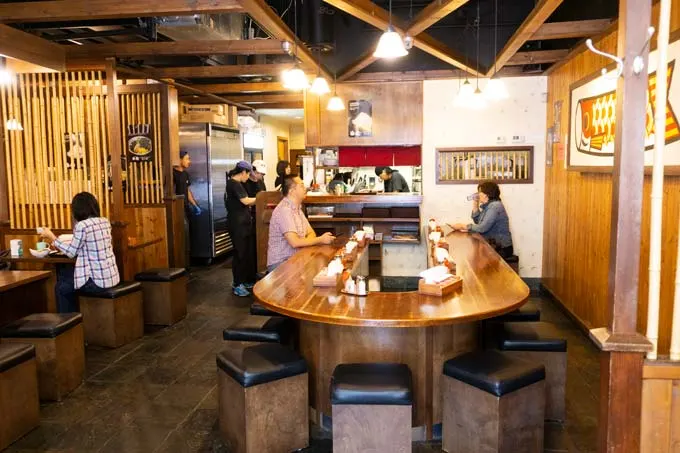 Not only are their noodles made in-house and their broth simmered for greater than ten hours, but their menu is one of the most diverse in the city.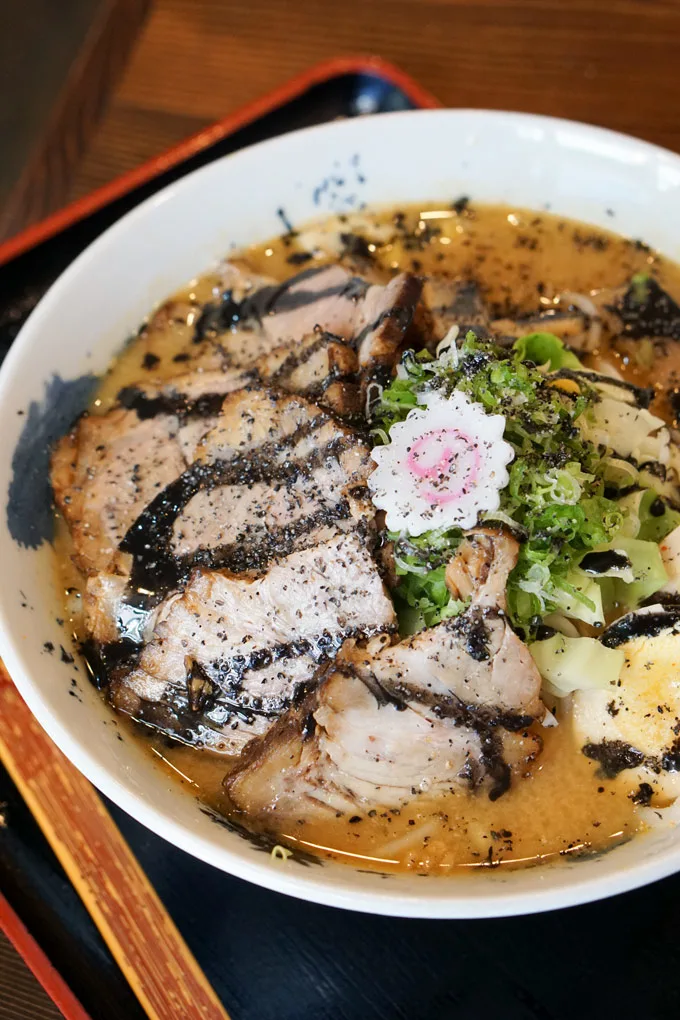 Most notably, they are one of the only ramen restaurants in town serving vegan ramen.
If you're plant-based you'll need to try their Black Ramen bowl made in a vegetable broth with rich, black sesame miso, roasted black pepper, and drizzled with coconut milk.
Their most famous dish however, is their spicy Akaoni Ramen made with pan-fried pork, green onion, bean sprouts, bamboo shoots, roasted garlic oil, chili, and roasted sesame.
545 W Broadway, Vancouver, BC
Ramen Butcher
Located in Historic Vancouver Chinatown is Ramen Butcher, another Vancouver ramen restaurant worth visiting.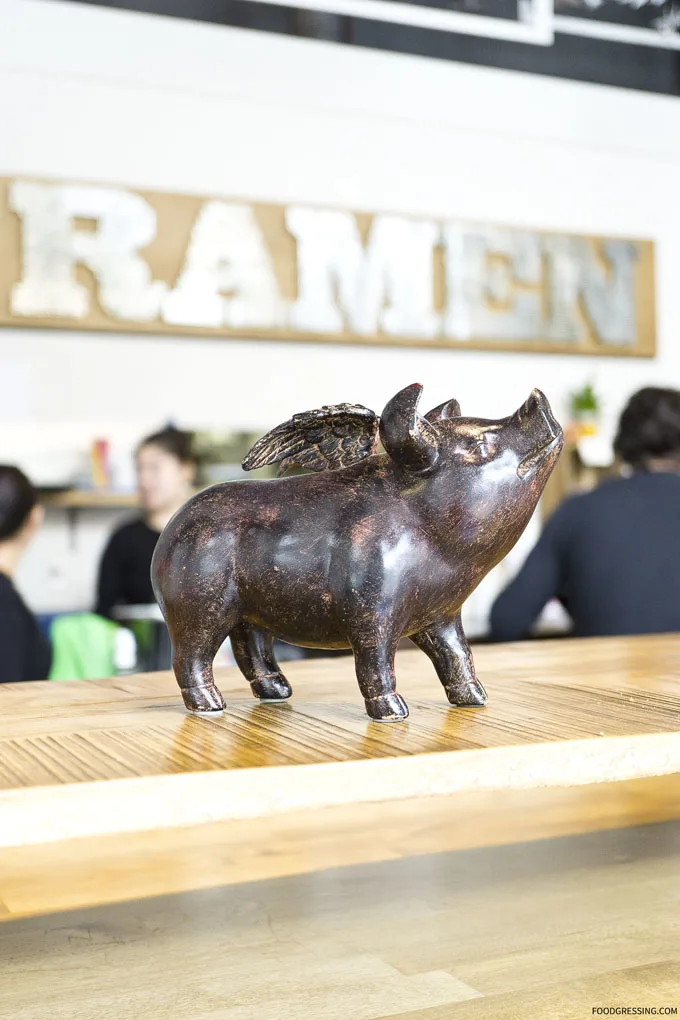 On the menu at the Ramen Butcher are classic tonkotsu ramen and variations with different sauces (red, black, green and orange).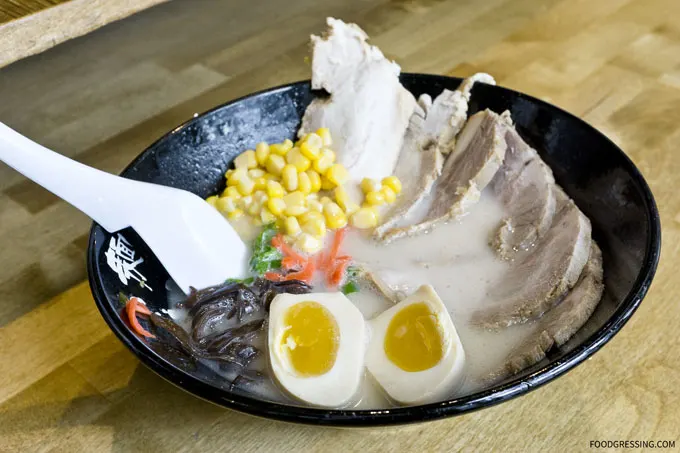 Customers can enjoy a free refill of noodles as long as you have enough soup left.
223 E Georgia St, Vancouver, BC
Motomachi Shokudo
Founded in 2007, Motomachi Shokudo is a longstanding West End ramen eatery.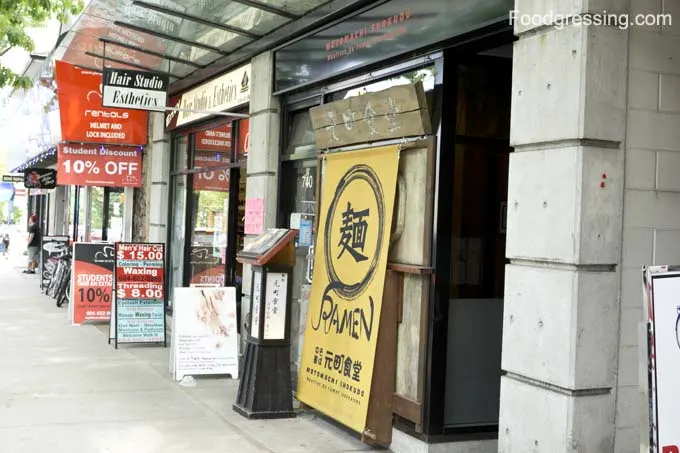 Their natural tasting ramen features a special broth made with chicken, pork, fresh vegetables and a hint of seafood.
Their signature dish is a bamboo charcoal dark miso ramen where bamboo charcoal is an ingredient that has detoxifying and digestive aid properties.
740 Denman St, Vancouver, BC