Here are some ideas on how to celebrate Chinese New Year Vancouver 2022.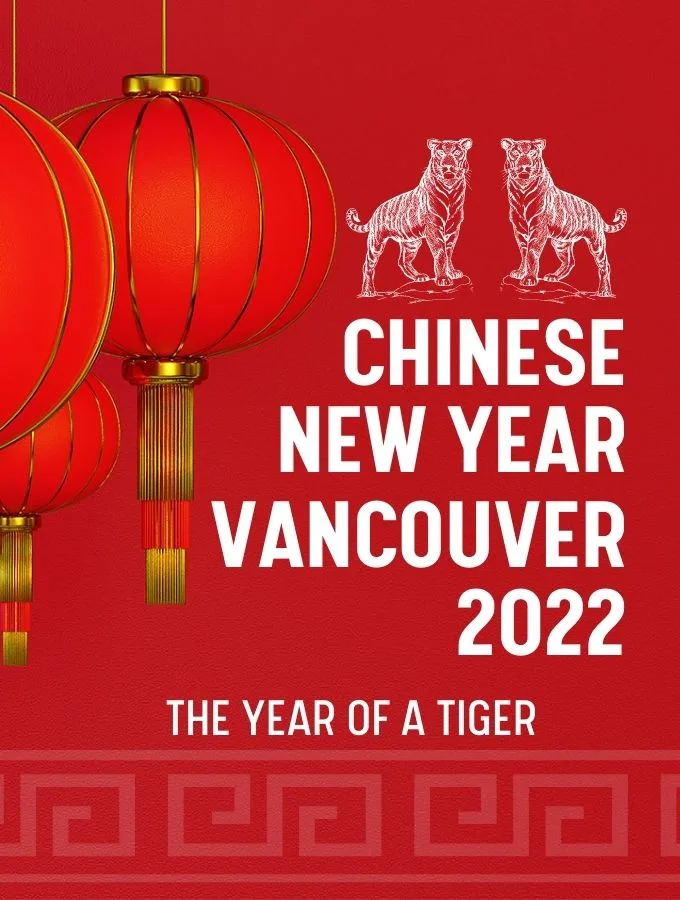 Chinese New Year 2022 is Tuesday, February 1 and this year is the Year of the Tiger.
This list is updated as information becomes available. If you have an event/business that wants to be added, please contact me at [email protected] or DM me @foodgressing on social media.
If you like this post, please share with your friends and family. This would help support the website and for me to continue doing these roundups.
Chinese New Year Vancouver 2022 Restaurant/Hotel Features
Sun Sui Wah
Sun Sui Wah is offering Chinese New Year Set Dinner for Four; Poon Choi; Lao Fan Meal; New Year Rice Cake; Radish Cake and Taro Cake. Available to preorder online.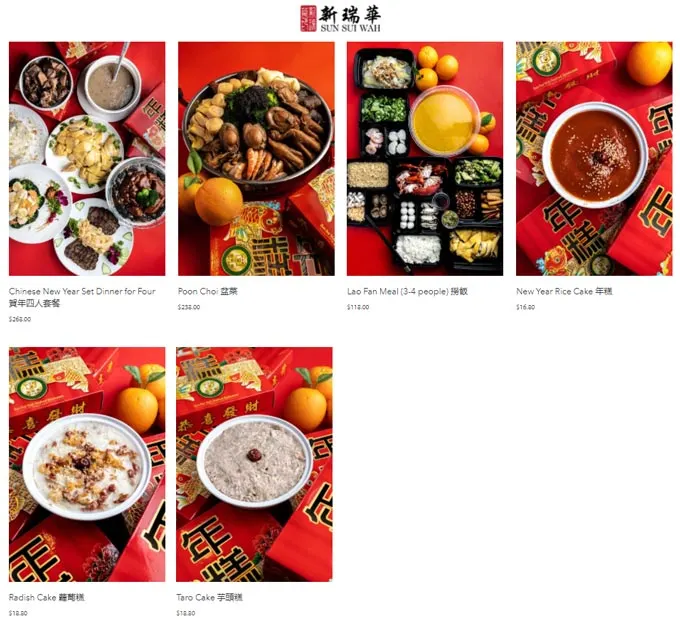 The Lao Fan dinner set includes an exquisite seafood soup; over ten ingredients such as abalone, fresh canner lobster, and oysters separately packaged to mix into the soup; a side of the famous cold chicken; a side of braised vegetables; and a cold appetizer dish. The literal translation for Lao Fan is "scoop out rice" – a direct description of the main feature of this set. Similar to hot pot, the soup is meant to be reheat followed by the addition of the ingredients starting with the white rice. Once items are all mixed in and served, garnish with the deep-fried rice for extra crunch and texture. The Lao Fan Dinner Set feeds a family of three to four at $118 and is based on availability from February 1 until mid-February.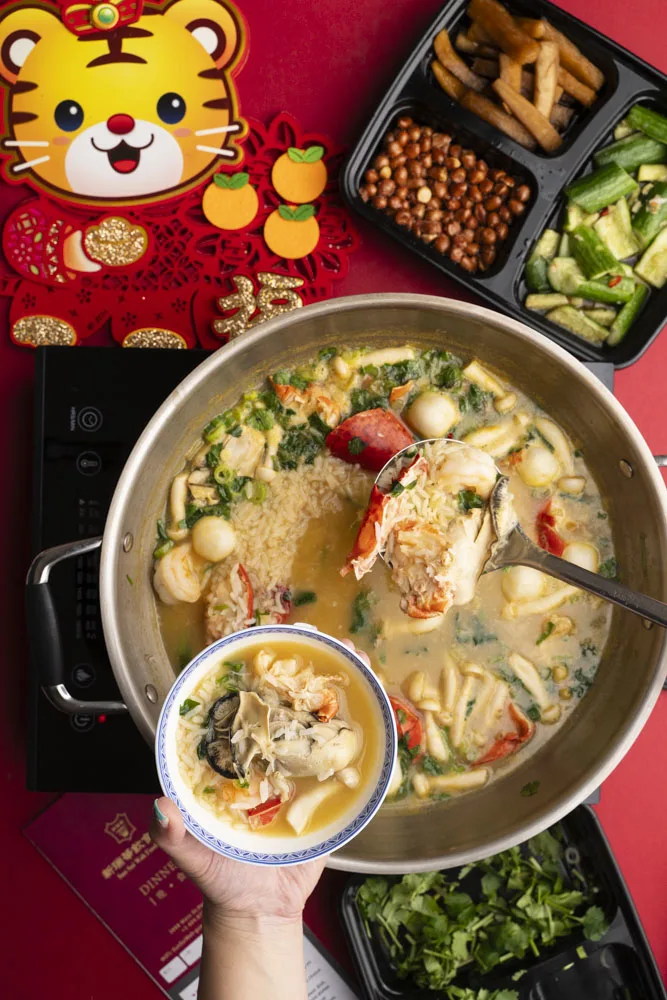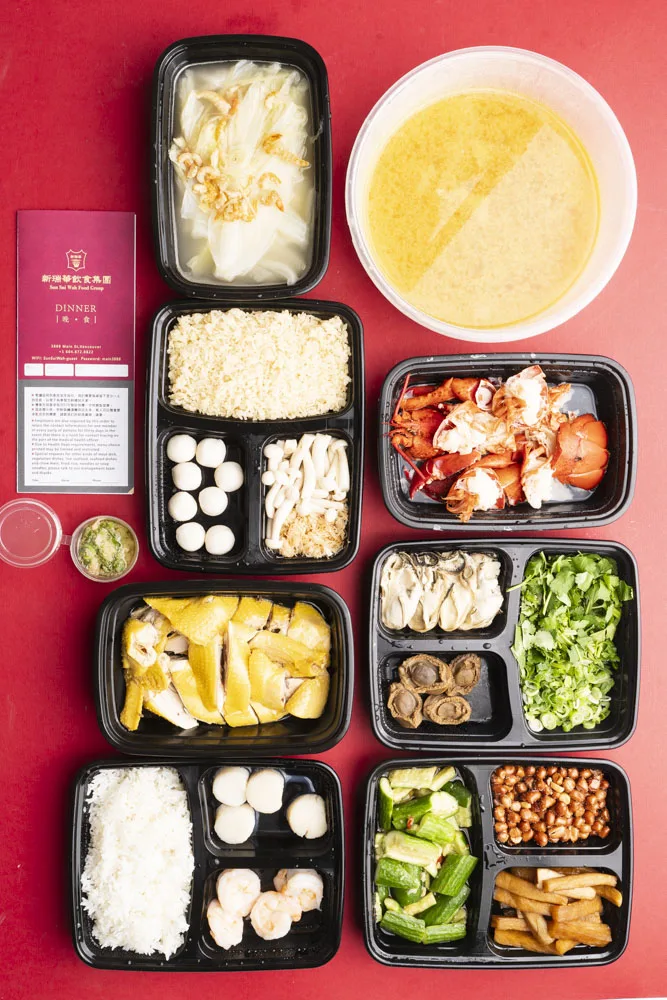 Sun Sui Wah's version of the Poon Choi includes sixteen premium ingredients layered on top including abalone, sea cucumber, fish maw, dried oysters, dried scallop, and black moss. Available from January 30th to February 15th, the Poon Choi serves for four at $238 or six at $368 – and customers can keep the "poon" (in this case, pot).
Chinese New Year is also known for glutinous rice cakes, and Chef Man has created three versions to take home or for gifting: radish rice cake at $18.80, taro rice cake at $18.80, or sweet rice cake at $16.80. Each comes packaged in a festive red box, easy to hand out as gifts. As the rice cakes are made in-house, Chef suggests consuming within five days of purchase. Buy five get one free or buy ten get two free. If trying everything is of interest, Sun Sui Wah is offering a lucky combination promotion which includes an order of the Lao Fan, Poon Choi, and two rice cakes at $388 for four or $500 for six.
For families looking to dine-in, Sun Sui Wah is also offering two specialty dim sum offerings along with Chinese New Year dinner set menus starting at $188 for two which features their renowned roast squab, stewed bird's nest soup with dried scallops and fresh crabmeat, braised Australian abalone, and lobster sticky rice.
Open for dine in and take out, Sun Sui Wah is open daily until 9pm. Make a reservation and or pre-order the your sets 48-hours in advance at https://sunsuiwahvancouver.ca/ or 604-872-8822.
Chefs Choice Chinese Cuisine
Chefs Choice Chinese Cuisine is offering poon choi. Some of the ingredients include shrimps, pork knuckles, marinated chicken, sea cucumber, dried oyster, fresh squid and more. Available for takeout only and reserve one day in advance.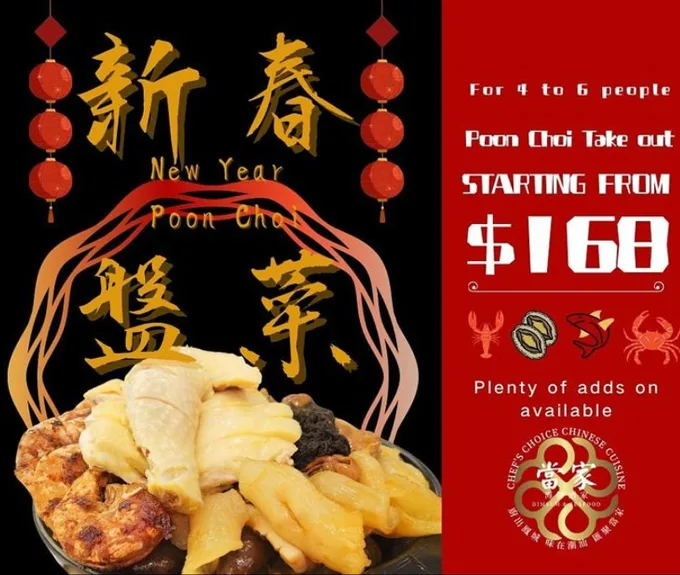 A.Bento 飯匠
A.Bento 飯匠 is offering Tiger Gift boxes:
Tiger Gift Box A (collaboration with @butter.mere)
-House-made XO Sauce
-House-made Pineapple Spicy Sauce
-Buttermere Snowflake Crisps
-Buttermere Koi Candy
Tiger Gift Box B
-House-made XO Sauce
-House-made Pineapple Spicy Sauce
-House-made Spicy Sauce
-House-made Garlic Sauce
Tiger Gift Box C – Lunar New Year Dinner Set (4-6ppl) with four pre-cooked vacuum-packed ready-to-heat dishes.
-Braised Pork Knuckle (vegetables not included)
-Spicy Bean Paste Braised Fish
-Lamb Stew
-Lotus Leaf Wrapped Sesame Chicken Sticky Rice
You can also purchase a combination of Tiger Gift Box A+C or Tiger Gift Box B+C.
Quantities are limited, so pre-order yours now at http://www.abento.ca. Pickup and delivery (min. $350 and over) is available starting Jan. 18-Feb. 1 and last day to order is Jan. 28.
Heritage Asian Eatery
Vancouver's popular Heritage Asian Eatery is roaring into 2022 with much to celebrate, from the third anniversary of its Broadway location on February 5, to a celebratory feast for the Lunar New Year. From January 28 – February 6, guests can join in and celebrate the Year of the Tiger in Heritage Asian Eatery's signature style with a gourmet Lunar New Year Feast for Four, available for take-out or dine-in at its Broadway location (382 West Broadway).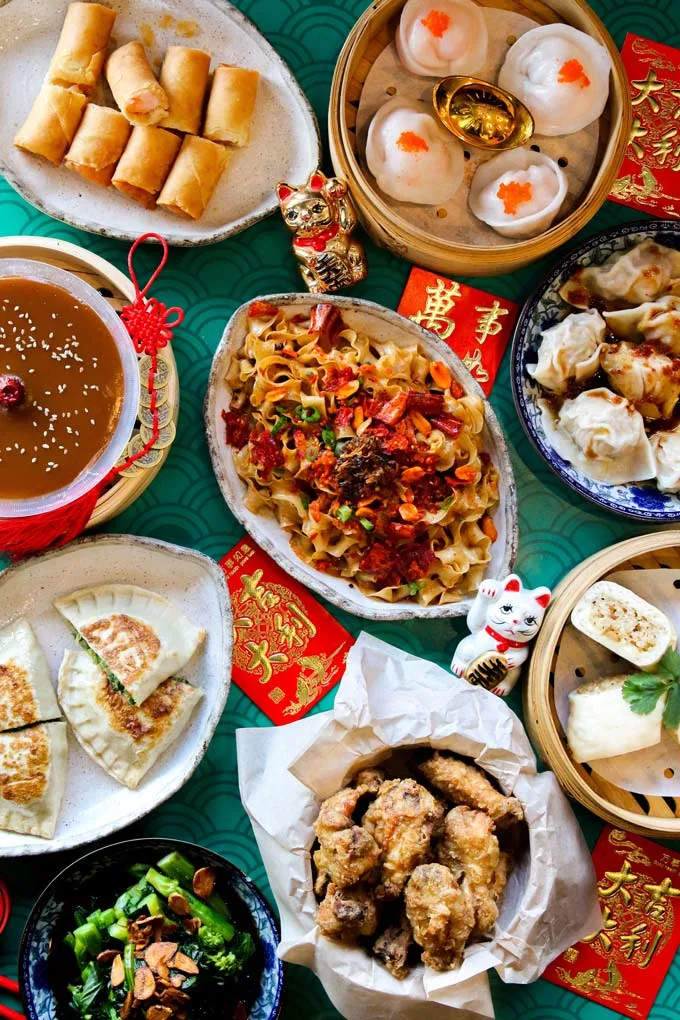 Heritage Asian Eatery's Lunar New Year Feast feeds four and includes four Cured Chinese Hamand Prawn Dumplings (artfully shaped like Chinese ingots painted with a gold streak), four Chive Pockets, four Sticky Rice Buns, Gai Lan, four Prawn Spring Rolls, eight Classic Pork and Napa Cabbage Dumplings, 10 Chicken Wings with Truffle Salt, Biang Biang Noodles with XO Dressing, and an auspicious dessert of Nian Gao.
Heritage Asian Eatery's Lunar New Year Feast is available $118, easily feeds four people and can be enjoyed for dine-in or take-out from the Broadway location from January 28 – February 6. Dine-in reservations and take-out orders are encouraged by calling the restaurant at 604-559-6058.
Prince Restaurant
Prince Restaurant has the following offerings: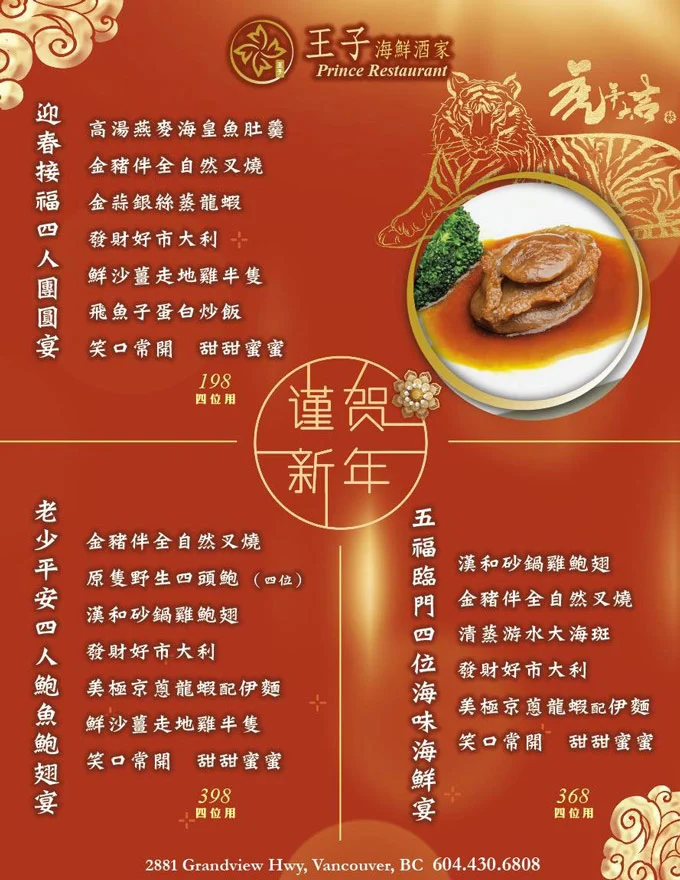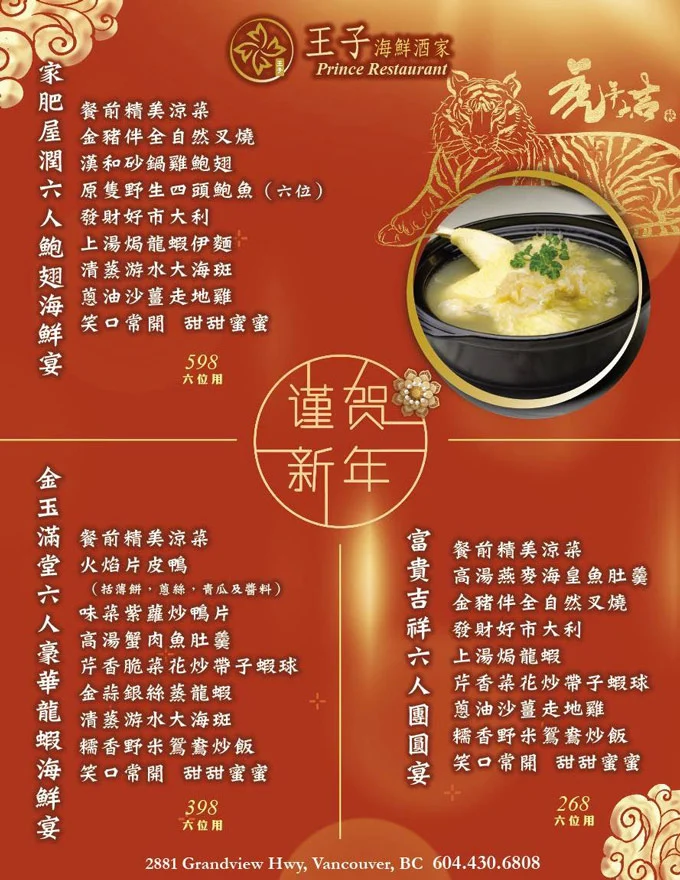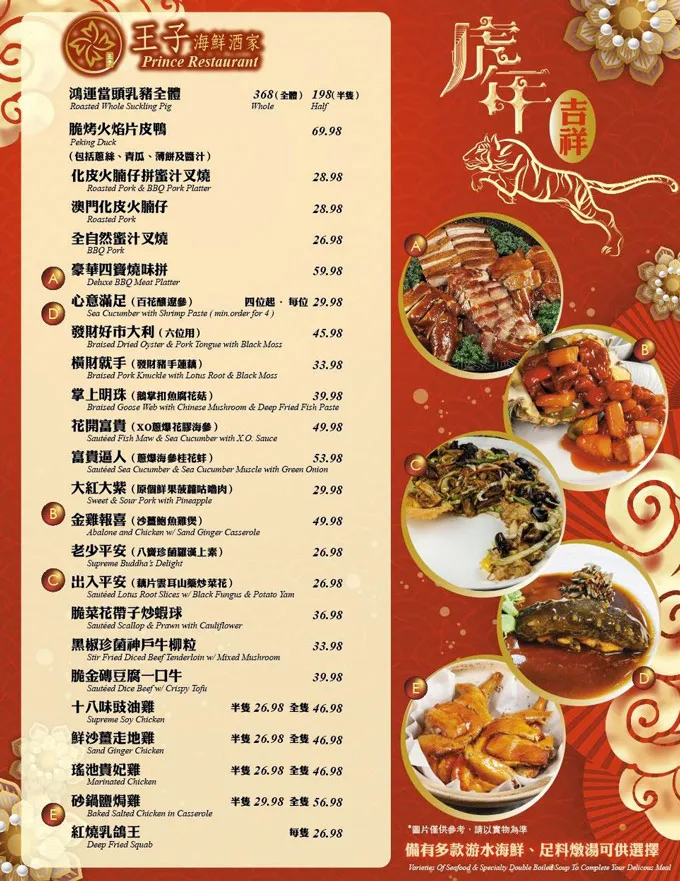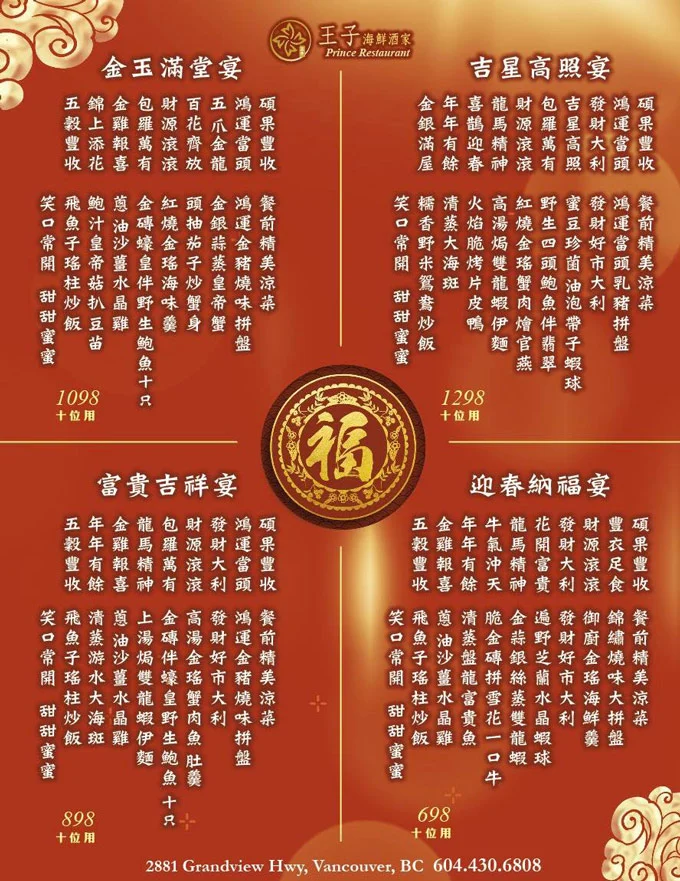 Parq Vancouver
Parq Vancouver will paint the town red and usher in the Year of the Tiger with festive features that will immerse guests in the magic of Lunar New Year at the downtown Vancouver casino resort throughout January and February.
Parq will mark the annual occasion by hosting a series of daily draws from January 16 to February 15 that could award one lucky winner $888,888 in cash. Throughout the promotion, table and slots players will receive one ballot for every 100 Encore points earned and can activate their ballots two hours before draws that take place Mondays to Thursdays at 8 p.m., Fridays and Saturdays at 9 p.m. and Sundays at 4 p.m. Must be 19+. Know your limit. Play within it.
The JW Marriott Parq Vancouver will also pay tribute to one of the traditional staples of the seasonal celebration — the bestowing of lucky red envelopes — by presenting guests who check into the hotel with red envelopes containing exclusive food and drink, spa and casino offers that can be redeemed from January 21 to February 11.
From January 20 to February 21, Parq visitors can also stroll through the first three levels of the casino and be captivated by eye-catching, Lunar New Year-themed decorations that adorn every corner such as luminous lanterns, decorative umbrellas, paper dragons, and vibrant cherry blossoms.
Year of the Tiger-themed food and drink features will also take center stage on levels 2 and 3 of the facility. From January 21 to February 11, the Noodle Bar at Koi will offer a special dish of 3 Treasure Rice with Soy Chicken, Roast Pork and BBQ Pork with Shanghai Bok Choy on a bed of Jasmine Rice for $12.88, while guests can make a toast to the 'Tiger with a feature 'Tiger Paw' cocktail(Asian liquor, orange juice, grenadine) for $8.88 at Centre Bar daily from 2pm to late.
In addition, Passione, located on the ground level of Parq Vancouver will be offering a special Lunar New Year flavour, Roasted Oolong Gelato. Oolong tea was first of its kind to be named 'tribute tea' back in its days during the 10th century. It is a sacred tea people shared with each other as a symbol of honour. The flavour profile and aroma lies somewhere between green tea and black tea. The roasted tea leaves give the gelato a bold and robust flavour which compliments the Italian's treat's richness and creaminess harmoniously.
Versante Hotel
Versante Hotel kicks off Spring Festival celebrations with an overnight stay package (valid now through February 14) that includes an $88 dining credit valid at Bruno, complimentary parking, and a deliciously-sweet amenity of house-made macarons – all for $288. Guests who book will be entered to win one of four prizes, including: an overnight stay in a Signature Suite and valet parking ($699 value); Bruno's weekend seafood brunch for two ($150 value); a $100 dining credit at Cask Whisky Vault, or a TEALEAVES Year of the Tiger Tasting Set which includes a collection of three limited-edition loose leaf tea blends ($108 value). Reservations available here.
Ring in the Year of the Tiger at Bruno with an elaborate family-style feast, available January 31 – February 6. The Chinese New Year Celebration Platter features: Wagyu Steak Oscar; Lavender Truffle Duck; Whole Roasted Seabream; ½ Rack of Lamb Chops; Truffle Smash Fried Potato, and a Saffron Shellfish Tagliatelle for $288. Reservations available here.

Call in a year of good fortune at Cask Whisky Vault, where a traditional Prosperity Salad is featured from February 2 – 6. This Cantonese-style appetizer is prepared with kombu-cured ora king salmon, green tea soba, shredded vegetables, shiso, and pomelo, and yuzu umeboshi. As a symbol of good luck, each guest at the table is invited to stand and ceremoniously toss the salad ingredients with their chopsticks while chanting auspicious wishes out loud. This dish is served family-style for $28. Reservations available here.
M Cafe
M Cafe in Coquitlam is also offering a poon choi 新年盆菜 featuring abalone, fish maw, sea cucumber, dried oyster, black moss, shiitake mushroom, free range chicken, prawns, fish balls, vegetable, Chinese cured meat fried sticky rice.
Comes with complimentary dessert: lotus paste tapioca pudding with sweet pastry. $208 6 people, $160 4 people. Reserve in advance. Available January 29 – February 3.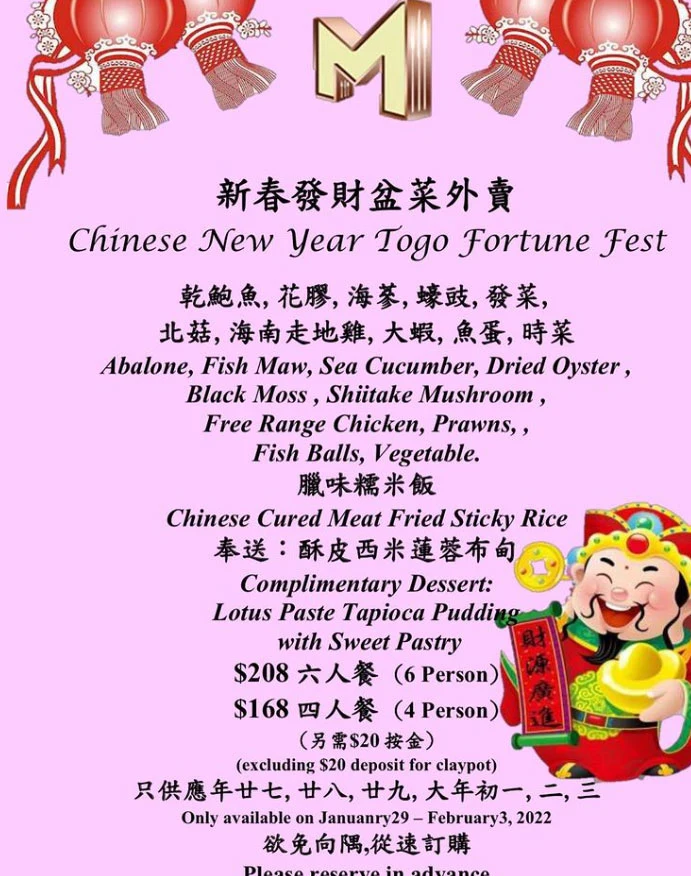 JiangHu江湖-台式鍋物熱炒
JiangHu in Richmond is offering takeaway Lunar New Year dishes including Five Blessings Platter, Buddha's Temptation and more.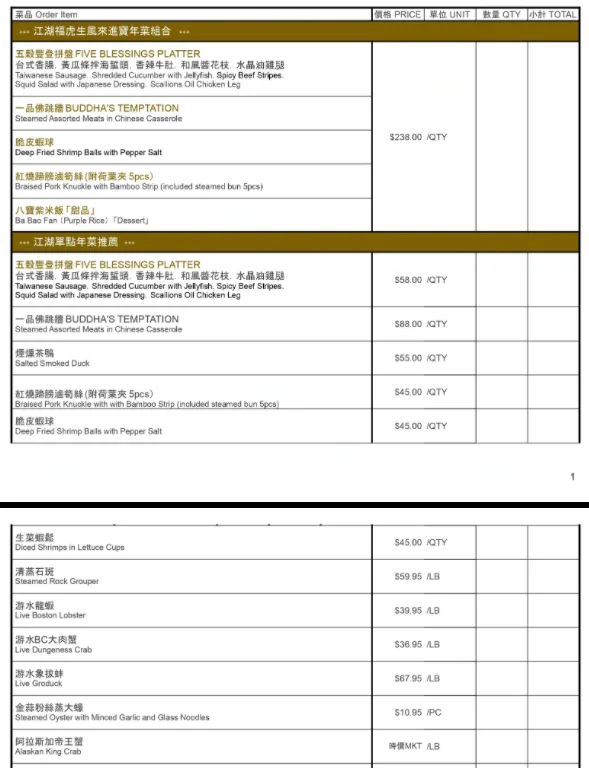 Liuyishou Downtown Vancouver
For the upcoming Chinese New Year Vancouver 2022 celebration, Liuyishou is collaborating with Respon Wealth Management, a Canadian financial group, offering hot pot lovers a taste of the recently released aged Angus beef specifically prepared for hot pot, available in different cuts, giving diners an elevated tasting pleasure of premium hot pot beef.
The adapting of the 28-day aging process for hot pot beef at Liuyishou is the very first in Canada, and is the result of Liuyishou's long term endeavor being the leader and innovator of hot pot and Chinese cuisine in North America.
From January 12 through February 6, 2022, order over $100 before tax at any of the Liuyishou locations in Greater Vancouver and receive the Dual Deluxe Aged Angus Beef Platter ($28.99), sponsored by Respon Wealth Management Group, available for dine-in or takeout pick-up:
Downtown: 1542 Robson St, Vancouver, BC (778) 379-3977
Richmond: 4731 Garden City Rd #150, Richmond, BC (604) 285-6122
Burnaby: 5507 Kingsway, Burnaby, BC (604) 559-9888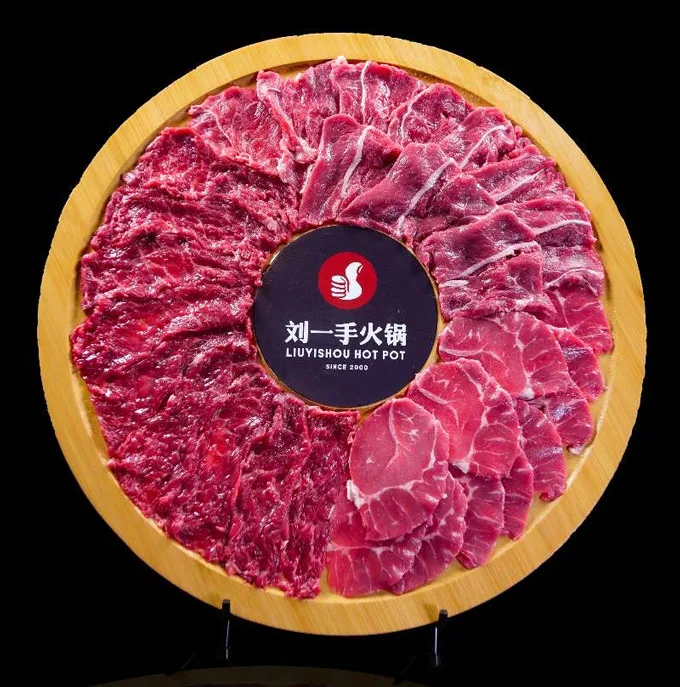 Mei Le Bakery & Restaurant Inc.
Mei Le Bakery & Restaurant Inc. in Coquitlam has the following CNY offerings: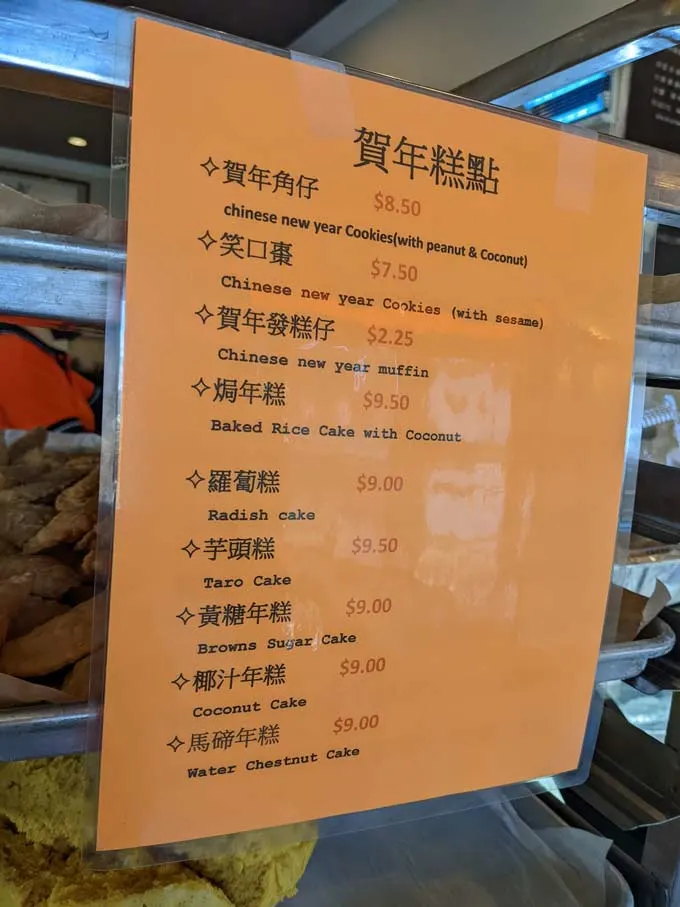 Redbud Cafe 紫荊閣港式餐廳
Redbud Cafe in Richmond has the following CNY offerings: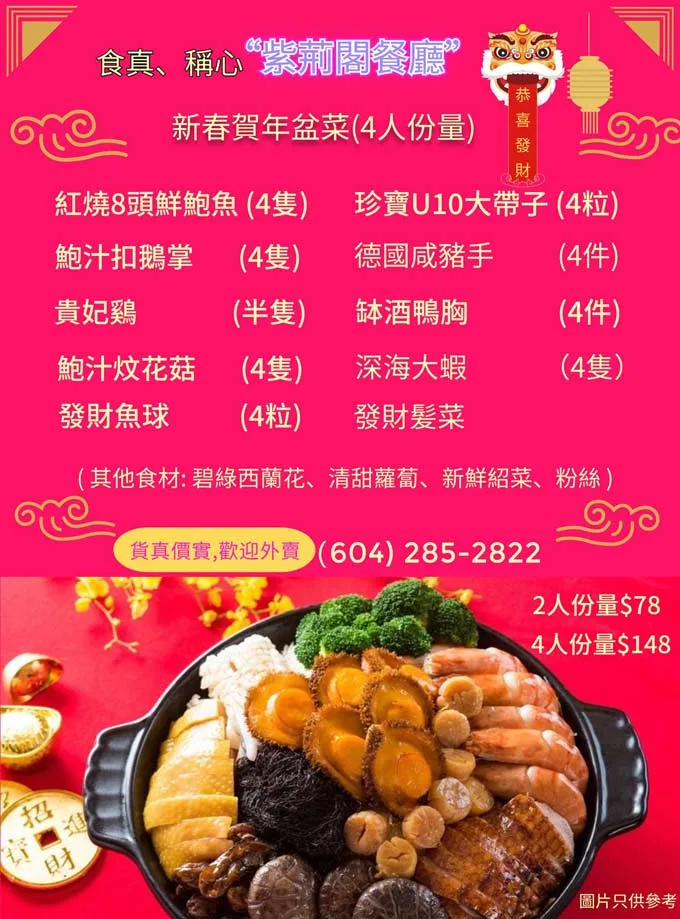 The Boss Bakery
The Boss Bakery has the following CNY offerings: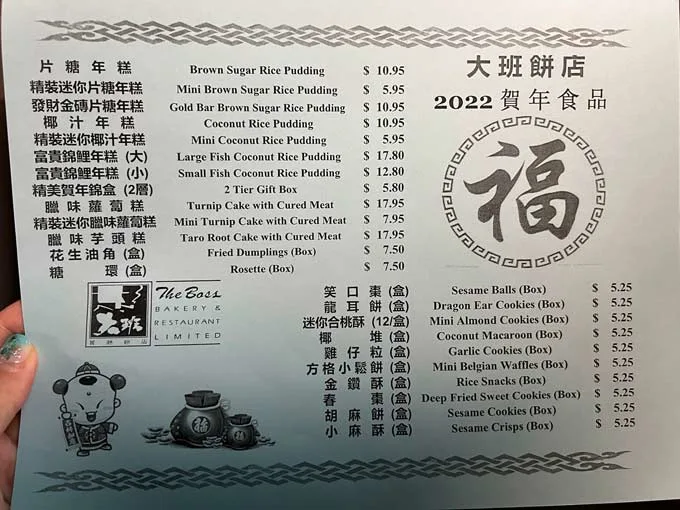 Nam Dae Moon
Nam Dae Moon (2131 – 3779 Sexsmith Rd, Richmond) is welcoming everyone in Greater Vancouver to join its Chinese New Year celebration at its Richmond, BC location from February 1 to February 3. With a same-day purchase, you will receive a lucky Red Pocket, containing a gift certificate exchangeable for a particular Nam Dae Moon product, from the super-popular Red Bean Glutinous Rice Cake to the newly launched Creamy Matcha Dango, which is valid till March 31, 2022.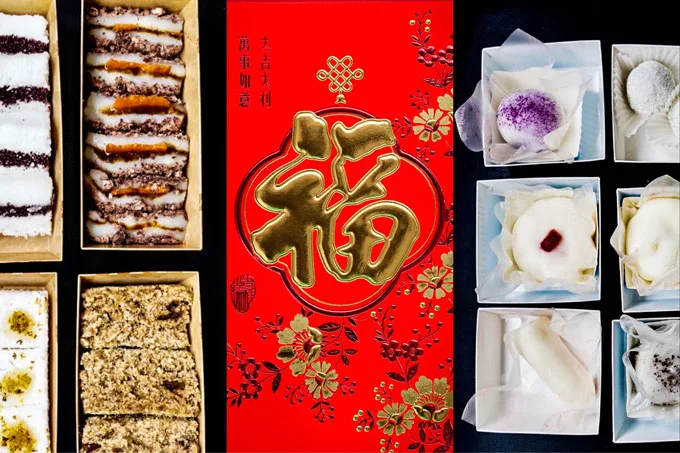 Fanny Bay Oysters
Chef Tommy of Fanny Bay Oysters has created delicious food feature as well as a cocktail to celebrate Lunar New Year. These two features are available from Feb. 1st to 10th.
Angry Crab ($88): 1 and a half Dungeness crabs tossed in Chef Tommy's own blend of spicy of goodness with ginger and chilies as the base, on top of a bed of veggies. Chef Tommy is pulling from a ton of different Asian styles of cooking crab to complete this beautiful dish. It serves 3 to 4 people as a main course (only available for dine in).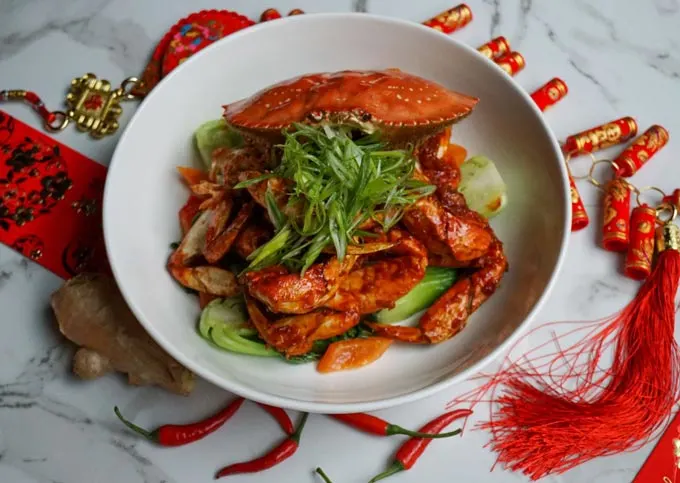 The Tiger Bomb Cocktail ($15): Play on it being the year of the tiger and "tiger balm" as it's a super refreshing drink with a bit of a kick. It's an Aviation gin-based cocktail that incorporates a ginger syrup and Chinese five-spice!
Pre-order and pick up Fanny Bay's special Hot Pot Seafood Pack from their market: this includes 1lb manila clams, 1pc geoduck (approx. 1lb), 16oz oyster meat, half a pound of scallops and half a pound of prawns all ready to cook up in your Lunar New Year Hot Pot for $88.88
Glowbal Restaurant
On February 1st, Glowbal will be handing out traditional red envelopes to each guest that dines with us. In each of these envelopes, will be a gift. Gifts will include complimentary bubbles, dessert, chef amuse, brunch entree and more! As well as one lucky winner will receive the envelope that has a $200 gift card to use for a future visit.
Ipoh Malay Cuisine 怡堡马来美食
Ipoh Malay Cuisine 怡堡马来美食 is offering home-style Chinese New Year Malaysian Snacks.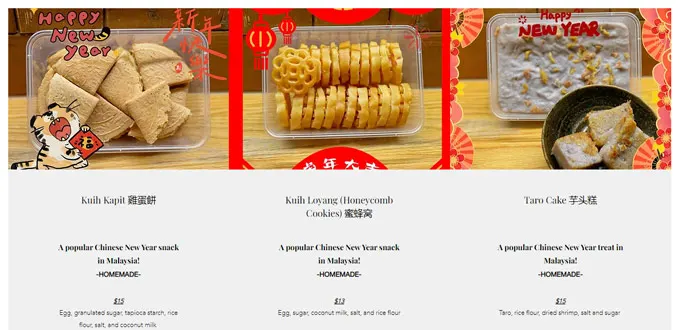 小酒馆 Tasty BBQ
小酒馆 Tasty BBQ in Richmond is offering 盆菜 for 6 people.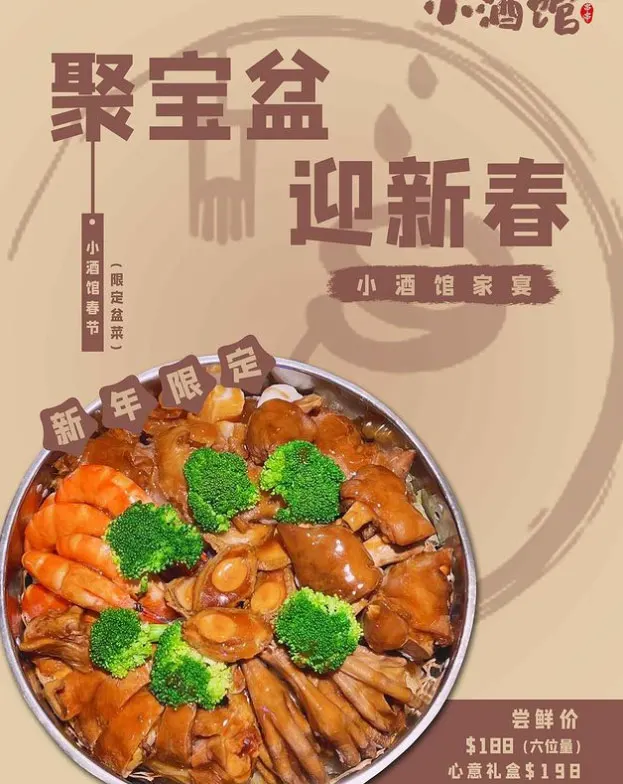 Holts Cafe
Holts Cafe is offering a Lunar New Year Afternoon Tea Pop-Up from January 26 – February 7.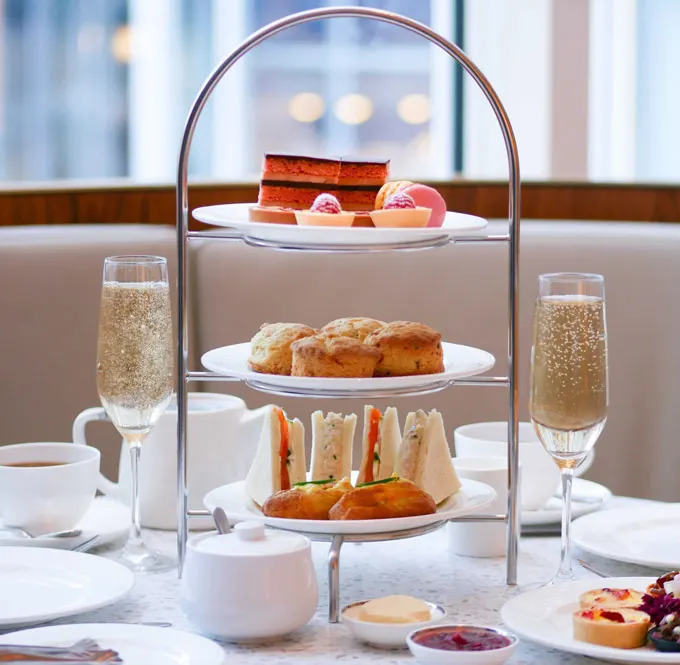 In celebration of the Lunar New Year, they're offering a delightful afternoon tea at Holts Café. Each of our esteemed chefs has built a menu filled with both sweet and savoury elements, matching Asian flavours with local produce, for a tea experience that promises to be exceptional.
Each menu is perfect to enjoy with your loved ones and is available as takeout or dine-in at Vancouver, from 2 – 4 PM daily.
Gift Ideas for Chinese New Year Vancouver 2022
Buttermere
Buttermere is offering a Tiger Gift Box ($68), which includes: Snowflake crisps, Black sesame brittle, Koi candies and Pork floss rice krispies. Available for order now until January 28th for pick up or delivery starting January 26th.
Buttermere is also offering a Year of the Tiger cake. Available for pre-order now. Pick up & delivery from Jan 29 to Feb 2. 7" (one size only). Lemon poppy seed sponge, Osmanthus orange confit, Cointreau anglaise, Jasmine mousse.
Temper Chocolate and Pastry
Temper Chocolate and Pastry is offering "The Tiger" – available on February 1st and it is $45.
Inside the Tiger is filled with Temper's famous caramel salty chocolate balls.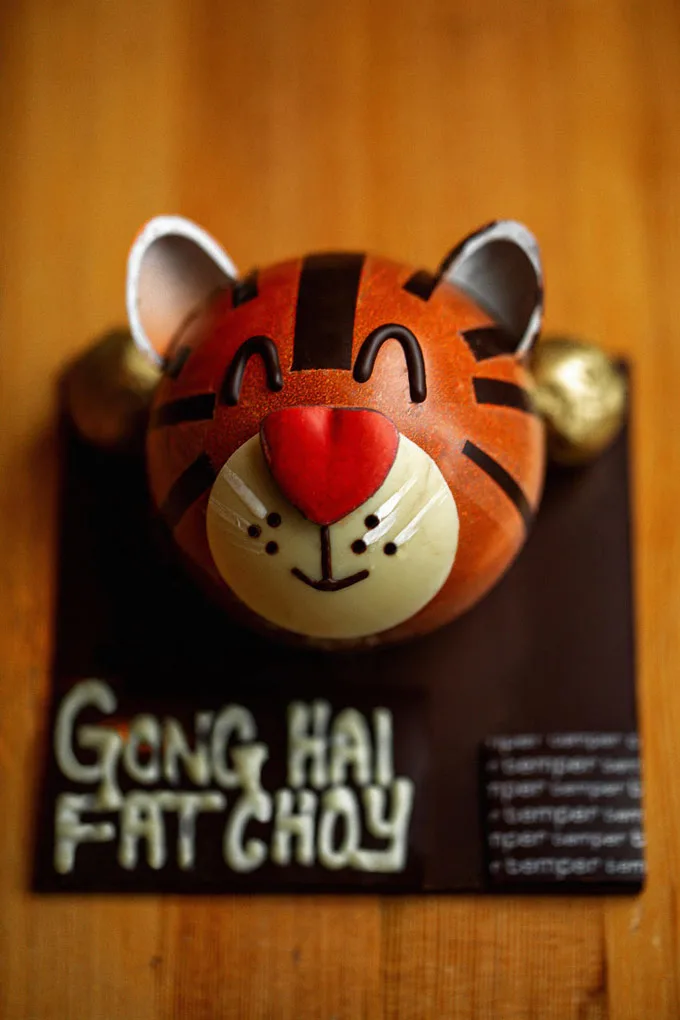 Wild Sweets By Dominique & Cindy Duby
Richmond Chocolatiers, Wild Sweets, has a Chinese New Year Chocolate Collections Gift Sets. Available from January 3 – February 6, 2021 or until supply last, which ever comes first.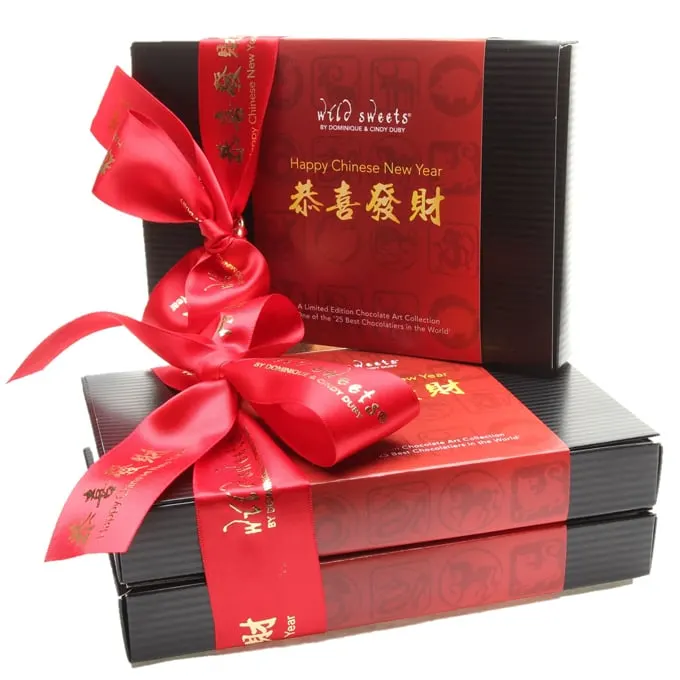 Kirin Restaurants
Kirin Restaurant is offering signature cakes and other delectable treats like Chinese Radish & Dried Scallops Pudding (savoury), Taro Root Pudding, and Water Chestnut Pudding. These are available for sale starting January 18.
Chinese New Year Cake (sweet) – $17.98
Water Chestnut Pudding (sweet) – $17.98
Chinese Radish Pudding (savory) – $19.98
Taro Root Pudding (savory) – $19.98
Black Sesame Pudding (sweet) – $19.98
Pineapple Cakes
Pineapple cakes make for great holiday gift. 3 Quarters Full Cafe (1789 Comox St, Vancouver) makes their own house-made pineapple cakes without preservatives.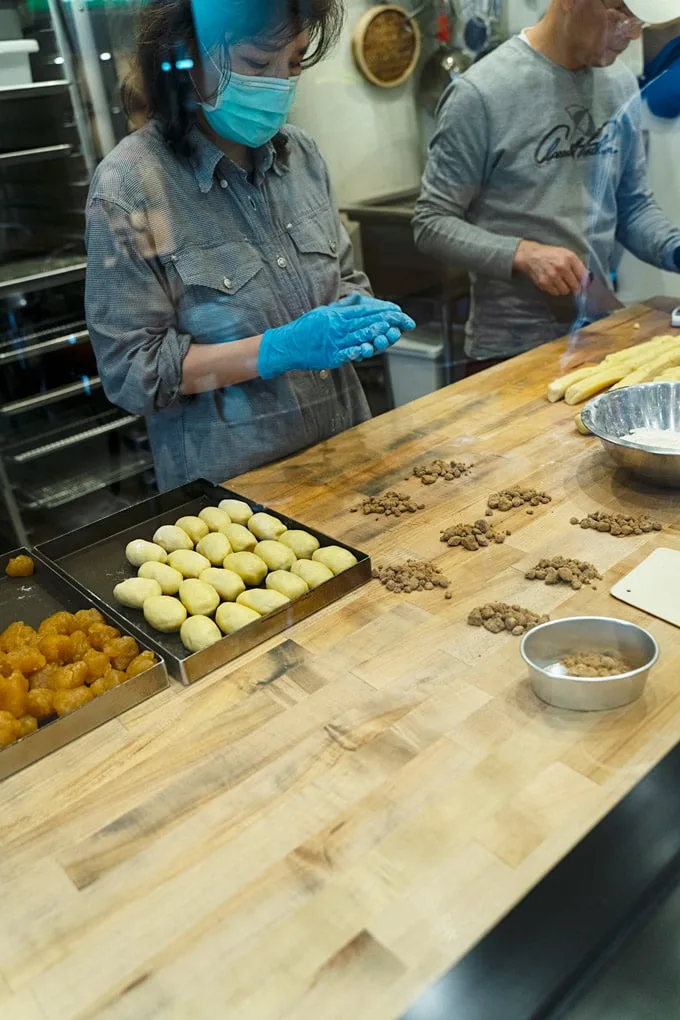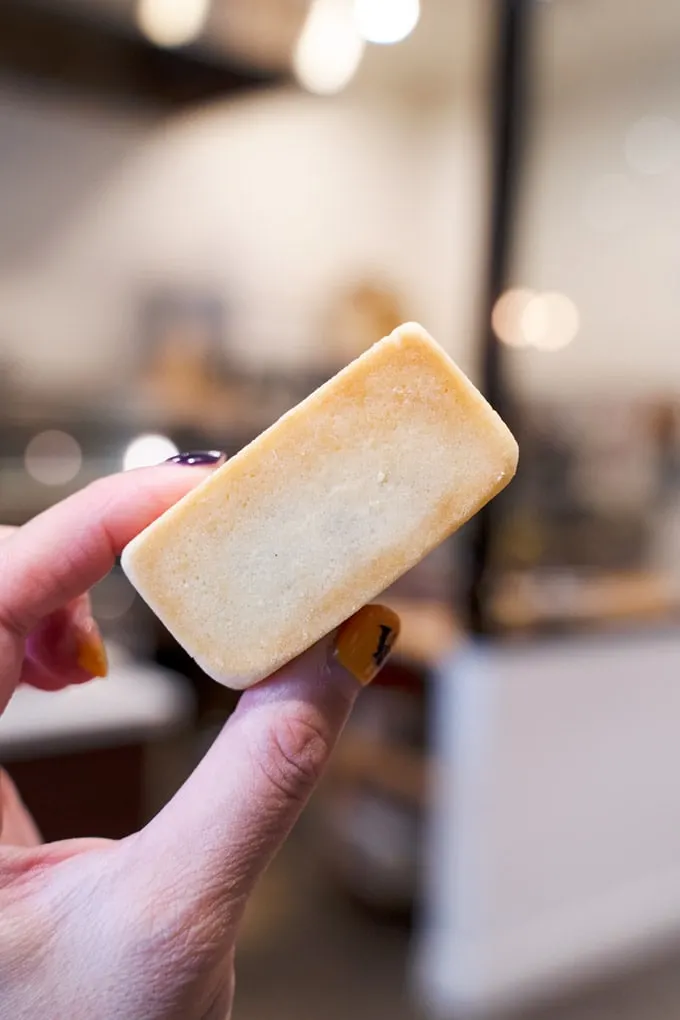 Chinese Restaurant Awards: 2022 Gift of Fortune
Since 2015, Chinese Restaurant Awards has been supporting St. Paul's Foundation's annual Feast of Fortune fundraising campaign. Inspired by last year's overwhelming success with sold-out gourmet treats at the DINING for Feast of Fortune, the Awards wishes to elevate this Lunar New Year celebration by doubling down on the campaign's Gift of Fortune, presenting not just one, but two unique gourmet gift sets to raise funds for the Providence Research Institute at the Jim Pattison Medical Centre.
Pre-ordering begins today for the two specially curated 2022 Gift of Fortune, which includes a premium tea gift set by Lam Kie Yuen Tea Co. Ltd. and the award winning White Rabbit Cookies set by Kouign Café. Both with limited quantities, these gourmet gifts are the tasteful way to kickstart the Year of the Tiger.
Gourmet Pairing with Premium Chinese Tea
A sumptuous Lunar New Year feast shall be elevated with premium tea pairing. 2022 Gift of Fortune features a beautifully packaged premium Chinese tea set in a special collaboration with Lam Kie Yuen Tea Co. Ltd, the globally prominent tea supplier based in Hong Kong since 1955. Carefully curated by the family's second generation tea master Eliza Lam, this premium tea set includes the delicate white tea – Supreme White Peony and the exceptional oolong tea Monkey Picked Tieguanyin, which are the cornerstones of tea pairing. While tea pairing is synonymous with Chinese dishes, this premium tea set can also elevate the taste and experience of other cuisines as well. Comparable to the essence of wine pairing, the value of tea pairing is a bottomless treasure, so this tea set is the perfect gift to share our love for food and raise funds for the new St. Paul's Hospital. Limited to 280 sets only, each set is $38 CAD. Pick up at or delivery from Lam Kiu Yuen's outpost in Vancouver – Aroma Tea House (8059 Granville St, Vancouver).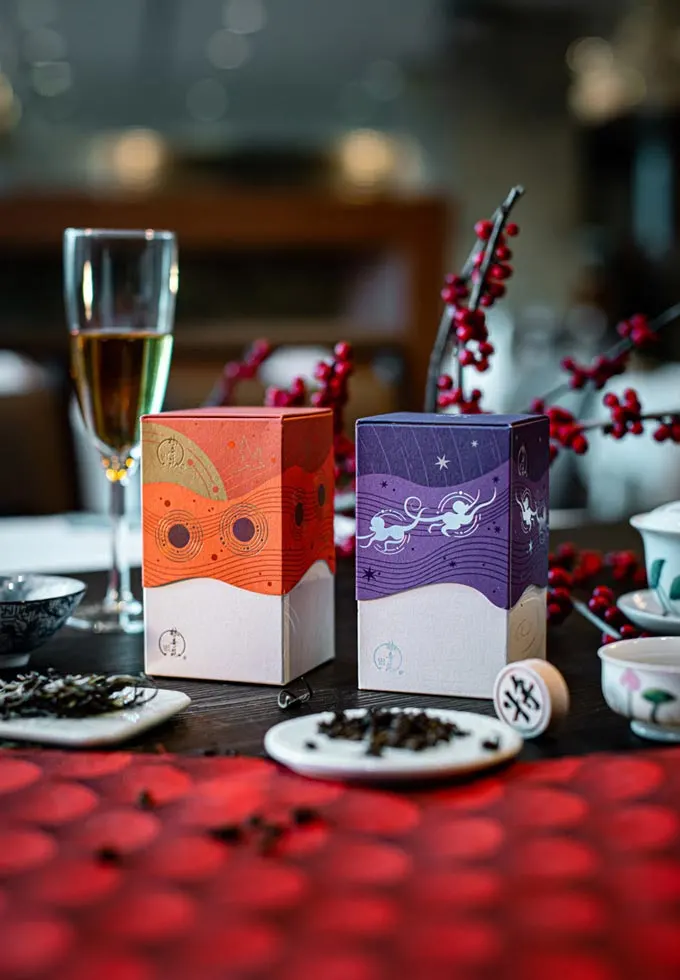 Award-Winning White Rabbit Cookies Gift Set
Just like a rabbit hopping with joy towards the Lunar New Year, 2022 Gift of Fortune's White Rabbit Cookies gift set isn't just a collaboration between Chinese Restaurant Awards and Kouign Café, but also a sweet and fulfilling way to put a smile on anyone's face. As the winner of the 2021 Critic's Choice Signature Dish Award, White Rabbit Cookie is Chef Andrew Han's homage to his childhood memories of Chinatown.
Beautifully packaged in a bamboo steamer, this White Rabbit Cookie gift set comes with 12 mini White Rabbit Cookies and 3 different kinds of dipping sauce on the side (jasmine caramel, black sesame caramel, and chrysanthemum honey), as well as a random greeting about your new year's fortune. Limited to 200 sets only, each set is $45 CAD. Pickup for the first 100 sets will be from January 29th to 30th, and the second 100 sets will be available for pickup from February 5th to 6th, right in time to celebrate everyone's birthday on the 7th day of the lunar calendar.
Little Fox Bakehouse
Little Fox Bakehouse in Richmond is offering a CNY cookie box and Tiger Macaron box.
Cocktail Features
Straight and Marrow
Available for the entire month of Feb, enjoy Bar Manager's Lunar New Year cocktail feature, Le Tigre $14 (Pernod, Cointreau, Vanilla Liqueur, orange, coconut & egg yolk), this cocktail is designed to taste like Tiger ice cream.
The Victor
From Feb 1 to 13, The Victor will be welcoming the Year of Tiger with this special cocktail, Crouching Tiger $21 (Bombay Sapphire, sake, Lillet Blanc, fresh lime juice, Yuzu and thyme syrup). A citrus forward cocktail arising from both lime and yuzu, lillet gives the cocktail slightly more weigh, thyme syrup balanced the citrus giving the cocktail a herbal note on the finish. The drink will be served with a red CNY envelope – some will contain golden chocolate coins, some will have a prize.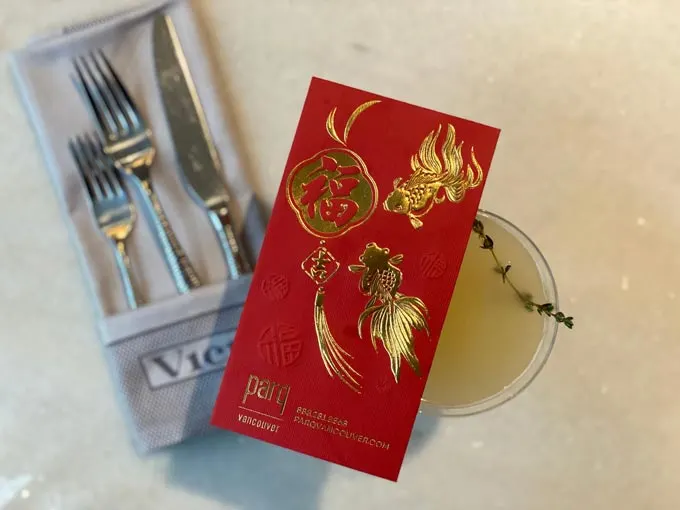 Honey Salt
Head over to Honey Salt and celebrate the Year of Tiger with their cocktail feature: Sloe Tiger for $16 (sloe gin, Aperol, peach syrup, fresh lemon juice served with a cranberry sugar rim. This is available from February 1 to 13.
Gotham Steakhouse and Bar
Welcome the new year with Gotham's cocktail feature, Tiger Claw $18 (Ketel One Peach & Orange Vodka, Averna, fresh lemon juice, simple syrup, egg white, butterfly pea flower bitters and butterfly pea flower dust).
Hy's Steakhouse and Cocktail Bar
Celebrate the Year of Tiger with Hy's cocktail feature, Laohu $17 (Canadian Club 'Chairman's Select 100% rye, Cointreau, Licor 43, fresh orange juice and orange bitters).
Chinese New Year Dinner at Home
Here are some ideas on how to prepare a Chinese New Year Dinner at home.
T&T
T&T is offering pre-orders of festive dishes including various combos and specialty dishes.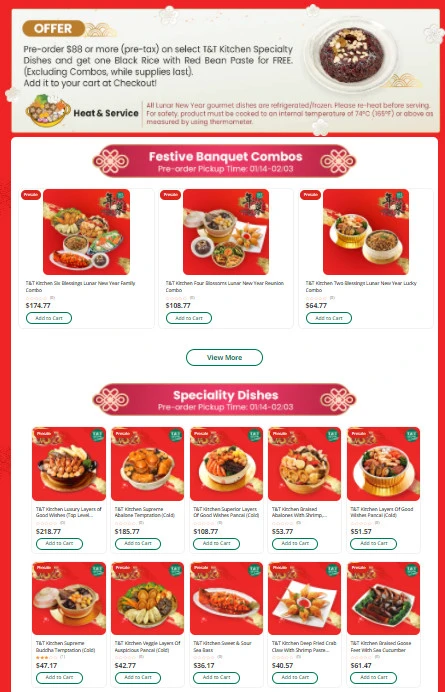 Grocery Shopping in Vancouver Chinatown
Vancouver Chinatown shops offer many items at lower prices compared to elsewhere. There are shops that offer produce, meat and BBQ, live seafood, houseware and more. Check out my guide on where to shop in Vancouver Chinatown.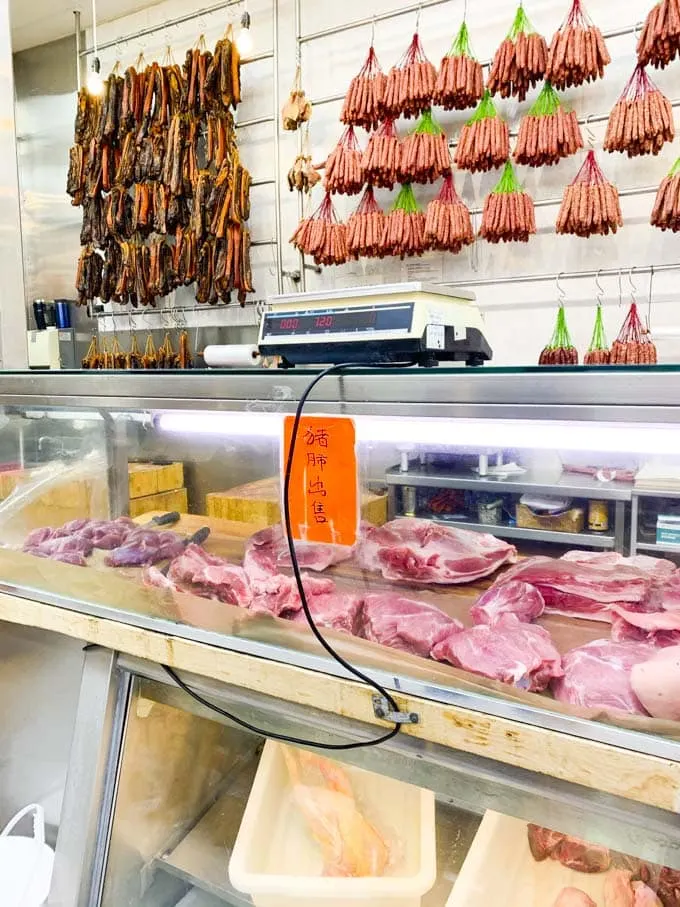 What you need for a hot pot at home
Many people opt for a simple but comforting hot pot at home to celebrate Chinese New Year. Check out my guide on where to buy hot pot ingredients in Vancouver for tip and ideas.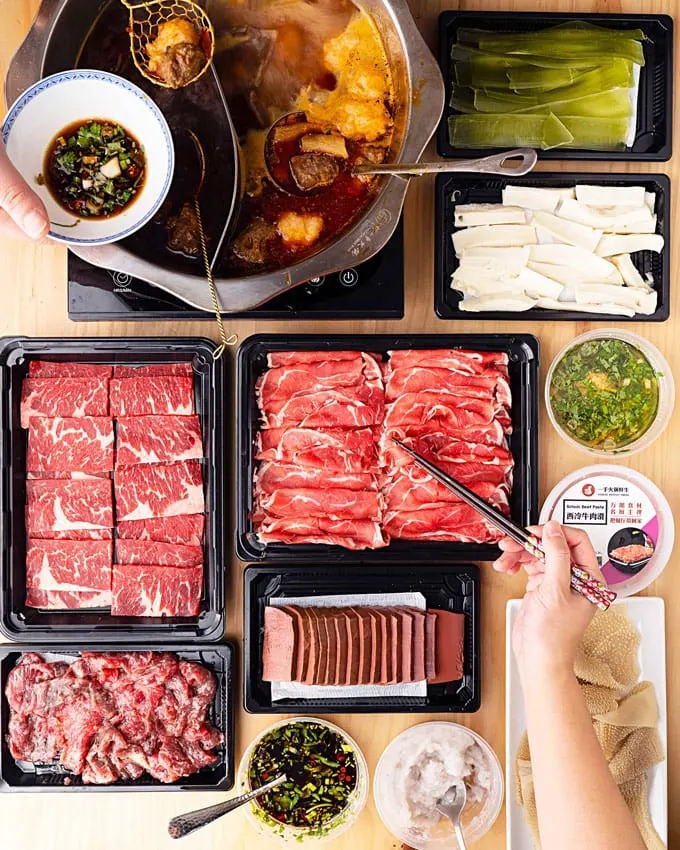 Party Platters
Party trays can be ordered from the following restaurants:
Western Lake (4989 Victoria Drive Vancouver, BC)
Peaceful Restaurant (Multiple locations: Broadway, Mount Pleasant, Kitsilano, Seymour, Robson, and Kingsway)
T&T Supermarket (various locations, check out the flyer section to see what they are offering)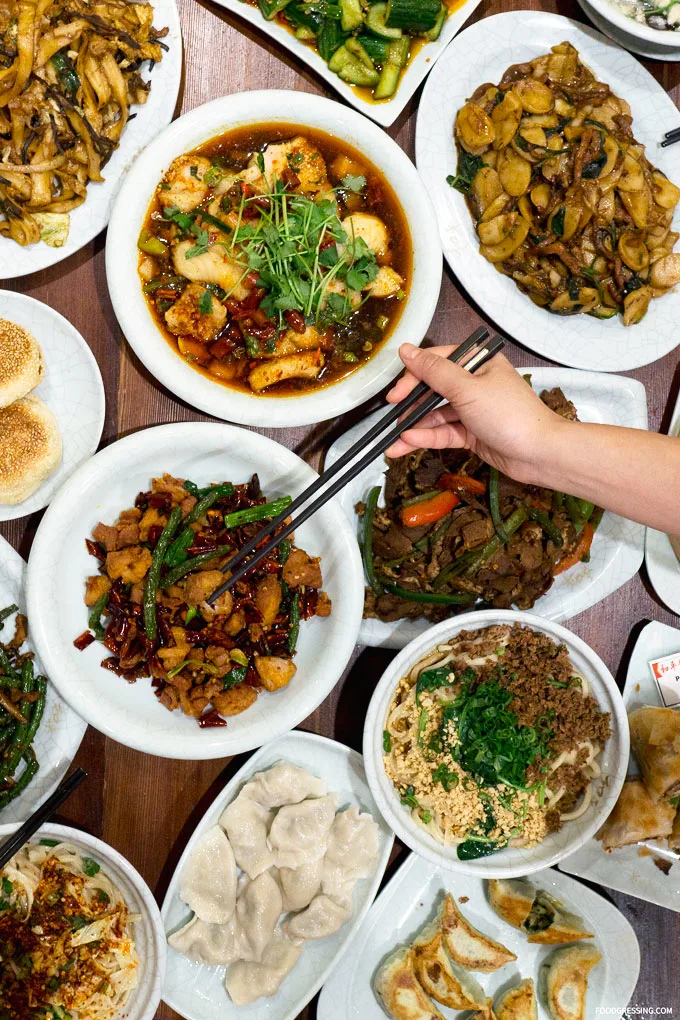 Frozen Dim Sum and Dumplings in Vancouver
Frozen dumplings come in handy at time of the year. Here's a look at where to buy frozen dumplings in Vancouver.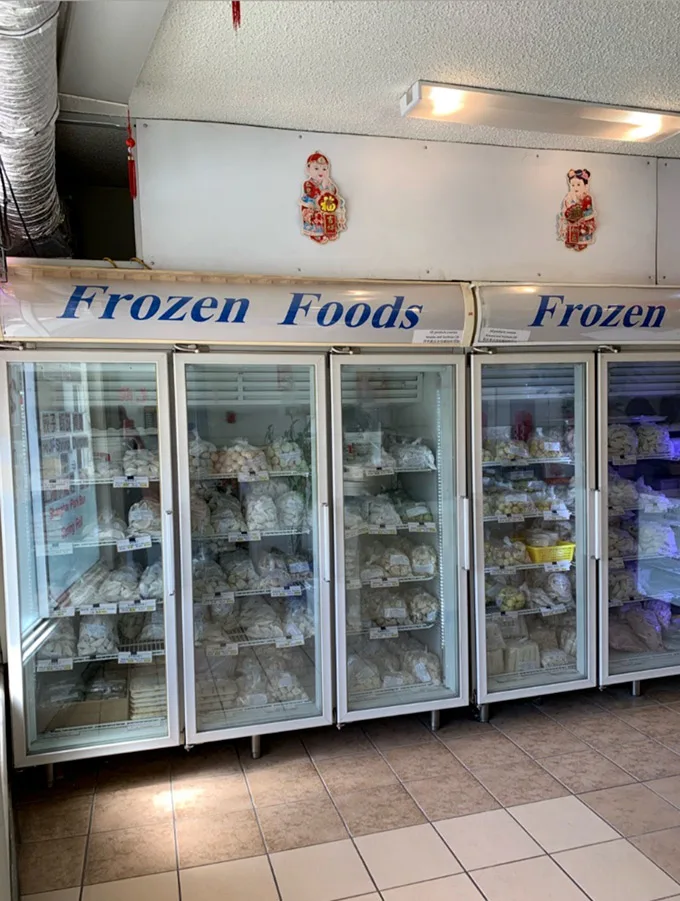 Best Dim Sum Takeout
Here are my recommendations on where to get the best dim sum takeout in Metro Vancouver based on ease of ordering and receiving, quality and taste of food, takeout options available and packaging of the food.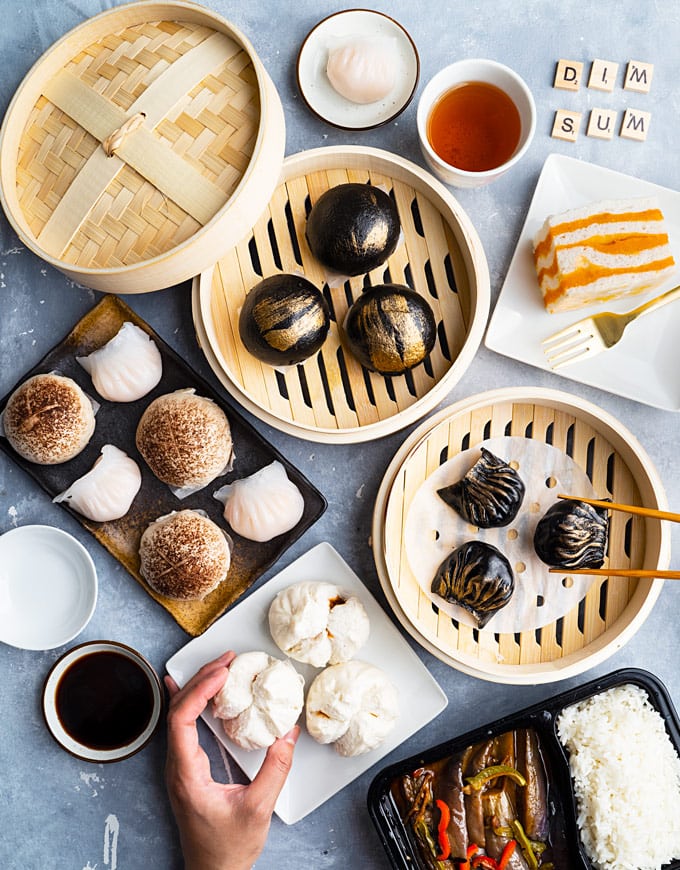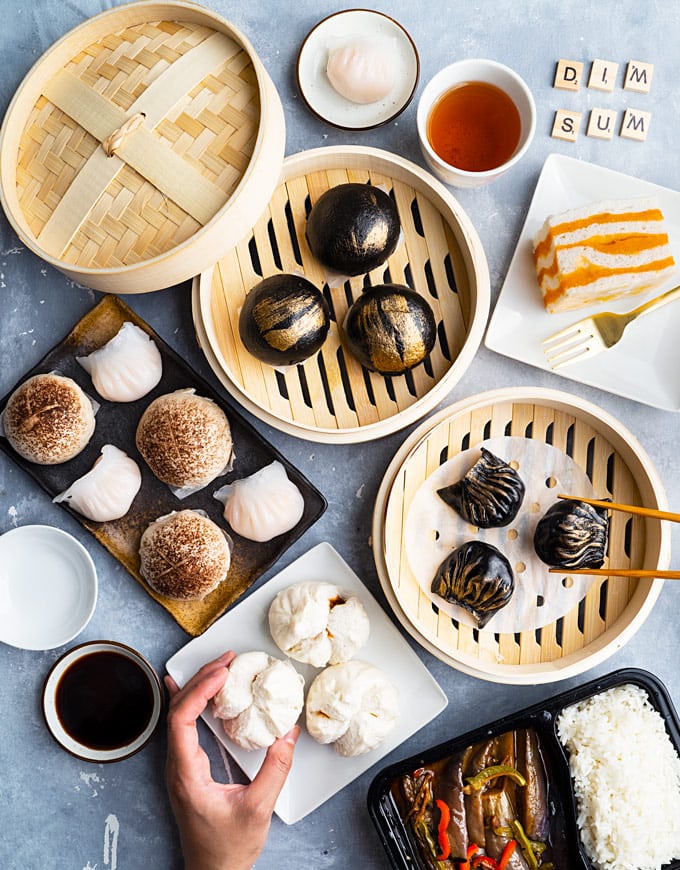 Chinese New Year Recipes
Check out my recipe on preparing Chinese Spicy Red Braised Pork Belly.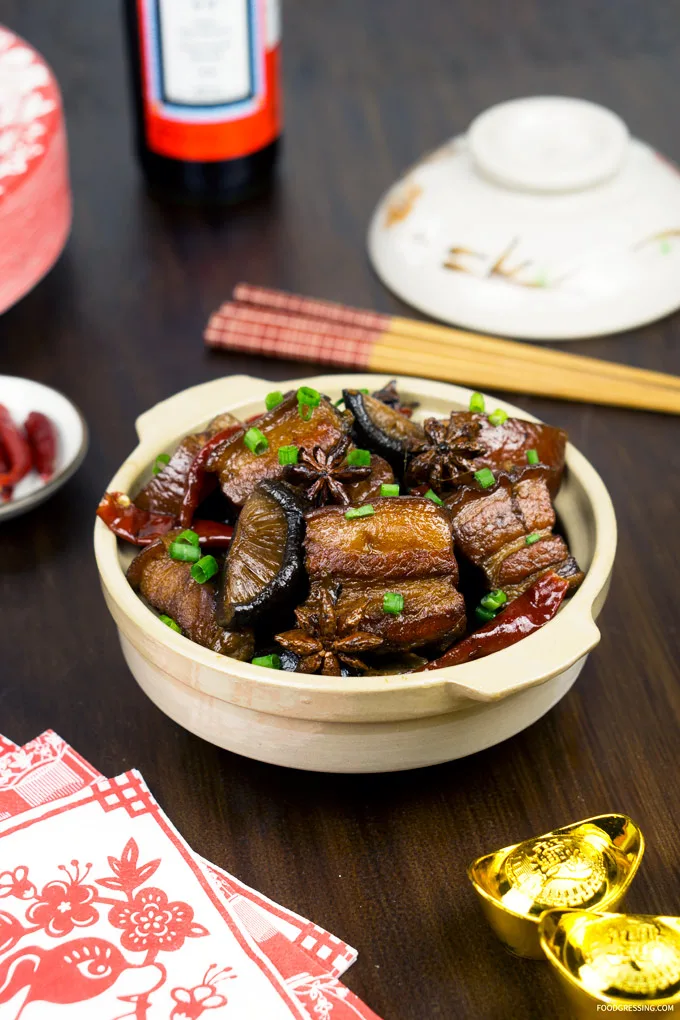 Sesame Bok Choy is a simple, healthy side dish to complement your Chinese New Year feast.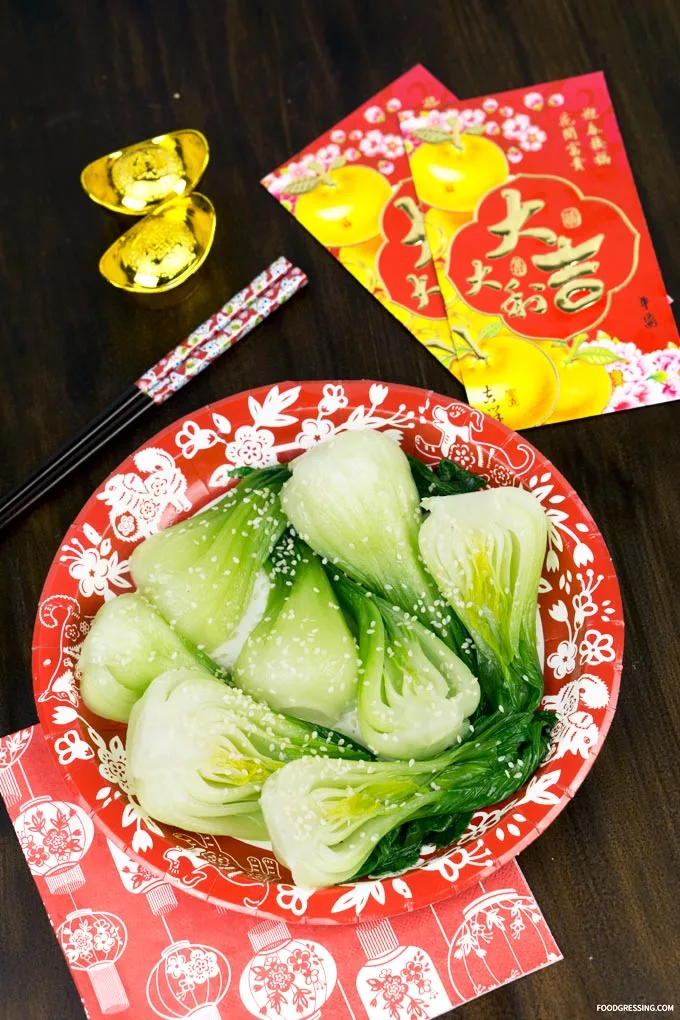 For a Chinese New Year breakfast, here is my recipe on Homemade Chinese Doughnuts, otherwise known as youtiao or 油条.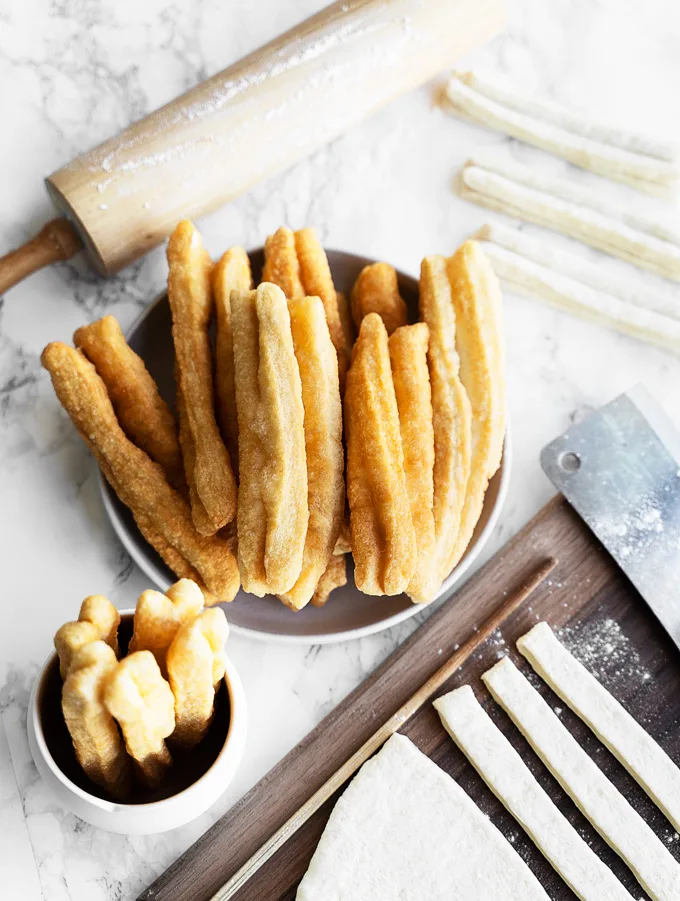 This simple Fried Turnip Cake in XO Sauce recipe by Executive Chef Cao Can Hui of Dynasty Seafood Restaurant makes a great addition to your Lunar New Year at-home feast.
Things to Do in Metro Vancouver
While public celebrations have been cancelled, here are somethings you can do to enjoy the Lunar New Year spirit.
Aberdeen Centre
Aberdeen Centre in Richmond usually has some displays and festive programming.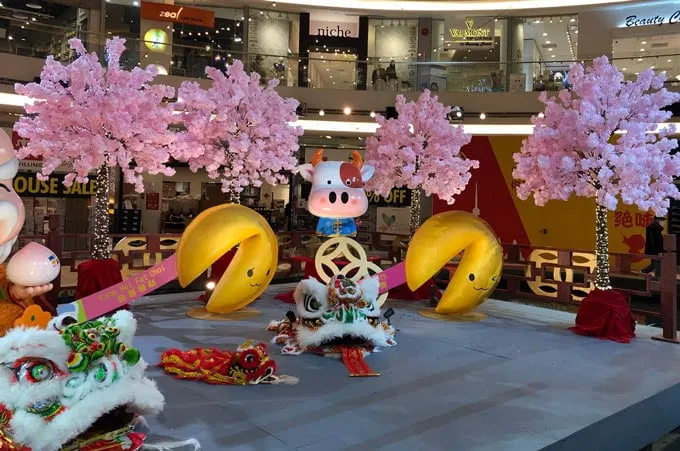 The Lantern City
There will be two lantern exhibitions by The Lantern City showcasing lanterns created by local artists.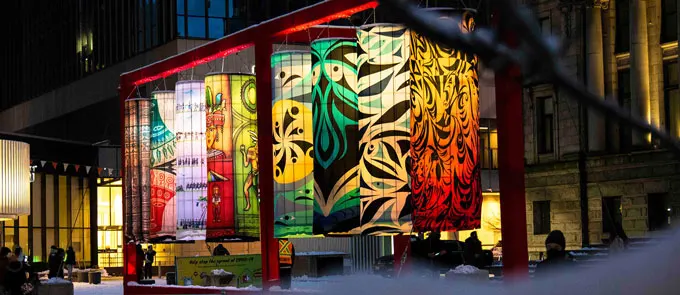 North of Vancouver Art Gallery (January 27 – February 9) and Granville Island (January 29 – February 21).
Lunar Fest Vancouver
Check lunarfest.org and lunarfestvancouver.ca for Lunar New Year programming in Vancouver.
Dr. Sun Yat-Sen Classical Chinese Garden
Dr. Sun Yat-Sen Classical Chinese Garden is a popular spot to visit during the Lunar New Year and they usually offer special programming.
Go on a Dumpling Crawl: Richmond's Dumpling Trail
While it isn't a literal trail of dumplings – as deliciously amazing as that would be – the Dumpling Trail is a collection of restaurants serving up some of the most delectable dumplings in Richmond. Go on a self-guided Dumpling Crawl.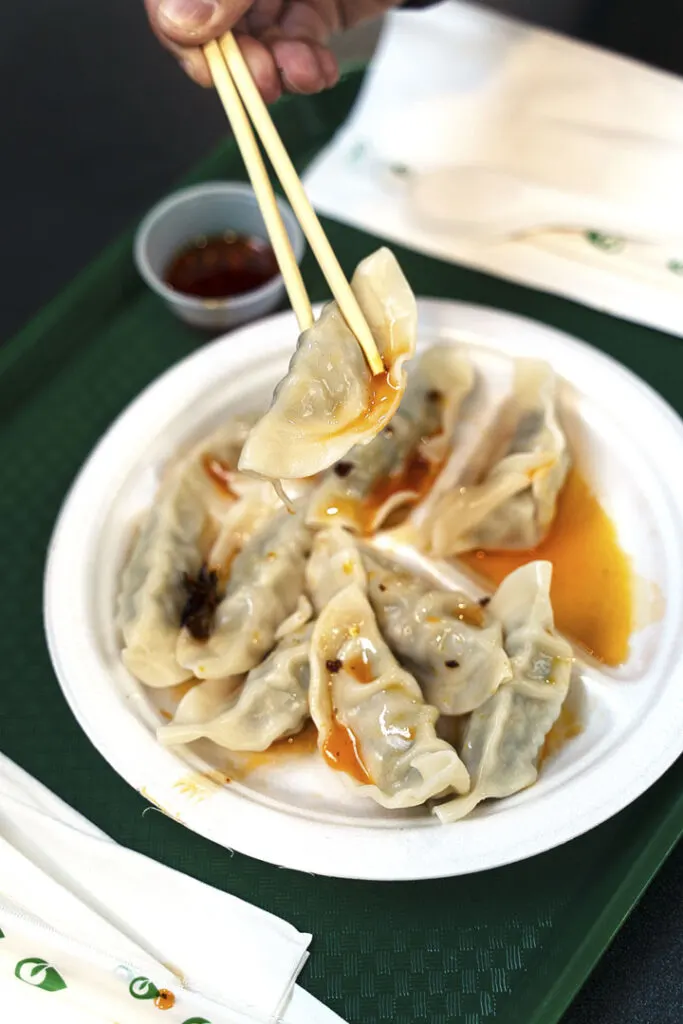 Pick up Chinese New Year decorations
Many Asian supermarkets will have Chinese New Year decorations like door couplets, paper cuttings, lanterns and more.
International Buddhist Temple Visit
Many visitors stop by the International Buddhist Temple around New Year's time to pray for a prosperous year ahead. Please visit their site for information on hours and safety protocols for Chinese New Year Vancouver 2021.
Location: 160 Steveston Hwy., Richmond, BC
Website: buddhisttemple.ca
Here are a few other things that are happening in Vancouver during the Lunar New Year period.
Dine Out Vancouver 2022
Vancouver's much anticipated annual food and drink festival, Dine Out Vancouver 2022, will be returning January 14 – January 31, 2022.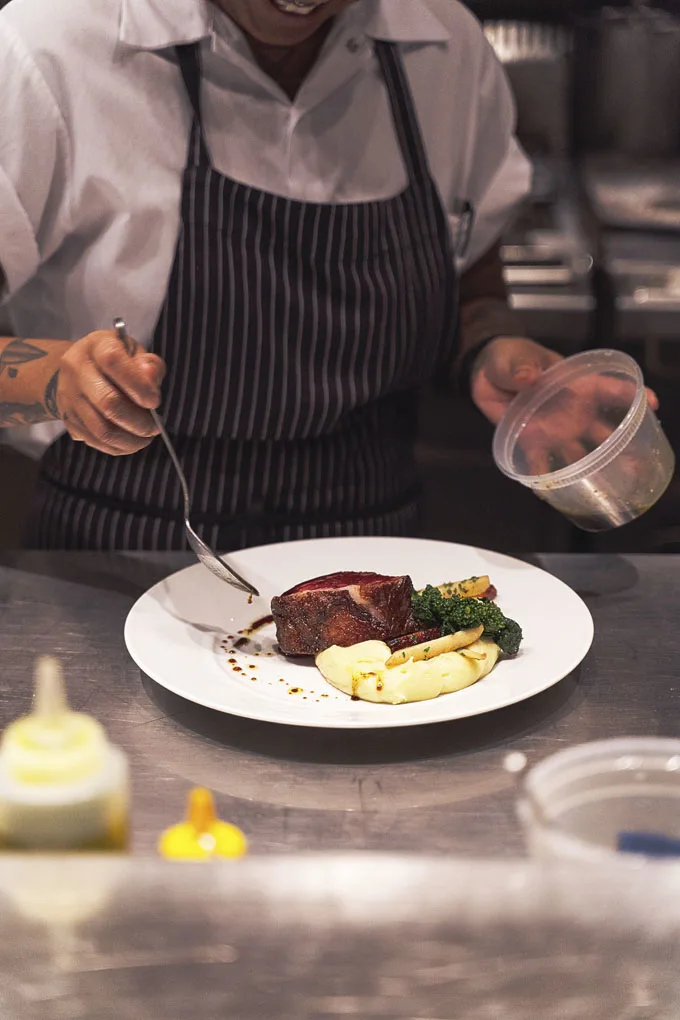 Hot Chocolate Festival 2022
Hot Chocolate Festival 2022 makes it return January 15 – February 14, 2022.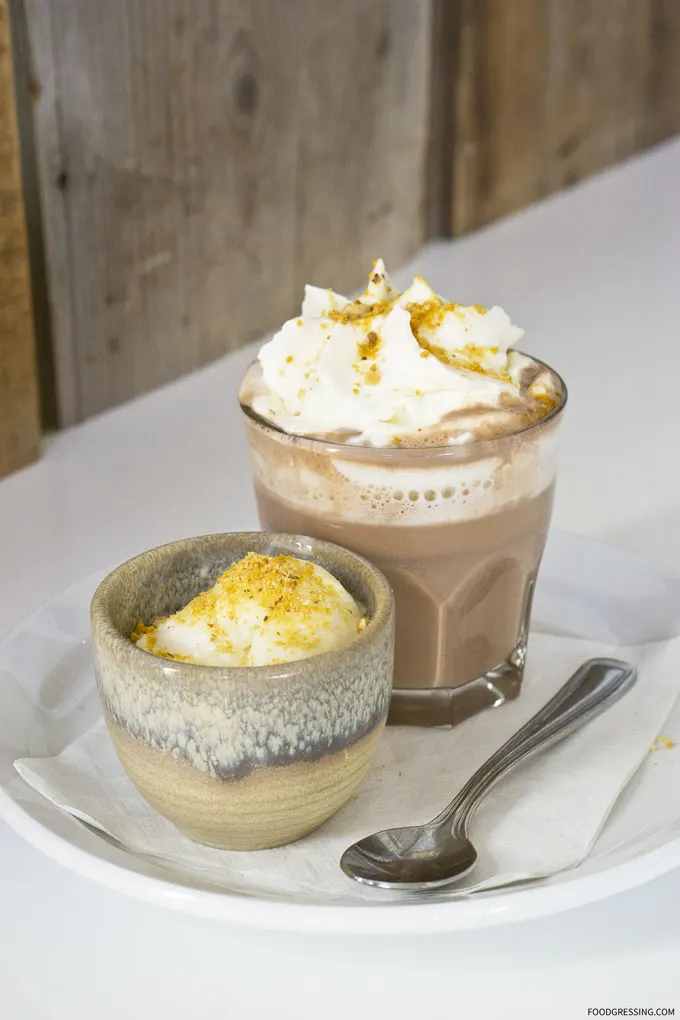 Chinese New Year Free Printables for Kids
I'm offering FREE Chinese New Year printables to help kids learn about Chinese New Year (and to keep them busy!). You'll find activity sheets, colourings pages, bing and more.