Chinese New Year 2023 takes place Sunday, January 22 and this is the Year of the Rabbit.
Here are a few ideas on how to teach kids about Chinese New Year and some FREE Chinese New Year printables to help them learn (and to keep them busy!)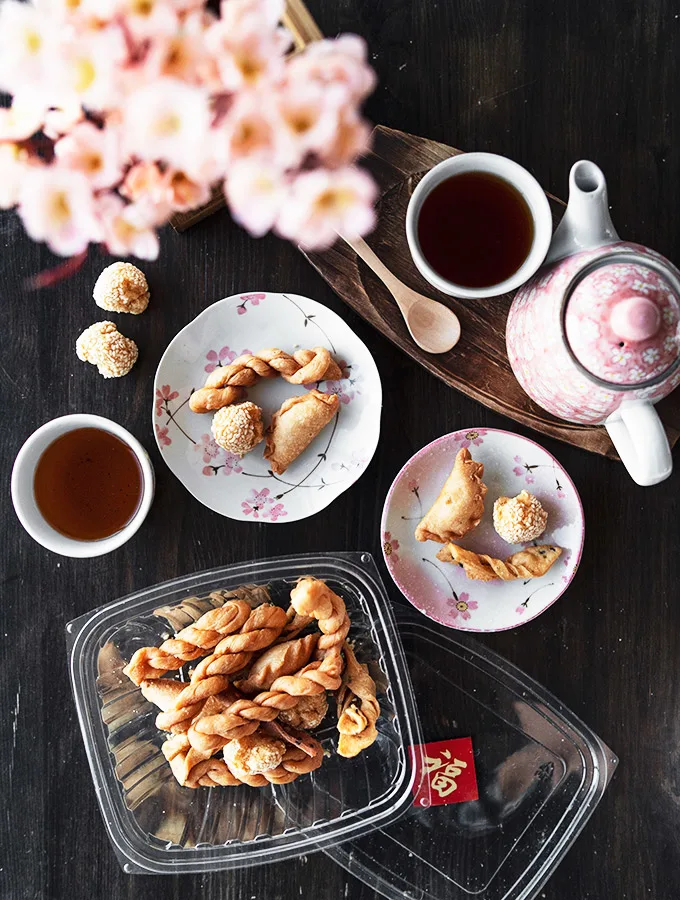 Chinese New Year Dates
The official Chinese New Year period lasts 7 days starting from New Year's Eve to the 6th day of the 1st month of the lunar calendar.
Chinese New Year Animals
2023: Rabbit
2024: Dragon
2025: Snake
2026: Horse
2027: Goat
2028: Monkey
2029: Rooster
2030: Dog
2031: Pig
2032: Rat
2033: Ox
2034: Tiger
Chinese New Year Activities
The Chinese New Year is about being with your loved ones so visiting friends and family is the top activity.
Other Chinese New Year things to do include dragon and lion dances, visiting temples for blessings, letting off fireworks or firecrackers to ward off evil, cleaning your home (out with the old in with the new), and decorating your home with lucky and auspicious items.
Chinese New Year Outfits
Red is considered a lucky colour in Chinese culture, so find something red to wear!
Many people will also wear newly bought clothes to welcome the New Year.
Free Chinese New Year Printables
Below are some Chinese New Year Activity Sheets for kids that I am offering for FREE for personal, non-commercial use.
Download the files to your personal computer. Print as many copies as you would like to use.
You may not edit any of the printables, share my files with anyonhe else, store them on any website or forum, claim them as your own, or print and sell/distribute to others.
Scroll down for the download link for this set of printables.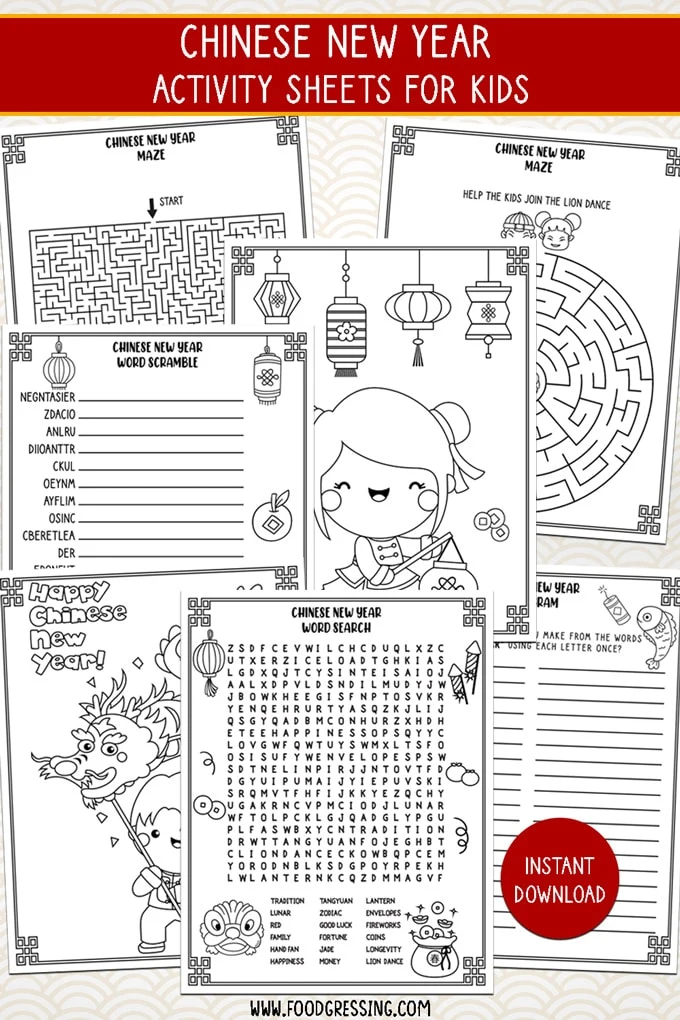 Chinese New Year Printable Activities
Help the kids join the lion dance in this Chinese New Year printable maze.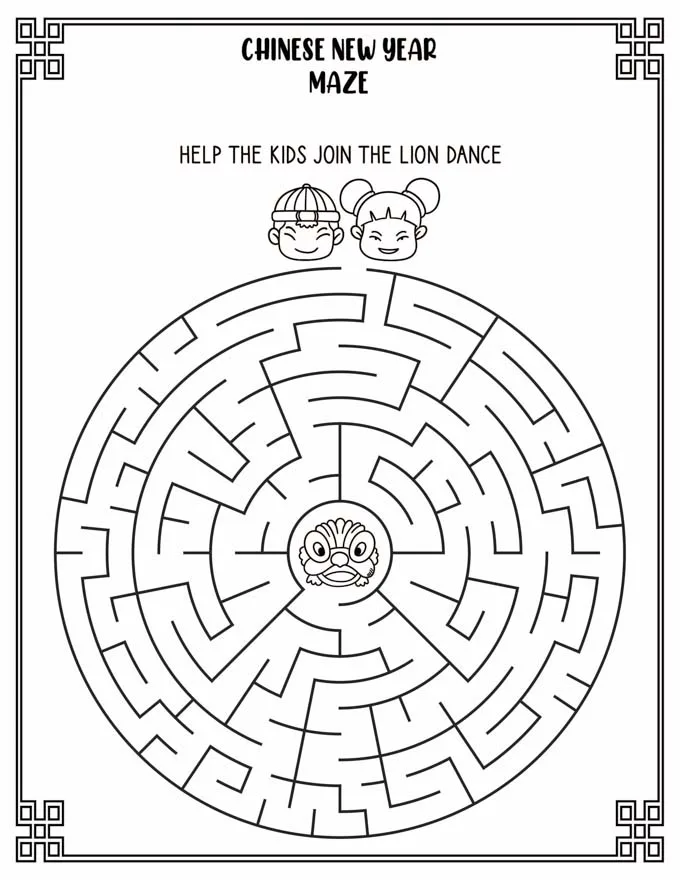 For older kids, this Chinese New Year maze is challenging but also fun!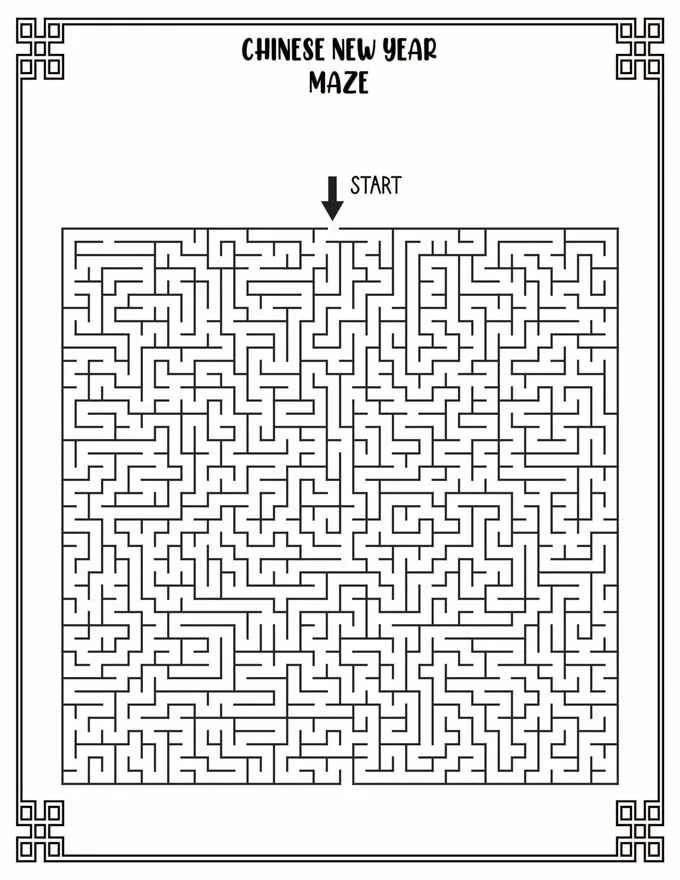 Chinese New Year Printable Colouring Pages
This Chinese New Year printable colouring page features a young girl in traditional attire and lanterns with cute designs.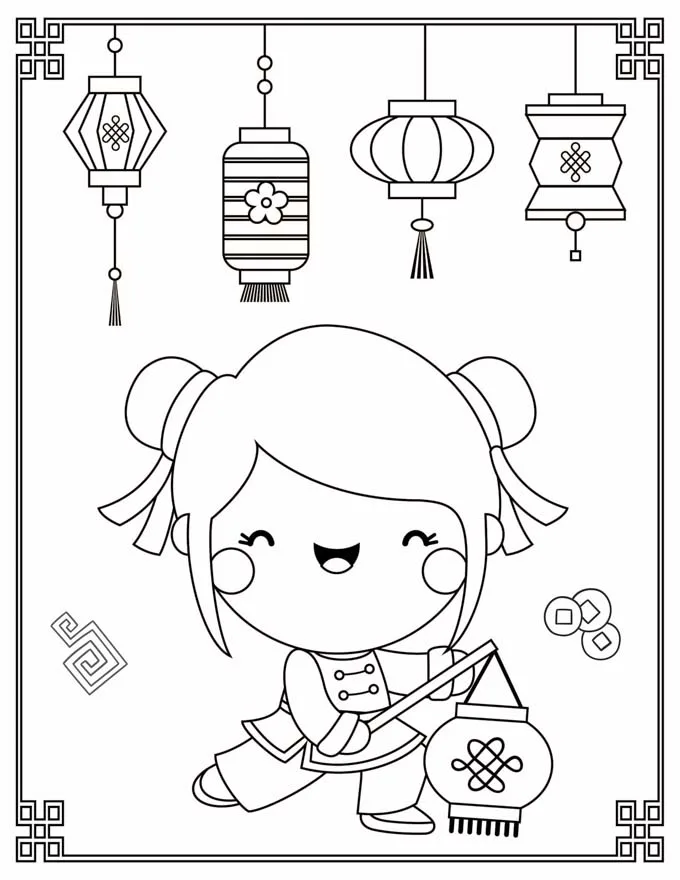 This printable features a young boy and a dragon craft.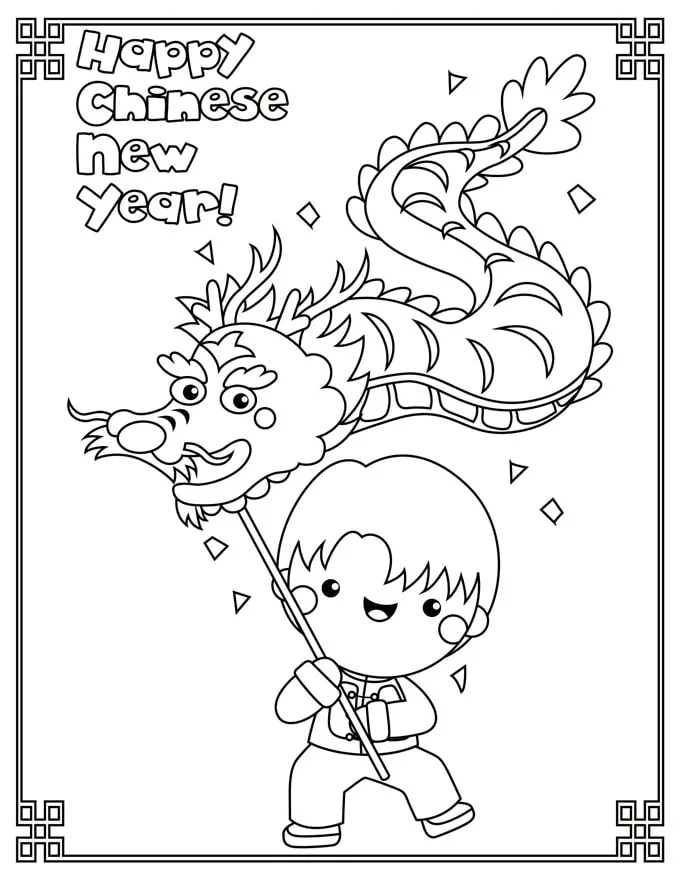 Chinese New Year Printable Activities
Here is a Happy Chinese New Year activity for kids and adults. How many words can you make from the words "Lunar New Year" using each letter once.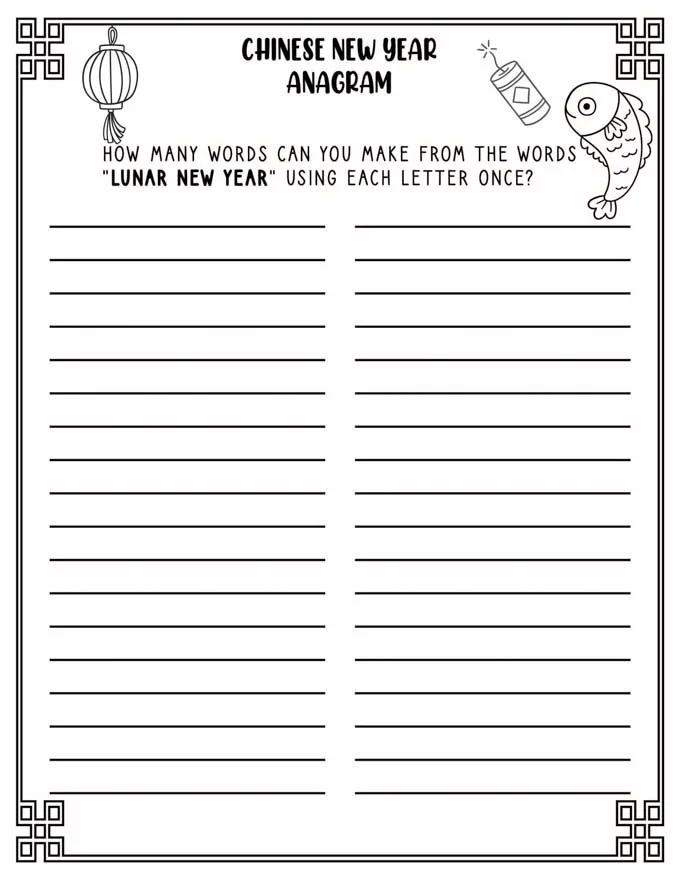 Both kids and adults will enjoy this Chinese New Year-themed word scramble.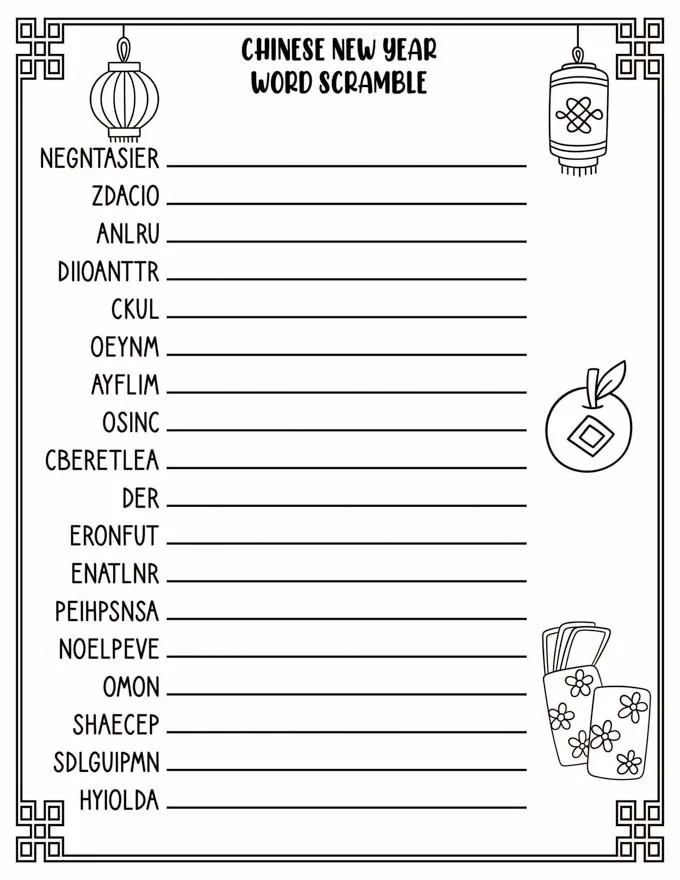 Chinese New Year Printable Word Search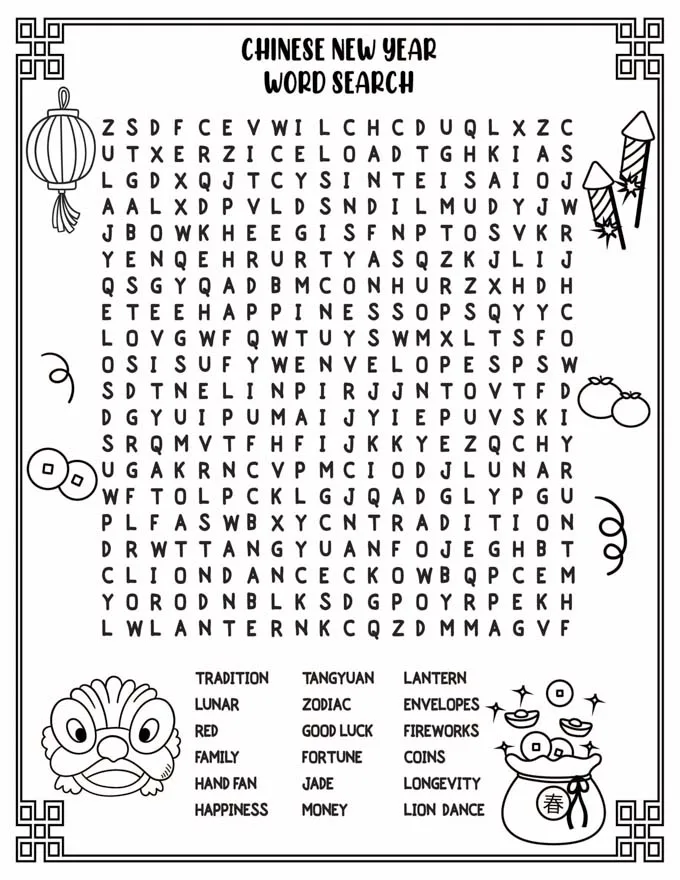 Click to download Chinese New Year Free Printables. If you enjoyed this free resource, please support the site by sharing the link to this post with your friends.
Chinese New Year Bingo Printable
Here are free printable Chinese New Year bingo cards. Each set has 8 cards. Click to download Chinese New Year Bingo Cards.