If you're looking to create a hot pot experience in your home, here's a look at where to buy hot pot ingredients (meats, vegetables, soup bases) in Metro Vancouver.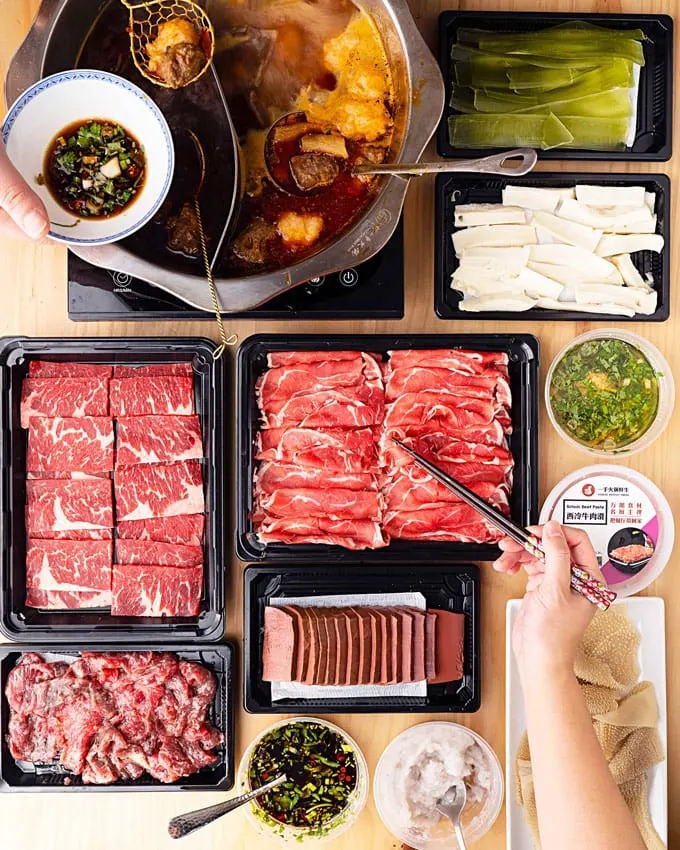 Where to Buy Hot Pot Meat, Vegetables, Soup Base in Metro Vancouver
What is Hot Pot?
If you're not familiar, hot pot is known as a Chinese soup consisting of a simmering pot of broth in which various raw meats, vegetables, noodles, tofu, seafood and dumplings are dipped and cooked into.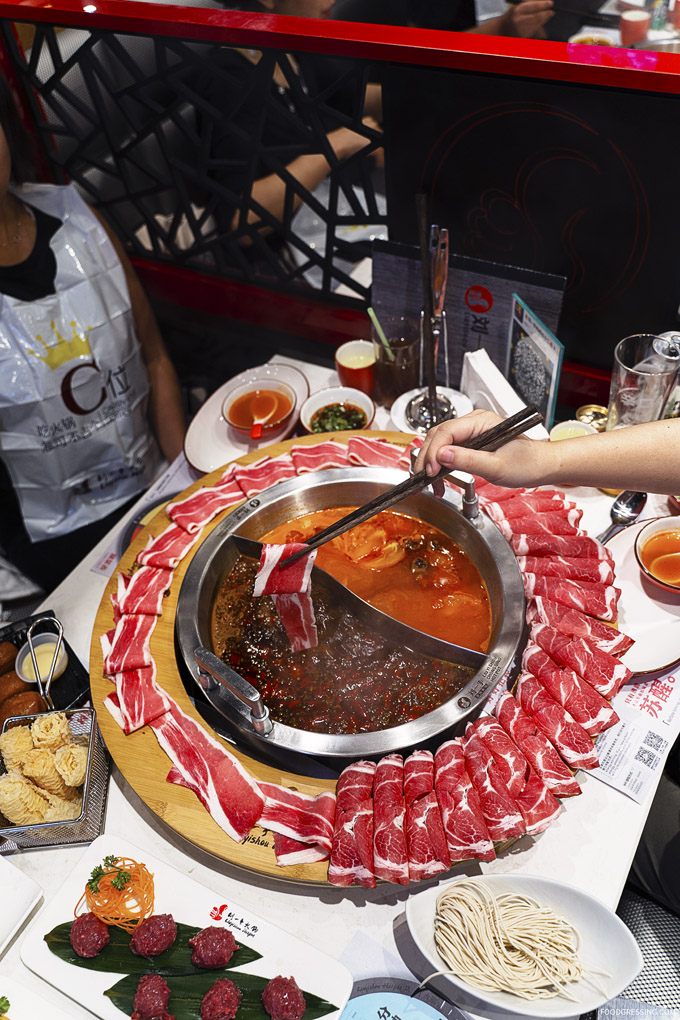 Why is Hot Pot so popular?
Hot Pot is popular because it's a fun, delicious, and engaging food experience. While hot pot can be eaten year round, it is more common to have it during the winter as a comfort food to warm up the body.
Hot pot is entirely customizable to your liking because you can choose what ingredients go into the pot and what sauces you want to pair the food with.
It's also a great dining experience with loved ones when you have a communal hot pot but it can most certainly be enjoyed individually as well.
Hot Pot Ingredients: What you need
Here's a general list of what you might want to include in your hot pot. Customize the choices based on your dietary preferences.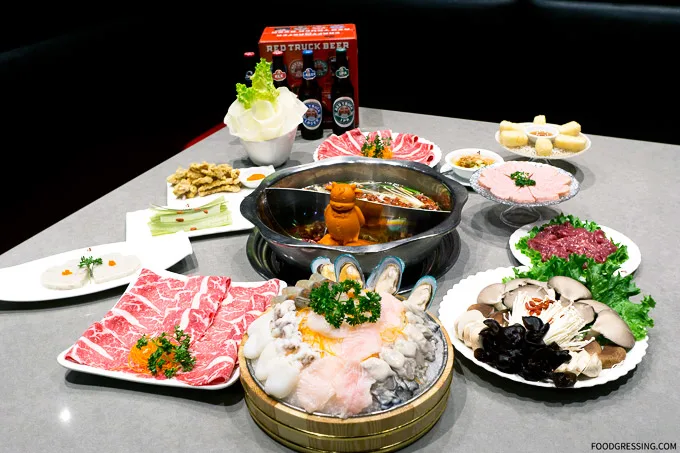 Electric or induction cooktop
Hot pot basin (with a divider to accommodate different soup base if you like)
Soup base (like spicy, mushroom, tomato, pork bone, pickled cabbage)
Meat (like sirloin beef, lamb shoulder, duck blood, beef aorta, beef tripe, chicken, beef tongue, beef meatballs)
Seafood (like prawns, scallops, oysters, fish balls, shrimp, mussels, abaloni)
Vegetables (like spinach, napa cabbage, winter melon, lotus root, yam, corn, lettuce, crown daisy, bamboo, mushrooms)
Starches (like noodles, tofu, bean curd, vermicelli)
Dipping Sauces (like dry chili, soy sauce, sesame sauce)
Chopsticks, strainers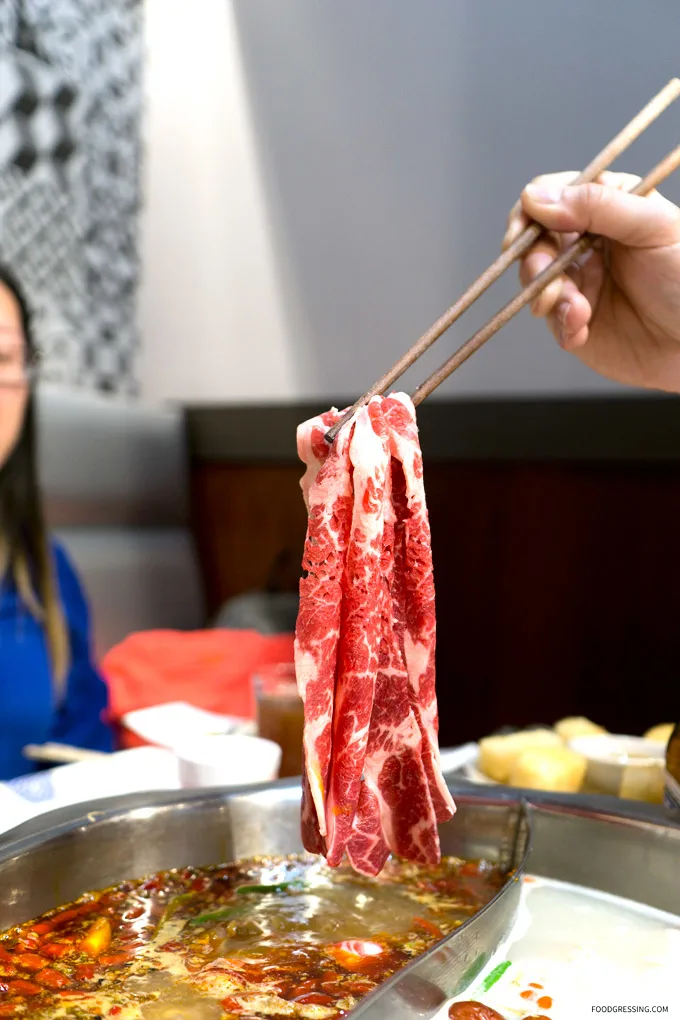 Where to Buy Hot Pot Ingredients in Metro Vancouver
Here are a few places in Metro Vancouver where you can go to get hot pot ingredients.
1. Yishou Hotpot Fresh (一手火锅鮮生)
Yishou Hotpot Fresh recently opened at Crystal Mall in Burnaby (#1105-4500 Kingsway, Burnaby, BC). The store has your needs for a DIY hot pot at home and Chinese home cooking.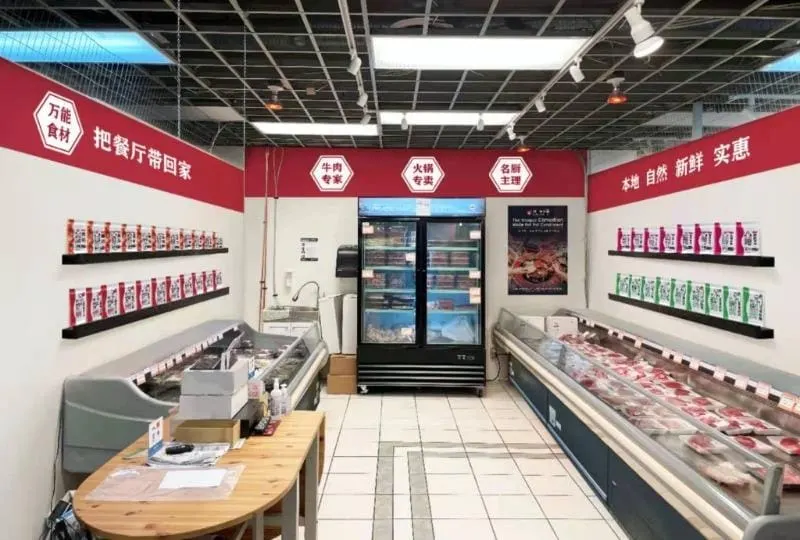 They are the retail outlet of global hot pot brand, Liuyishou Hot Pot. You will find the same ingredients that are served at their restaurants but packaged for an at-home experience.
At Yishou Hotpot Fresh, you will find their hot pot soup base packages that are 100% made in Canada.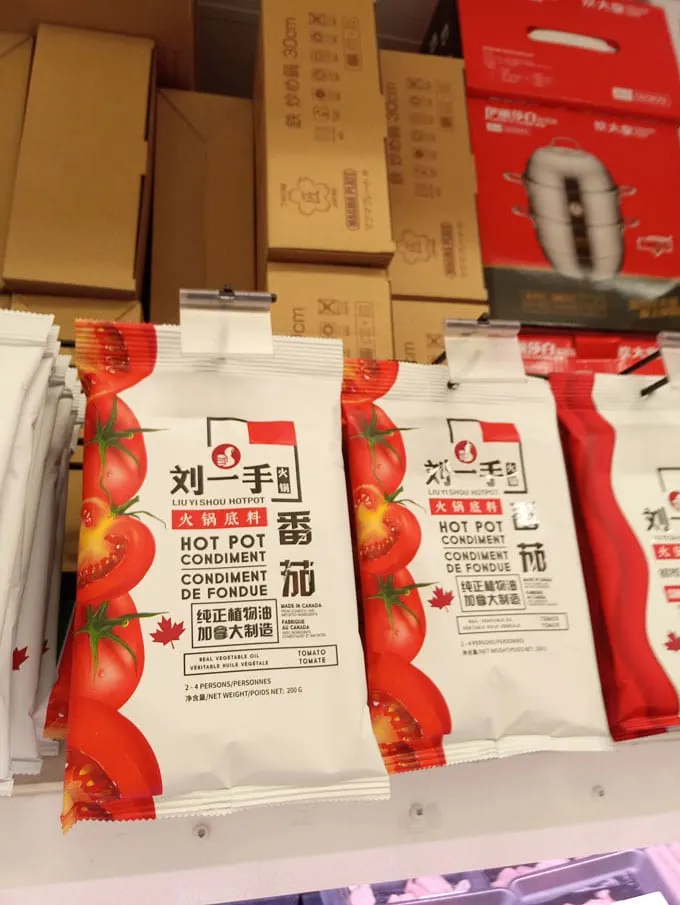 The beef products (like thinly sliced premium ribeye, marinated beef sirloin and beef sirloin paste) are made with 100% fresh premium Canadian beef.
The beef sirloin paste, made with 100% premium Canadian beef and traditional Chinese craftsmanship, is one of the most best-selling items along with the shrimp paste and the pork paste.
While they are a great place to see out hot pot meat in Vancouver, they don't sell fresh produce but you can head over to various produce vendors inside the Crystal Marketplace for that.
You can preorder ahead online at www.ishowfresh.com or buy in person.
2. Asian Supermarkets (T&T, HMart)
If you're wanting a one-stop shop for hot pot, then Asian Supermarkets (like T&T and H-Mart) will have all your needs.
You'll need to head to the meat section and find the hot pot subsection to find the hot pot meats. The soup bases are likely to be colocated with the hot pot meats.
Head over to the seafood section for fresh or frozen seafood and then pickup some vegetables in the produce area.
You can create your dipping sauces by buying the whole jars (like sesame, soy sauce, chili and so forth) or look for prepackaged sauces in the refrigerated area.
If you're needing a hot pot basin, they'll likely have it too in the cookware section.
3. Carley BBQ & Hot Pot Supplies (Vancouver Chinatown)
Carley BBQ & Hot Pot Supplies is Vancouver's Chinatown (255 E Georgia St, Vancouver). You can visit them for hot pot meat in Vancouver as well as produce at reasonable prices. You'll also be supporting a small, local business.
4. Meat Lover Mart (肉圈超市, Richmond)
Meat Lover Mart (#135 4200 No.3 Road, Richmond) is a newly opened meat-focused shop that offers hot pot and BBQ meats.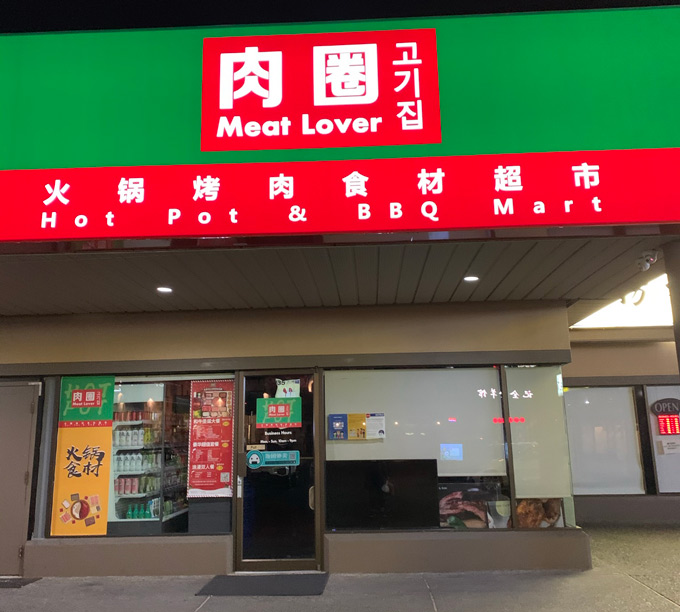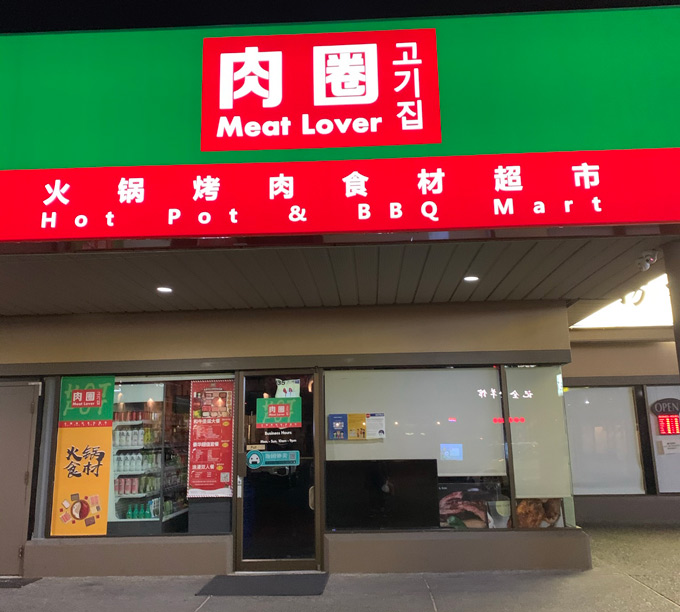 5. Hot Pot Restaurants (like Liuyishou, Haidilao)
With the pandemic, many of the hot pot restaurants have been offering more take away options so that you can enjoy hot pot at home.
That means you can buy the raw ingredients, soup base, and dipping sauces to create your hot pot at home.
Some of the hot pot restaurants that offer these are:
Liuyishou Hot Pot
Haidilao Hot Pot
The Dolar Shop
You can call them up and check as they sometimes have special discounts. Or you can check out what they have via food apps like Fantuan, Chowbus or UberEats.
6. Han Kook Meat Trading Ltd (Burnaby)
Han Kook Meat (3514 Kingsway, Vancouver) is a longtime butcher and is a great place to buy hot pot meat in Vancouver.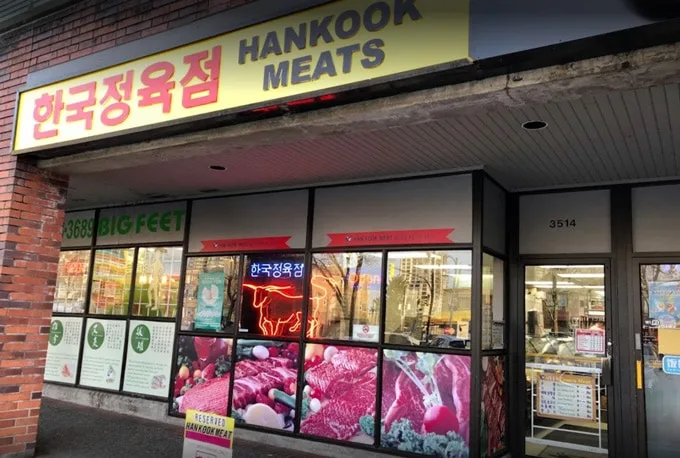 They offer quality and reasonably priced meats for hot pot and Korean BBQ.
7. Asian Public Markets
Check out the various stalls inside Crystal Mall and Richmond Public Market for hot pot meat cuts and produce.
General Hot Pot Tips
How to Choose a Hot Pot Soup Base
The experience starts with choosing a soup base. Do you like spicy or non-spicy? Some non-spicy options are Wild Mushroom, Special Pork Rib or Tomato Soup.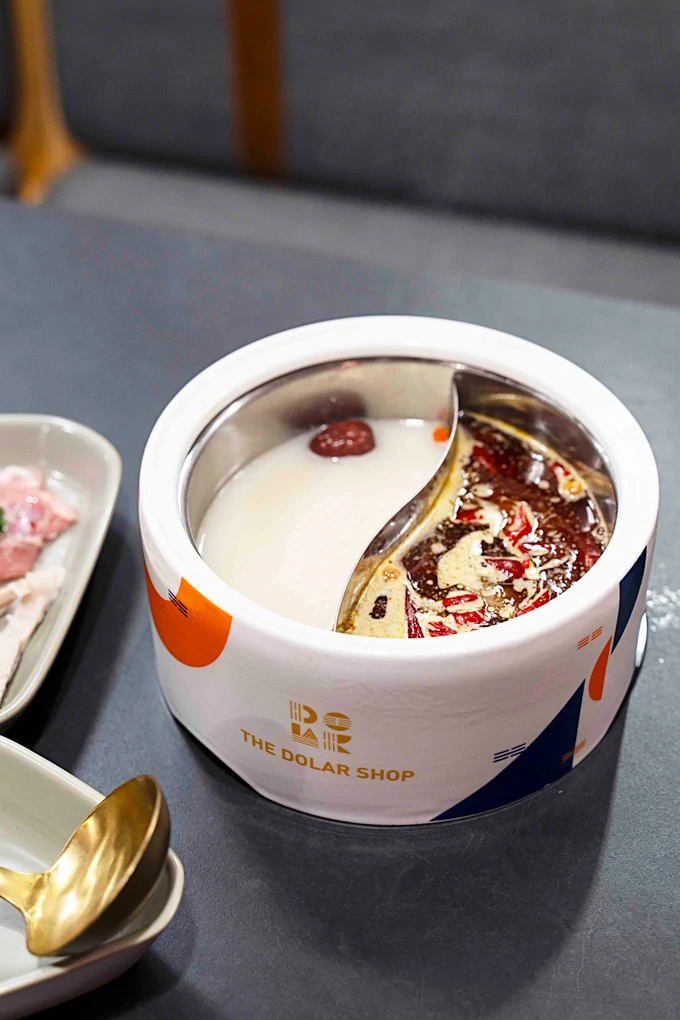 Spicy soup bases are meant to astonish all your senses with the spiciness, umami flavours and aromas.
A lot of the spicy soup bases feature a special butter, red hot chili, Sichuan peppercorn, and other exotic herbs and spices.
Hot Pot Cooking Order
There is an order to cooking raw food in your pot! The order is meat, seafood, mushroom, vegetables and noodles.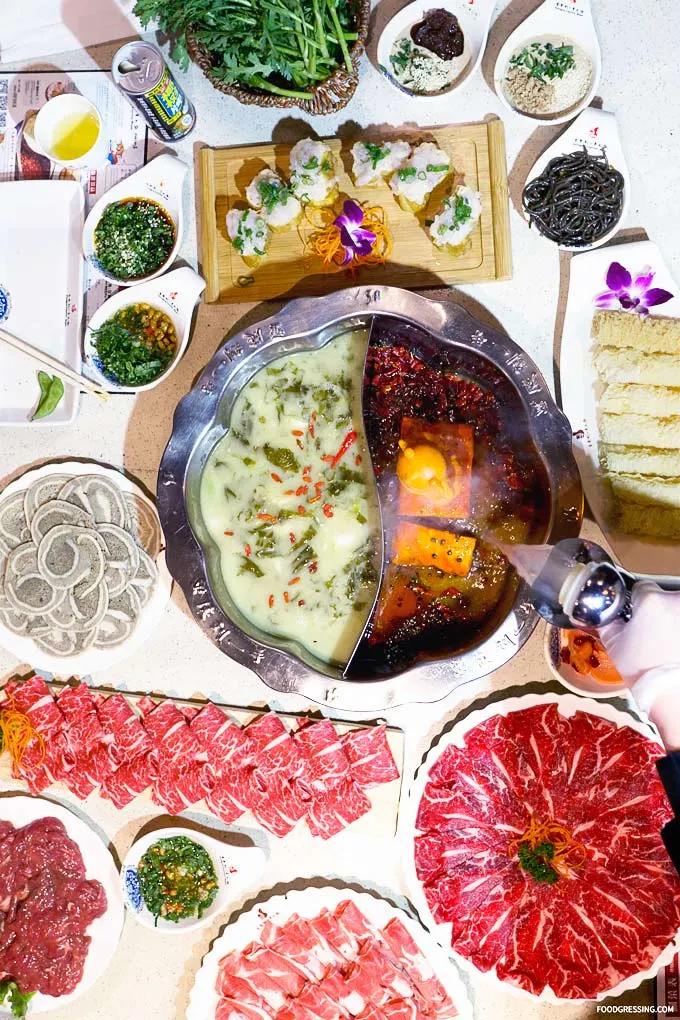 Hot Pot Cooking Times
When your hot pot is boiling, here is a general guideline on long your raw ingredient should cook for.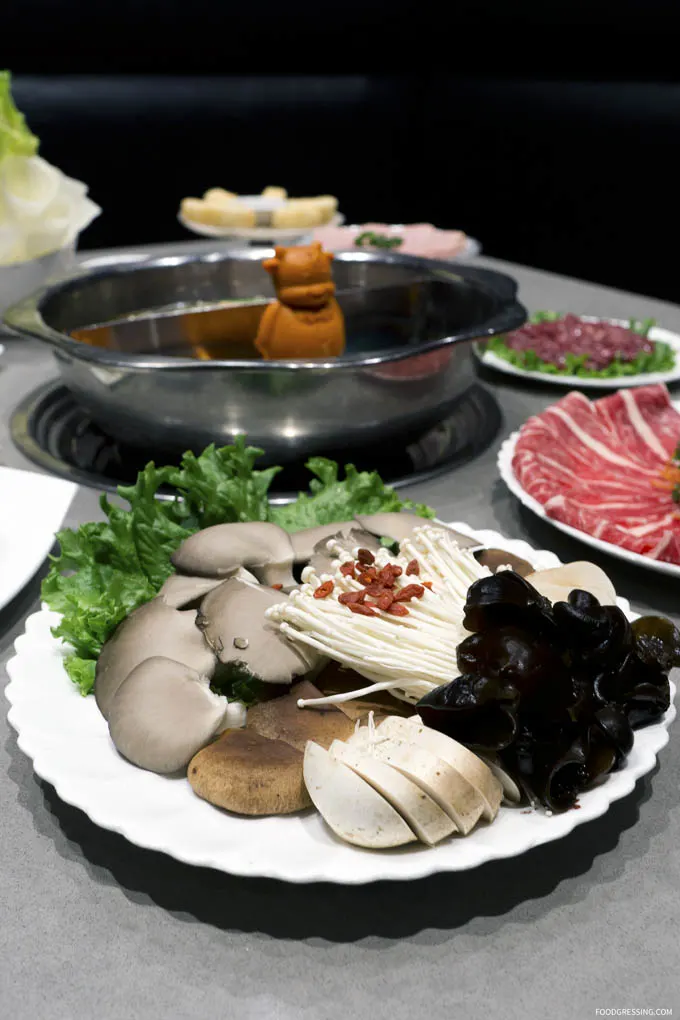 Meat
Raw Red Meat – 10-20 seconds depending on your desire
Chicken Meatball – floating plus 2 minutes
Chicken Slice – floating plus 1 minute
Beef Tripe – 30 – 40 seconds
Raw Dumpling – 8-9 minutes
Seafood
Cuttlefish – 20-30 seconds
Fish Slice – 50-60 seconds
Shrimp Slice– 30-40 seconds
Shrimp Ball – 60-80 seconds
Vegetables
Fresh Taro – 5-6 minutes
Fresh Tofu – 90 seconds
Fried Tofu – 60-90 seconds
King Oyster (white) – 50-60 seconds
Shiitake (black) – 60-70 seconds
Napa Cabbage – 3 – 4 minutes
Spinach – 60-90 seconds
Taro Slice – 100 – 120 seconds
Bean Curd Sheet – 20 – 30 seconds
Starches
Can Hot Pot be Vegetarian?
Hot pots can certainly be customized to your liking by the ingredients that you choose. Be sure to check the ingredients in the soup bases to see if it is vegetarian.