Looking for the best Vancouver sushi? Here's a look at my top picks for best sushi in Vancouver 2022.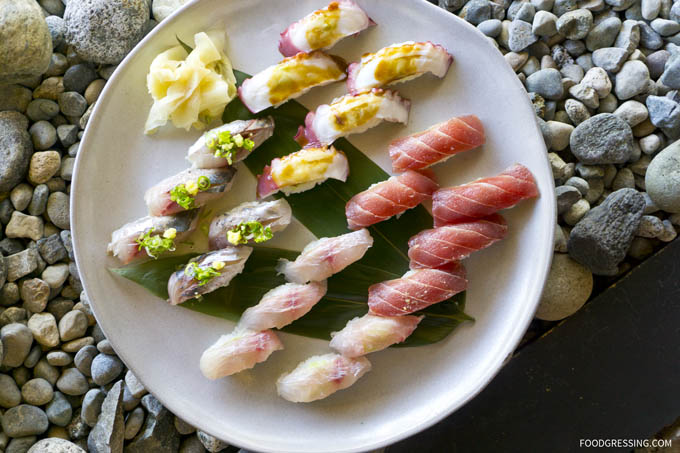 I curated this list based on my own opinion, experiences and knowledge of how well the restaurant is doing in the local scene.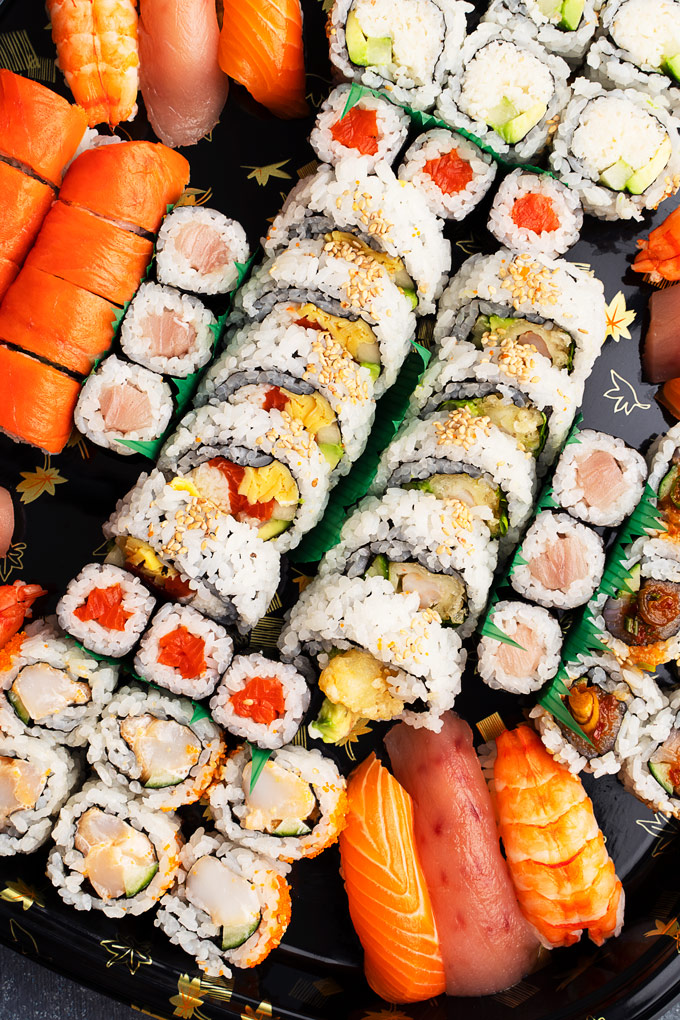 Note: This list is just for restaurants located in Vancouver proper and not the suburbs. I will also be updating this list as I see fit. Revisit to check out the updates in the future.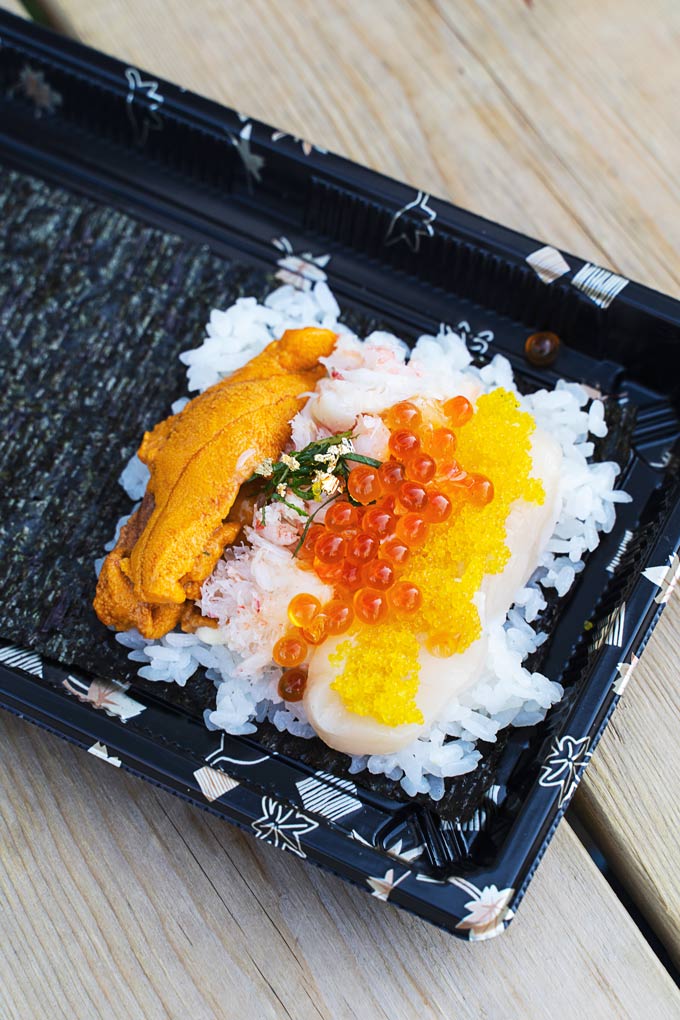 Is Vancouver known for sushi?
Vancouver is one of top places in North America to enjoy sushi and has some of the best sushi restaurants outside of Japan.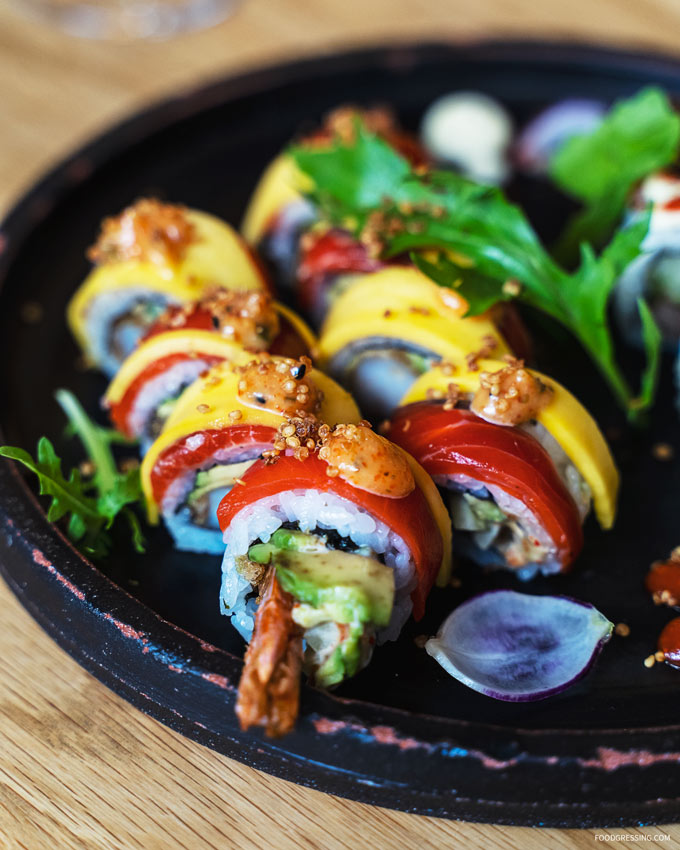 With a strong Japanese community and physical proximity to the ocean, Vancouver sushi restaurants are aplenty in the city and offers sushi with high quality imported fish from Japan as well as local sustainable catches.
Check out these best sushi restaurants in Vancouver below for your next foodie adventure.
High End Sushi Vancouver Restaurants
Tojo's
Located in the Fairview neighbourhood, Tojo's Restaurant has been an iconic establishment in Vancouver for more than 30 years, and continues to offer unique and inventive Japanese fine dining for those who love quality fare.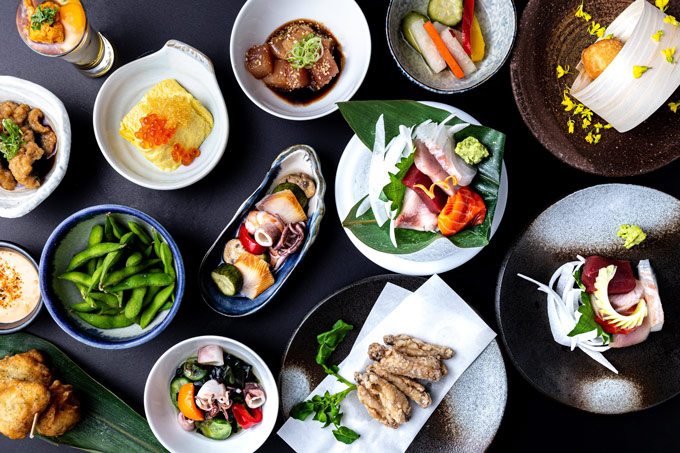 Founder and Chef Hidekazu Tojo focuses on creating delicious sushi and original creations using the finest seasonal, local, and organic ingredients.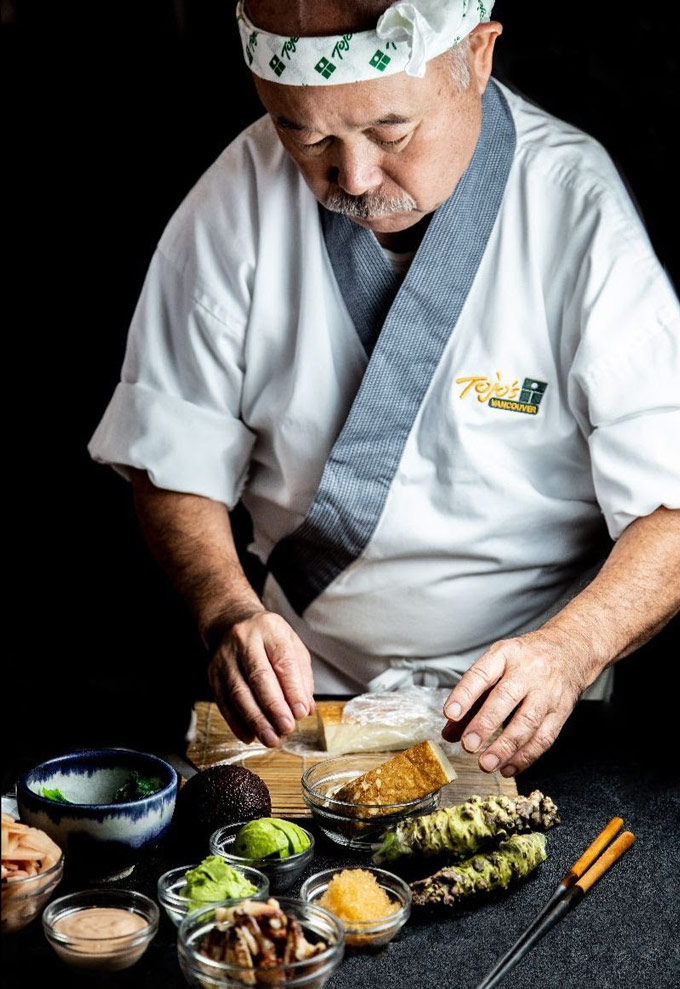 He has long been credited for creating the famous California Roll, and was one of the first to introduce omakase (chef's selection) dining to the city.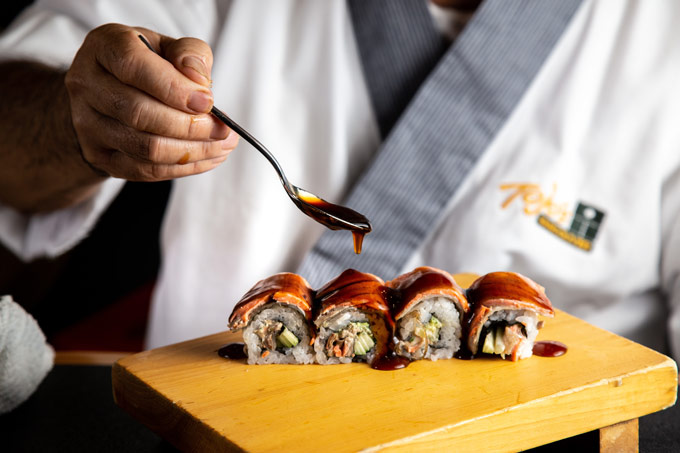 Tojo's menu features fresh, unique and modern dishes prepared using Japanese fine dining traditions but with a Pacific Northwest perspective, using the finest seasonal, local and organic ingredients.
Not to be missed is the Tojo Roll which is the pioneer of the California Roll.
It comes with dungeness crab, avocado, spinach, egg and sesame seeds.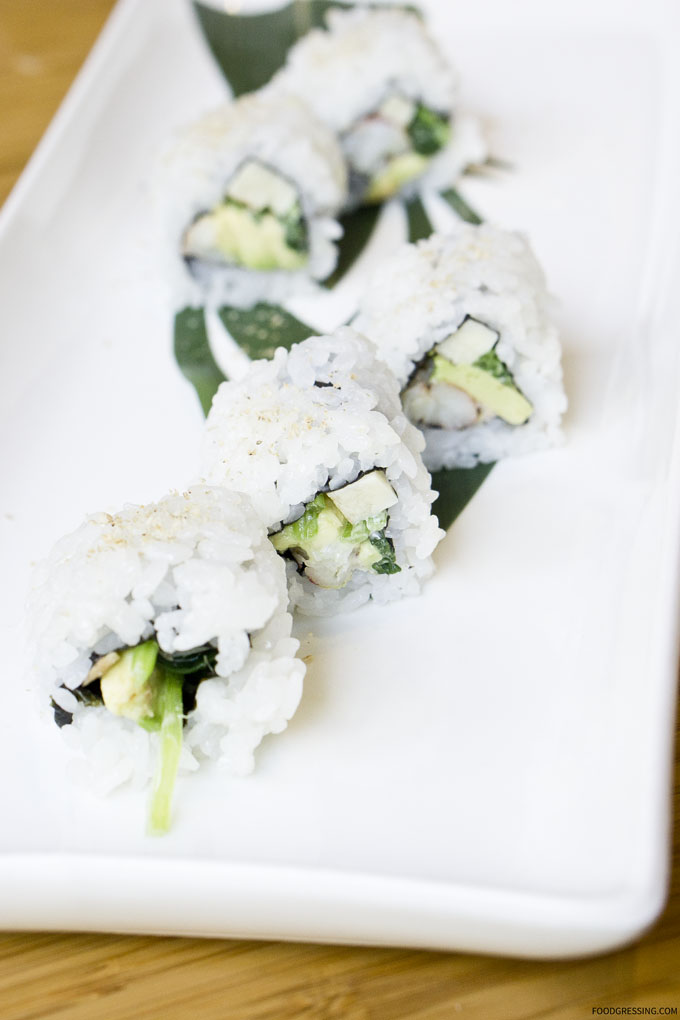 For some a taste of the Pacific Northwest, try the Pacific Northwest Roll featuring West Coast Dungeness crab and avocado, scallop, and fish roe.
You might also want to indulge in the Northern Lights Roll which is inspired by The Canadian Northern Lights.
It also comes with wild prawn tempura, avocado, fruit, and cucumber sheet.
Wash it down with a delicious cocktail at Tojo's, where the cocktail program was developed with award-winning mixologist and Canada's Top Bartender 2019, Jeff Savage.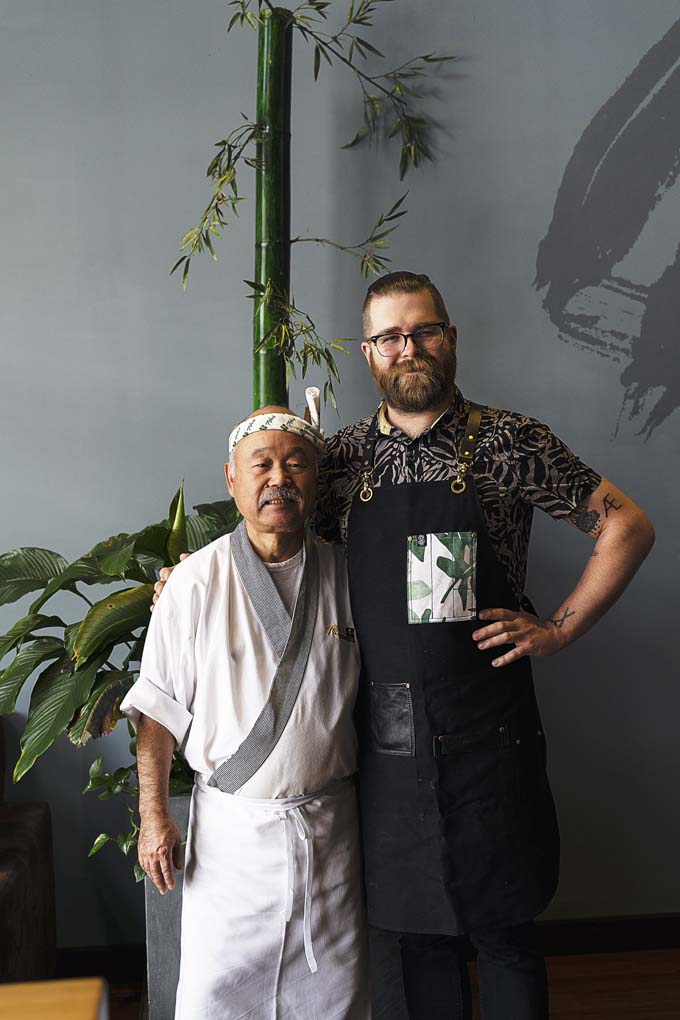 Some highlights include the Tokaido 53 (a vibrant martini riff), Salaryman (unique take on a Manhattan), and Kitsune Gimlet (made with yuzu, Kazuki Gin, and honey).
Masayoshi
Masayoshi is another upscale sushi restaurant in Vancouver where guests can enjoy elevated omakase meals where you leaving the ordering up to the chef.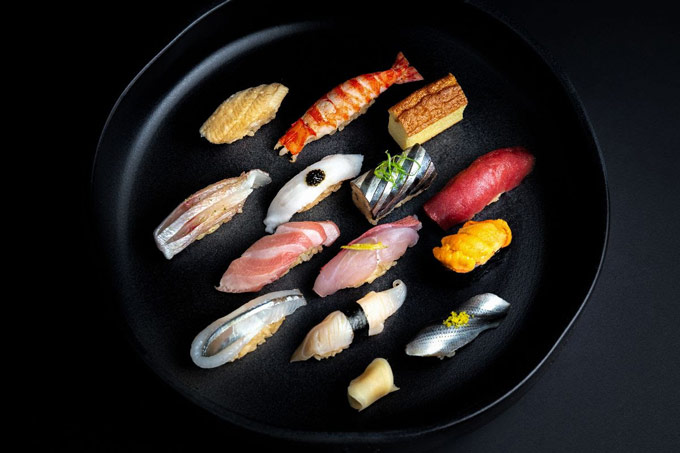 Launched in 2015 by seasoned sushi chef Masayoshi Baba, the intimate, 24-seat room in Vancouver's Fraserhood neighbourhood presents guests with a fresh take on Japanese cuisine.
Chef Masa prepares his dishes with time-honoured culinary techniques, seasonal ingredients, elegant plating, and creative flavour pairings.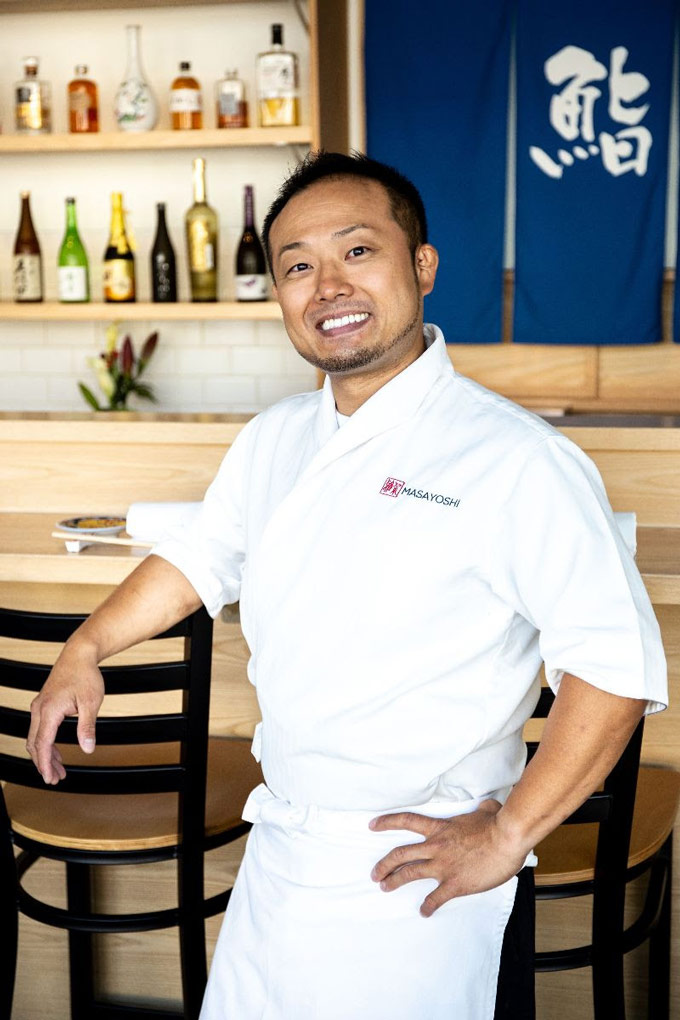 Chef Masayoshi's techniques are based on Japanese cooking, but he explores methods from other cultures' to best derive the umami from every ingredient.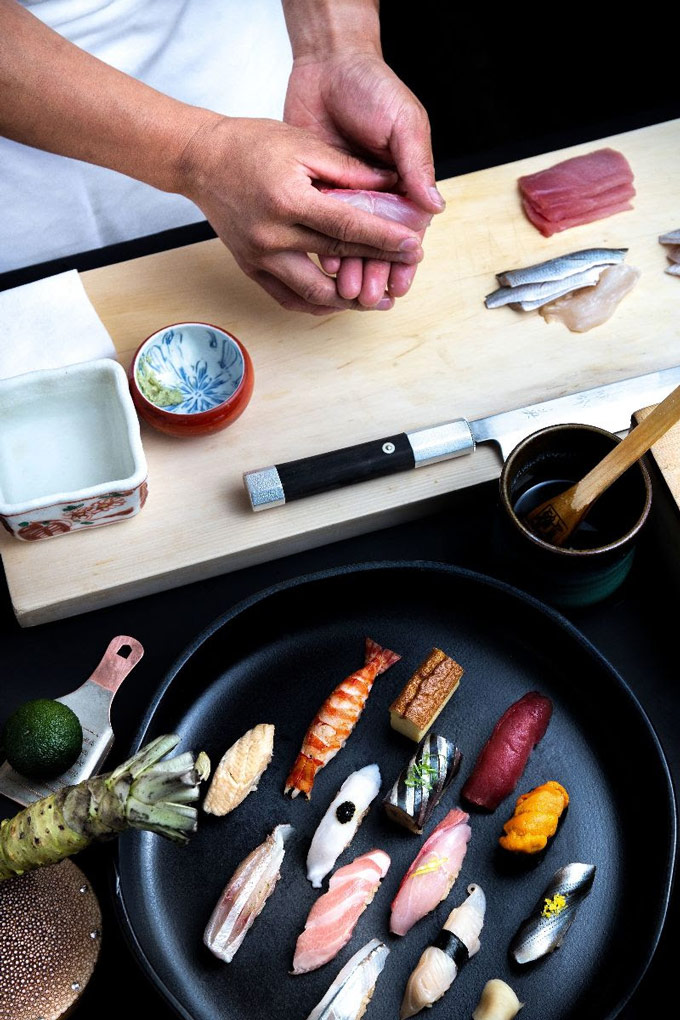 The restaurant also earned a spot on Canada's 100 Best Restaurants list in 2019 and has been featured on 50 Best Discovery, a list of approved establishments curated by industry experts.
Masayoshi only offers a Nigiri omakase from Monday – Saturday with seatings at 6 pm and 8 pm.
Best Mid-Range Sushi in Vancouver
Sushi Hil
Sushi Hil is a new sushi restaurant by Chef Hil Nguy (founder of Temaki Sushi) who has been making inspired sushi for over 20 years.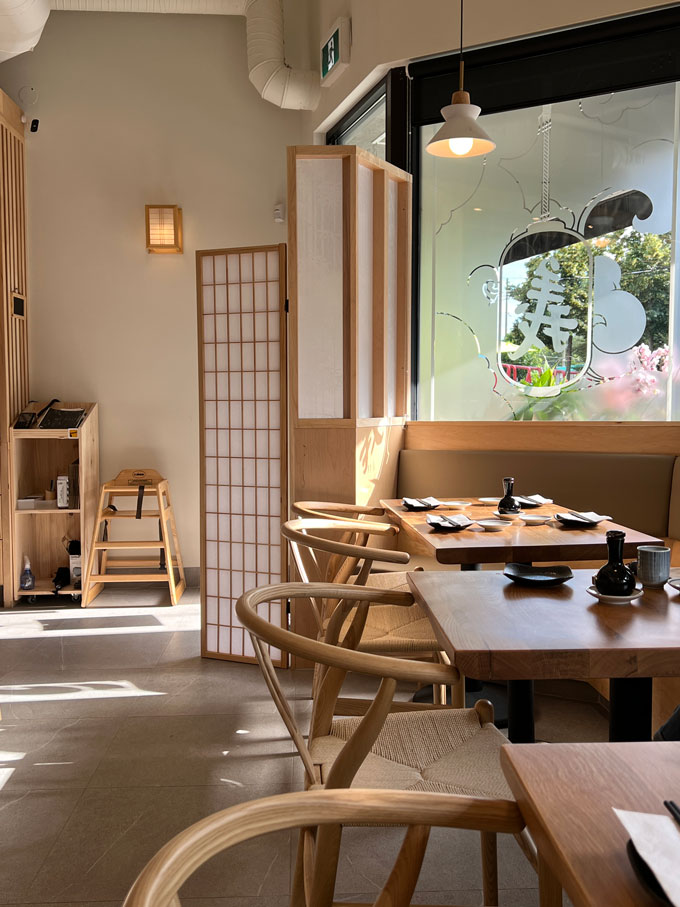 On the menu are Chef's Daily Sashimi Selection; Nagasaki Blue Fin Tasting; Nigiri Set; Chirashi Set; Maki Set; Garden Set; rolled sushi (like Super Tuna Roll, King BC Roll; Negitori Roll and more); and starters (like albacore tataki, hamachi crudo and so forth).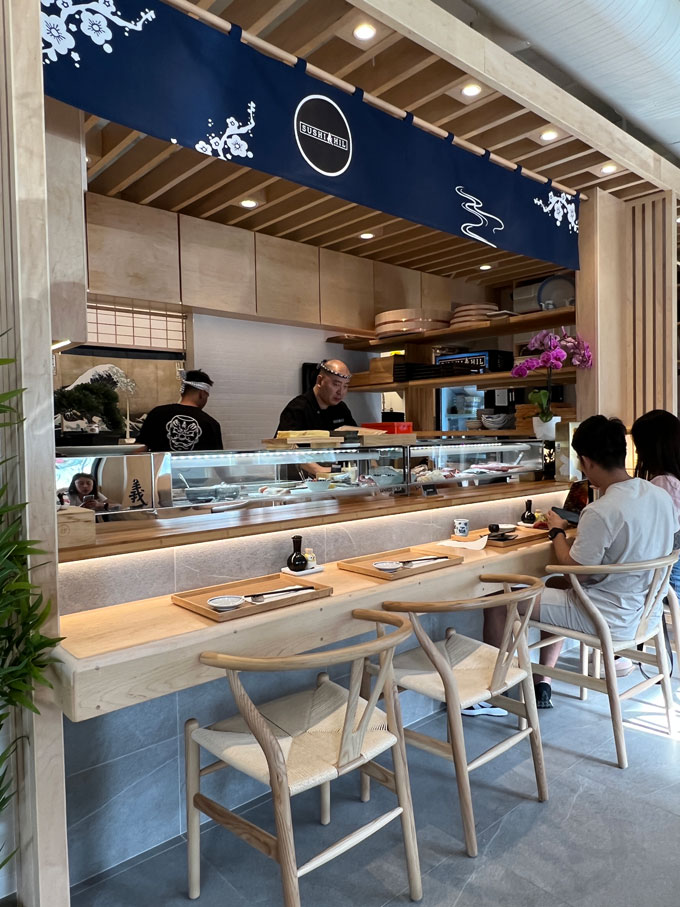 The 12-piece Sashimi Moriawase (Chef's Daily Selection) and Maki Set (featuring Super Tuna Roll; King Oshi; Hokkaido Maki; Spinach Gommae and Miso Soup) are delicious options that I have tried and would recommend.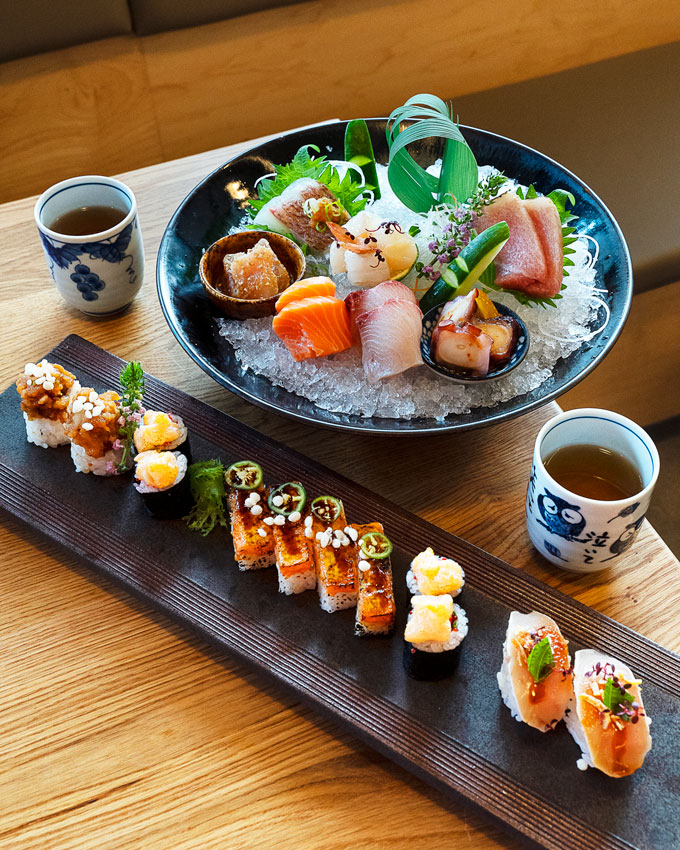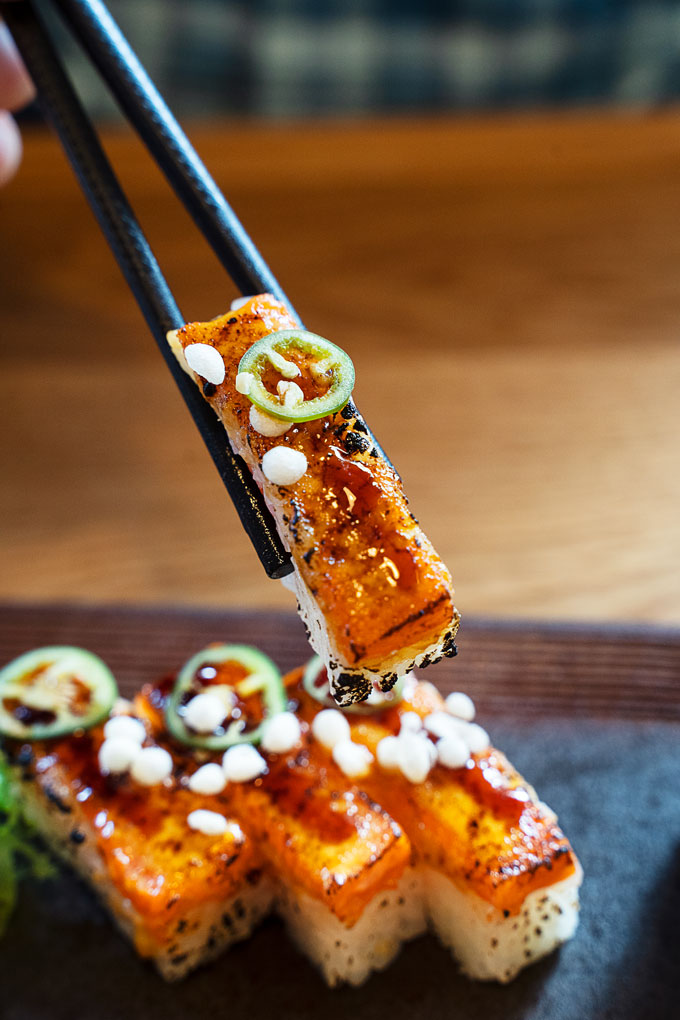 Best Affordable Sushi in Vancouver
Toshi Sushi
Having been around since 2004, Toshi Sushi is one of those longstanding restaurants in Vancouver that remains popular simply by word of mouth and consistently delicious sushi.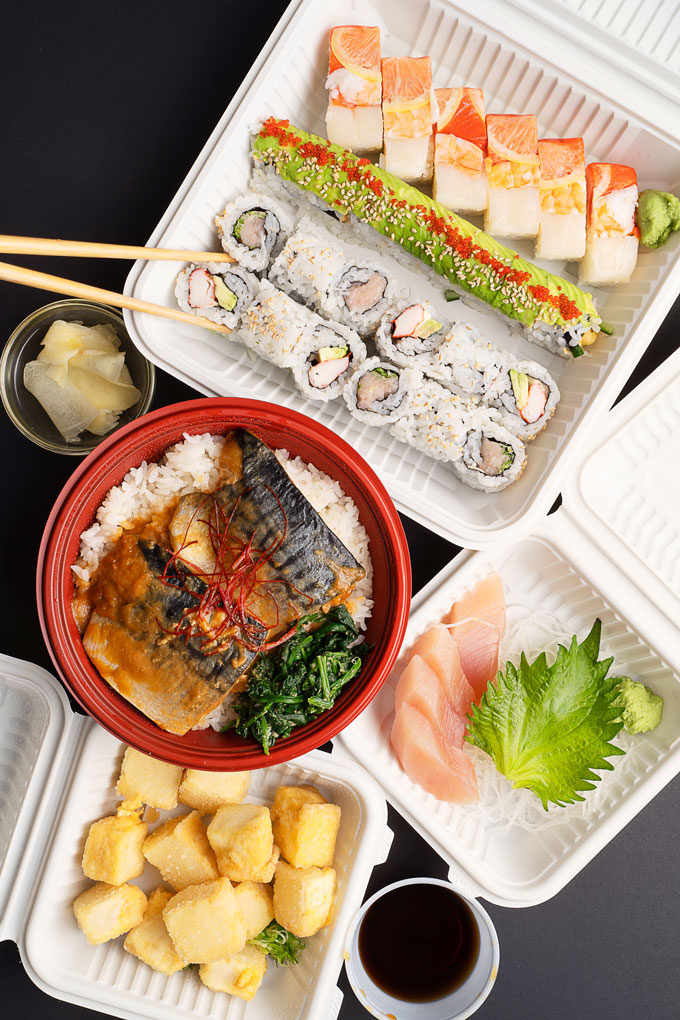 There are no gimmicks and the dining space is absolutely tiny.
Before the pandemic, Toshi Sushi was the type of place where you would find eager patrons lined up outside every day of the week, waiting to score a seat at the beloved sushi joint.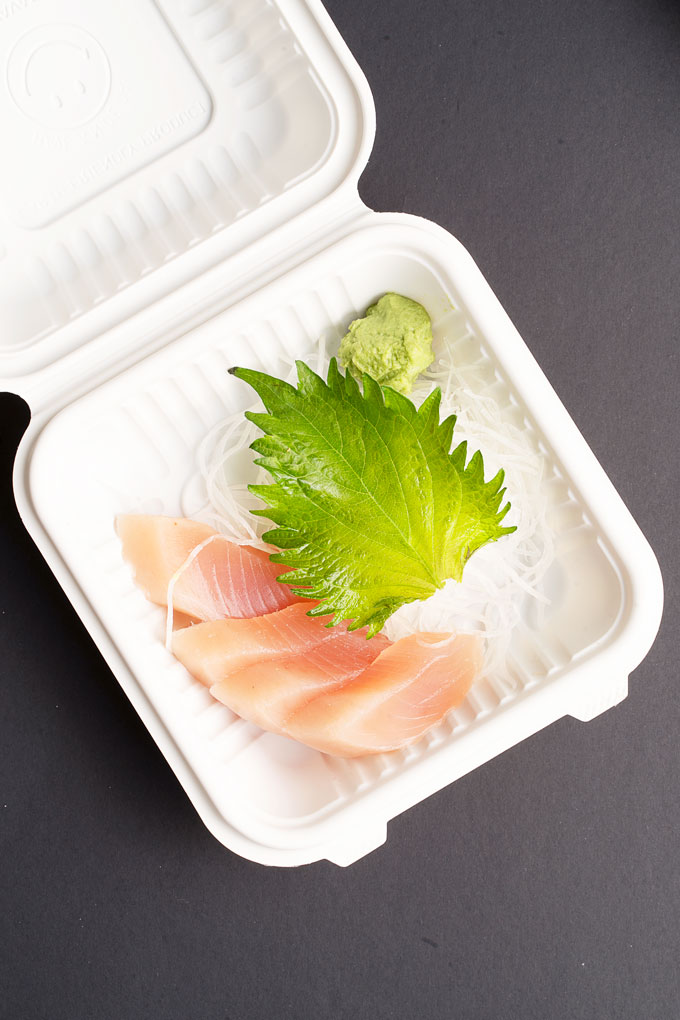 The must-try is the Box Roll which is characteristically shaped like a box. They have slices of Sockeye Salmon, Shrimp, Scallop, Lemon on top, and Avocado, Spicy Mayo filled inside the pressed sushi rice. The Box Rolls are the ones in the top right row in the picture below.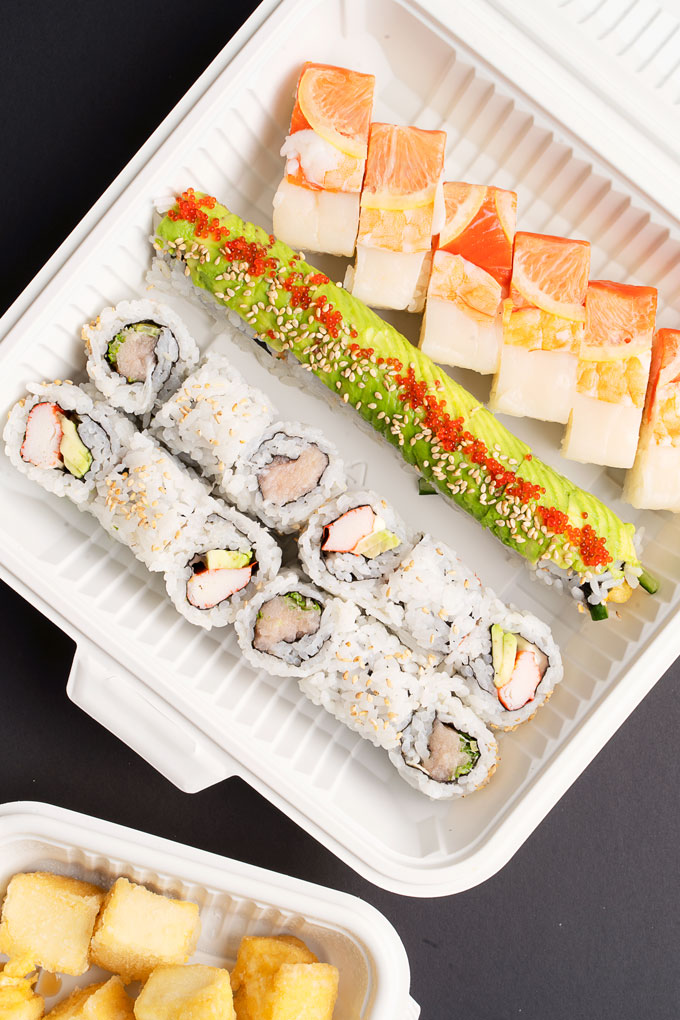 The actual menu has over 20 types of Maki Sushi as well as nigiri, agemono, yakimono, donburi, and sashimi.
Toshi Sushi is also a very popular sushi takeout spot. Check out their social media pages for the latest menus.
Best Sushi in Vancouver Downtown
Hello Nori
Newly opened in Downtown Vancouver Robson Street this year is Hello Nori and it has quickly become a favourite.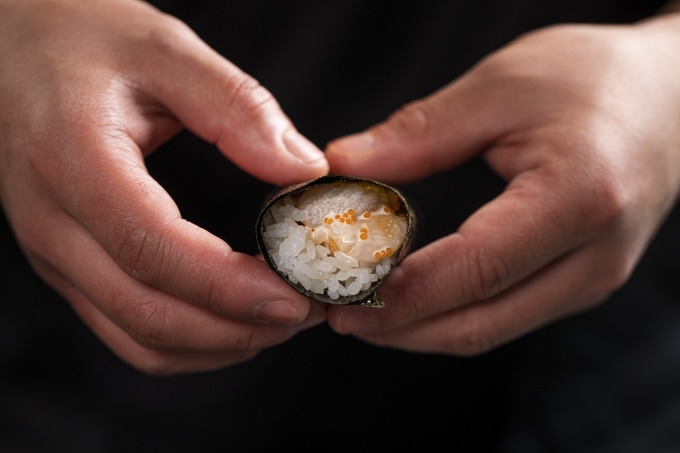 The concept at Hello Nori is about the experience of enjoying a hand roll: a combination of fresh seafood, meticulously selected seaweed, and signature warm rice, prepared to order in front of your eyes at an inviting 24-seat U-shaped bar.
It's about premium quality sushi in a casual setting. Although the food may be served quickly, it isn't fast food.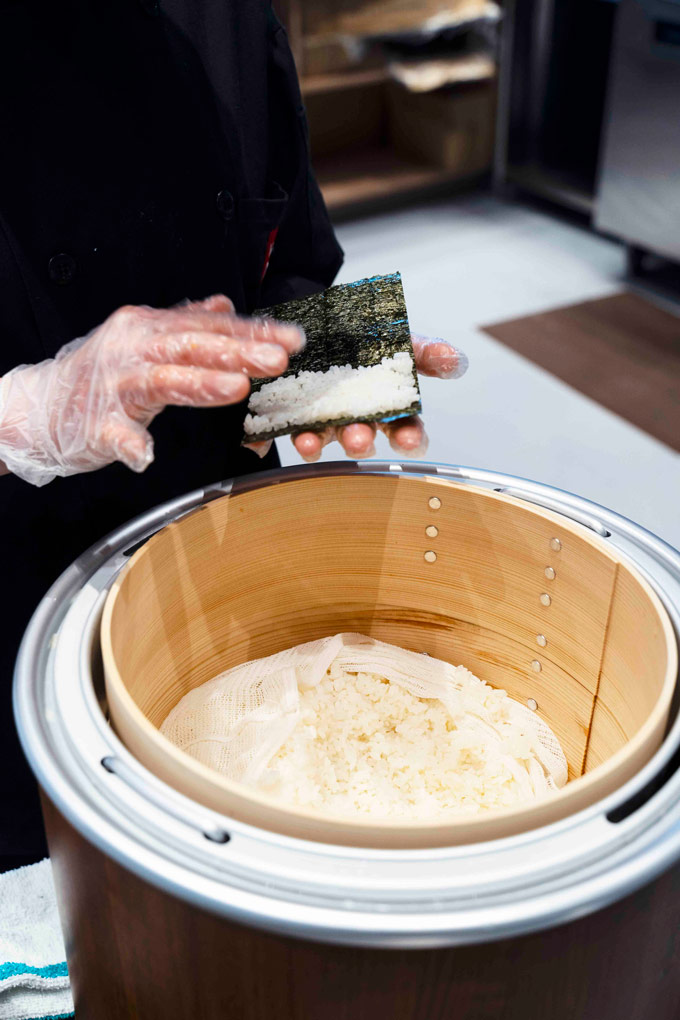 There are 13 hand rolls in all, available à la carte or as part of set menus of four, five, and six rolls.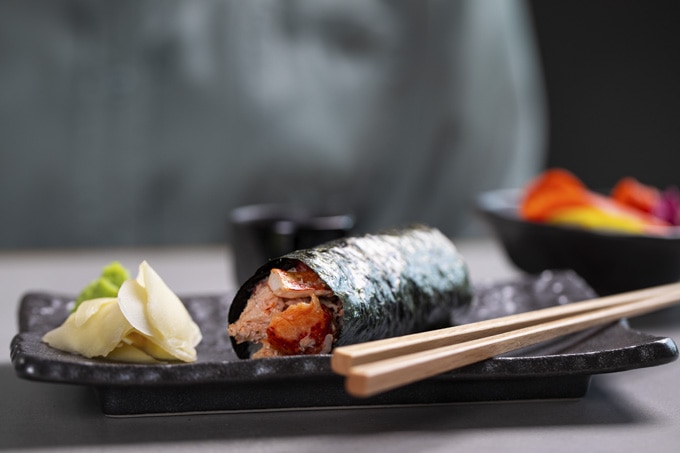 The hand roll options include Ora King Salmon, Yellow Tail, Maguro, Toro, Unagi, Crab, Truffle Lobster, Spicy Shrimp, Hokkaido Scallop, Spicy Tuna, Tamago Yaki, Avocado, and Cucumber.
Miku
Located along the Burrard Inlet next to the Vancouver landmark Canada Place, Miku Waterfront offers gourmet Aburi cuisine in a sophisticated setting with a patio and water views.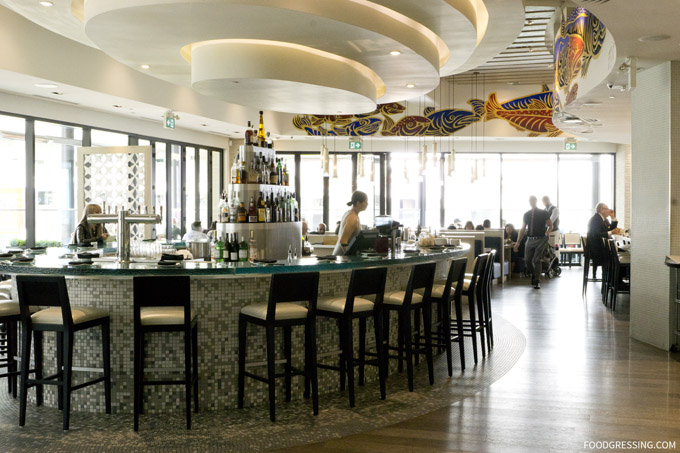 If you're unfamiliar with what is Aburi sushi, it is flame-seared sushi.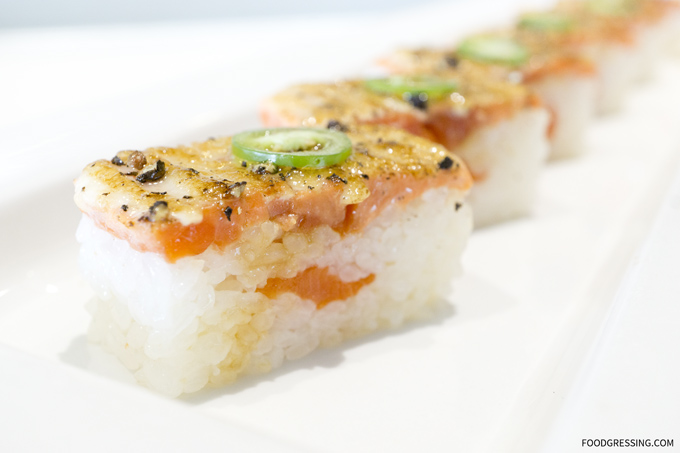 Miku owner Seigo Nakamura innovated the Aburi concept by crafting specialty sauces using non-traditional Japanese ingredients to pair with each type of fish.
The light sear from the binchotan (also known as Japanese bamboo charcoal) caramelizes the sauce, releasing a smoky aroma and bringing out the finest natural flavours and textures in each piece of Aburi sushi.
Try the Aburi Chirashi Tart which has layers of sushi rice, spicy tuna, avocado, sockeye salmon, Miku sauce.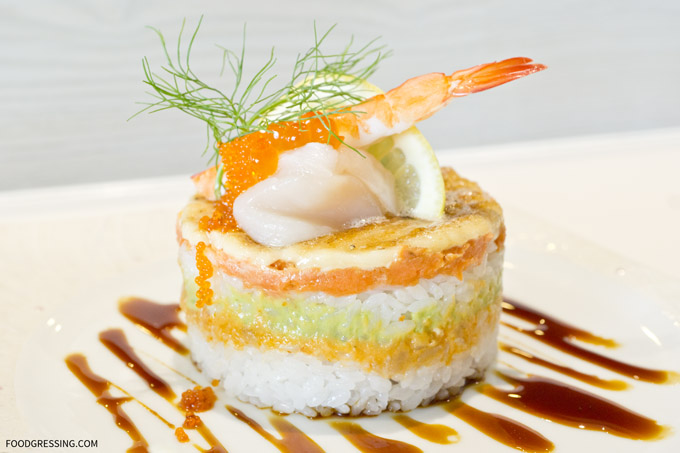 It is flame seared and topped with prawn, scallop, maguro, tobiko and ikura.
The house specialty roll, Miku Roll, is also a must-try. It features salmon, crab, cucumber and rolled in tobiko and Miku Sauce.
Minami
Located in the vibrant Yaletown neighbourhood, Minami is the sister restaurant of Miku (described above).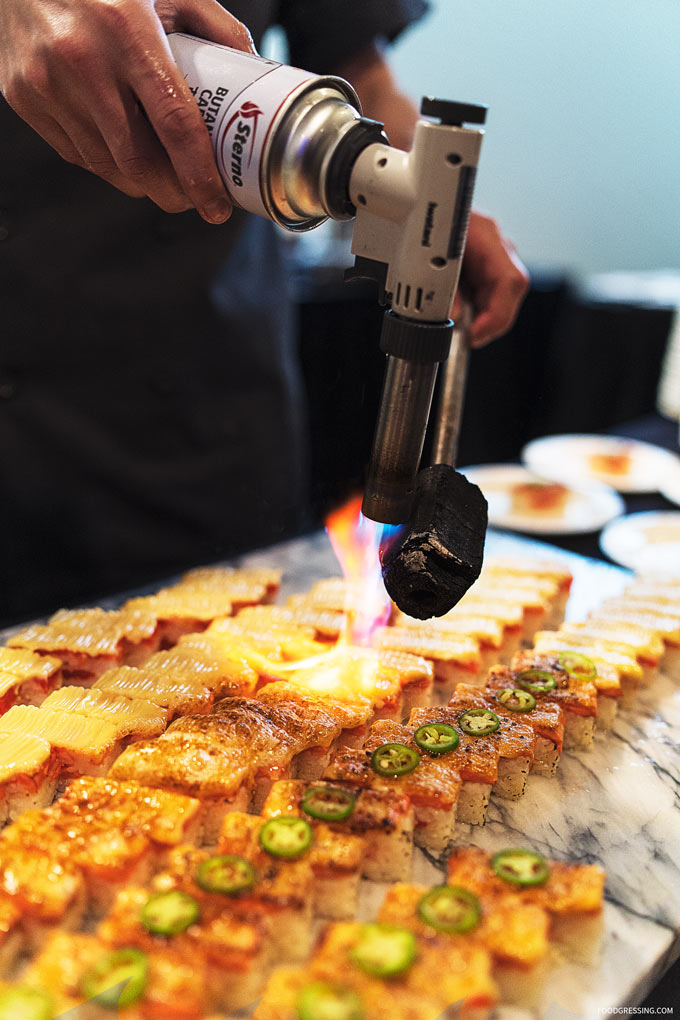 Minami also specializes in Aburi cuisine where each piece of sushi is flame-seared using a blowtorch resulting in sushi with a smoky aroma and a melt-in-your-mouth texture.
The menu features seasonal and locally sourced ingredients and is inspired by Vancouver's diverse flavours.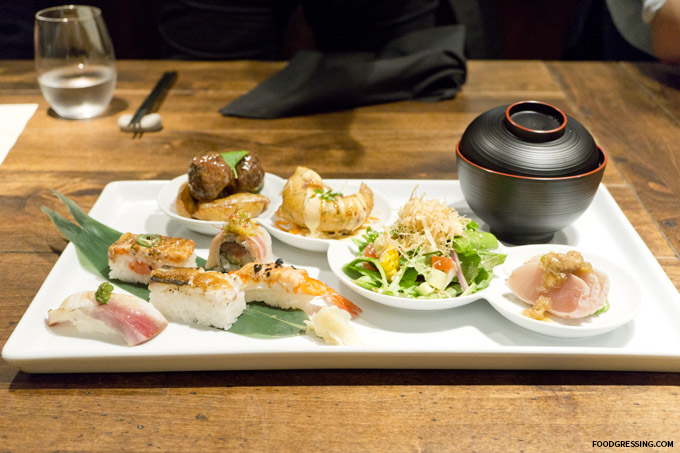 Check out their specialty rolls like the Champagne Roll which has Hokkaido scallop, sockeye salmon, cucumber and rolled in golden tobiko sauce.
Not to be missed is their Aburi Oshi sushi menu (also available at Miku). They have salmon, ebi (prawn) or saba (mackerel) Aburi Oshi sushi or choose the Oshi Sampler which has two pieces of each variety.
Tom Sushi
Tom Sushi is a local favourite in the heart of Downtown Vancouver's Davie Street.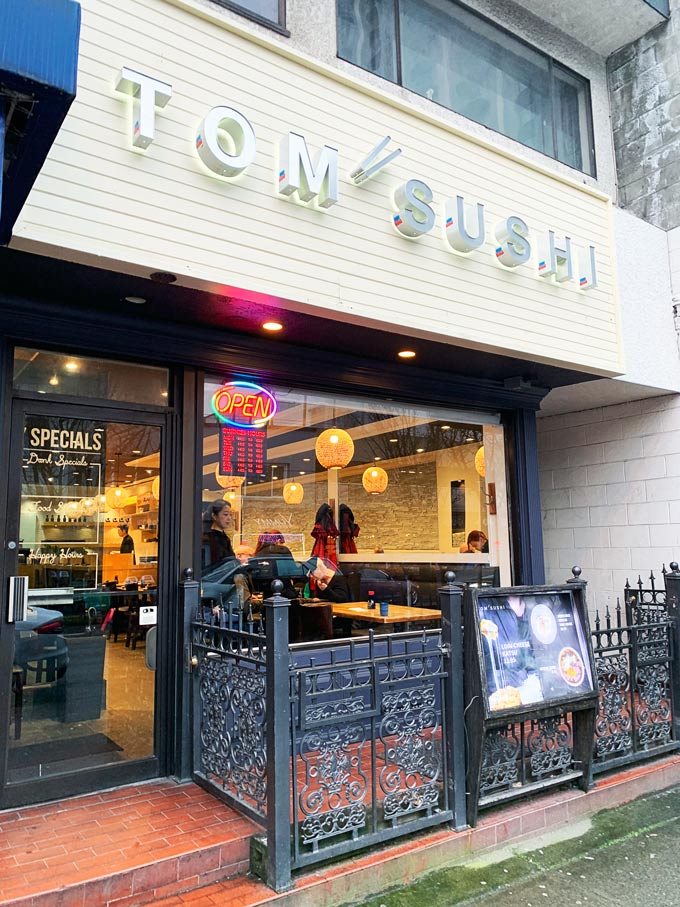 They were also named as one of Canada's Top 100 Places to Eat in 2021 (rank #11) and in 2020 (rank #2).
It opened in 2019 by Chef Tom Jeon who has been preparing sushi for over 10 years, honing his technical skills and cultivating his knowledge of traditional Japanese cuisine.
People love Tom Sushi because they offer sushi that use quality, fresh ingredients at affordable prices.
A popular specialty roll of theirs is the Golden Steak Roll with sliced steak and golden flakes on top. It also comes with asparagus, mushroom, red pepper and deep fried tenderloin within the roll.
I personally love their Uni Ikura Don which is a homey rice bowl studded with plump beads of salmon roe and rich and buttery fresh uni. Topped with gold flakes and shiso flowers.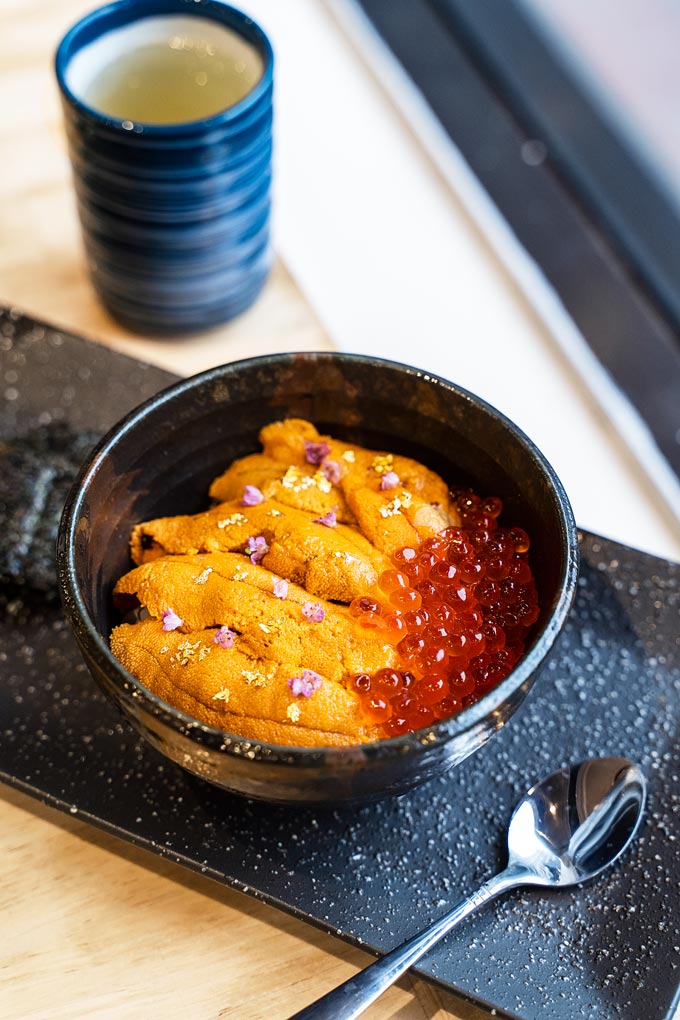 Best Vancouver Sushi Takeout
Sashimiya
Local celebrity sushi chef Takayuki Omi (who formerly led the Raw Bar at Fairmont Pacific Rim) opened up Sashimiya – a grab-and-go sushi and sashimi shop with Japanese groceries and snacks.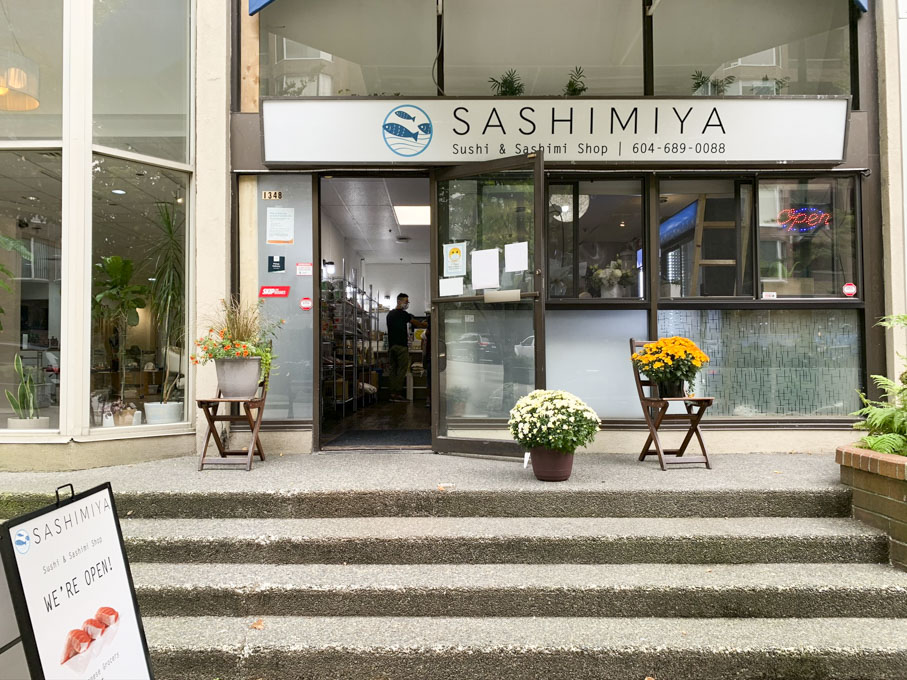 You will find a variety of Japanese products available at Sashimiya; a sushi counter where Chef Taka works; and a refrigerated section with grab-and-go items.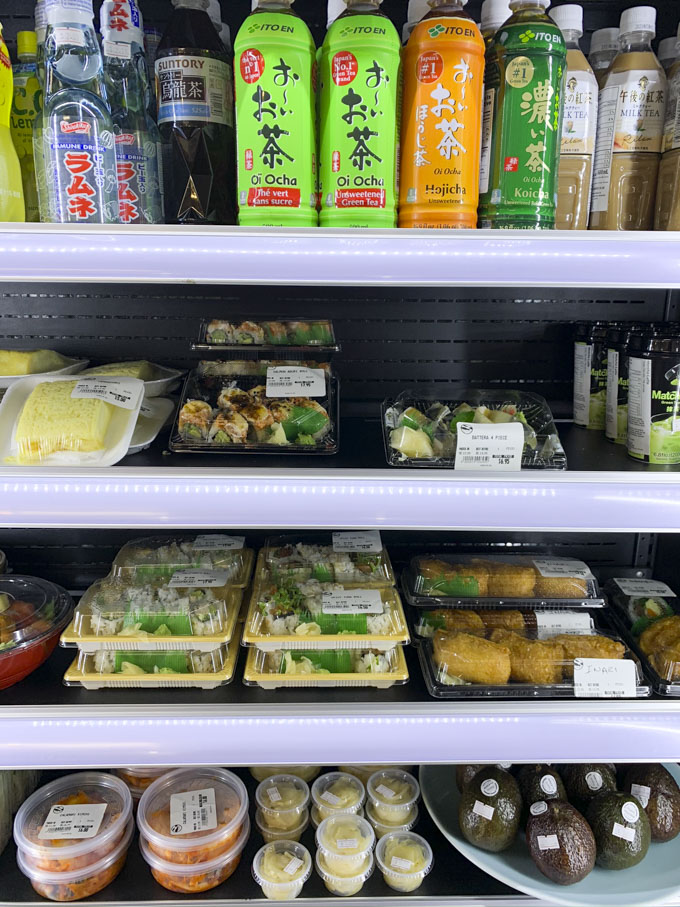 On the menu at Sashimiya are rolls (like real crab California, Spicy Tuna, Salmon Aburi and more), nigiri, sashimi and bento (Chicken karaage bento).
Sushi and sashimi platters are also available.
Takenaka Food Truck
Takenaka is a food truck and virtual restaurant that operates out of Coho Commissary.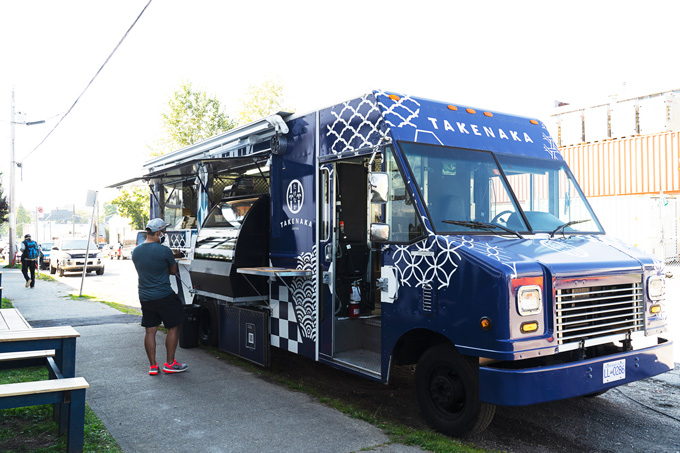 You can order either from their food truck in person or order for pickup directly from Coho Commissary or delivery via UberEats. They do not have a storefront or seating area.
Takenaka is Chef-owned and operated by Chef-Owner Shogo who has worked for the Kingyo Restaurant Group for many years.
What they offer is high quality sushi at affordable prices.
Their selection of roll sushi includes Prawn Avocado Roll; Salmon Avocado Roll; Yuzu Tuna Roll; Snow Crab Roll; Scallop Roll; Unagi Roll; House Roll.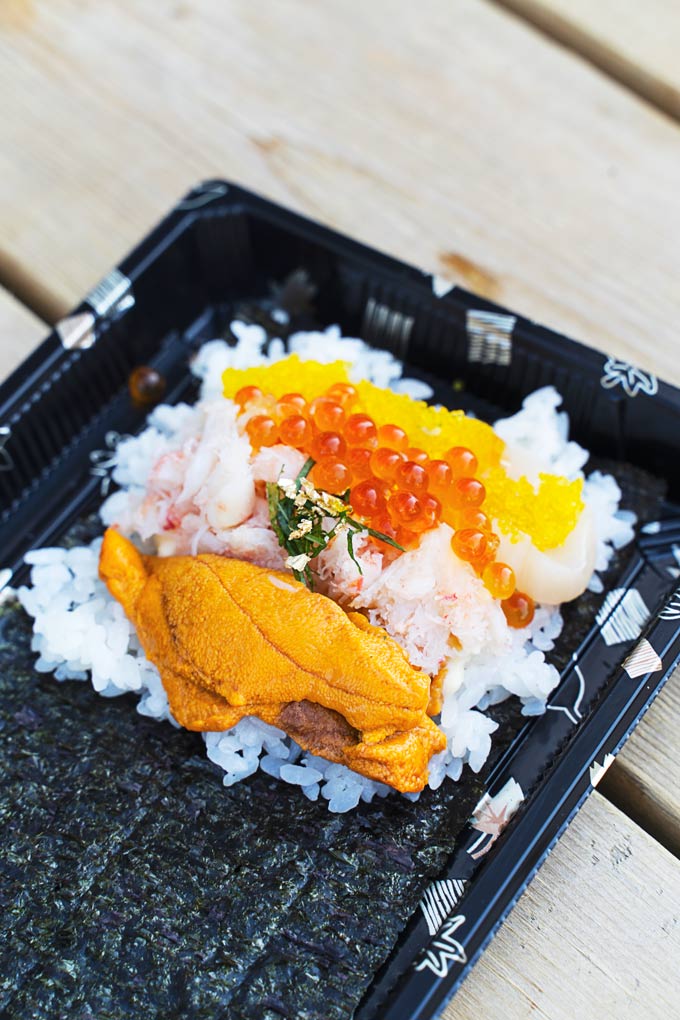 Check out their Seafood Bara Chirashi Bowl which is a beautiful, vibrant bowl composed of vibrant coloured sashimi cubes, snow crab, scallop, salmon roe, sweet egg omelet, radish sprouts, shiso marinated kelp, and tobiko that are festively spread on top of original sushi rice. I highly recommend this bowl!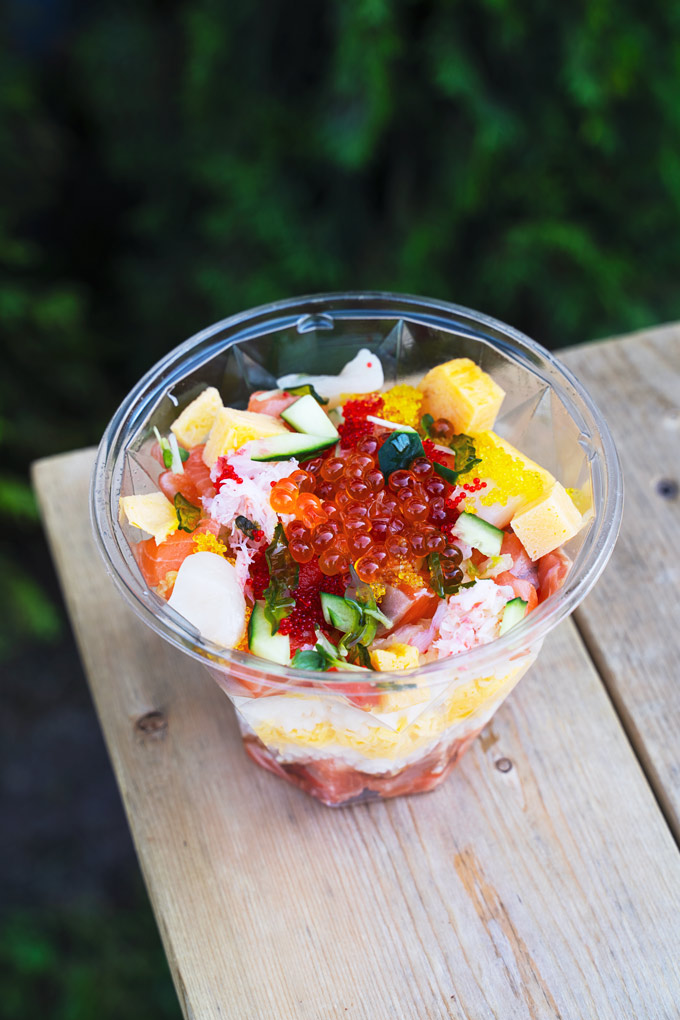 Temaki Sushi
Temaki Sushi has been around since 2003 and is one of the most longstanding, casual sushi restaurants in Vancouver.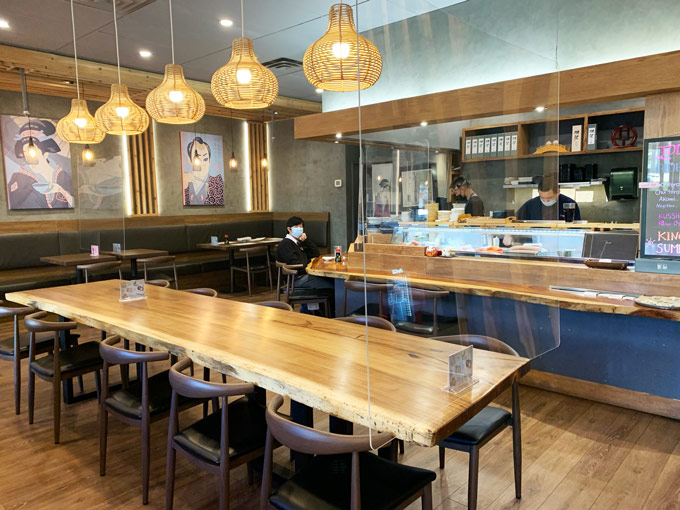 They have been known to offer some of the sushi takeout. The restaurant has noted that they've worked tirelessly on their enhanced takeout menu such that you would only need a few seconds to decide what to order.
On their takeout menu, yo will find appetizers, salads, lunch sets, dinner sets, rolls, aburi, sashimi, maki sushi, vegetable rolls, tempura, specialty rolls, nigiri sushi, donburi, udon, teriyaki and more.
I have tried their Nigiri Party Tray which consists of 56 pieces: house roll, dynamite roll, smoked salmon roll, spicy tuna roll, chop scallop roll, California roll, tuna maki, salmon maki, 4pcs salmon nigiri, 4pcs tuna nigiri, 4pcs ebi.
Everything tasted nice and fresh and I enjoyed the presentation and arrangement of the pieces.
Their online ordering system is very user friendly and I ordered ahead for pickup which was a seamless experience.
Aburi To-Go by Minami
Aburi Restaurant Group (who owns Miku and Minami mentioned above) opened up Aburi To-Go – a Japanese-West Coast cuisine grab-and-go shop.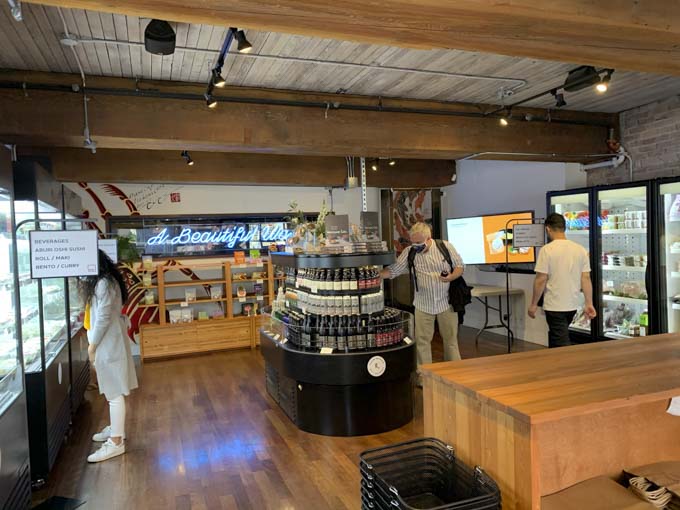 It is located in what was Minami's Blue Ocean private room at 1112 Mainland Street in Yaletown.
Aburi-to-go is a "grocerant" which is a hybrid of a grocery store with freshly prepared, ready-to-eat or ready-to-heat offerings prepared by the in-house chefs.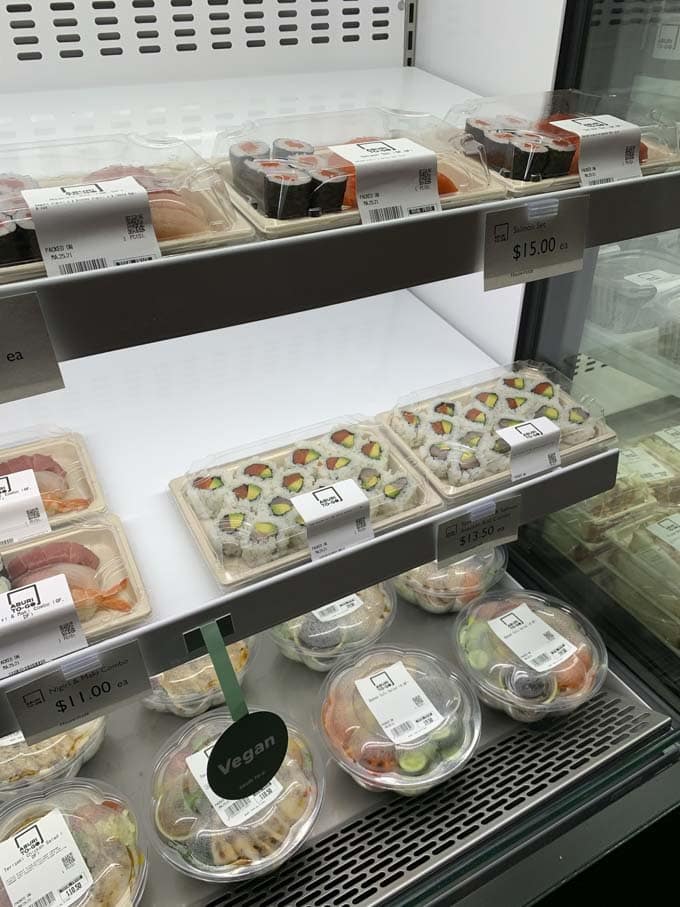 They offer sushi rolls, sashimi, sandos, bento boxes, and more.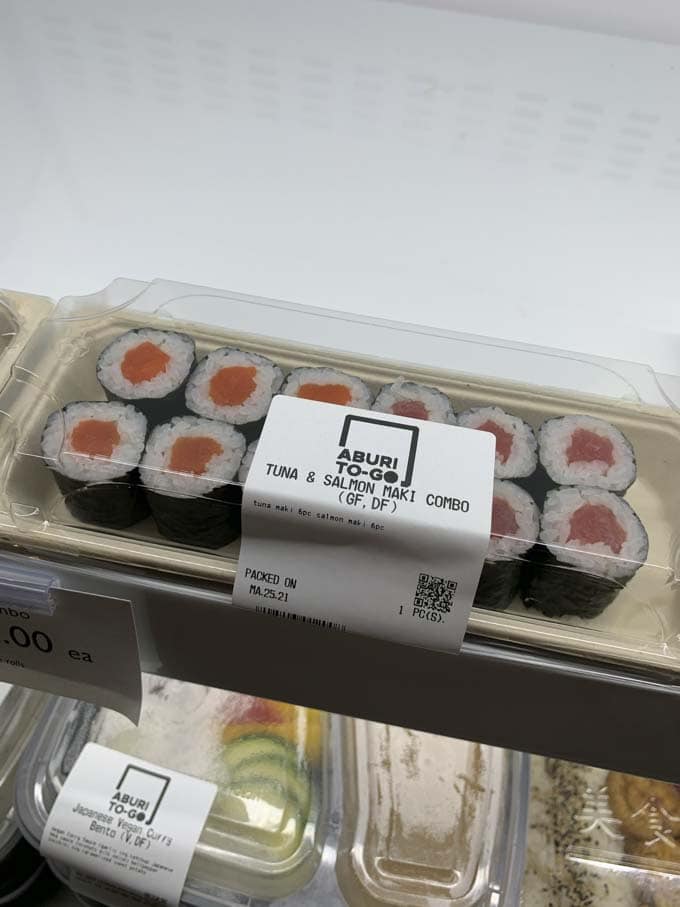 Check out my full post on Aburi To-Go to see more photos.
Best Vancouver Vegan Sushi
Mila
Mila is the newest plant-based, vegan restaurant in Vancouver and they offer two amazing vegan sushi rolls: the Aburi Lox Oshi and MILA Roll.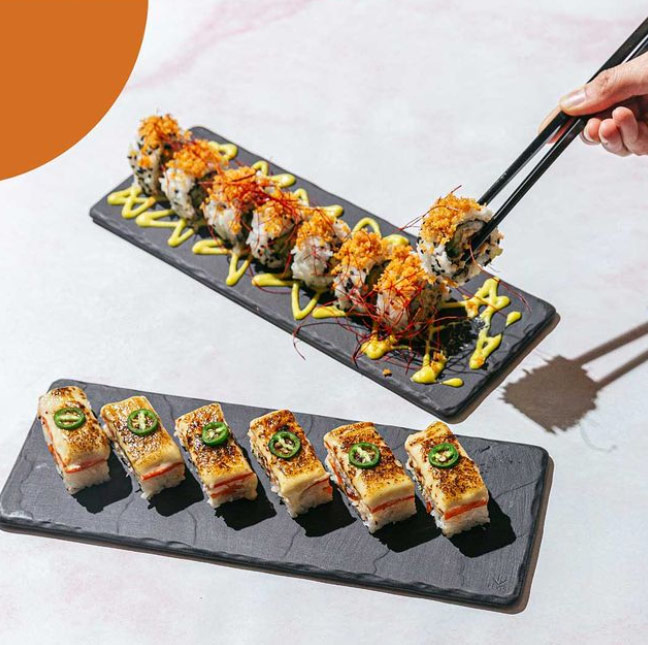 Aburi Lox Oshi features carrot lox, aburi sauce, shiso, and serrano.
The MILA Roll is made with a heart of palm mix, avocado, cucumber, black sesame, tempura crunch, and wasabi mango mayo.
You can find Mila in the Historic Vancouver Chinatown neighbourhood.
Best Vancouver Vegetarian Sushi
Shizenya
Shizenya is the first natural food Japanese restaurant chain in North America which serves sushi with only brown rice, and salad with organic vegetables.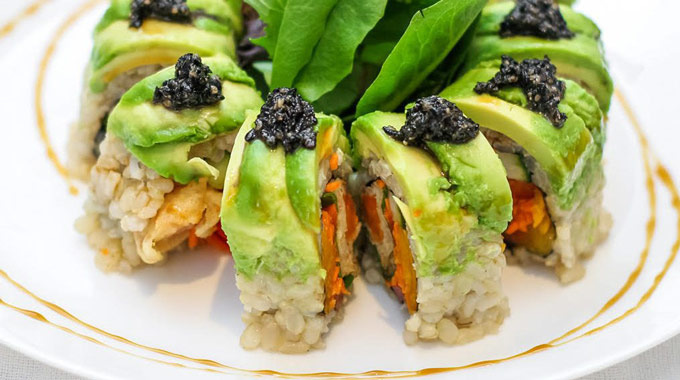 While they are not a dedicated vegan restaurant, they have a good selection of vegan and vegetarian sushi.
Their Geisha Girls Roll features yam tempura, organic greens, organic carrot, cucumber, red pepper, fresh mango, oragnic brown sushi rice and organic avocado on top. The rolls are enhanced with a homemade soy sauce mixed with black sesame sauce.
They also offer Yam Tempura Roll; Organic Vegetable Roll; Organic Avocado Roll; Cucumber Roll; and Organic Tempeh Roll.
Shizenya has two locations in Downtown Vancouver and one on West Broadway.
Best Vancouver Late Night Sushi
Masa Japanese Restaurant Vancouver
If you're looking for a Vancouver sushi restaurant that opens late, Masa Japanese Restaurant Vancouver is your best bet.
This cozy, simple restaurant offers sushi, ramen, rice bowls and other Japanese fare.
One of their speciality rolls is the Devil's Kiss which as deep fried lobster and lobster tempura.
There's also the Knights of the Round Table which has deep fried sushi rice with 8 kinds of seafood.
Another unique option is the Beef Aburi Cheese Monster Roll which is you like beef and cheese, this would be your thing. This roll has flame-seared AAA beef, avocado, crab meat with cheddar and mozzarella and then topped with tobiko.
Best Vancouver AYCE Sushi
Tomokazu
Tomokazu is a longstanding Vancouver all you can eat sushi restaurant. I used to come here very often with friends back in the day.
While it seems that they have changed owners and revamped their interior over the years, the AYCE concept still remains.
Tomokazu's AYCE lunch is priced at $21.95 for adults and $15.95 for kids 12 and under.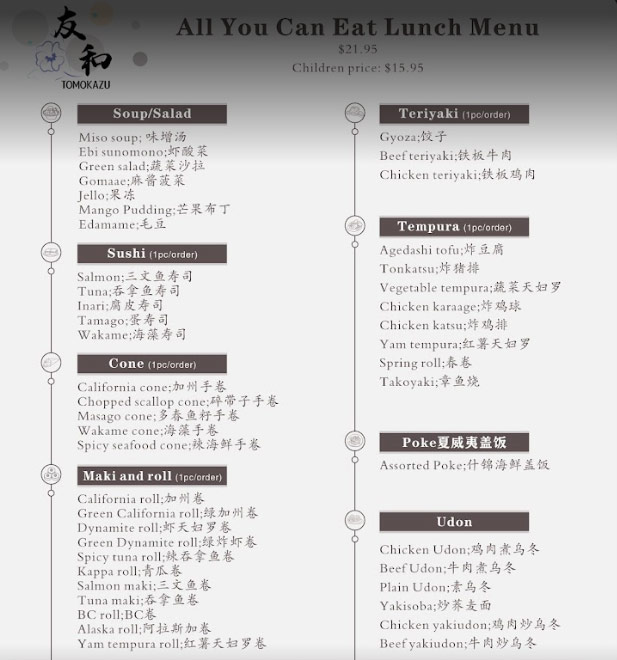 The AYCE dinner is priced at $36.95 for adults and $25.95 for kids 12 and under.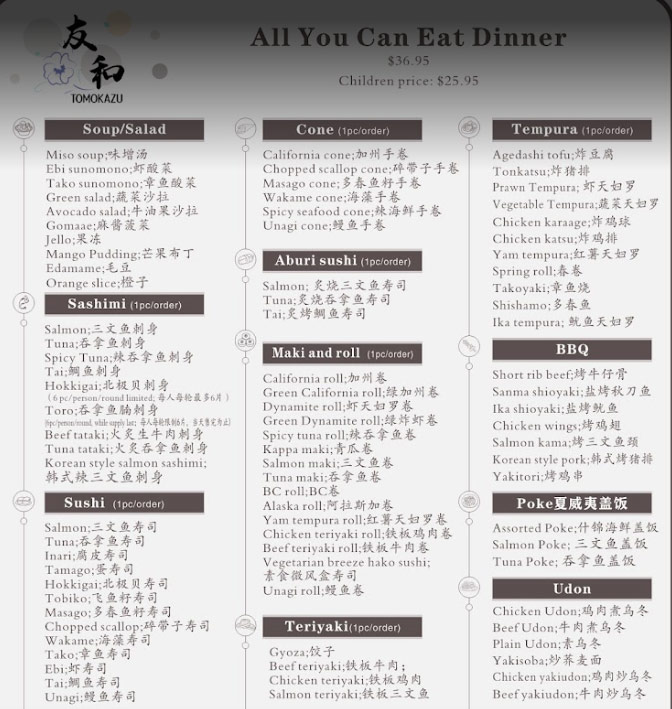 Best Fun Vancouver Sushi Restaurant
Sushi Aboard
Sushi Aboard in Downtown Vancouver offers an experiential sushi dining experience where the sushi is deliver to you by sushi train.
Sushi Aboard's concept is a revolution of the conveyor belt sushi.
Customers order from from an iPad with orders sent directly to the kitchen.
The staff in the kitchen will make the sushi fresh and send the food to the customer by "train" which connects the customer's table to kitchen directly.
A concern with the conveyor belt system is that customers may wonder how long the sushi has been on the belt.
However, with the bullet sushi train, the sushi is made-to-order.
Sushi Aboard's menu of Japanese-style eats is divided into Nigiri Sushi, Sushi Maki Roll, Appetizers, Salads, Beverages, Wasabi & Ginger and more.
For nigiri, they have unagi (eel), sockeye salmon, tuna, ebi (prawn), chopped scallops, aburi saba and more.
For maki rolls, they have yam, unagi, Philadelphia, and deep fried California rolls.
The Eatery
The Eatery is long-standing sushi restaurant having been around since 1983.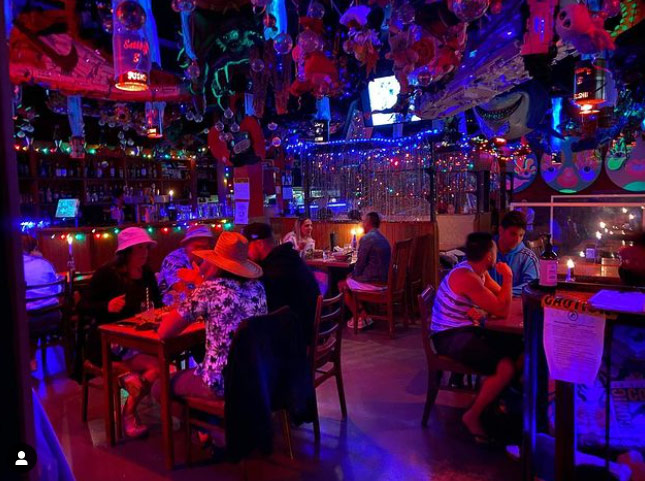 They've got kitschy decor and a menu of Japanese fare and rolls with whimsical names.
I visit The Eatery many times back in the day when I was a UBC student since the restaurant was very close to campus.
Check out the Barbie Roll (tempura prawns, asparagus, inari, covered with roe) and the Tuna Turner (tuna tempura, cucumber and avocado topped with spicy tuna and bonito fish flakes).
Best Vancouver Sushi Patio
A survey conducted by Patio Vancouver for Best Vancouver Patios found that Miku had the best patio, followed by Minami and The General Public.
The Miku patio has waterfront views while Minami has a hidden garden patio.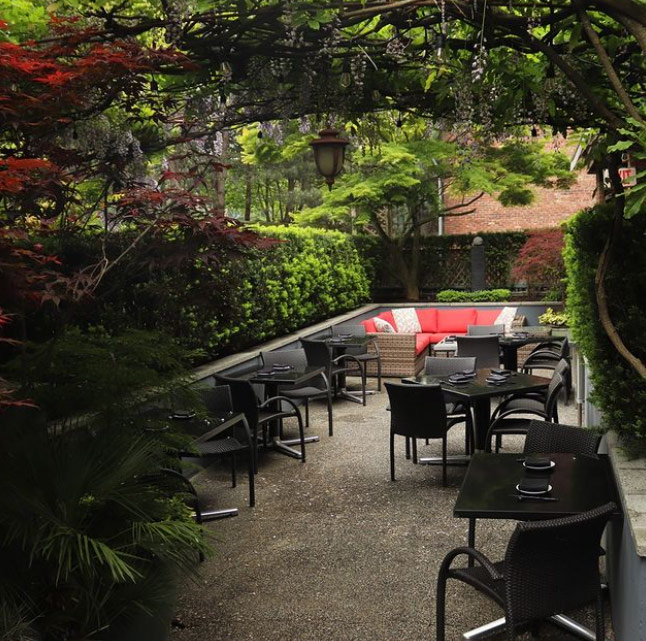 Best Vancouver Cheap Sushi
Welcome to the bottom of the post where I share my recommendations on best Vancouver cheap sushi.
The thing is, I don't have any suggestions. Why? Because life is too short to eat cheap sushi.
When I think of cheap sushi, I think of cheaply priced sushi with lower quality ingredients.
There are lots of great places in Vancouver for excellent quality and affordable sushi. Hopefully, you got some good recommendations above!
Check out my other Best of Vancouver Restaurants roundups: