Whether you're visiting Vancouver for the first time or a local looking to check off your foodie bucket list, here are what I consider to be the Best Restaurants in Vancouver. I have personally tried each restaurant on this list and think you will enjoy them too.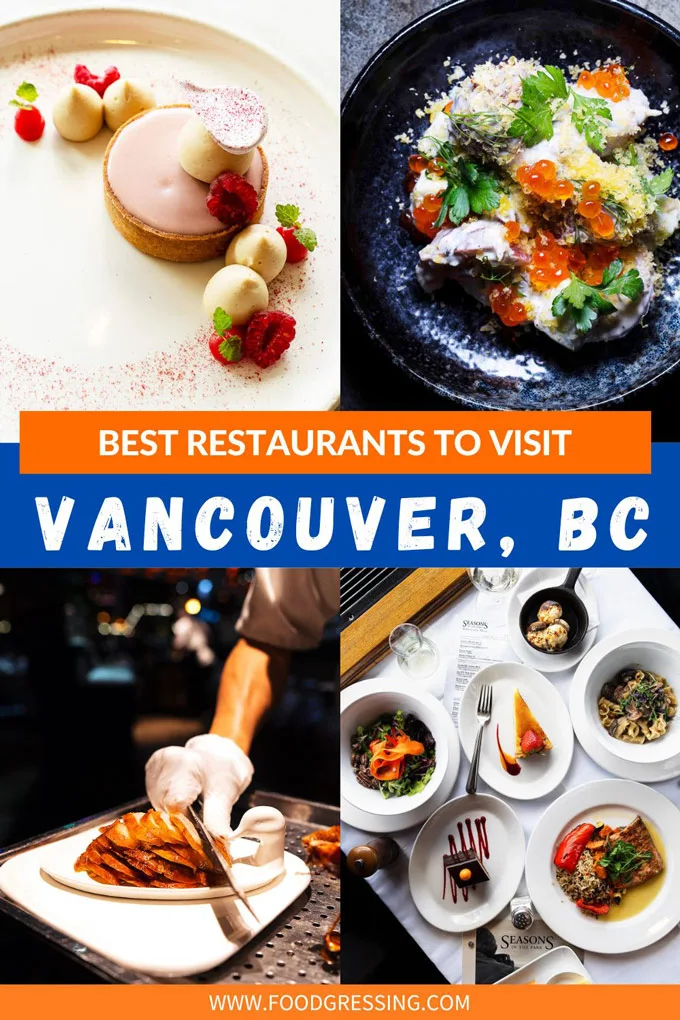 I curated this list based on my own opinion, experiences and knowledge of how well the restaurant is doing in the local scene.
The restaurants listed are in no particular order.
Note: This list is just for restaurants located in Vancouver proper and not the suburbs. This post gets updated when I have new recommendations to offer. Revisit to check out the updates in the future.
Best Restaurants in Vancouver 2023
St. Lawrence
St. Lawrence is an exciting and widely acclaimed restaurant in Vancouver that offers a marriage of classic French cuisine and the gastronomic identity and culture of Les Québécois.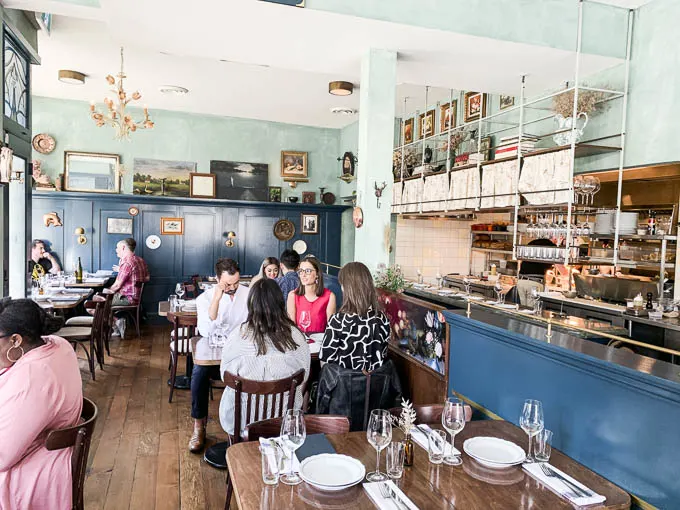 Since opening, St. Lawrence has been singled out as Best New Restaurant at the 2018 Vancouver Magazine Restaurant Awards; No. 4 on enRoute Magazine's 2018 compilation of Canada's Best New Restaurants; No. 2 on the prestigious annual ranking of Canada's 100 Best Restaurants 2020; and consecutive awards as Vancouver Magazine's 2018 and '19 Restaurant of the Year.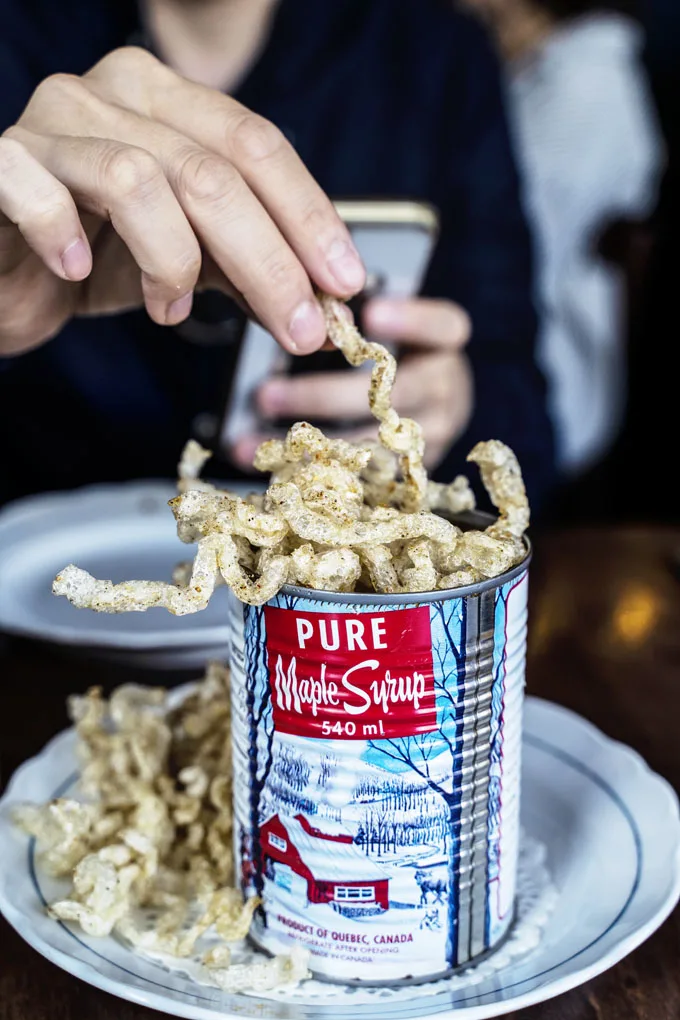 St. Lawrence is a passion project for acclaimed Chef/Owner and 2019 Vancouver Magazine Chef of the Year Award winner Jean-Christophe (J-C) Poirier.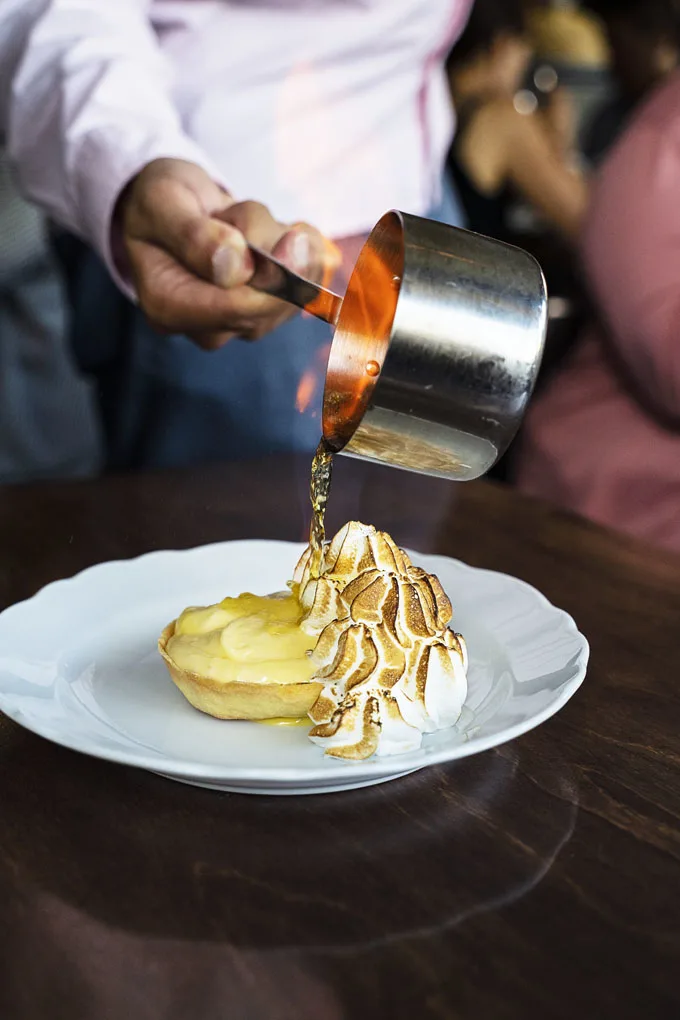 Hawksworth
Located in the heart of Downtown Vancouver, Hawksworth Restaurant offers contemporary Canadian cuisine with ingredient-driven dishes that celebrate the region and the season.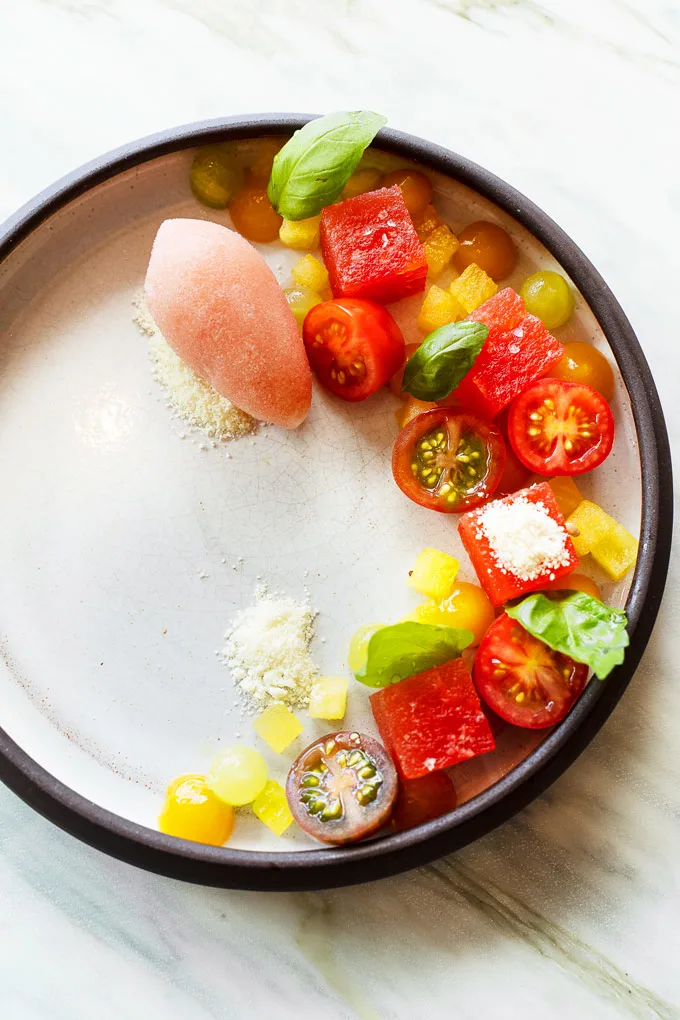 Open for breakfast, lunch and dinner, Hawksworth's menus reflect creativity and spontaneity but also showcasing the culinary team's highly skilled technique and relentless drive for perfection.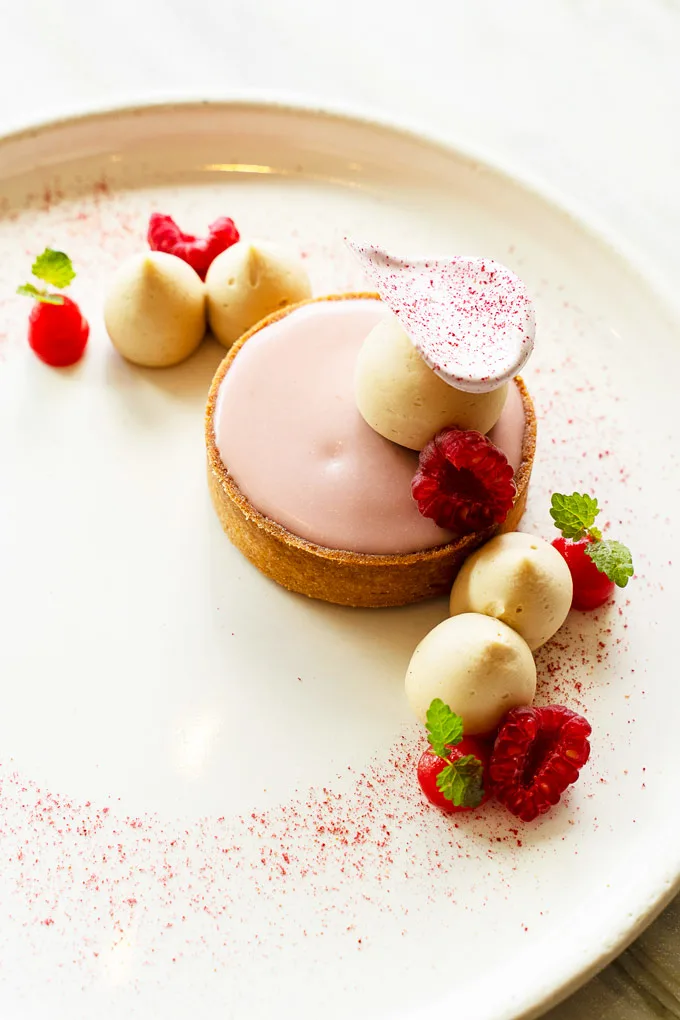 With an extensive and award-winning wine list to match, alongside a dedicated house cocktail program, Hawksworth is sophisticated and glamorous, yet relaxed and welcoming, ready to deliver an array of memorable dining experiences.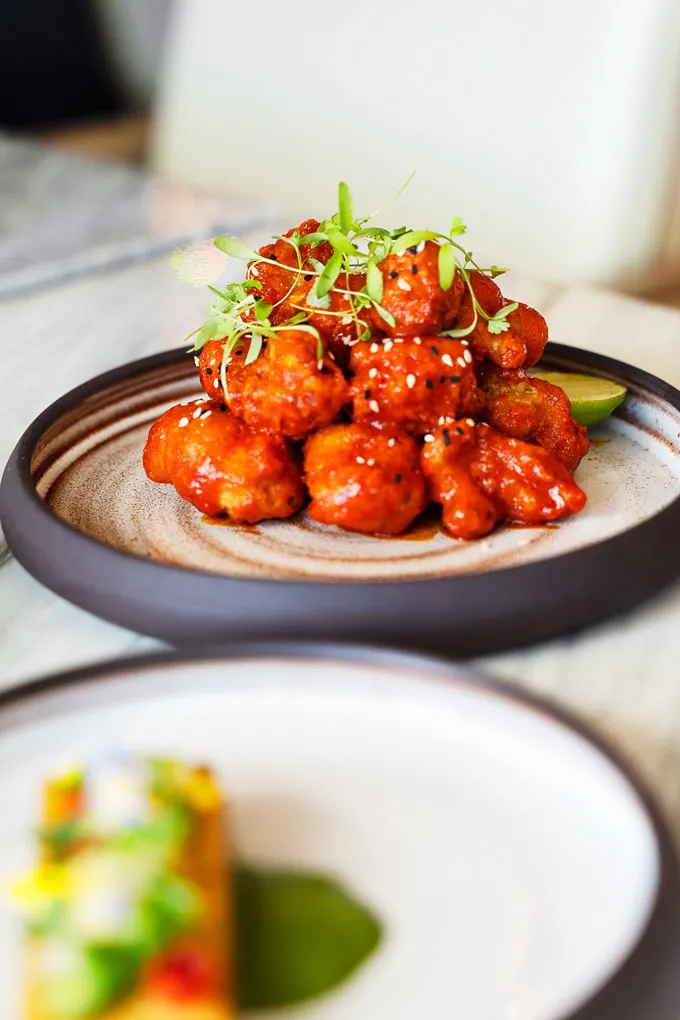 AnnaLena
AnnaLena is an award-winning restaurant in Kitsilano known for their contemporary Canadian fare with a pan-Asian influence.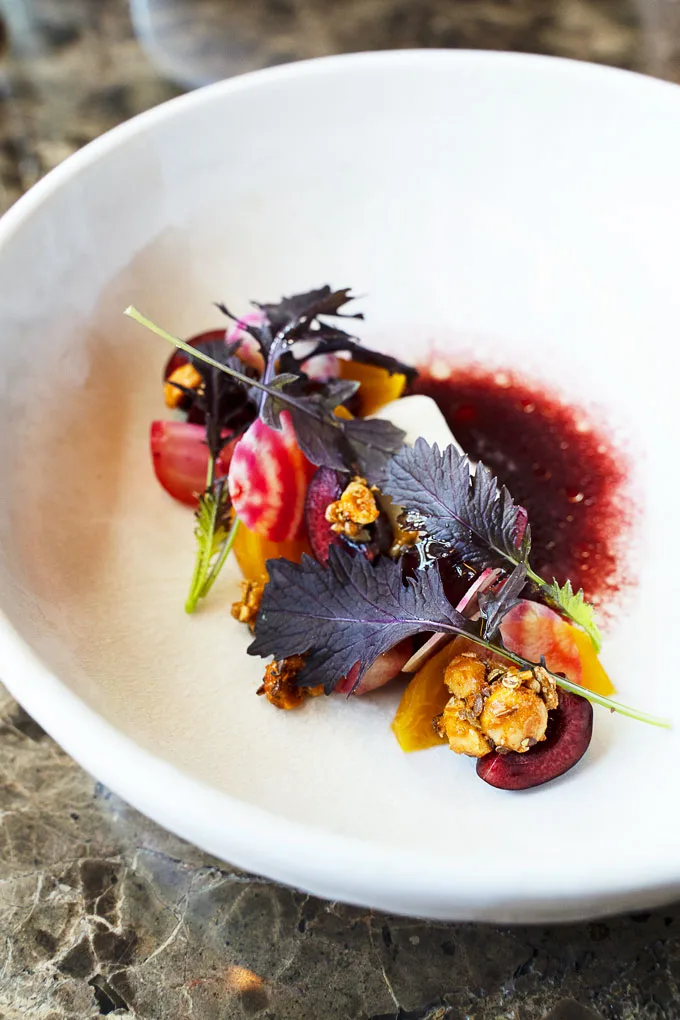 Awarded as one of En Route's Top 10 New Restaurants in its first year of opening and consistently named as one of Canada's Top 100 Restaurants, AnnaLena continues to grow.
The restaurant focuses on a tasting menu only showcasing seasonal ingredients, local farms and suppliers, alongside thoughtful wine pairings and innovative cocktails.
Enjoy dishes like the Wakame mussel vin blanc, ramps, trout roe, with torn bread and the Potato ricotta pasta, onion jus, crème fraiche, guanciale.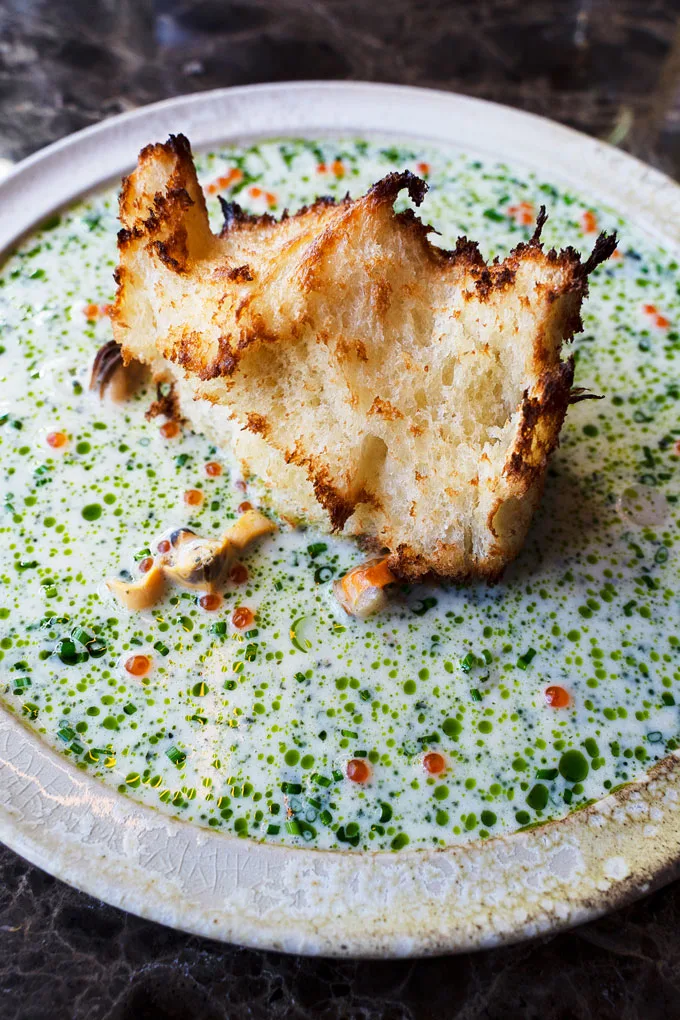 Torafuku
Meaning "lucky tiger" in Japanese, Torafuku has a menu of casual and inventive pan-Asian cuisine with classical French and Italian influences.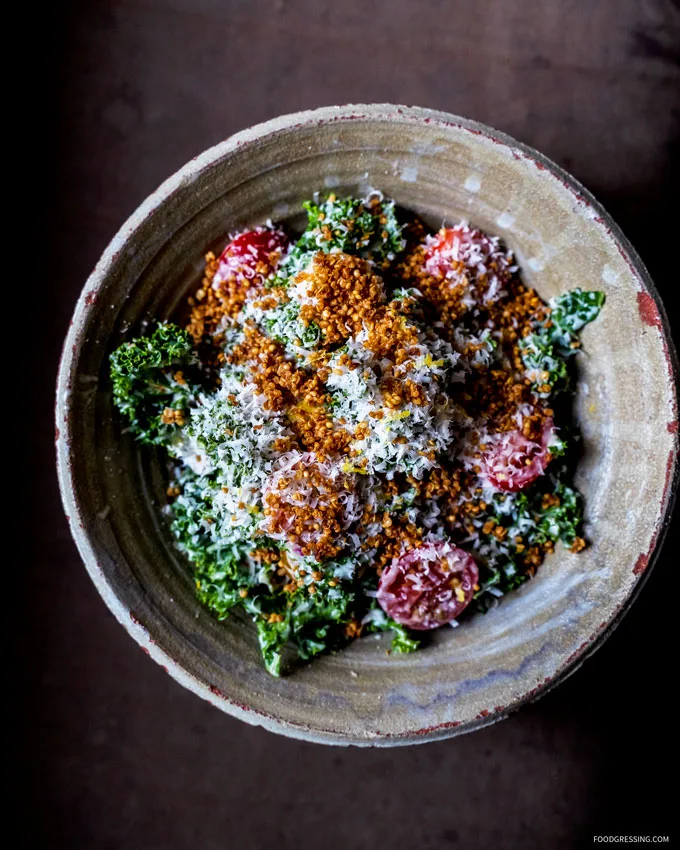 Dishes are playful in spirit and serious in execution, delivering vibrant interpretations of flavours traditionally found in Japanese, Taiwanese, Korean, and Vietnamese cuisine.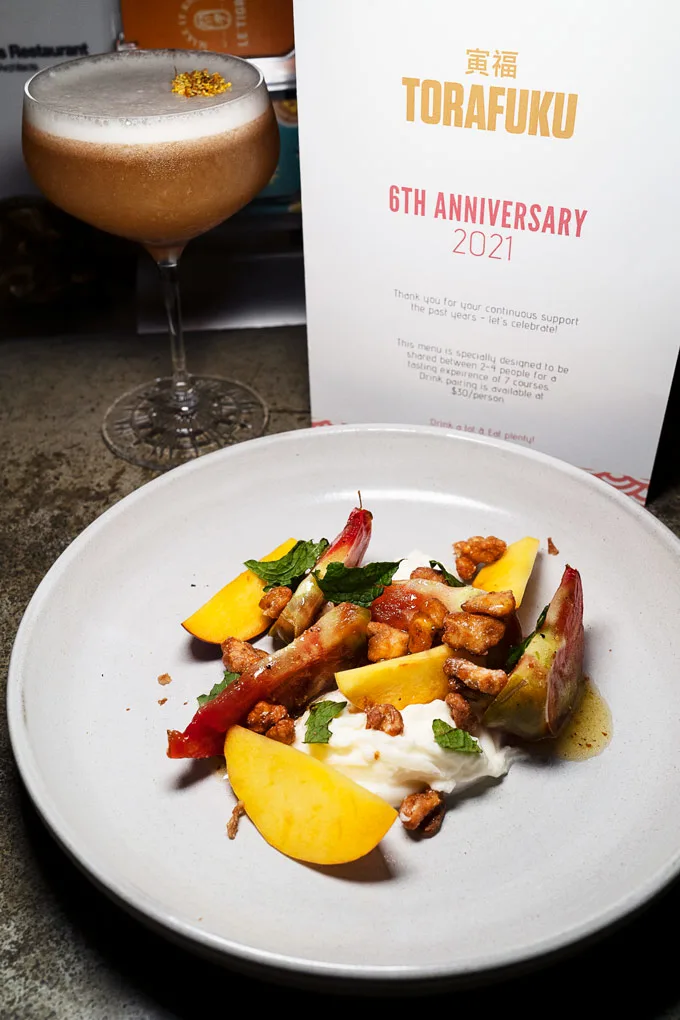 Every plate features seasonal ingredients sourced straight from local farmers.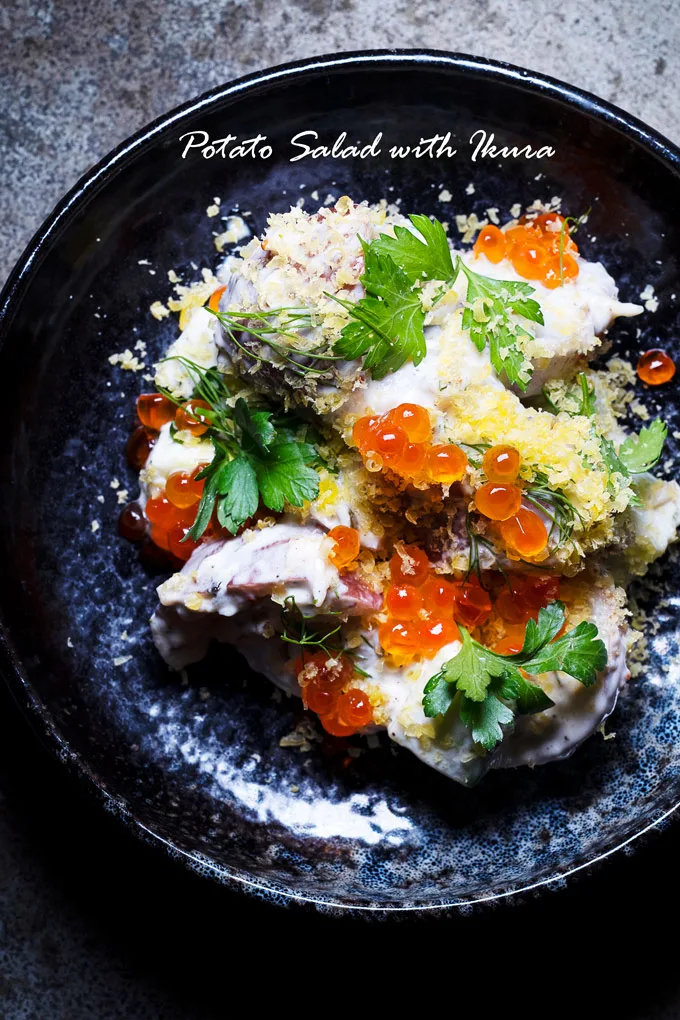 Torafuku is nestled on the border of Vancouver's historic Chinatown at 958 Main Street. They are also on my list of Best Romantic Restaurants in Vancouver.
Boulevard Kitchen & Oyster Bar
Boulevard Kitchen & Oyster Bar is one of the best seafood restaurants in Vancouver with a seafood-focused menu that is grounded in classical technique and training, and artfully infused with West Coast flair and international influences.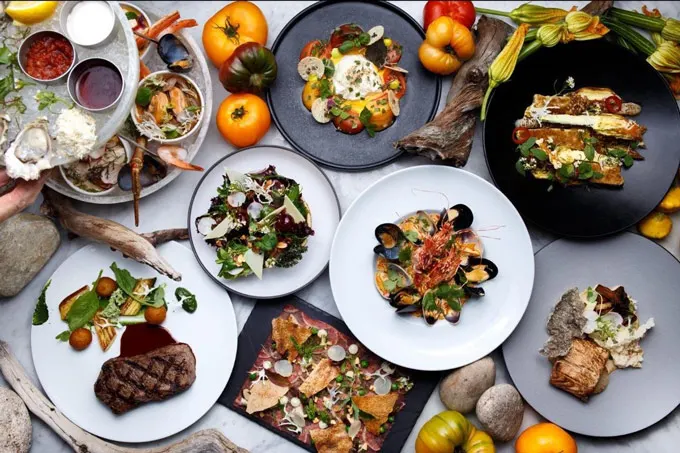 The culinary team at Boulevard is led by Chefs Alex Chen and Roger Ma who won the Canadian Culinary Championship crown, in 2020 and 2018 respectively.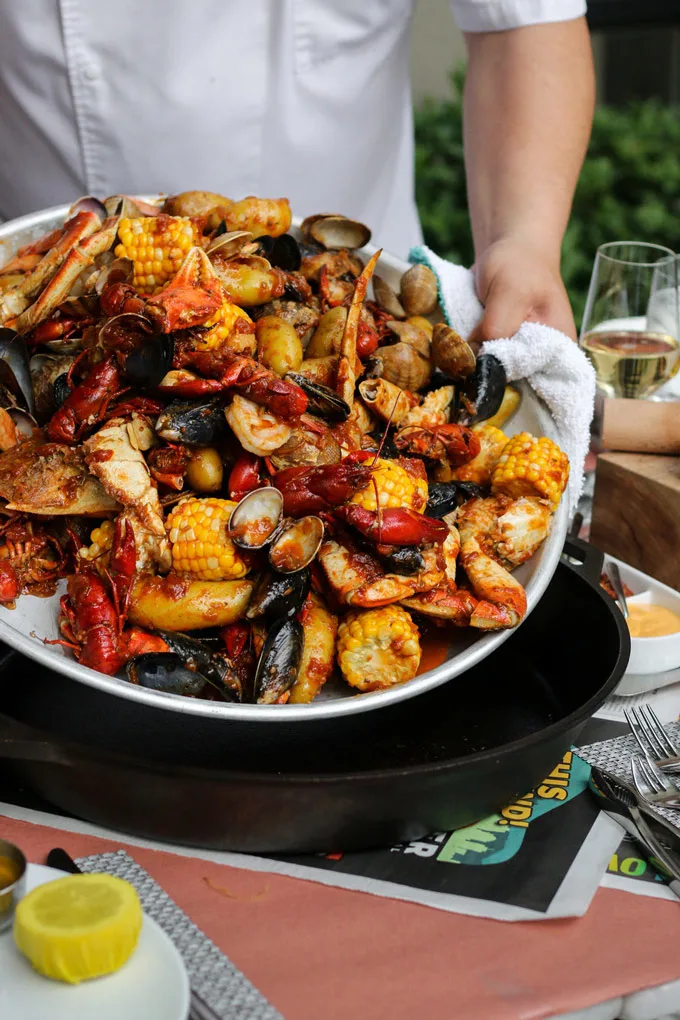 Boulevard boasts a gorgeous main dining room, signature booths, a stylish patio, a buzzy bar and elegant private dining spaces.
You'll find exceptional service, and a wide-ranging selection of wines and cocktail.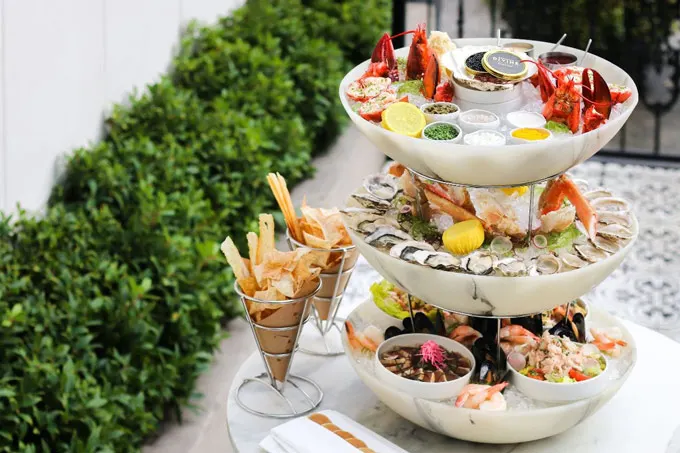 Not to be missed are desserts by Pastry Chef Kenta Takahashi who was crowned as Canada's Best Pasty Chef 2020 by Canada's 100 Best.
Burdock & Co
Acclaimed Chef Andrea Carlson opened Burdock & Co in Vancouver's Mount Pleasant neighbourhood in 2013.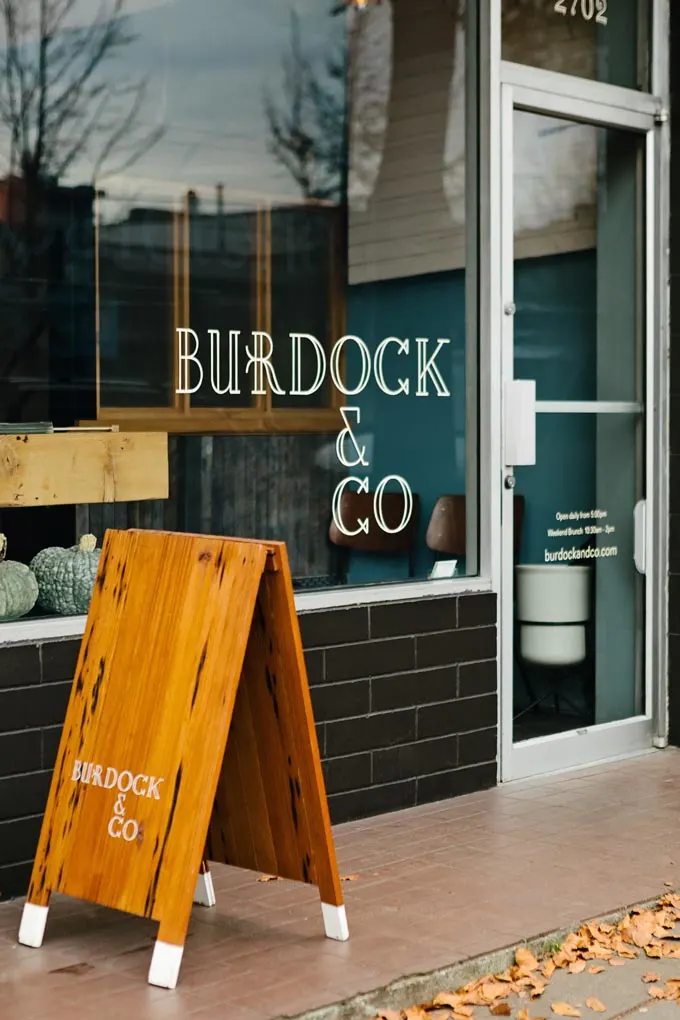 Her restaurant is small but energetic and invites conversation and dining exploration.
Most recently awarded 2020 Chef of the Year 2020 by Vancouver Magazine, Chef Andrea is known for her passion for cuisine showcasing the bounties of the Canadian Pacific Northwest.
Her cooking trusts the raw material to shine.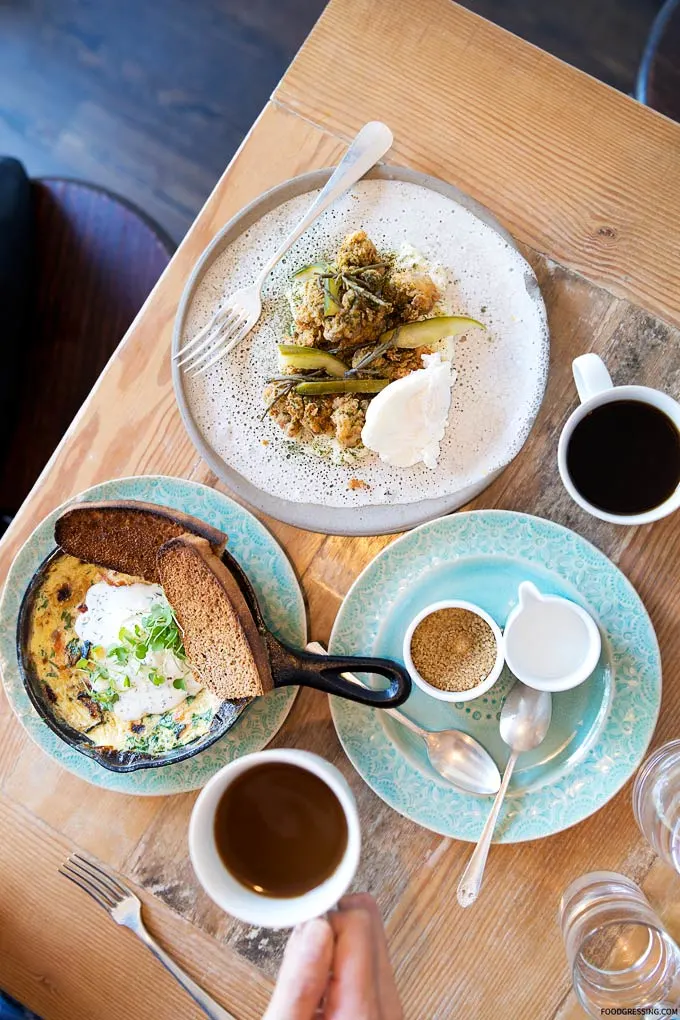 The dishes feature a natural abundance of ingredients by local growers, farmers and foragers.
The wine list features wines that use artisanal techniques and no unnatural additives. The perfect pairings to Chef Andrea's spectacular dishes.
Chang'an
Located right on the waterfront of False Creek North, Chang'an is known as one of the best Chinese fine dining restaurants in Vancouver.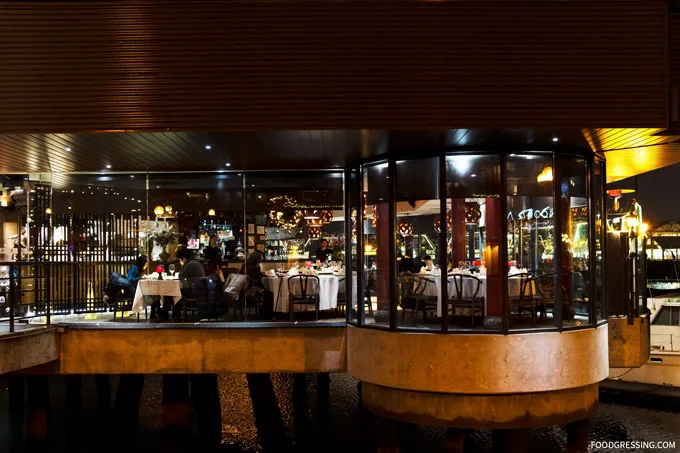 They have received awards and accolades for serving the Best Peking Duck in Vancouver. At Chang'an, the ducks are roasted in-house in a custom stone oven built into the wall.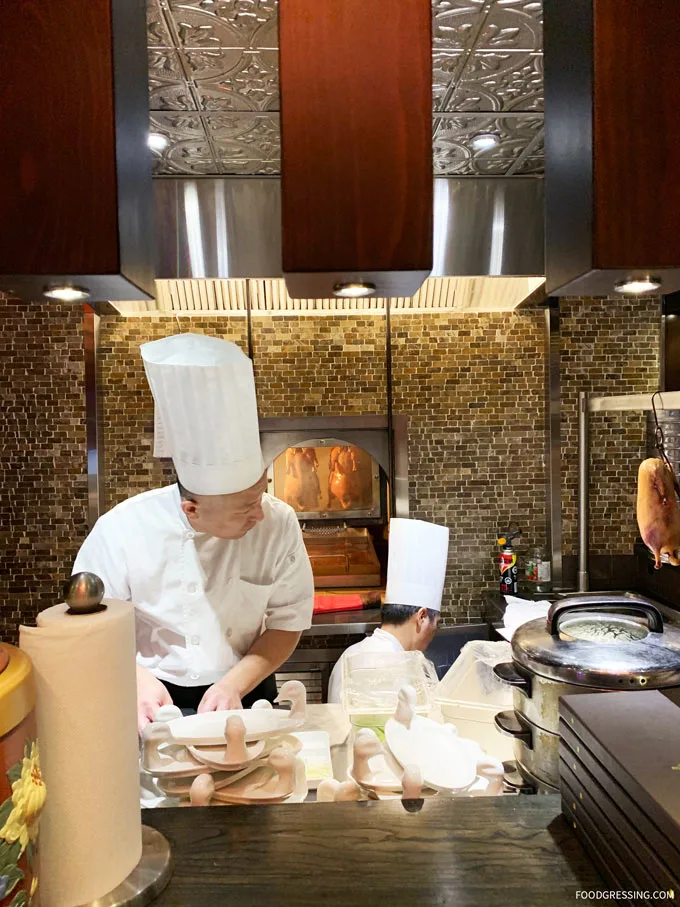 The restaurant schedules the cooking process according to the time of reservation to ensure optimal tenderness of the meat and crispiness of the skin.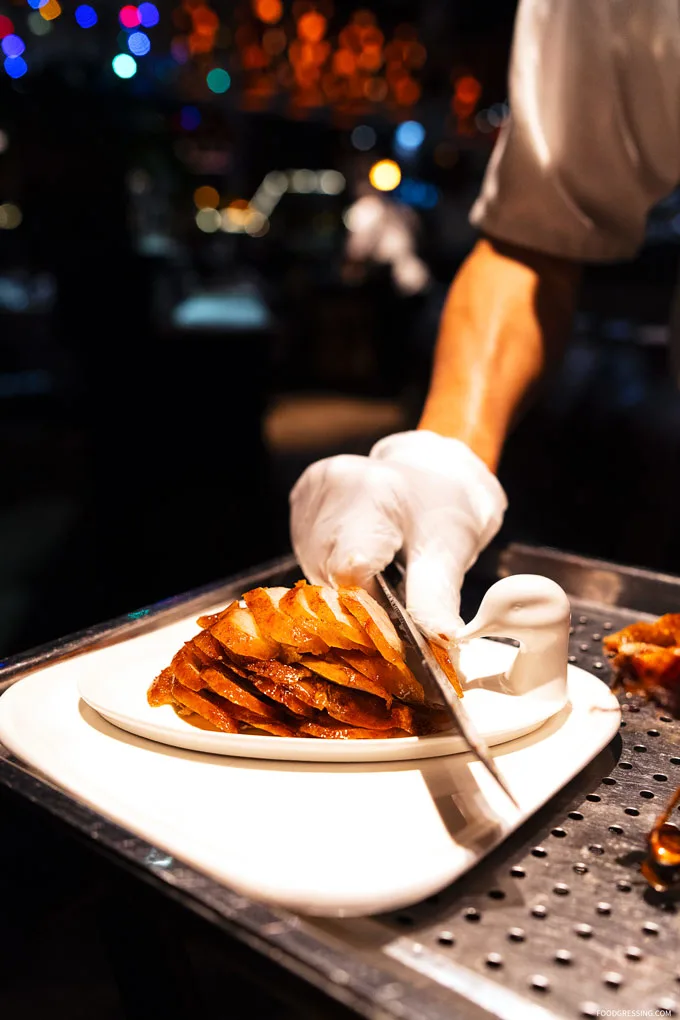 With magnificient waterfront views of Granville Island and False Creek, Chang'an is truly unique in its location.
The Asian-themed decor is elegant and charming and at night the dim lighting sets a cozy and romantic ambiance making them another recommendation as one of the best Vancouver romantic restaurants.
Kirin
My recommendation for a delicious dim sum restaurant in Vancouver is Kirin.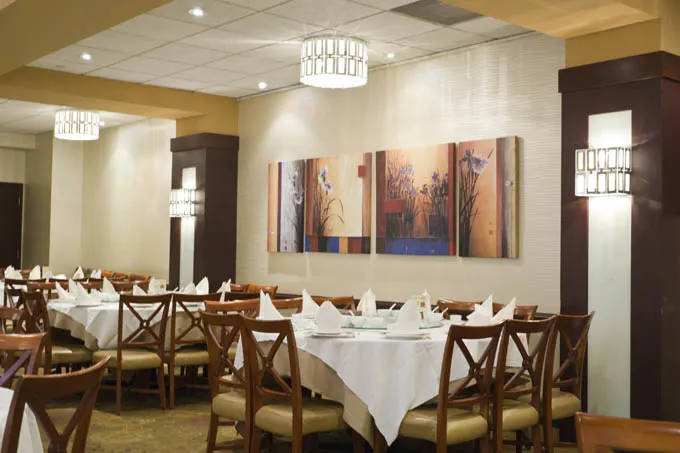 Their dim sum is freshly handcrafted with basic ingredients, and no added MSG, preservatives, and additives.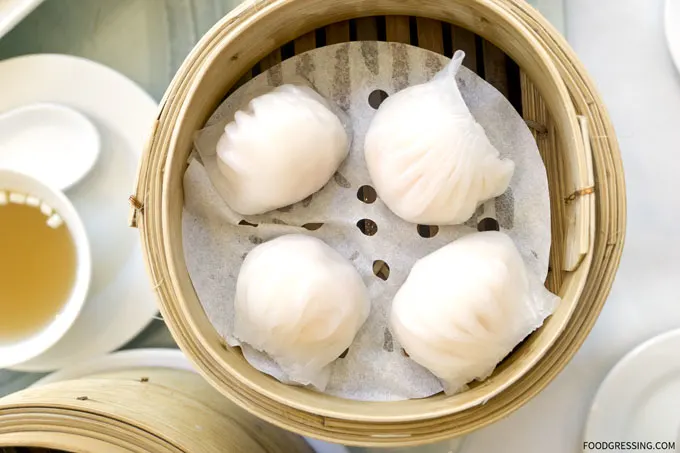 Kirin's bouncy shrimp dumplings, flaky and custardy egg tarts, and cuttlefish ink buns with puree egg yolks are must-tries.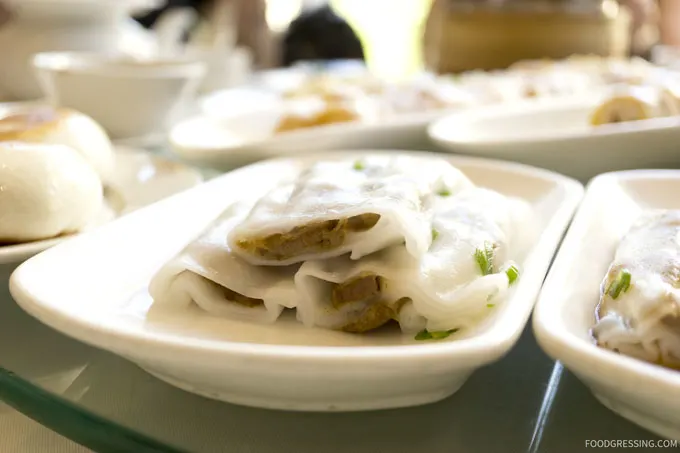 Tojo's
Located in the Fairview neighbourhood, Tojo's Restaurant has been an iconic establishment in Vancouver for more than 30 years, and continues to offer unique and inventive Japanese fine dining for those who love quality fare.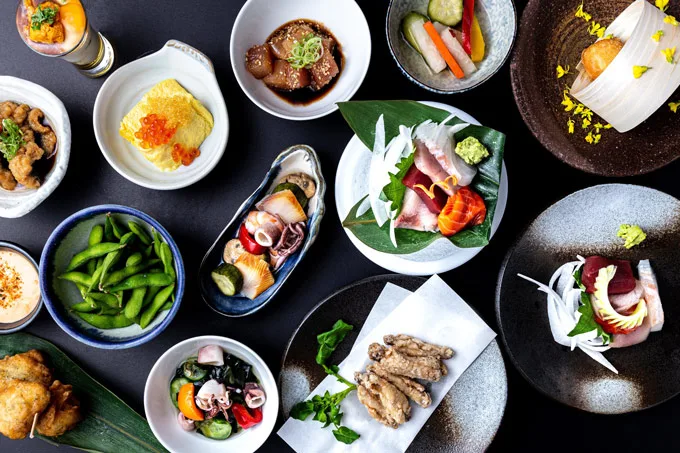 Founder and Chef Hidekazu Tojo focuses on creating delicious sushi and original creations using the finest seasonal, local, and organic ingredients.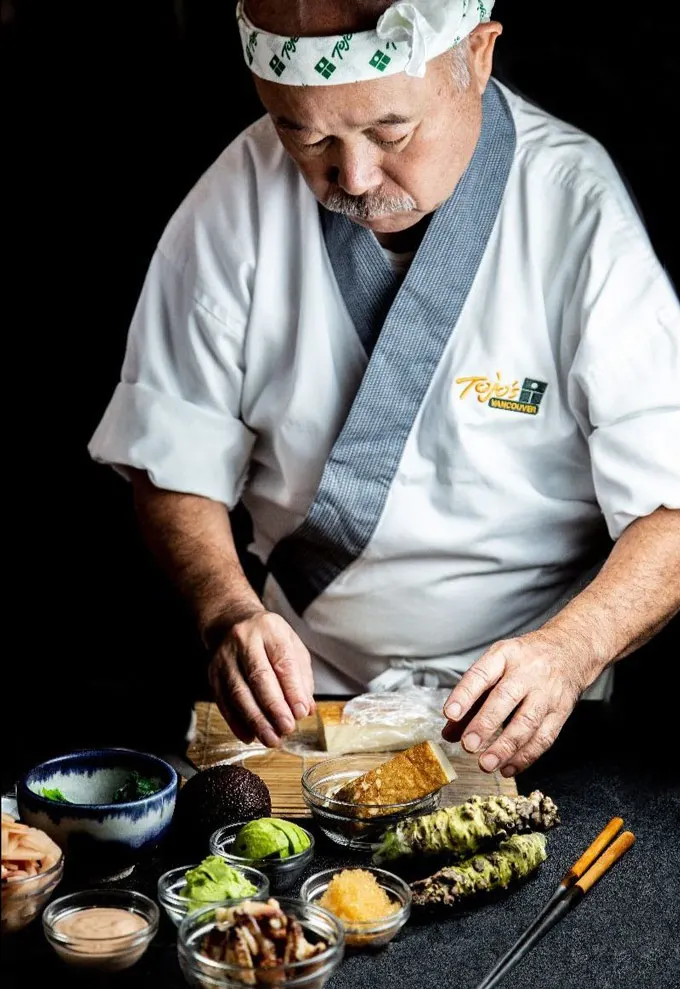 He has long been credited for creating the famous California Roll, and was one of the first to introduce omakase (chef's selection) dining to the city.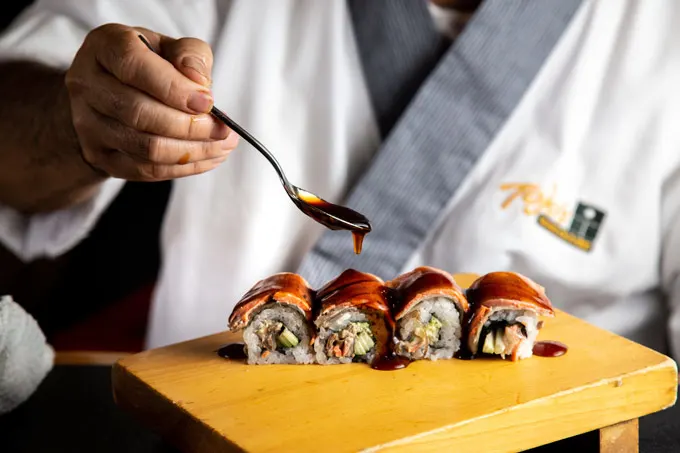 Tojo's menu features fresh, unique and modern dishes prepared using Japanese fine dining traditions but with a Pacific Northwest perspective, using the finest seasonal, local and organic ingredients.
Masayoshi
Masayoshi is one of the best high-end sushi restaurants in Vancouver where guests can enjoy elevated omakase meals where you leaving the ordering up to the chef.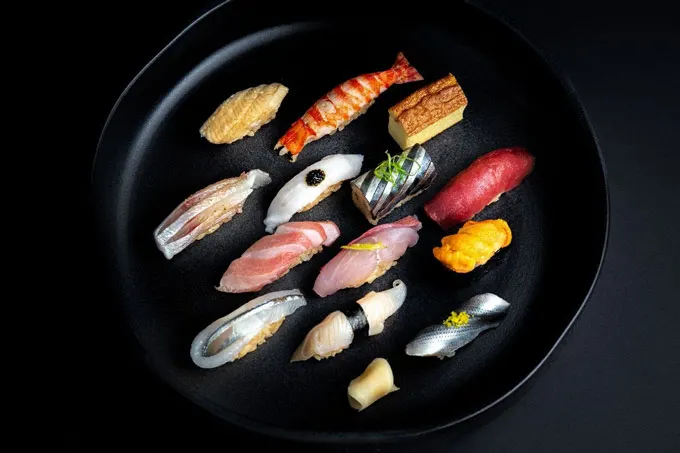 Launched in 2015 by seasoned sushi chef Masayoshi Baba, the intimate, 24-seat room presents guests with a fresh take on Japanese cuisine.
Chef Masa prepares his dishes with time-honoured culinary techniques, seasonal ingredients, elegant plating, and creative flavour pairings.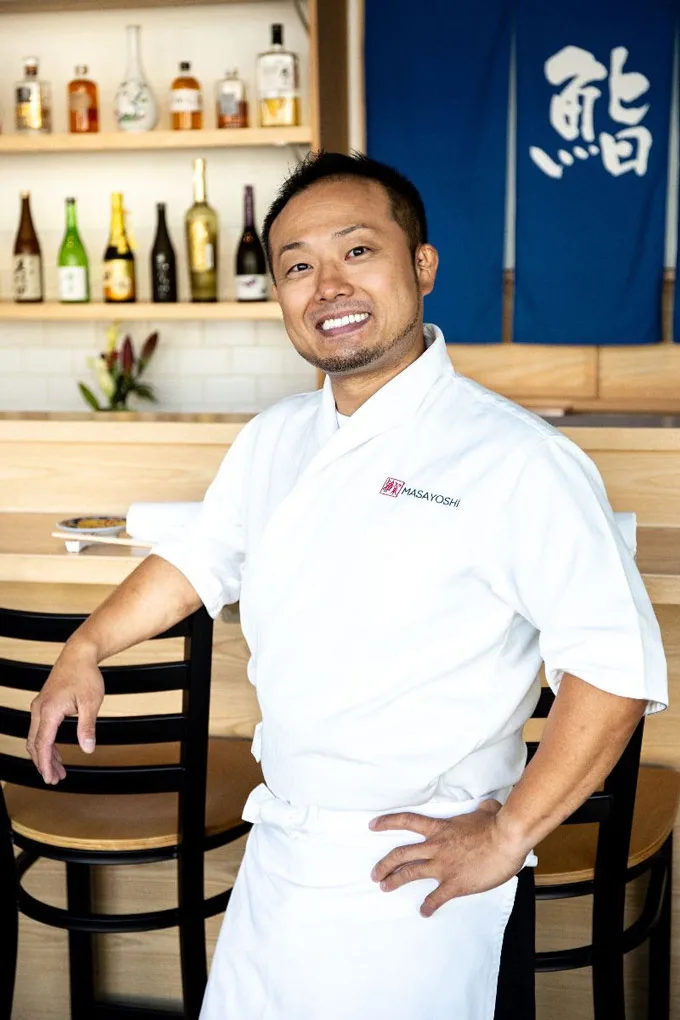 Chef Masayoshi's techniques are based on Japanese cooking, but he explores methods from other cultures' to best derive the umami from every ingredient.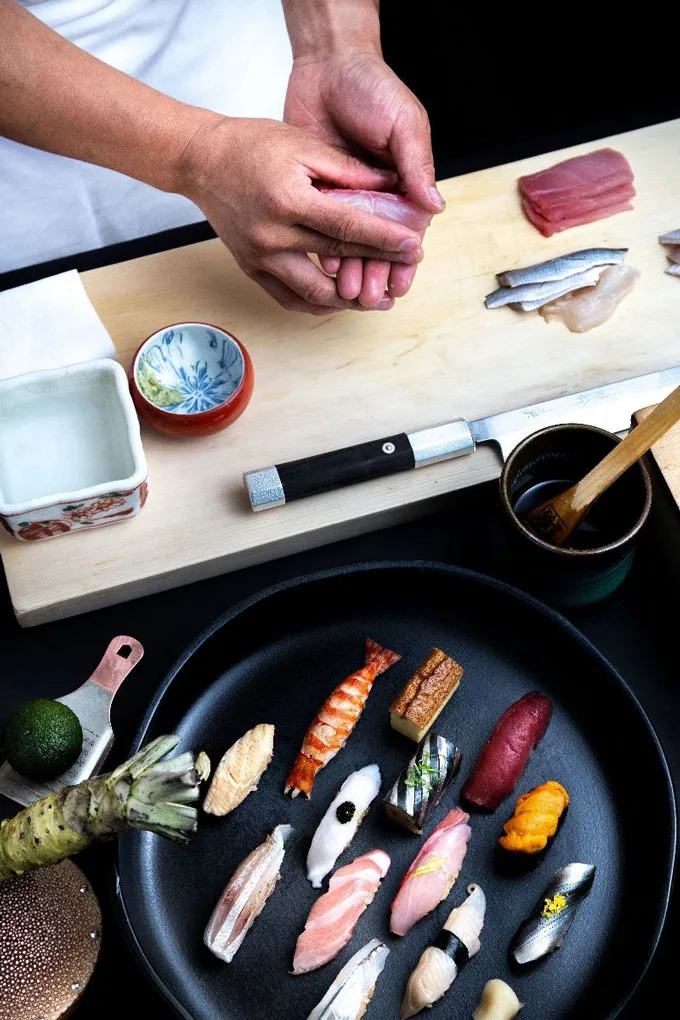 The restaurant also earned a spot on Canada's 100 Best Restaurants list in 2019 and has been featured on 50 Best Discovery, a list of approved establishments curated by industry experts.
Cafe Medina
Cafe Medina has been serving up their signature brand of Mediterranean-inspired cuisine and connoisseur-savvy coffee since 2008.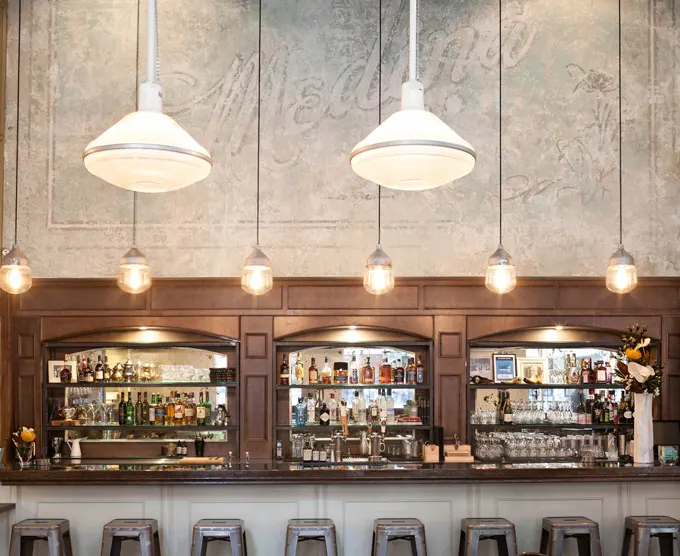 It's a quaint, bistro-styled restaurant replete with old-world charms serving fresh and eclectic breakfast, lunch and daily brunch alternatives seven days a week.
They are best known for their Belgian waffles which come with options of delectable toppings like dark chocolate, milk chocolate lavender, white chocolate pistachio rosewater, and more.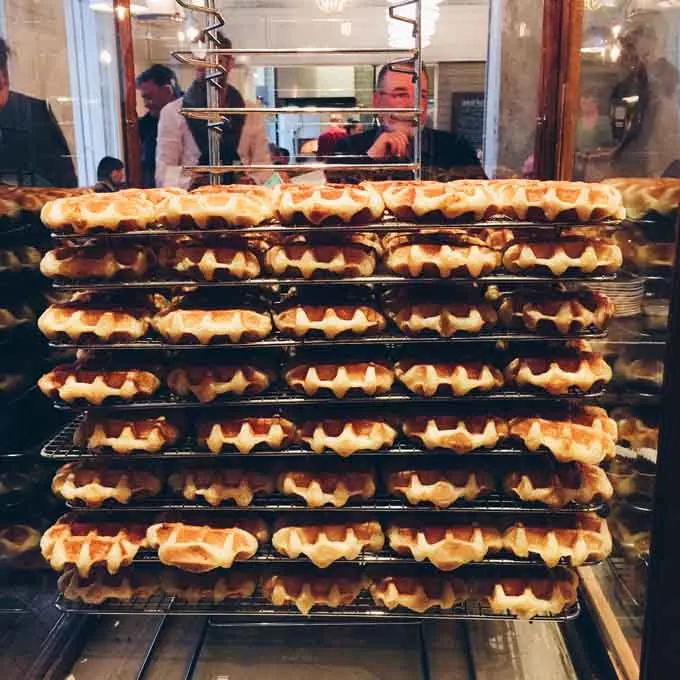 Nightingale
As sister restaurant to Hawksworth, Nightingale is a contemporary eatery with an extensive menu of seasonal vegetable dishes, fresh salads, pizzas, pastas, crudo and creative proteins.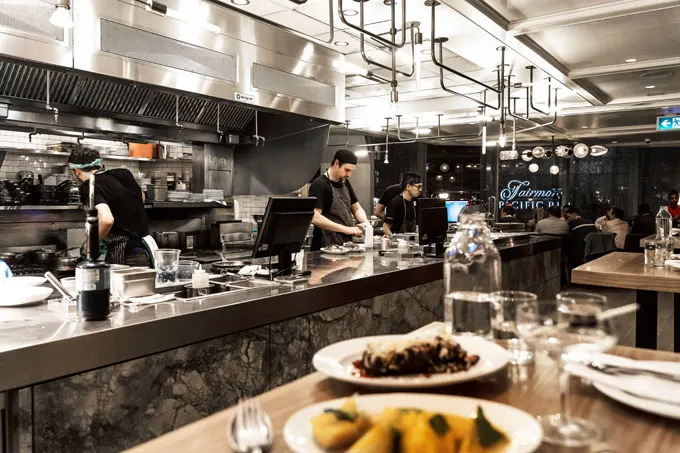 Dishes are presented in a range of share plates and sides that contribute to the laid back, convivial atmosphere of the industrial-chic space.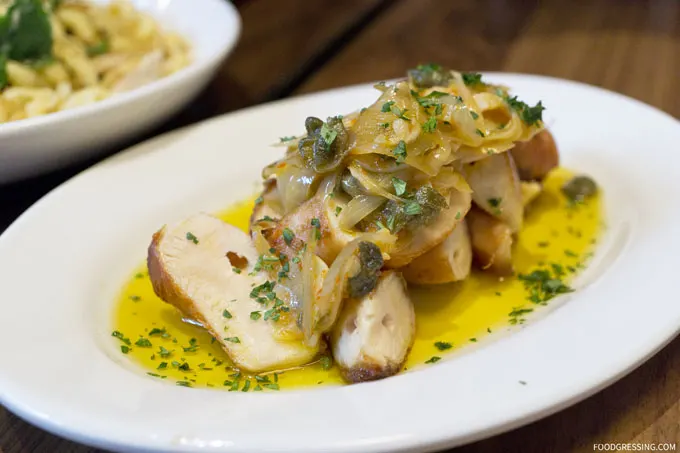 The bar, which is the focal point of the dining room, offers an approachable and diverse wine list, house libations, inventive rotating cocktails and a range of local craft beers.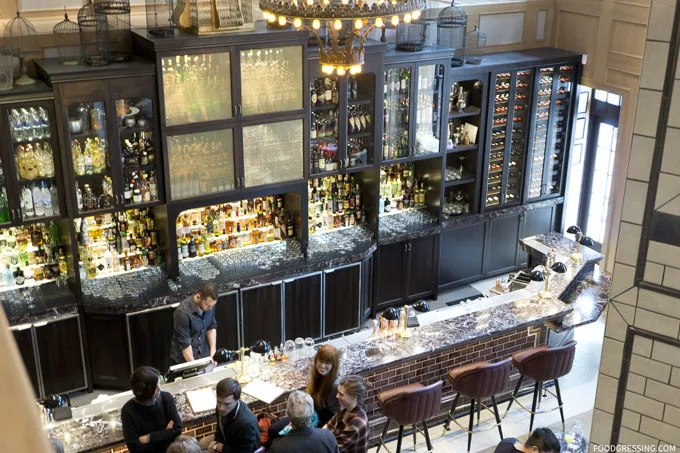 Botanist
Located at the Fairmont Pacific Rim, Botanist features a menu that showcases the botany of British Columbia – produce rooted from the soil of the Northwest and sustainability sourced seafood.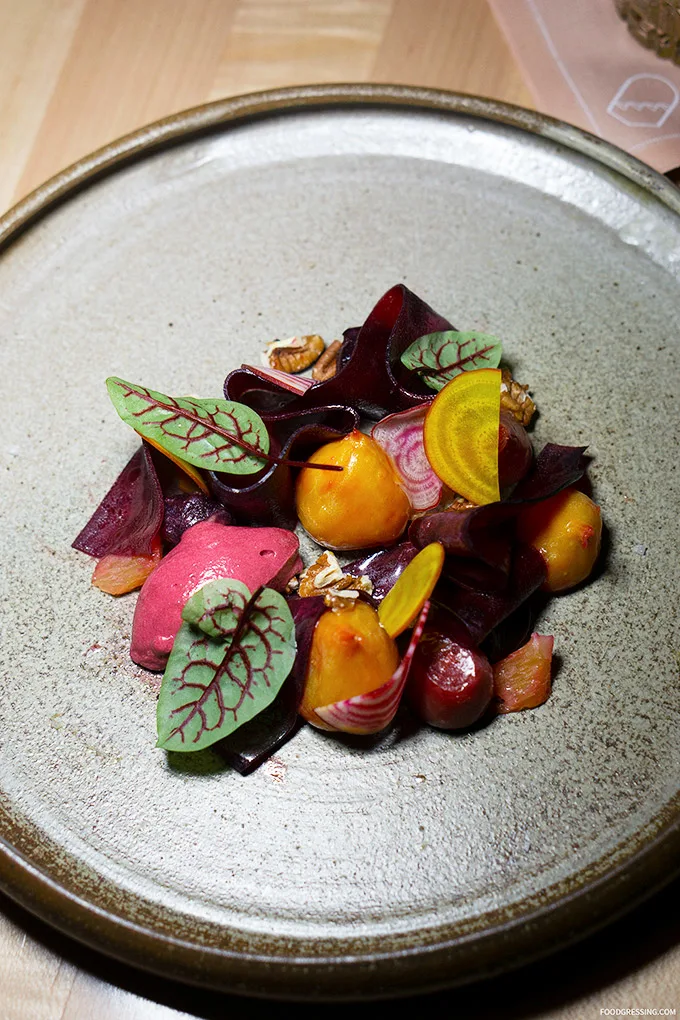 Botanist's inviting space offers four distinct areas with their own robust personalities; a bar, garden, dining room and private dining room – all inspired by the principles of botany.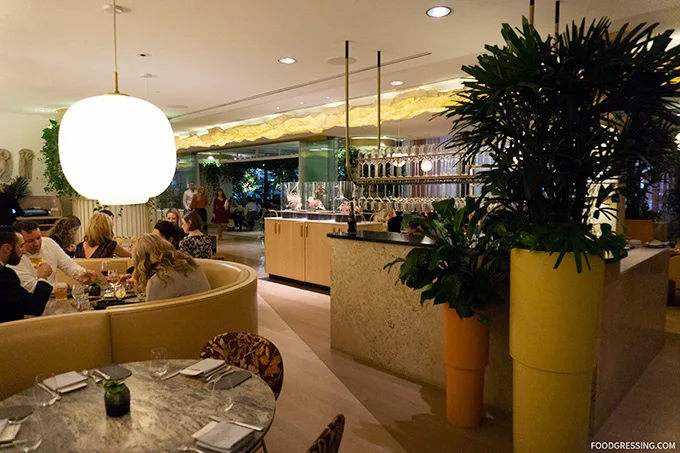 Brix and Mortar
Brix and Mortar is a Yaletown institution, with exposed brick, white tablecloths and fantastic service.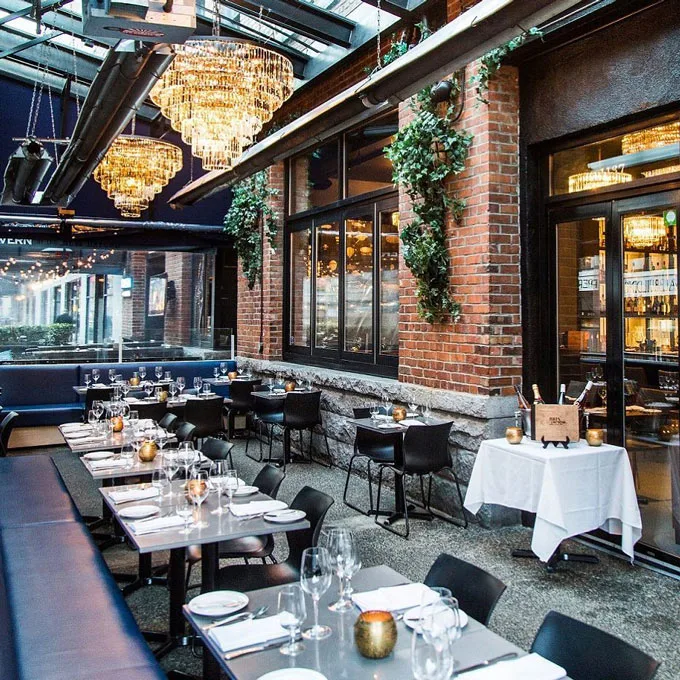 With a glass surrounded courtyard and vines climbing the side of the brick building, the restaurant and bar make for an ideal night out with a partner.
One of the few Vancouver restaurants awarded a Wine Spectator Award, the commitment to fine wine is
evident by the massive by the glass list.
Cocktails are all created by the bartending team here, while the food celebrates contemporary Canadian cuisine, like the Haida Gwaii salmon served with Vietnamese pickled salad.
L'Abbatoir
Nestled in the heart of Gastown where cobblestone streets still exist and you can just faintly hear the whistle of the Historic Steam Clock, L'Abbatoir is one of the best restaurants in Vancouver.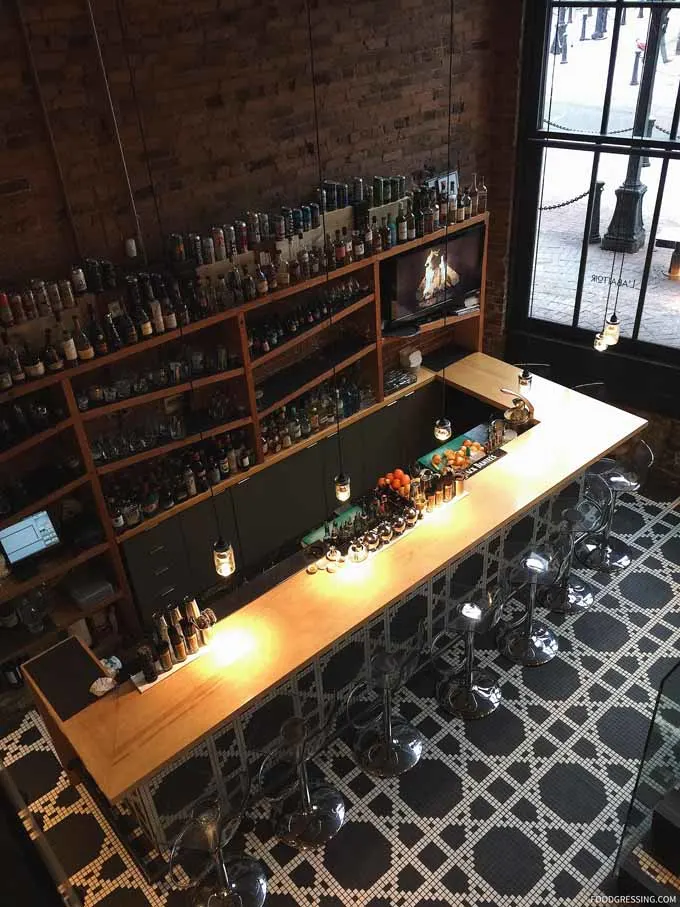 Chef & Owner Lee Cooper and his team are dedicated to highlighting the finer points of dining in a comfortable, yet refined setting.
You'll find French influenced West Coast fare paired with an award-winning wine program and inspired cocktail list to offer an unforgettable dining experience.
ZUBU Ramen
If you're looking for one of the best ramen restaurants in Vancouver, check out the locally owned and operated (not an overseas brand!) ZUBU ramen.
Diners can expect to discover authentic, traditional Japanese flavours, complemented by local ingredients.
Several ramen options are available to satisfy a variety of palates, including all the classics and modern renditions such as the Mazesoba – while brothless, this wholesome mess-free variation doesn't skimp on flavour.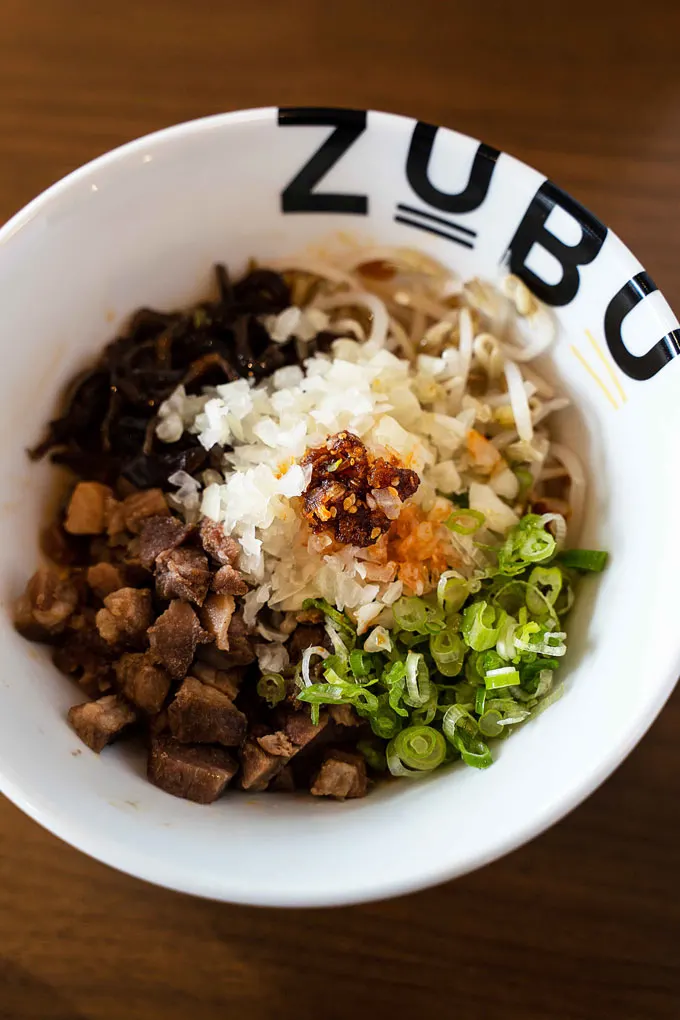 With each bowl of ramen, you can choose your spice level from mellow one to fiery five.
Additional highlights include the interactive D.I.Y. Temaki platter which features all the ingredients you need to create a delicious sushi roll. These include cucumber, avocado, radish, sushi rice, nori seaweed and fresh daily proteins like tuna, salmon, prawn, crab.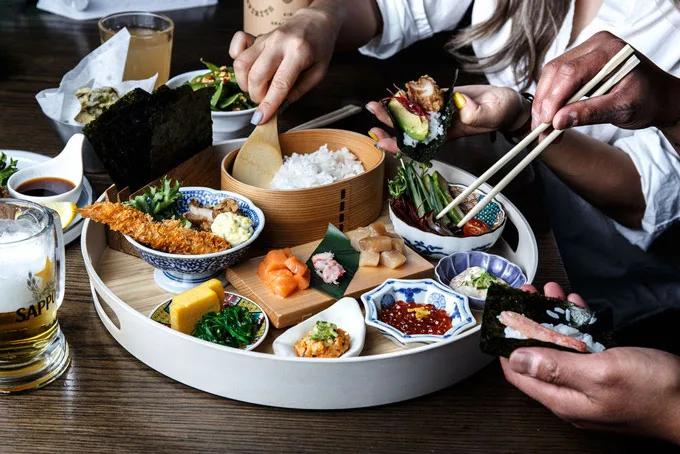 Neverland Tea Salon
Neverland Tea Salon is a charming Kitsilano destination where you can find fanciful treats and beautiful sweets in their whimsical, creative and delicious themed high teas. It's on top of my recommendations for best afternoon tea in Vancouver.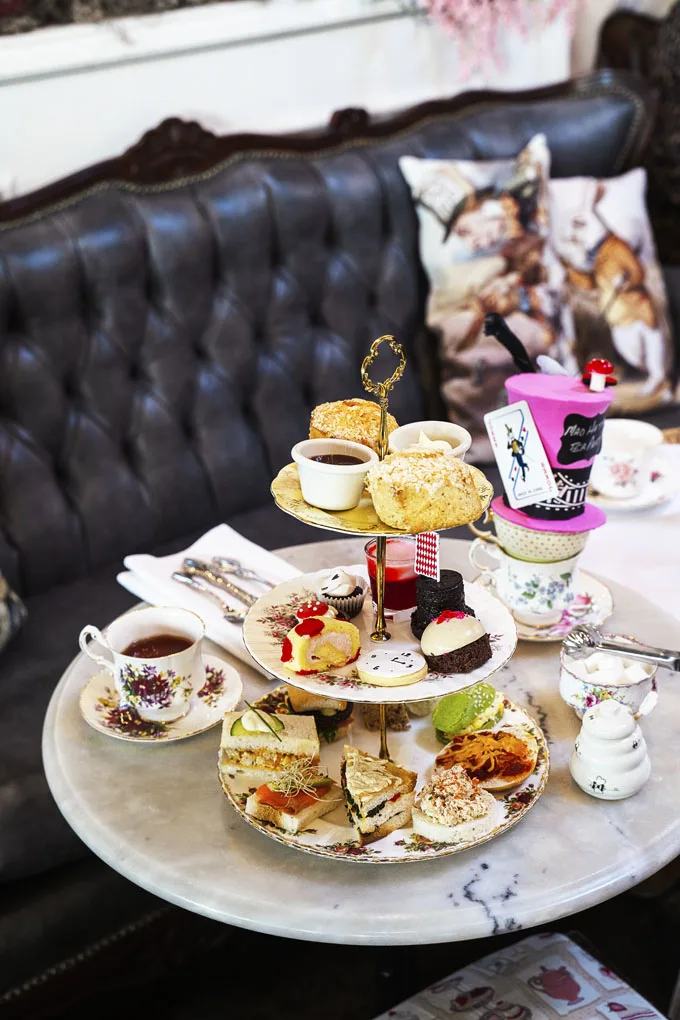 Alice in Wonderland themed, European High Tea Breakfast Tower, and High Tea to Go are just some of their fun offerings.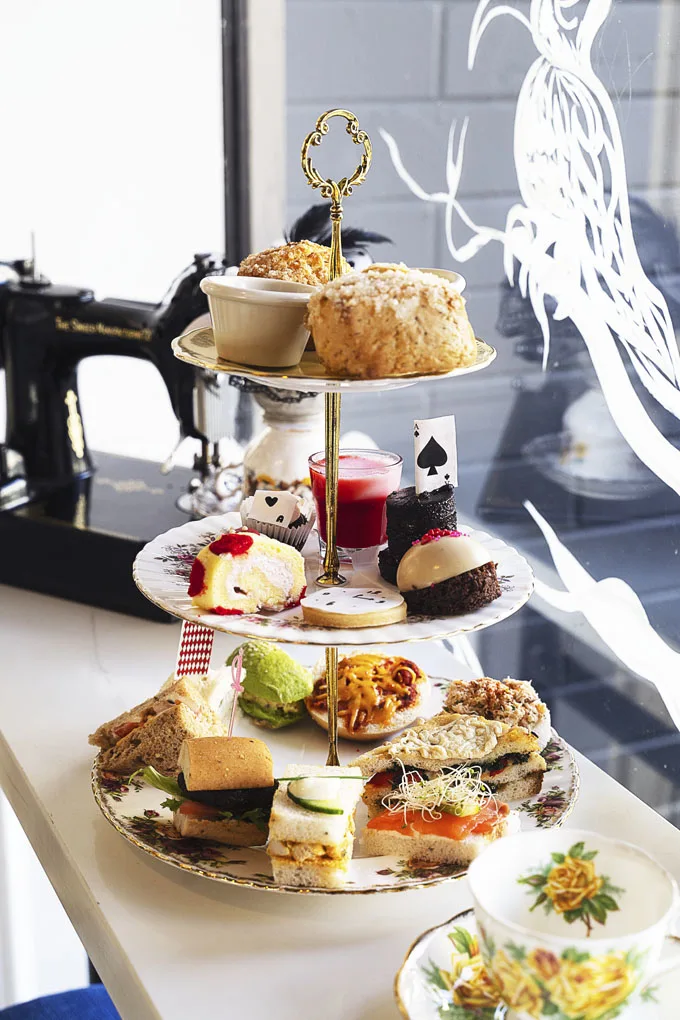 They are also one of the rare afternoon tea spots that caters to different dietary needs including gluten-free, vegan, dairy-free and so forth.
CinCin Ristorante
As Vancouver's leading Italian restaurant, CinCin is your destination for authentic Italian flavours in the heart of Downtown.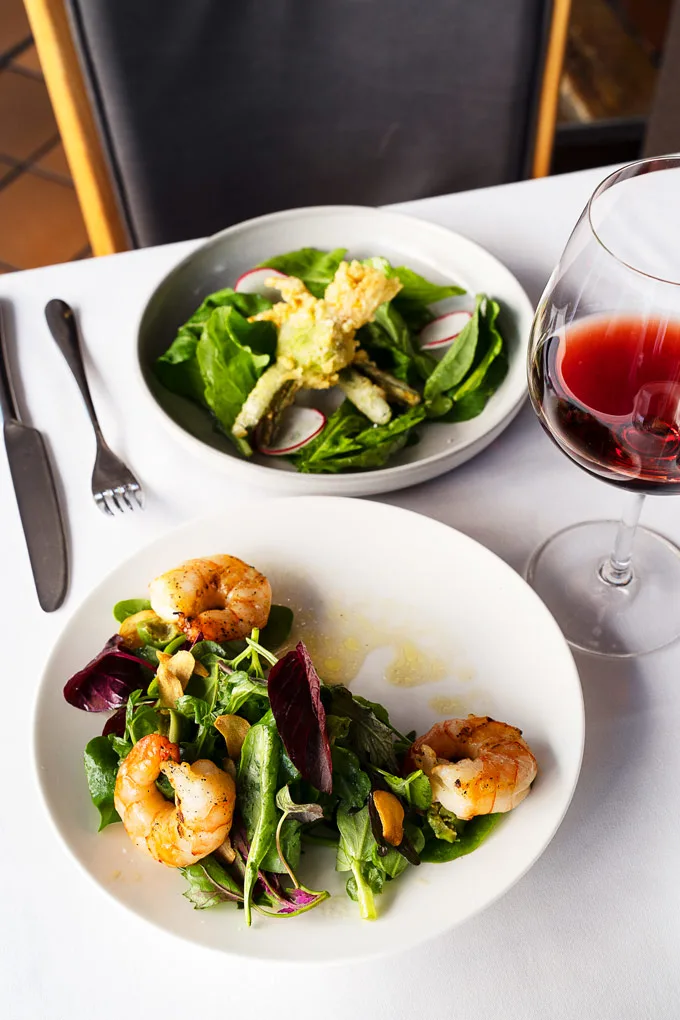 Fresh market fish and prime cuts of meat are prepared over CinCin's Grillworks Infierno, a two-metre behemoth of stainless steel that features a massive grill and rotisserie.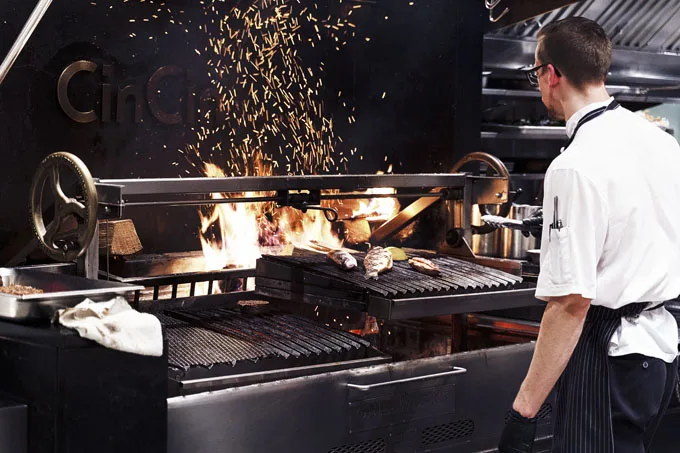 Their outdoor year-round patio overlooks bustling Robson Street and is a beautiful place for a date in Vancouver.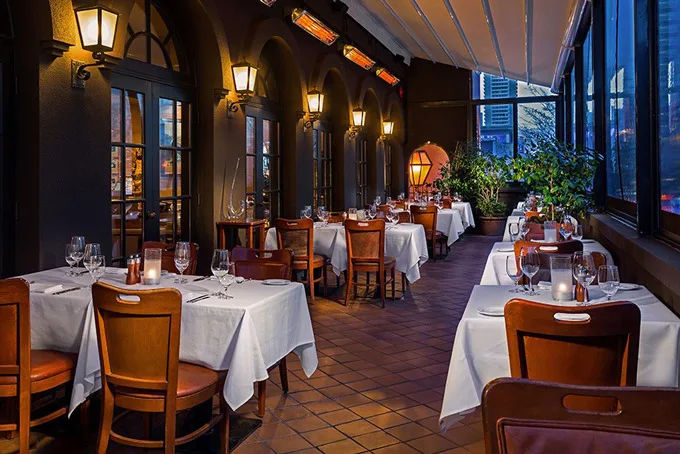 Seasons in the Park
Located within Queen Elizabeth park, Seasons in the Park sits on the highest peak in Vancouver and boasts weeping views of Vancouver and the mountains.
They have one of the best year-round patios in Vancouver and their setting makes for a great date night restaurant in Vancouver.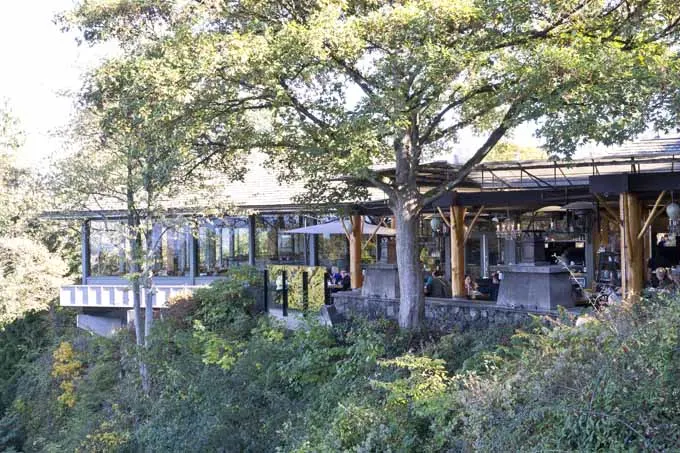 The restaurant serves Pacific Northwest cuisine and is open for lunch, brunch, dinner, Sunday Night Prime Rib dinner.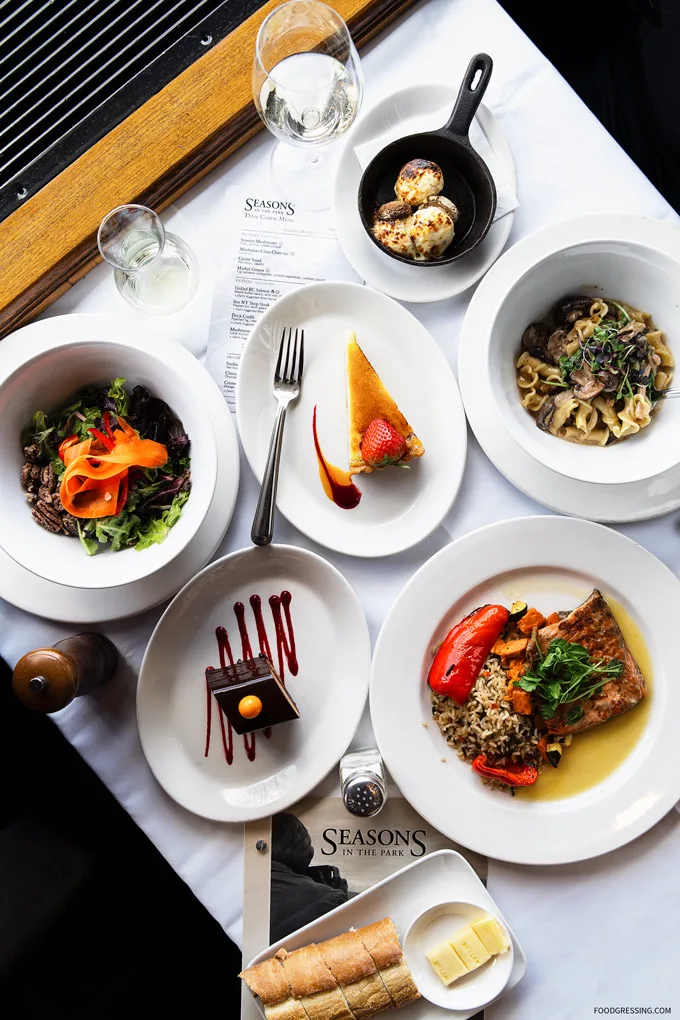 Water Street Cafe
With cobblestone streets, vintage street lamps, and historic buildings, Gastown is one of the best neighbourhoods to visit in Vancouver.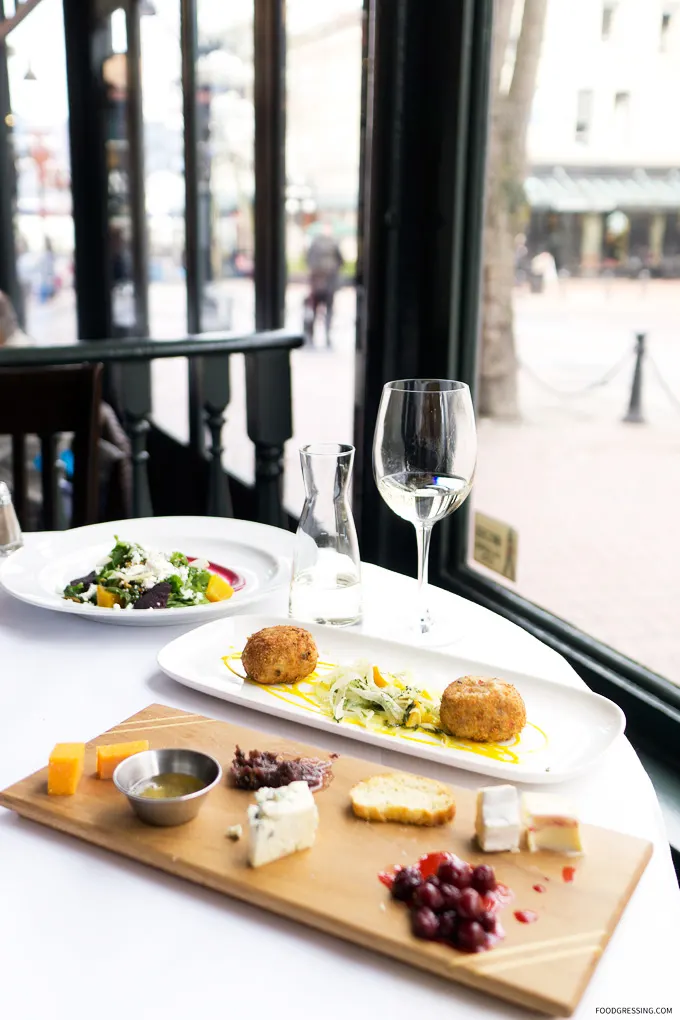 Stop by Water Street Cafe, a longstanding Vancouver restaurant, known for their Pacific Northwest menu with Italian influences.
My favourite items from the menu are the West Coast Crab Cakes; Bison Capraccio; and Meatballs & Pappardelle.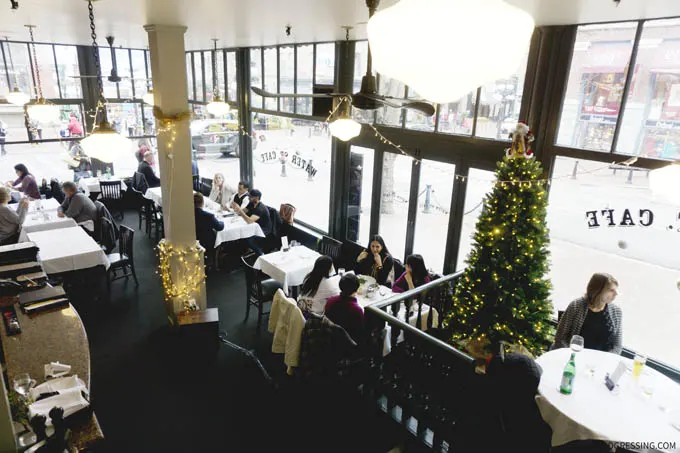 The dining area boasts a view of the Historic Steam Clock. Also check out their 2nd floor which offers live musical performances by local artists.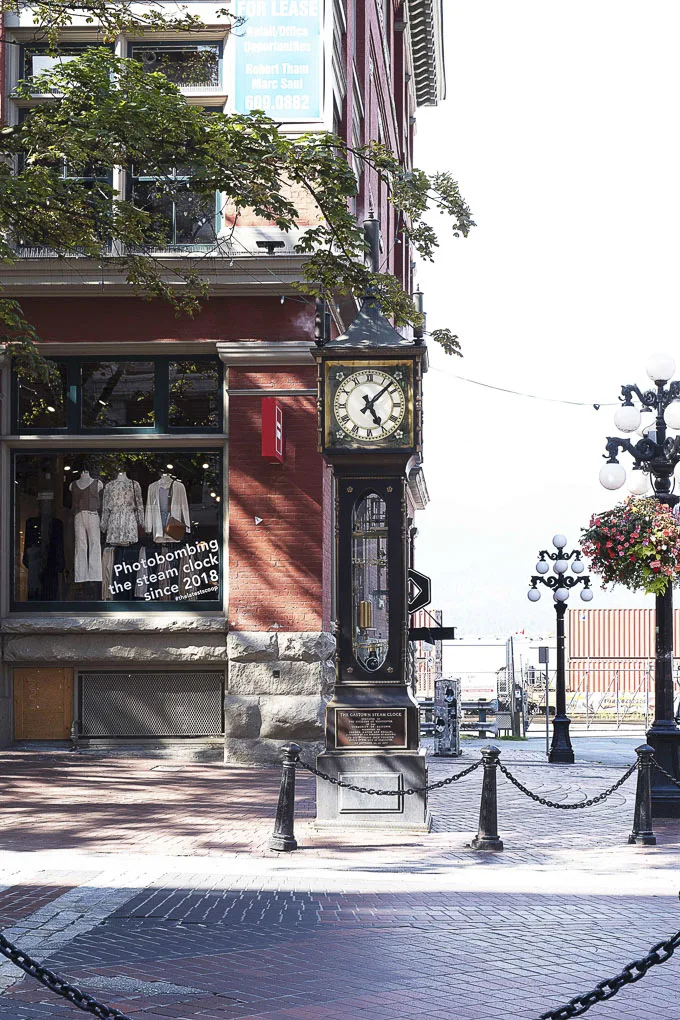 Sula
With two locations, Sula Indian Restaurant is one of the best Indian restaurants in Vancouver.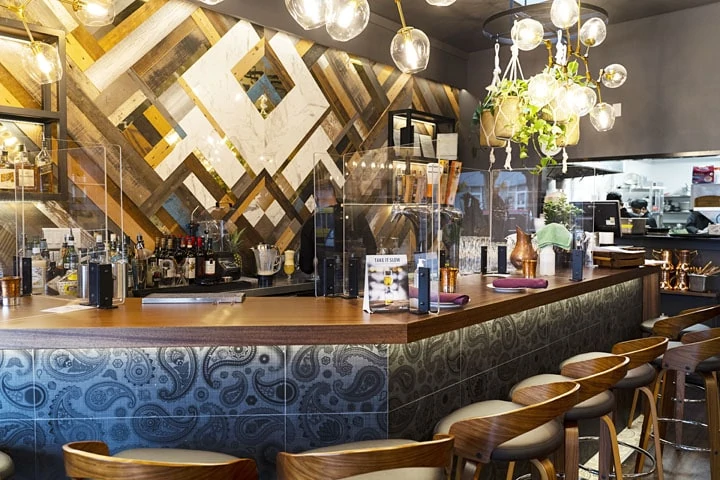 You'll also be impressed with the rustic and charming setting at featuring antique furniture, pops of vibrant colour, and a Indian mural art
The menu at Sula is extensive featuring fragrant curries as well as Mumbai street snacks.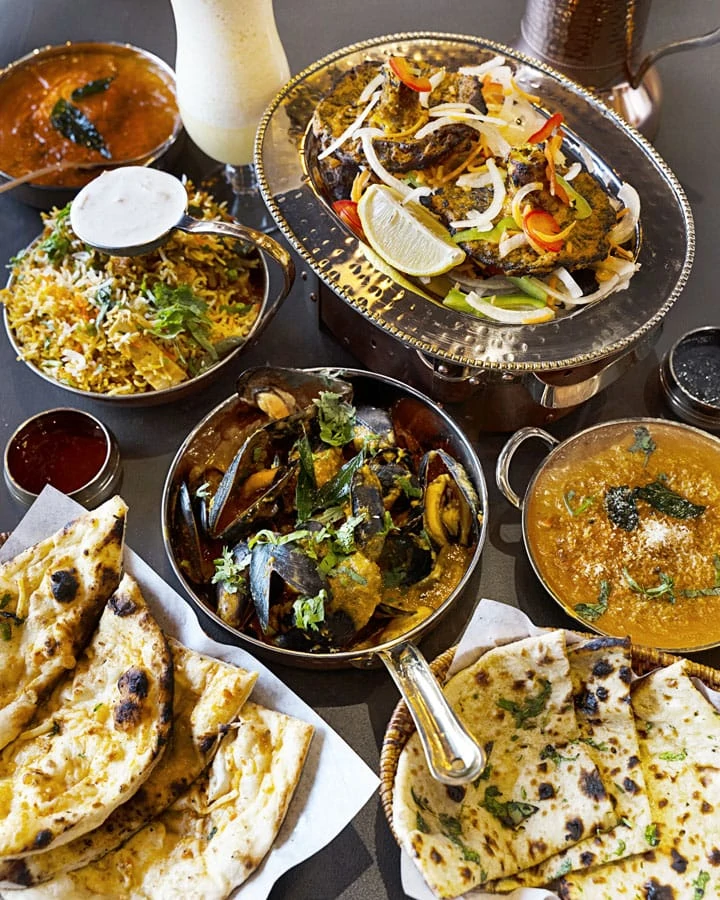 Sula also has a cocktail program with traditional Indian spices like tamarind, star anise, and amla.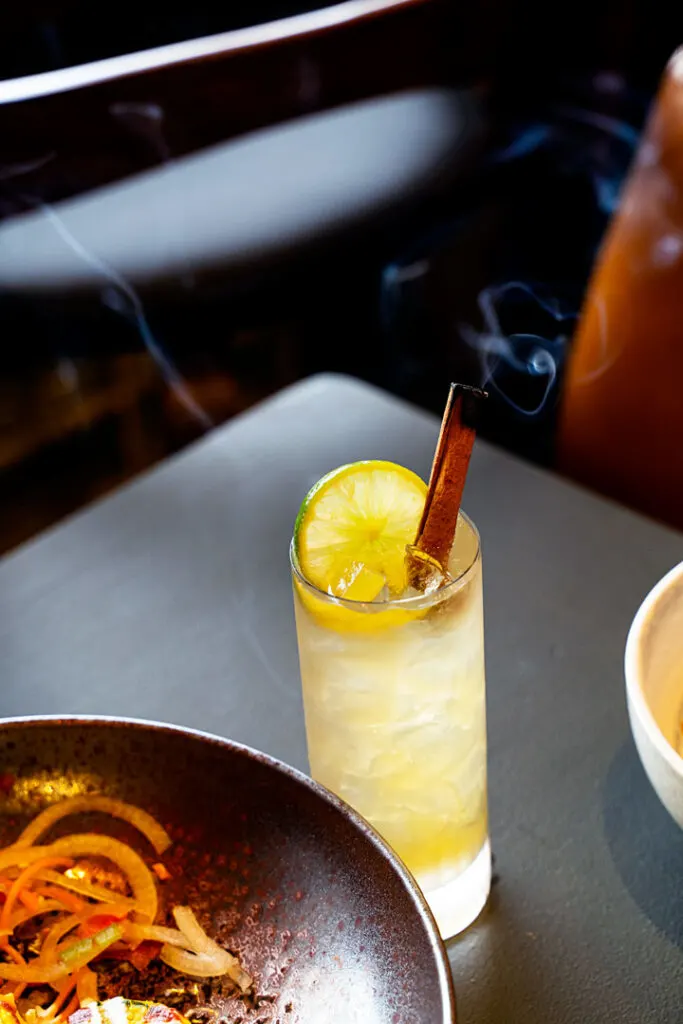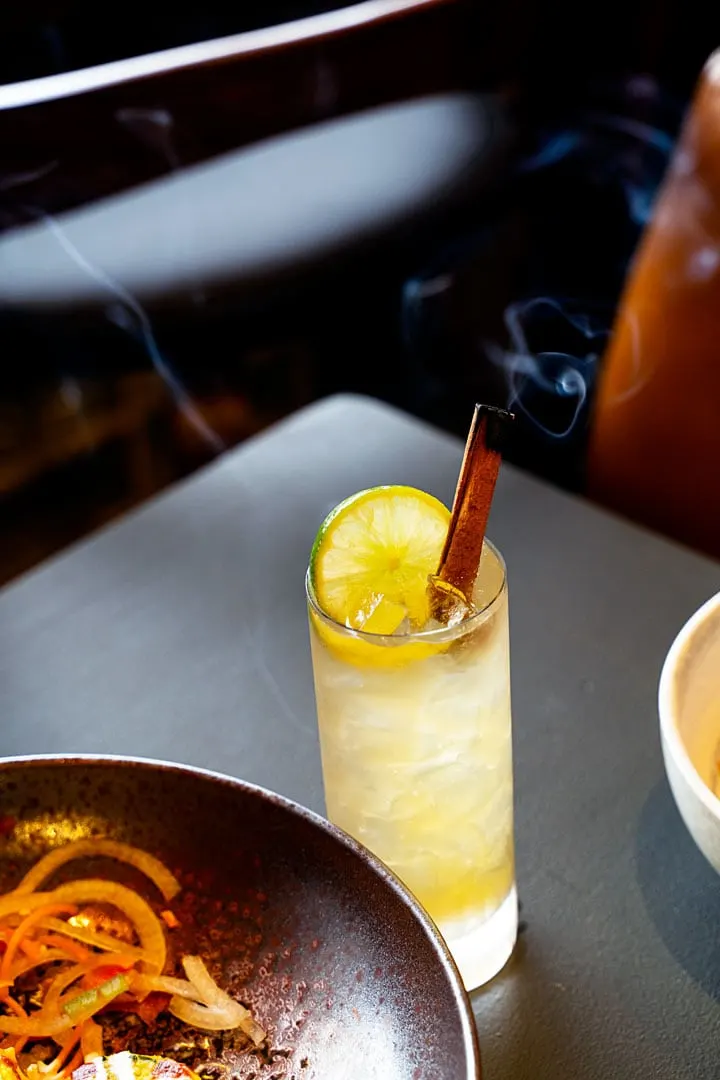 Miku & Minami
Known for innovative Aburi-style (sear-torched sushi), Miku (by Canada Place) and their sister restaurant Minami in Yaletown are two top sushi restaurants in Vancouver to check out.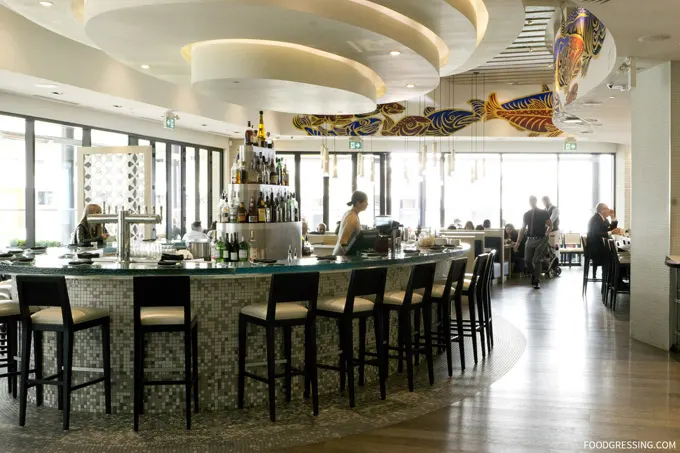 Both restaurants are wonderful for a dine-in experience with Miku having waterfront views and Minami being a sleek stylish Yaletown eatery.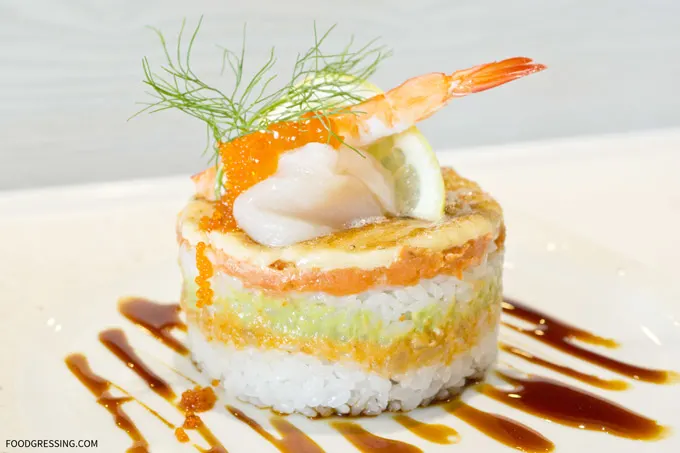 Their food can certainly be enjoyed at home for a cozy night in, so do checkout their Aburi at Home options.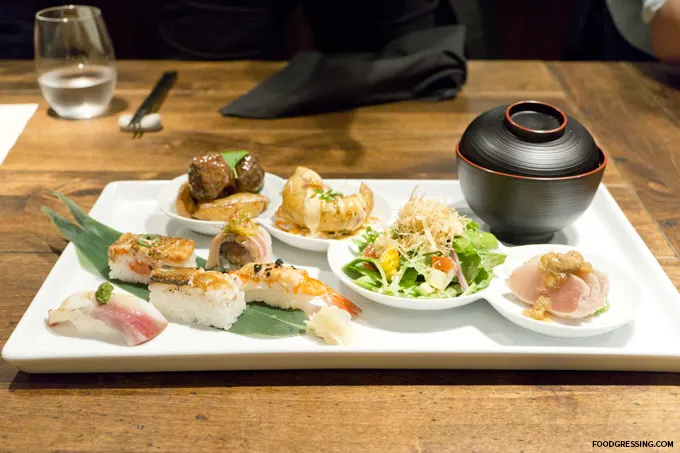 Liuyishou Hot Pot
Liuyishou Hot Pot is one of my favourite places for hot pot in Vancouver.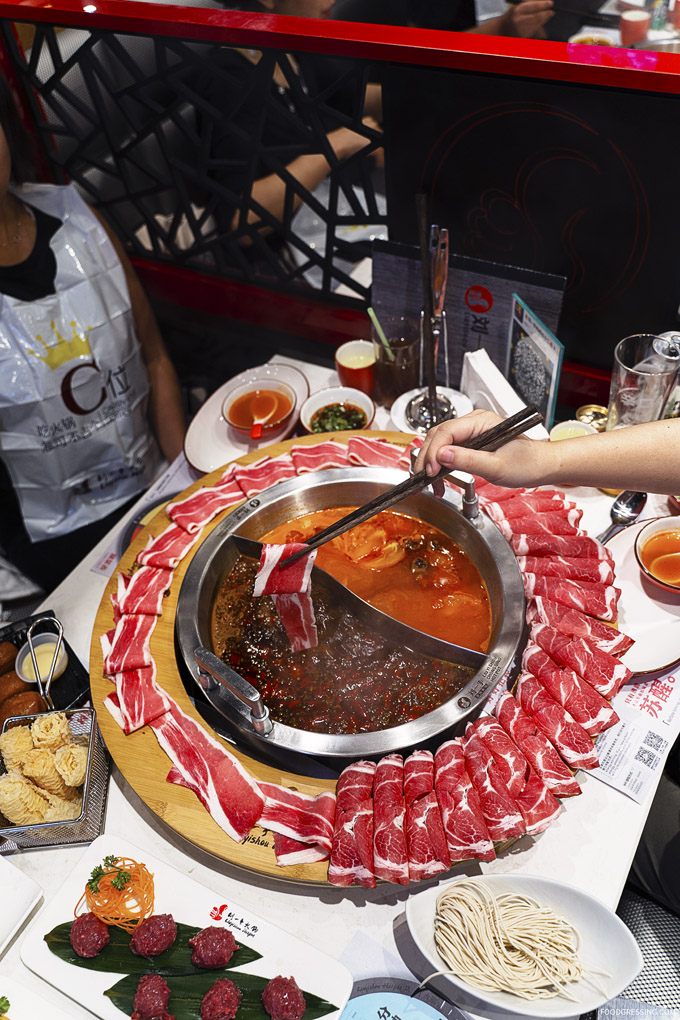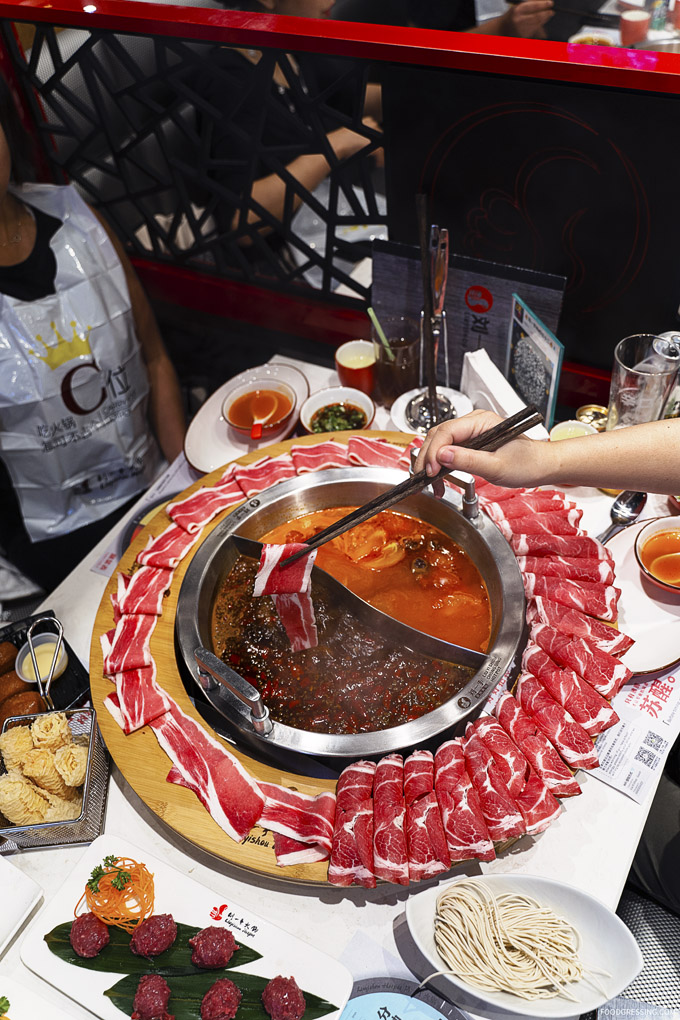 Although Liuyishou is Chinese brand with 1,500 locations across the globe, their Metro Vancouver locations do serve 100% Canadian made soup bases and beef cuts.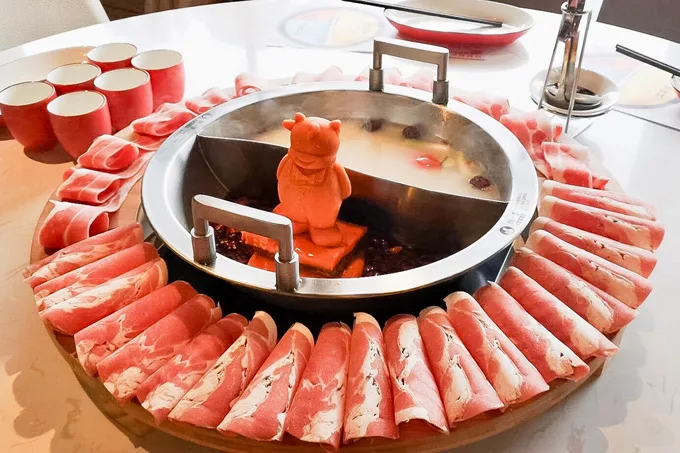 I'm always impressed with the quality of their meats and how good their broths taste.
Tacofino
Soak up the un-dappled, surf-centric spirit of Tacofino with their quality, fresh and affordable fare.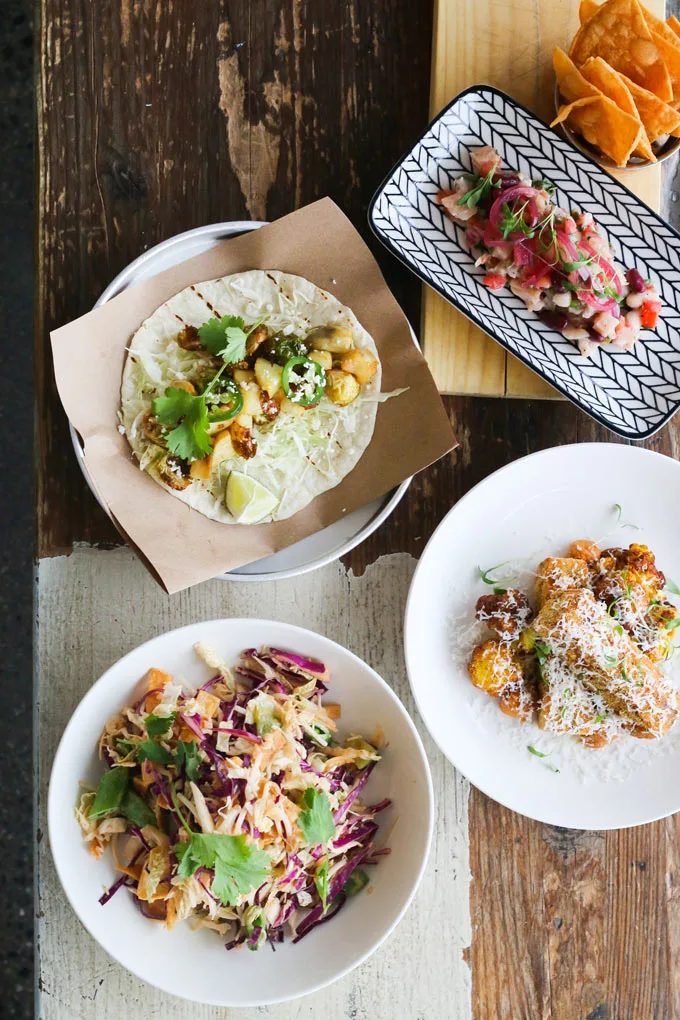 At their brick-and-mortar locations and food trucks in Vancouver, you'll find delectable tacos, burritos, nachos and more.
They also have patios at their Yaletown and Financial District locations. Kids can join in on the fun with Tacofino's "Food Truck" Kids Kits.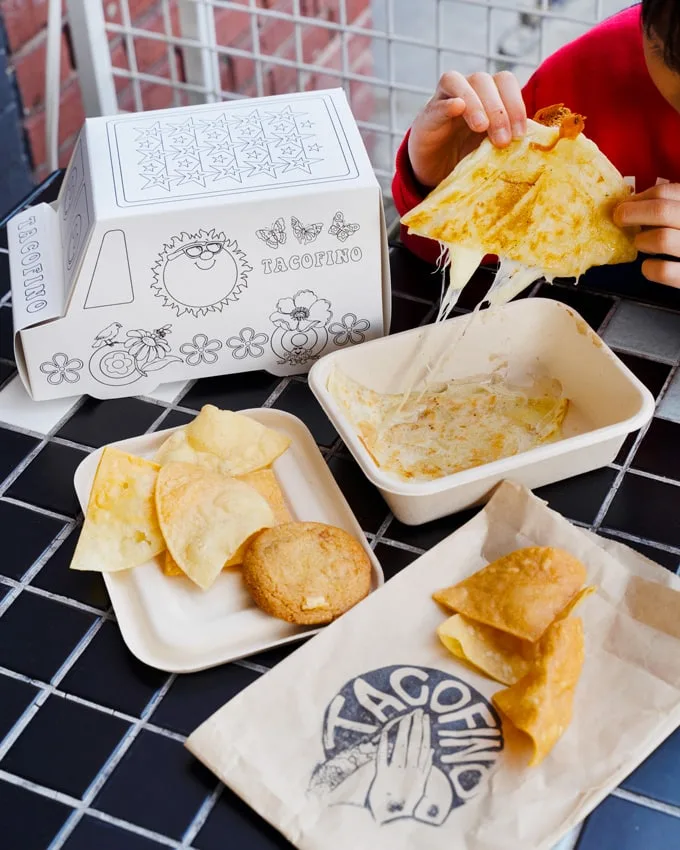 Blue Water Cafe
Located in a handsome brick and beam heritage warehouse conversion in the Yaletown neighbourhood, Blue Water Cafe is another top Vancouver restaurant for seafood.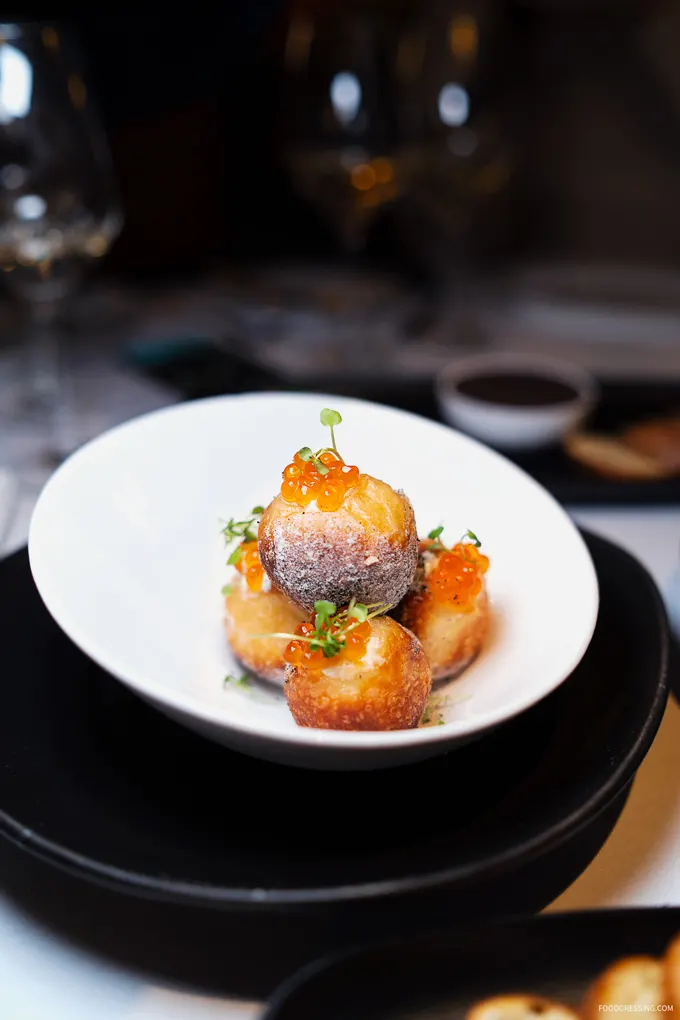 Their menu features sustainable, Ocean Wise seafood as well as innovative and memorable West Coast dishes.
Sit at the Raw Bar and watch expert sushi chefs prepare dishes with pure, clean flavours and unique presentations.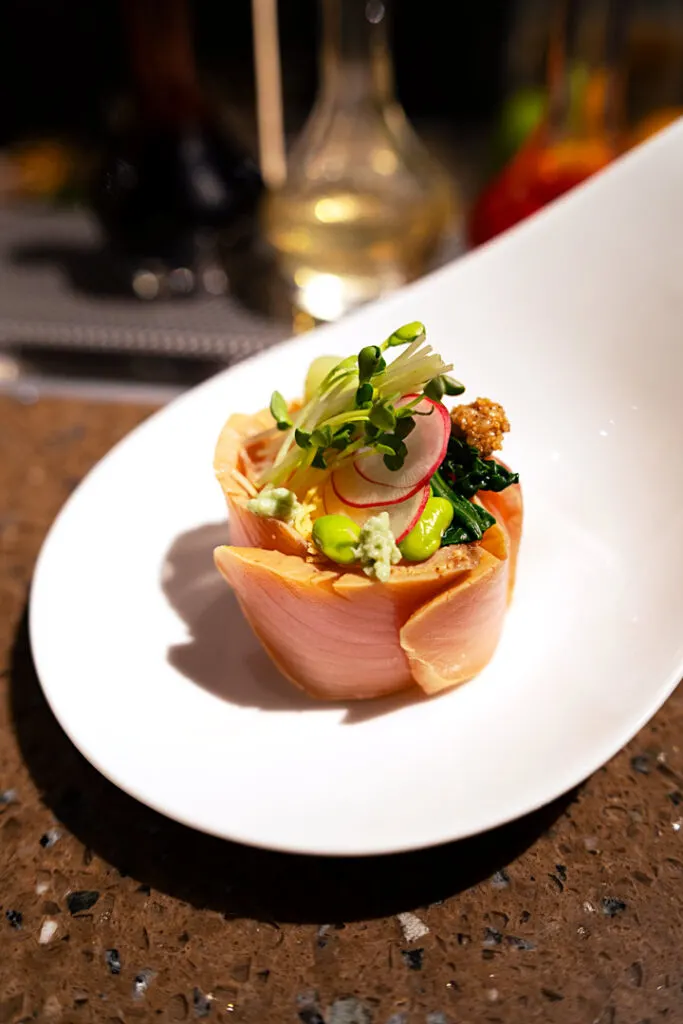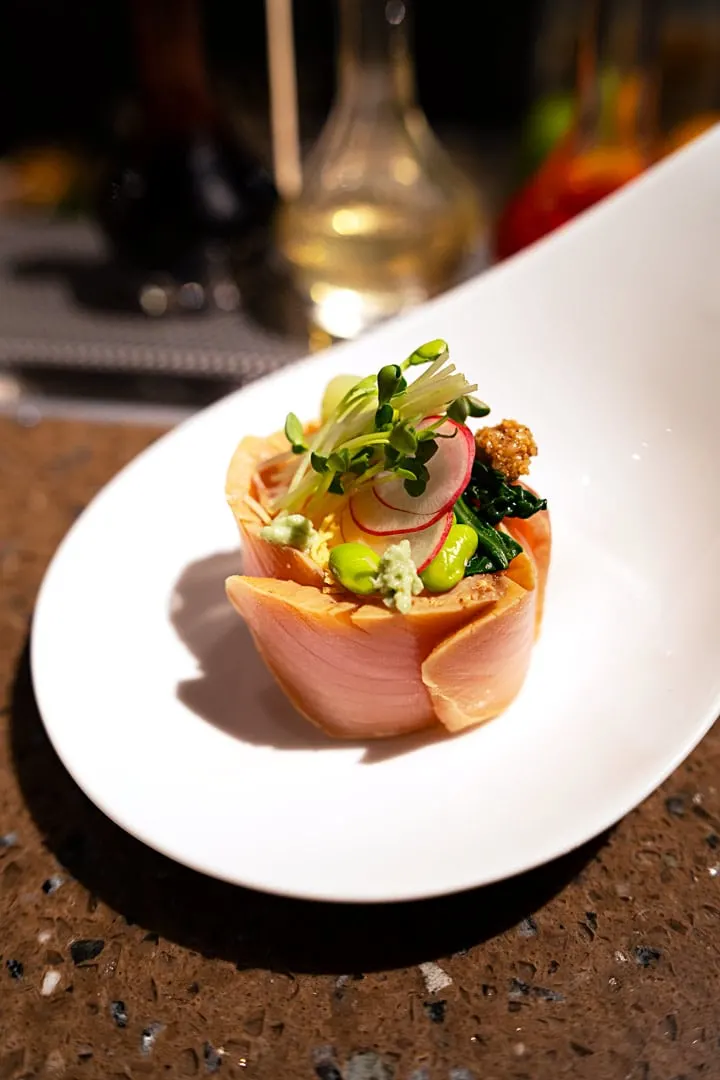 The striking dining room provides active views of the open kitchen and Raw Bar.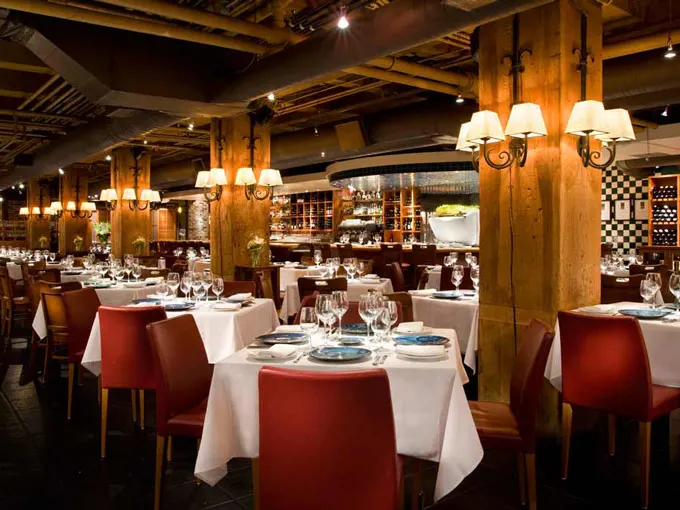 Blue Water Cafe is also great place to gather for special occasions, romantic night outs in Vancouver and to satisfy your seafood cravings.
Nuba
Nuba was founded by Victor Bouzide in 2003 as a way of paying homage to his grandmother's cooking while also placing a premium on seasonal, locally sourced ingredients.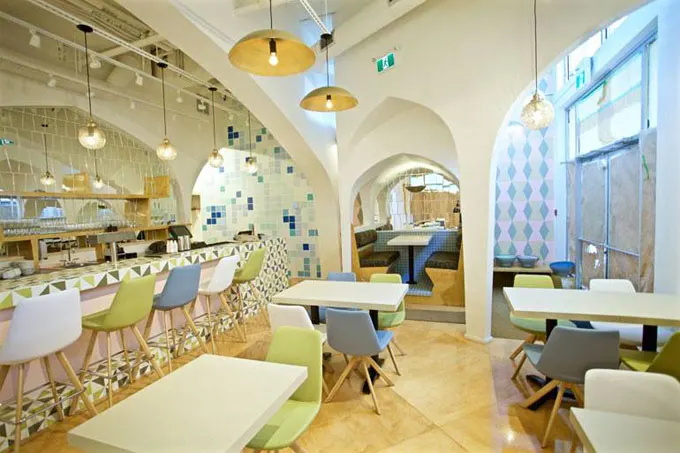 With four locations in Vancouver and a catering division, Nuba is known for their modern Middle Eastern cuisine.
They use the freshest handpicked ingredients and offer a menu that is largely vegetarian- and vegan-focused while also featuring dishes that contain halal, non-medicated and hormone-free meat and poultry.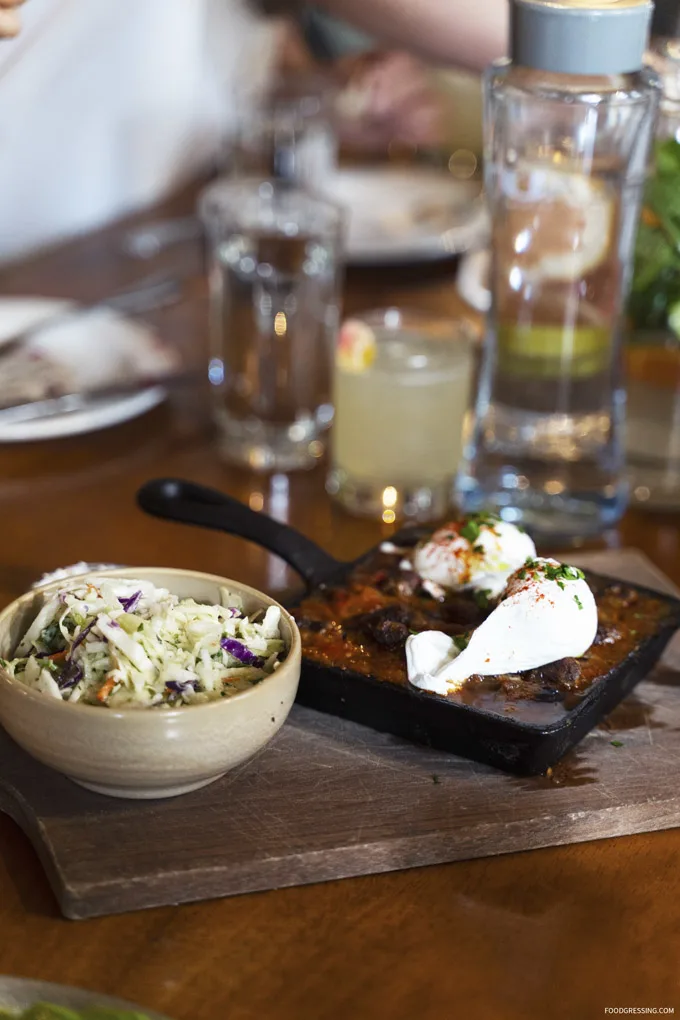 Food and juices are made to order from authentic, original recipes passed down through several generations and sincerely nurtured.
Chinatown BBQ
Wondering where to eat in historic Vancouver Chinatown? Head to Chinatown BBQ for delicious barbecued meats and award-winning beef brisket curry.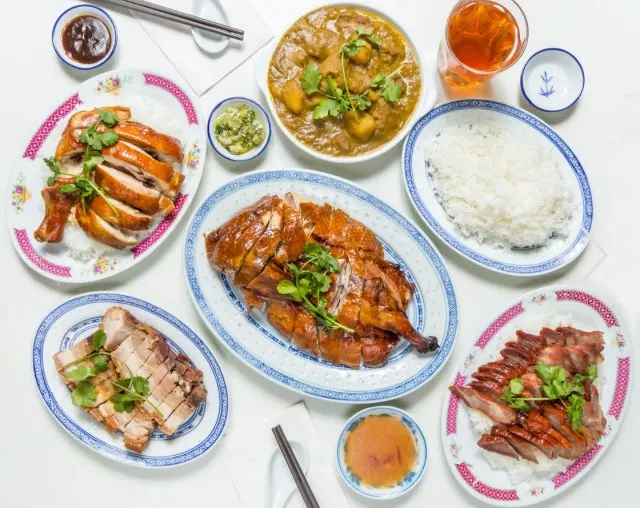 Their chefs are trained in traditional Chinese cooking styles and techniques.
The selection of barbecued meats include BBQ Pork; roasted rack of crispy pork; soy sauce chicken; Chef's specialty free-range chicken; poached chicken with ginger scallion sauce; and more.
Phnom Penh
Phnom Penh is another Vancouver institution that drawns fans with their ultra delicious and reasonably priced Vietnamese-Cambodian cuisine.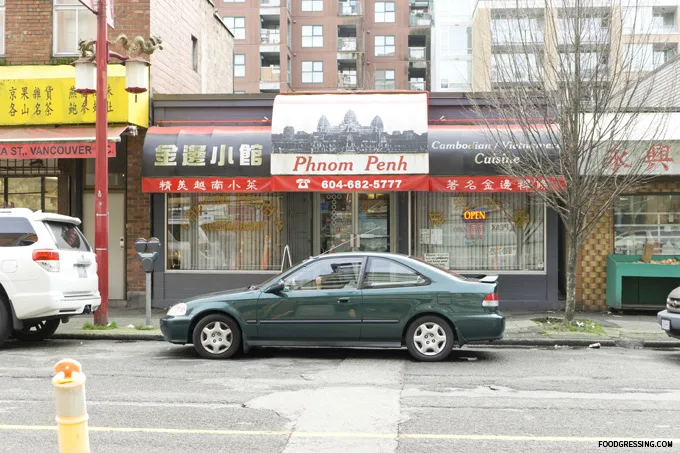 They are one of the best South East Asian restaurants in Vancouver.
From the exterior, it doesn't seem super inviting and there isn't too much to rave about the interior either.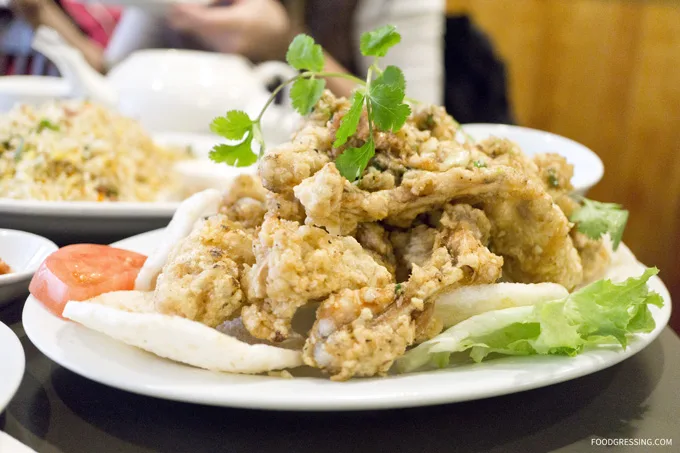 But when you do get inside, you can't help but feel the great energy from customers happily eating, food coming out of the kitchen at a fast pace and takeout being packed up.
Not to be missed are their chicken wings and butter beef.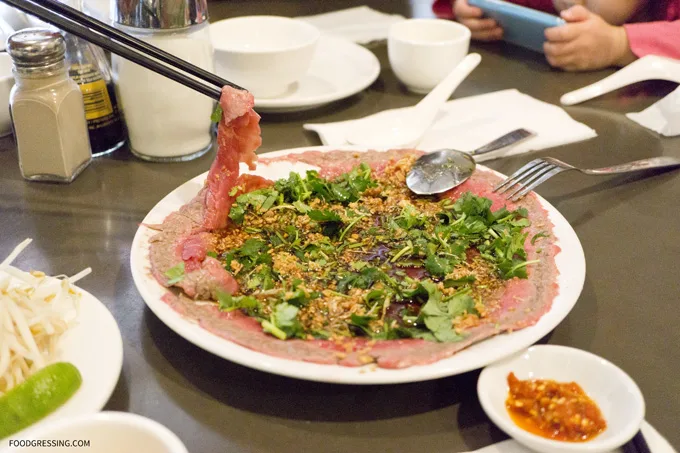 H Tasting Lounge
H Tasting Lounge at the Westin Bayshore Hotel is a beautiful, seaside restaurant with creative cocktails complemented by tasting plates inspired by the Vancouver's seafood scene.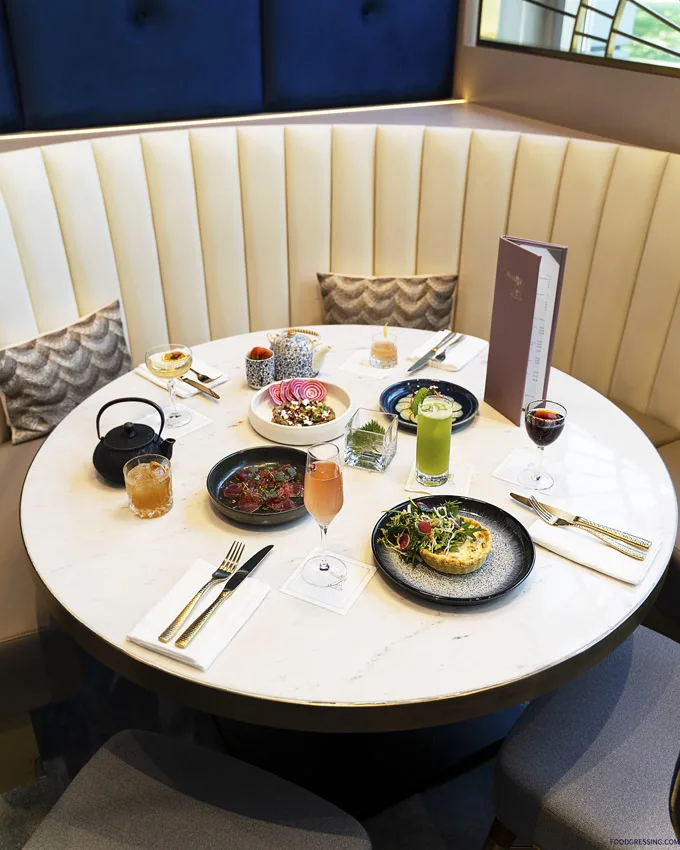 One must-try experience is at H Tasting Lounge is Winterlust, which is available for a limited time during the winter season.
These stylishly outfitted snow globes allow guests to stay warm while indulging in warm libations and alpine-inspired dishes. Check out my review of Winterlust.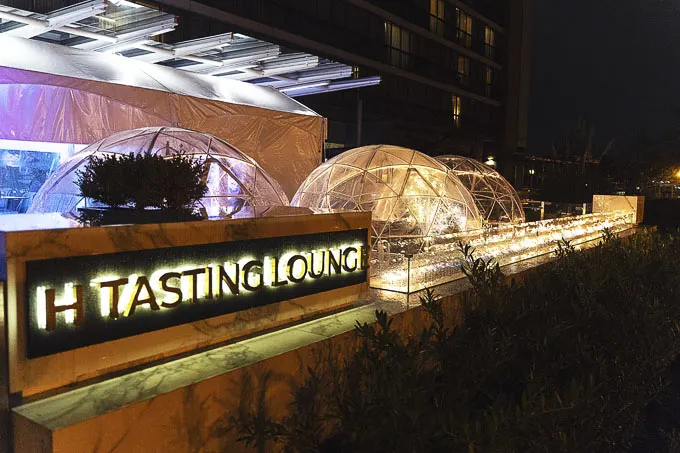 H Tasting Lounge is also a great place to enjoy a delicious afternoon tea set presented on a cute golden Ferris wheel. Check their website to see the latest afternoon tea theme.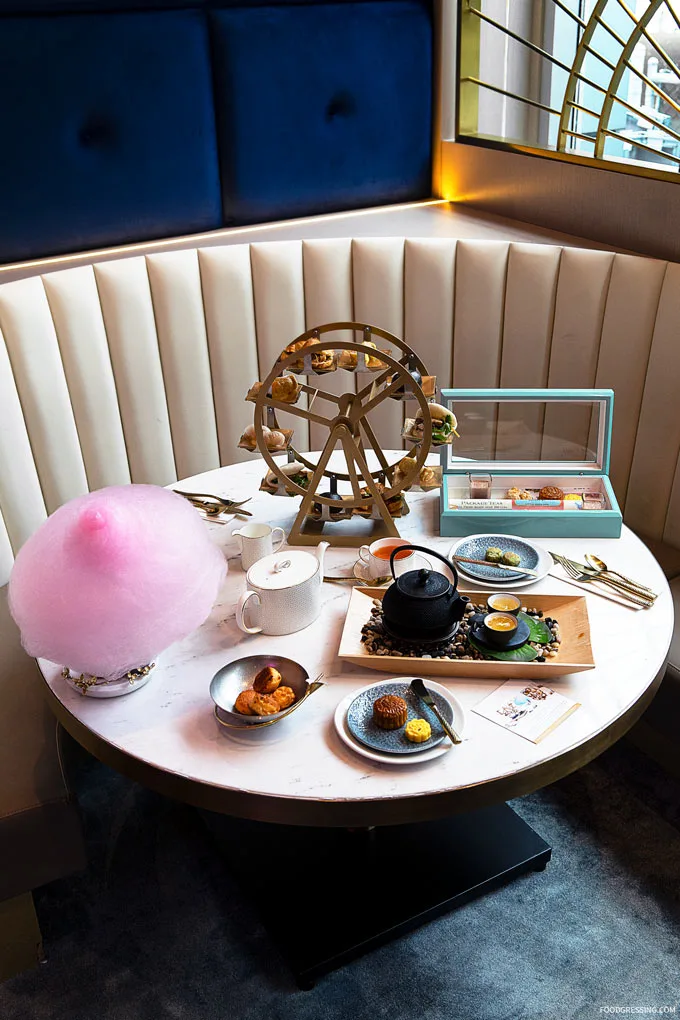 Linh Cafe
Linh Cafe is a much beloved French-Vietnamese eatery serving authentic country style French cuisine with a twist of Vietnamese cuisine.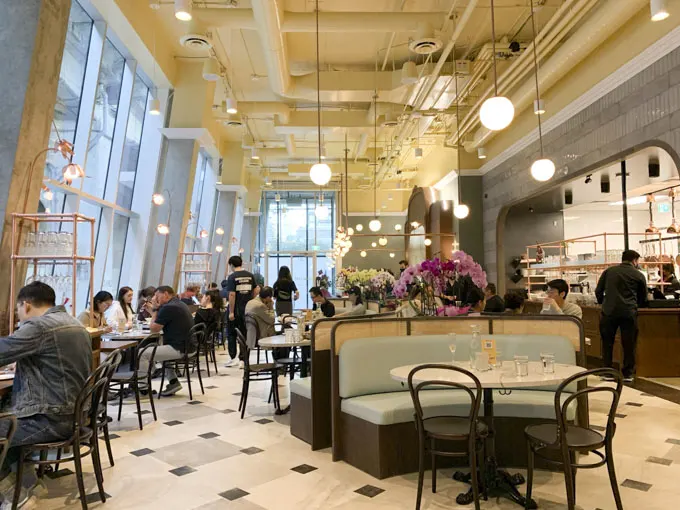 While their original location is in Kitsilano, they just opened up a new second location in Downtown Vancouver.
Enjoy dishes such as baked French Escargot, Steak Tartare, Chicken Liver, Duck Cassoulet, Foie Gras Parfait and their signature Beef Noodle Pho with braised beef flank and rice noodles.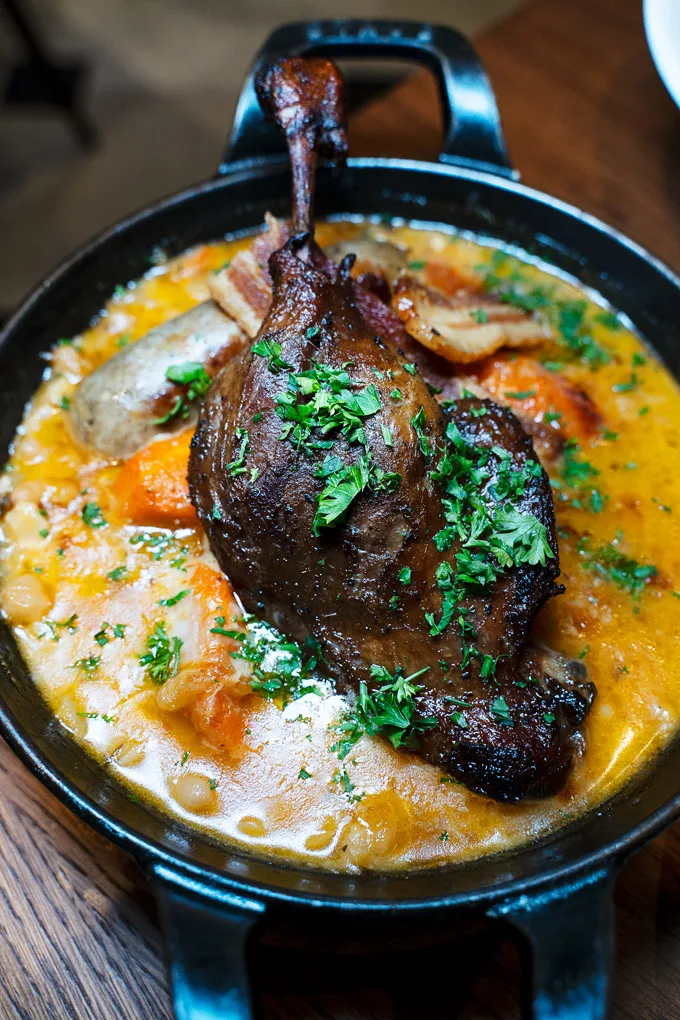 Savio Volpe
Savio Volpe means "wise fox" in Italian and this eatery is all about getting together and sharing simple yet delicious Italian food with a West Coast flair.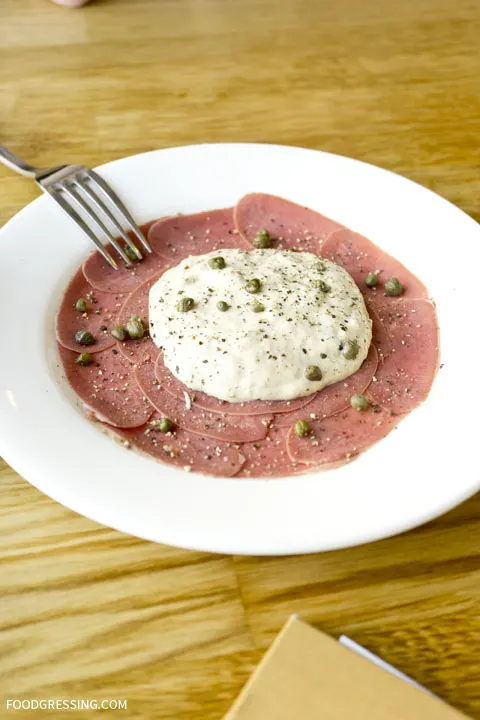 Dishes are prepared in the simplest, most flavourful way; pasta is handmade fresh every day and meat, poultry and fish are kissed by smoke over the wood-fired grill and rotisserie.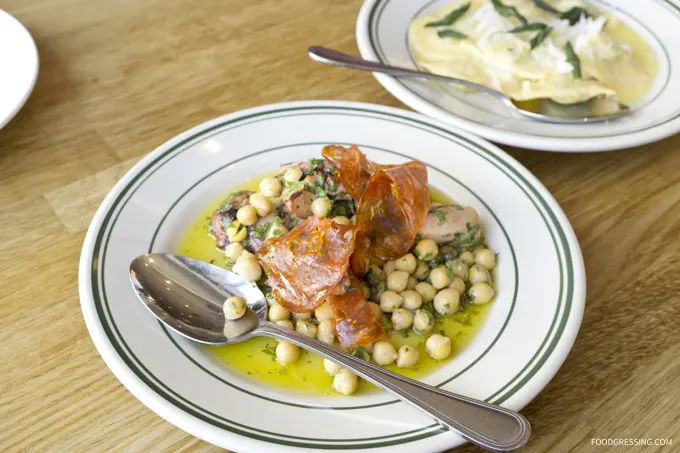 They also offer a long list of friendly Italian wines and old world coffee to inspire conversation and good cheer.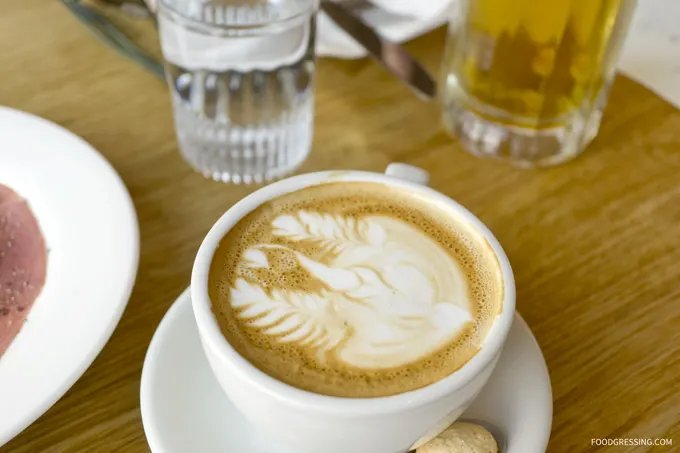 Havana
Check out Havana on Commercial Drive for authentic Latin Flavours with a Pacific Northwest flair.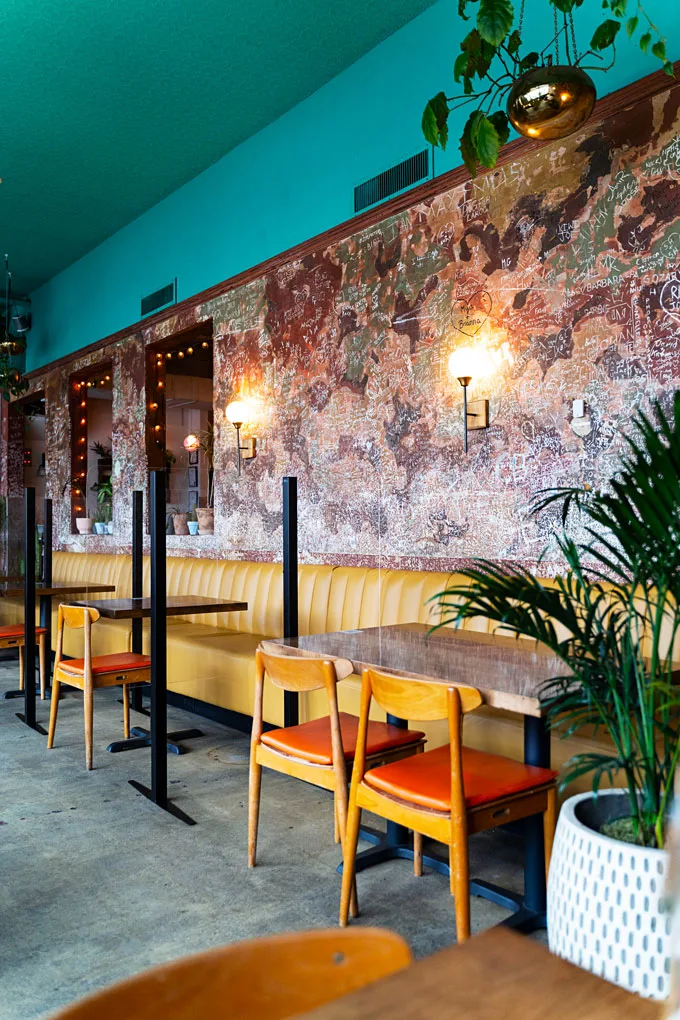 Popular menu items that I recommend include the Cubano Sando, Little Havana Brunch Bowl and Avocado Tostones.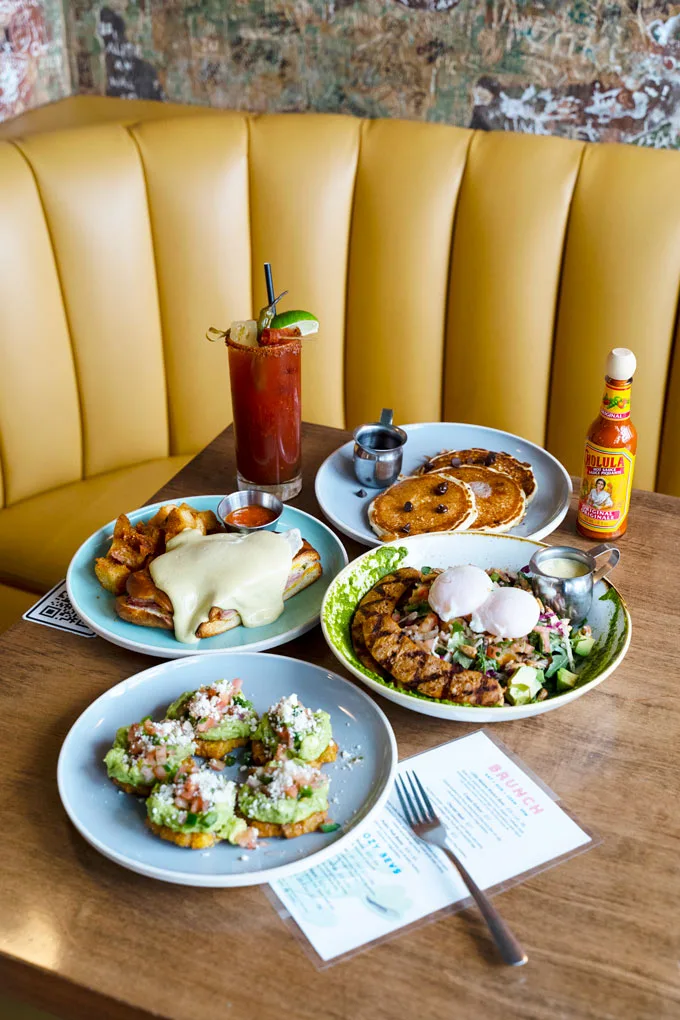 Do Chay
One of the best new restaurants in Vancouver is Do Chay.
"Do Chay" is a Vietnamese colloquial phrase which roughly translates to "vegetarian stuff."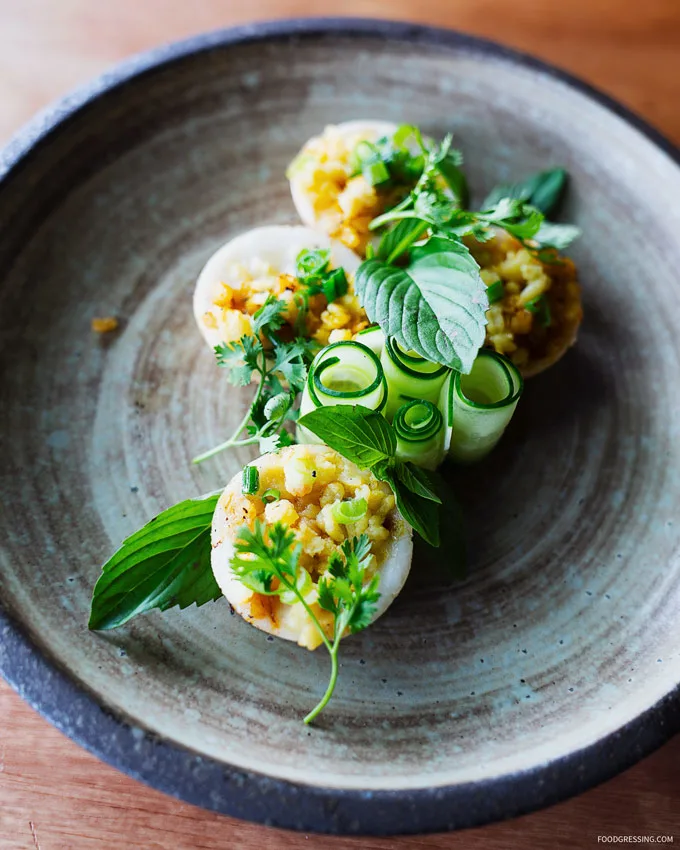 The menu at Do Chay is vegetarian and almost entirely vegan and features a contemporary take on Vietnamese street food, rice bowls and noodle bowlswith exquisite presentation.
Try their vegan pho featuring broccoli tempura, avocado, yuba, yo choy, daikon, lotus root, and rice noodles in a vegan pho broth.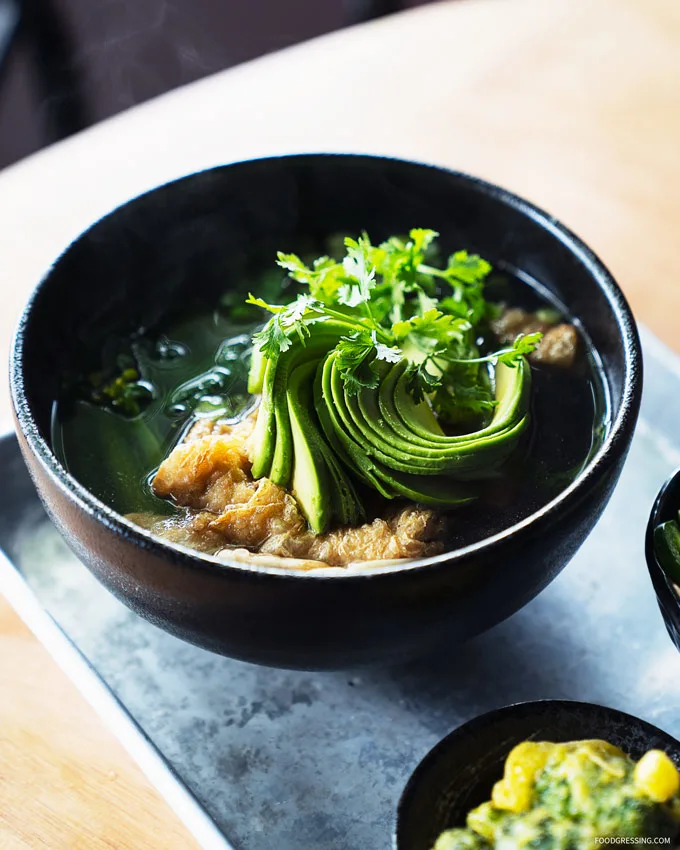 CRAFT Beer Market
Founded in Calgary in 2011, CRAFT Beer Market is a premium casual restaurant and bar chain with a passion for fresh local comfort food and great craft beer.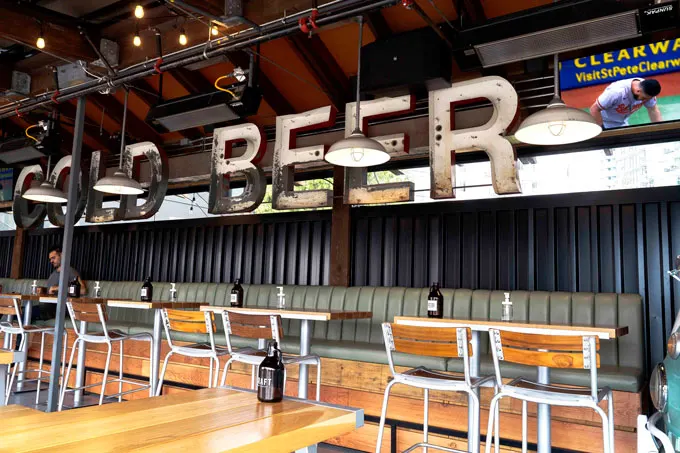 The brand has expanded with now 8 locations in 7 Canadian cities.
A visit to CRAFT means connecting you to the community, culture, and specifically craft beer culture.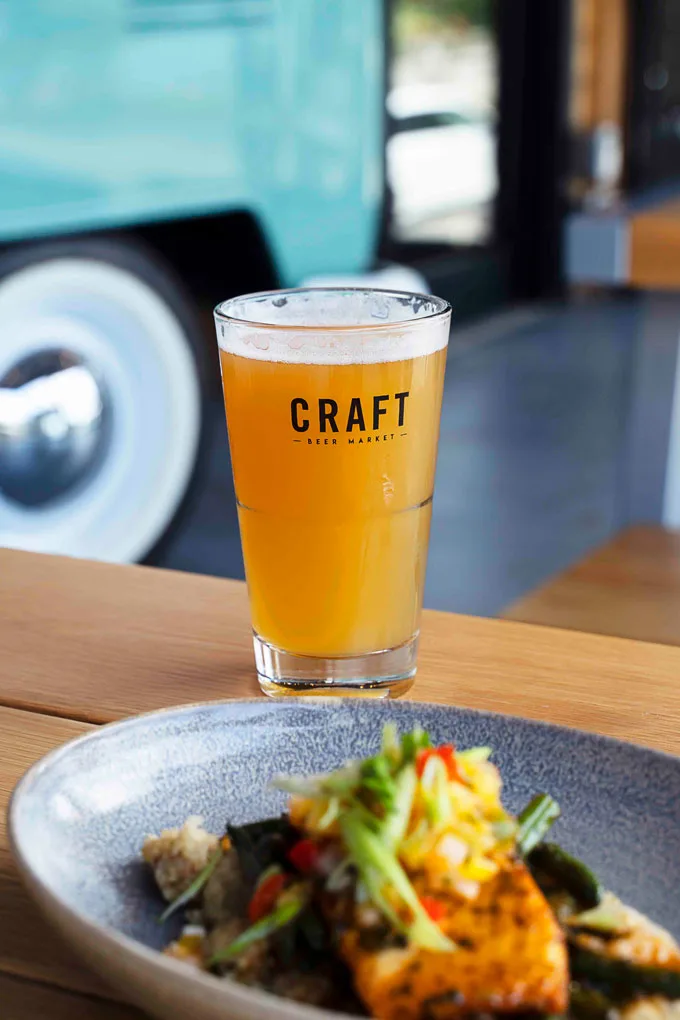 They offer 100 beers on tap but also serve also up some tasty wines, cocktails, spirits and more.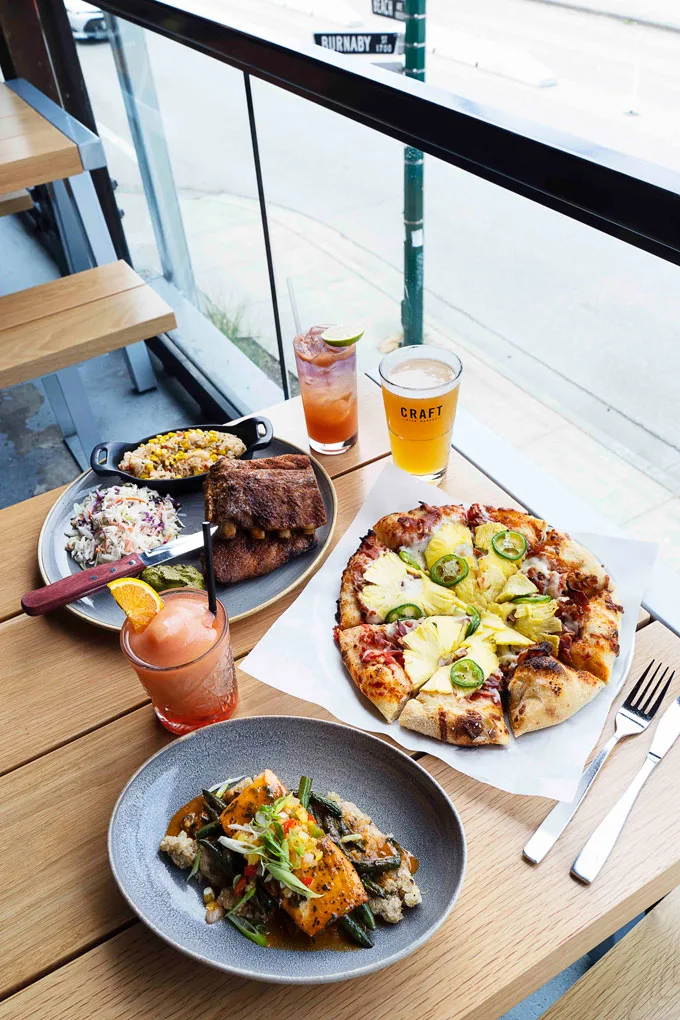 Be sure to check out their Happy Hour which boasts some great deals on food and drinks.
Provence Marinaside
Located in the popular Yaletown neighborhood, Provence Marinaside fuses southern French cuisine to the fresh seafood of Canada's Western Coast.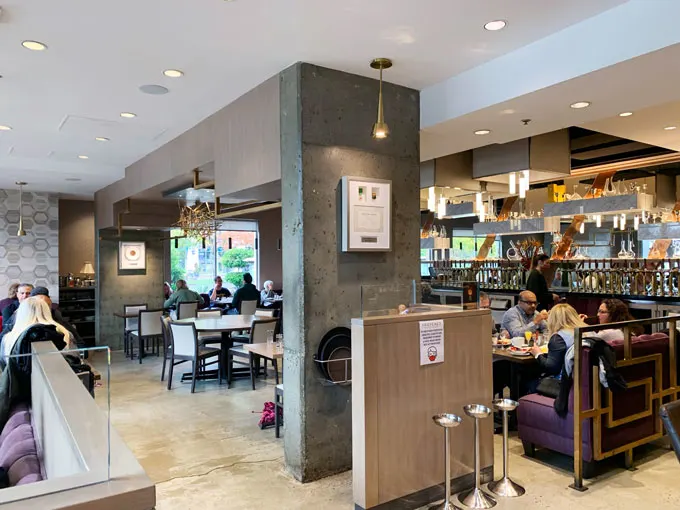 The owner and chef, Jean-Francis Quaglia was born in France to a mother who is also an acclaimed chef.
His passion for high-quality ingredients and inspired dishes began as a young age in the kitchen with his mother.
Today, Provence Marinaside is an award-winning venue with truly exquisite dishes and refined ambiance.
Guests keep coming back for another taste of the seafood crepes- a tasty blend of scallops, shrimp, asparagus, marinated tomatoes, and arugula.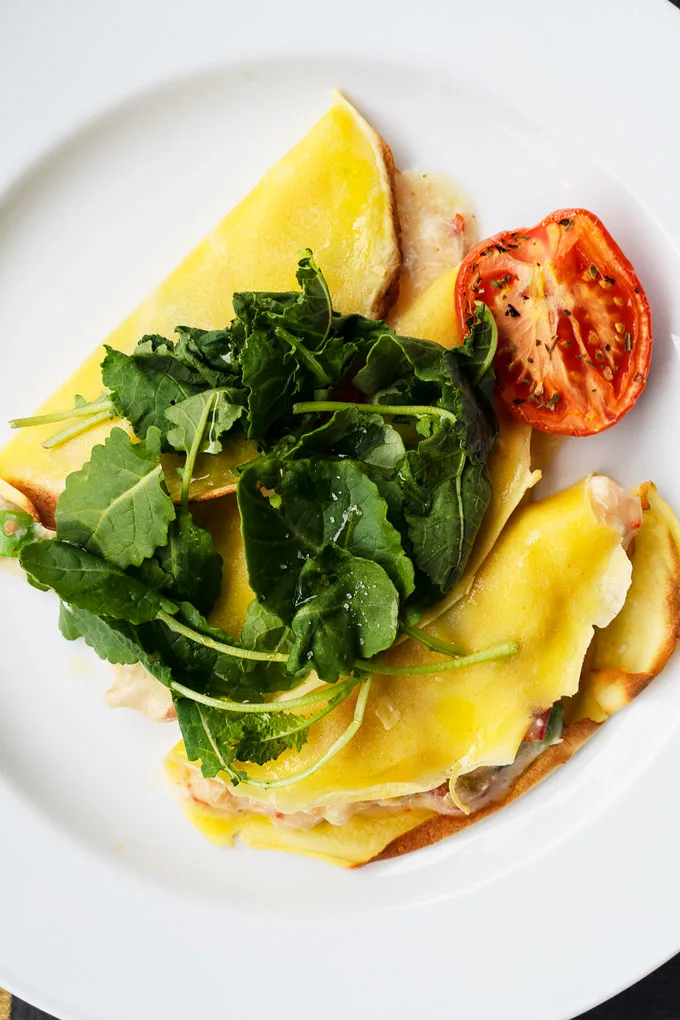 The French Toasted Baguette (cinnamon sugar, maple syrup, whipped cream) and Croque Monsieur Benedict (black forest ham, gruyère cheese, sundried tomato butter on focaccia, hollandaise sauce, provençal roasted tomato, provence breakfast potatoes) are also some of my favourites.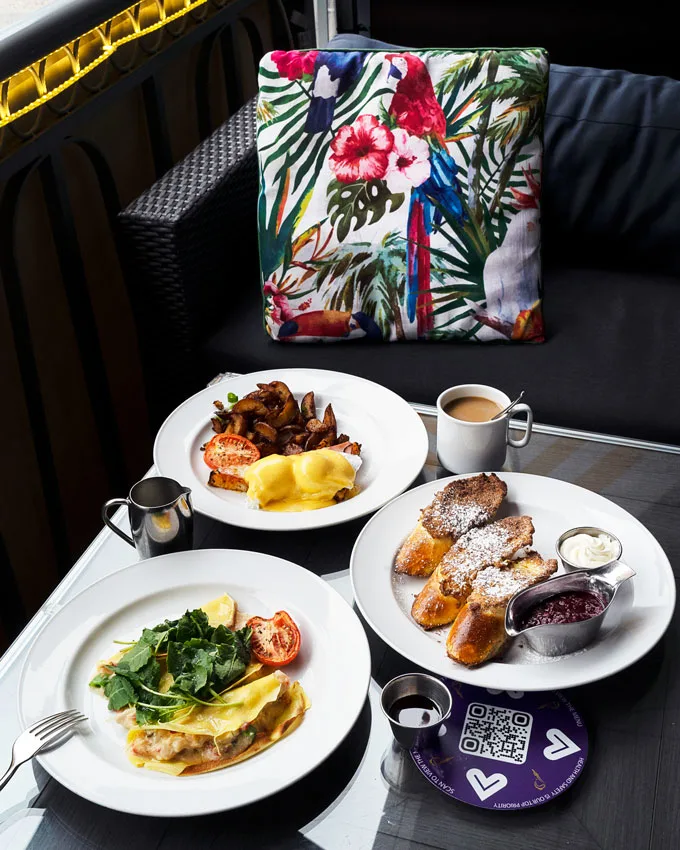 Provence Marinaside overlooks the bustling water of False Creek.
Perhaps the best aspect of the restaurant is the outdoor patio with views overlooking the Marina.
Plan to spend time outside soaking in the sights.
1177 Marinaside Crescent, Vancouver, BC
Elisa
Elisa is one of the best contemporary steakhouses in Vancouver offering flame-grilled premium fine cuts from around the world, sustainable seafood, and locally sourced produce are prepared by their culinary team on a stunning Grillworks Infierno.
Their Grillworks Infierno wood-fired grill elevates the art of wood-fired cooking for Elisa's signature dishes.
To start, go with the tartare tasting trio featuring 'classic' beef tartare, 'signature' beef tartare and veal tartare.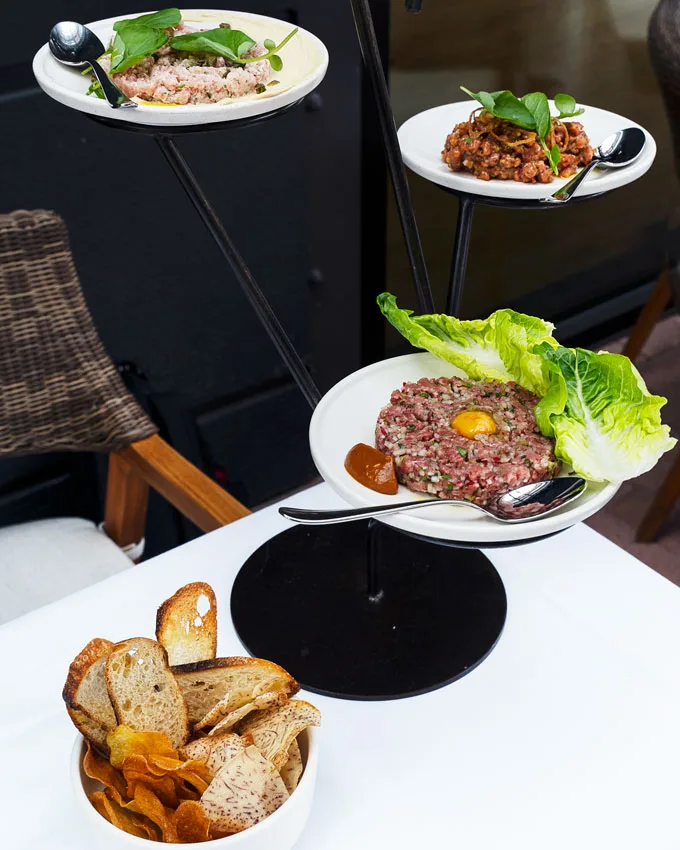 Next try one of their steak selections which are meticulously curated from the best local and global suppliers using sound farming practices; then grilled over local BC birch, apple and alder woods.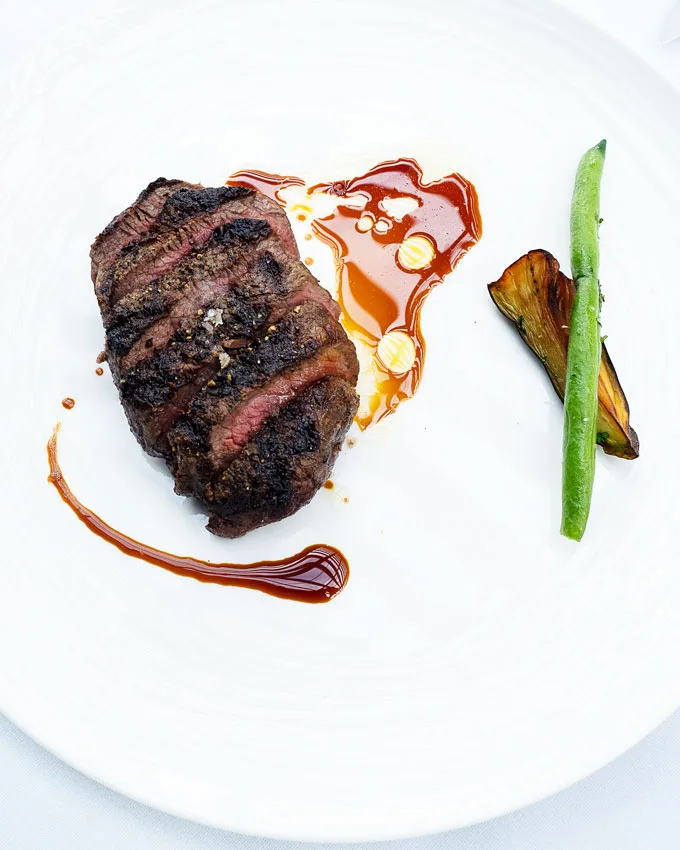 109 Hamilton St, Vancouver, BC
Yuwa
Yuwa Japanese Cuisine is known to be one of the best Japanese restaurants in Vancouver, BC.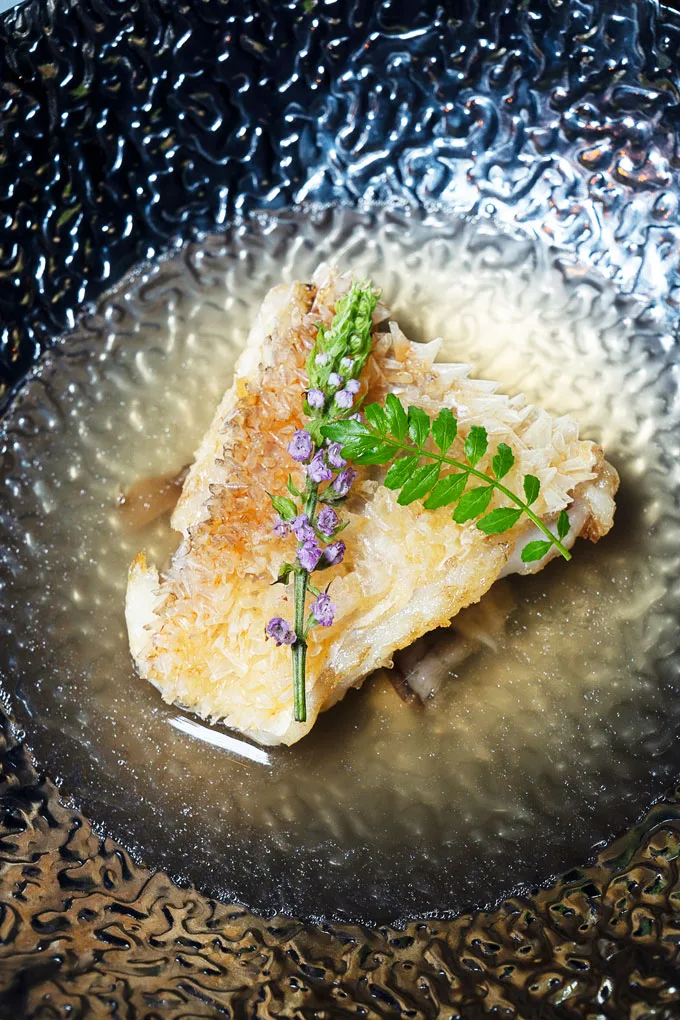 The restaurant offers an inspired approach to the traditional kaiseki style of dining where the very best local and seasonal ingredients are paired with consummate service, attention to detail and expert knowledge of fine wine and sake from around the world.
Enjoy their beautiful and delicate dishes like the sea foie gras (steamed monkfish liver from Miyagi, Japan with ponzu and spicy daikon, green onion); grilled tilefish; as well as sushi rolls like Tuna Amigos Roll featuring Wild BC albacore tuna, green onions, tempura bits, and spicy miso.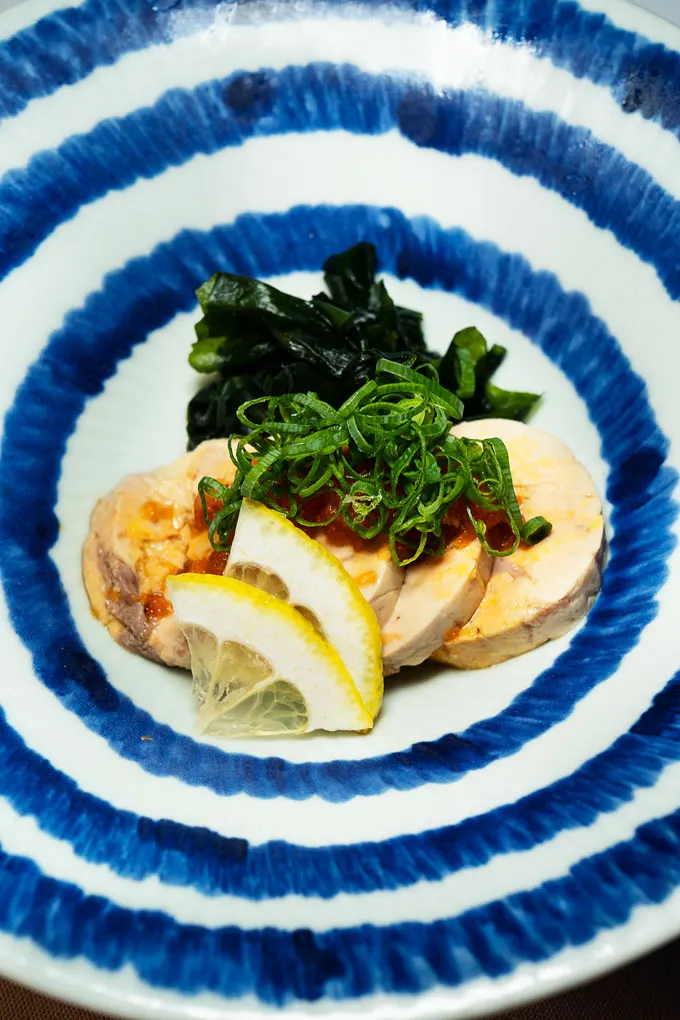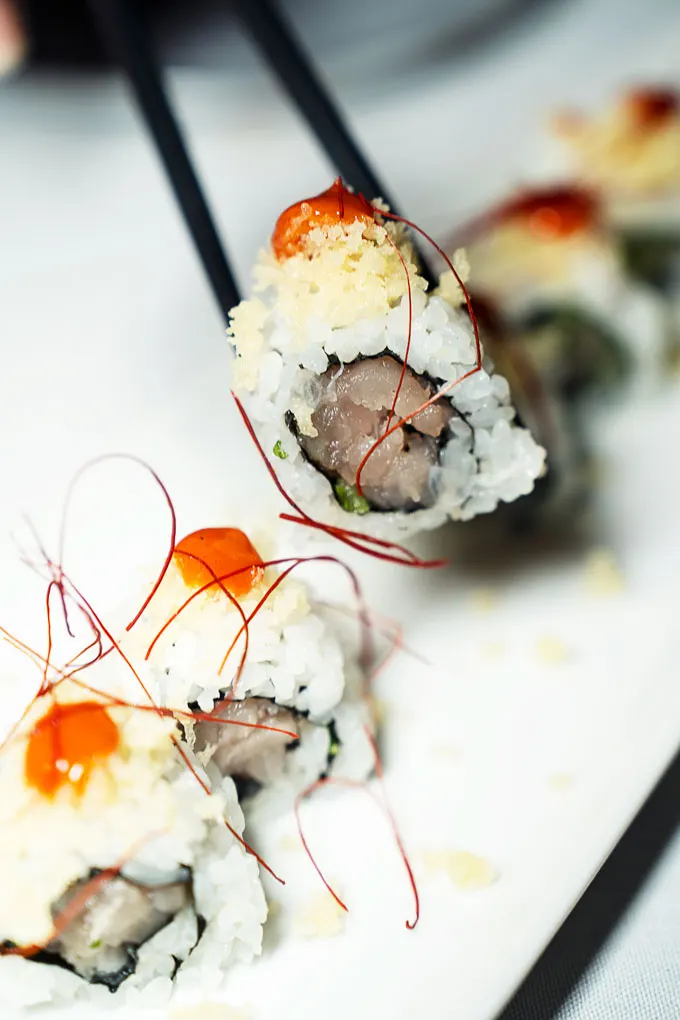 Check out my other Best of Vancouver Restaurants roundups: