Looking for a fun dining experience in Downtown Vancouver? This post on Fun Restaurants Downtown Vancouver covers places with fun and creative food and drinks; unique dining experiences; and well as interior designs and features that make you have a good time.
D/6 Bar & Lounge
D/6 Lounge & Bar is home to the most playful Vancouver patio and one the best hotel bars in Vancouver.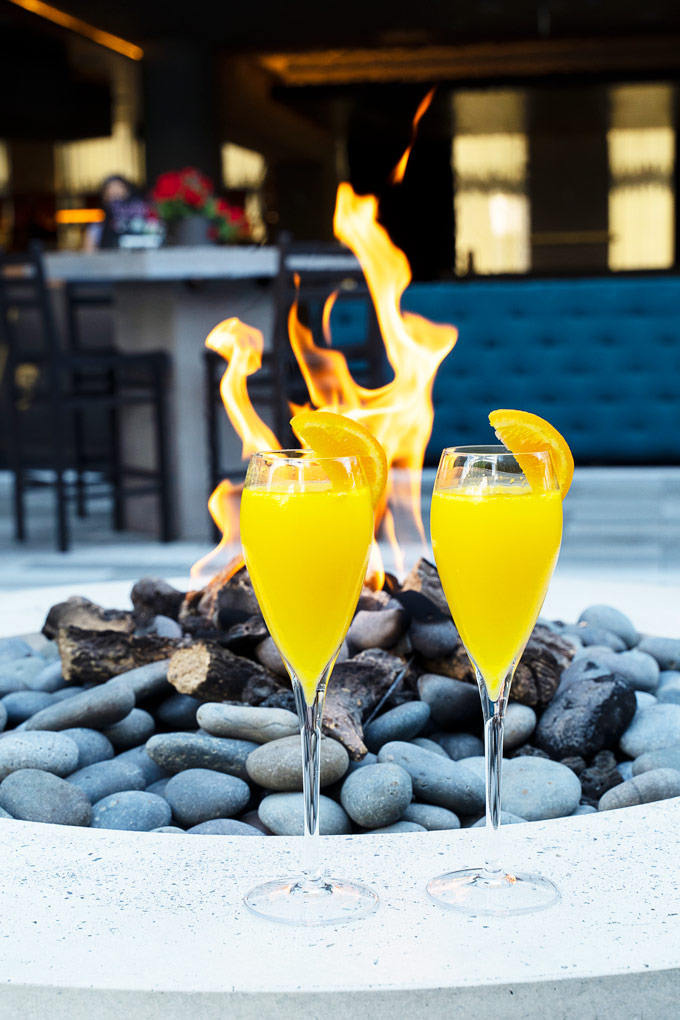 Featuring dramatic views tucked beneath the eves of BC Place, the patio at D6 is a premier urban rooftop garden offering year-round patio dining.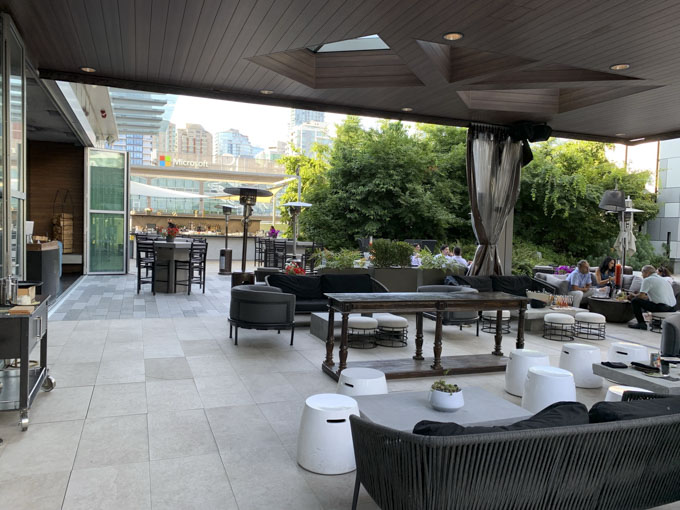 For a fun experience, get the DIY Caesar Tower which comes with complete with clamato juice, garnishes, sauces for you to create your own Caesar.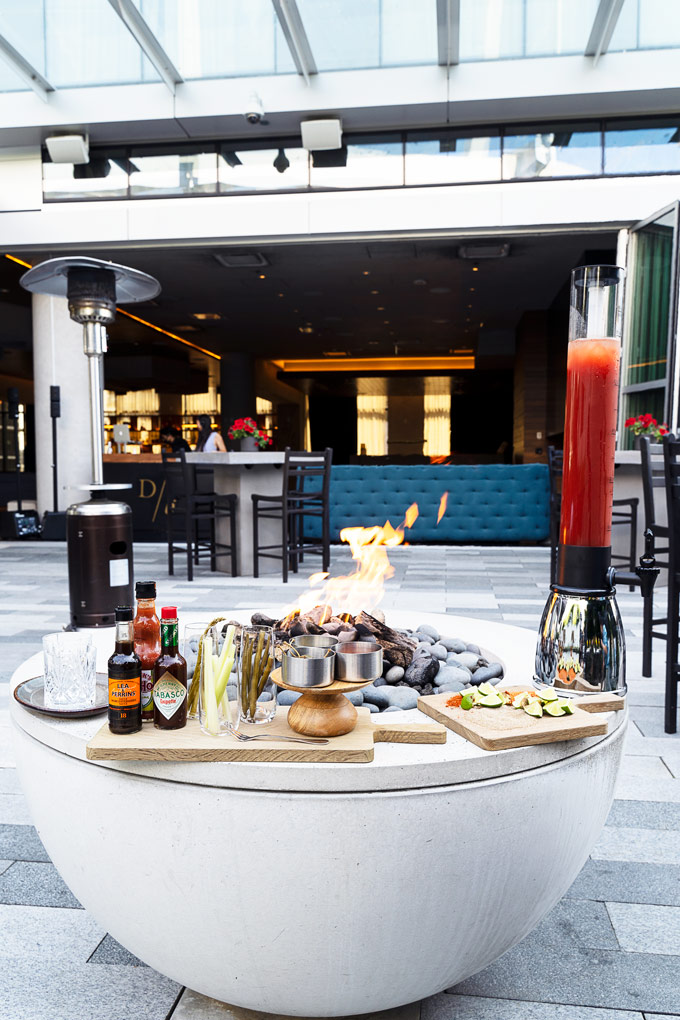 Their bar is open until 2 am on Fridays and Saturdays with a late night Happy Hour drinks menu from 10 pm – close.
Other items I recommend include their Avocado Crunch Roll; Brant Lake Wagyu Burger; Dungeness Crab Cake and Boozy Popsicles.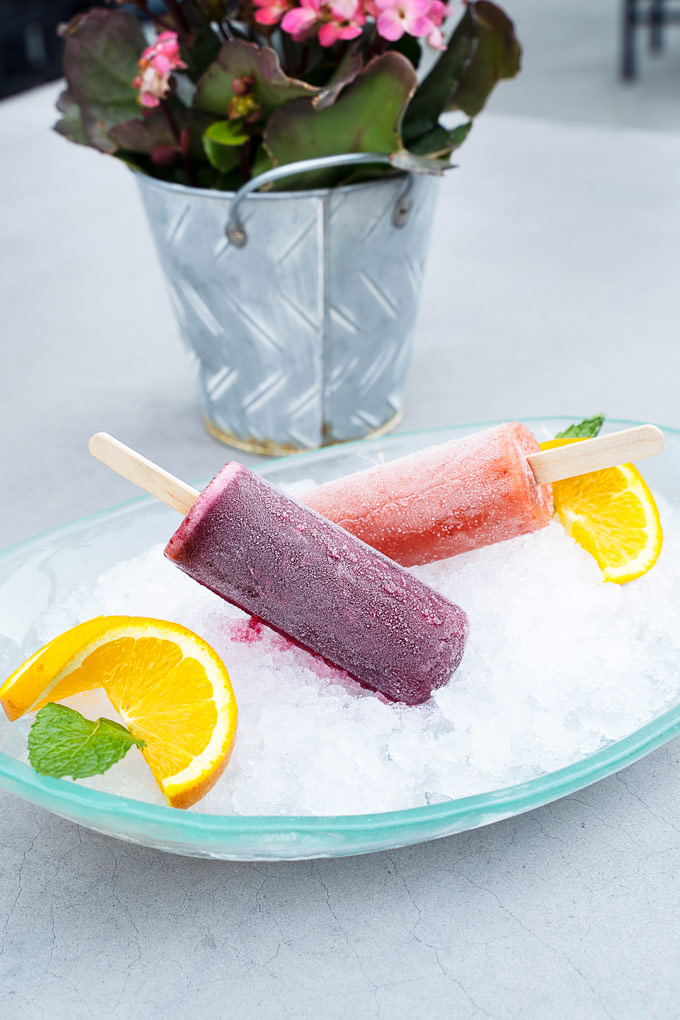 39 Smithe St, Vancouver, BC
Gringo
Gringo is where you will find neon-coloured stools, bright lights, eye-catching electric pink buckets of margaritas and easy to enjoy delicious Mexican all served with an affordable price tag.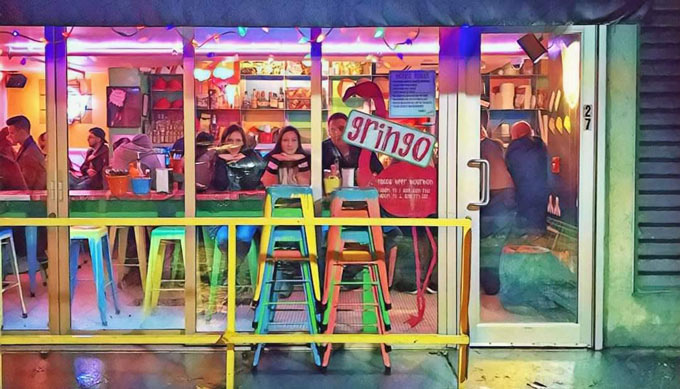 They're one of the best places for cheap drinks in Downtown Vancouver.
Tacos for $3.25, sleeves of beer for $4.75, and for the adventurous or those reminiscing of Thai beach parties, they've got large buckets of booze that'll remind you of one of your worst hangovers.
Started in 2013, this tiny spot is located in Blood Alley, just outside of Gastown and promises good times, if you can get a seat.
27 Blood Alley Square, Vancouver, BC
Glowbal Restaurant
Glowbal Restaurant has a luxurious year-round patio space appointed with luminous details, decorative accents, luxe furnishings and accented with one-of-a-kind photo opportunities.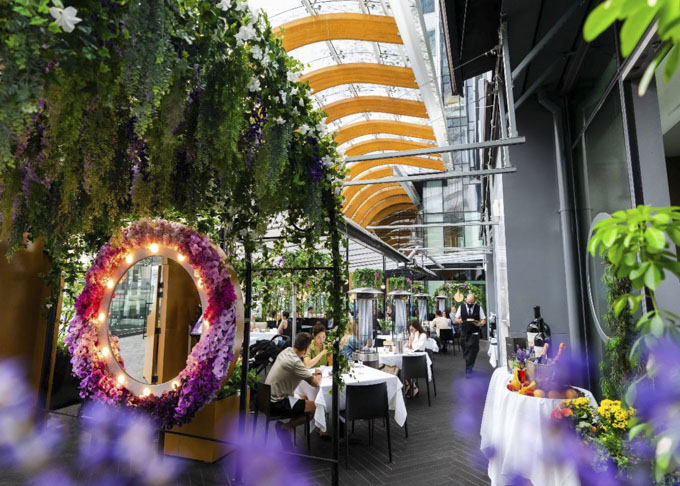 The Glowbal patio space is adorned with decorative lights, lush greenery and florals, and vibrant patterned fabrics that come together to create a picture-perfect setting in which to enjoy a creative menu of West Coast flavours.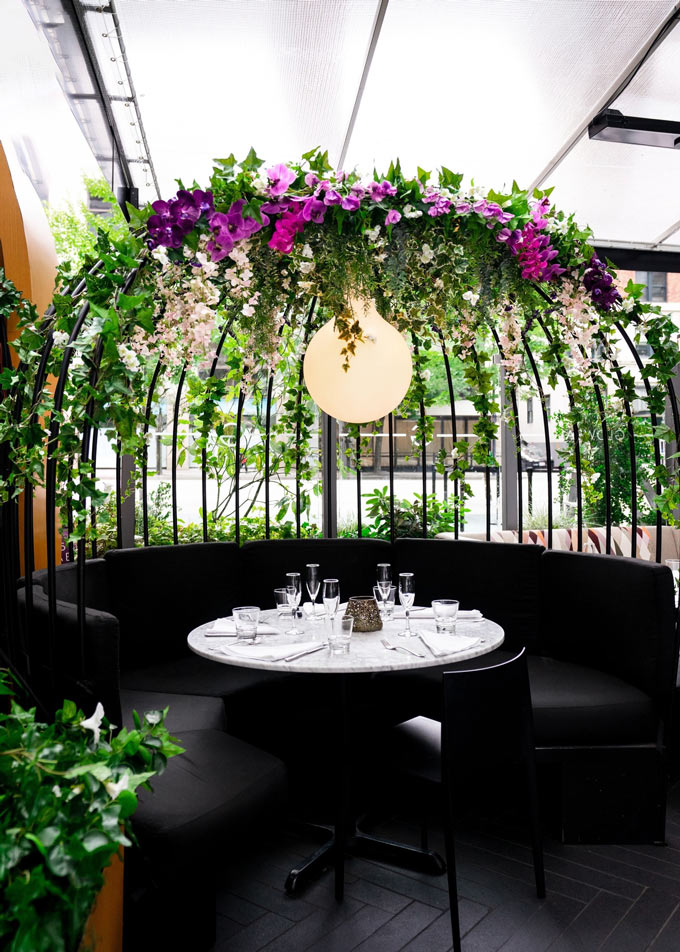 You will find luxurious banquette seats set among verdant green hedges while VIP birdcage booths are adorned in colourful foliage and delicate ambient lights.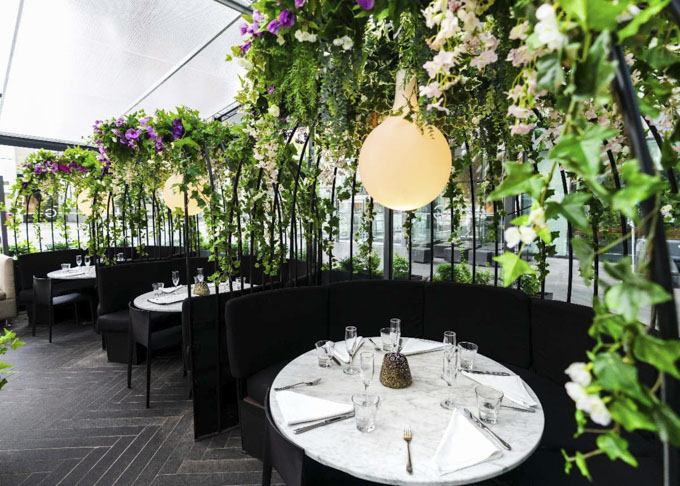 Once inside the entryway, strike a pose at the 'selfie' station with your besties.
The installation features an oversized mirror illuminated with vanity-style lights and a dramatic floral backdrop.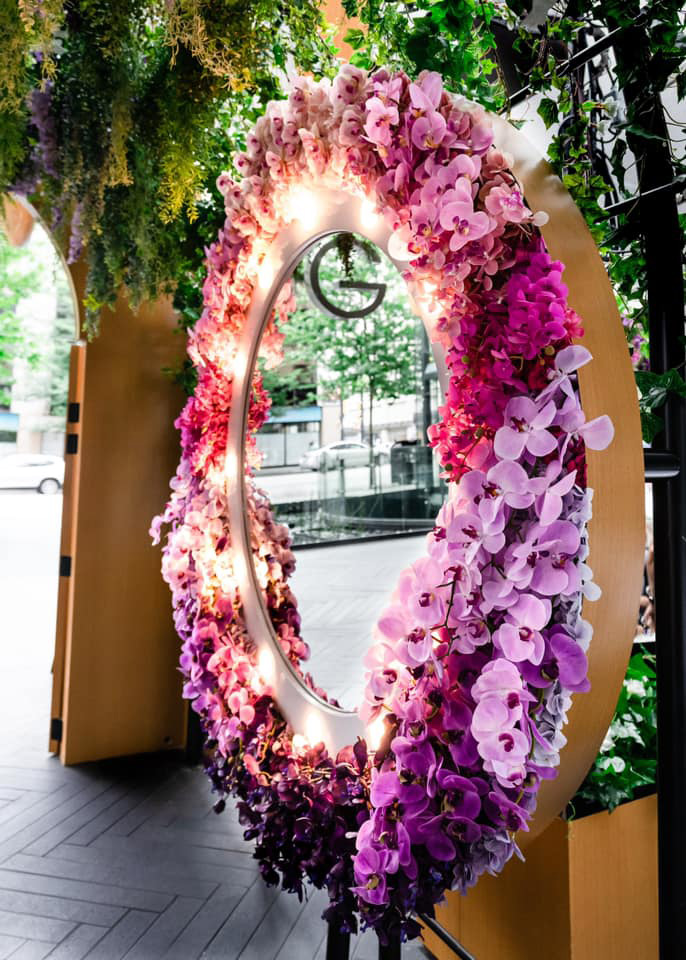 Glowbal is open for lunch, dinner, Happy Hour and week.
590 W Georgia St, Vancouver, BC
H Tasting Lounge
H Tasting Lounge at the Westin Bayshore Hotel is a beautiful, seaside restaurant with creative cocktails complemented by tasting plates inspired by the Vancouver's seafood scene.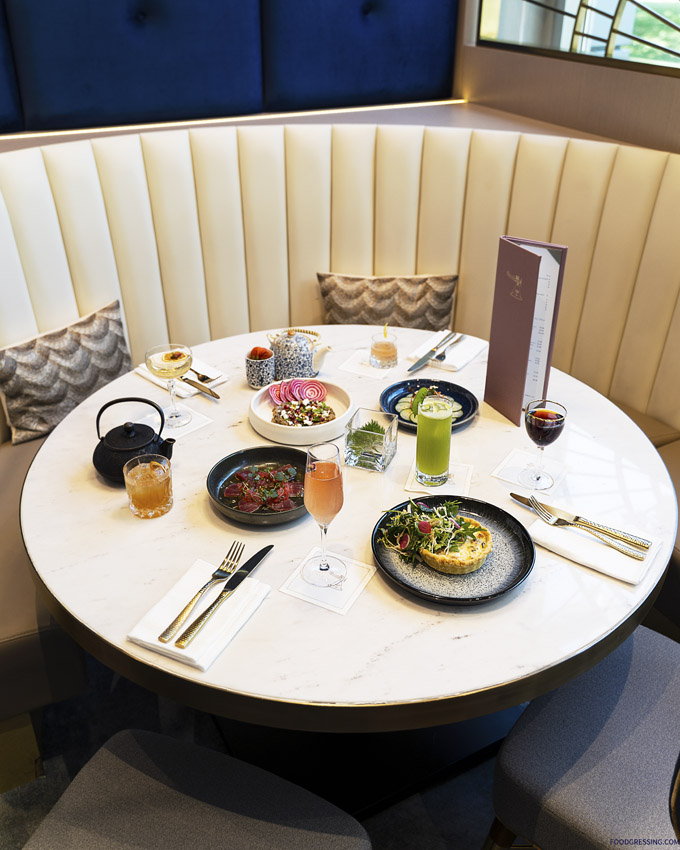 H Tasting Lounge's Winterlust, which is available for a limited time during the winter season, is a fun place to get together.
These stylishly outfitted snow globes allow guests to stay warm while indulging in warm libations and alpine-inspired dishes.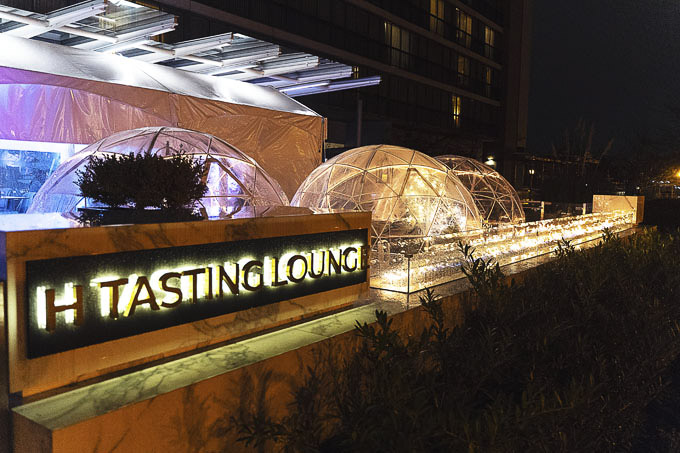 H Tasting Lounge also offers inventive, too pretty to eat, East meets West-inspired afternoon tea sets presented on golden Ferris wheels.
The themes change regularly so you will have to double check what is currently being offered. A cotton candy Bonsai tree completes your picture-worthy spread.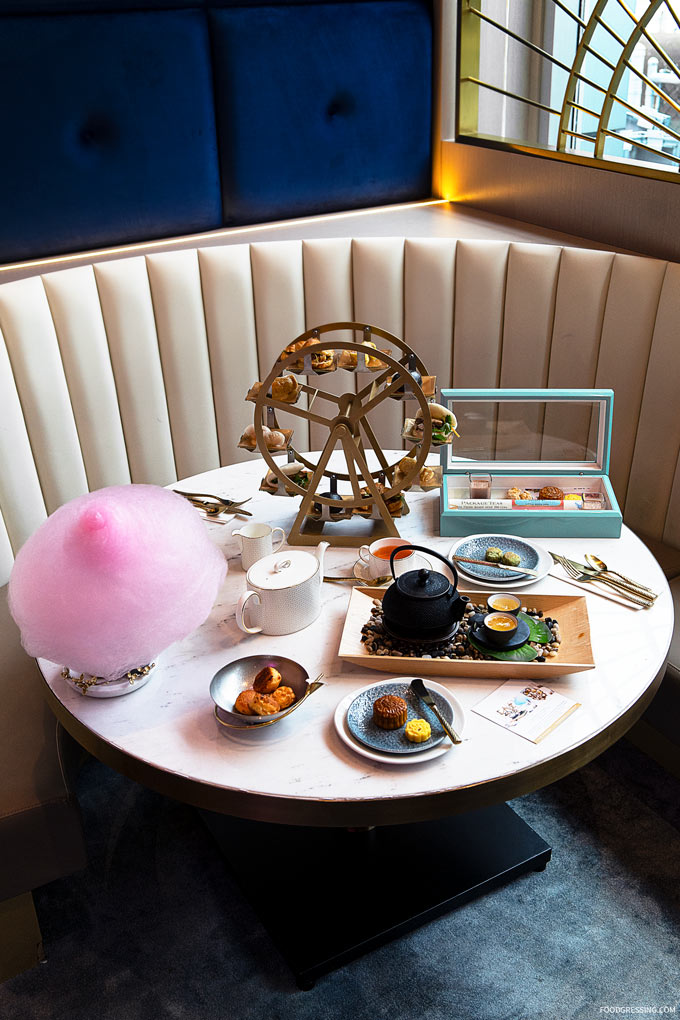 1601 Bayshore Dr., Vancouver, BC
Sushi Aboard
Next on this list of Fun Restaurants Downtown Vancouver is Sushi Aboard on Denman Street, which offers an experiential sushi dining experience where the sushi is deliver to you by sushi train.
Sushi Aboard's concept is a revolution of the conveyor belt sushi.
Customers order from from an iPad with orders sent directly to the kitchen.
The staff in the kitchen will make the sushi fresh and send the food to the customer by "train" which connects the customer's table to kitchen directly.
Check out a video of my experience below.
A concern with the conveyor belt system is that customers may wonder how long the sushi has been on the belt.
However, with the bullet sushi train, the sushi is made-to-order.
Sushi Aboard's menu of Japanese-style eats is divided into Nigiri Sushi, Sushi Maki Roll, Appetizers, Salads, Beverages, Wasabi & Ginger and more.
For nigiri, they have unagi (eel), sockeye salmon, tuna, ebi (prawn), chopped scallops, aburi saba and more.
For maki rolls, they have yam, unagi, Philadelphia, and deep fried California rolls.
1047 Denman St, Vancouver, BC
Hello Nori
On my best sushi in Vancouver list is Hello Nori, a fun sushi restaurant on Robson where guests sit around an inviting 24-seat U-shaped bar and have hand rolls prepared in front of their eyes.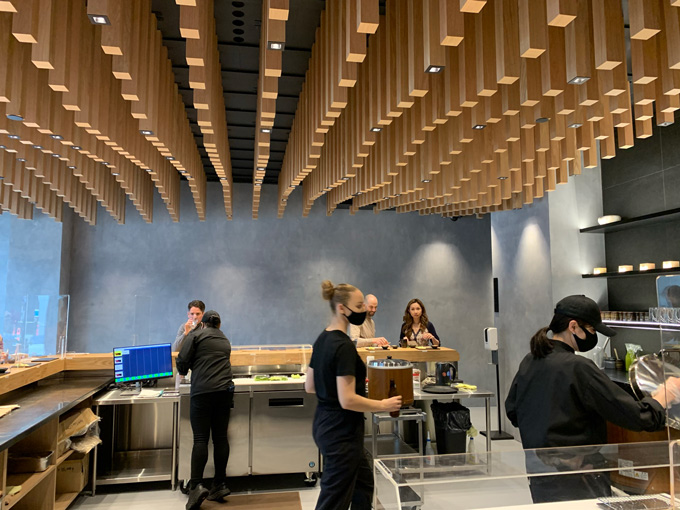 The concept at Hello Nori is about the experience of enjoying a hand roll: a combination of fresh seafood, meticulously selected seaweed, and signature warm rice, prepared to order.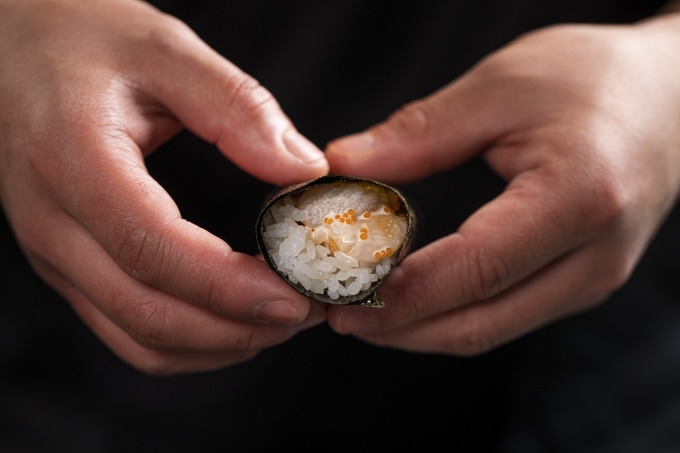 It's about premium quality sushi in a casual setting. Although the food may be served quickly, it isn't fast food.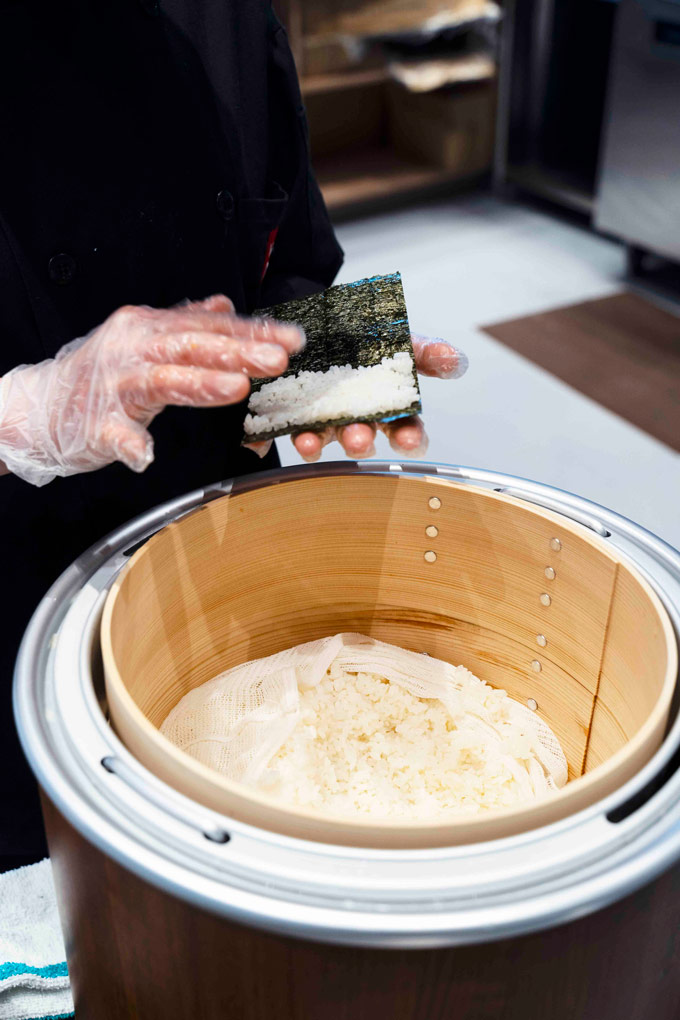 There are 13 hand rolls in all, available à la carte or as part of set menus of four, five, and six rolls.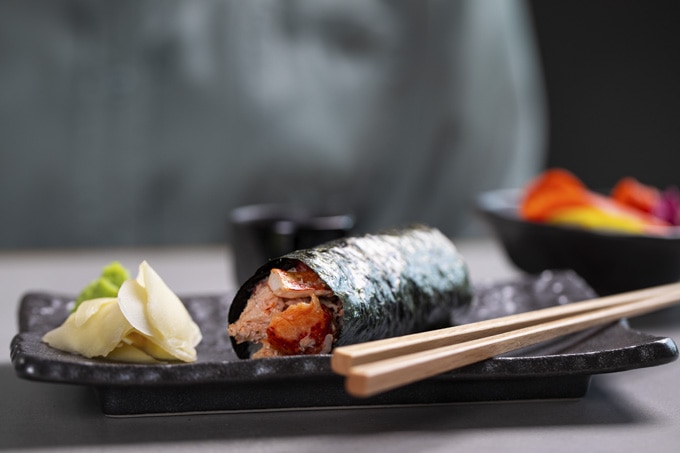 The hand roll options include Ora King Salmon, Yellow Tail, Maguro, Toro, Unagi, Crab, Truffle Lobster, Spicy Shrimp, Hokkaido Scallop, Spicy Tuna, Tamago Yaki, Avocado, and Cucumber.
1165 Robson St, Vancouver
2nd Floor Gastown at Water Street Cafe
Next on this list of Fun Restaurants Downtown Vancouver is 2nd Floor Gastown – an intimate live-music venue located at Water Street Cafe in Gastown.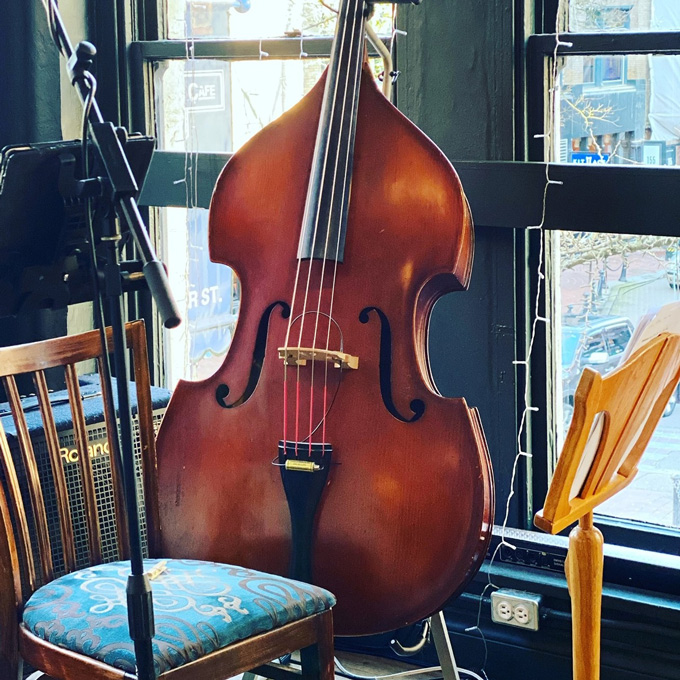 Come take a seat, eat, drink and listen to the very best of Vancouver's music scene.
Check their Facebook page to see who is playing. They typically have jazz or easy listening musicians playing.
You can make a reservation on Tock for a small admission fee. Food and drinks are extra.
Water Street Cafe is also on my list of best romantic restaurants in Vancouver so they make a great date night spot.
300 Water St, Vancouver, BC
Liuyishou Hot Pot
For a fun, communal dining experience, grab your best friends and enjoy a spicy Chinese Hot Pot.
Liuyishou Hot Pot on Robson is one of my favourite places for hot pot in Vancouver.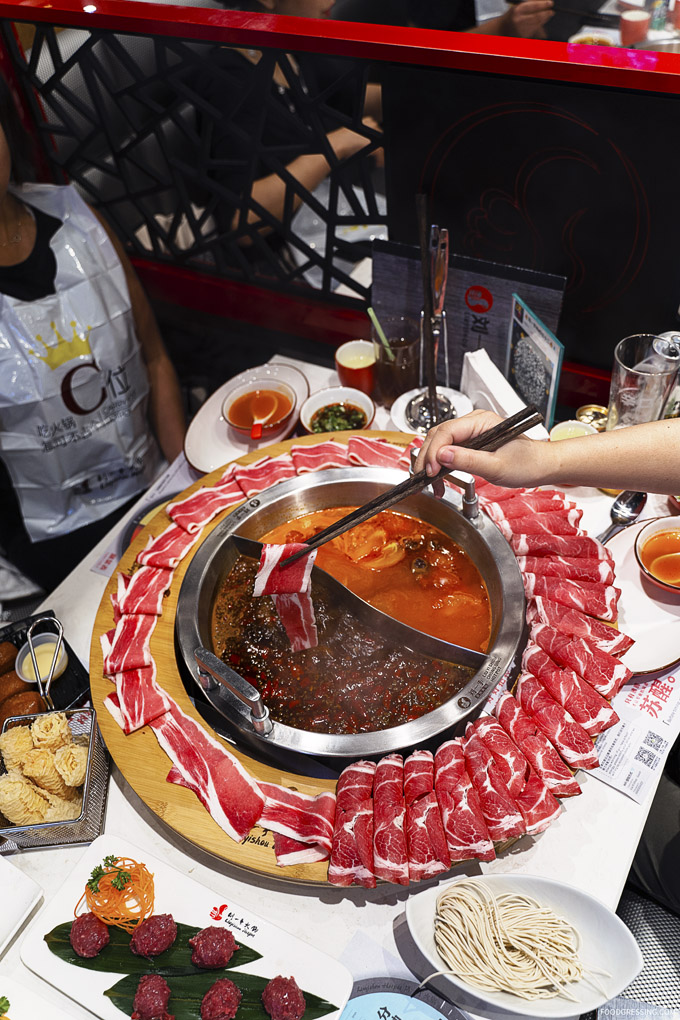 Liuyishou serves up some quality ingredients including 100% Canadian made soup bases and beef cuts.
The best part of hot pot is that it's customizable and you can what ingredients you want to go into it.
My favourite items include the House Special Shrimp Paste; the housemade meat balls and fish balls; and the beef and lamb platter.
1542 Robson St, Vancouver
Captain's Boil
At The Captain's Boil, you can indulge in boiled Cajun and Asian-inspired seafood feasts with a unique fusion flavour.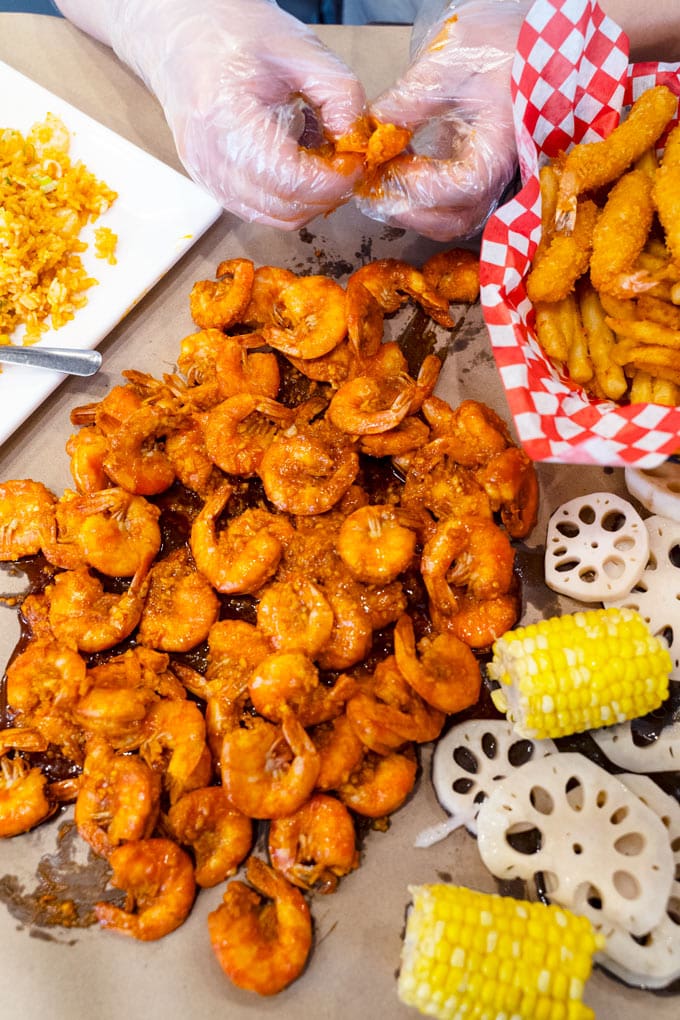 The recipes were inspired by Asian Fishermen who immigrated to the US Gulf Coast during the 70s and gave traditional Louisiana Creole-inspired crawfish boil a twist by adding Asian spices and aromatics.
How it works is you first choose the seafood "catch" (choices include King crab legs, shrimp, Louisiana crawfish, lobster, clams, mussels and more).
You then choose your spice level (ranging from Mild to Fire) and your spice flavour (Cajun Cajun, Lemon Pepper, Garlic Sauce or the Captain's Boil – all tri-mix). The seafood is either market price or by pound.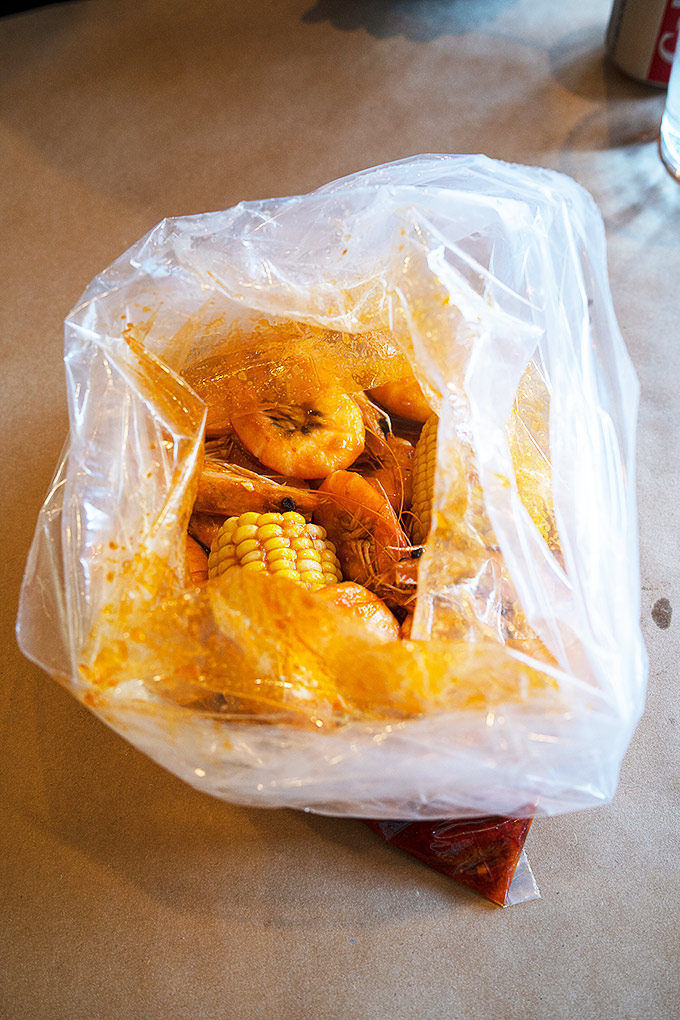 Your order is cooked in their kitchen and then presented to you in food-safe plastic bags, which you dump onto your table to eat.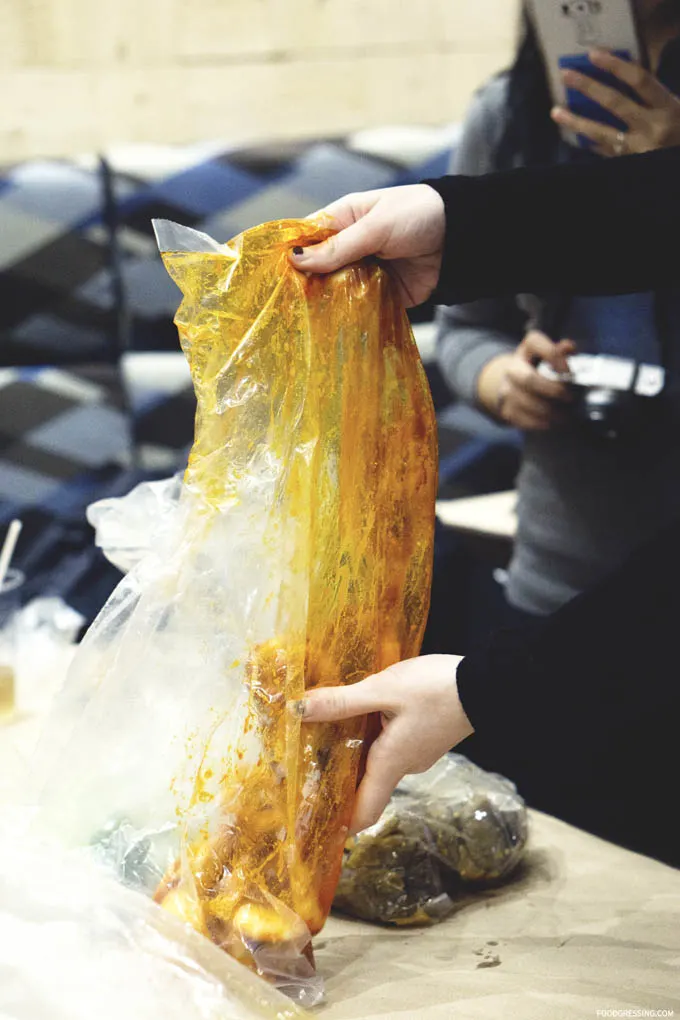 At The Captain's Boil, it's about getting up close and personal with the seafood. Forget about the cutlery and chopsticks. Instead, you'll be wearing plastic gloves, donning a fashionable nautical-inspired bib and eating with your hands.
1487 Robson St, Vancouver
Hope this list of Fun Restaurants Downtown Vancouver has inspired you to check some places to eat!
Check out my other Best of Vancouver Restaurants roundups: