Help support your local patios by discovering new spots, chilling at old favourites and soaking up a little vitamin D! Here is a list of Best Vancouver Patios (circa 2021) as determined by survey results conducted by PATIO Vancouver – an initiative between 15 neighborhood Business Improvement Associations, Phillips Brewing Co., Vancity, Tourism Vancouver, Vancouver Hotel Destination Association and the City of Vancouver. I've also included some more interesting patios to check out for 2022 at the end of the post.
Best Vancouver Patios Overall
Reflections: The Garden Terrace (Rosewood Hotel Georgia)
The Roof @ Black and Blue
Joe Fortes
Brix & Mortar
Seasons in the Park
Best Permanent Patios
Local Kits
Local Gastown
Tap and Barrel Olympic Village
Mahoney
Black and Blue
Best Vancouver Rooftop Patios
The Roof @ Black and Blue
Joe Fortes
Reflections: The Garden Terrace (Rosewood Hotel Georgia)
Darby's Kitsilano
Best Hotel Patio
Reflections: The Garden Terrace (Rosewood Hotel Georgia)
H2 Tasting Lounge (Westin)
Pop Up Patio (Fairmont Pacific Rim)
Dockside (Granville Island Hotel)
Best Temporary/Extended/Curbside
Stable House Bistro
33 Acres Brewing
Dachi
Best Garden Oasis
Reflections: The Garden Terrace (Rosewood Hotel Georgia)
The Roof @ Black & Blue
Minami
Best Vacation Vibe Patio
Las Margaritas
Reflections: The Garden Terrace (Rosewood Hotel Georgia)
Havana
Tocador
Most Romantic Vancouver Patios
Reflections: The Garden Terrace (Rosewood Hotel Georgia)
Robba Da Matti – West End
Brix & Mortar
The Roof @ Black and Blue
Best Vancouver Patios for First Dates
Minami
Water Street Cafe
Per Se Social Corner
Best Vancouver Patios for a Celebration: anniversary, birthday, etc.
The Roof @ Black and Blue
Joe Fortes
Havana
Ancora
Best Patio for Brunch
OEB Yaletown
Yolks – East Village
Cafe Medina
Best Pet-Friendly Patio
Red Truck Brewing
Mahony's Tavern – False Creek
Tap and Barrel – Olympic Village
Best Family Friendly Patio
Rock Mountain Flatbread
Burgoo
Tap and Barrel
Best Designed Patio
The Roof @ Black and Blue
Reflections: The Garden Terrace (Rosewood Hotel Georgia)
Stable House Bistro
Best Back Alley Patio
Tacofino Gastown
Chupito
Gringo
Bimini's Beer Hall
Best Patio Downtown Vancouver
The Roof @ Black and Blue
Cactus Club Convention Centre
Reflections: The Garden Terrace (Rosewood Hotel Georgia)
Best Patio West End
Craft
Cactus Club
Score on Davie
Best Patio Robson
Joe Fortes
Forage
Ladure
CinCin
Best Patio Gastown
Local
Tacofino
Water Street Cafe
Best Patio W 4th
Simpatico
Las Margaritas
Sophies Cosmic Cafe
Kokomo
Best Patio Strathcona
Strathcona Brewing
Superflux
Belgard Kitchen
Best Patio Yaletown
The Keg
Earls
Yaletown Brewing Co.
Brix and Mortar
Best Patio Mt Pleasant
Burgoo
Anh and Chi
Sing Sing
Tocador
Best Patio Kerrisdale
Zubu Ramen
Bufala
Honolulu Coffee
Best Patio Cambie
Vijs
Biercraft
Public Plaza @ 18th (JJ Bean)
Best Patio Hastings Crossing
Nemisis Coffee
The Pint
The GPO
Best Patio Pt Grey Village
Burgoo
Four Olives
Browns Social House
Best Patio Olympic Village
Best Patio Vancouver Chinatown
The Keefer Yard
Boxcar
Mila
Best Patio Coal Harbour
Carderos
Lift Bar + Grill
H Tasting Lounge
Best Patio East Van
Do Chay
Bells and Whistles
B-side / Say Mercy
Best Patio False Creek
Mahony's Tavern
The Wicklow
Ancora
Best Patio Kits Beach
Local
Boathouse
Lucky Taco
Cider House
Best Patio East Village
Best Patio W Broadway
Colony
The Eatery
Nuba
Elwoods
Best Patio Marpole
Milltown
The Meat Up
The Yard
Best Patio Granville Island
Dockside (Granville Island Hotel)
Tap & Barrel Bridges
The Sandbar
Best Patio in Commercial Drive
Best Patio South Granville
Stable House Bistro
Bin 4 Burger Lounge
The Rise Eatery
Goodge Place
Best Patio for Sushi
Miku
Minami
The General Public
Best Patio for Tacos
Tacofino Gastown
Las Margaritas
La Taqueria – Yukon St
Best Patio for Margaritas
Las Margaritas
Tacofino Gastown
Havana
Best locally owned / small business patio
Say Mercy! (B-Side Patio)
Twisted Fork
Federal Store
Best Patio to Beat the Heat
Cactus Club English Bay
Local Kits
Rain or Shine West 4th Ave
Best Vancouver Patios for a Glass of Rose
Joe Fortes
La Fabrique St-George
Dockside (Granville Island Hotel)
Sprezzatur
Bridges
Best Neighbourhood to enjoy Rose on the Patio
Yaletown
West 4th Ave
Downtown Waterfront
West End (English Bay)
Best Vancouver Brewery Patio
Parrallel 49
33 Acres
Red Truck
Yaletown Brewing Co
Best Neighbourhood for Beer on the Patio
Mount Pleasant
Strathcona
West 4th
Best Neigbourhood for Sunny Patios
West 4th
West End
Mount Pleasant
Best Neighbourhood for Rainy Day Patios
Yaletown
Gastown
West 4th Ave
Mount Pleasant
Best Neighbourhood for Patios with a View
Downtown (Waterfront/Convention Centre)
West End (English Bay)
Kits Beach
Best Neighbourhood for People Watching Patios
Yaletown
Mt Pleasant
Kits/W 4th
English Bay / West End
Check out the PATIO map of over 300 Vancouver patios! It includes heated, covered and pet-friendly patios, plus patios that take reservations and are open rain or shine.
More patios to check out in 2022
The Vancouver Fish Company is located in one of the city's top destinations for both locals and tourists – Granville Island. The restaurant boasts waterfront views and an expansive patio overlooking a lively marina, making it the perfect place to enjoy a drink (or two) from the meticulously curated drinks menu on a sunny afternoon. The exceptional food menu has also been carefully crafted to highlight the best seafood in the city, with all fish sourced directly from local fishermen and the majority of the seafood on the menu being Ocean Wise certified.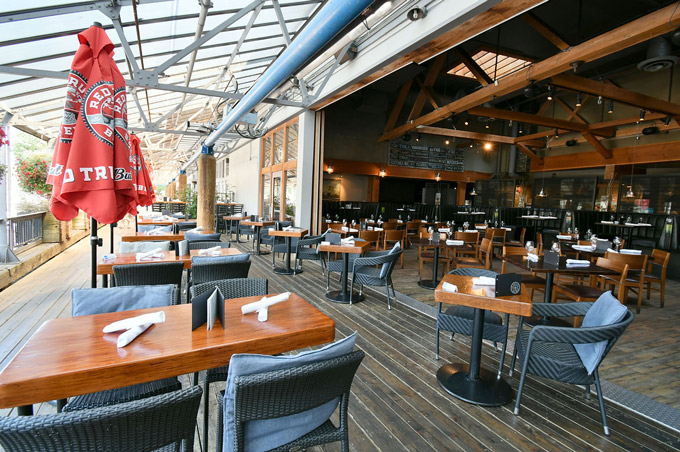 Alimentaria Mexicana, on Granville Island has a bustling wrap-around patio that doubles the capacity of the restaurant on sunny days. Heated, and covered with tropical straw umbrellas, with speakers playing upbeat Mexican music, the-slice-of-paradise patio is open year-round, giving diners access to the best people-watching on the island, while they dine on expertly-crafted dishes and sips.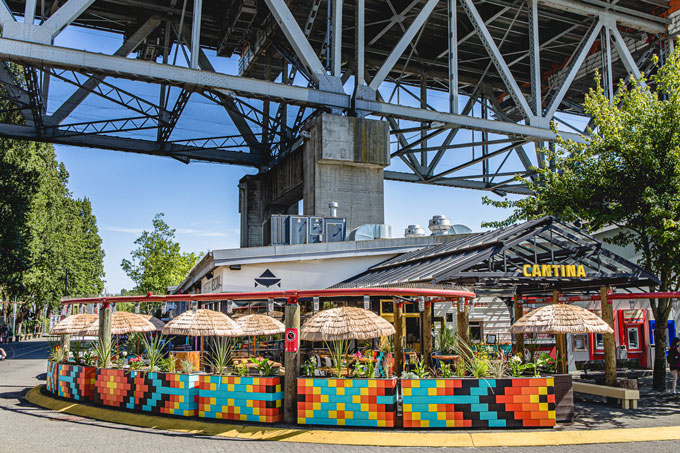 Newly-opened Casa Mia has a sprawling patio at its location on the corner of Marine Drive and 22nd Street in West Vancouver. The Cucina and Mercato boasts wood-fired pizzas, hand-made pastas and more Italian eats, and is open from breakfast all the way until dinner. Browse the in-house Mercato to shop for Italian pantry items and delicacies to inspire your next at-home culinary creation, or indulge in a scoop of creamy gelato, or espresso to go.
Di Beppe is a young Italian restaurant with an old Italian soul, and their patio on Carrall Street is the place to go for a taste of Italy, whether you're feeling pasta and pizza or a superb sandwich to go with your espresso.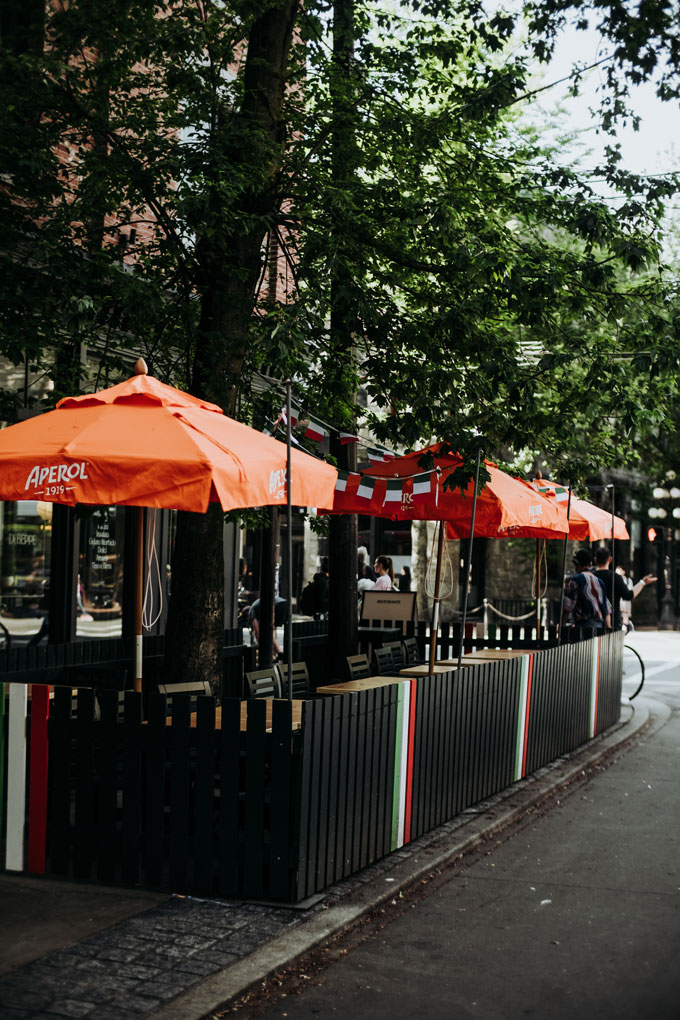 Farina a Legna's patio is the perfect spot for North Shore diners to enjoy delicious wood-fired pizzas, hand-made pastas, Italian spritzes and brunch.
Take a pause and celebrate Italian coffee culture on giovane cafe's patio, which runs alongside the cafe on W Cordova Street. The signature yellow Vespa and sidecar make the perfect photo-opp for your next Instagram story.
Both of the Honolulu Coffee locations (Downtown and Kerrisdale) boast a resort-style feel, giving guests a taste of the tropics while they enjoy the cafe's signature hand-crafted coffees, acai bowls and other bites.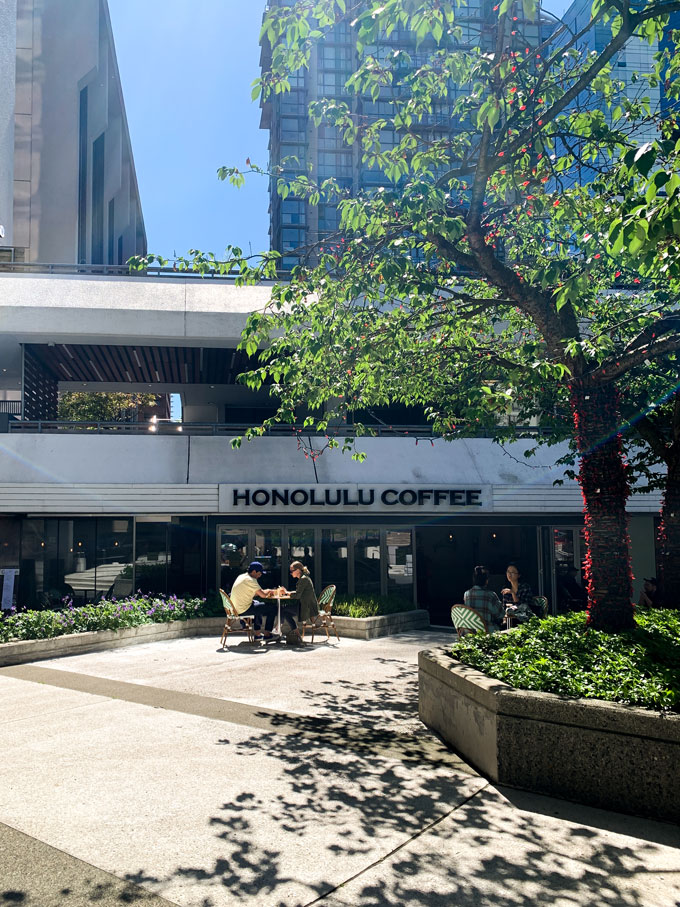 Two years in the making, Juke Fried Chicken and The Chickadee Room have launched their new temporary patio on Keefer Street – the perfect spot to indulge in fried chicken and innovative cocktails while soaking up the energy of Vancouver's Chinatown neighbourhood.
Enjoy Nuba's signature Lebanese dishes, like their Najib's Special cauliflower, al fresco on their Yaletown and Mount Pleasant patio locations. The Mount Pleasant location is perfect for a lunch break during a bike ride, while Yaletown's street-side oasis is an ideal spot for people-watching.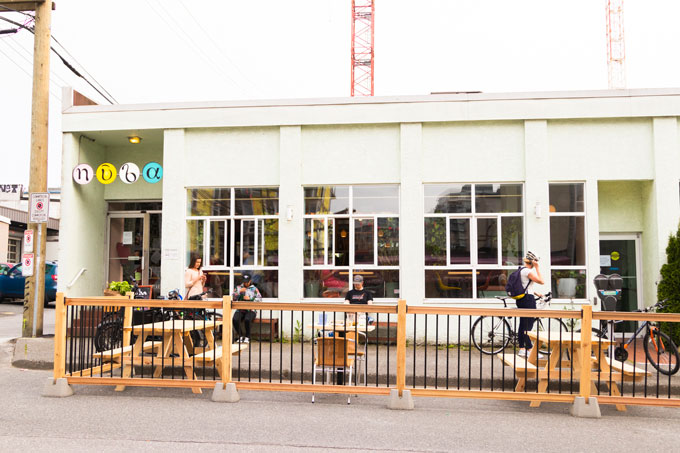 Pourhouse's temporary patio will return this year, inviting guests to enjoy their new burger-forward menu and signature cocktails in historic Gastown, steps from the steam clock.
Yuwa's intimate heated patio overlooks West 16th Avenue and features cushioned chairs, lattice dividers, a large 11-foot umbrella and plenty of greenery.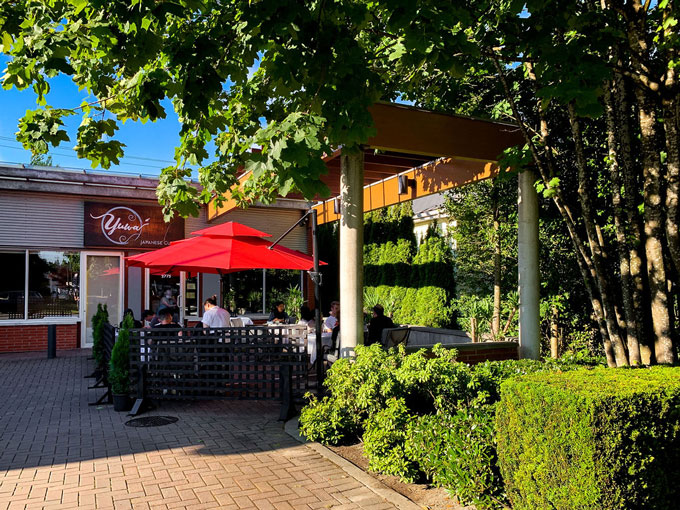 Papi's Seafood & Bar has an extended patio.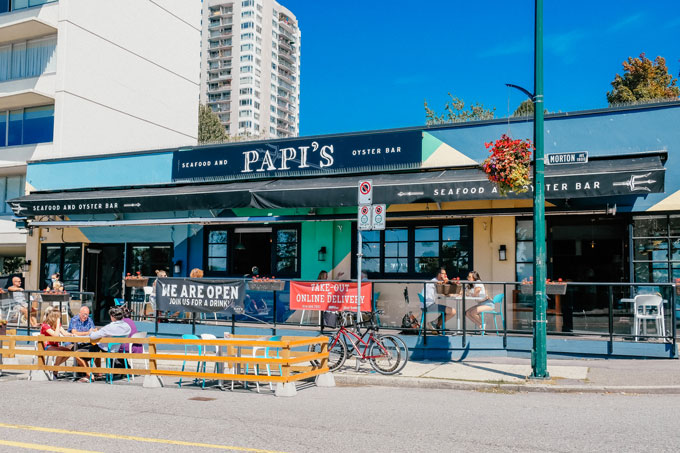 Uva Wine & Cocktail Bar's patio is a great place for drinks and people watching.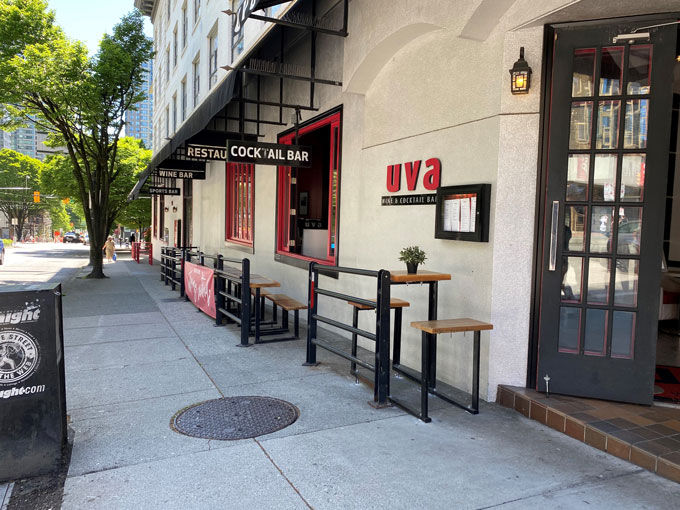 Located adjacent to the city's premier shopping district and steps away from the picturesque Coal Harbour seawall, the Mott 32 patio promises to be a coveted outdoor perch for travellers and locals alike.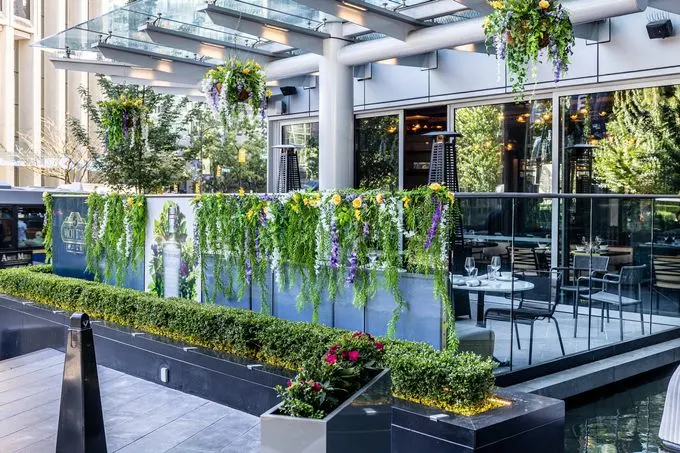 Fable Diner & Bar
The gorgeous and spacious patios at Fable Diner & Bar (755 Richards St) is now open! Located in the heart of Vancouver at the Kingston Hotel, the patio is open at 9AM everyday and closes at 10PM.
There are 30 seats on the Oasis Patio and 30 seats on the Rooftop Garden Patio, reservations are available via their website/Opentable.