In this roundup of Best New Restaurants in Vancouver 2022, I share with you my recommendations on which new restaurants that have opened up in 2021/2022 that you need to try.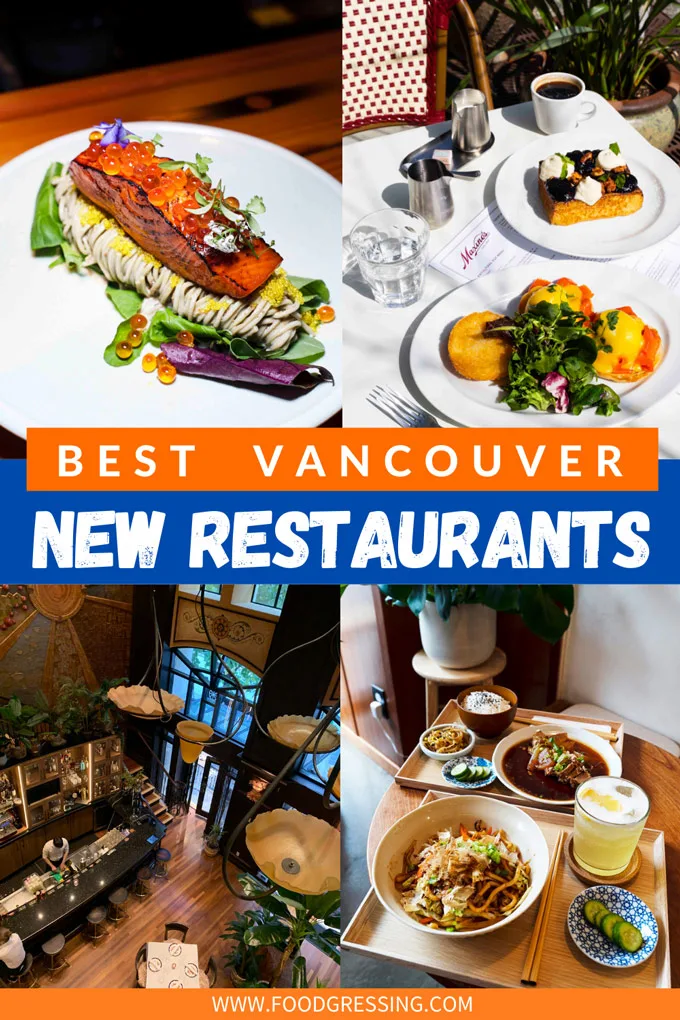 You'll find new ventures by seasoned chefs, new restauranteurs and amazing second locations of existing Vancouver restaurants.
I curated this list based on my own opinion, experiences and knowledge of how well the restaurant is doing in the local scene.
The restaurants featured in this list of Best New Restaurants in Vancouver listed are no particular order.
Bon Appetit!
Riley's Fish & Steak
Opened in May 2022, Riley's Fish & Steak brings a new fish-and-chophouse dining experience to the heart of Downtown Vancouver's waterfront.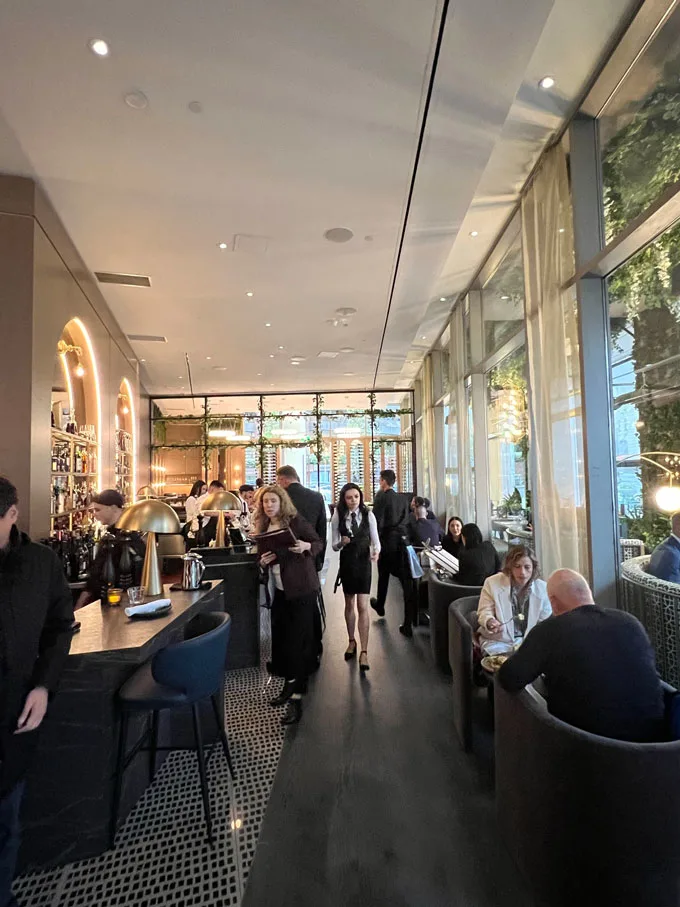 The chef-driven menu features seafood towers; high-quality steak and chops; an Oyster Bar along with an exceptional selection of wines.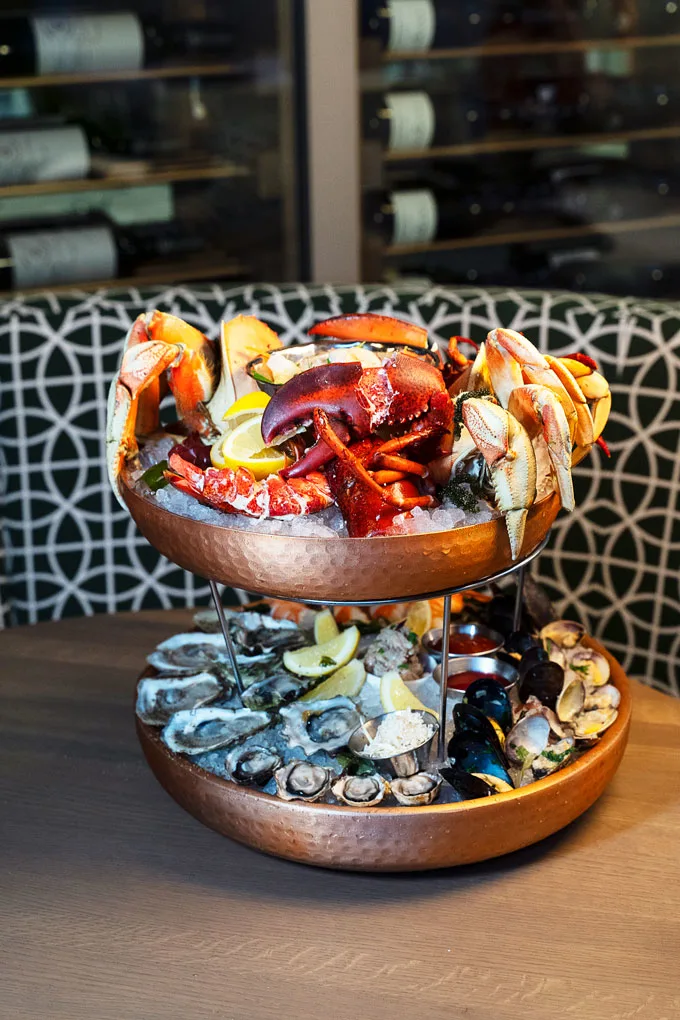 Riley's Classics include Steak & Frites; Coq au Vin (red wine braised chicken); Seafood Pasta; Halibut Fish & Chops; Smash Burger and Beef Stroganoff.
Or enjoy a prime steak (tenderloin, striploin, ribeye, tomahawk) which come with smoked sea salt.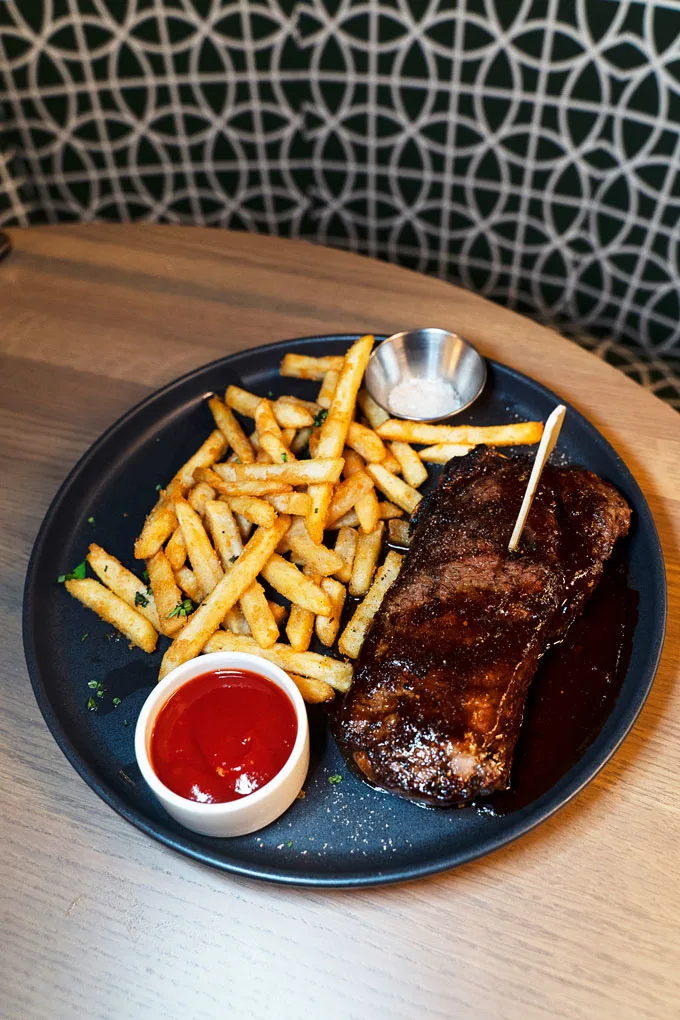 For seafood dishes, there is the Haida Gwaii Halibut Steak; Chinook Salmon Steak; Whiskey Maple Sablefish; Jumbo Tiger Prawns; and Lobster Thermedor.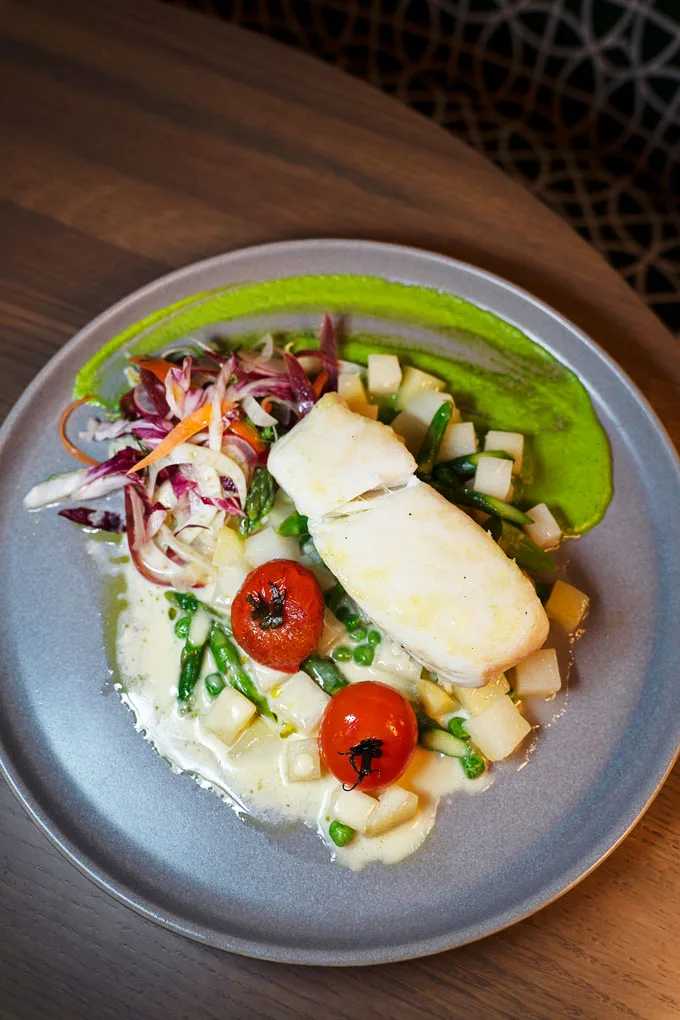 The interior features warm tones that are classic, elegant and textural, and with plenty of room for intimacy.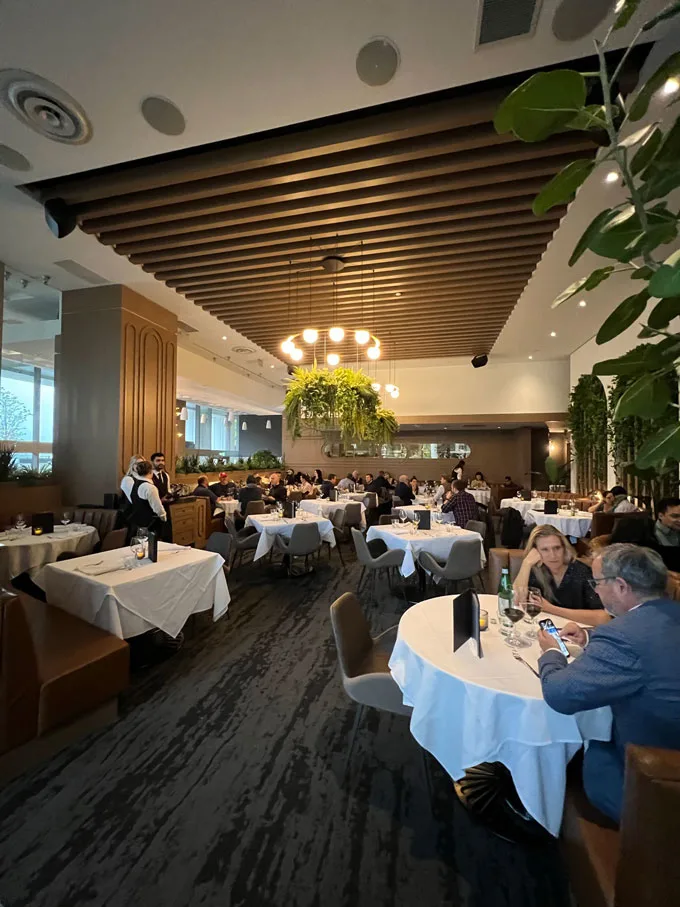 200 Burrard Street, Vancouver
Sushi Hil
Sushi Hil is a new sushi restaurant by Chef Hil Nguy (founder of Temaki Sushi) who has been making inspired sushi for over 20 years.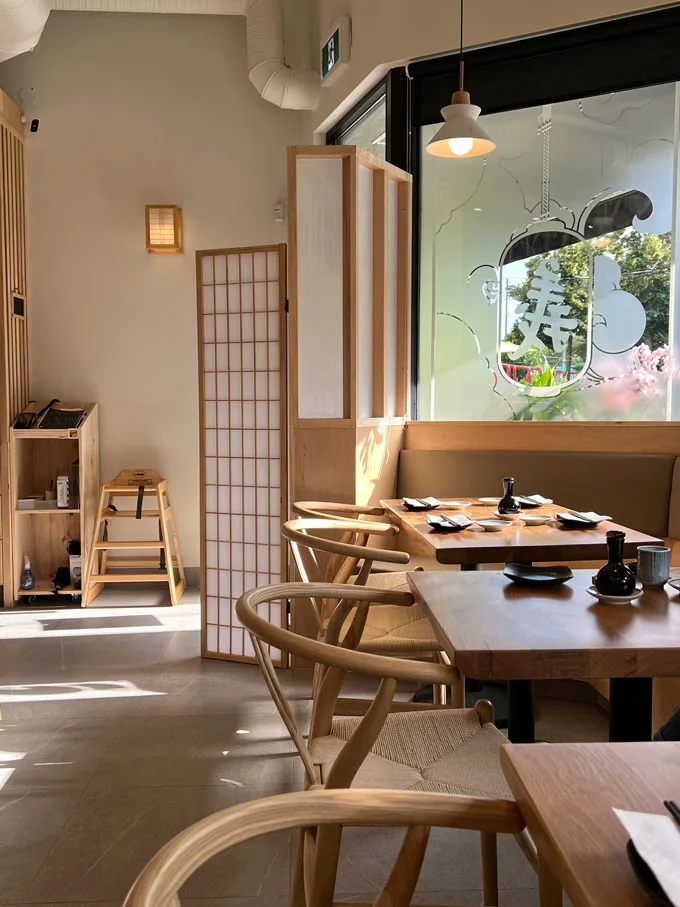 On the menu are Chef's Daily Sashimi Selection; Nagasaki Blue Fin Tasting; Nigiri Set; Chirashi Set; Maki Set; Garden Set; rolled sushi (like Super Tuna Roll, King BC Roll; Negitori Roll and more); and starters (like albacore tataki, hamachi crudo and so forth).
The 12-piece Sashimi Moriawase (Chef's Daily Selection) and Maki Set (featuring Super Tuna Roll; King Oshi; Hokkaido Maki; Spinach Gommae and Miso Soup) are delicious options that I have tried and would recommend.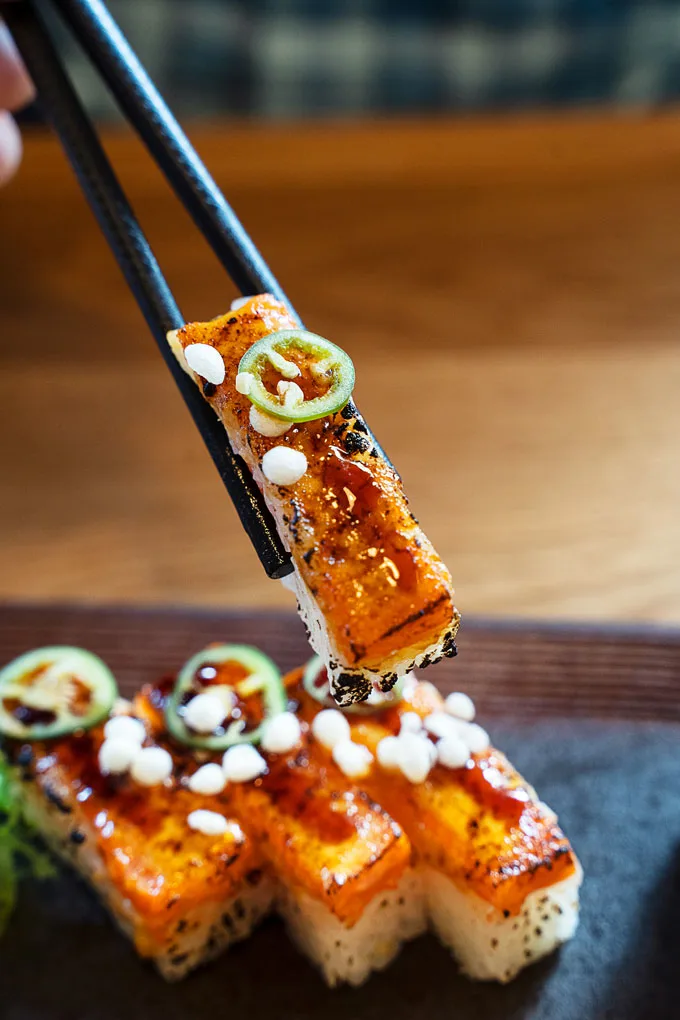 3330 Main Street, Vancouver
Yasma
Opened in February 2022, Yasma in Coal Harbour tells the story of the Levant, a region that includes Syria and Lebanon.
The cuisine is homey and smoky, basic yet rich, from exquisite charcoal-grilled kibbeh to robust lamb sausages and fatteh hummus.
These are delicacies steeped in Levantine culture and linked to childhood memories of family and friends.
Yasma's dine-in menu caters to vegetarian, vegan, gluten-free, dairy-free, and halal needs, serving both their well-loved à la carte menu of Middle Eastern mainstays, ranging from homemade dips created from scratch to in-house butchered lamb highlights, as well as a rotating chef's tasting menu.
The tasting menu includes eight to ten rotating seasonal favourites for $89 per person for the table with a minimum order of two.
550 Denman Street, Vancouver
Chef's Choice Chinese Cuisine
Chef's Choice Chinese Cuisine, a Cantonese-style restaurant offering dim sum, lunch and dinner service, opened in February 2021.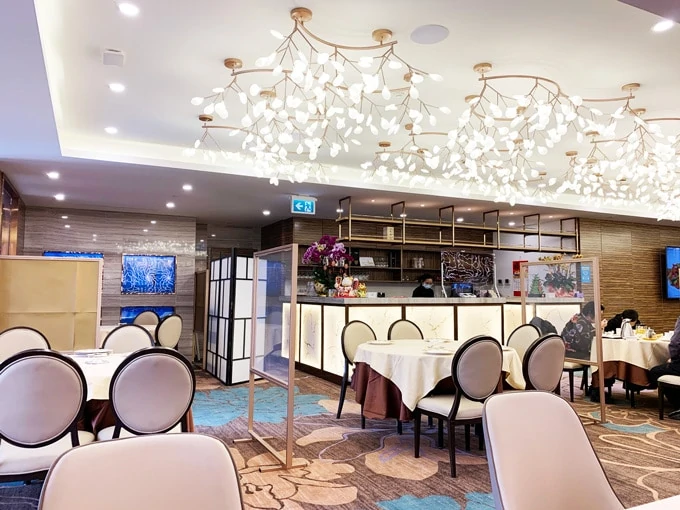 The Chefs working are formerly from Chef Tony, Mott 32 and Grand Honor having decades worth of experience.
For lunch, they have steamed dim sum; deep-fried, pan-fried and baked dishes; congee + claypot rice; kitchen specialties; rice + noodles; and dessert.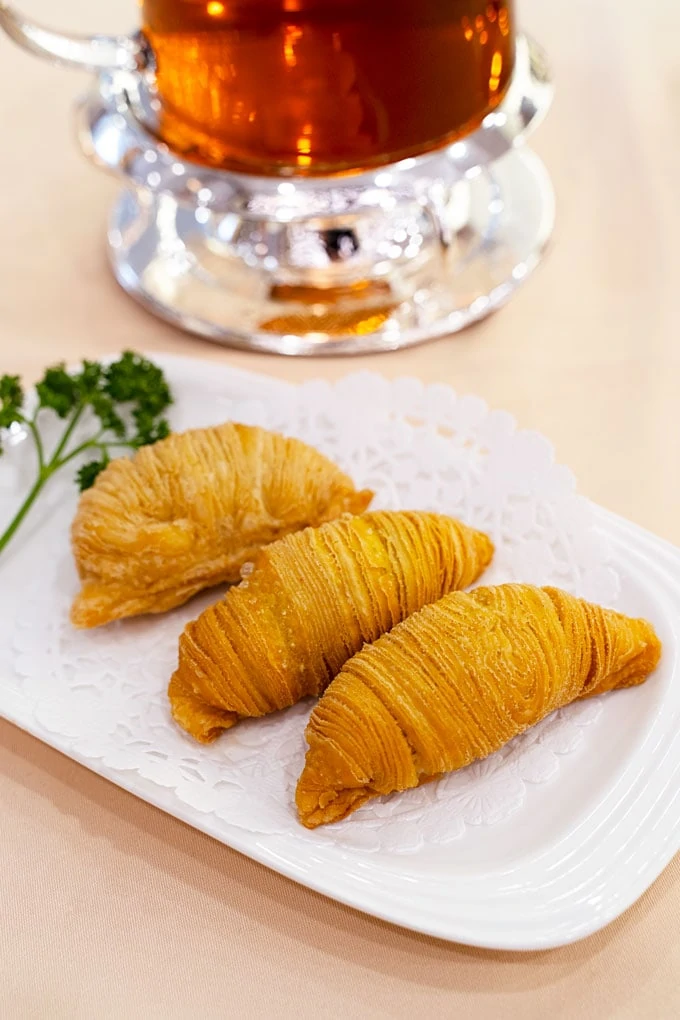 Dinner includes double-boiled soups; barbequed meats; poultry; seafood; vegetarian dishes; Chef's specialties; rice and noodle; and dessert.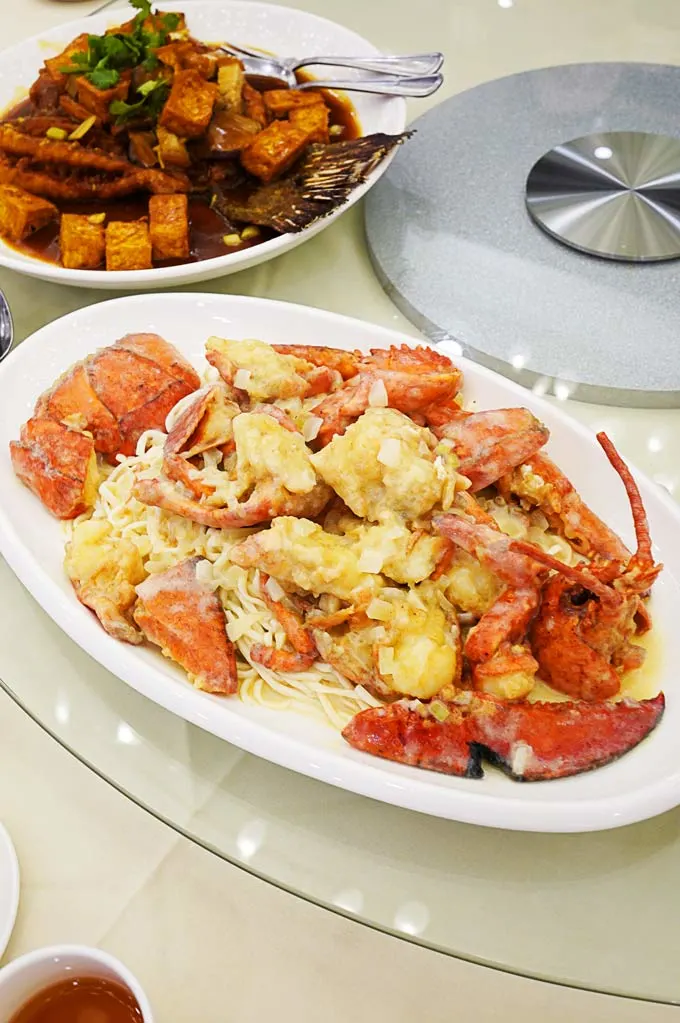 I quite liked the Flaky Radish Pastries, Shredded Chicken Rice Noodle Roll, Steamed Sweet Salty Egg Paste Layered Cake from Dim Sum.
For dinner, the Lobster in Cream Sauce with Noodles, Peking Duck Two Courses, Sweet & Sour Pork Belly, Truffle Chicken were my favourites.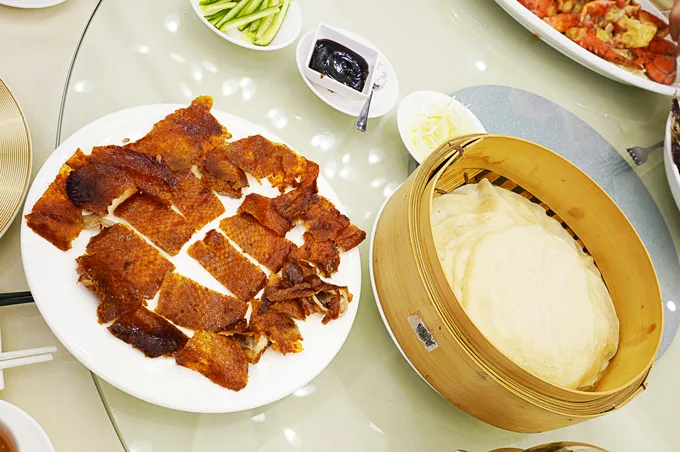 Service was attentive and excellent in line with some of the Chinese seafood restaurants in town.
I also enjoyed the bright, comfortable, elegant and spacious dining environment.
Check out my full review of Chef's Choice here.
955 West Broadway, Vancouver
Delara Restaurant
A new addition to the West 4th dining scene is Delara Restaurant, offering a humble, seasonal menu reflecting key elements of Persian cuisine.
This is the first solo venture by Chef Bardia Ilbeiggi (formerly at Farmer's Apprentice and L'Abbatoir).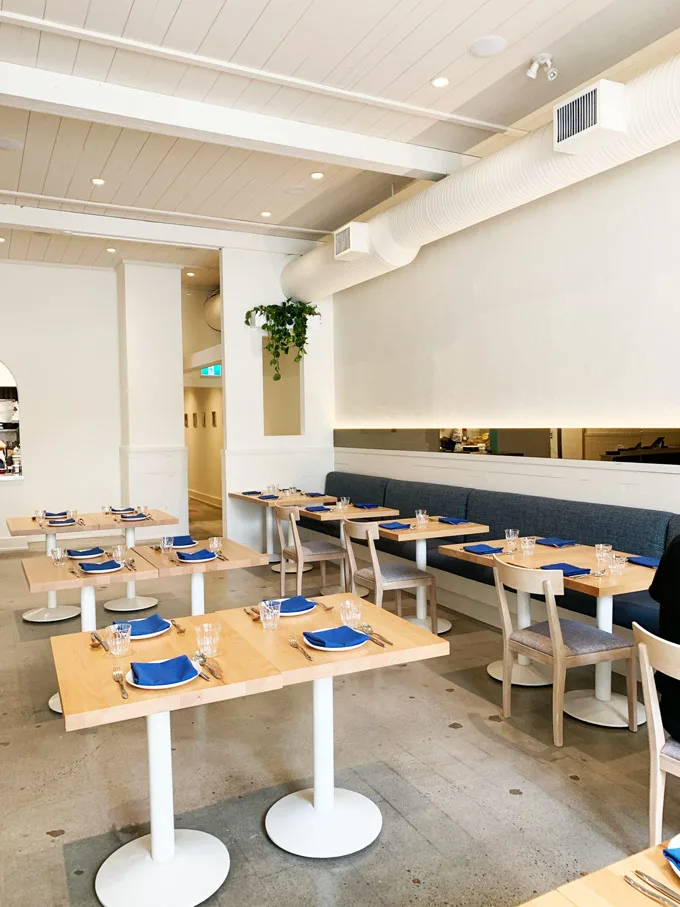 I really loved their Persian Breakfast featuring flatbread, feta cheese, butter, jam, soft boiled egg in shell and a salad of tomato, cucumber and preserved lemons.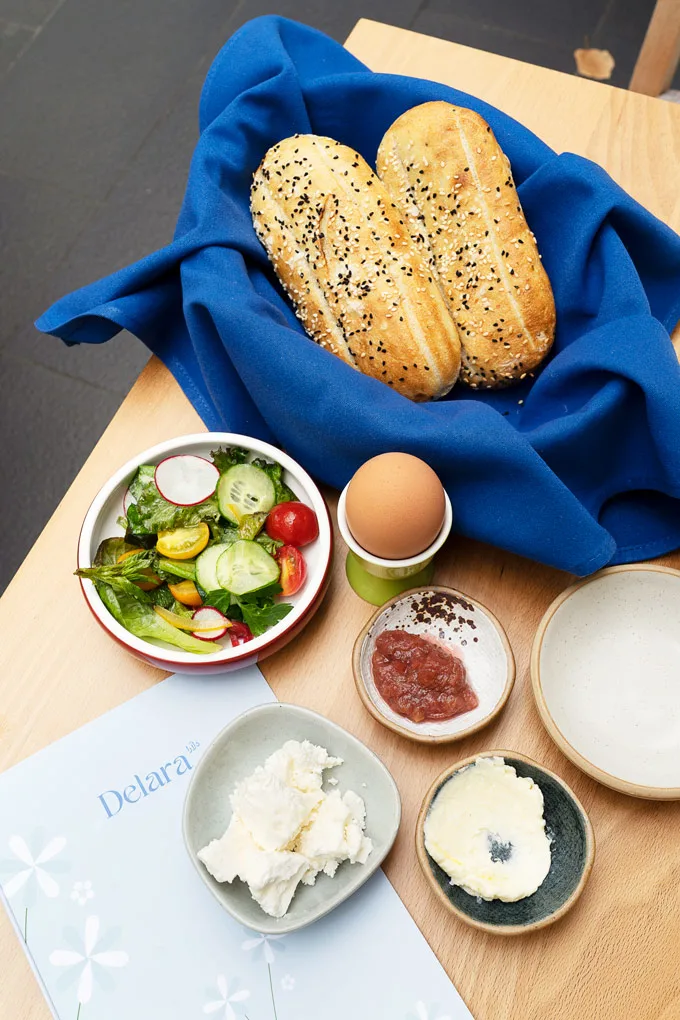 You rip off pieces of the flatbread and eat it with the feta, butter and jam but you can also assemble it as a sandwich.
The Chicken Kabab Sandwich was also excellent. It had saffron marinated and charcoal grilled chicken served in their signature seedy sourdough flatbread with mint labneh and pickled shallots.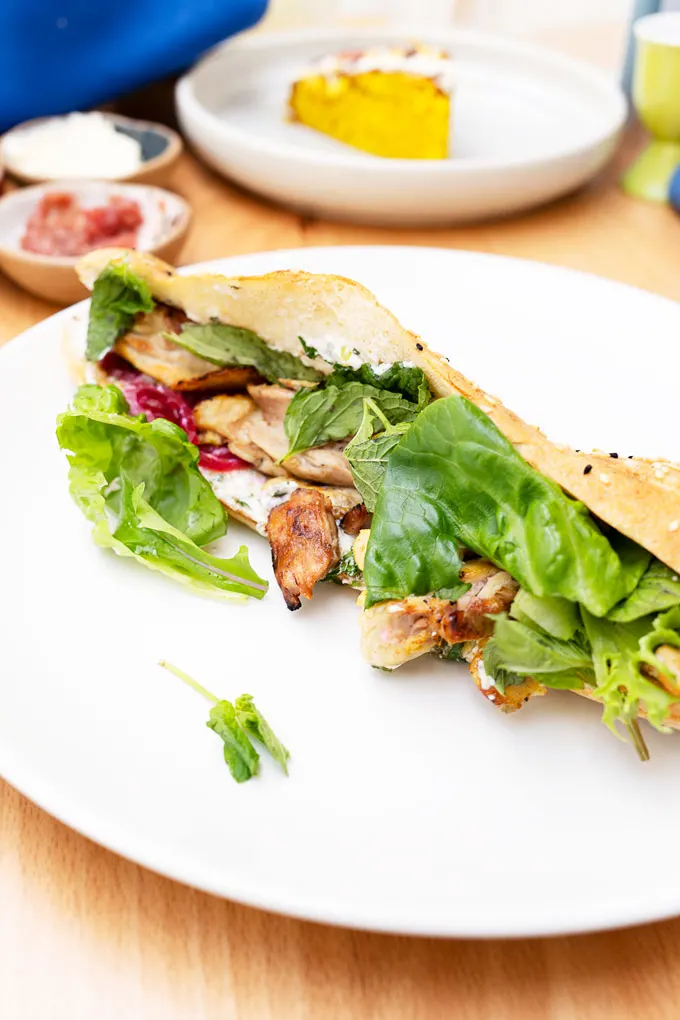 Finish off with it Turmeric and Orange Cake, which is heavenly! It's topped with orange blossom buttercream, almonds and candied orange.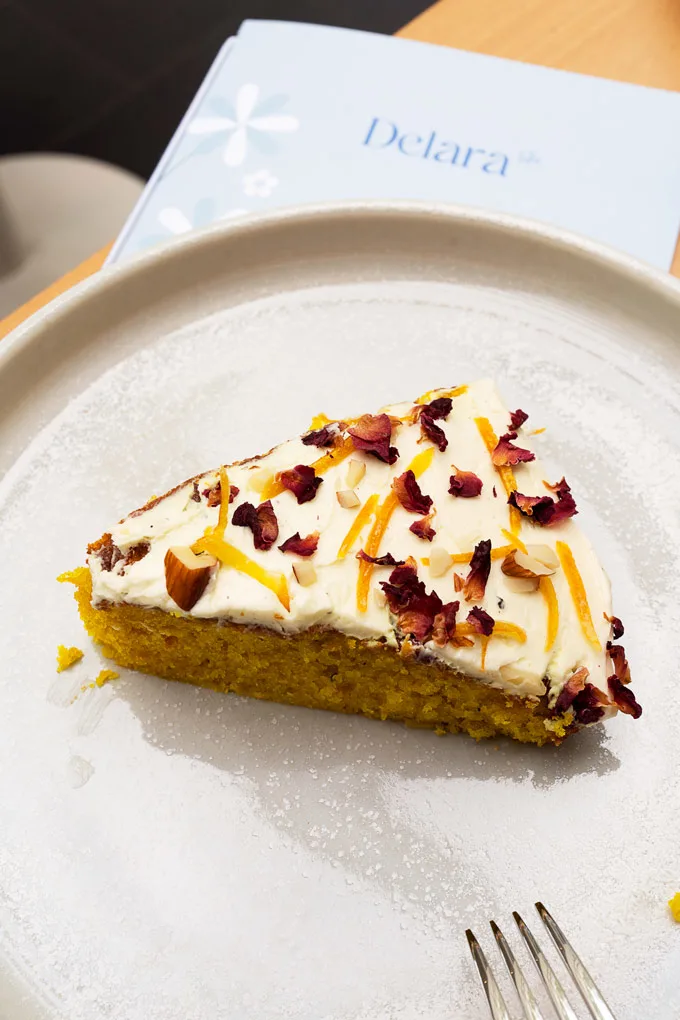 Delara is open for lunch, dinner and weekend brunch.
Check out my review of Delara Restaurant here.
2272 W 4th Ave, Vancouver, BC
Alouette Bistro
Alouette Bistro, a new French dining destination inside Hotel Le Soleil, makes this list of Best New Restaurants in Vancouver.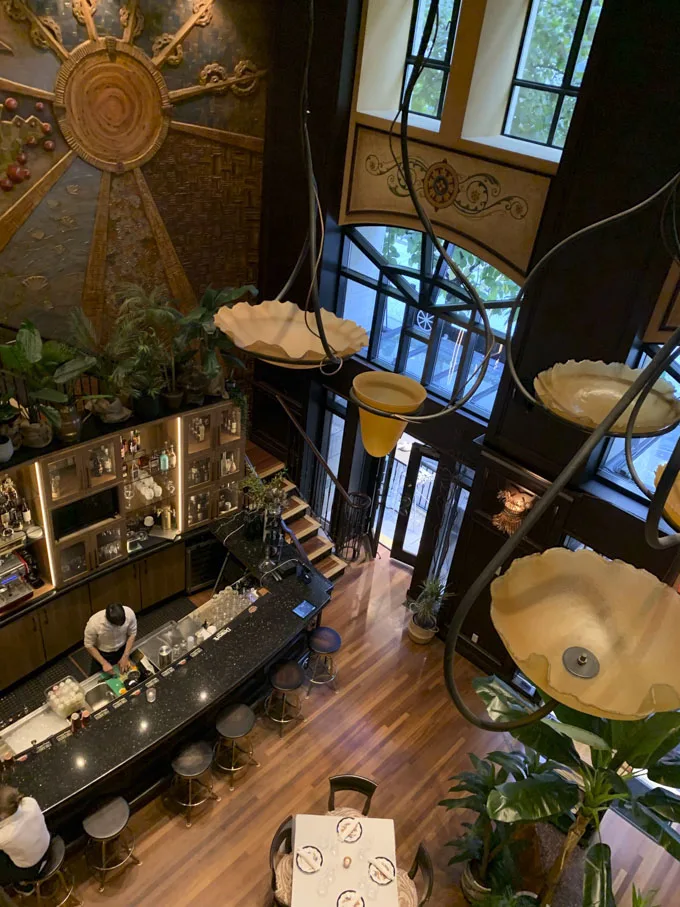 Alouette translates as "Lark," a beautiful and cosmopolitan songbird.
Alouette Bistro borrows its culinary philosophies from the enduring dishes and methods of classic French bistros and invigorates them utilizing West Coast flavors.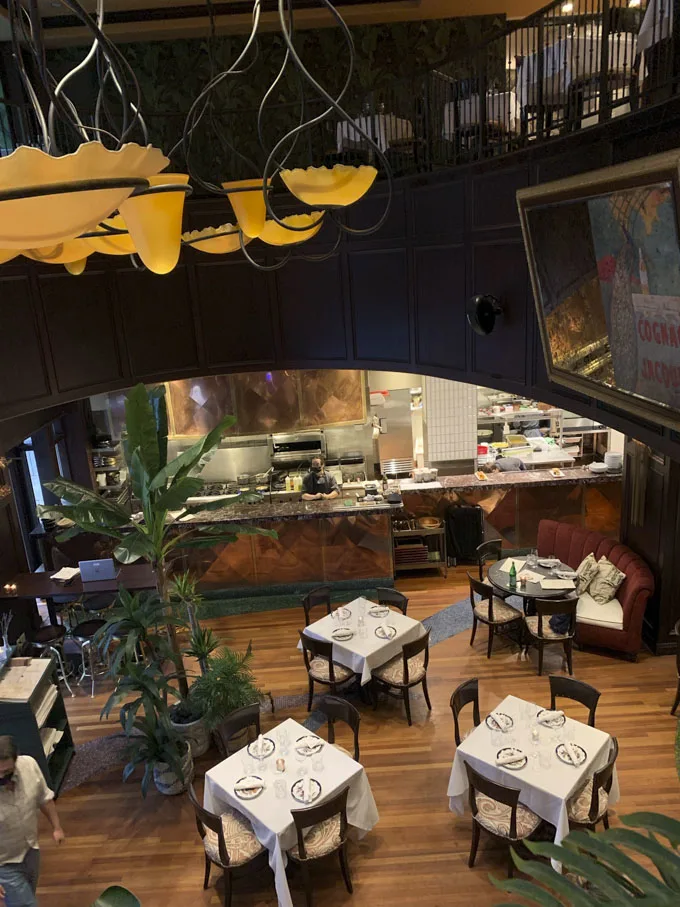 Dishes like Bouillabaisse and Steak Frites remain loyal to their French roots but are redesigned with flavors that showcase the beauty and variety of British Columbia.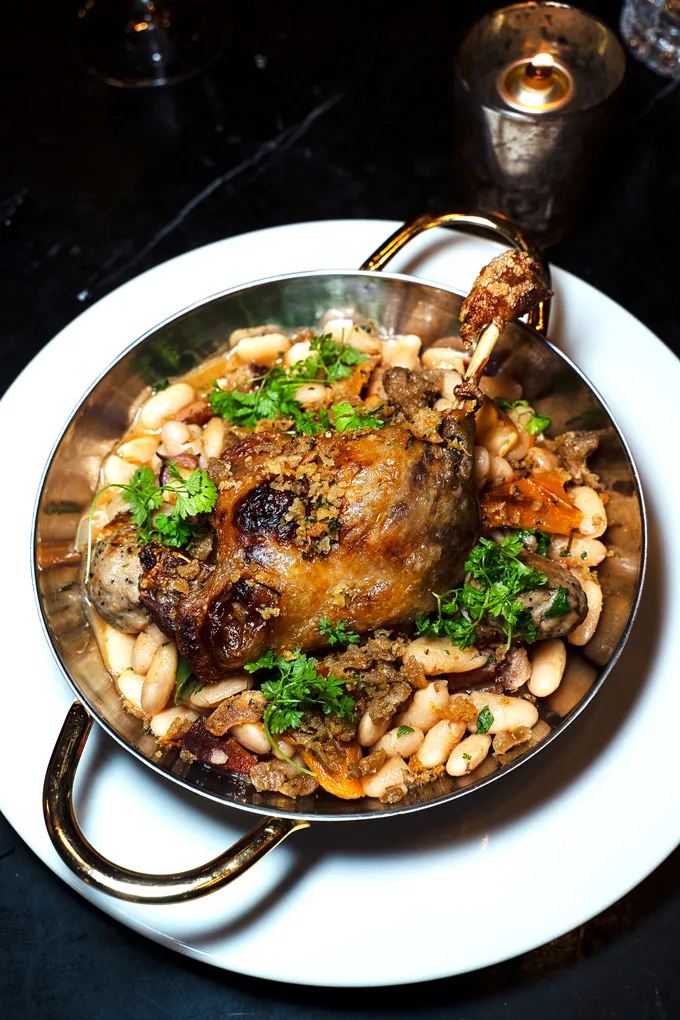 At Alouette, they offer next-level service with tableside preparations. Be sure to order the Beef Tartare which is assembled in front of you as well as the Crepes Suzette that is flambéed at tableside.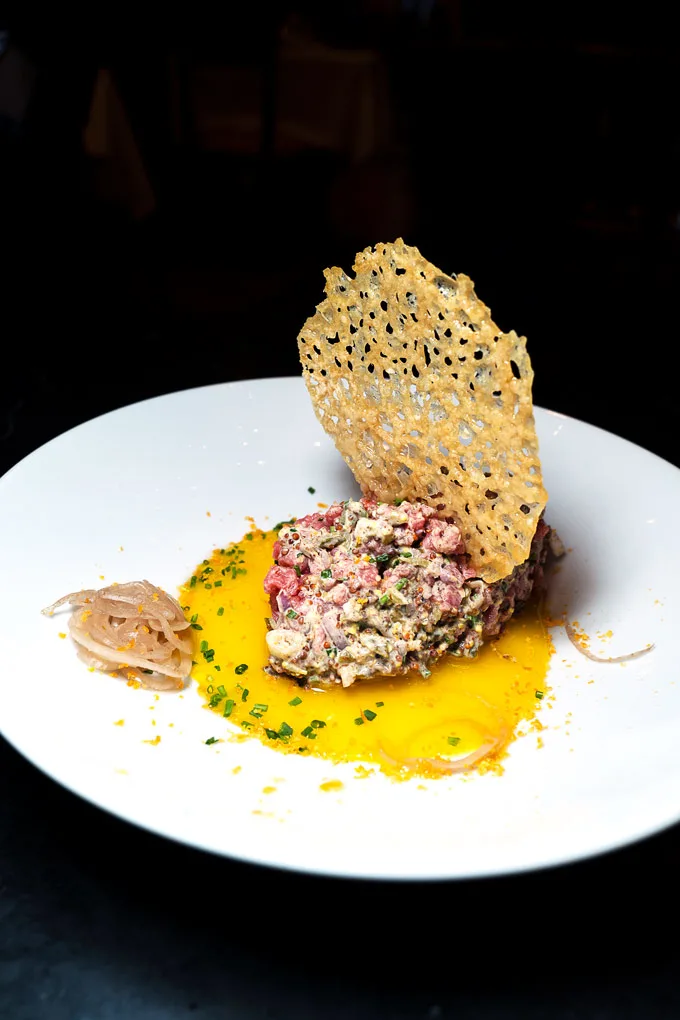 Their beautiful 18th century Parisian decor and top notch service and food make them an addition to my list of best date night spots in Vancouver.
Alouette is open for breakfast, lunch, dinner and Happy Hour.
Visit my post on Alouette to see more photos of my dinner experience there.
567 Hornby St, Vancouver
Maxine's Cafe & Bar
Maxine's Cafe & Bar opened in August 2021 and is a meld of European bistro meets New York-style.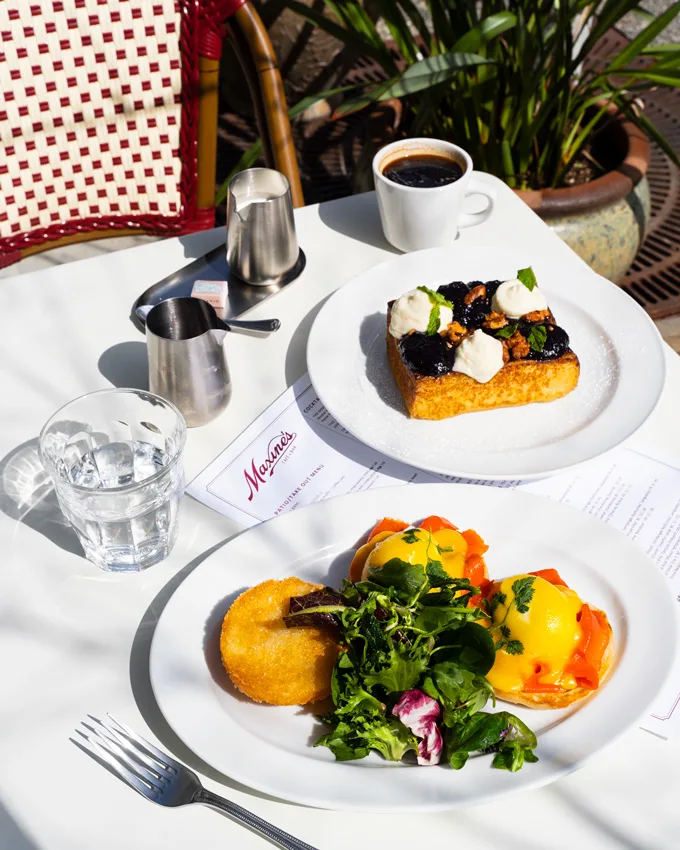 Executive Chef Chef Bobby is known for his love of local ingredients and creates dishes that are centered around the freshest ingredients in the Pacific Northwest.
They're one of the best new restaurants in Vancouver for brunch.
For brunch, I love the Brioche French Toast with whipped mascarpone, candied walnuts, preserve.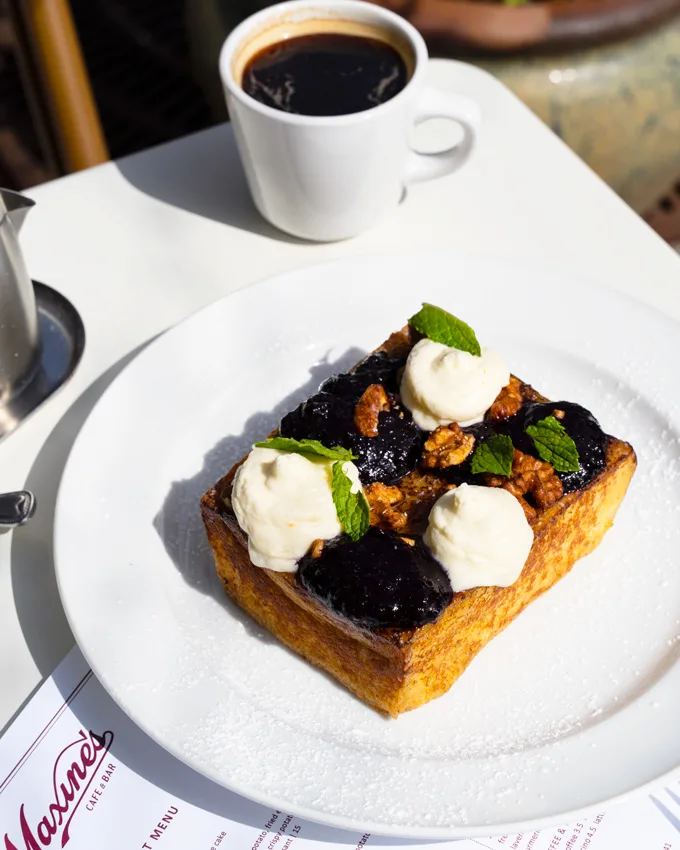 The Smoked Salmon Eggs Benedict is amazing as is Maxine's Burger featuring smashed patty, American cheddar, burger sauce, Iceberg, fries.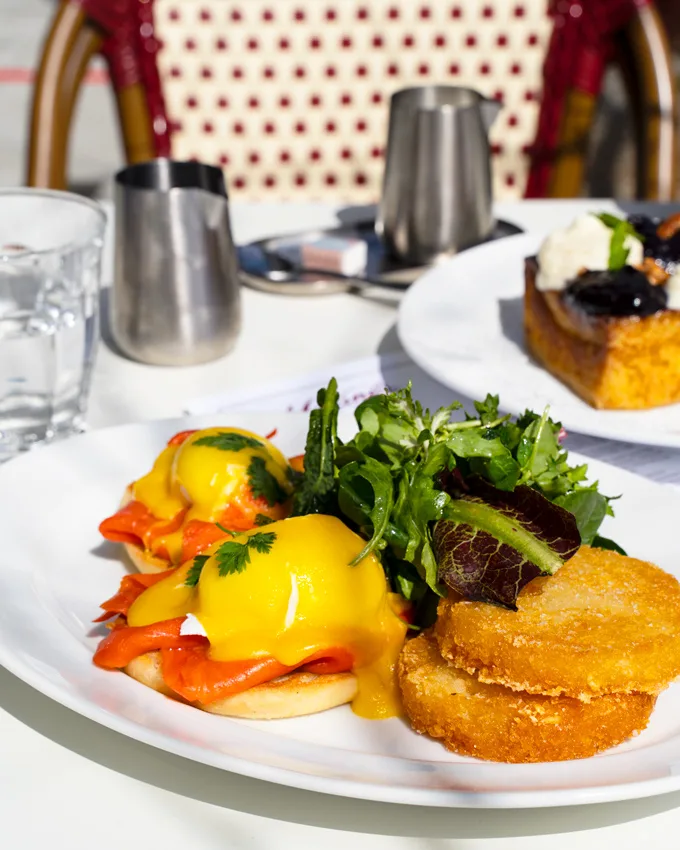 Maxine's is open for brunch daily. Thursday – Sunday, they have dinner and Happy Hour service.
1325 Burrard St, Vancouver, BC
Crack On Vancouver Food Truck
A new food truck in Vancouver is Crack On, specializing in gourmet breakfast/brunch sandwiches featuring freshly baked sourdough, organic free-range eggs, and locally sourced ingredients.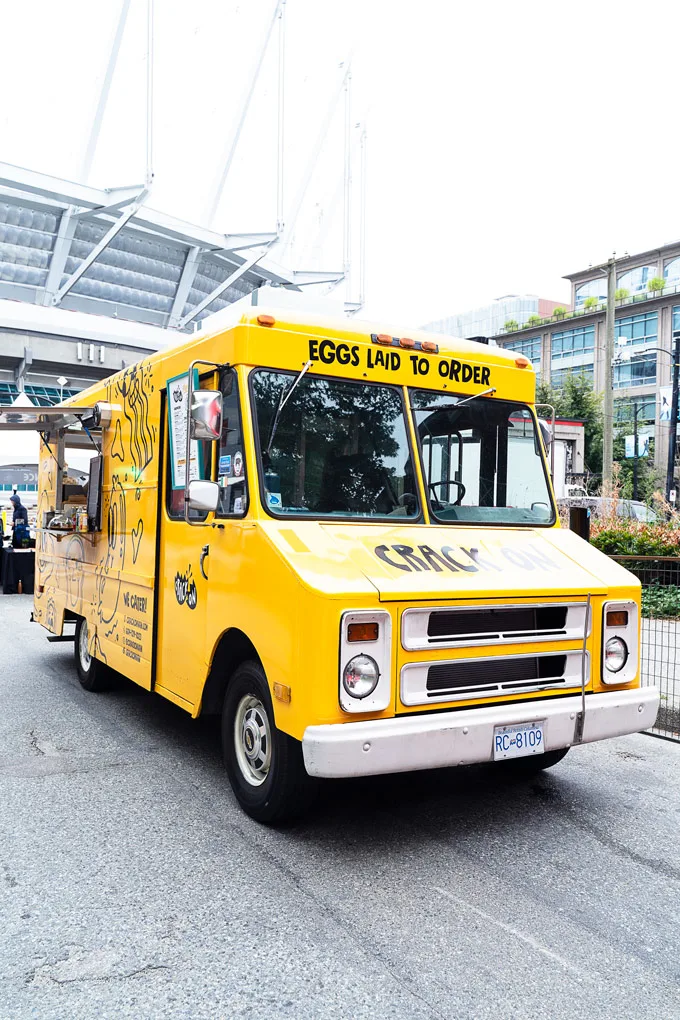 Their sandwiches are so good that it's worth it to visit them at one of their locations. I've even added them to my list of best brunch in Vancouver.
There's the Take It Easy with One Arrow thick cut bacon, fried egg, cheddar, bacon jam, candied jalapeno, tomato relish and microgreens.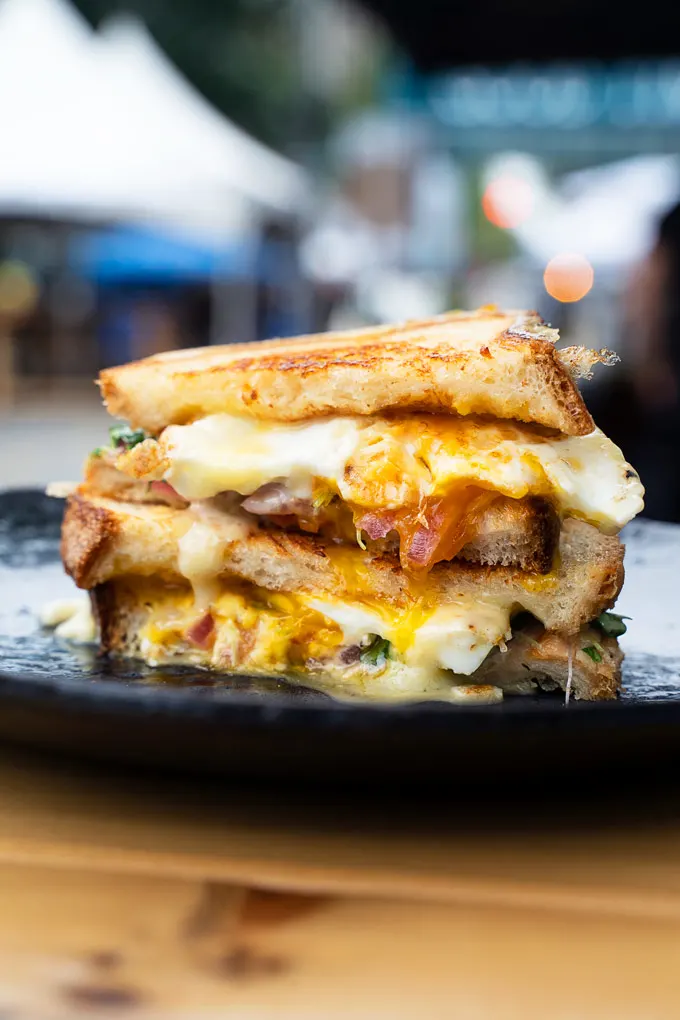 The Crack sandwich is also amazing and features Two Rivers maple sausage, fried egg, havarti, candied jalapeno, tomato relish, lemon, garlic + thyme aioli, and microgreens.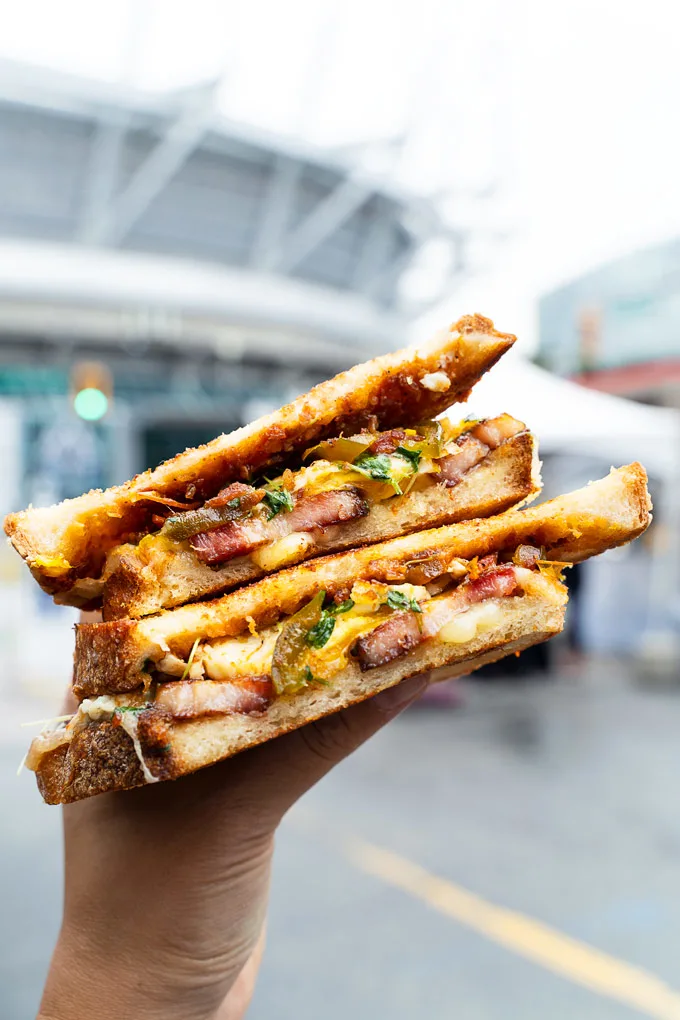 Loaded with flavours, fresh ingredients, perfectly gooey eggs, and super delicious sourdough bread.
They also have vegetarian, vegan and gluten free options.
Read my full post on Crack on.
Linh Cafe Vancouver House
The much beloved French-Vietnamese Kitsilano eatery, Linh Cafe, opened their second location at Vancouver House.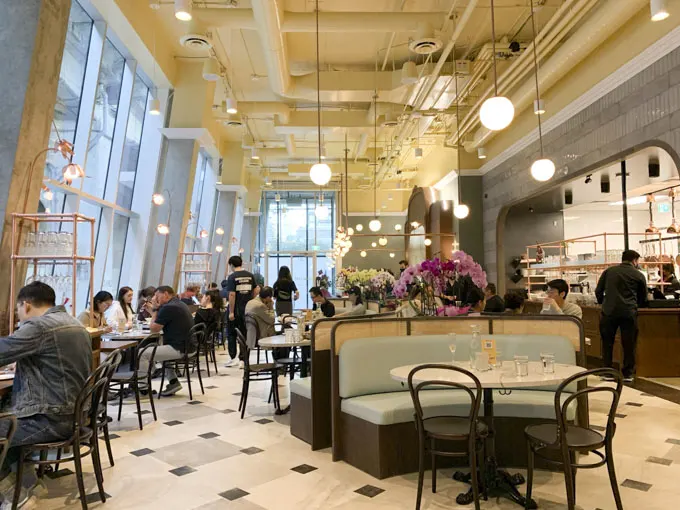 Linh Cafe is Chef-owned and operated by Tai Nguyen. It was his dream to open an unpretentious, casual, family style restaurant – serving authentic country style French cuisine with a twist of Vietnamese cuisine.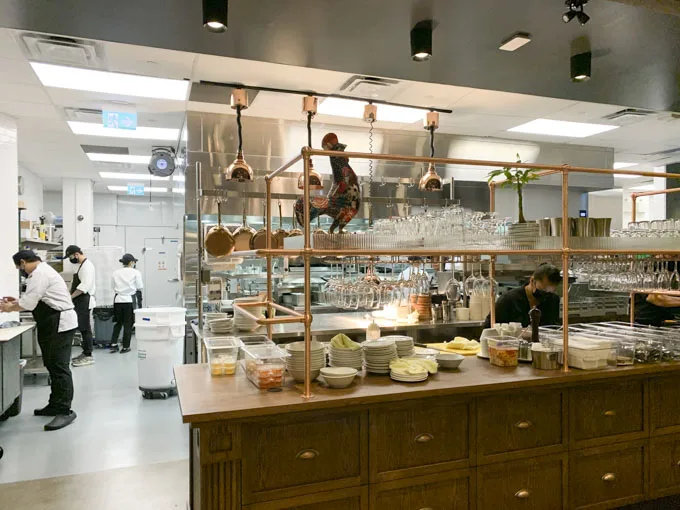 The new Linh Cafe Vancouver House location is very spacious, more swanky but still inviting.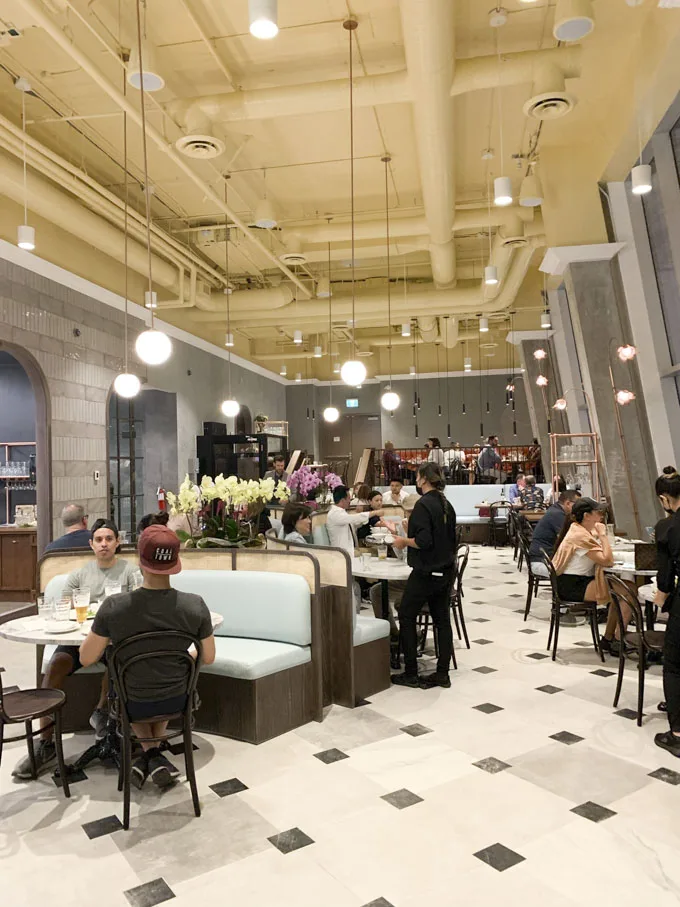 There's a full bar, a wine cellar, some cozy banquettes, and marble tables for two.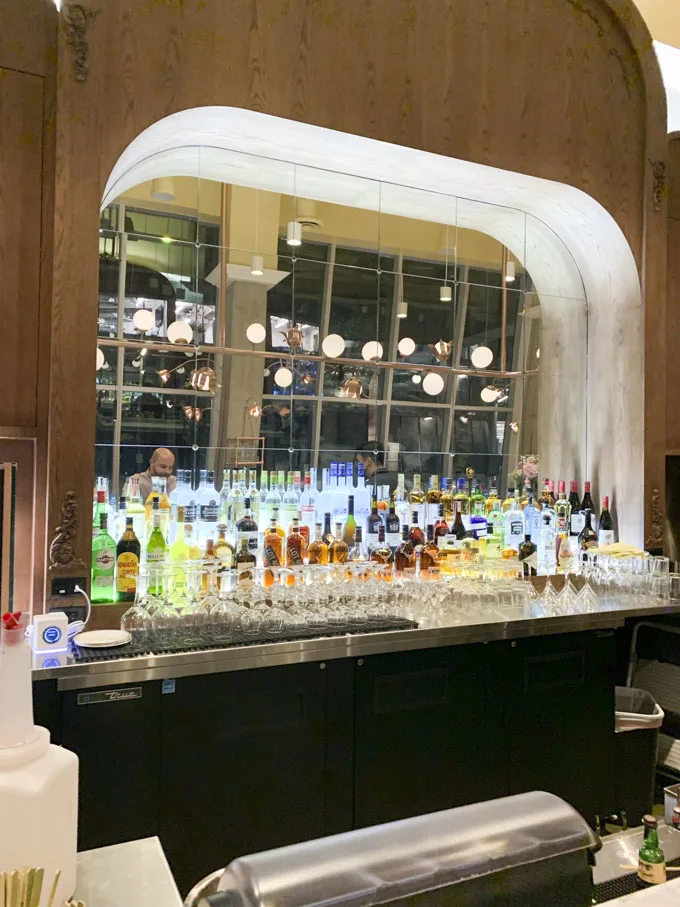 Some small details I noticed about the restaurant which makes it very welcoming to everyone are a small accessible elevator to their second level seating as well as a baby changing table in the washroom.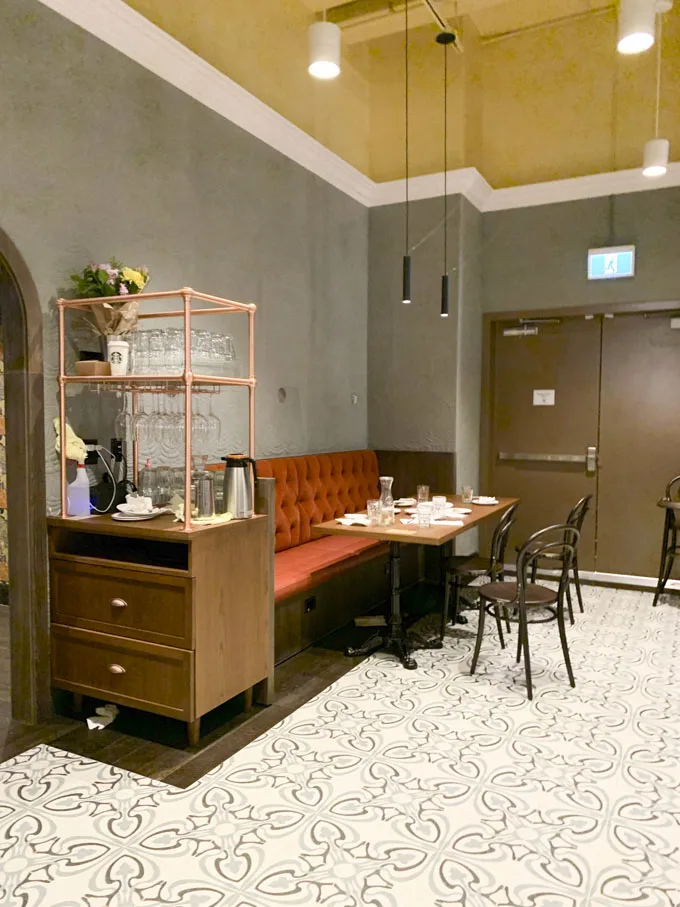 Some items I would recommend are the French Escargot; Chicken Liver; Shaking Beef; and PHỞ BÒ Beef noodle soup.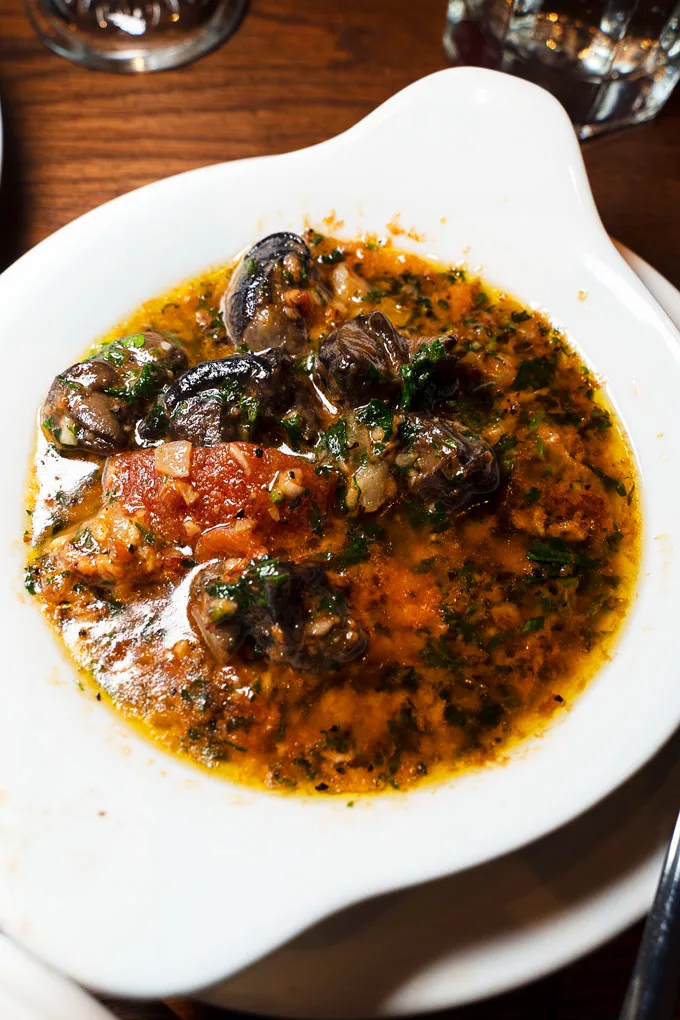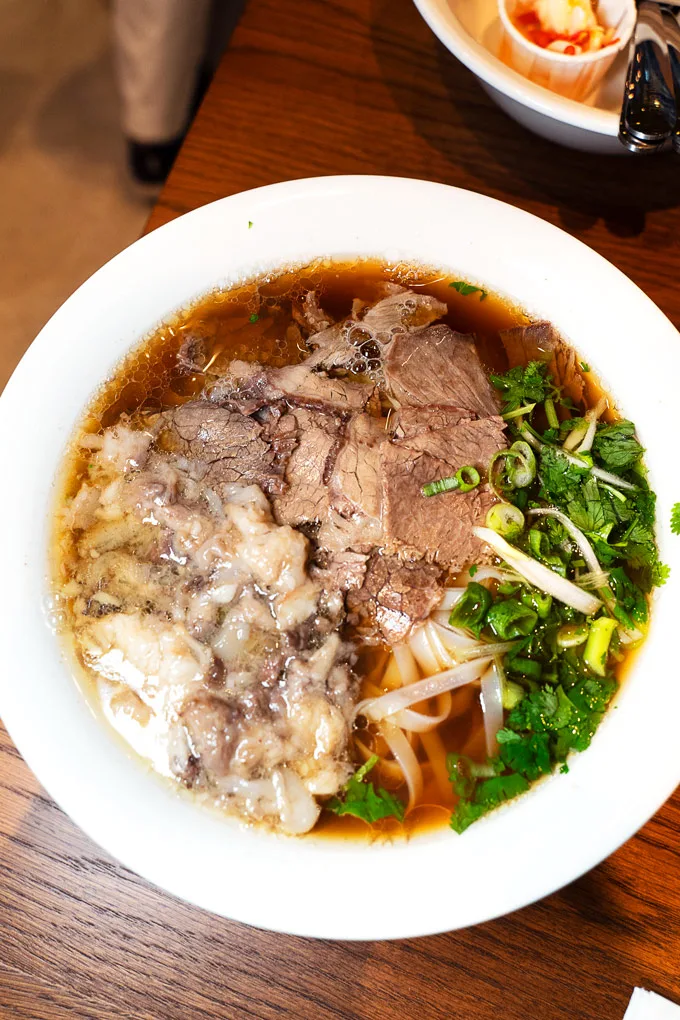 1428 Granville Street, Vancouver
Land and Sea
Another addition to this list of Best New Restaurants in Vancouver is Land and Sea, a West Coast Japanese restaurant in Kerrisdale by Chef Kevin Lin and design and branding by Steph Wan.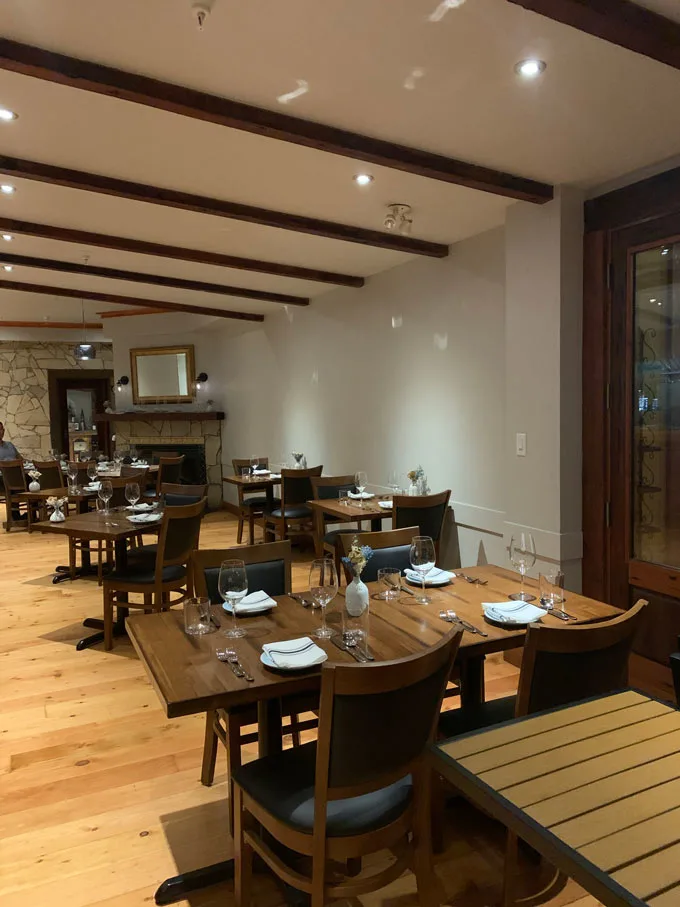 The menu is a reflection of Chef Kevin's experimental cooking style featuring West Coast, Japanese and Italian influences.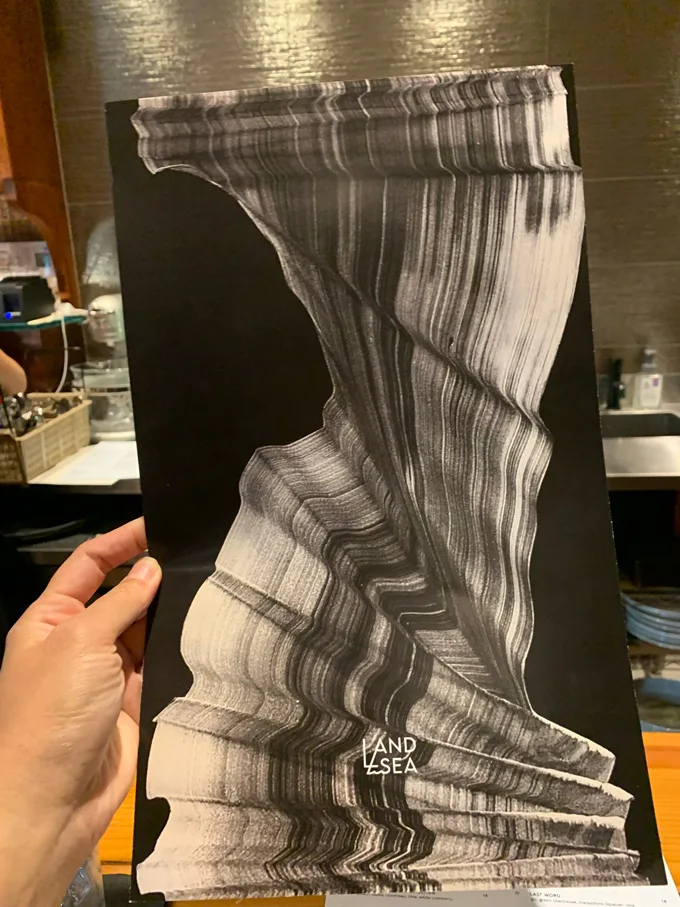 You can expect bold flavours as well as unexpected and creative use of ingredients.
Their wine list is curated by Robert Stelmachuk, Sommelier of Year 2020.
As for cocktails, you'll find classics to creatives. Some specialty cocktails include a selection featuring edible flowers and "Smoke at Your Own Risk" Old Fashion and Negroni.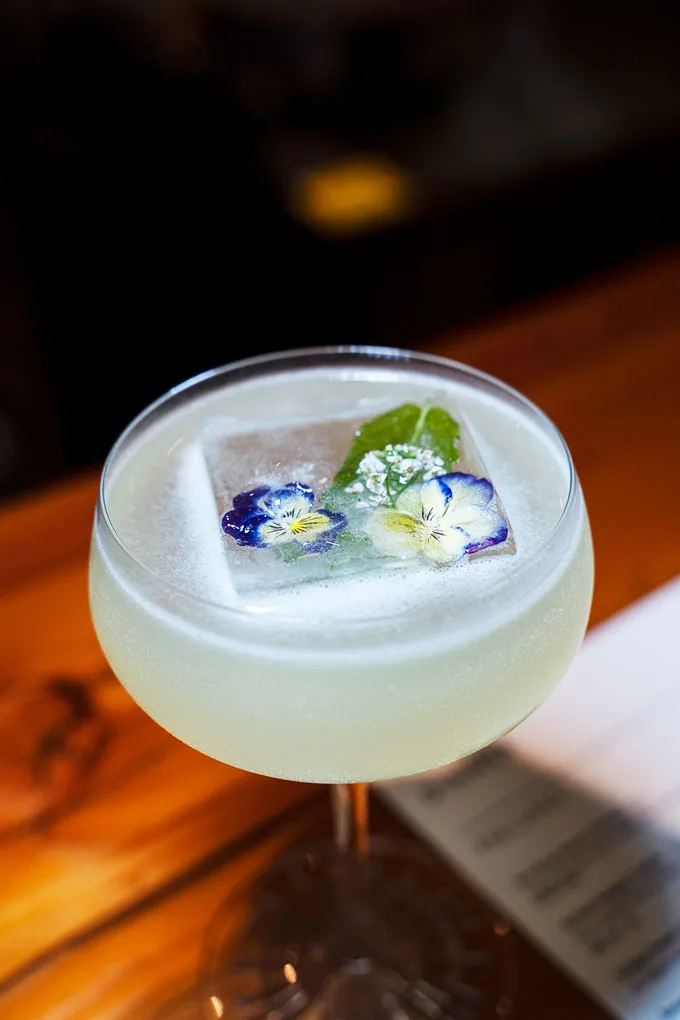 A must-try is their signature Ora King Salmon Soba. It is Flame finished ora king salmon, green tea soba salad, creamy sesame ponzu, yuzu tobiko, ikura.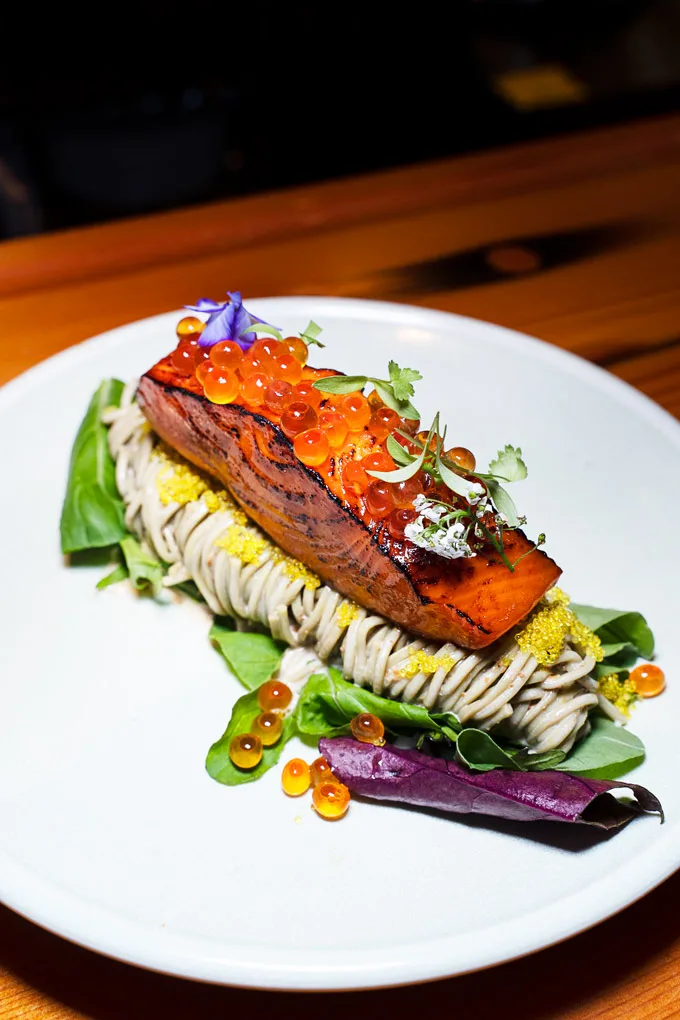 I loved the play on textures with the flaky, smoky salmon, popping ikura, creamy ponzu and smooth, silky and cool soba noodles.
The Shiso Wrap with satsuma A5 wagyu, Hokkaido uni, ikura, and shiso is also fantastic and a beautiful creation.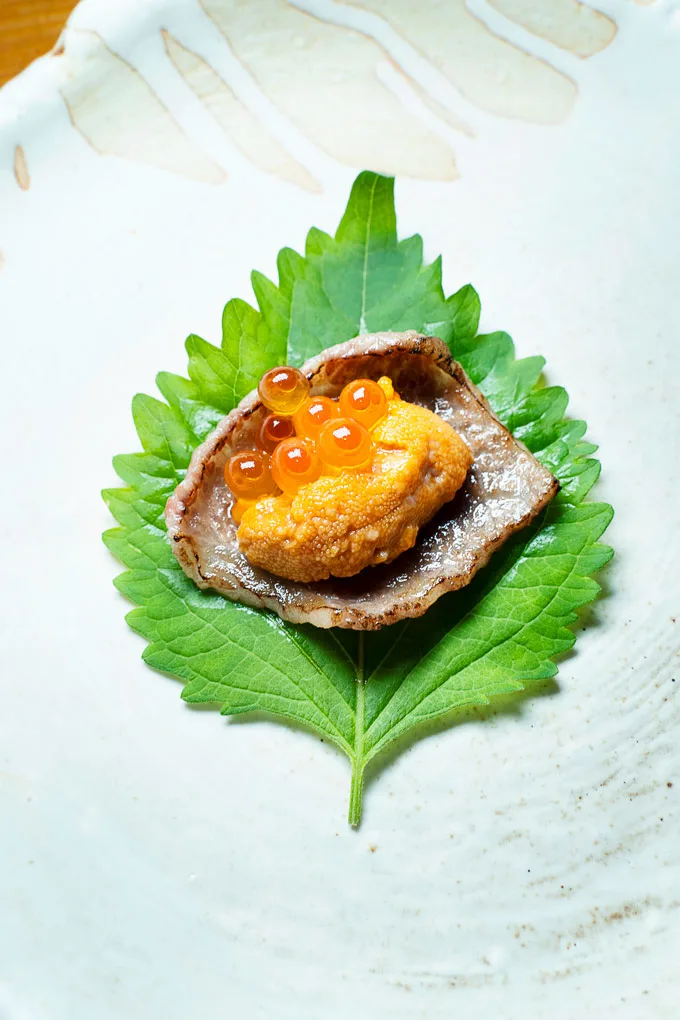 One of my favourite dishes is the Yarrow Meadows Duck with juicy, tender duck slices in a sweet and flavourful yakiniku sauce.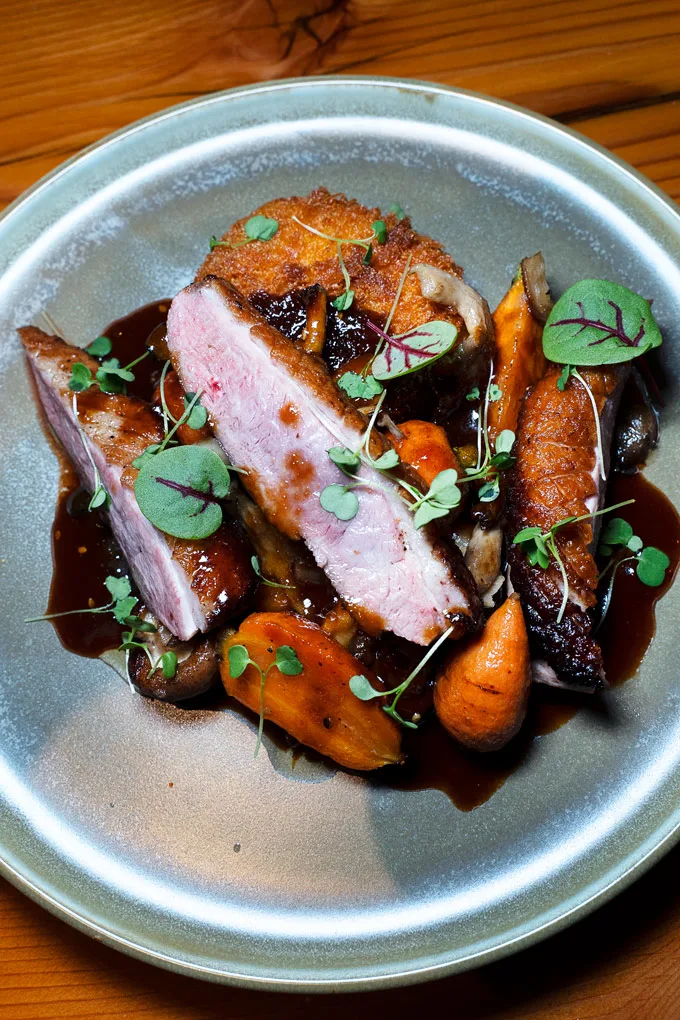 I also recommend the Miso Gindara Sablefish featuring local black cod, egg tofu, tomato dashi, baby shiitakes, cherry tomatoes, broccolini, and tobiko.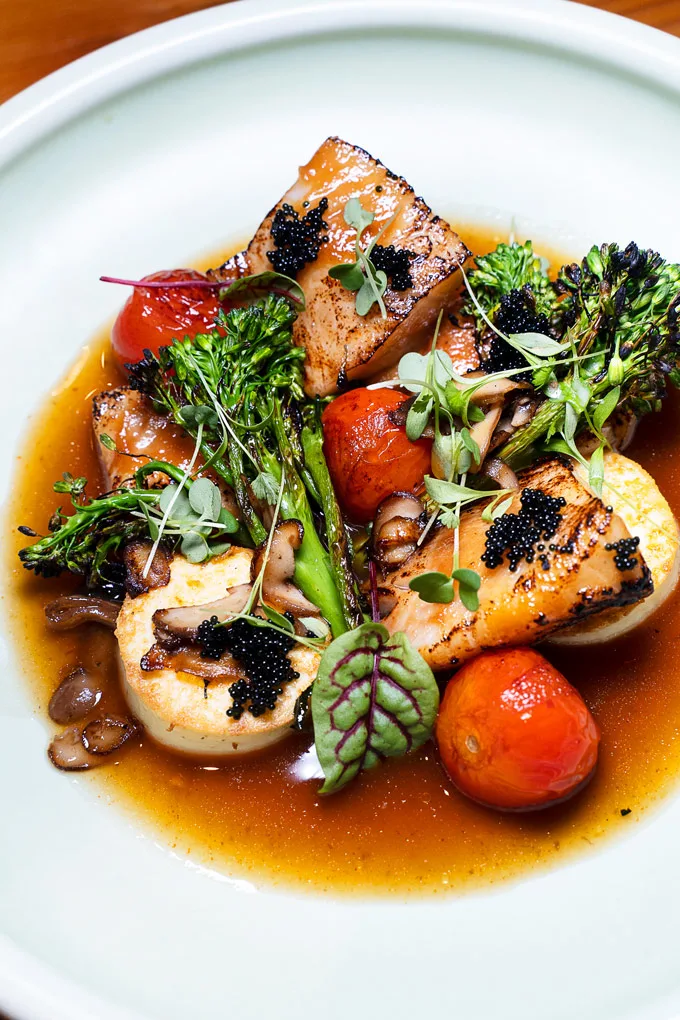 Check out more dishes and photos on my review of Land and Sea here.
1864 W 57th Avenue, Vancouver, BC
Bruno
The new Versante Hotel in Richmond opened Bruno, a sustainability-focused restaurant featuring farm-fresh ingredients, destination-inspired craft cocktails, and high-impact family-style dishes.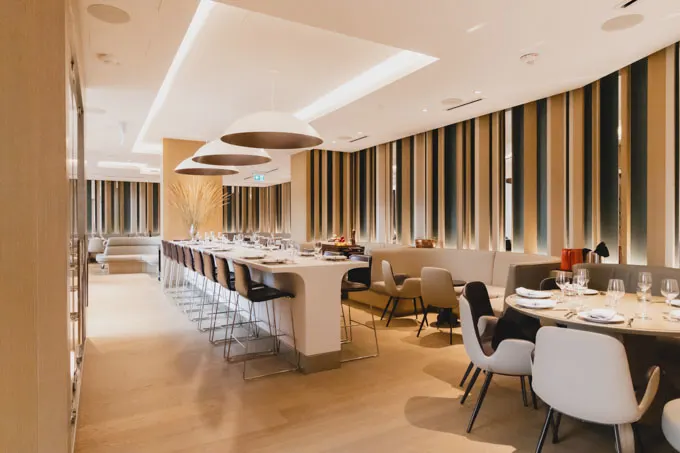 Bruno, led by award-winning chef Will Lew, takes visitors on a culinary journey where guests are encouraged to fall in love with British Columbia's rich and diverse culture, land, and fare.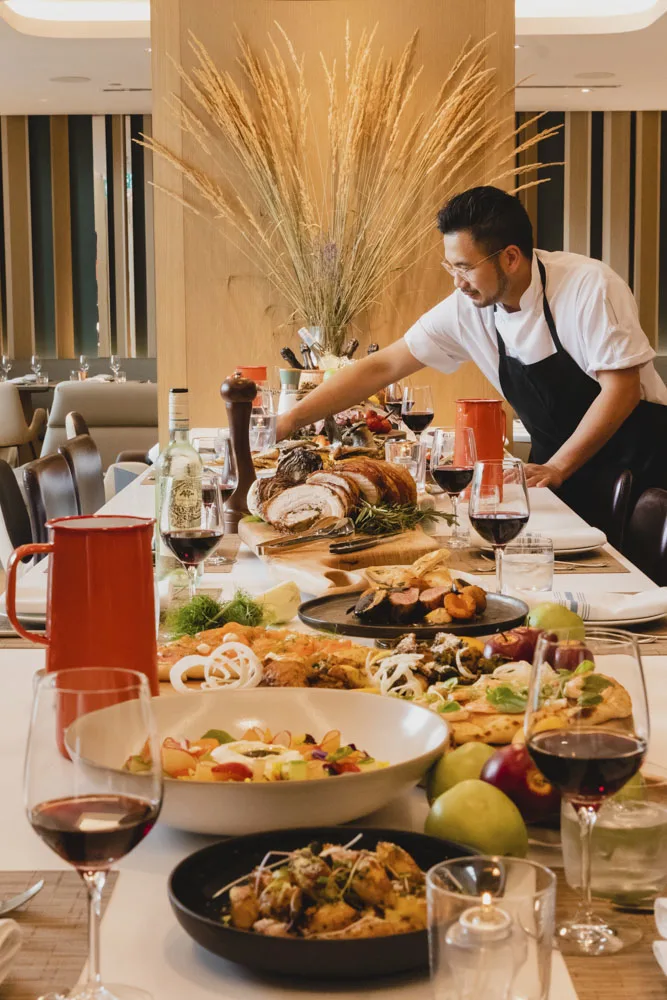 Focused on family-style plating to encourage conversation and reconnection, Bruno will offer a robust menu of seafood dishes, including their signature item, the Oyster Shellfish Caviar Cart.
Bruno's Truffle Lavender Duck, another staple, will feature farm-fresh lavender sourced from Cortes Island and duck from the Fraser Valley.
8499 Bridgeport Rd, Richmond
Nemesis Coffee Great Northern Way
Nemesis Coffee came onto the Vancouver coffee scene in 2017 and since then has become one the best Vancouver coffee shop chains.
In 2021, they opened their architecturally impressive East Vancouver location on Great Northern Way.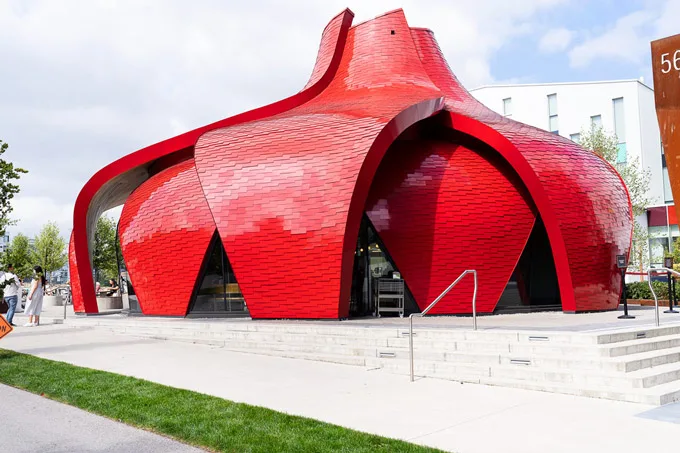 The design features a dome shape with spiraling wooden beams on the inside. You really just have to go check it out for yourself.
The coffee at Nemesis is amazing, as is the service. They offer table service with water and bring drinks and food right to your seat.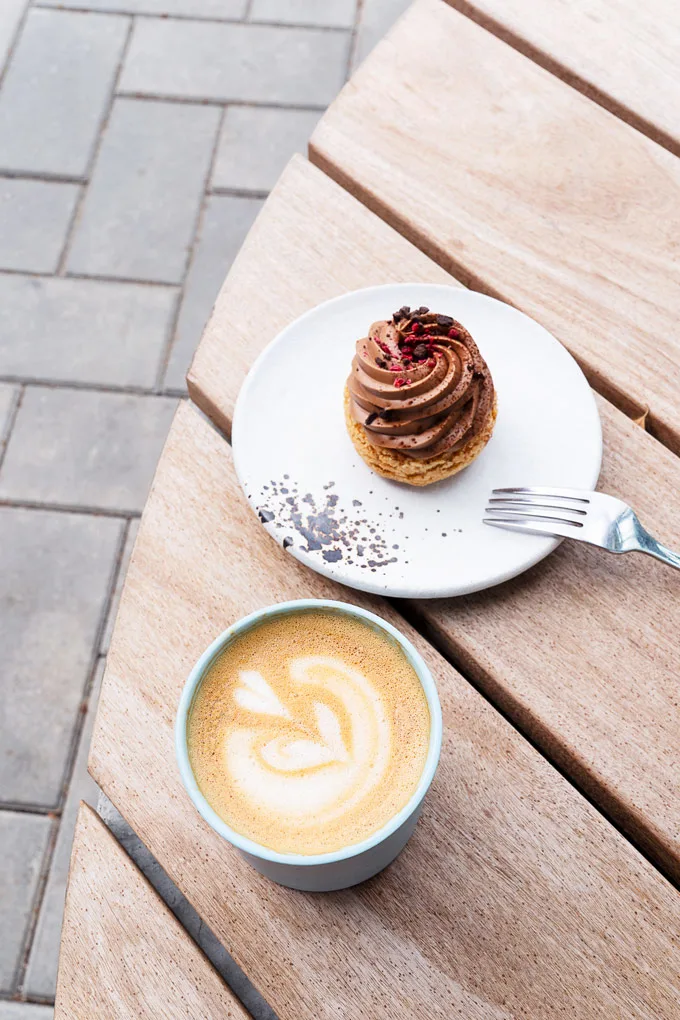 Nemesis is serious about their food too. You'll have to sink your teeth into some of their delectable pastries like the Rhubarb Streusel Croissant and Tiramisu Croissant.
Their Porchetta Sandwich with rosemary focaccia, fennel + apple slaw, pickled onion, grainy Dijon, roasted garlic is a good savoury option.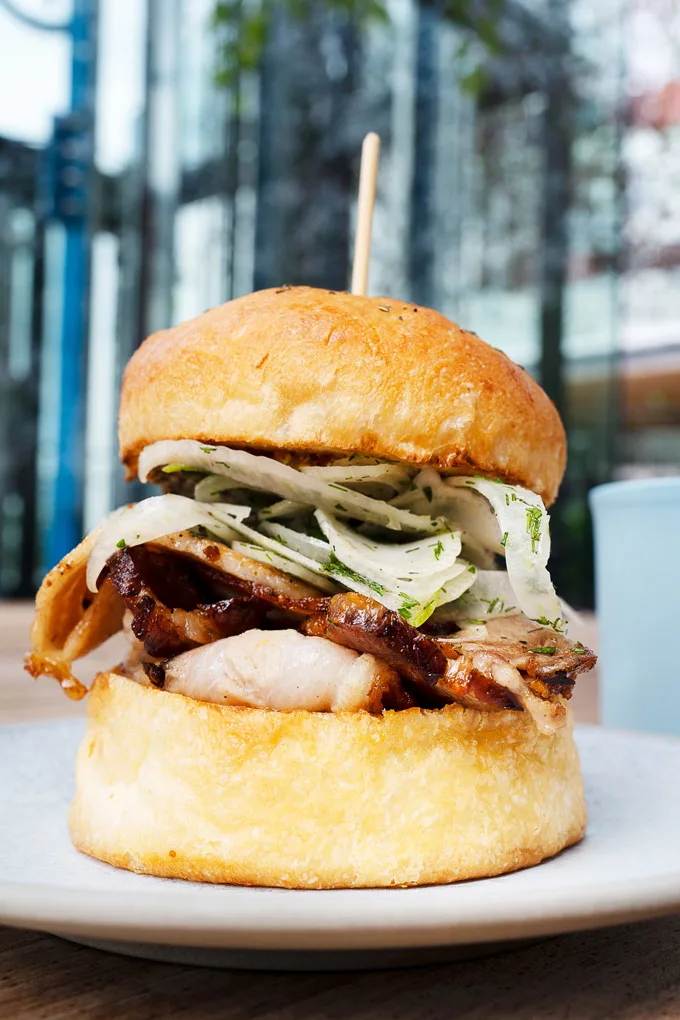 I also love their French Toast with house ricotta, charred peaches, silvered almonds, honey, house brioche.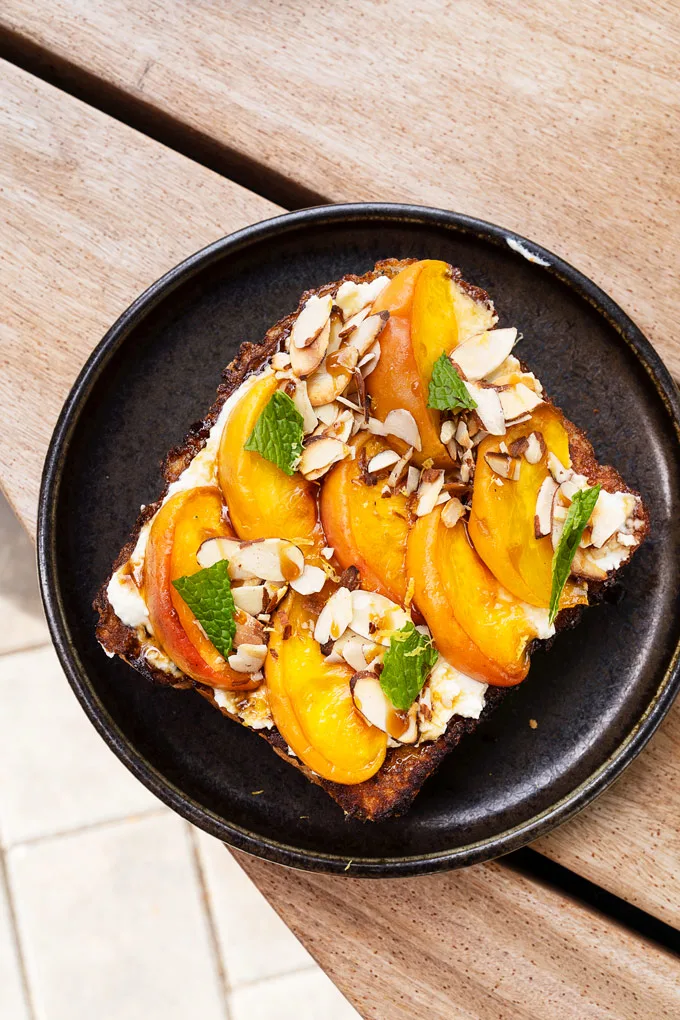 555 Great Northern Way, Vancouver
Aiyoh Cafe
Aiyoh Cafe is a new, homey cozy plant-filled café serving specialty coffee and drinks with a weekly-changing food menu.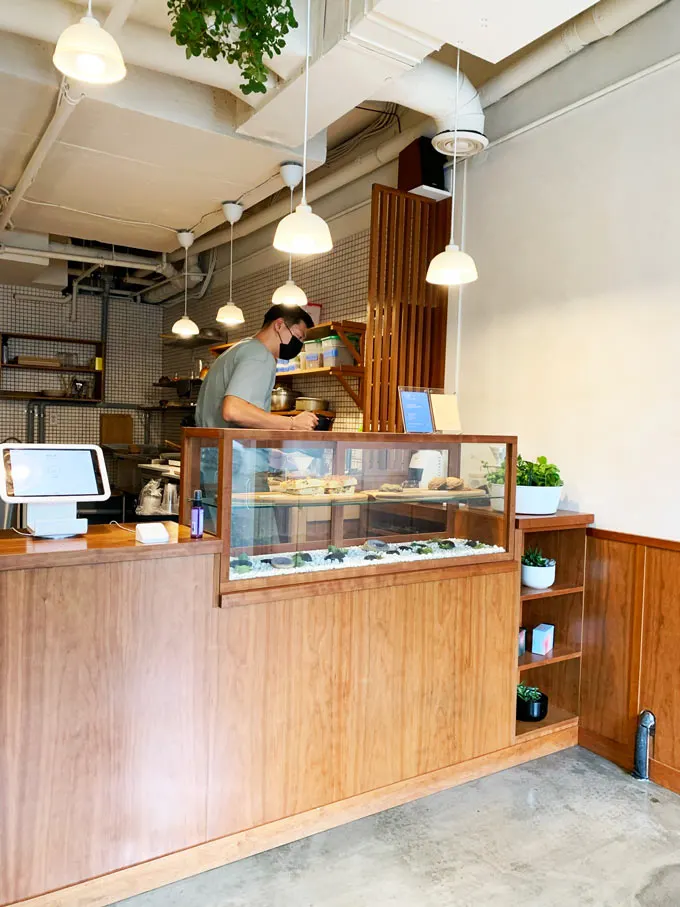 They offer Japanese-inspired bento meals which change weekly as well as house-made baked goods.
Some examples of home-style meals they offer are Taiwanese Braised Pork (with yuzu cucumber, soy beansprouts, rice) and Stir-Fried Udon with onions, carrots and cabbage.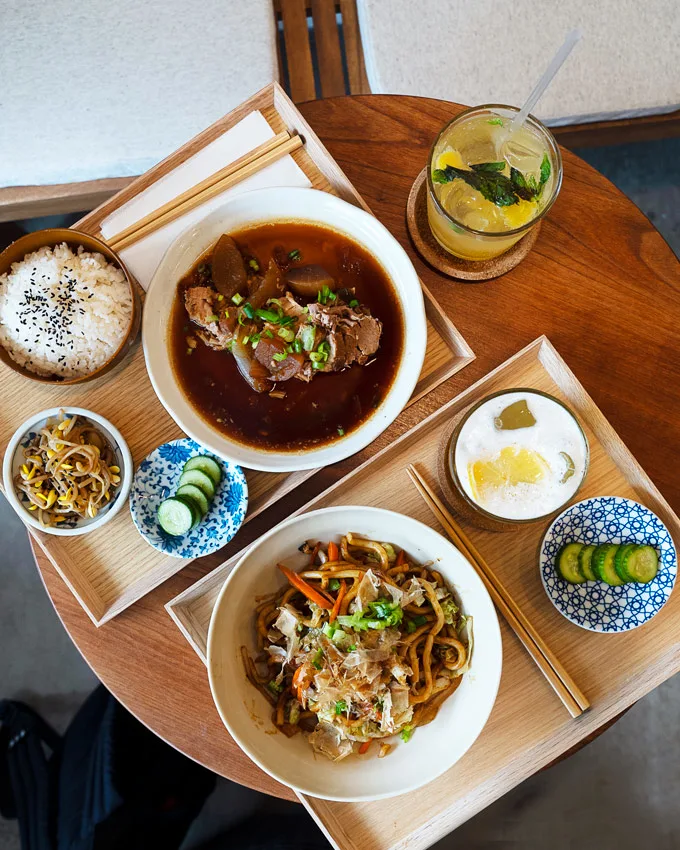 The cafe serves Harken Coffee for their cold brew and iced lattes. The cafe also offers tea-based drinks like iced teas and yuzu- and matcha- based ones.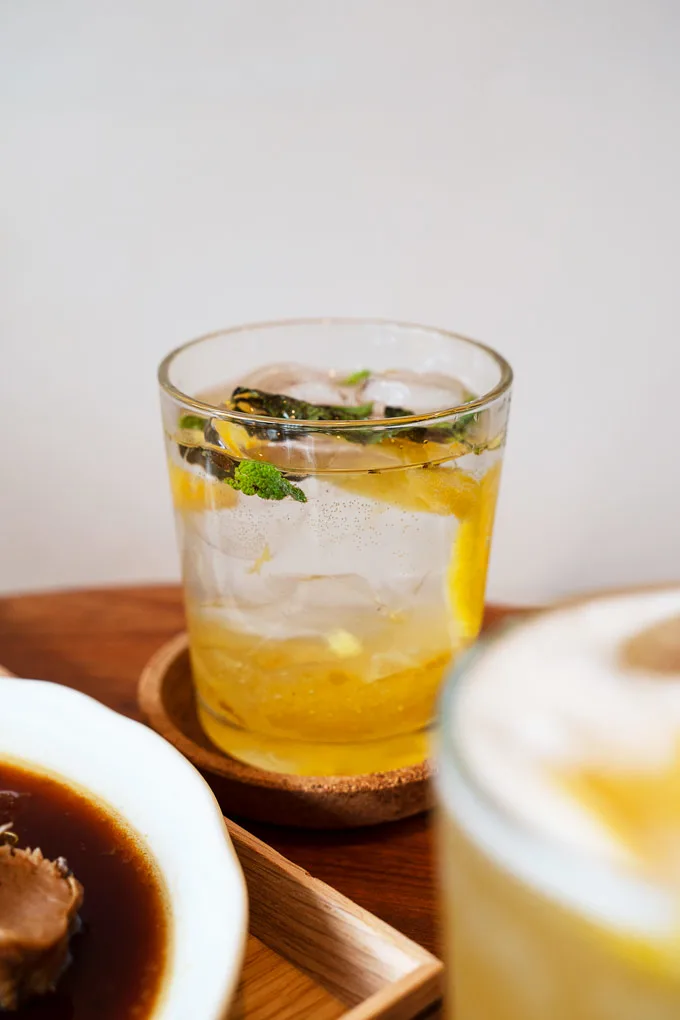 Alimentaria Mexicana
Alimentaria Mexicana has quickly gained the reputation as being of the Best New Restaurants in Vancouver.
The team behind award-winning restaurants Chancho Tortilleria, Nuba and former Fayuca launched Alimentaria Mexicana on Granville Island this past summer.
The restaurant offers an authentic Mexican cultural and culinary experience unlike any other.
Their tortillas are made from corn imported directly from Mexico that's sourced from 32 different indigenous communities in Oaxaca.
Some highlights of the menu are the Duck Flautas featuring two rolled & fried tortillas filled with braised duck, roasted squash, pickled red onion, and recado negro.
Be sure to get the Sopes with Bone Marrow, a Tijuana classic. This dish comes with two corn sopes, refried heirloom beans, roasted bone marrow, and gremolata.
1596 Johnston St, Vancouver
Nene Chicken
Nene Chicken has become one of my favourite places for Korean Fried Chicken in Vancouver.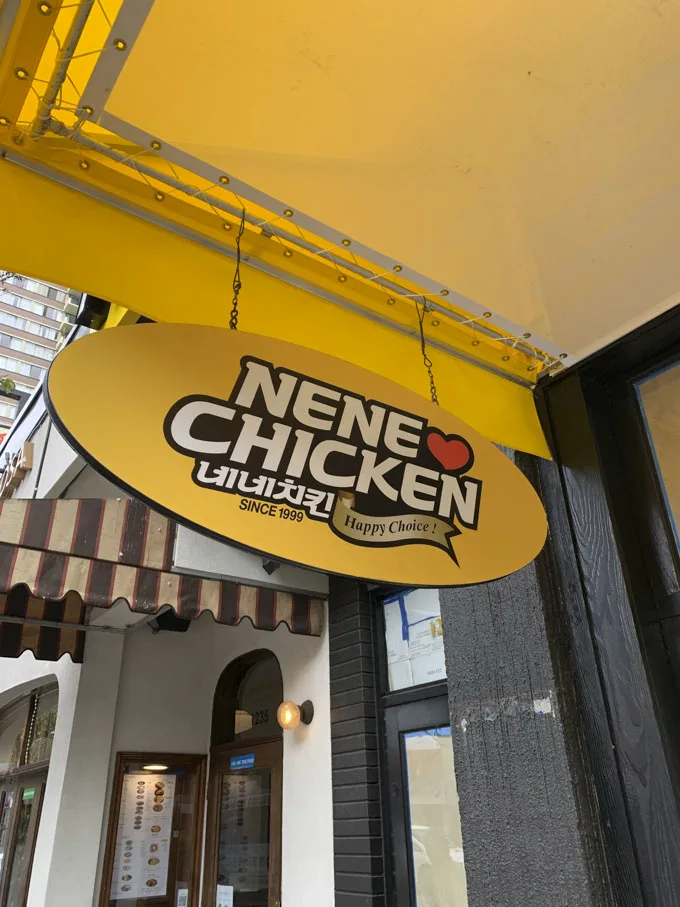 Founded in 1999, Nene Chicken is a South Korean Fried Chicken brand that has over 900 locations over the world.
In 2021, the brand opened two locations in Vancouver: one on Kingsway and one on Davie.
"Nene" means "Yes Yes" in Korean. It's an expression used when indicating enthusiasm and willingness to be helpful and friendly.
In terms of fried chicken, you choose from Bone (16 pieces, half and half, or 8 pieces) or Boneless (800 grams, half and half, or 400 grams) in these possible flavours: Original, Spicy, Soy Garlic, Snowing Cheese, Snowing Chilli or Hot Bling. They also have a Green Onion Chicken option.
Unique to Nene Chicken Vancouver compared to their sister locations globally is a lineup of Chicken Burgers which are priced $8 – $9. Make it a combo for $3.50.
1070 Kingsway Vancouver, BC
1231 Davie St, Vancouver, BC