The food scene in Vancouver is thriving – especially the brunch spots. In this post on Best Brunch in Vancouver, I share with you the best brunch places in Vancouver that you need to check out.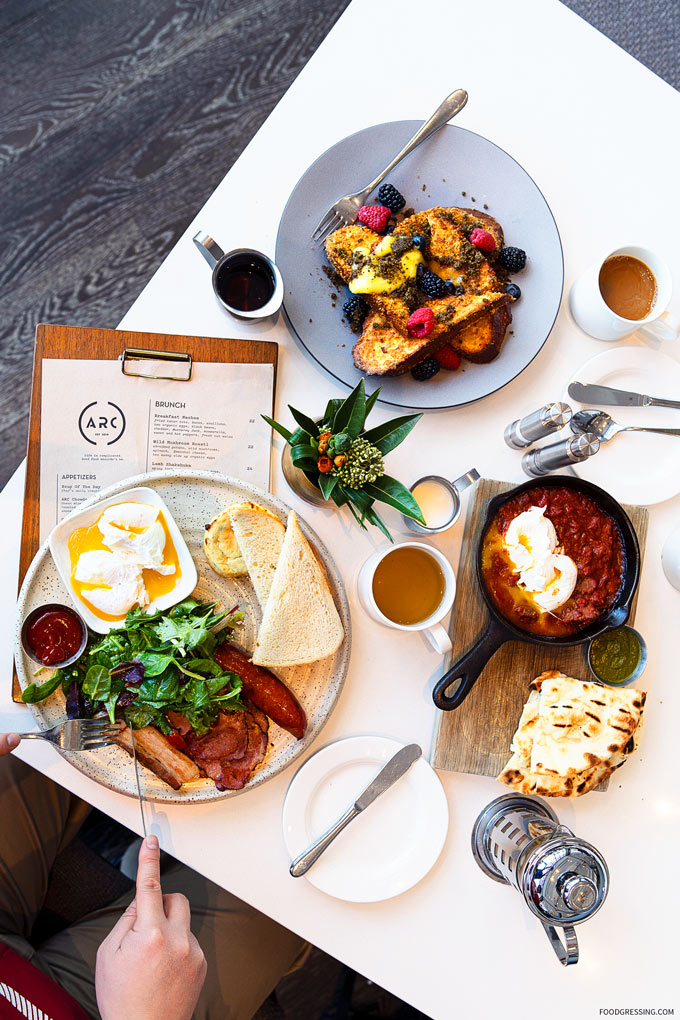 On any given weekend, it is not unusual to see many locals in line for brunch at their favorite brunch place in Vancouver.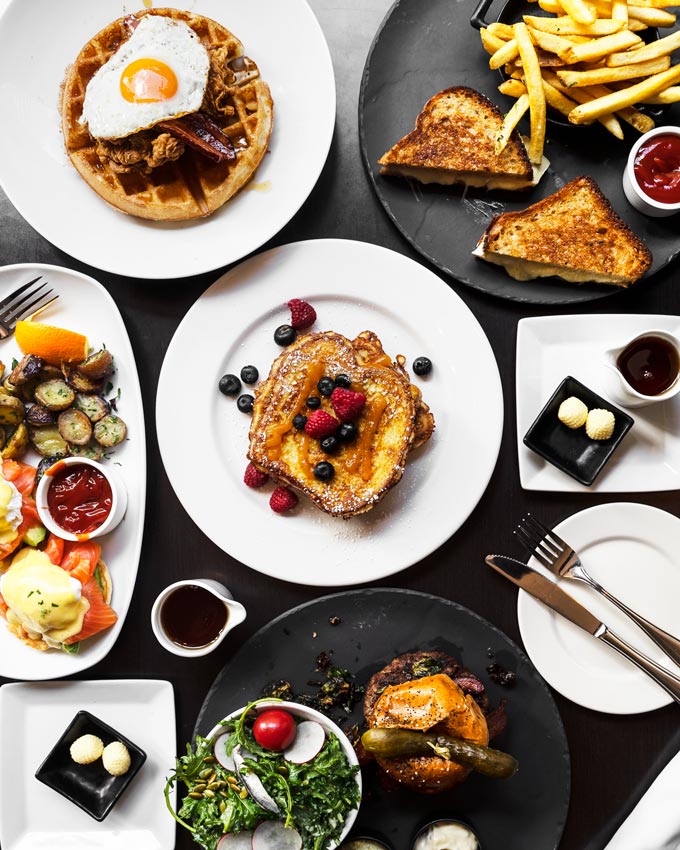 Some restaurants don't even have a dinner menu, exclusively catering to the breakfast and brunch crowd.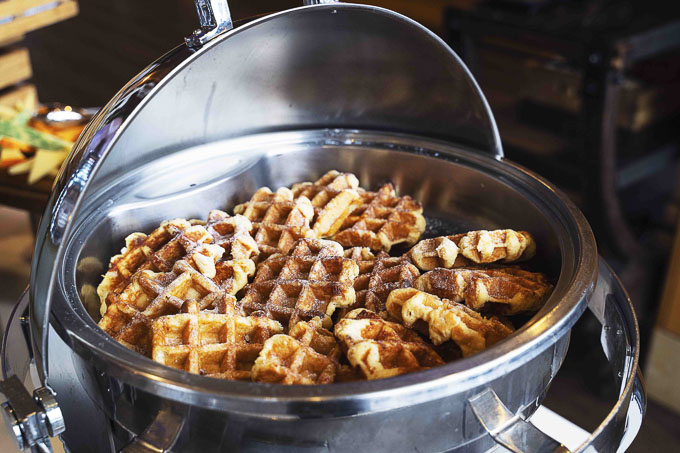 I curated this Best Brunch in Vancouver list based on my own opinion, experiences and knowledge of how well the restaurant is doing in the local scene.
The restaurants listed are in no particular order.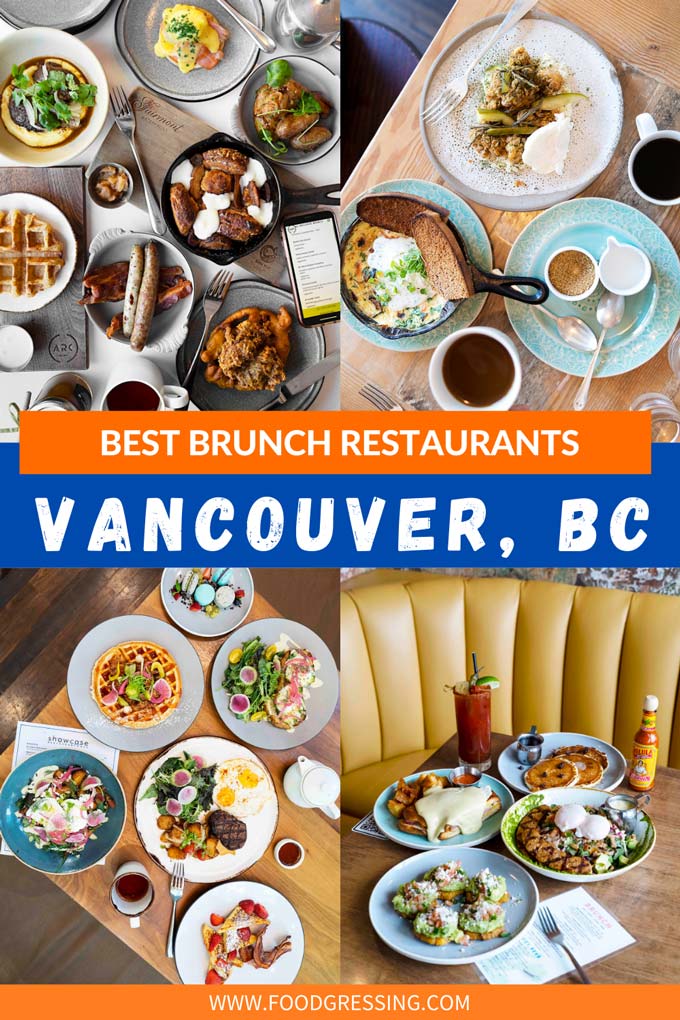 Hope you enjoy these recommendations and happy brunching!
This post gets updated when I have new recommendations to offer.
Arc Restaurant at Fairmont Waterfront
At ARC Restaurant inside the Fairmont Waterfront, weekends means bottomless brunch where guests can enjoy an an unlimited tasting of the menu at $49 per person.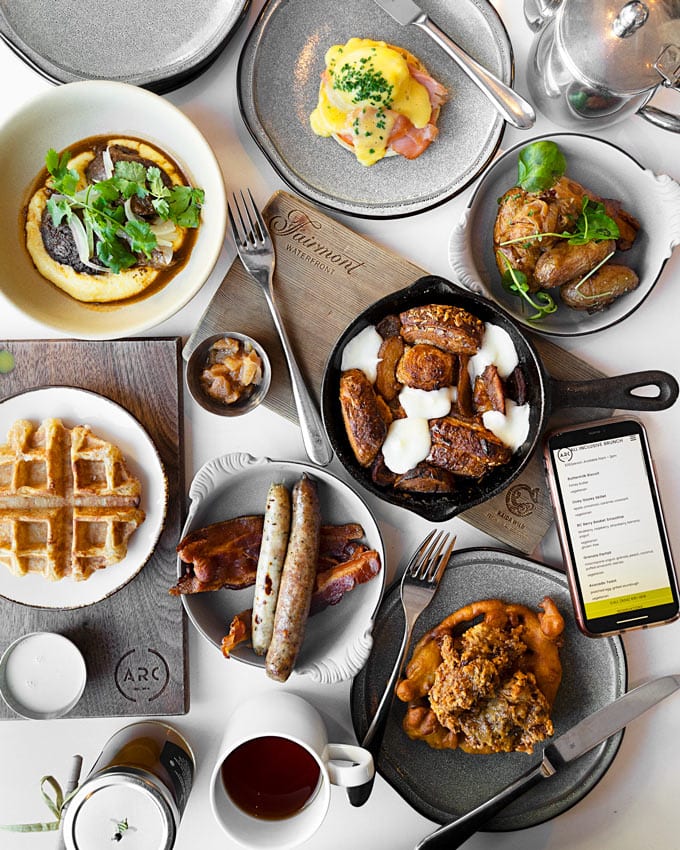 There are 15 sweet and savoury items on the all-inclusive brunch menu ranging from classic options (like Traditional Benedict, Liege Waffle, Avocado Toast and more) to unique brunch plates (like the Ooey Gooey Skillet, Braised Pork Cheese, Beef Shortrib Poutine and so forth).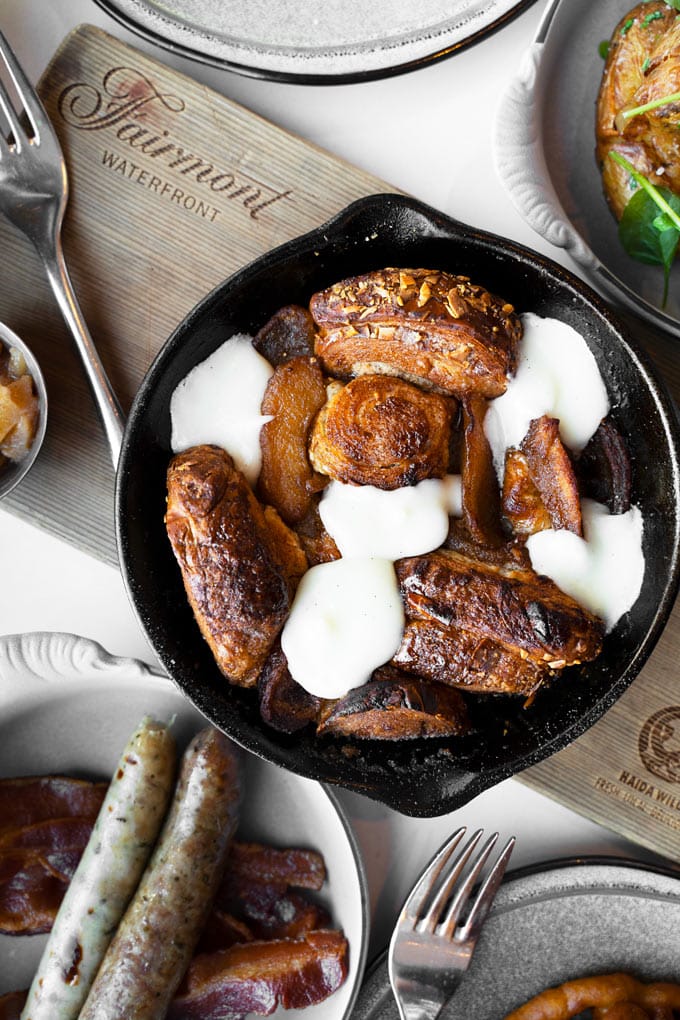 The plates usually come two at a time, and on average a person would have about 5 – 6 plates.
Brunch at ARC is available every Saturday and Sunday from 9:30 am – 1:30 pm. Reservations are highly recommended as their brunch service has become very popular.
You can enjoy dining in a bright and airy space with tall ceilings. There are lots of different seating arrangements from intimate dining tables for 2, bar seating to booths.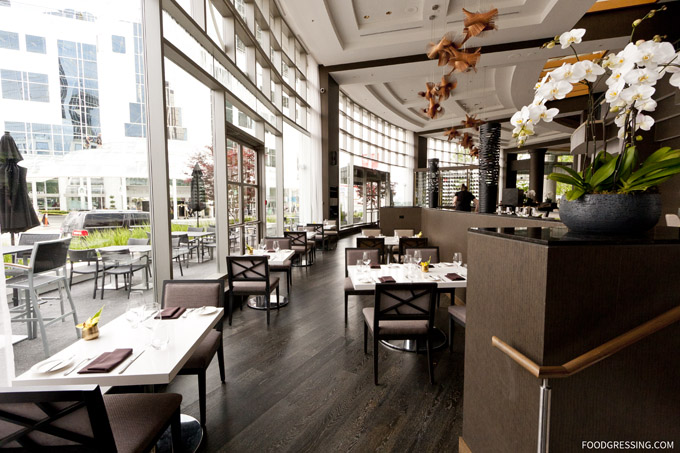 For more information, check out my full post on the bottomless brunch at ARC.
900 Canada Pl, Vancouver, BC
Water Street Cafe
This is not your ordinary, run of the mill restaurant.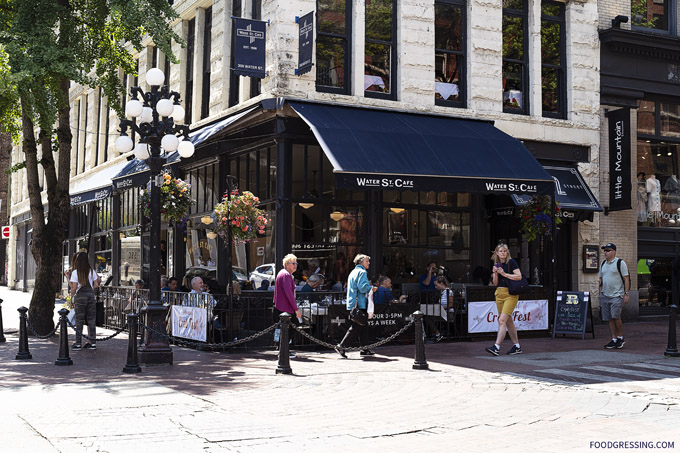 Water Street Cafe has an unbeatable location in the heart of historic Gastown.
You may even recognize it from Love Happens, or one of many other TV shows and movies shot at this cafe.
From the patio, gaze out over the cobble stone streets at the world-famous Steam Clock.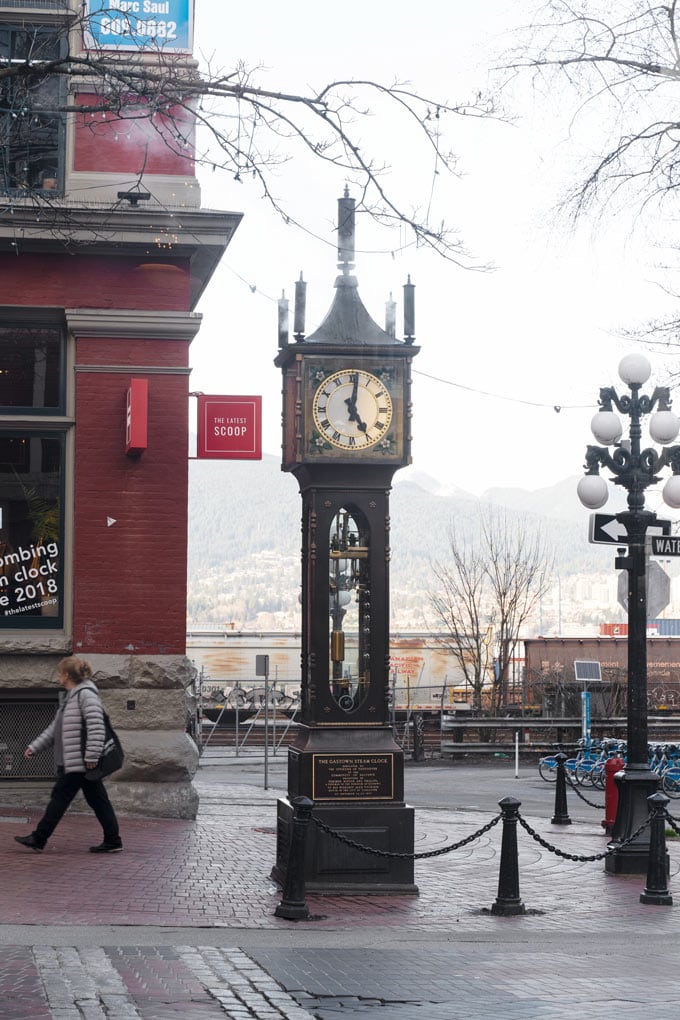 The building that Water Street Cafe is located in has been around since 1906 and boasts charm and elegance that is invaluable.
Water Street Café is known for their West Coast menu with Italian influences.
I love their West Coast Crab Cake Benny as well as Smoked Salmon Benny featuring sustainable Oceanwise seafood.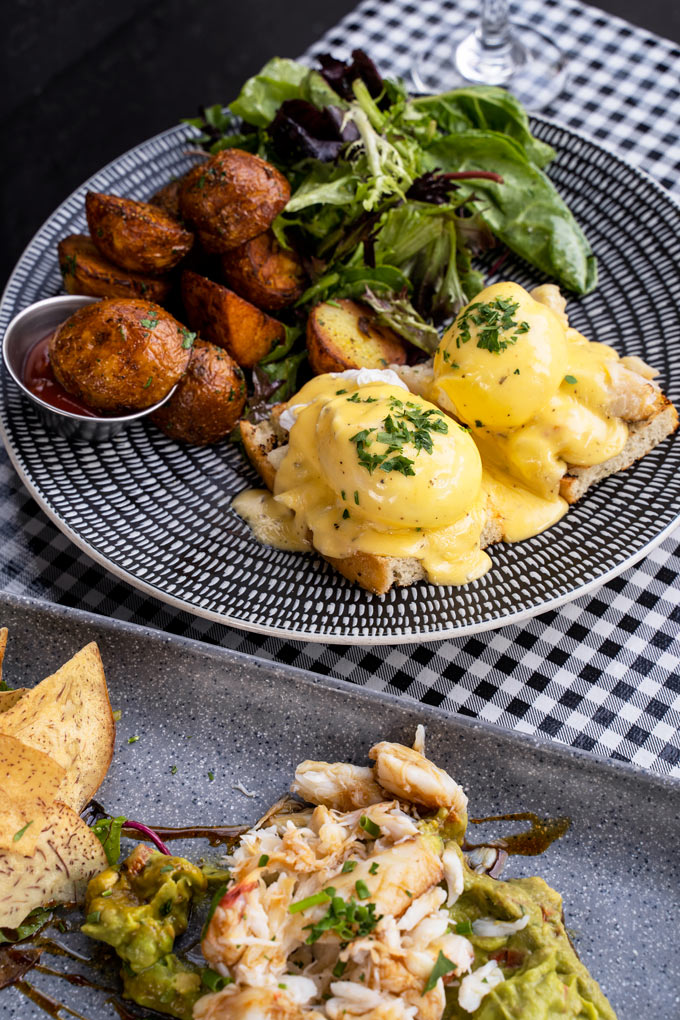 Pasta in the morning? Check out their Morning Carbonara made with spaghetti, guanciale, egg yolk, parmesan, scallions, and fried egg.
For a sweeter brunch, try the Mont Blanc French Toast with crème brûlée brioche, candied chestnut, chestnut purée, sour cherry jam, chantilly cream, white chocolate gold crumbs, and vanilla brown sugar syrup.
Water Street Cafe is also on my list of Best Romantic Restaurants in Vancouver, so they're great if you're in the mood for a romantic brunch.
Price: Mid-range
300 Water St, Vancouver, BC
OEB Breakfast Co.
Founded in Calgary in 2009, OEB Breakfast Co. opened a location in Vancouver two years ago in 2019.
They are chef-driven and locally-owned concept with menu items that simply can't be made at home, balanced by lighter fare and vegan options.
Some of their signature items include Canadian Eh! Benny (Canadian back bacon, dark maple syrup or brown butter hollandaise) and Fresh Toast Trifle (Meyer lemon curd, market berries, Sicilian pistachio, torched French meringue).
They also have a selection of amazing Breakfast poutines like the Soul in a Bowl featuring duck fat fried herb potatoes, Saint Cyrille curds, slow cooked bacon lardons, and brown butter hollandaise. The Soul in a Bowl is one of my favourites from OEB.
OEB takes pride in sourcing high-quality ingredients and working with local producers wherever possible.
Due to their popularity, waits are very common so I recommend that you put your name down on their waitlist via Yelp even before you arrive.
1137 Marinaside Crescent, Vancouver, BC
Havana
Check out Havana on Commercial Drive for authentic Latin Flavours with a Pacific Northwest flair.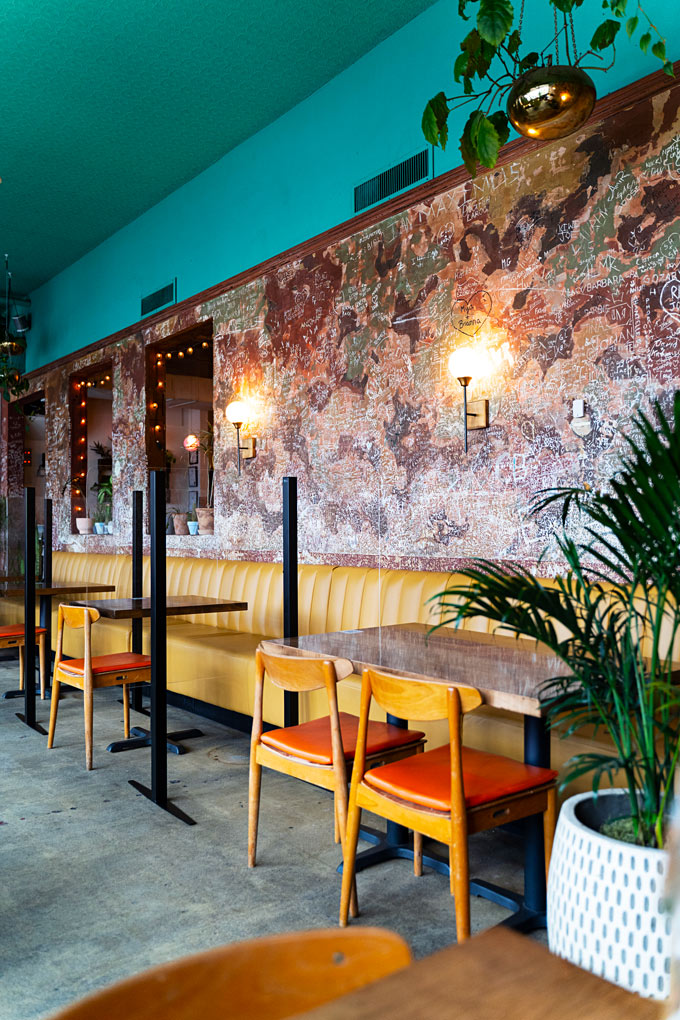 They've got a stellar brunch lineup including the Little Havana Brunch Bowl; Veggie Brunch Burger; Chorizo Hash; Enchilada Brunch Skillet and Pulled Pork Benny.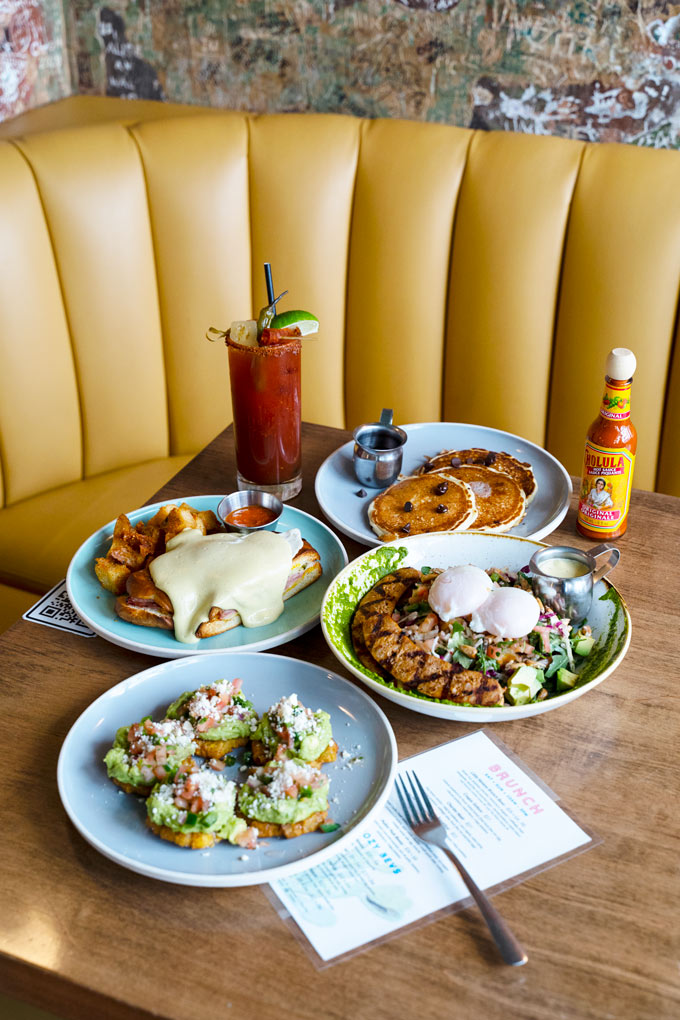 I recommend the Croque Señora – a Cubano sandwich on house Cuban bun, fried local free run egg, charred poblano cream sauce, crispy potatoes.
The lively, friendly environment and tasty brunch items will have you singing, "Havana, ooh na-na" in no time.
1212 Commercial Dr, Vancouver, BC
Maxine's Cafe & Bar
Maxine's Cafe & Bar serves an elevated menu, curated by Executive Chef Bobby Milheron and Chef de Cuisine Levi Johnstons.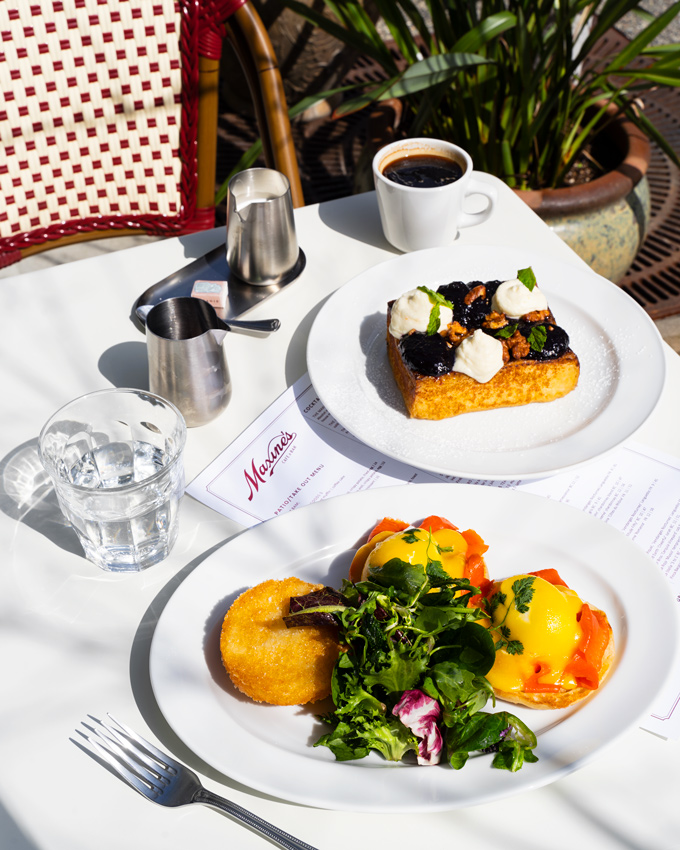 Chef Bobby is known for his love of local ingredients and creates dishes that are centered around the freshest ingredients in the Pacific Northwest.
Pair this top-notch menu with the establishment's unique, European bistro meets New York-style, and you have the highly regarded Maxine's Cafe & Bar.
The inspiration for the restaurant's name is one of Vancouver's pioneering women, Maxine MacGilvray.
She was an entrepreneur from the early 1900's and the owner of a prosperous beauty salon and school in the 1930's.
Throughout the cafe, the décor and ambiance honors women such as Maxine.
For brunch, I love the Brioche French Toast with whipped mascarpone, candied walnuts, preserve.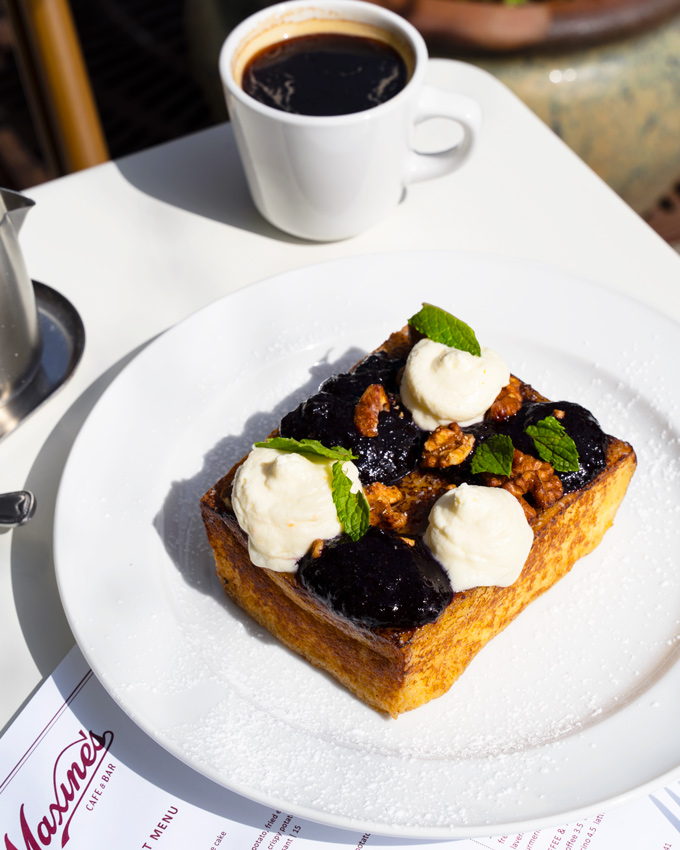 The Smoked Salmon Eggs Benedict is amazing as is Maxine's Burger featuring smashed patty, American cheddar, burger sauce, Iceberg, fries.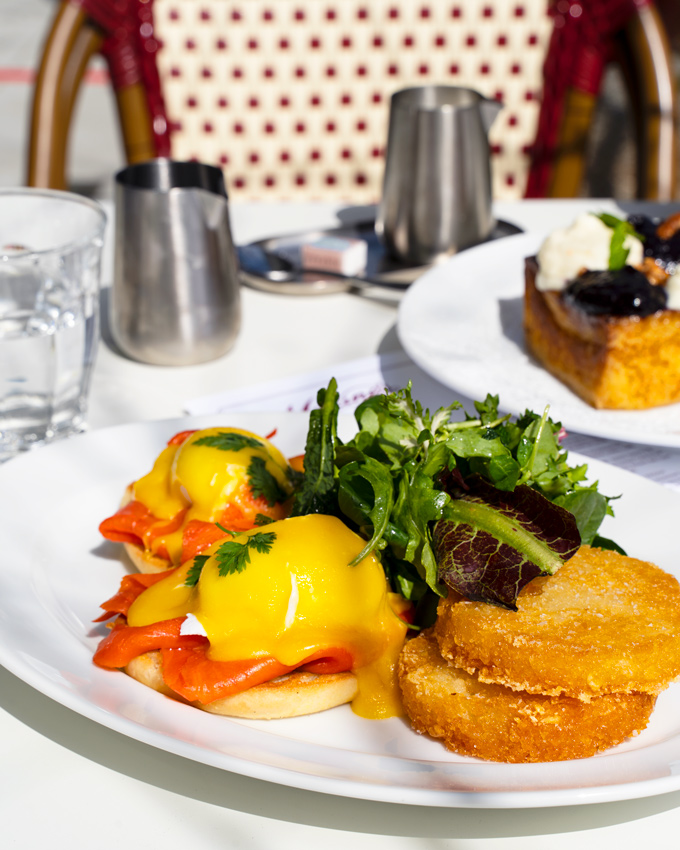 1325 Burrard St, Vancouver, BC
The Teahouse
The Teahouse has been delighting Vancouver diners with its spectacular views, warm ambiance and world-class West Coast cuisine since 1978.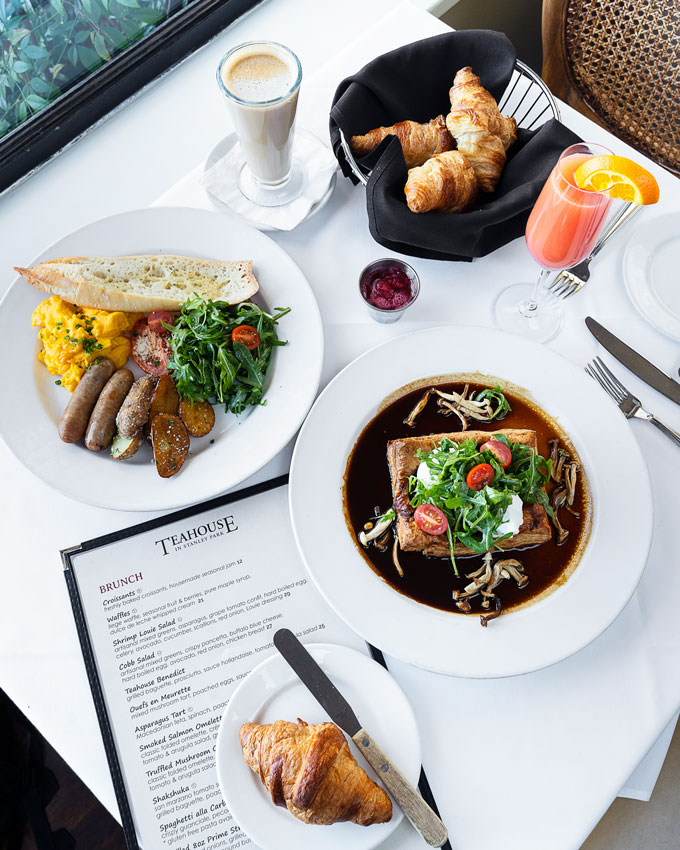 Located at Ferguson Point in Stanley Park, in what was originally a military mess hall, the Teahouse is also a vestige of Vancouver history.
The Teahouse's weekend brunch menu features at-turns-sweet, at-turns-savoury selections ranging from traditional brunch staples to one-of-a-kind creations guaranteed to delight.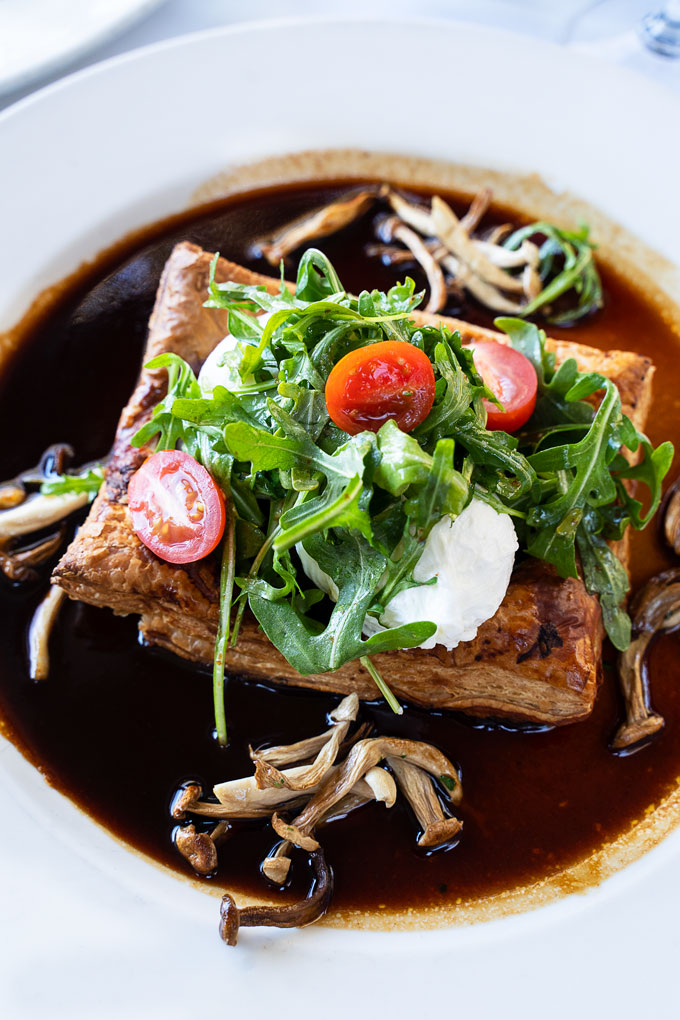 Add a little kick to your coffees and more by indulging in a list of traditional and signature weekend wake-me-ups and boozy bevvies like Classic or Raspberry Mimosas, Kir Royales, French 75s, Classic and Teahouse Signature Caesars and Aperol Spritzes.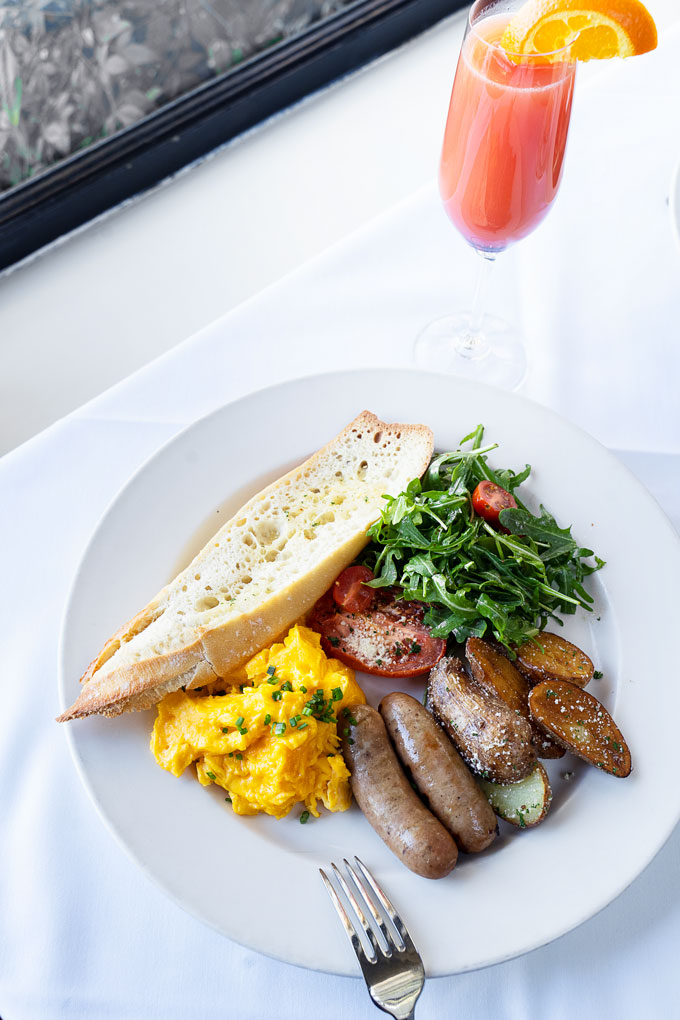 Ferguson Point, Stanley Park, Vancouver BC
Provence Marinaside
Located in the popular Yaletown neighborhood, Provence Marinaside fuses southern French cuisine to the fresh seafood of Canada's Western Coast.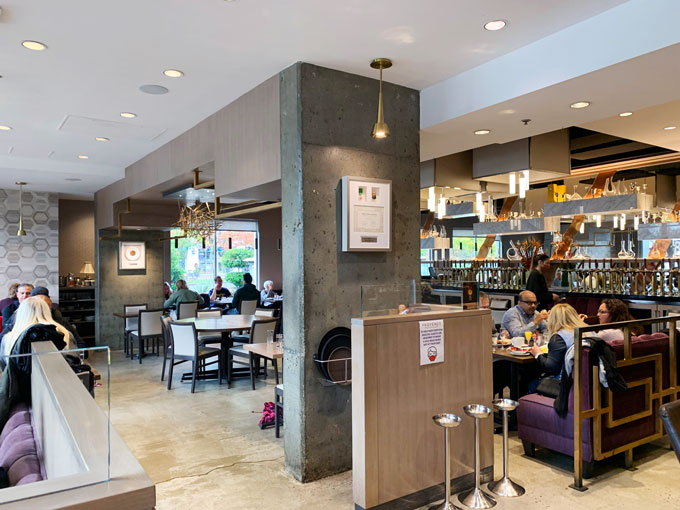 The owner and chef, Jean-Francis Quaglia was born in France to a mother who is also an acclaimed chef.
His passion for high-quality ingredients and inspired dishes began as a young age in the kitchen with his mother.
Today, Provence Marinaside is an award-winning venue with truly exquisite dishes and refined ambiance.
Guests keep coming back for another taste of the seafood crepes- a tasty blend of scallops, shrimp, asparagus, marinated tomatoes, and arugula.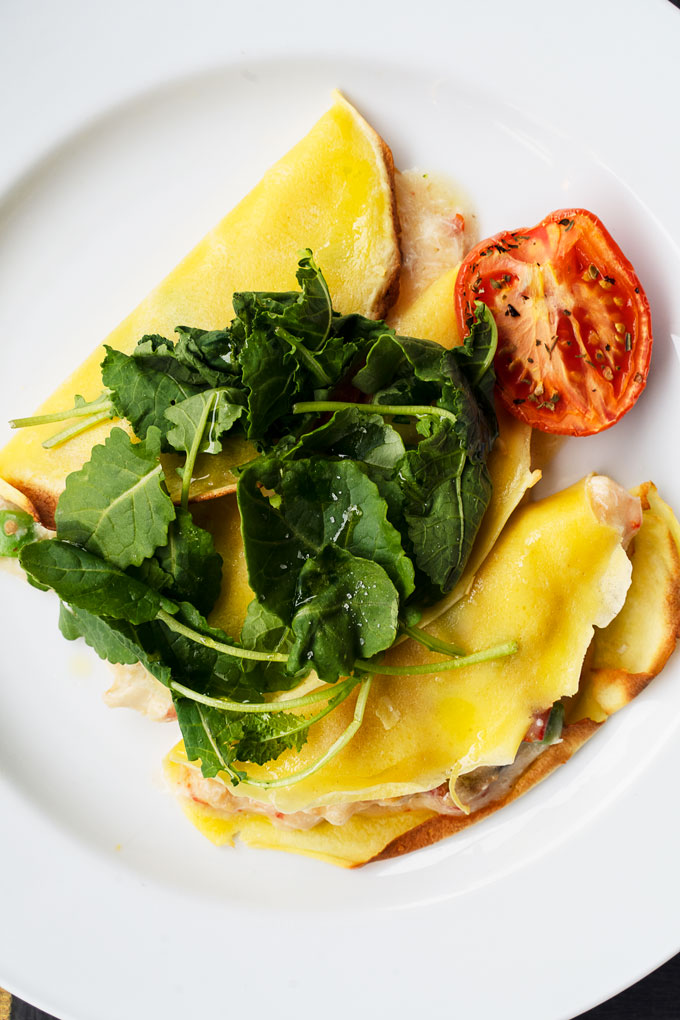 The French Toasted Baguette (cinnamon sugar, maple syrup, whipped cream) and Croque Monsieur Benedict (black forest ham, gruyère cheese, sundried tomato butter on focaccia, hollandaise sauce, provençal roasted tomato, provence breakfast potatoes) are also some of my favourites.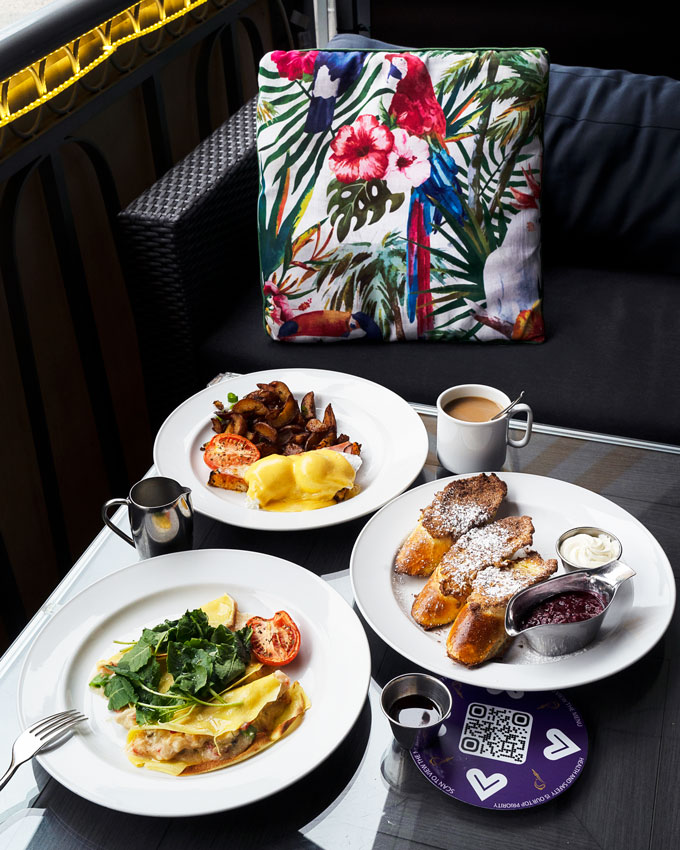 Provence Marinaside overlooks the bustling water of False Creek.
Perhaps the best aspect of the restaurant is the outdoor patio with views overlooking the Marina.
Plan to spend time outside soaking in the sights.
1177 Marinaside Crescent, Vancouver, BC
Showcase Restaurant at Vancouver Marriott
Showcase Restaurant at the Vancouver Marriott Hotel newly launched a brunch menu.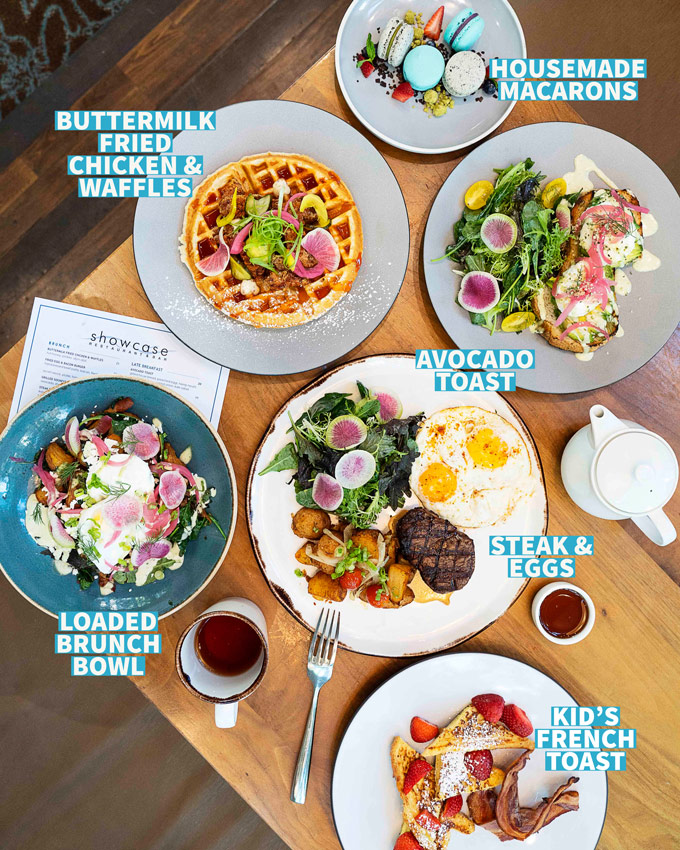 At Showcase Restaurant, it's about chef crafted, fresh, local and social dining.
On the brunch menu are dishes like Buttermilk Fried Chicken & Waffles (with hot honey, pickles, dijon aioli); Steak & Eggs (featuring 35 6oz. tenderloin, 2 eggs any style, home fries sautéed onions, tomatoes); Loaded Brunch Bowl (poached free range eggs, kale, breakfast potatoes buttermilk dressing, tomatoes, feta, bacon) and more.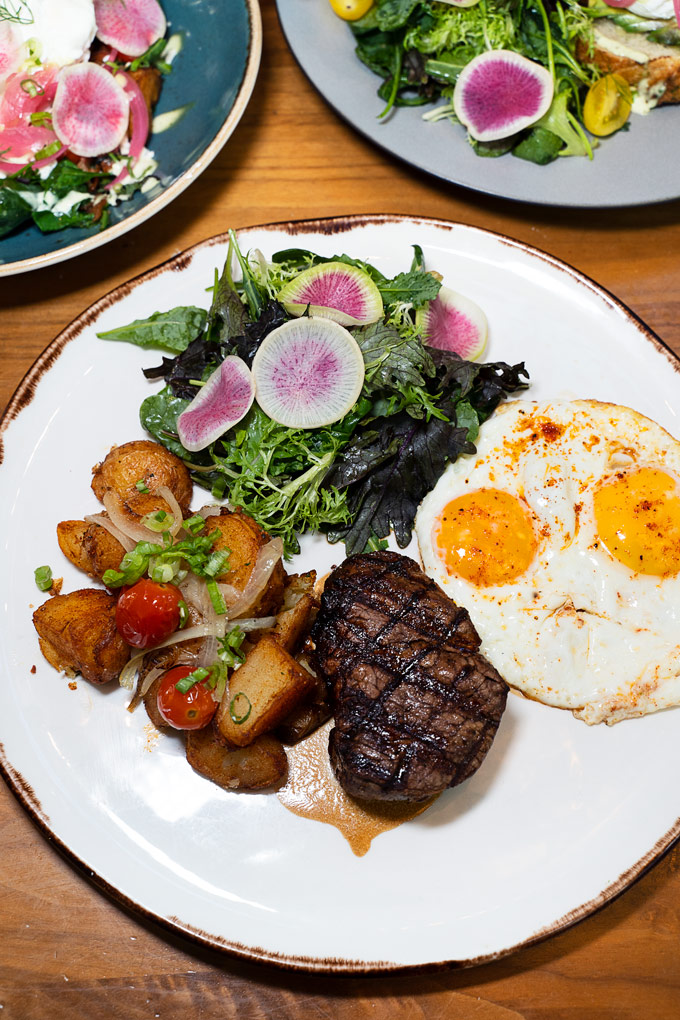 For more information, check out my full post on brunch at Showcase Restaurant.
1122 W Hastings St, Vancouver, BC
Chambar
Indulge in fine dining without formalities at the award winning Chambar.
Over the years, Chambar has gained notoriety for it's indulgent, gourmet menu and charming, rustic décor.
Their menu is distinctly Belgian with a flare of Northern African influence.
The Executive Chef, Nico Schuermans, is the brains behind the operations.
As a three-star-Michelin chef, executing carbon neutral dishes with fresh, locally sourced fare is of absolute importance.
In order to ensure fresh, lively dishes, the menus are changed seasonally to accommodate in-season ingredients.
568 Beatty St, Vancouver, BC
Crack On Vancouver Food Truck
Check out a food truck for a best brunch in Vancouver.
One of the newer food trucks in Vancouver is Crack On, specializing in gourmet breakfast/brunch sandwiches featuring freshly baked sourdough, organic free-range eggs, and locally sourced ingredients.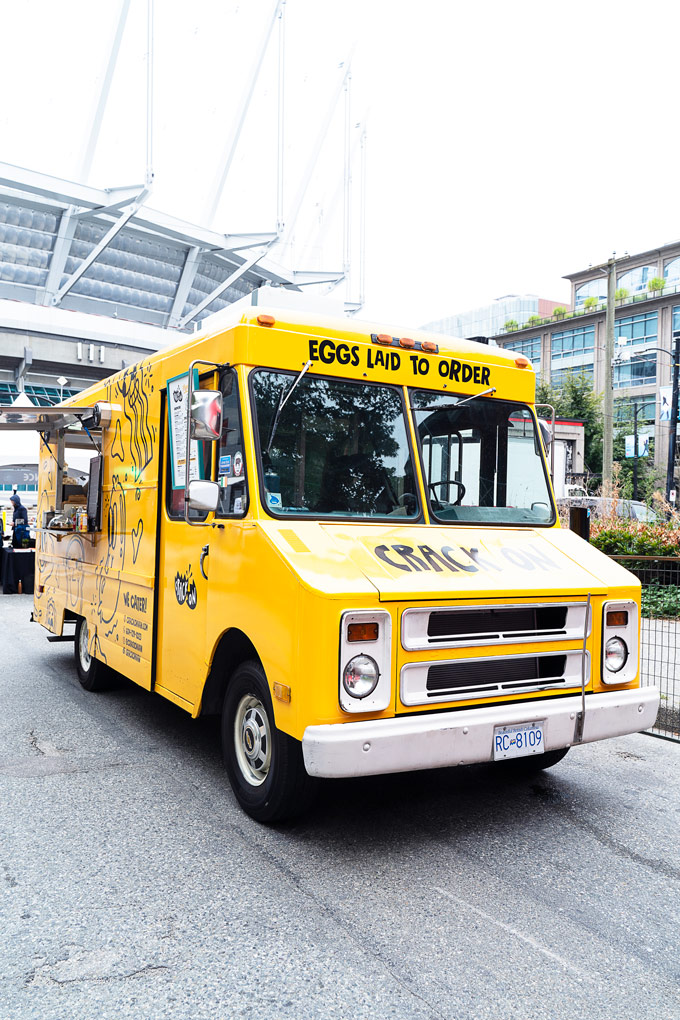 Their sandwiches are so good that it's worth it to visit them at one of their locations.
You'll have to check their social media for announcements of where they will be.
There's the Take It Easy with One Arrow thick cut bacon, fried egg, cheddar, bacon jam, candied jalapeno, tomato relish and microgreens.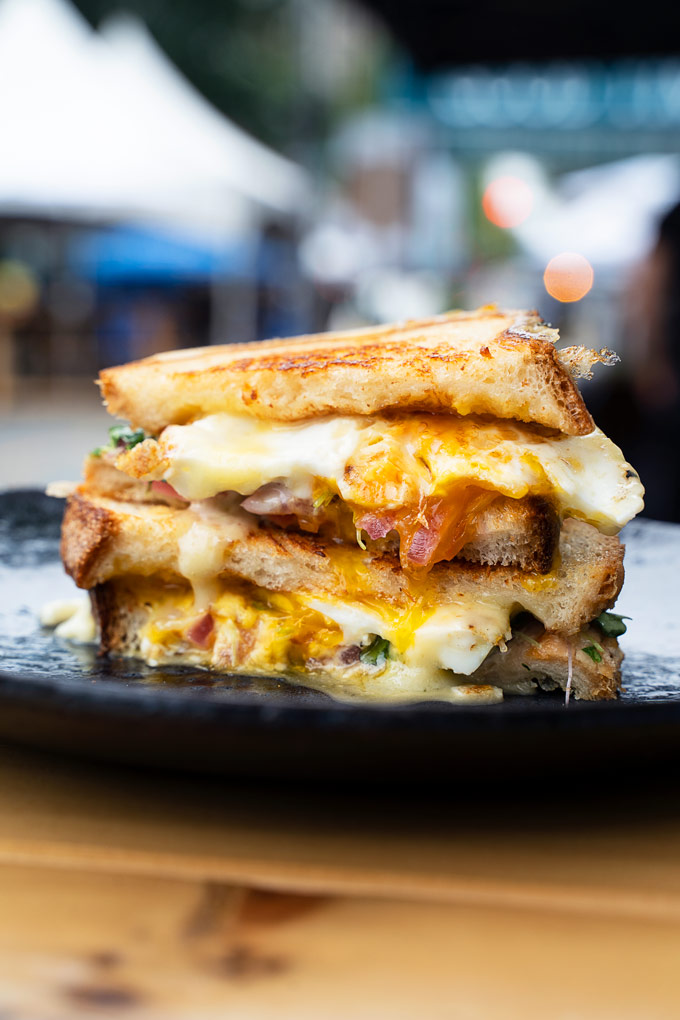 The Crack sandwich is also amazing and features Two Rivers maple sausage, fried egg, havarti, candied jalapeno, tomato relish, lemon, garlic + thyme aioli, and microgreens.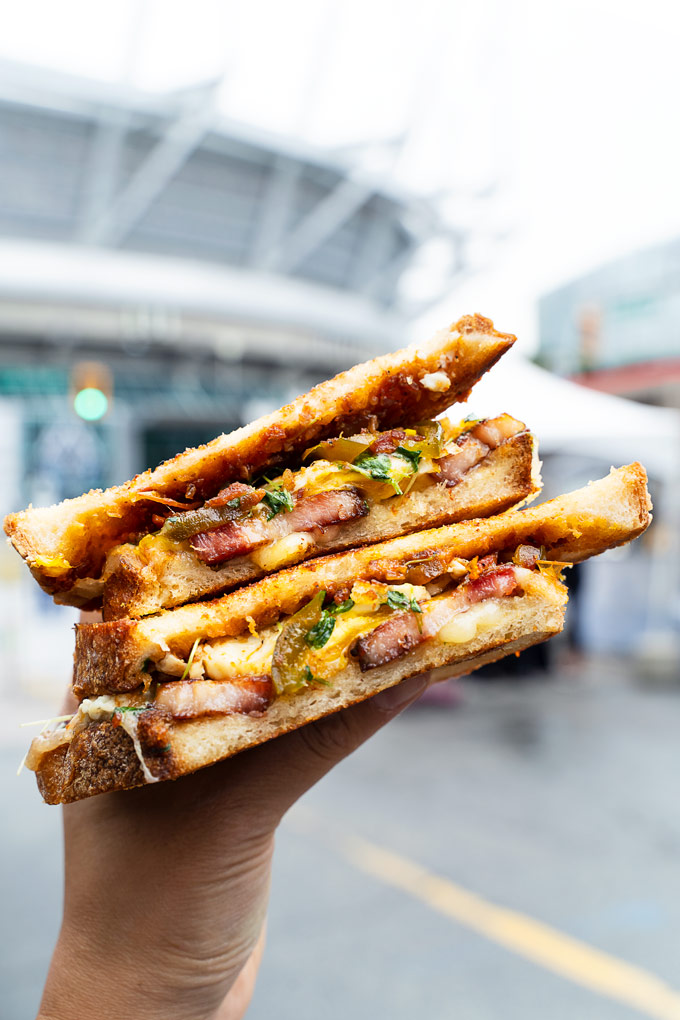 Loaded with flavours, fresh ingredients, perfectly gooey eggs, and super delicious sourdough bread.
They also have vegetarian, vegan and gluten free options.
Read my full post on Crack on.
Jam Café
Jam Cafe is a small breakfast joint with an enormous reputation.
The cafe's popularity is largely a result of the mouthwatering, all-day breakfast menu and rustic, vintage décor.
The recipes, many of which have been handed down over generations, are inspired by the deep south.
This entails house made cornbread, buttermilk biscuits, and fried chicken –the ultimate comfort foods.
Additionally, there are several vegan options on the menu so that everyone can enjoy a delicious, home-style meal.
On any given day, expect to find a line of customers to be standing outside of Jam Café, waiting to be seated.
This family-owned restaurant turns guests into loyal regulars.
556 Beatty Street, Vancouver, BC
2153 West 4th Avenue, Vancouver, BC
Belgard Kitchen
What was once a warehouse is now a stunning venue for high quality wine, drinks, and you guessed it, brunch.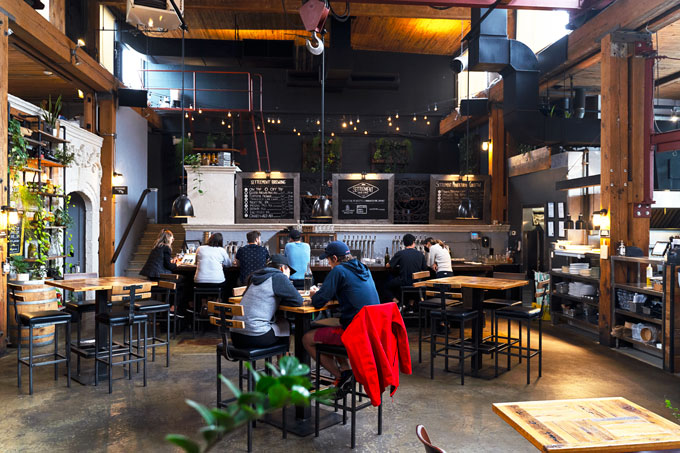 The twenty-four-foot ceilings, original 1923 exposed beams, and grand stone fireplace create an unforgettable ambiance of warmth and character.
Come feel for yourself the splendor of Belgard Kitchen while enjoying their famous Wagyu Meatball Skillet.
The Vancouver Urban Winery and Settlement brewing are located in The Settlement Building, the same building that is home to Belgard Kitchen.
The three are part of a collective lifestyle brand which shares a passion for fresh, local food and drink.
At Belgard kitchen, barrels of wine line the venue; there is absolutely no shortage on
Belgard shares a passion for BC VQA wine and craft beer from Belgard itself.
55 Dunlevy Ave, Vancouver, BC
Au Comptoir
Au Comptoir, meaning 'at the counter,' is an award-winning French restaurant founded by French expats, Maxime Bettilli and Julien Aubin.
Imported sidewalk tables and Parisian bistro chairs encapsulate an authentic French dining experience in the heart of Kitsilano.
Whether you want to go the traditional route with a croissant or pain au chocolat, or order fresh oysters, you won't be disappointed.
2278 W 4th Ave, Vancouver, BC
Catch 122 Cafe Bistro
The amount of care put into this local gem is tangible.
Customers rave on every platform about the outstanding service and addicting bites at this best brunch place in Vancouver.
Everything at Catch 122 is made in-house with locally sourced ingredients.
In fact, the owners even designed the entire venue and did most of their own carpentry, including all the tables and the bar.
Catch 122 was inspired by the famous novel Catch 22 and the year the cafe opened: 2012.
It serves lots of sweet treats like 'snickers' berry baby baked pancakes or their inhouse filled croissants.
It's hardier menu items are often classics which are fused with Korean and Chinese influences.
122 W Hastings St, Vancouver, BC
Twisted Fork
You know you have found a good brunch spot when they close for the night at 3:00 PM.
Twisted Fork has mastered the casual brunch ambiance; drawing locals back time and again.
The menu is packed with savory and sweet French dishes with enough options to satisfy even the pickiest of eaters.
If you've got a sweet tooth, Twisted Fork has a sweet banana stuffed brioche French toast that is out of this world.
If not, the eggs benny and shakshuka are fabulous picks and popular with the locals.
Another reason to go to Twisted Fork is for the service.
While vegan items don't exist on the menu, the restaurant is known to whip up a vegan platter for any diner who asks. That kind of service is unbeatable.
213 Carrall St, Vancouver, BC
Breakfast Table
Grab a bite to eat from one of Breakfast Table's creative, fusion breakfast plates.
Unlikely combinations result in the most mouthwatering culinary experiences possible.
For the most part, each dish is a combination of Canadian classics and Asian staples.
A favorite amongst locals is the Beef Bulgogi or the coffee-crusted pork.
Who would have thought to put coffee on their pork!
In addition to unique entrées, Breakfast Table offers the finest Vancouver roasted Milano Coffees, homemade lemonades, and cocktails are crafted to play well with breakfast.
3014 Granville St, Vancouver, BC
Tableau Bar Bistro
Upon entry into this beloved neighborhood restaurant, guests are greeted by extraordinarily high ceilings, wood paneling, and chic, masculine décor.
Browse the traditional French menu at Tableau Bar Bistro while bopping your head to the French pop music playing in the background.
You can't miss the Tableau Board, which is a mixture of foie gras terrine, paté, comté, fennel salumi, and lavash (it's okay if you have to Google a few of those items) or their most popular item, the Mushrooms on Toast, which is roasted mushrooms, Madeira jus, La Sauvagine and a fried egg on top of sourdough bread.
1181 Melville St, Vancouver, BC
Cafe Medina
Cafe Medina has been serving up their signature brand of Mediterranean-inspired cuisine and connoisseur-savvy coffee since 2008.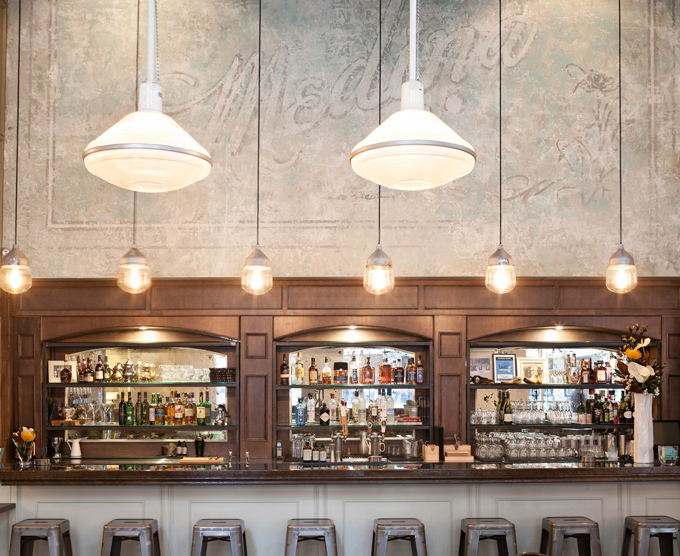 They're a quaint, bistro-styled restaurant replete with old-world charms serving fresh and eclectic breakfast, lunch and daily brunch alternatives seven days a week.
They are best known for their Belgian waffles which come with options of delectable toppings like dark chocolate, milk chocolate lavender, white chocolate pistachio rosewater, and more.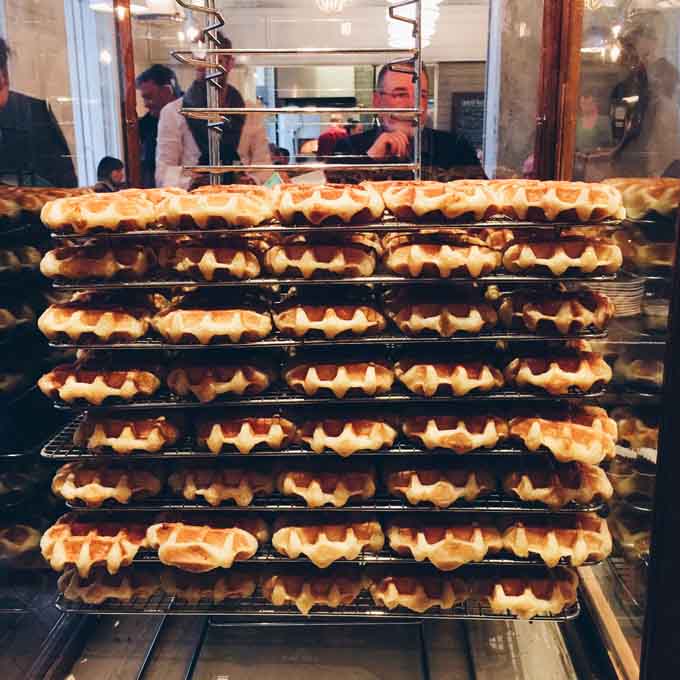 Other delectable brunch entrees include Les Boulette (2 poached eggs with spicy Moroccan lamb meatballs) and Wolves Breakfast (1 poached egg, flatiron steak, Medina bacon and more).
Cafe Medina is also on my Best Restaurants in Vancouver (overall) list.
The Flying Pig
The only thing more important than the excellent food at the Flying Pig is the hospitality.
It is their number one priority to create a warm, welcoming atmosphere for every guest who walks through their doors.
Inspired by the tradition of humble family feasts and the notion of conquering impossible dreams ('if pigs could fly'), the Flying Pig has established itself among the best restaurants in Vancouver.
The Flying Pig strays from the standard eggs and sausage with elevated, and refined menu items.
Some of the most popular dishes include Pei mussels and frites, the pulled pork hash, or the blackened steelhead trout.
Yaletown – 1168 Hamilton St, Vancouver, BC
Gastown – 102 Water St, Vancouver, BC
Olympic Village – 127 West 2nd Ave, Vancouver, BC
Yolk's
Don't let the casual ambiance fool you; Yolk's knows it's brunch foods.
Operating as an all-day breakfast and brunch, Yolk's offers a quintessential Canadian style breakfast complete with all your favorite breakfast foods.
The most popular items on the menu are the lemon truffle hash browns and fries or eggs benedict, prepared how you like it.
There is no shortage of rich, savory meals throughout this menu.
Yolk's is designed with everyone in mind.
Despite a very traditional menu, diners with restricted diets will have no problem finding delicious meals that are gluten free and vegetarian friendly.
1598 E Hastings Street, Vancouver, BC
546 W Broadway, Vancouver, BC
Heirloom Vegetarian
Last but not least on this list of best brunch in Vancouver is Heirloom Vegetarian – a contemporary, upscale dining experience offering a creative, vegetarian take on classic breakfast favorites.
The establishment is sleek white and minimalist with dishes bursting with color.
Plan the perfect date or intimate get-together at Heirloom without having to scour a menu for vegan or vegetarian food options.
The best item on the menu are the vegan buttermilk pancakes that are topped with berries, cream, pistachios, and maple syrup.
1509 W 12th Ave, Vancouver, BC
Cold Tea Restaurant
Cold Tea Restaurant in the heart of the Granville Entertainment District is a modern, laid-back dim sum spot featuring Chinese-Vietnamese cuisine with North American service.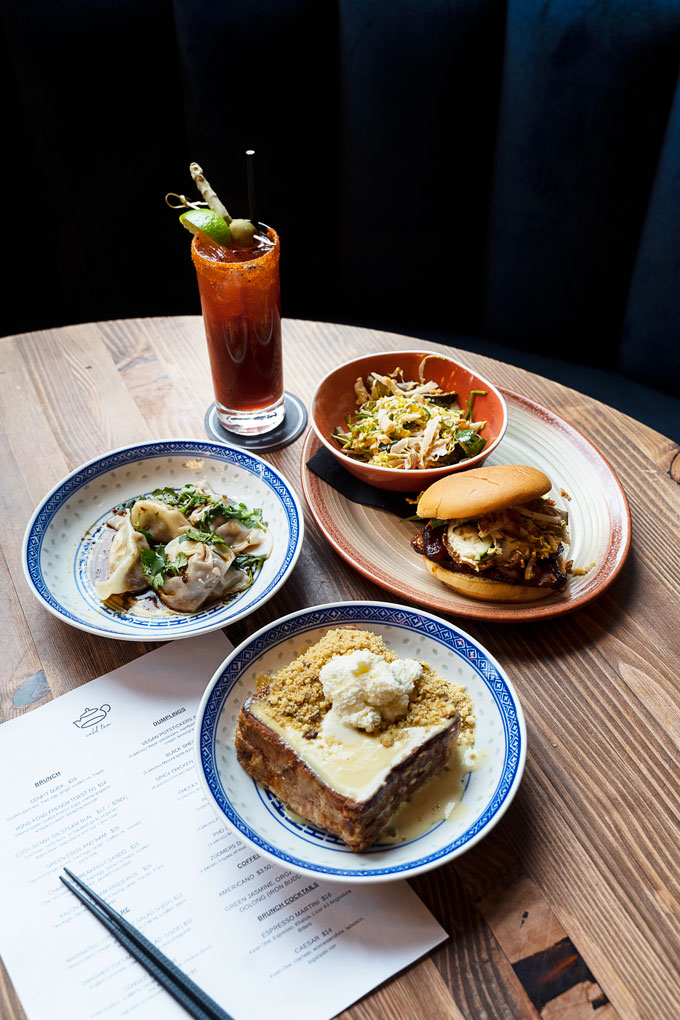 They offer a Hong Kong and Western-style fusion brunch on Saturday and Sundays from 12 pm – 3 pm where you can enjoy dishes like the Hong Kong French Toast (peanut butter stuffed, topped with pistachio biscotti); Char Siu Breakfast Sando (with Sriracha mayo and fried egg); Bacon and Spam Fried Rice and more.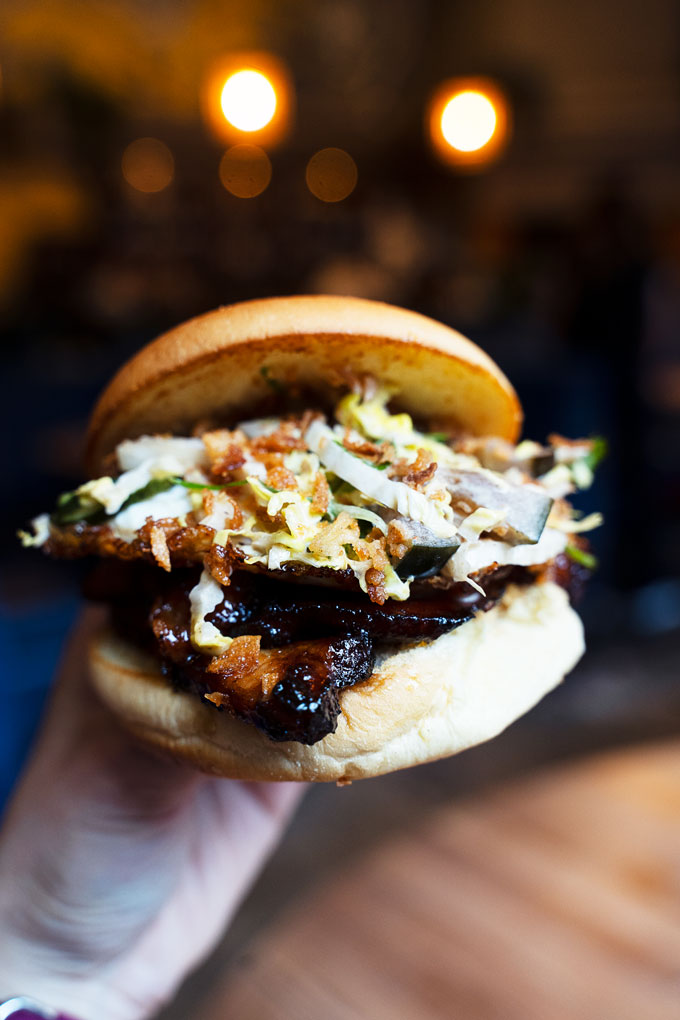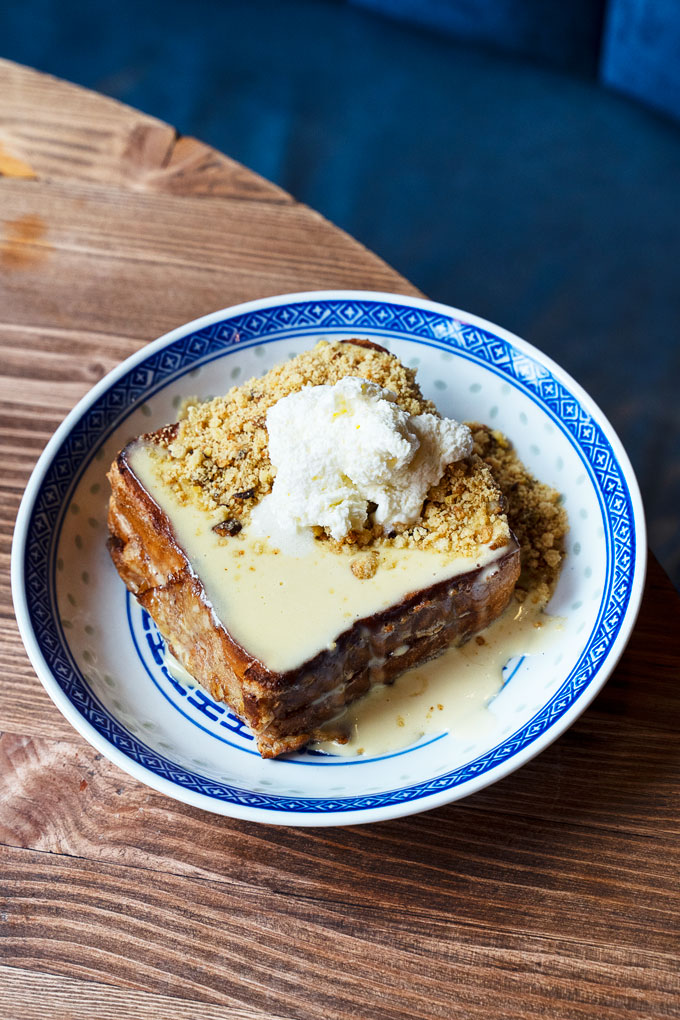 Complement your meal with dumplings (like the braised beef cheeks, and mix mushroom) and a brunch cocktail.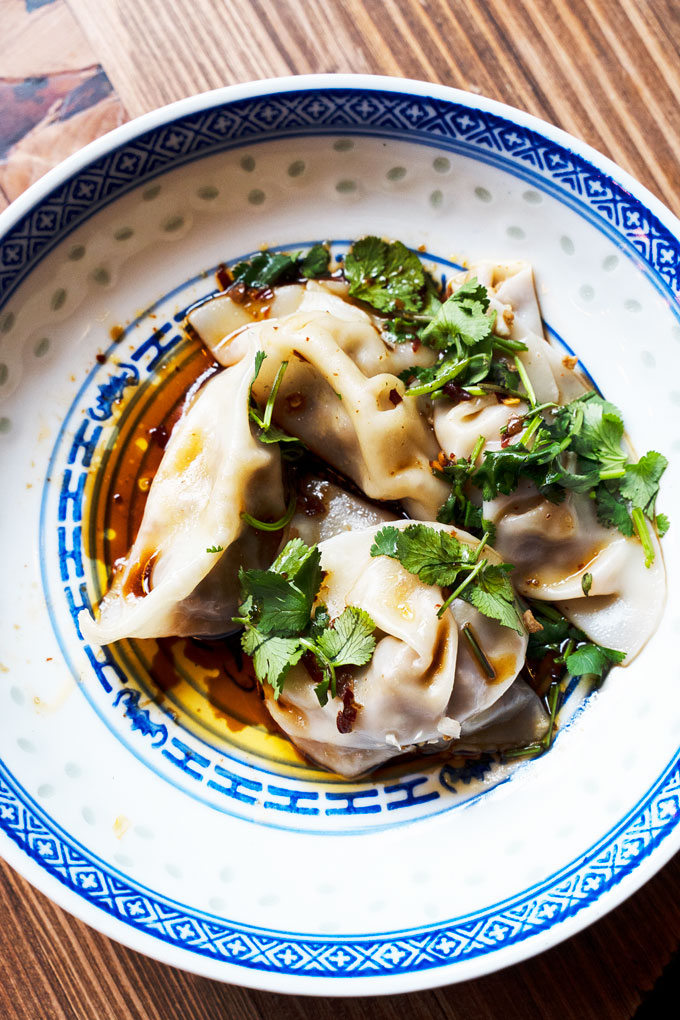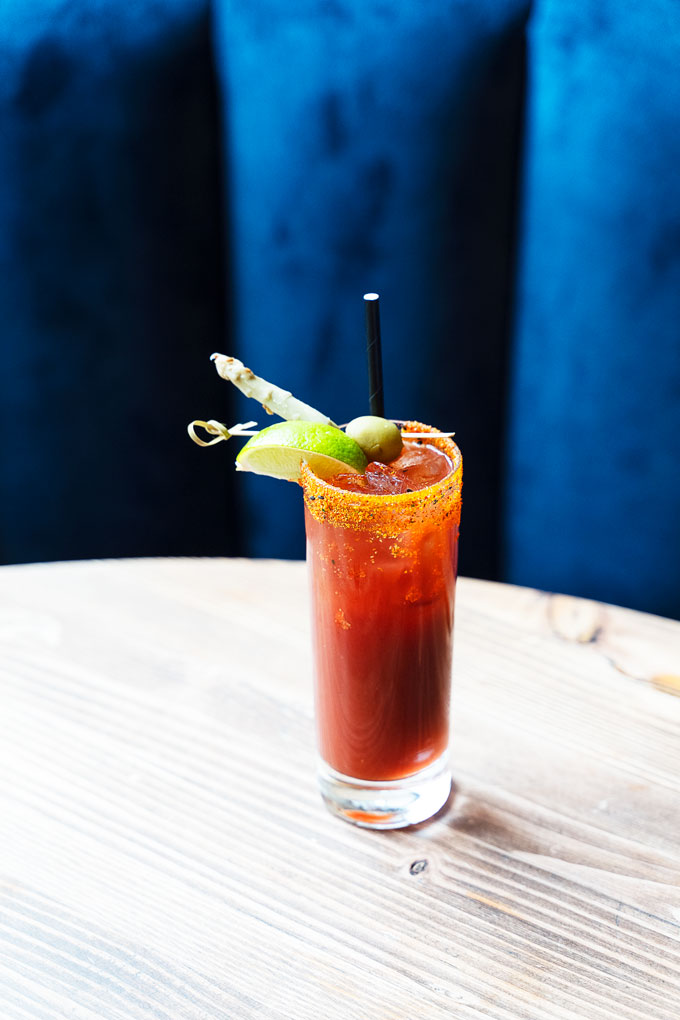 1193 Granville Street, Vancouver, BC
Check out my other Best of Vancouver Restaurants roundups: