It had been a few years since I last visited Chang'An (品味長安) (see post here) and they continue to be named one of the best Chinese Fine Dining restaurants in Vancouver. Aside from that, they have also received awards and accolades for serving the Best Peking Duck in the city. Located right on the waterfront of False Creek North, Chang'an offers customers Northern Chinese style cuisine from the Shaanxi province.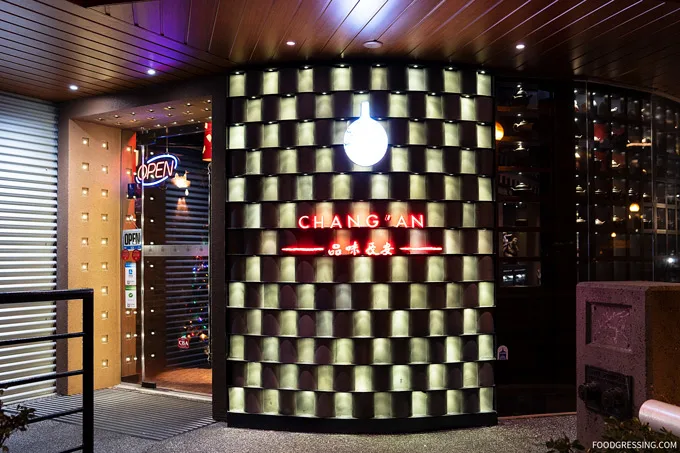 Chang'an is owned and operated by the China Folks Restaurant Group. While they own and run several fine dining restaurants in China, Chang'an was their first foray into the International market.
Reserve Peking Duck Ahead
A few weeks ago, I decided to have dinner at Chang'an and indulge in their delicious Peking Duck again. I made my reservation via Opentable and here are a few terms and conditions posted in regards to reserving the Peking Duck ahead of time:
Due to limited availability, all Roast Peking Ducks are available only for dinner and must be pre-ordered, no later than 3:30pm the evening of your reservation. Maximum 1 duck per table, until sold out. Our staff will confirm all Peking Duck orders on that day at about 3:30pm, by phone or text. Please response to the call or reply text message to reserve the Peking Duck. Peking Duck order maybe cancelled if no response is received.
I found it a bit odd that the confirmation for a Peking Duck would be so late – that is, the same day of the reservation. What if you had a special occasion and really wanted to have the Peking Duck? I guess you should consider a backup plan just in case. For me, the confirmation call came exactly at 3:30 pm on the day of the reservation.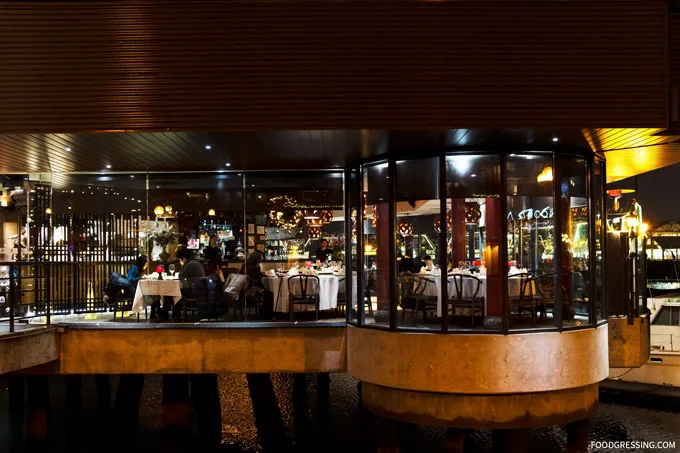 AN ELEGANT DINING EXPERIENCE
With magnificient waterfront views of Granville Island and False Creek, Chang'an is truly unique in its location. The Asian-themed decor is elegant and charming and at night the dim lighting sets a cozy and romantic ambiance.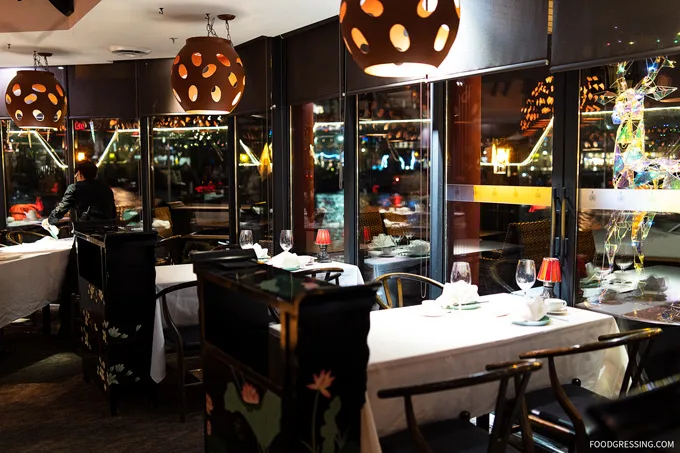 Clay sculptures are placed throughout the restaurant and they portray local customs and traditions of the Qinchuan region.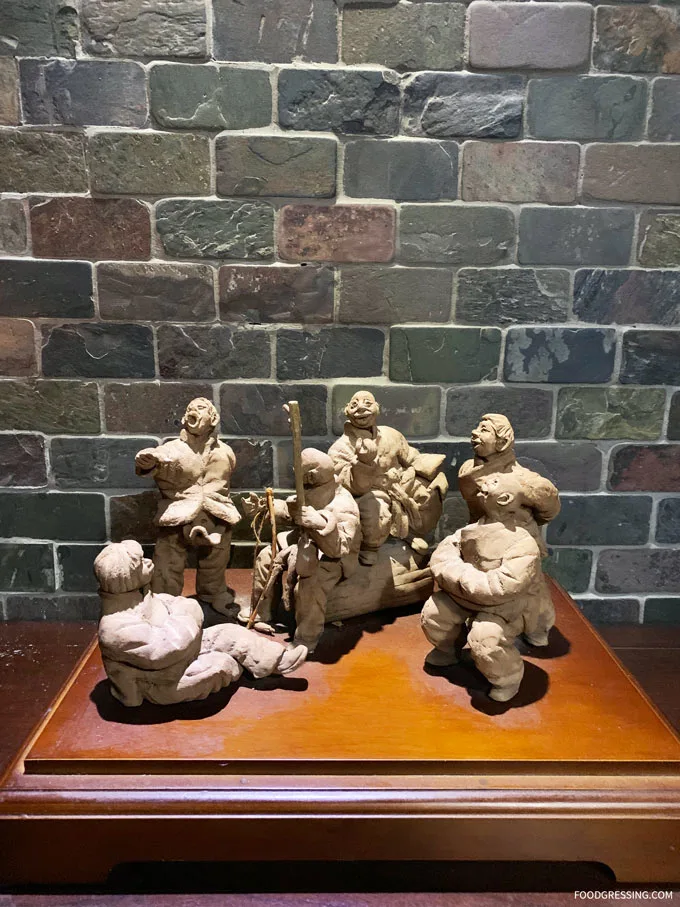 Roasted Peking Duck | 长安炙鸭
At Chang'an, the ducks are roasted in-house in a custom stone oven built into the wall. The restaurant does not take shortcuts compared to most restaurants that purchase their ducks from BBQ shops and just re-fry them prior to serving; this is obviously reflected in the price. Apparently, the restaurant schedules the cooking process according to the time of reservation to ensure optimal tenderness of the meat and crispiness of the skin.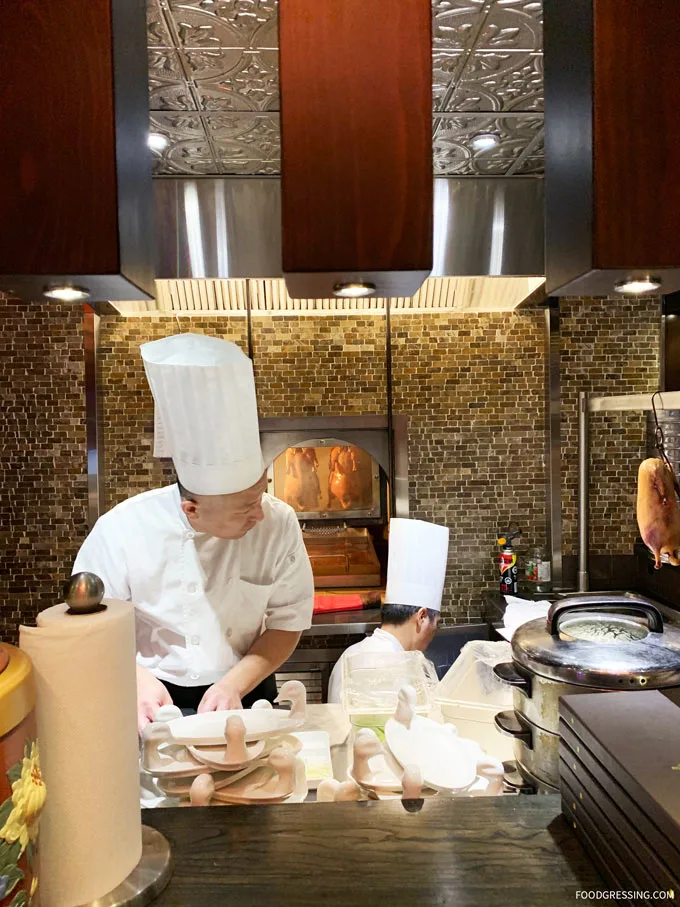 When I was in Beijing many years ago, one of my most memorable experiences is a tableside carving of Peking Duck. Since then, I only know of Chang'an to offer this type of service in Vancouver. 1886 at Parq Vancouver did at one point but is now closed for private events only.
Chefs in tall white hats carve the duck by your table. Check out my video below:
Priced at $98, the Chang'an Roasted Duck features two courses. During the first course, the duck skin is eaten with brown sugar while the duck meat is eaten with hand-made flour wrappers and sides like hoisin sauce with cucumbers, strawberry sauce with pears. The skin is perfectly crispy while the skin is moist and tender.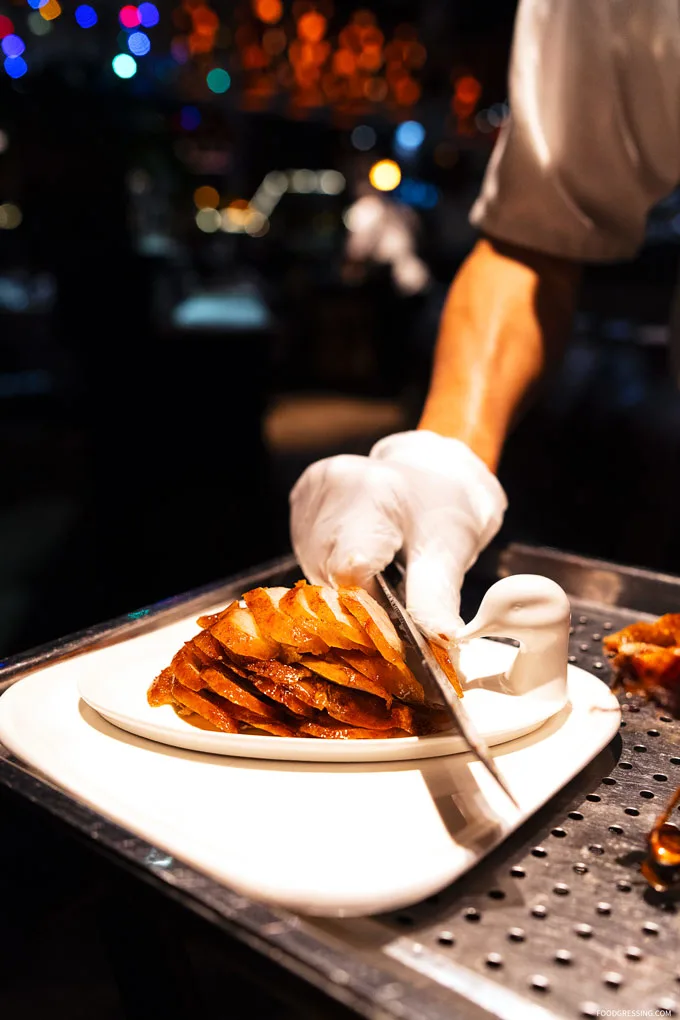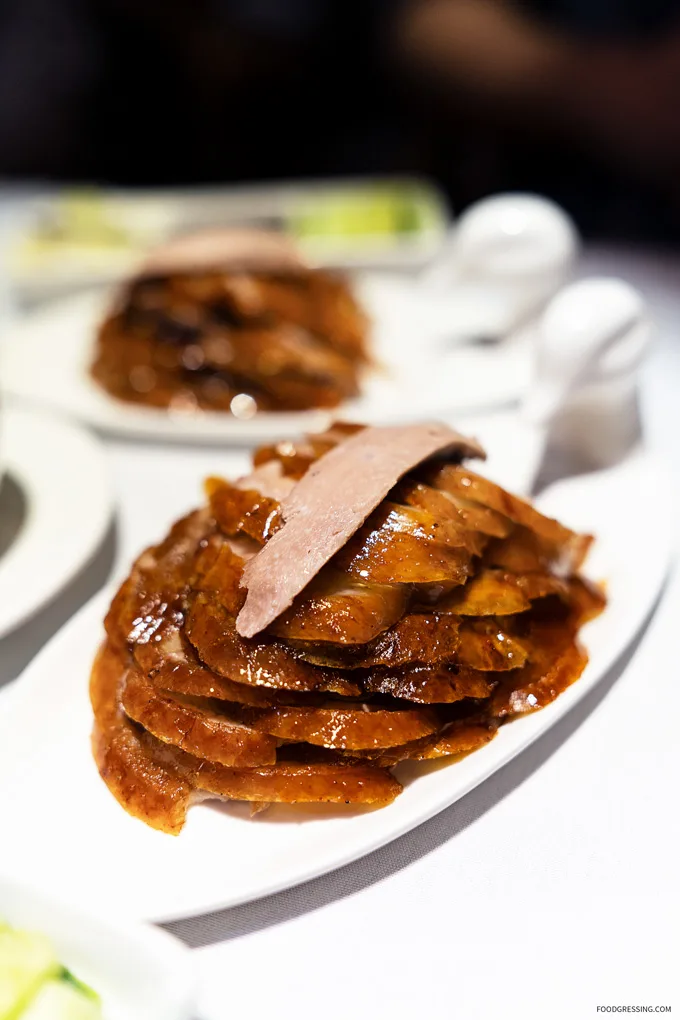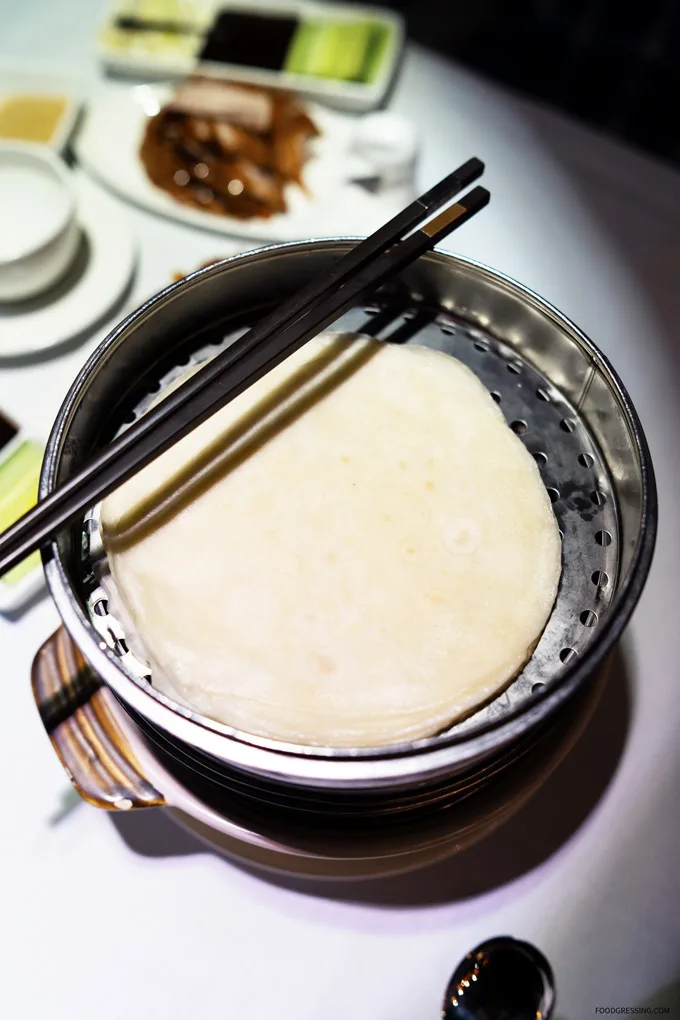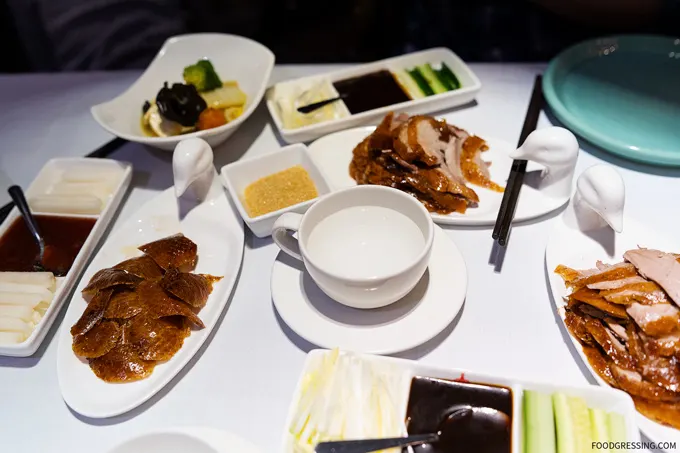 For the second course, you get choice of duck soup (no extra charge) or the deep-fried duck with salt and pepper (+$15). We went with the latter and it was OK, just not as amazing as the first course. The deep-fried meat was tougher and chewier compared to the sliced version.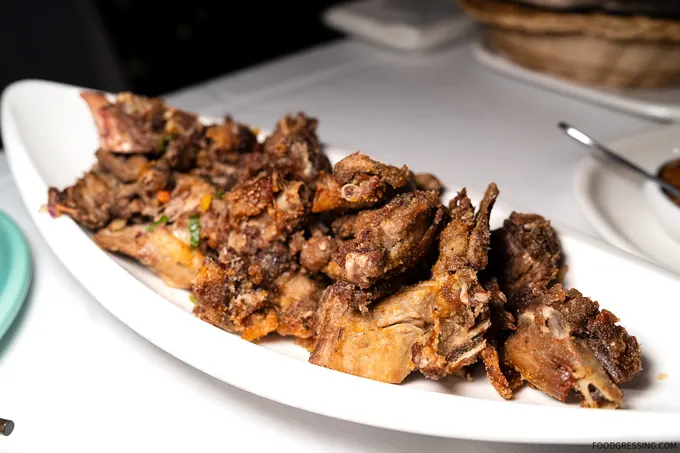 Other Dishes We Tried
We also had the Assorted Vegetable in Hot Pot (长安大烩菜) ($32) featuring Napa cabbage, shredded carrot ball, wood ear mushrooms, Chinese mushrooms, broccoli, soft tofu, and glass noodles. It was a very hearty, warming soup that felt very nourishing. I like it so much that I'm trying to replicate it at home.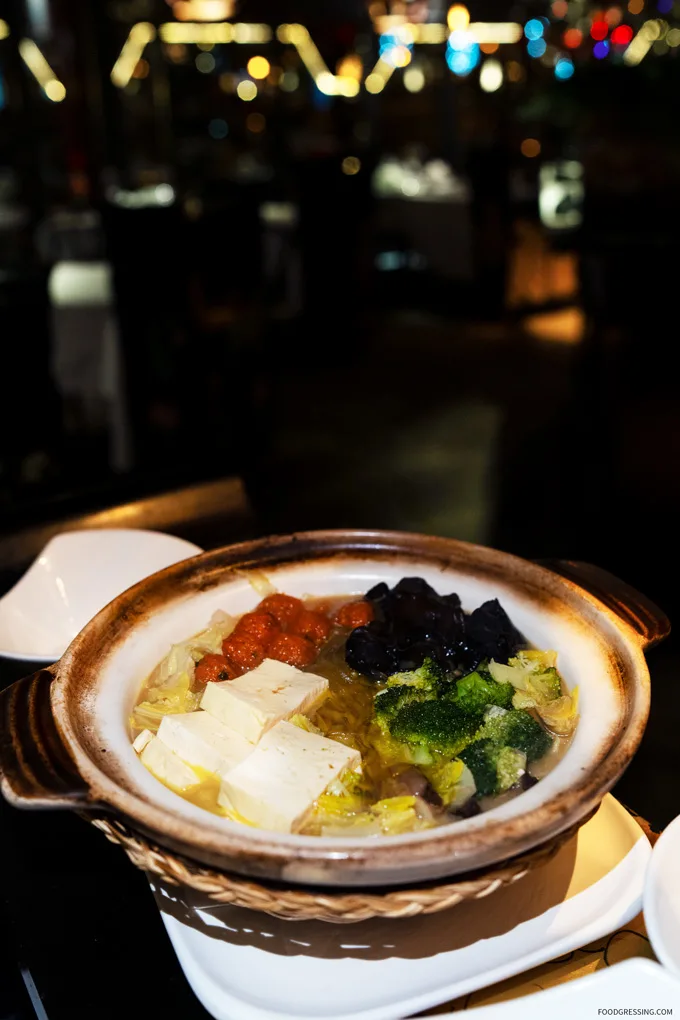 One staff member divided the hot pot with equal proportions of the ingredients into each bowl.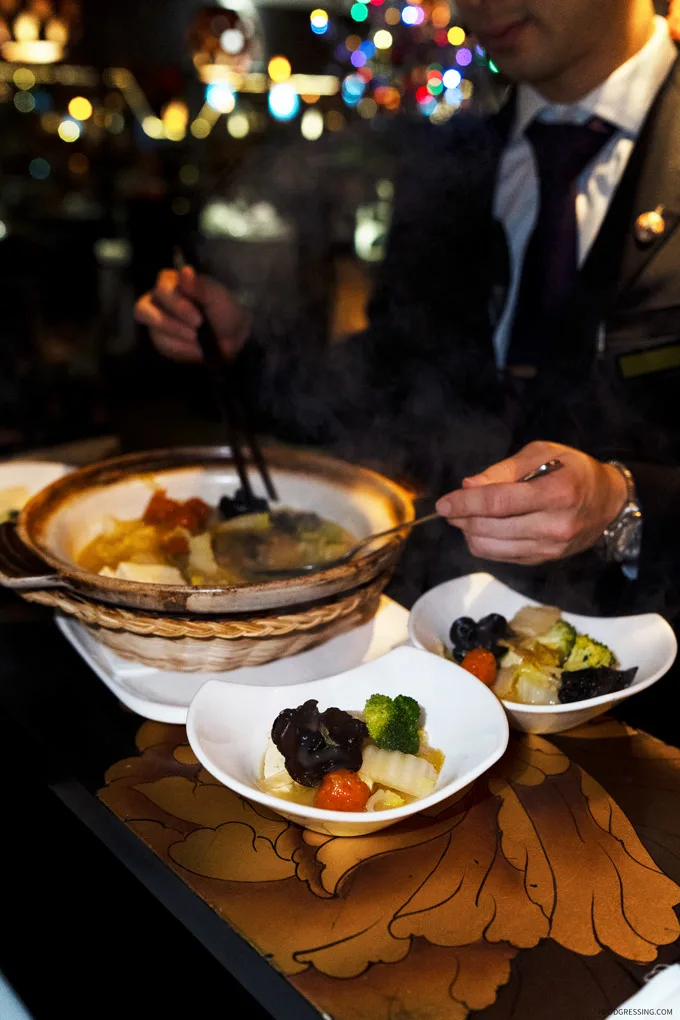 There was also the Stir-Fried Lychee Prawns with Sweet Sour and Spicy Sauce (貴妃荔枝虾球) ($28). The sauce was more sweet and sour while the spiciness was more subtle. The lychee offered bursts of floral juiciness while the prawns were nicely bouncy.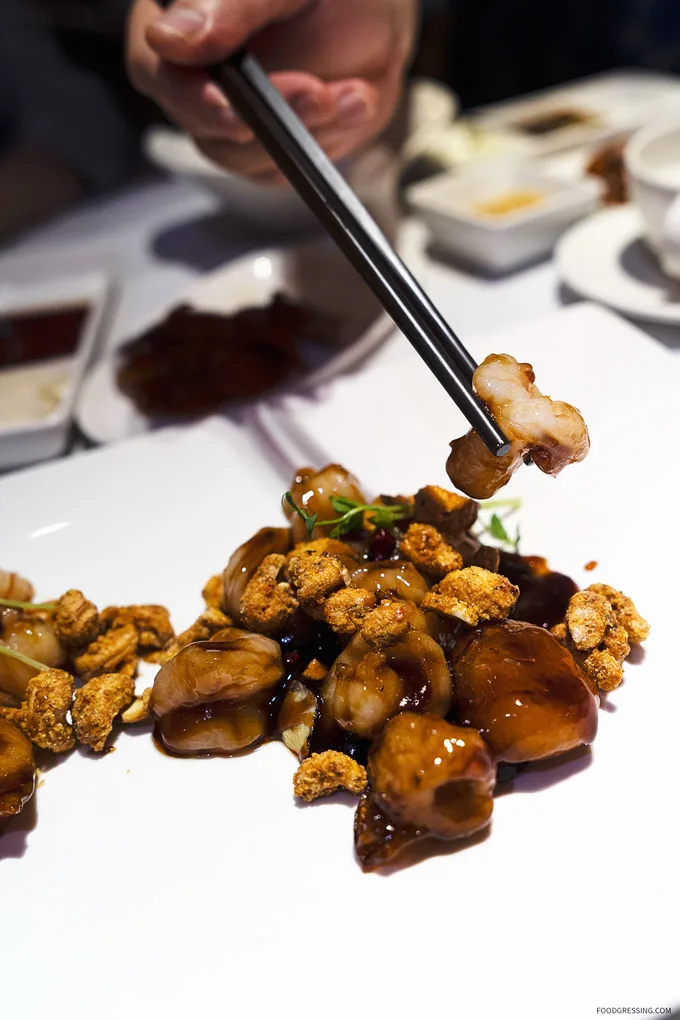 Service
The service was excellent and the staff were fluent in Mandarin, Cantonese and English. The dishes were brought to us in a timely manner. Tableside service was efficient. I also noticed that the staff wore LED digital scrolling name tags.
When they called me for a reservation confirmation, they also made note of the 2-hour seating. The staff were quite on top of that and seemed to make sure that everything went as smoothly as possible so that we would be out by 2 hours.
Overall Impression
I really enjoyed the dinner at Chang'an from the delicious food, presentation of the dishes to the stellar service. I'd be interested in trying more of their dishes and of course having the Peking Duck again. Rating: 4.5/5
Chang 'an
1/F, 1661 Granville St, Vancouver, BC
www.tastechangan.com
2022 Update
Chang'an continues to be one of my favourite Chinese restaurants in Vancouver. They have been recommended in the 2022 MICHELIN Guide Vancouver. Here are some of the dishes we have tried recently.
The Qin Style Roast Lamb of Leg was a standout to me. It came with spices on the side which you could roll the leg pieces onto.
Chang'an Roasted Duck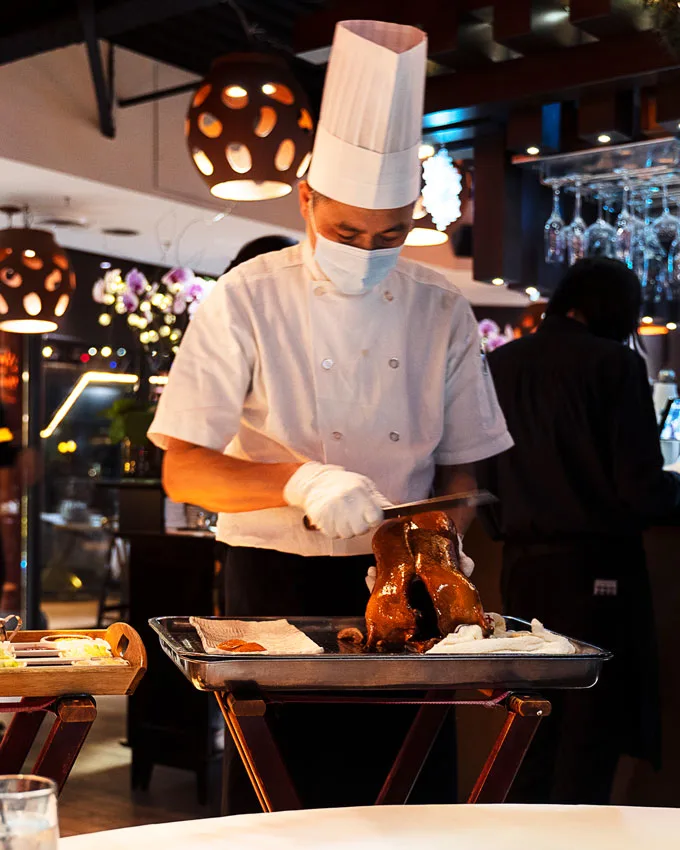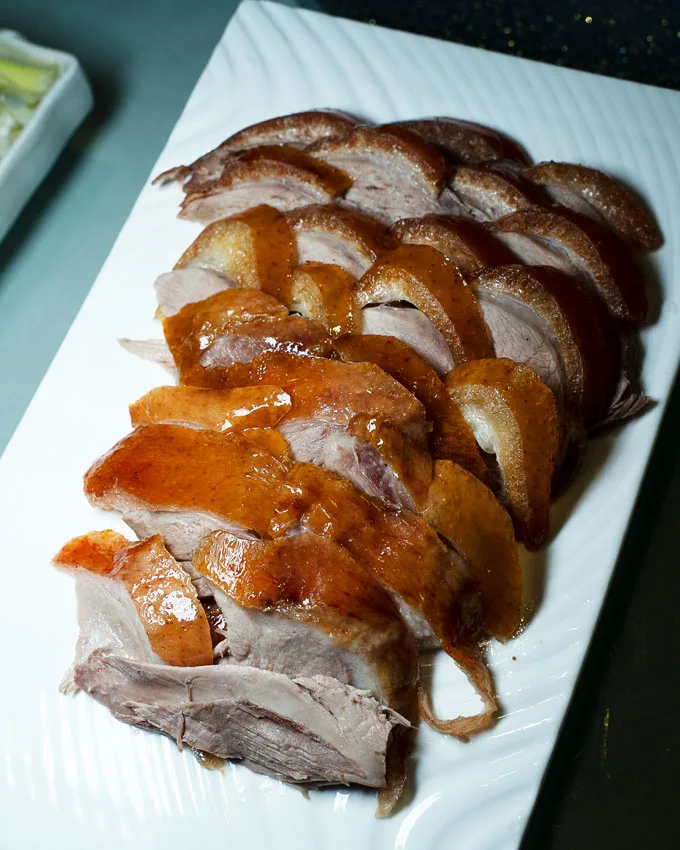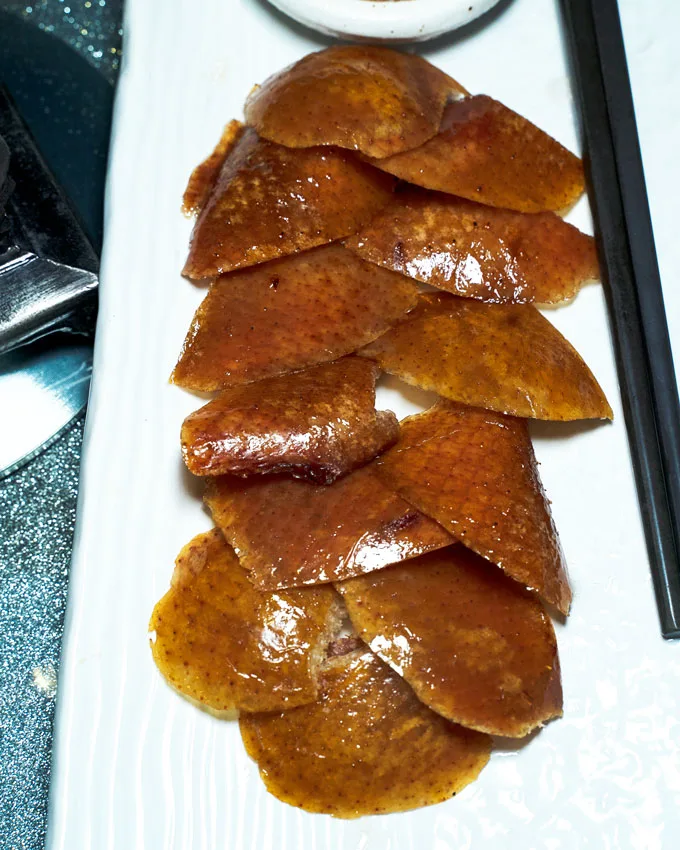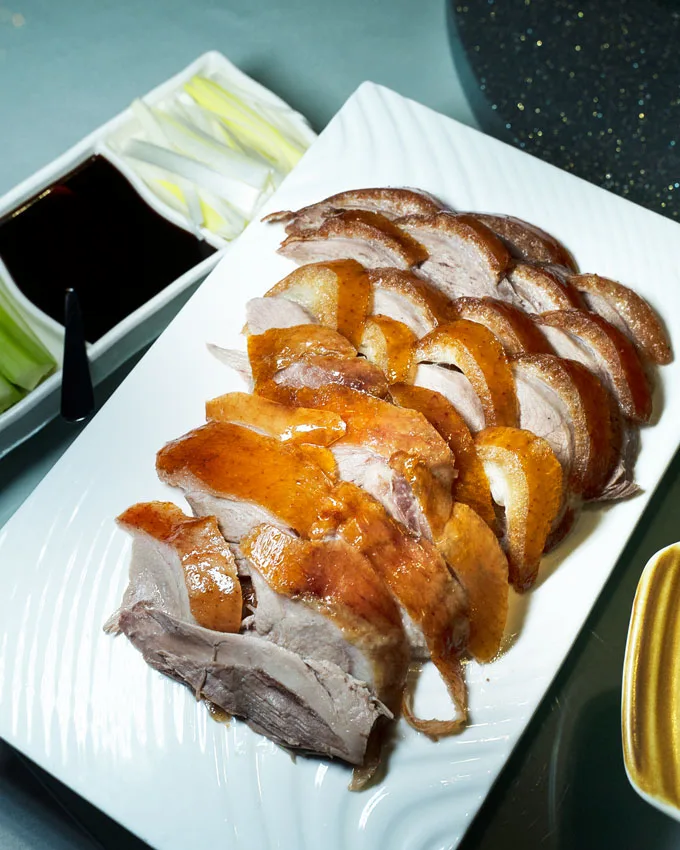 Healthy Vegetable Mixed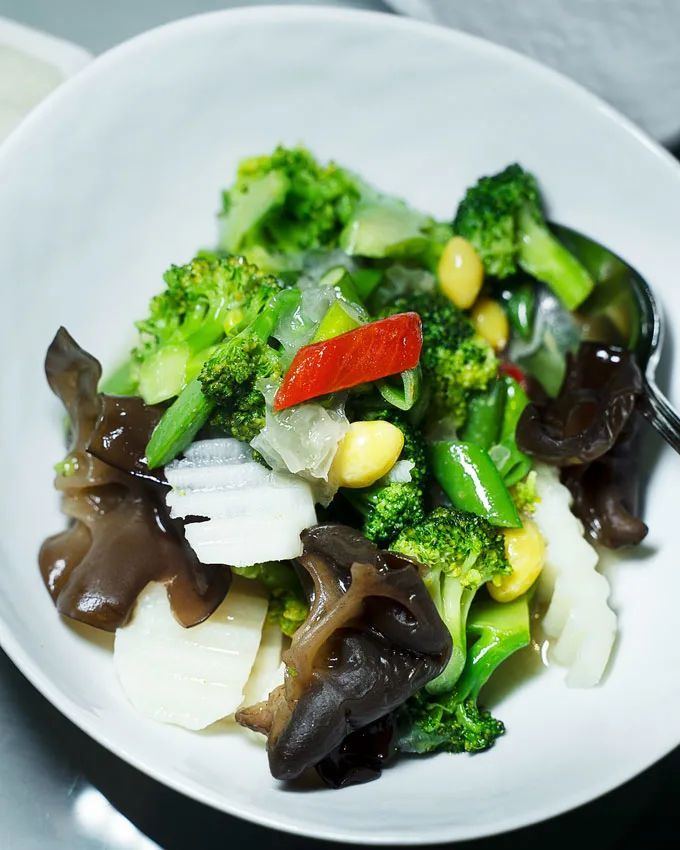 Cold Crispy Jellyfish
Qin Style Roast Lamb of Leg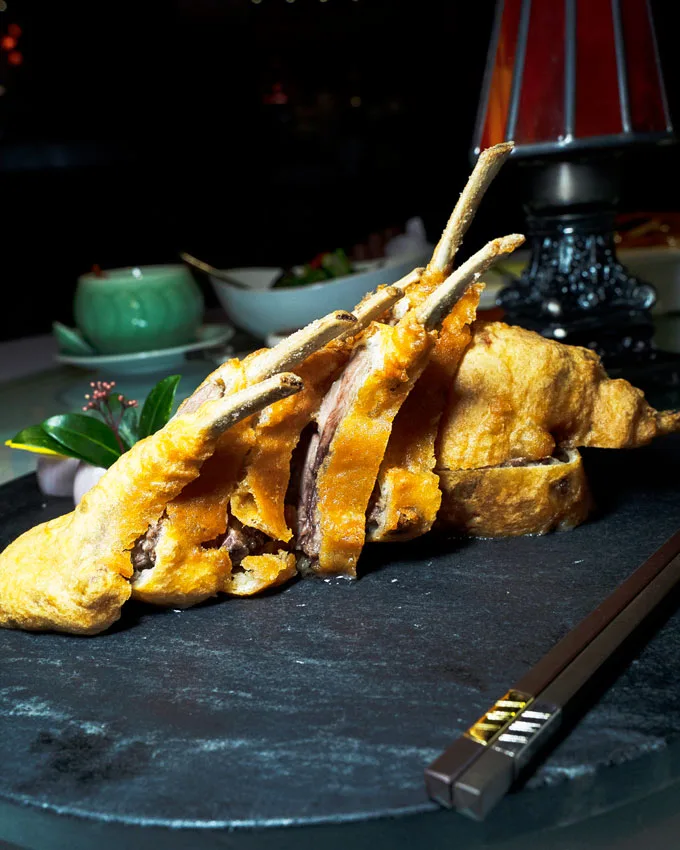 Shanxi Special Sour Chili Noodles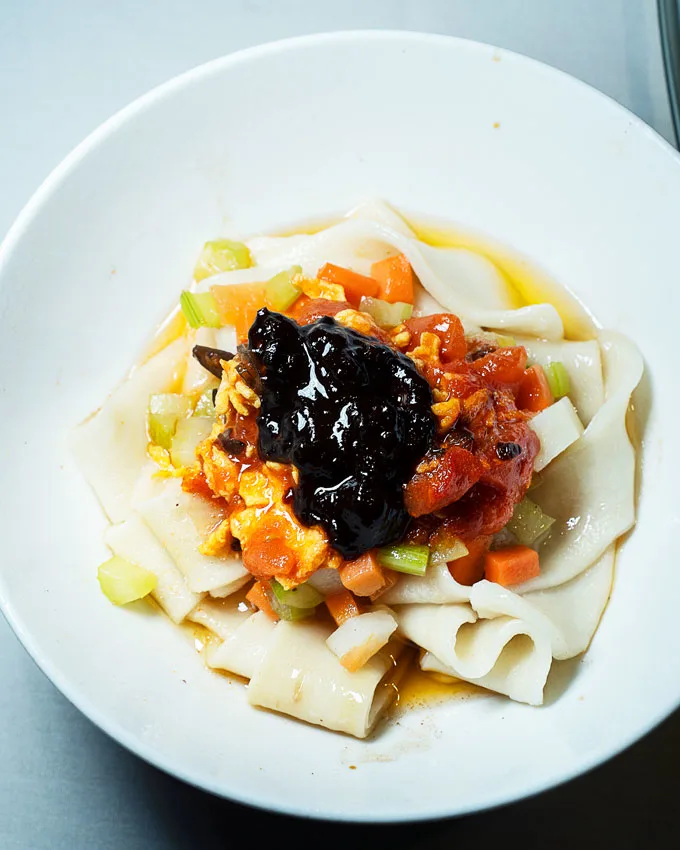 Passion Fruit Pudding