The very first Vancouver MICHELIN Guide 2022 (for BC, Canada) has 8 new Vancouver MICHELIN Star restaurants – all of which were awarded one star.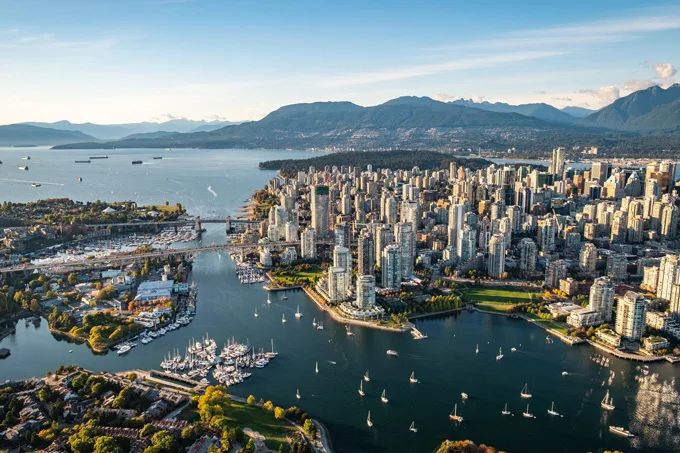 As an international mobility company, Michelin published its first North American "Red Guide" in 2005 with the New York edition. U.S. Guides have since been added in Washington, D.C.; Chicago; California; and Miami, Orlando and Tampa, Florida.
Recognized globally for excellence and quality, the MICHELIN Guide offers a selection of world-class restaurants.
The famous One, Two and Three MICHELIN Stars identify establishments serving exceptional cuisine rich in flavor and infused with the personality of a talented chef.
The Bib Gourmand is a designation given to select restaurants that offer good quality food for good value – often known as personal favorites among the inspectors when dining on their own time.
The MICHELIN Guide inspectors found 12 restaurants worthy of the Bib Gourmand designation, which recognizes great food at a great value. These are restaurants where one can have two courses and a glass of wine or dessert for less than $60 CAD.
Vancouver MICHELIN Star Restaurants 2022 List (Canada)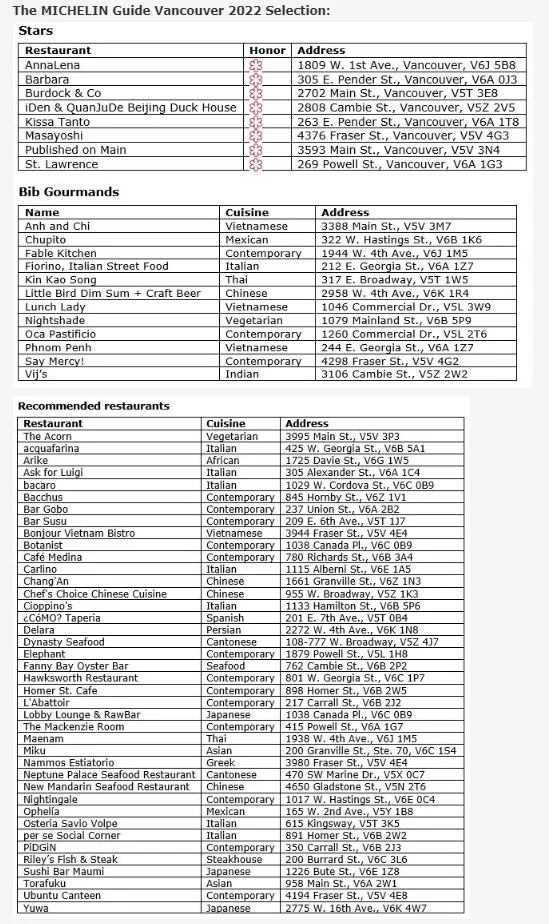 Here a list of Vancouver MICHELIN Star Restaurants along with some links to my old reviews which are NOT sponsored if you're interested!
One-star
AnnaLena (review here)
Barbara (review here)
Burdock & Co (review here)
iDen & QuanJuDe Beijing Duck House
Kissa Tanto (review here)
Masayoshi (review here)
Published on Main
St. Lawrence (review here)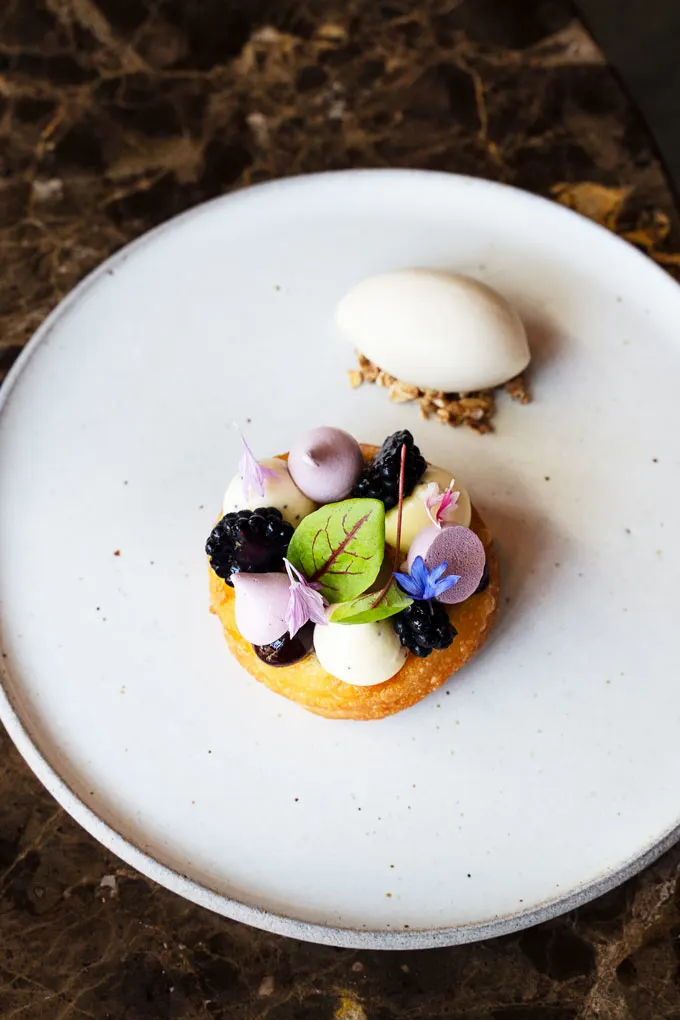 Bib Gourmands
Anh and Chi
Chupito
Fable Kitchen
Fiorino, Italian Street Food (media tasting only here)
Kin Kao Song
Little Bird Dim Sum + Craft Beer
Lunch Lady
Nightshade
Oca Pastificio
Phnom Penh (review here)
Say Mercy!
Vij's (review here)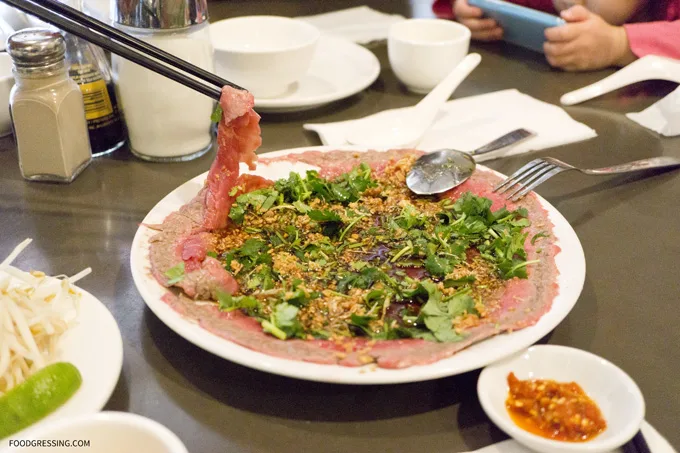 Recommended
¿CóMO? Taperia
Acquafarina
Arike
Ask for Luigi (review here)
Bacaro
Bacchus (media tasting here)
Bar Gobo
Bar Susu
Bonjour Vietnam Bistro
Botanist (review here)
Café Medina (review here)
Carlino
Chang'An (review here)
Chef's Choice Chinese Cuisine (review here)
Cioppino's
Delara (review here)
Dynasty Seafood
Elephant
Fanny Bay Oyster Bar (review here)
Hawksworth Restaurant (review here)
Homer St. Cafe
L'Abattoir (review here)
Lobby Lounge & RawBar
Maenam (review here)
Miku (review here)
Nammos Estiatorio
Neptune Palace Seafood Restaurant
New Mandarin Seafood Restaurant (review here)
Nightingale (review here)
Ophelía
Osteria Savio Volpe (review here)
per se Social Corner (review here)
PiDGiN (review here)
Riley's Fish & Steak (review here)
Sushi Bar Maumi
The Acorn (review here)
The Mackenzie Room (media tasting here)
Torafuku (review and media tastings here)
Ubuntu Canteen
Yuwa (review here)
Check out my post on Affordable MICHELIN Star Restaurants in Vancouver on how to enjoy top notch cuisine without breaking the bank.