PiDGin made quite a splash when they entered the Vancouver dining scene in 2013.  It's not quite fine dining but definitely an upscale restaurant serving innovative French and Asian fusion cuisine.  While their uniquely crafted dishes and cocktails generated much buzz, they also caused quite a stir by opening their doors in the Downtown Eastside (DTES) at Carrall and Hastings.  PiDGin's early days were marred with protests by anti-gentrification activists and DTES residents who made it loud and clear that PiDGin was unwanted in the area.  Fast forward three years, PiDGin still exists and attracting foodies around.
Travelzoo Deal
Recently, I saw that they had a Travelzoo deal for their 8-course tasting menu.  At $66 for two people, it was a steal compared to their regular price of $55 per person.  I snapped up the deal and my husband and I visited PiDGin for date night.
Cozy & Zen
We were the first customers that night and got to admire the beautiful interior without people in it.  With soft lighting coming through the windows, the ambiance was very zen.  One side of the room had wooden dining tables and benches while another side had the bar and elevated booths.  We sat at a two-person table along the window with me on a cozy banquette.

A few of their art pieces seemed interesting including an older woman siting on a chair.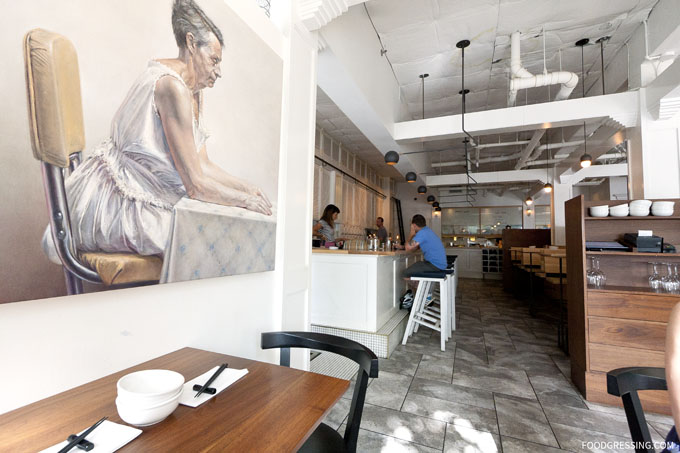 Then there was a "no deer no beer" (?) caricature.  Deep.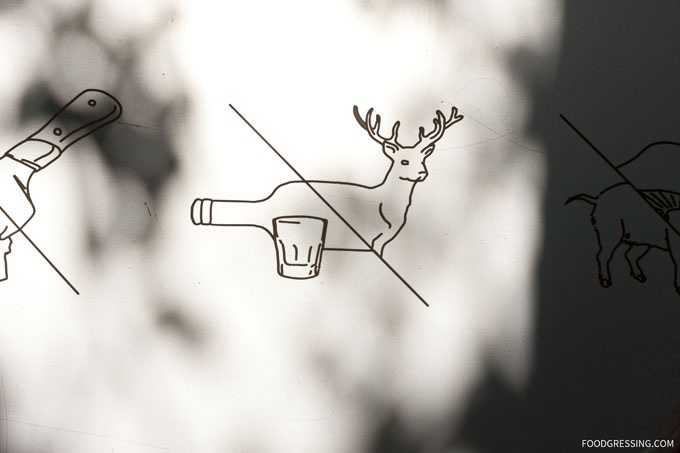 What We Tried
Oyster Shot, Apple, Horseradish
Daily Pickles
Green Beans, Cauliflower, Homemade XO Sauce, Almonds
Smoked Taramasalata, Nori Paste, Onsen Egg
Mushrooms, Snap Peas, Egg, Soy Yuzu Brown Butter
Pan Seared Trout, Bonito Buttersauce, Swiss Chard
Bavette Steak, Wakame Caponata, Smoked Black Tobiko
Black Sesame Cake
To start, we had the Purple Unicorn, a refreshing citrusy concotion of smoked plum cranberry, lemon, rosemary, and egg white.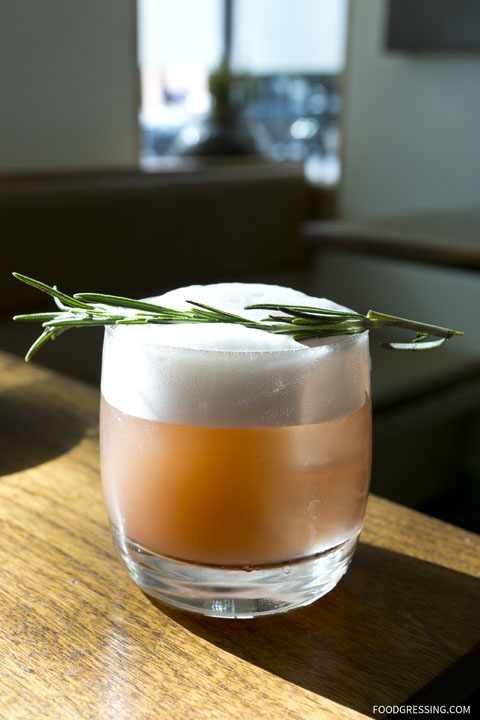 Then came our firsr appetizer, an Oyster Shot, consisting of a shucked oyster with apple granita and horseradish.  We were advised by the server to stir the contents to break open the oyster belly.  The resulting mixture was silky in texture and had a mix of sweet, briny and spicy flavours.  The spicy wake-up call made it an interesting start to the meal.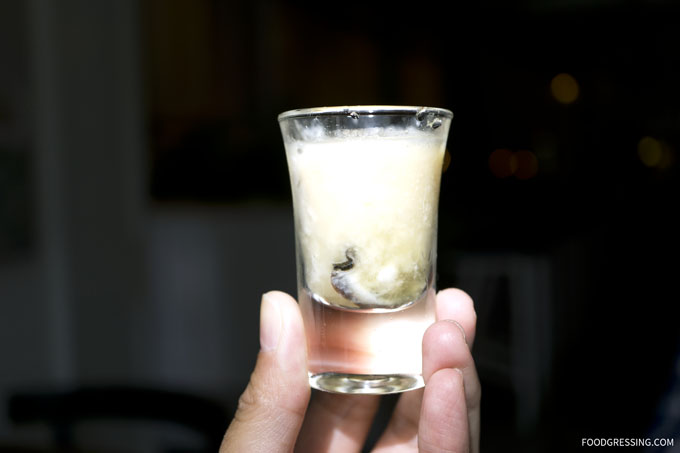 The Daily Pickled Vegetables were crispy, tangy, and vinegary.  To me, it was the least interesting dish of the 8-course meal.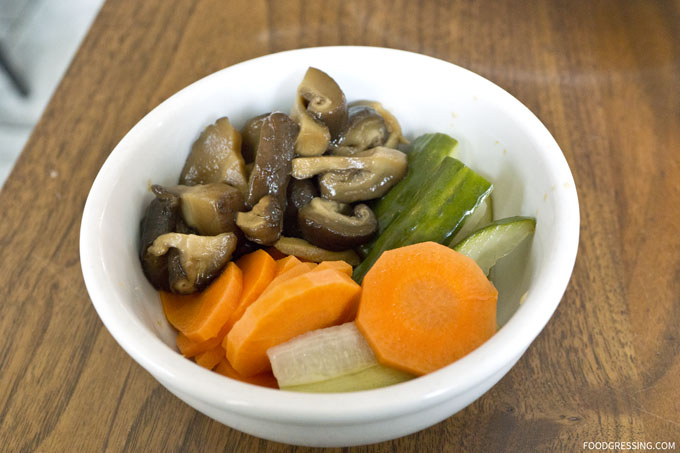 The Smoked Taramasalata, Nori Paste with Onsen Egg was the most interesting dish to eat.  You needed to mix it all together to create a dip for the grilled bread.  The resulting dip was very rich, creamy and savoury.  Taramasalata is a Greek dip traditionally made with fish roe but this overall "mix" wasn't fishy at all.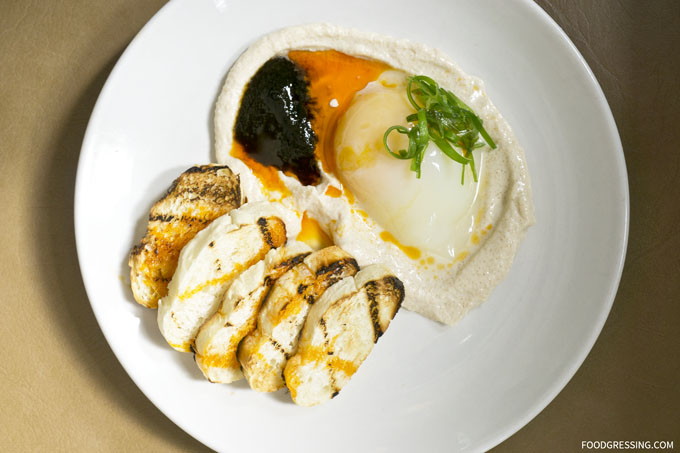 The dip was indeed very good and we soaked it all into the five pieces of grilled bread that were given.  In the end, we still had an excess amount of dip so the server asked if we wanted more bread.  We agreed to it only to discover that it costs an additional $2 when our bill arrived.  Just beware that they do not let you know beforehand!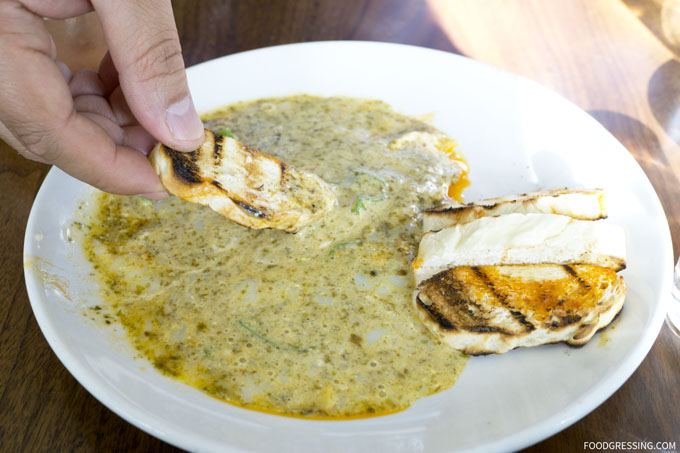 The Green Beans, Cauliflower with Homemade XO Sauce and Almond Toppings was simple and oh-so-delicious.  Those vegetables were perfectly crispy and the almonds gave the dish a wonderful crunchy contrast.  The XO Sauce made it a more Asian-inspired dish.  Sea-saltiness with a gentle spicy kick and some sweetness that rounds out the umami flavour.  I think the dish was best enjoyed with a spoon rather than chopsticks because you could pick up a bit of all the ingredients.  Easily my favourite dish of the evening.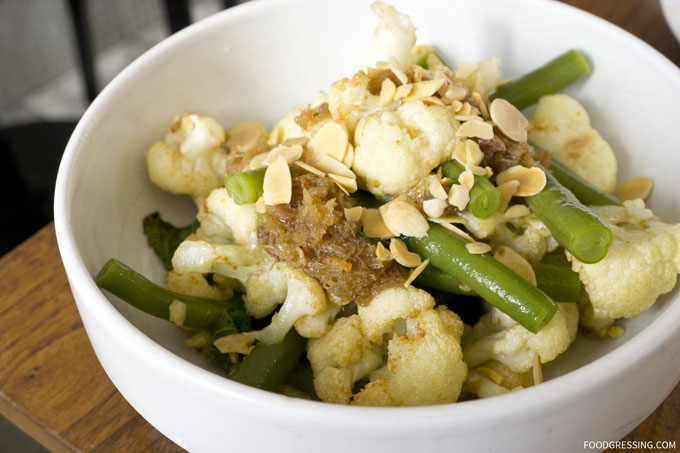 The Mushrooms, Snap Peas, Egg in Soy Yuzu Brown Butter was also a winner in my books.  The concept of this dish was to dip the vegetables into the ramen egg.  In the end, we thought it took too much time to dip the vegetables, which tasted good already on their own with their gentle coats of butter.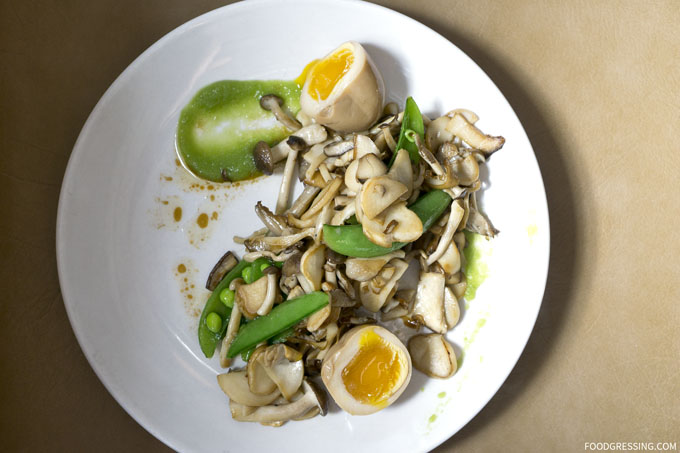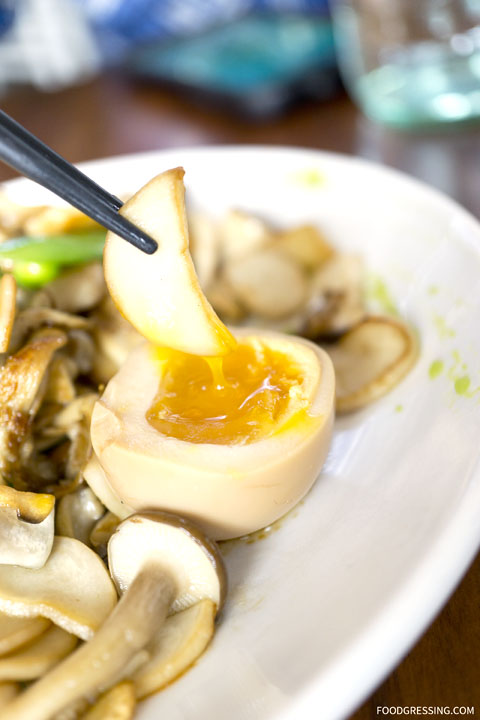 On to the entrees now…first up was the Pan Seared Trout, Bonito Buttersauce, and Swiss Chard.  The trout was well-executed being lightly salted, moist and flaky while the skin was delightfully crispy.  The swiss chard added a bit more flavour to fish.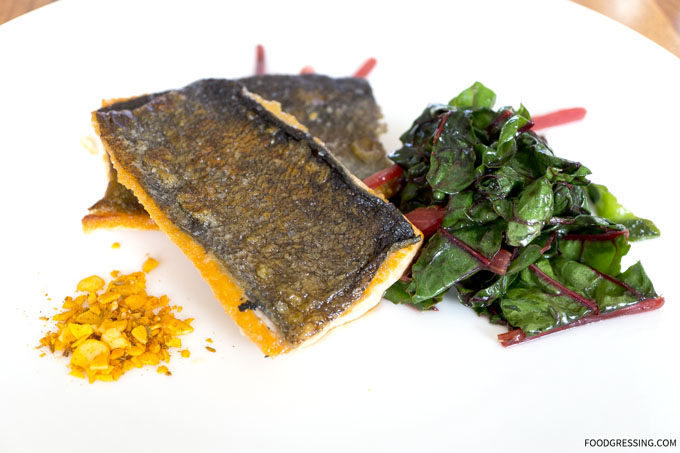 I preferred the Pan Seared Trout over the Bavette Steak, Wakame Caponata, Smoked Black Tobiko, however.  The steak was served medium rare and was very tender, but that crispy trout skin had me at first bite.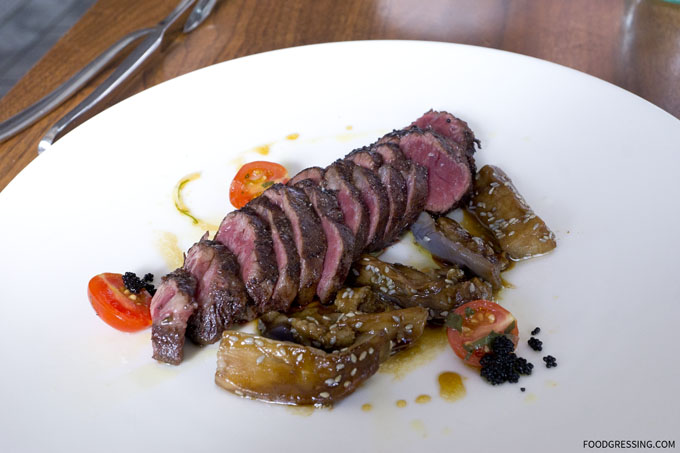 To finish off our fantastic meal was the Black Sesame Cake with rhubarb mousse, rhubarb pieces, raspberry sauce and white chocolate.  The dessert had a mix of sweet and tart from the rhubarb then rich and creamy from the white chocolate.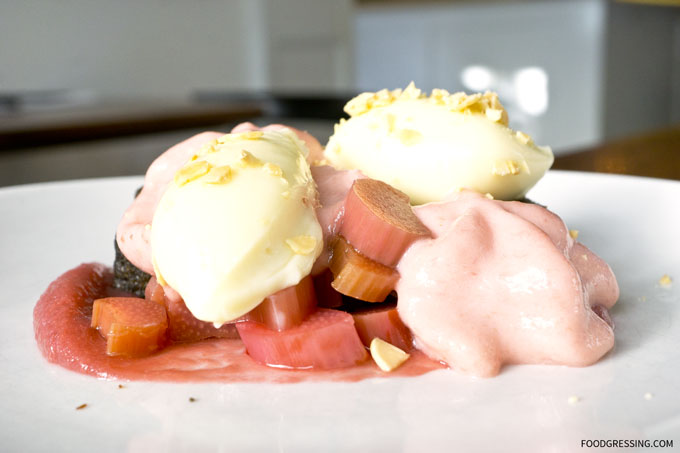 Service
Our 8-course meal took 2 hours and the service was very good despite the automatic 18% gratuity incurred as noted on the voucher.  The flow of the meal was on point and we didn't wait too long between courses.
Overall Impression
All in all, PiDGin's dishes were interesting, well-executed and overall delicious.  The dishes seemed be very carefully crafted and I appreciated their innovative takes on what we normally be just simple vegetable dish.  While PiDGin is not what would an everyday restaurant, I would glady return when I seeking an adventurous gastronomical experience.  Rating: 4/5
Website: www.pidginvancouver.com