Located in the heart of the Downtown Eastside, The Mackenzie Room is a contemporary farm-to-table restaurant offering a progressive, seasonal chalk board menu served family-style and featuring Pacific Northwest influences.
This past week and until February 17, Chef Sean Reeve has been offering his Date Night/Valentine's Day menu for tables of 2 priced at $50/guest with optional drink pairings. Each of the 5 dishes were inspired by Chef's favorite love songs and have not been featured on the seasonal chalkboard menu.
I was invited to try the Date Night menu (which I was very excited for!) Here's a look at what you can expect.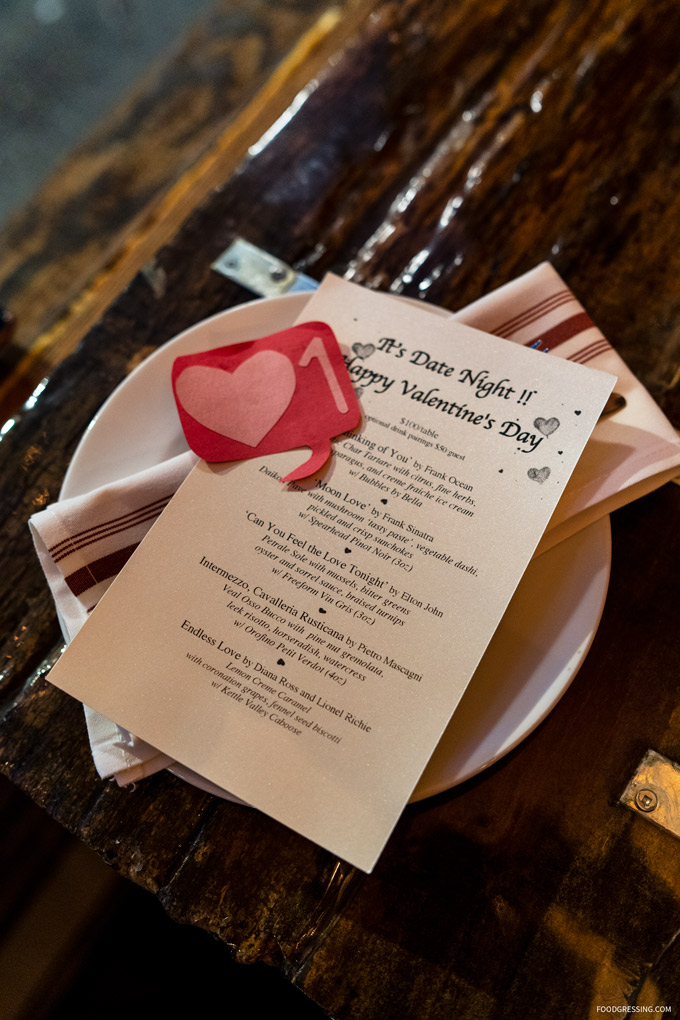 Disclosure: All food and drinks were complimentary. Opinions are my own.
First Course
Inspired by Frank Ocean's "Thinking of You," the first course was an Arctic Char Tartare with citrus, fine herbs, sea asparagus, and creme fraiche ice cream. Paired with Bubbles by Bella.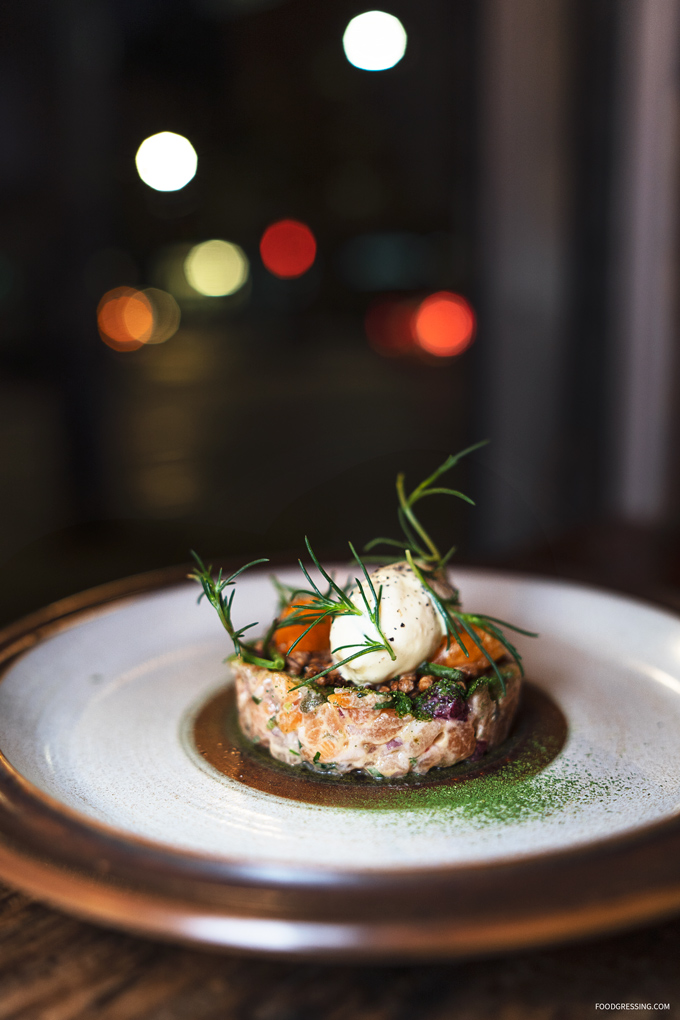 This was a good starter dish with citrus flavours that stimulated the appetite.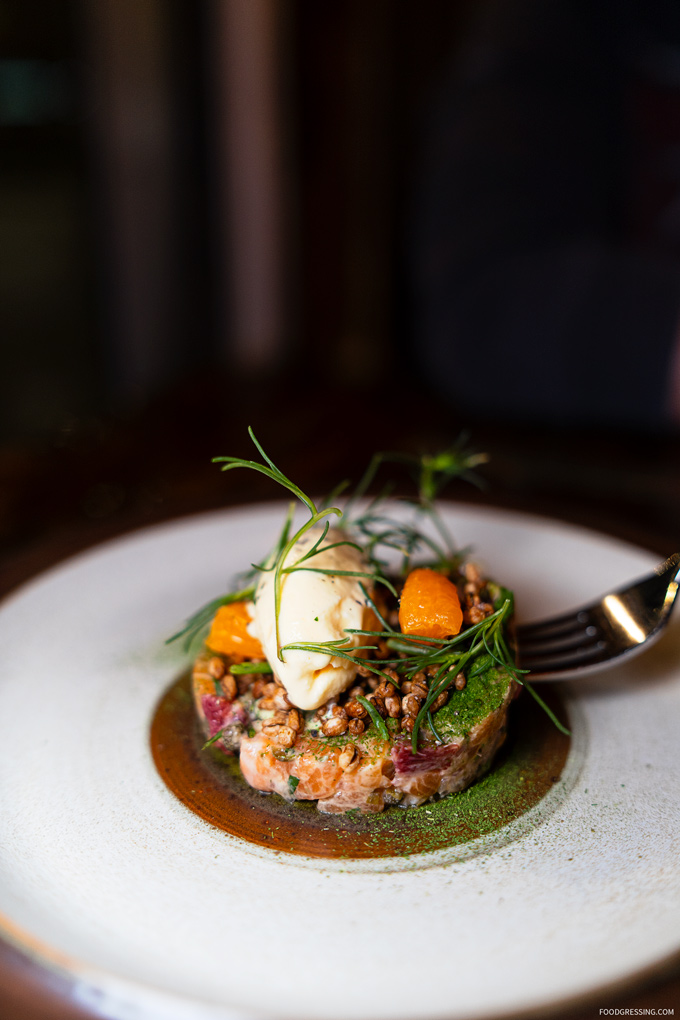 Second Course
Next was the Daikon Pave with mushroom "tasty paste," vegetable dashi, pickled and crisp sunchokes. Paired with a Spearhead Pinot Noir. This dish was inspired by Frank Sinatra's "Moon Love."
I thought this was quite a very memorable and complex dish with acidic flavours that really sent your taste buds on a journey.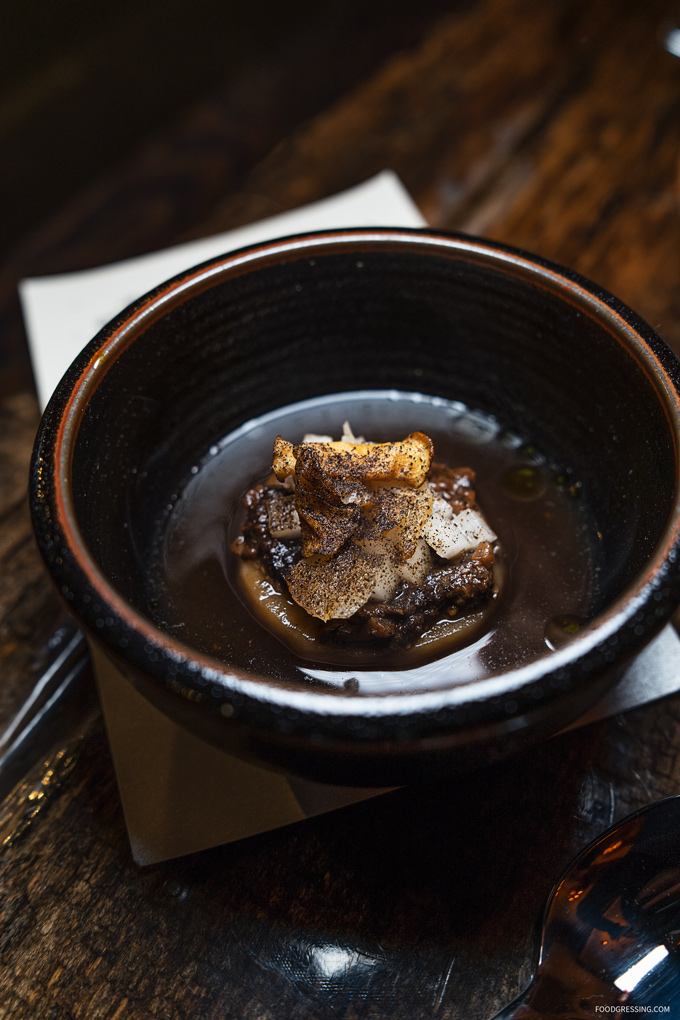 Third Course
Our seafood course was the Petrale Sole with mussels, bitter greens oyster and sorrel sauce with braised turnips. The pairing was a Freeform Vin Gris. The song that inspired this dish was Elton John's "Can You Feel the Love Tonight " – one of my favourite songs from The Lion King.
The sole was very meaty, butter and tender while the mussels were deliciously plump and juicy.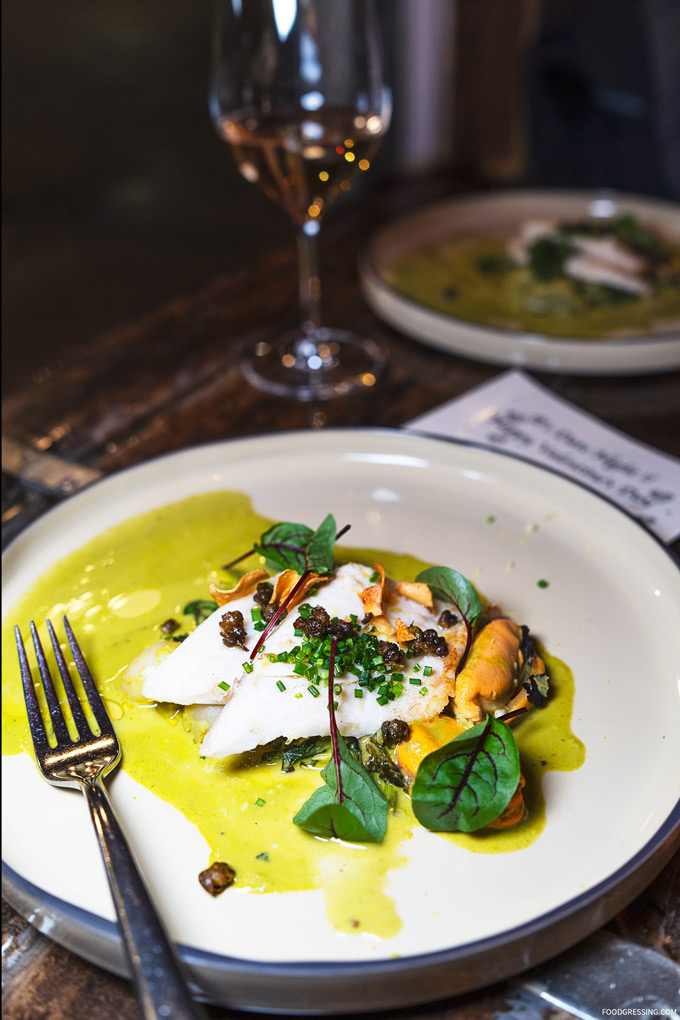 Fourth Course
The meat course was a Veal Osso Bucco with pine nut gremolata, leek risotto, horseradish and watercress. Paired with Orofino Petit Verdot. This dish takes inspiration from the opera: "Intermezzo, Cavalleria Rusticana" by Pietro Mascagni.
This leek risotto was very creamy and luscious which went well with the melt-in-your-mouth veal. The pine nut added some wonderful nutty flavours.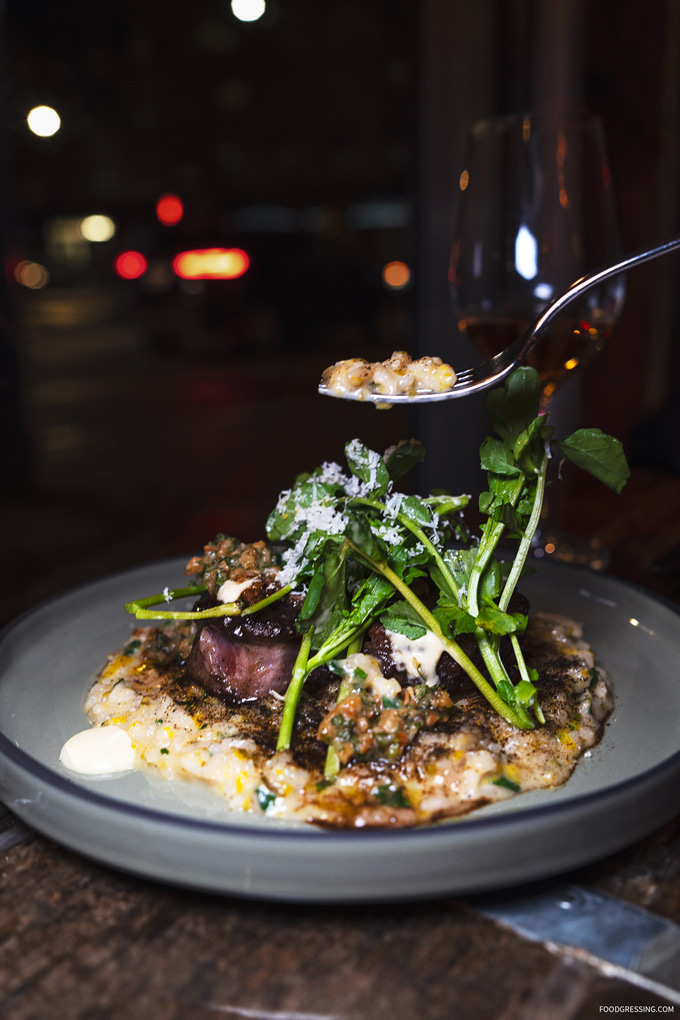 Dessert
To finish off a fantastic meal, a salute to "Endless Love" by Diana Ross and Lionel Richie. The dessert was a Lemon Creme Caramel with coronation grapes and fennel seed biscotti. This was paired with Kettle Valley Caboose.
I enjoyed dipping the biscotti into the lemon custard and enjoyed the crunchiness of the biscotti with the zesty lemon flavours.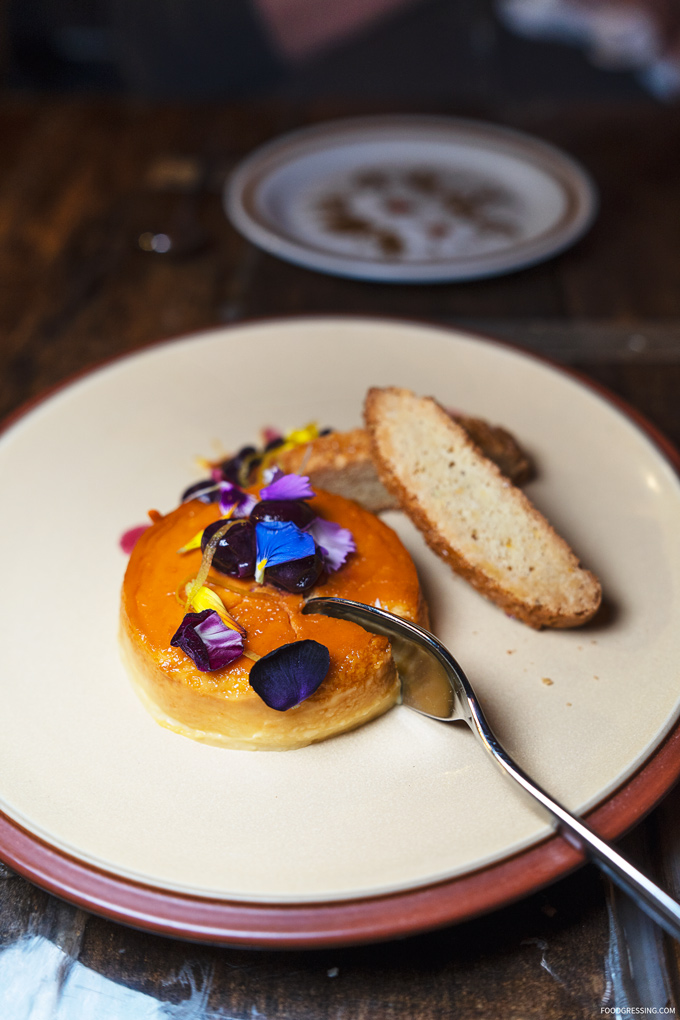 Overall Impression
The Mackenzie Room's Date Night menu was reallyh delicious and showcased Chef Sean's creativity PLUS it was a great value being priced at $50 per person. The menu ends tomorrow night and I would recommend enjoying it with your loved one(s).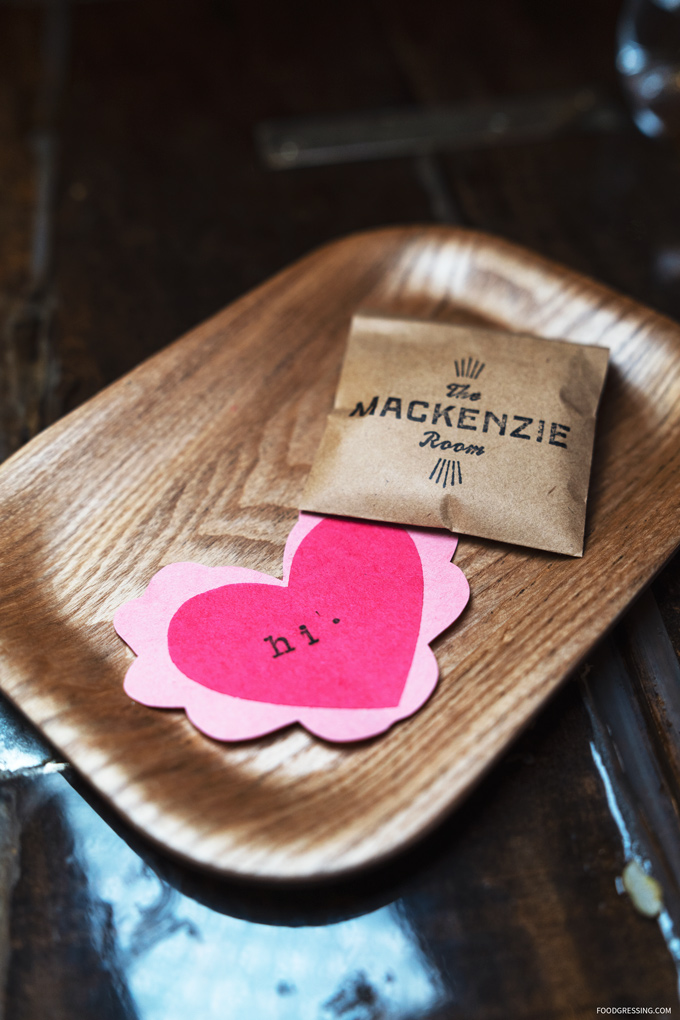 The Mackenzie Room
415 Powell St, Vancouver, BC
www.themackenzieroom.com