It's no secret that Chef Vikram Vij is a Canadian culinary icon. He's a restaurateur, celebrity chef, and cookbook author and has delighted high-profile individuals like the Royals with his food. I had never been to their location on South Granville but have sampled a few of Vij's dishes before at a Dine Out Vancouver event a few years ago. This past summer, a few friends and I made it a Girl's Night Out at Vij's new location on Cambie. And so one evening around 5 pm, we stood in line for about half and hour before the restaurant opened for our first dine-in experience at Vij's.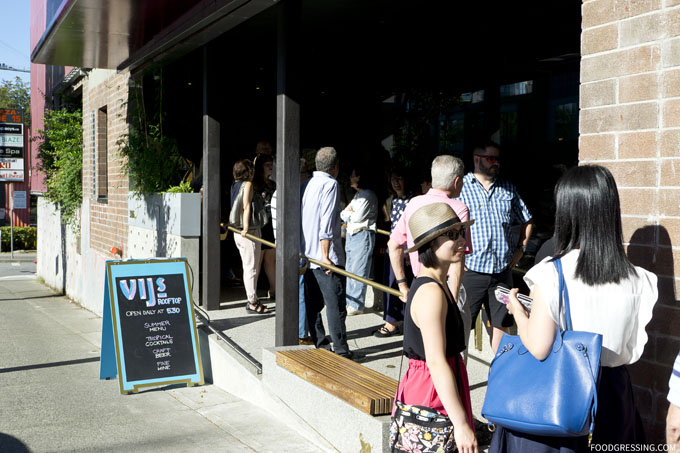 Exotic, Charming, Energetic
The interior of Vij's is spacious with a lounge area, a main dining area, and a rooftop patio. I thought the decor was exotic, charming and elegant with red and yellow hues as the primary colours. The energy in the dining room was high and the chatter was loud. Sometimes, I found it difficult to hear my friends at the same table!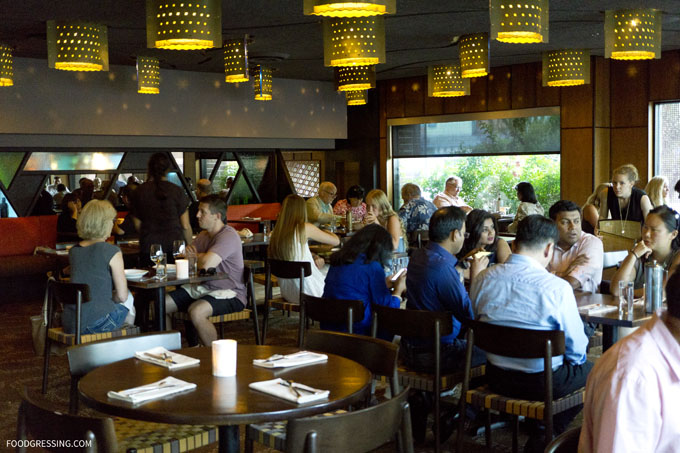 We also took a sneak peek at their rooftop patio which seemed like a nice space for summer dining.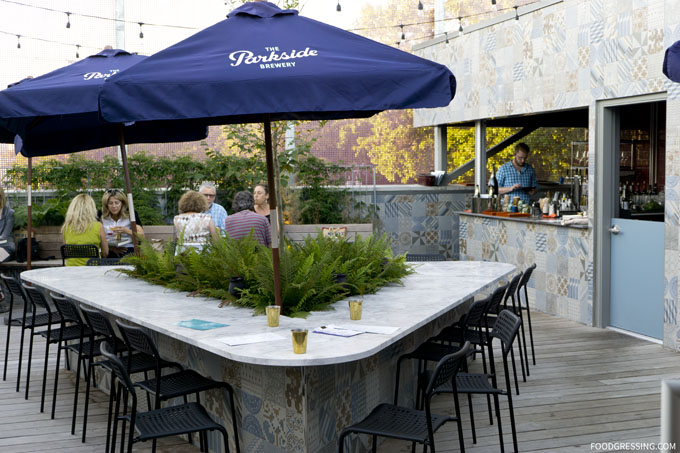 What We Tried
Mango Lassi ($5.50 each)
Meeru's Monarch Butterfly ($13)
Mutton ($14)
Cinnamon Shortribs ($29)
Lamb Popsicles ($29.75)
Naan, Gluten Free Corn Chapati (no charge)
We received a complimentary chai sample as we settled in as well as a few small bite appetizers.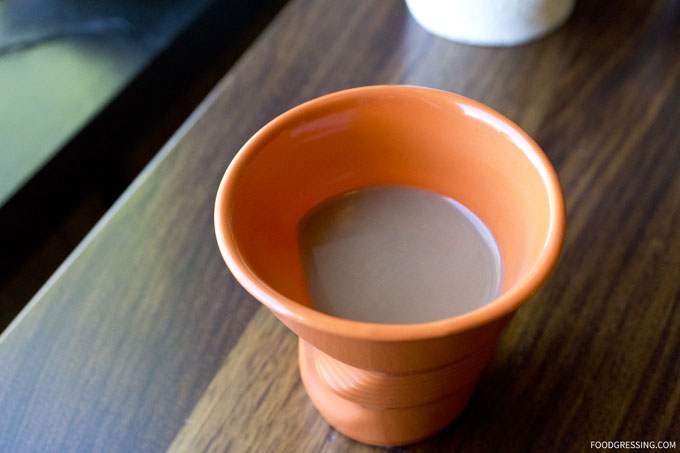 To start, we had a delicious glass of mango lassi (milkshake). Smooth, creamy and very refreshing. It was sweet enough to mask the sourness of the yogurt. Great way to clean the palate during the meal from Vij's flavourful and spicy-licious dishes.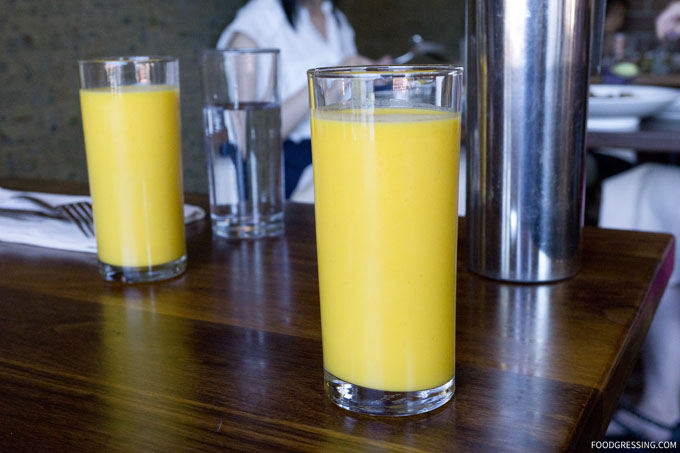 The complimentary naan was hot and fresh out of the oven. It was not so much a plain naan but was buttery, had some garlic flavour and topped with herbs.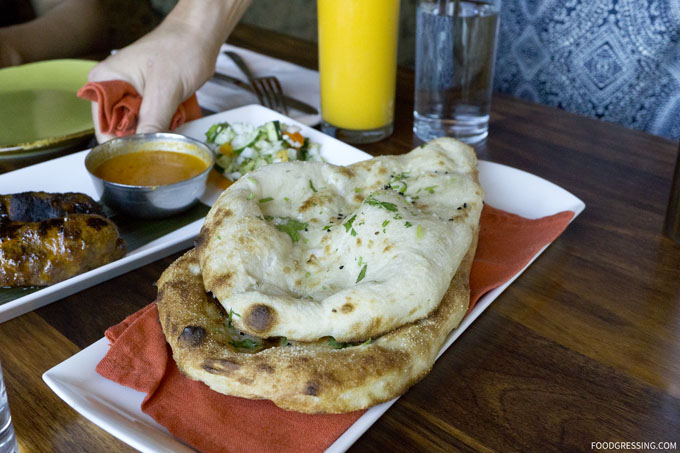 Crispy on the outside and light and fluffy on the inside. Delicious!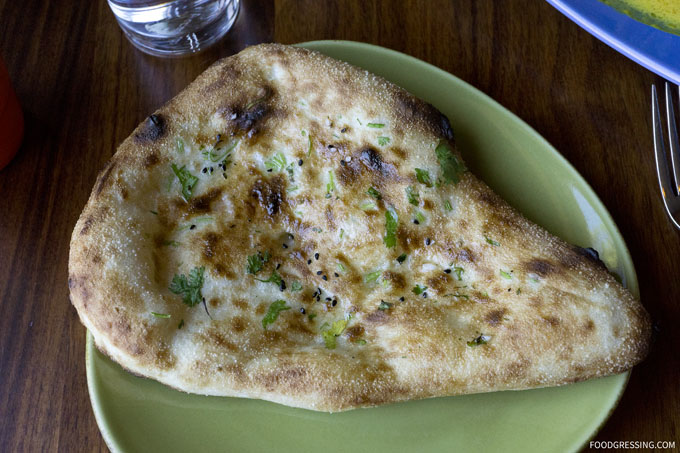 One friend is gluten-free and Vij's has a gluten free corn chapati which is an gluten-free alternate to naan.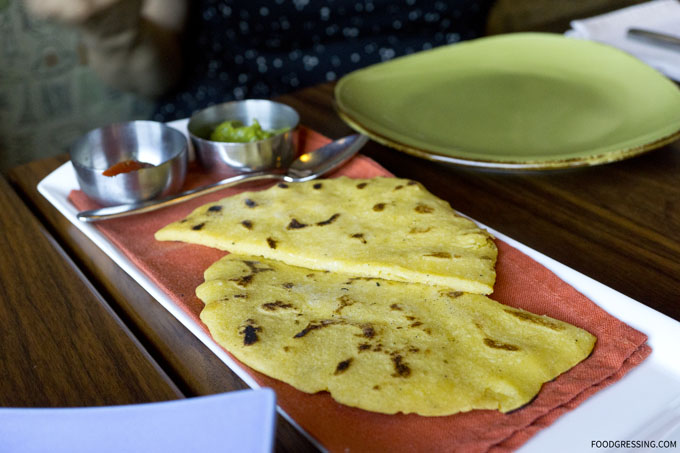 Our first starter was the vegan Meeru's Monarch Butterfly which had raw sugar and ghee braised squash with wood ear mushrooms. It was such a tasty appetizer starting with the thick squash slices that were crispy on the edges but tender on the inside. Then you've got a luscious, creamy sauce to go with it. It's a slightly sweeter appetizer and I would recommend it.
The story behind this top-selling Vij's appetizer is a bit fascinating. It is inspired by the plight of the Canadian monarch butterflies, whose population is threatened by deforestation in Mexico where they winter and from loss of their primary food, milkweed, due to herbicides. Their appearance is symbolized by the orange in the squash and the black in the woodear mushrooms. The blue plate is the sky and the saffron cream represents the sun. Beautiful, isn't it?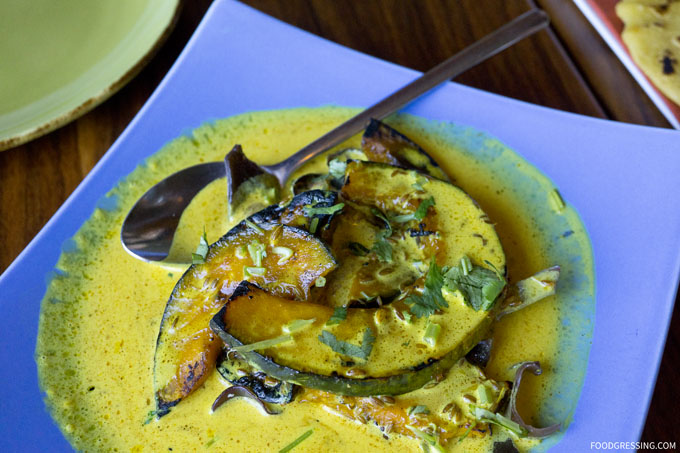 Our second starter was the Mutton kebobs with Bengali style curry. Simple, delectable but bold with spices. The meat was tender, juicy and very tasty.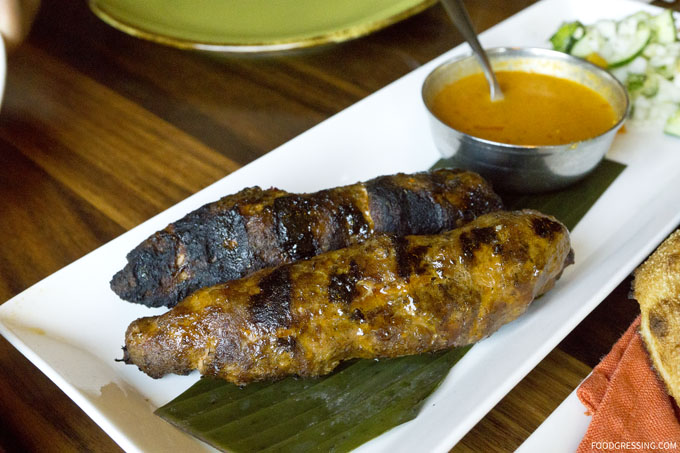 Moving onto mains, we had the infamous wine marinated lamb popsicles in fenugreek cream curry on turmeric and spinach potatoes. It's the most popular dish at the restaurant and understandably so. The lamb meat was grilled to perfection, tender and moist and fell off the bone nicely. The smooth, creamy curry sauce added more flavour to the lamb meat. It met my expectations for a much raved about dish.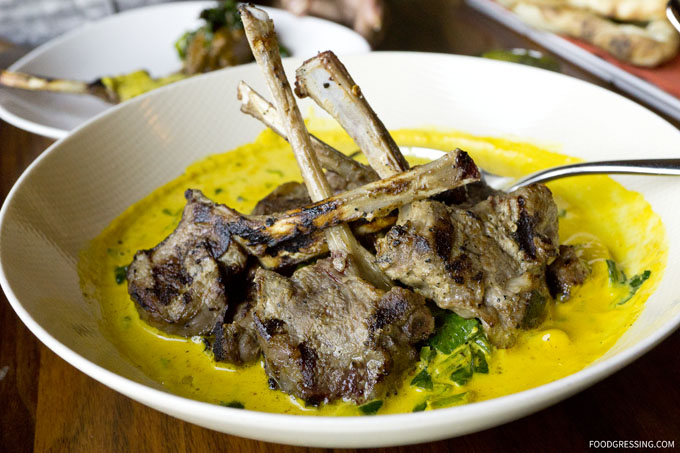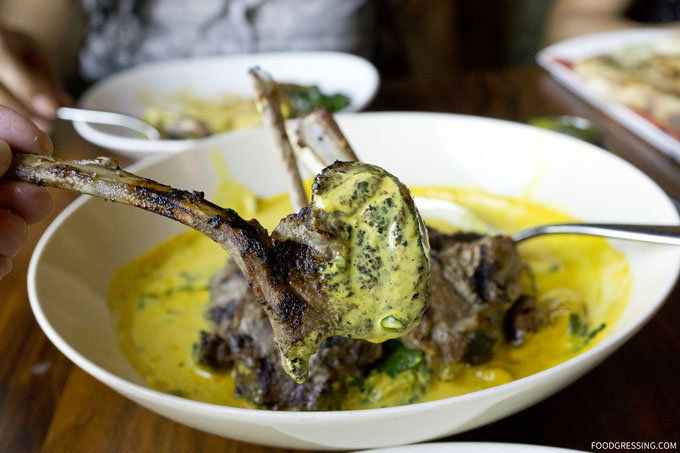 Our other entree was the cinnamon shortribs which was also very rich, flavourful and melt-in-your-mouth delicious. The cinnamon flavour was just right and not too overpowering.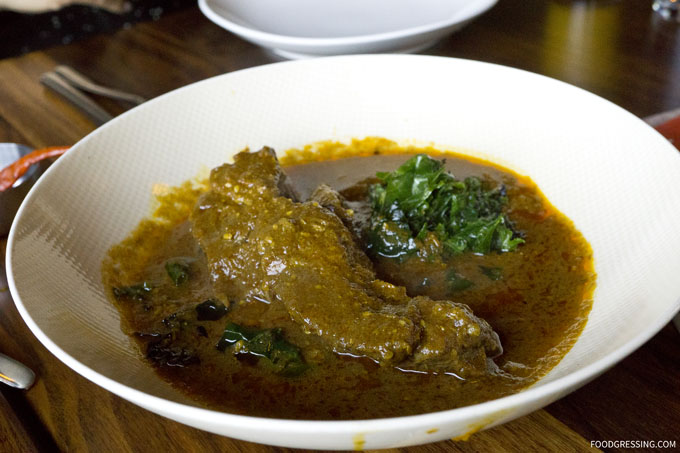 Service
I did think that Vij's servers were generally quite pretty – perhaps they hire a certain type? But anyhow, our server was excellent. She constantly checked on us, refilled our glasses, explained all the dishes. Exceeded my expectations given how busy the dining room was.
Overall Impression of Vij's
I must say that Vij's dishes take your taste buds on a journey with the beautiful combinations of spices and flavours. Your palate will certainly not be bored. Pricewise, a bit on the higher side but I was satisfied overall. Service was outstanding. Rating: 4/5
Website: vijsrestaurant.ca