Kishimoto Japanese Kitchen and Sushi Bar has been around for several years and is known for excellent sushi in a casual setting. Many customers have noted that they are a good budget-friendly alternate to popular, upscale Japanese restaurants, Miku and Minami. During the summer, my family and I went to Kishimoto with a few friends one evening for dinner. I was eager to find out whether it was worth the lineup and how their sushi fared against some of the finer Japanese restaurants in town.
Kishimoto Menu
Kishimoto's menu is extensive and photos of it can be found on their Facebook page. They offer uramaki rolls (rice on the outside), rice & teriyaki, sushi combos, tempura, hosomaki rolls (seaweed on the outside), nigiri, oshisushi (pressed box style sushi), sashimi, donburi (sashimi on rice), speciality rolls, and more.
Small Space
Kishimoto is a rather small restaurant where tables are generally quite close to each other. Seating by the sushi bar seems even more comfortable than sitting at one of the dining tables.
What We Tried
Our party of five had the following:
Fried

Karaage ($8.50)
Ebi tempura ($10.95)
Ebi mayo 3 ways ($12.95)

Special Roll

Hamachili roll ($11.95)
Dragon roll ($11.95)

Uramaki Roll

Chopped scallop roll ($4.95)

Oshisushi

Smoked salmon oshi x 2 ($4.95 each)
Salmon oshisushi ($13.95)
Unagi oshisushi ($13.95)
Saba oshisushi ($15.95)
Spicy tuna oshisushi ($13.95)
Fried Dishes
To start, we had the chicken karaage which was tossed in a sweet garlic tamari sauce. It was wonderfully crispy on the outside and juicy and tender on the inside. I also appreciated that it wasn't too greasy. Excellent karaage here at Kishimoto.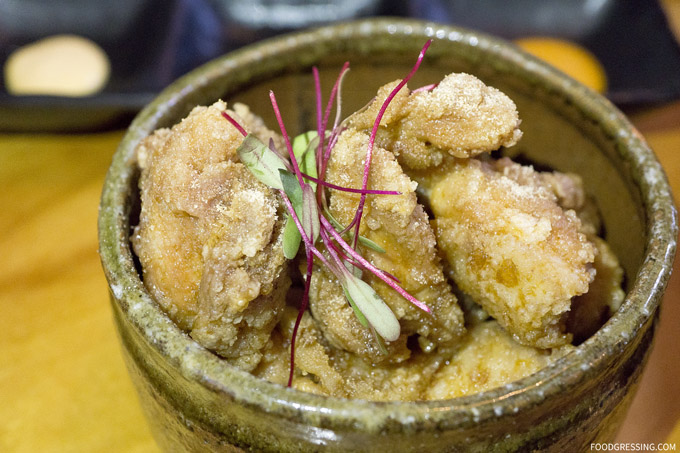 The ebi tempura had five pieces of deep-fried prawns. The batter on the outside was nicely crunchy while the prawn was moist and hot. The pieces weren't too greasy which is nice.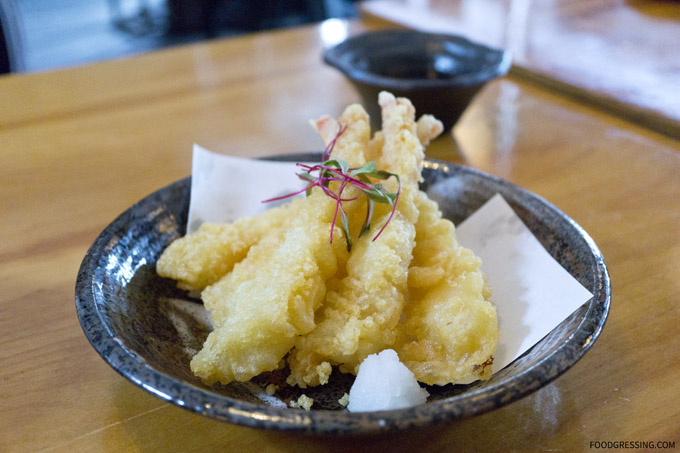 We also had the ebi mayo which was enjoyed with 3 kinds of dipping mayo: basil pesto, yuzu and chili. Like the ebi tempura, the batter on the outside was on point being crunchy but not too greasy.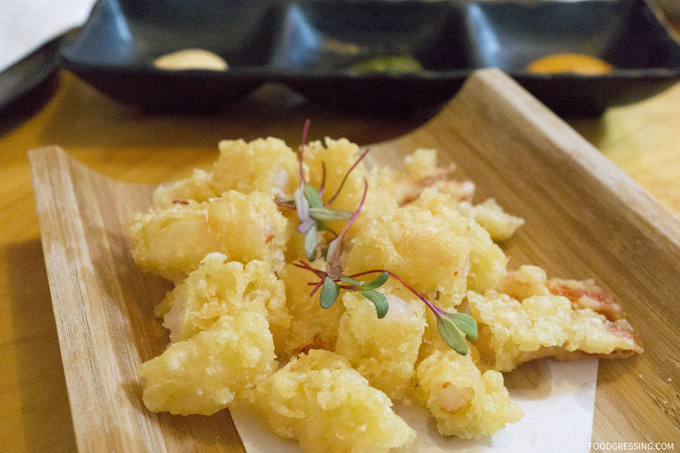 Special Rolls
The Hamachili Roll was a beautifully presented dish starting with sliced daikon put together to look like a windmill. You've got cilantro, tuna in the middle of the roll and hamachi on top with jalapeno. A unique and creative sushi roll with a clean taste but small spicy kick.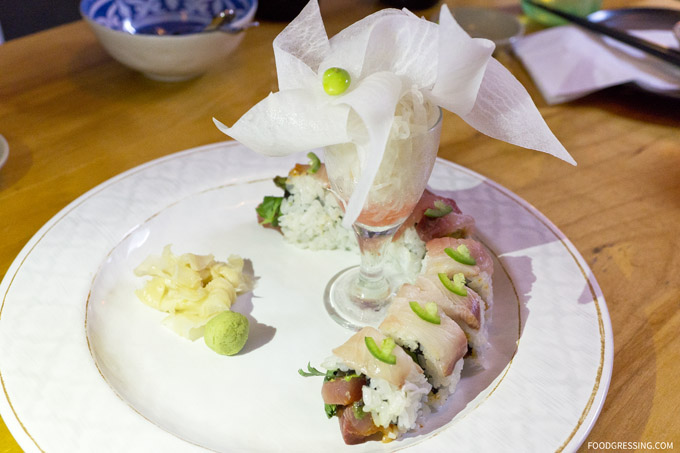 The Dragon Roll is made up of 2 tempura prawns, unagi sauce, sliced avocado and unagi on top. The sushi tastes mostly of the unagi sauce which is slightly sweetened.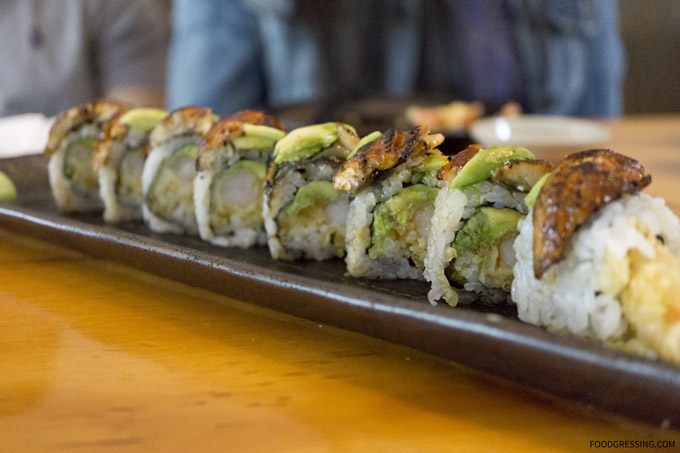 Uramaki Roll
The chopped scallop roll was average. Nothing to write home about in terms of presentation and taste but not bad either.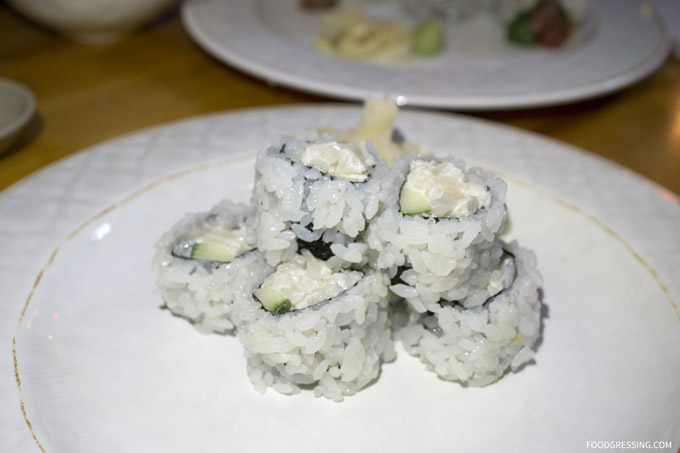 Oshisushi
One of the more interesting oshisushi offered at Kishimoto is the smoke infused salmon oshi. Check out my video below!
When the lid was lifted, a really beautiful fragrance emanated from the sushi. I know some people might think it to be gimmicky, but I quite liked the theatrics of it all.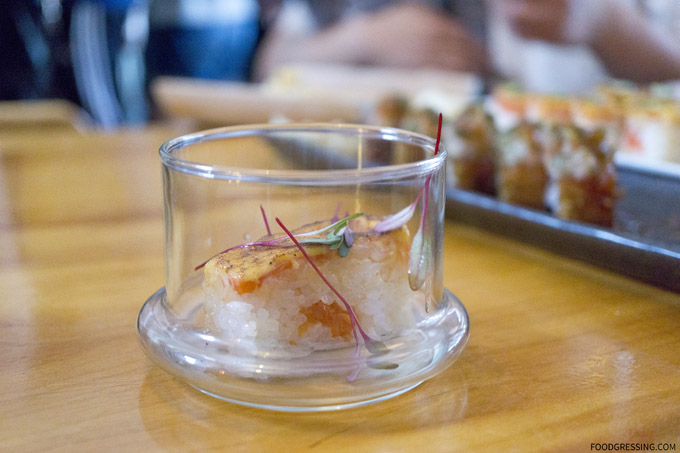 Other oshisushi that we ordered include salmon oshi (wild salmon), unagi oshi (BBQ eel), saba oshi (mackerel), and spicy tuna (chopped albacore). I thought that their oshi sushi was comparable to finer restaurants, Miku and Minami. The rice was on point: around body-temperature warm and not overly tangy or sweet. You could pretty much feel each grain of rice.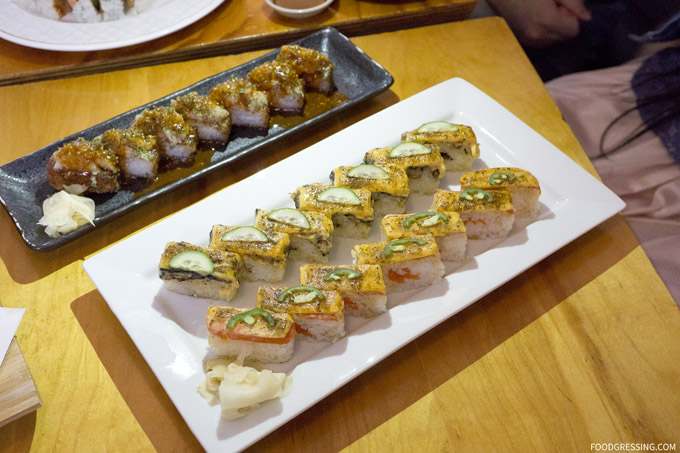 The salmon oshi and spicy tuna oshi were melt-in-your-mouth delicious and didn't disappoint. The salmon and tuna were seared perfectly.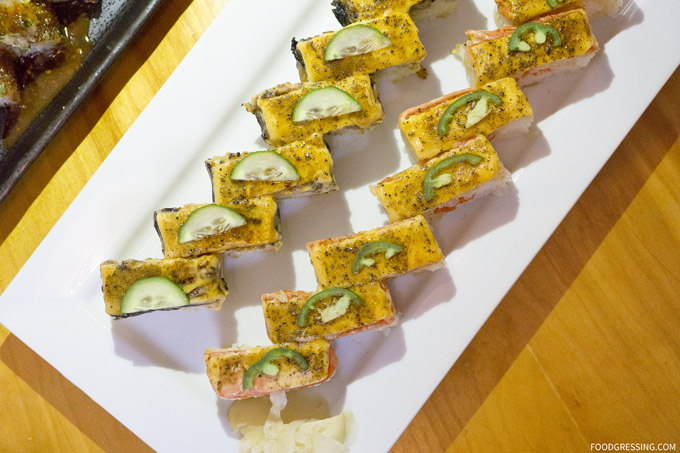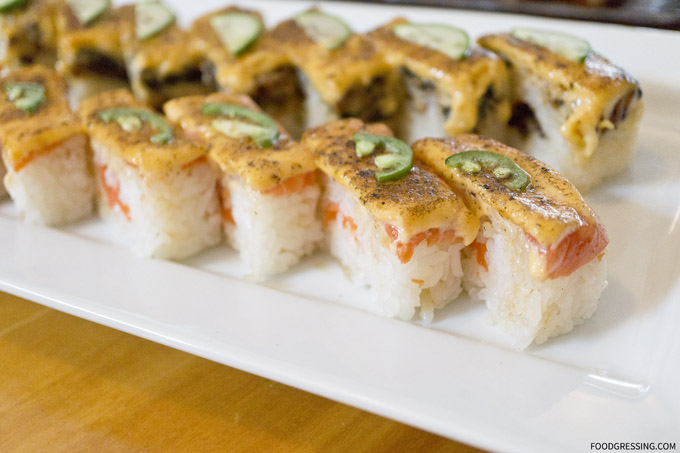 While I preferred the salmon and spicy tuna oshi sushi, the saba oshi was good too.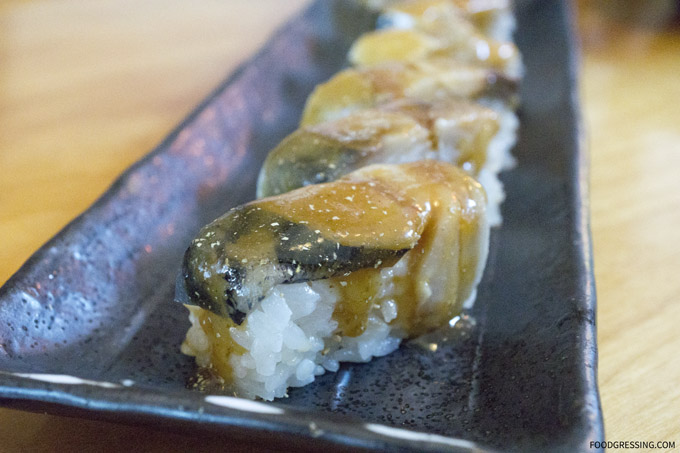 I quite liked the crunchiness of the BBQ eel and the sweet flavoured creamy sauce.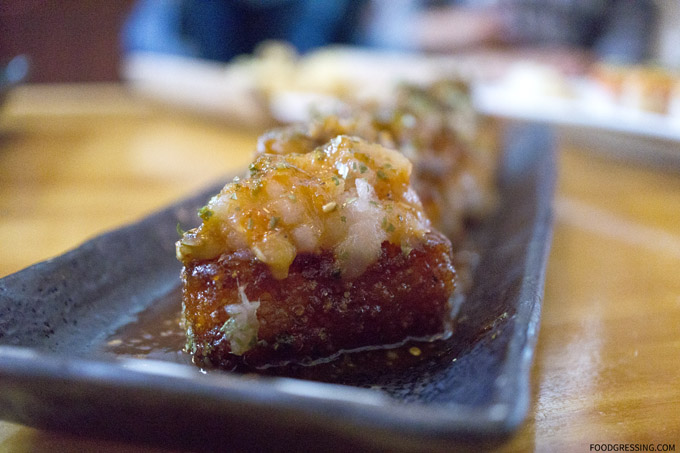 Overall Impression of Kishimoto
My first dining experience at Kishimoto did not disappoint. We tried several varieties of the oshisushi and they were excellent. If you want a no-frills, solid sushi experience that won't break the bank, Kishimoto is a good choice. Rating: 4.5/5
Facebook: @kishimoto.restaurant