The intersection between Kingsway and Fraser is home to many popular Vancouver eateries. But one Mexican restaurant, Sal Y Limon, draws the crowds so much that they are famous for their line-ups. One lazy afternoon this past summer, my family and I ventured to Sal Y Limon for some hearty Mexican fare.

Vibrant, Welcoming Space
We went during an off-peak time between lunch and dinner and there was still a small line-up. The restaurant is spacious and has a lively, welcoming atmosphere. There are lots of tables for different group sizes and counter seating by the window.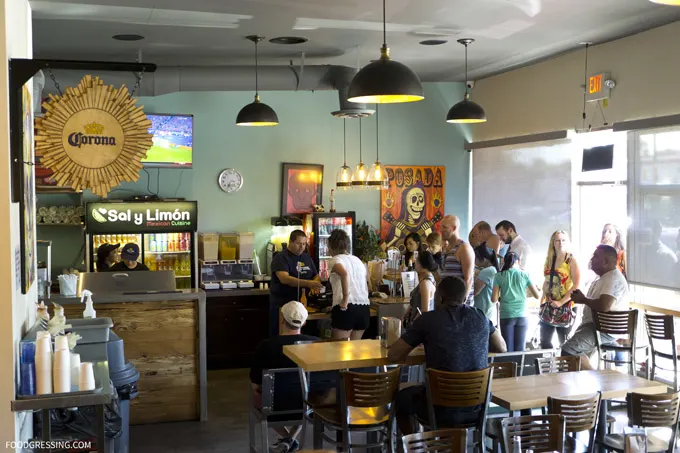 Along the walls, you'll find some vibrant, eye-catching art created by local Mexican artists. I really like how these art pieces added to the atmosphere of the restaurant.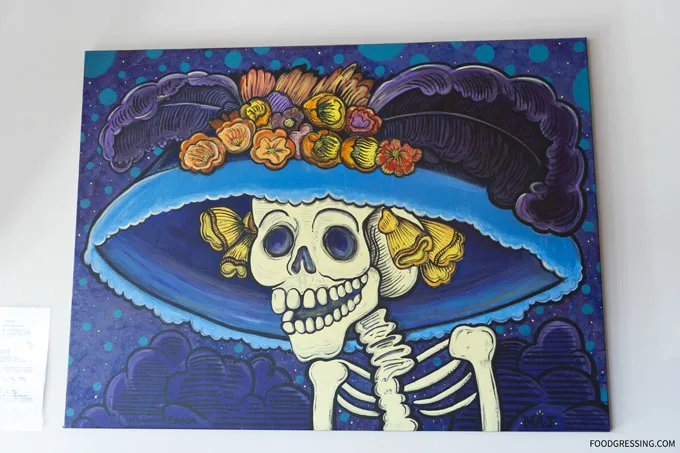 The owners of Sal Y Limon intended on the restaurant as a place where everyone would feel welcome. It has quite a community-feel and is very family-friendly. The little ones can enjoy themselves with a decently-sized elevated playing area that includes a play kitchen, workshop and other small toys.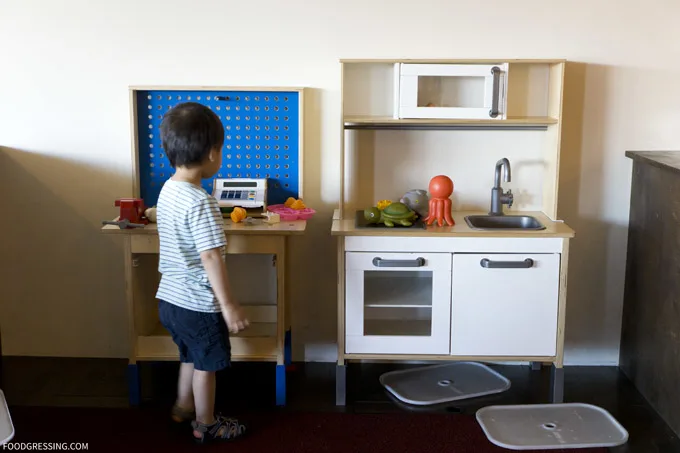 To enhance your meal, there is a self-serve salsa bar featuring salsas of different spiciness levels. These include jalapeño, avocado, chipotle and more.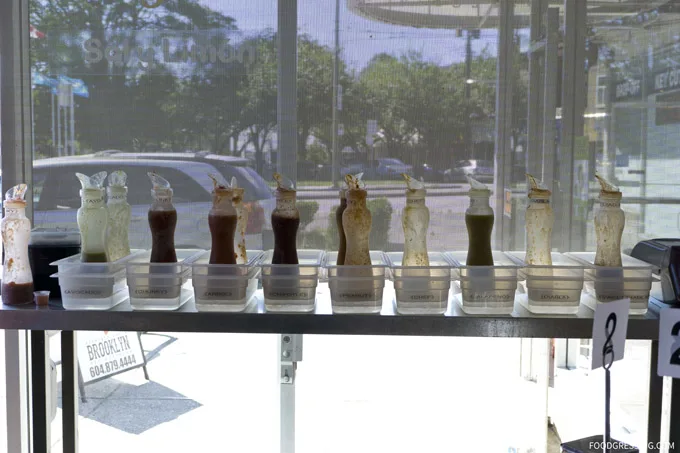 Sal Y Limon Menu
On the menu at Sal Y Limon are burritos, tortas, tacos, quesadillas, huaraches, taquitos and more. There are gluten free, vegetarian and vegan options available. To wash it all down, you can get an authentic Mexican horchata. Dessert choices include churros and tres leches cake. A meal would probably cost you around $10 – $15 per person. The menu is fully available online.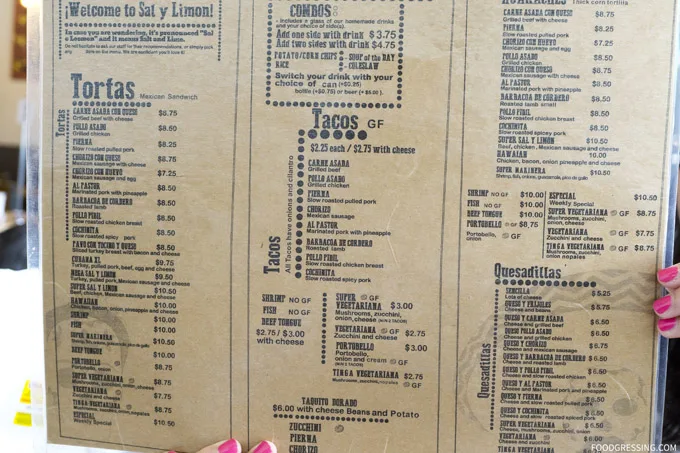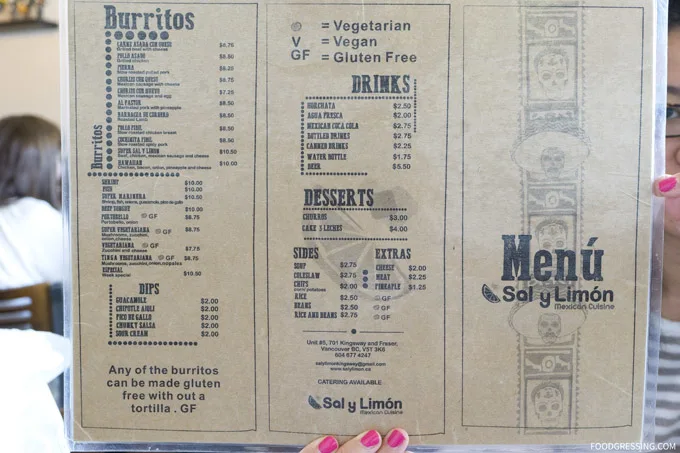 What We Tried
Tacos ($2.50 each, *$2.75 each)

Carne Asada (grilled beef)
Chorizo (Mexican sausage with cheese)
Barbacoa de Cordero (roast lamb)
Pollo Pibil (slow roasted marinated chicken breast)
Pollo Asado (grilled chicken)
Pierna (slow roasted pulled pork)
Cochinita (slow roasted spicy pork)
Shrimp (battered, deep-fried shrimp)*
Fish (battered, deep-fried basa)*
Lengua (beef tongue)*

Quesadilla combo ($9)
Tres Leche cake ($4)
The tacos come as 4-inch corn tortillas with onions and cilantro. In general, I thought the tacos were very tasty. The tacos that stood out the most were the ones with slow-cooked meat: pierna (pulled pork), cochinita (spicy pork) and pollo pibil (chicken breast). These were more melt-in-your-mouth delicious. I recommend them.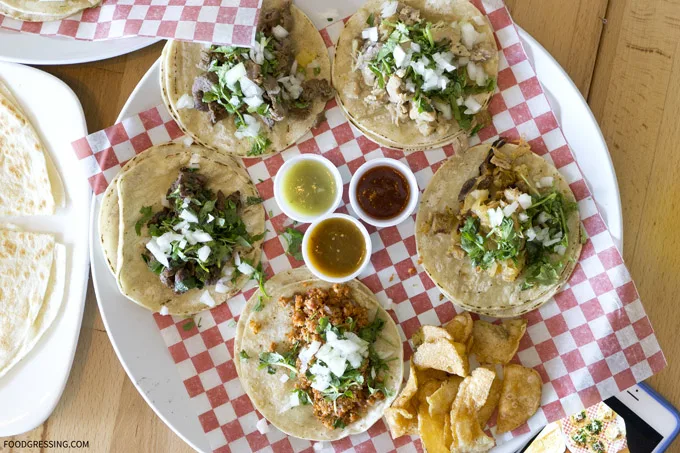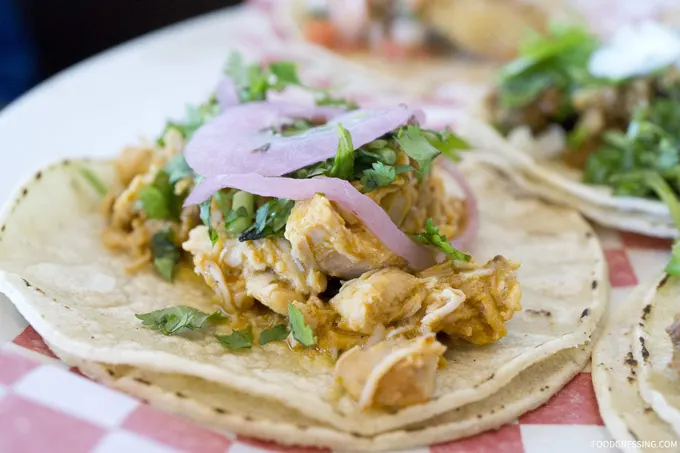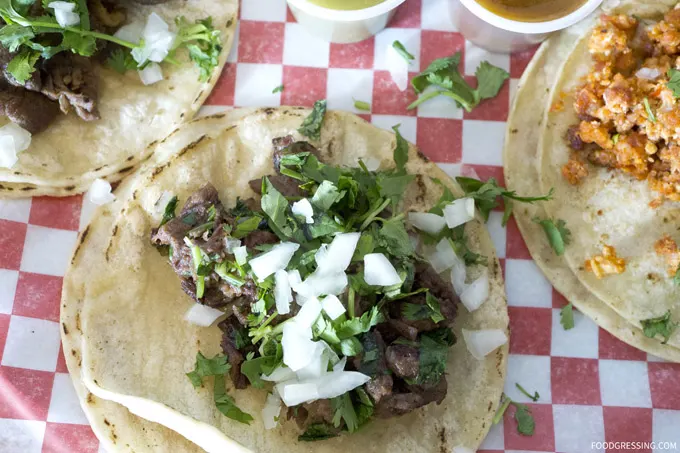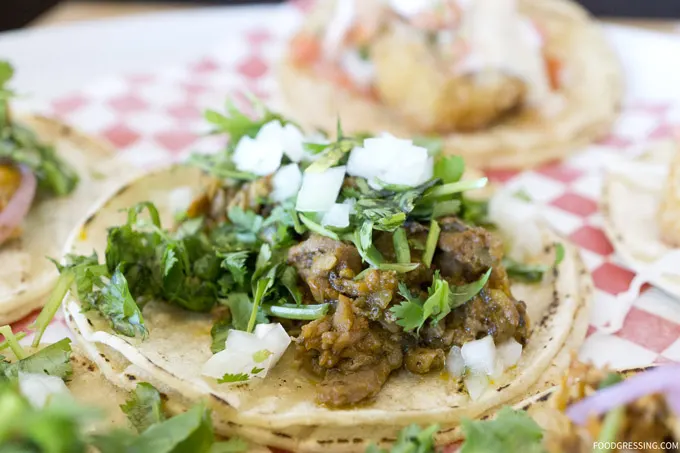 However, I didn't particularly like the battered, deep-fried shrimp and basa. The batter was a bit bland and wasn't particularly crispy. I would not order these ones again.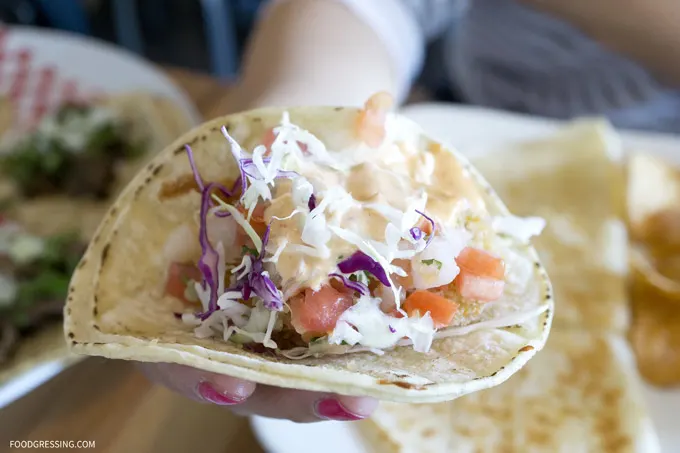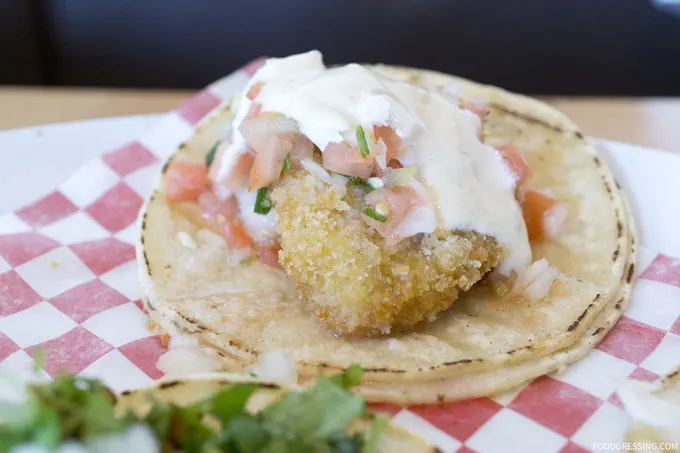 We also got a simple cheese quesadilla which comes on 10-inch flour tortilla. We combo-ed it up with a side of chips and drink. The quesadilla had appropriately melted cheese and the house-made chips were tasty but very greasy.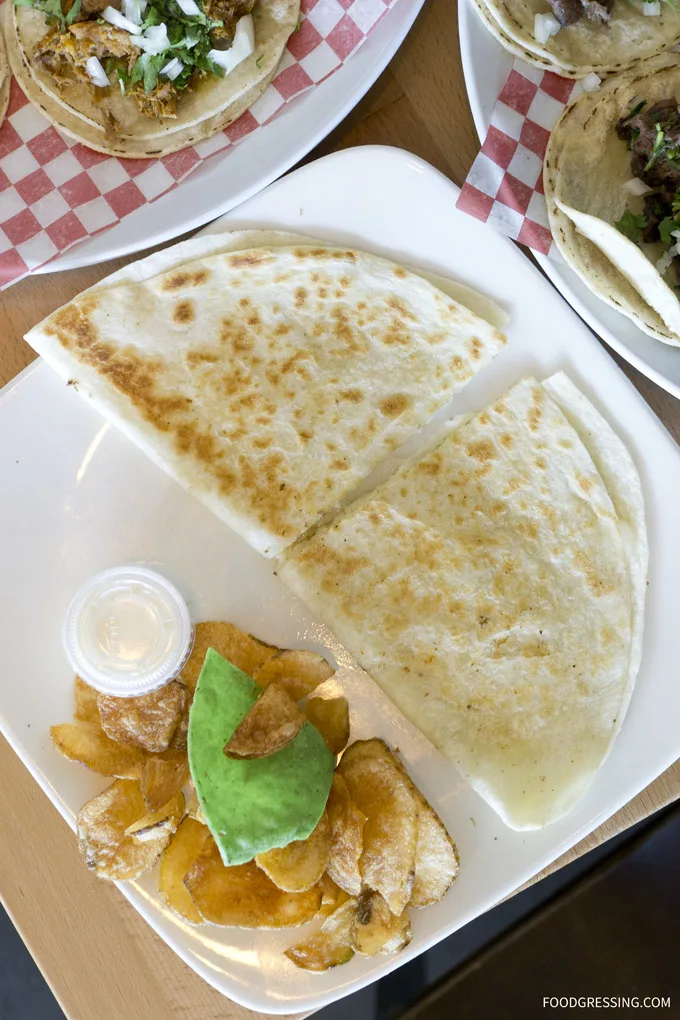 As you can see from the photo, the chips were quite greasy!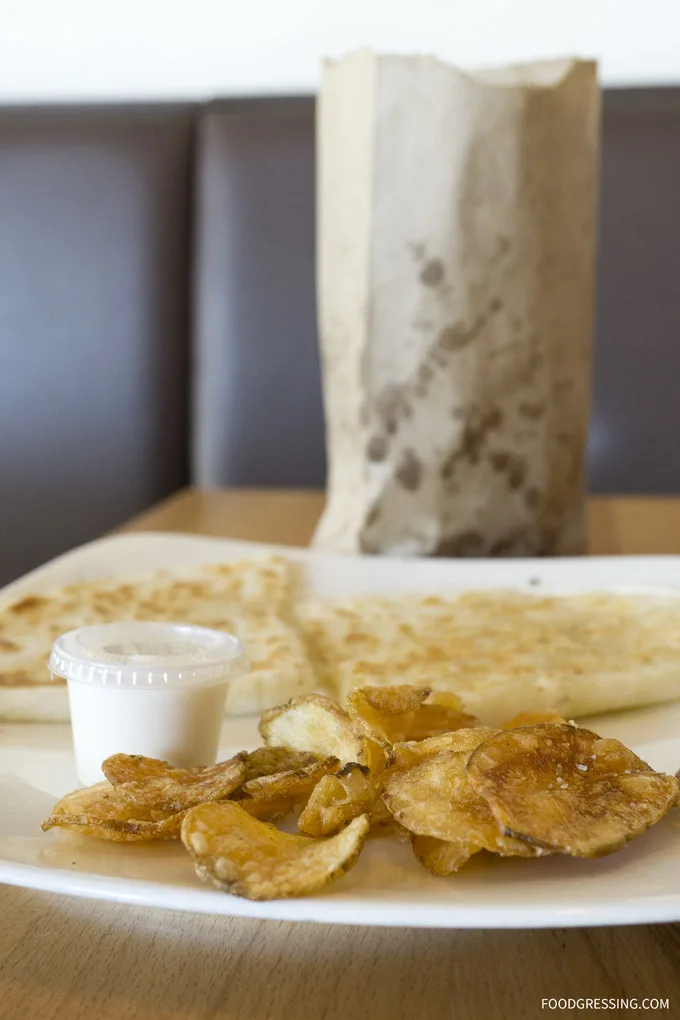 To finish off a delicious meal, we had a tres leche cake, which is traditionally a sponge cake that has been soaked in three kinds of milk: evaporated milk, condensed milk, and heavy cream. The cake was nicely moist but not soggy despite being soaked in milk. It's really quite a decadent treat that is very sweet.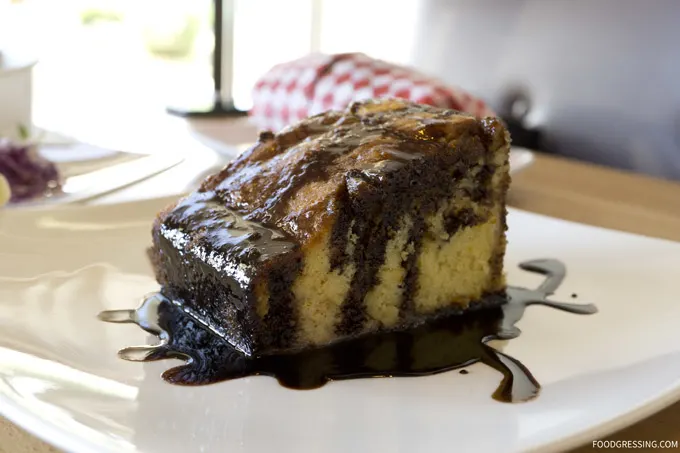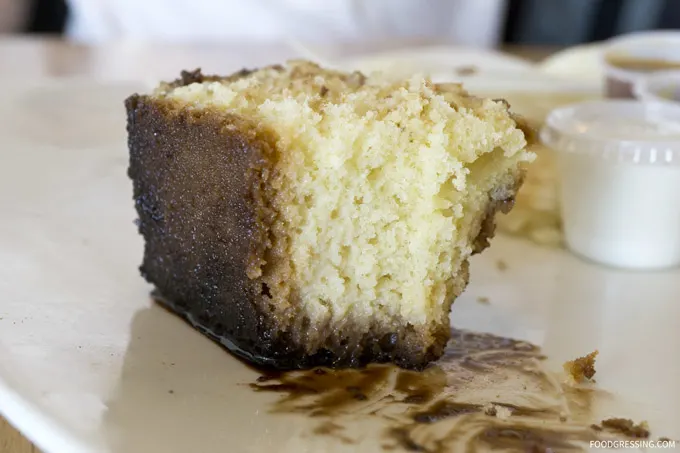 Overall Impression of Sal Y Limon
If you are looking for some hearty Mexican fare with big portions, is easy on the wallet and in a warm and inviting atmosphere, look no further than Sal Y Limon. The slow-cooked meat tacos seemed the tastiest to me and I would recommend them. Rating: 4/5
Website: www.salylimon.ca