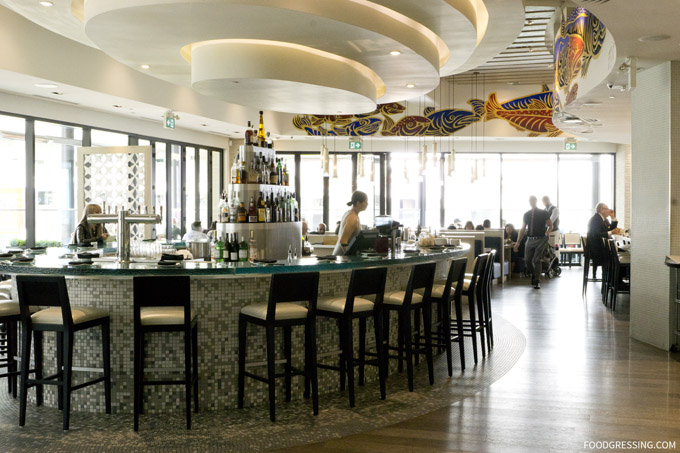 Someone recently asked me for Japanese restaurant suggestions for out-of-town guests and I immediately named Miku and sister restaurant Minami as go-to-places. When it comes to Japanese restaurants in Vancouver, I would consider them to be at the top. Known for innovative Aburi-style (sear-torched sushi), the chefs at Miku combine traditional Japanese flavours with West Coast influences to create a one-of-a-kind dining experience. I went to Miku for lunch several months ago and here is my overdue review of the dining experience.
Trendy & Beautiful
I'm a huge fan of Miku's casual, trendy and energetic ambiance. To go along with this one-of-a-kind dining experience is a one-of-a-kind dining location. Miku is located along the Burrard Inlet next to Canada Place which means you can enjoy breathtaking waterfront meals during your meal. In my opinion, one of the best spots to sit at Miku is at the sushi bar because you can watch the sushi chefs at work.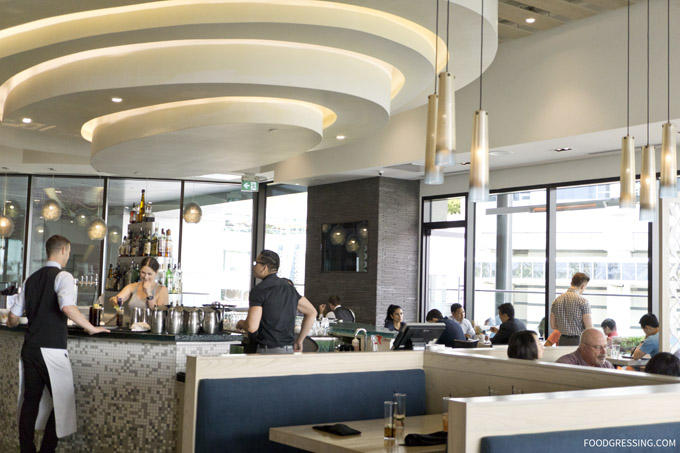 What We Tried
For lunch, my husband and I ordered the following items:
Aburi sushi selection ($22)
Aburi chirashi tart ($22)
Pan seared scallops and prawns ($24.50)
It was so much fun watching the searing of the sushi. I managed to capture the process in the video below:
First, a light direct sear brings out the natural flavours of the fish. Then, signature sauces are applied for additional flavours. The Aburi sushi selection is a must-try at Miku and 8 sushi pieces. The flavours are just amazing and the sushi is just soft and smooth.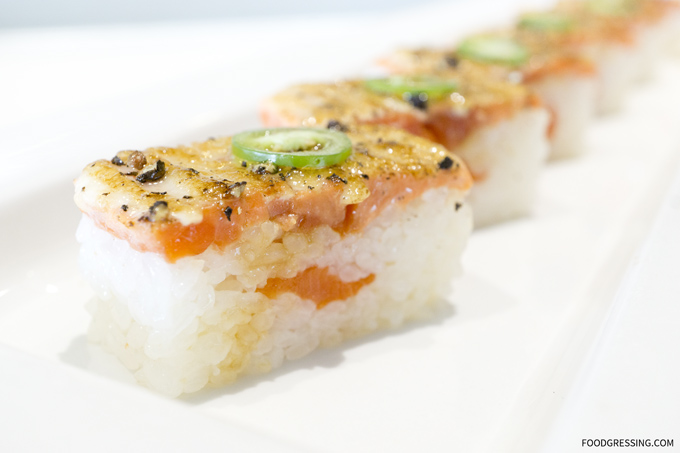 The Aburi chirashi tart is a culinary masterpiece. It is made up of layers of sushi rice, spicy tuna, avocado, sockeye salmon, Miku sauce, flame seared and topped with prawn, scallop, tobiko and ikura. Flavourful, beautifully presented and exclusive for lunch.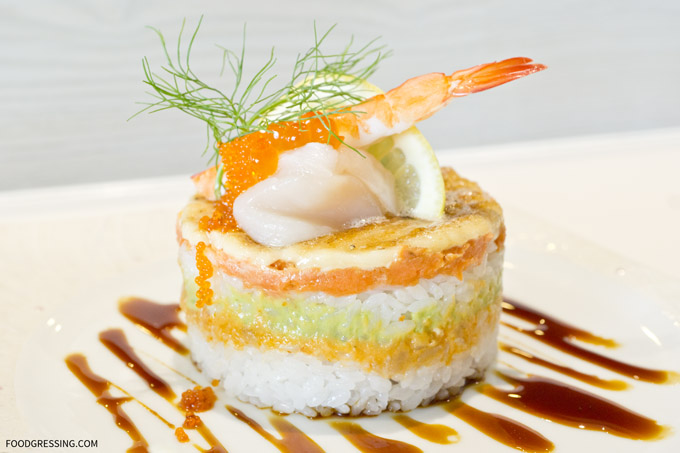 The Oceanwise pan seared scallops and prawns came on a sizzling skillet and was so much YUM! It came with a beautiful mix of sugar snap peas, baby bok choy, kinpira-gobo, romaine lettuce, radish, yuzu-herb puttanesca, and soy glazed organic brown rice. I loved how the scallops were juicy, meaty and tender.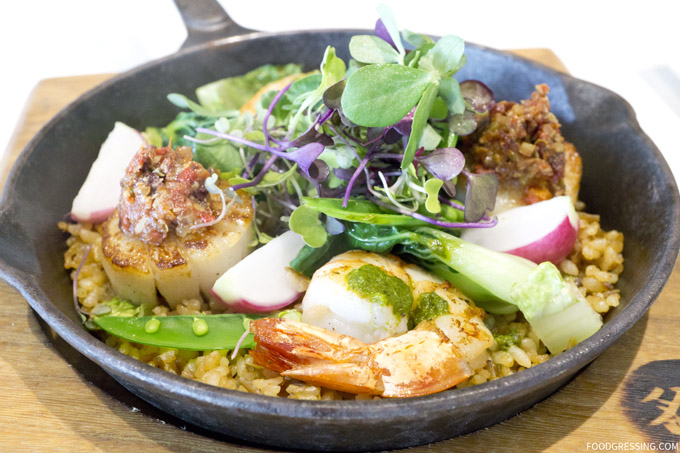 Overall Impression of Miku
Needless to say, I'm loved dining at Miku. Amazing flavours, beautiful presentation and oh-so-good. Service was first-class. Rating: 5/5
Website: mikurestaurant.com