This year, Air Canada's enRoute Magazine named Vancouver's very own Kissa Tanto as Canada's Best New Restaurant. Kissa Tanto beat out 6 other nominees in Vancouver and 35 nationwide to take the title. The team behind Kissa Tanto is no stranger to the restaurant industry: they also run Bao Bei, another highly acclaimed Chinese-French fusion restaurant in the area. The news of Kissa Tanto being a hot new restaurant spurred me to band together with five fellow food bloggers (Sherman of Sherman's Food Adventures; David of Picky Diner; Diana of Foodology; Kristina of Drunken Noms; Maggi of Vie A Maggi) to try them out. The reservation openings were very limited and we had to wait over three weeks for a suitable time slot to accommodate our group of 6. And so this month, we got together one evening for a gastronomic dinner featuring Kissa Tanto's unique Italian-Japanese fusion cuisine.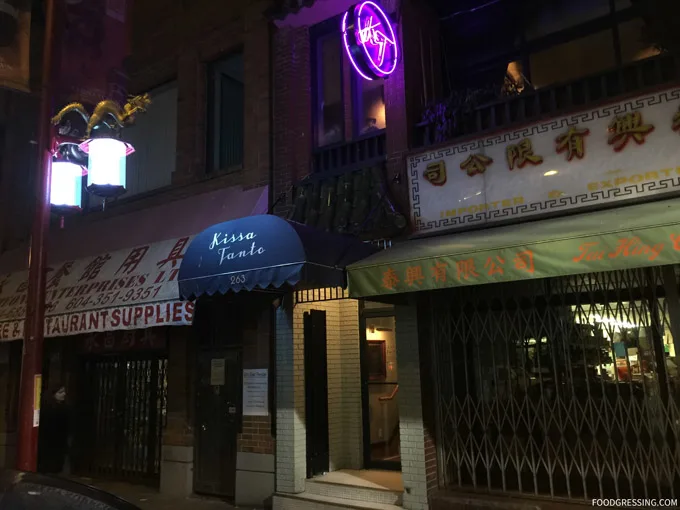 Sexy, Sleek Lounge
Inspired by 1960s Tokyo jazz bars, Kissa Tanto is an upstairs lounge-type of restaurant with a bar seating and mostly two or four-person tables. There is just one round table in a c-shaped booth that can accommodate 6 people, which is the one we occupied. It was a booth that was tucked at one of the restaurant and away from most of the other diners. We quite enjoyed the fact that we were mostly isolated given the ruckus we raise in our food photography.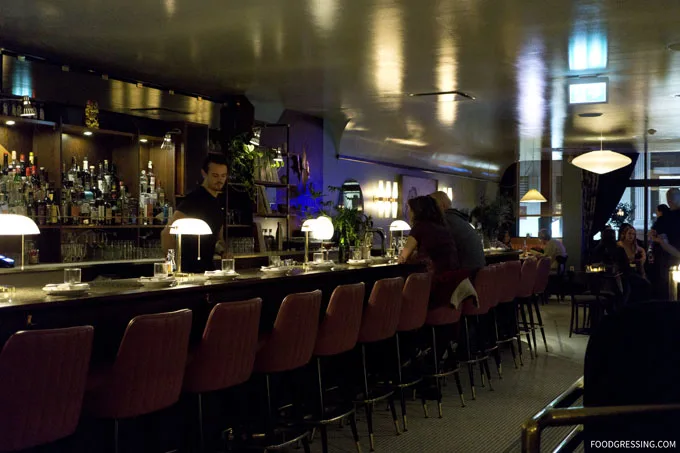 What We Tried
We ordered 13 dishes between the 6 of us:
"To Begin With"

Tonno Mantecato ($21)
Octopus salad ($19)
Frittelle di melanzane ($14)
Terrina Frita ($11)

"Tender to the Tooth"

Tajarin ($25)
Casarecce ($19)
Pork lasagne ($29)

"Sharing is Caring"

Ocean perch ($40)
Beef cheeks ($33)
Lamb shoulder ($33)

Dessert

Flour-less chocolate cake ($12)
Yuzu Cream ($9.50)
Tiramisu ($10)

Drink

Hot water with a lemon wedge (no charge)
*Prices are for per dish.
"To Begin With"
Our first appetizer was the Tonno Mantecato – a confit Albacore tuna with smoked potato, furikake (dry Japanese seasoning), bruschetta and tobiko (flying fish roe). Interesting combination of Italian (bruschetta) and Japanese (furikake and tobiko) elements. There some fun play in textures from the crunchy furikake and the tobiko toppings. An overall light dish with a mix of some salty, nutty, earthy, briny flavours.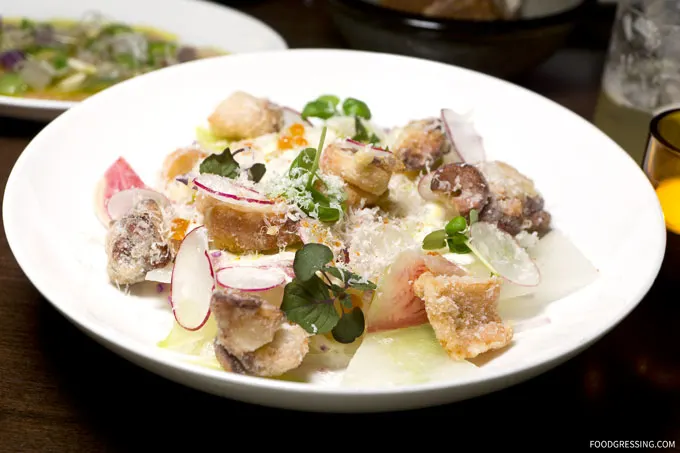 Next was the Octopus Salad with a crispy octopus, citrus mayonnaise, daikon, radish, basil, ikura (salmon roe), and parmesan. This was a cold appetizer with bright flavours. The octopus was reasonably tender and just about the right amount of chewiness in my opinion.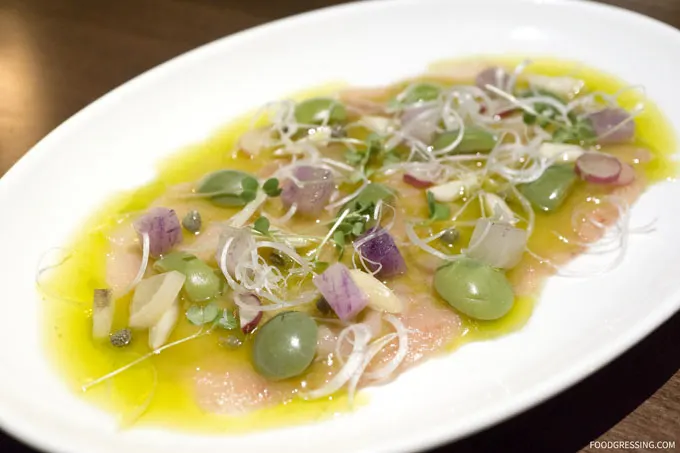 As a lover of eggplant dishes, I was excited about the Frittelle di melanzane. It's an garlic eggplant fritter with yuzu gribiche (mayonnaise-style cold egg sauce), basil and bonito salt, shaved katsuo (tuna). A simple and delicious savoury appetizer where the fritters had a nice crisp exterior. The garlic bite was subtle and not too overpowering. The shaved katsuo added an airy, flaky texture to this dish. I would order this again.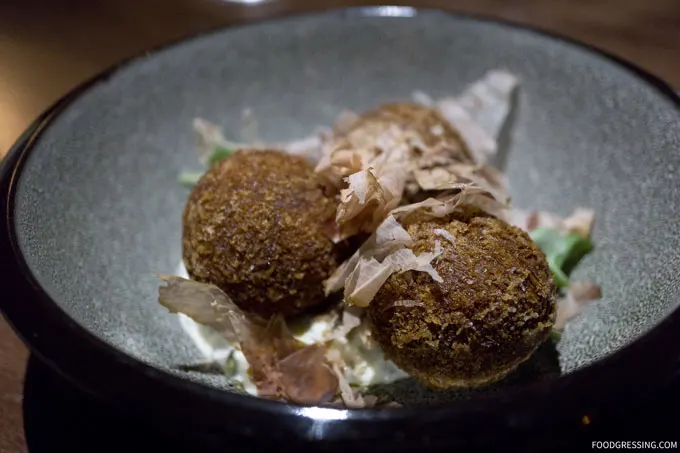 Our last starter was the Terrina Frita with pink, pickled daikon and nori mustard on bruschetta. The daikon was crispy, sweet and tangy and the nori mustard was briny. Not my favourite appetizer but interesting to say the least in terms of flavour.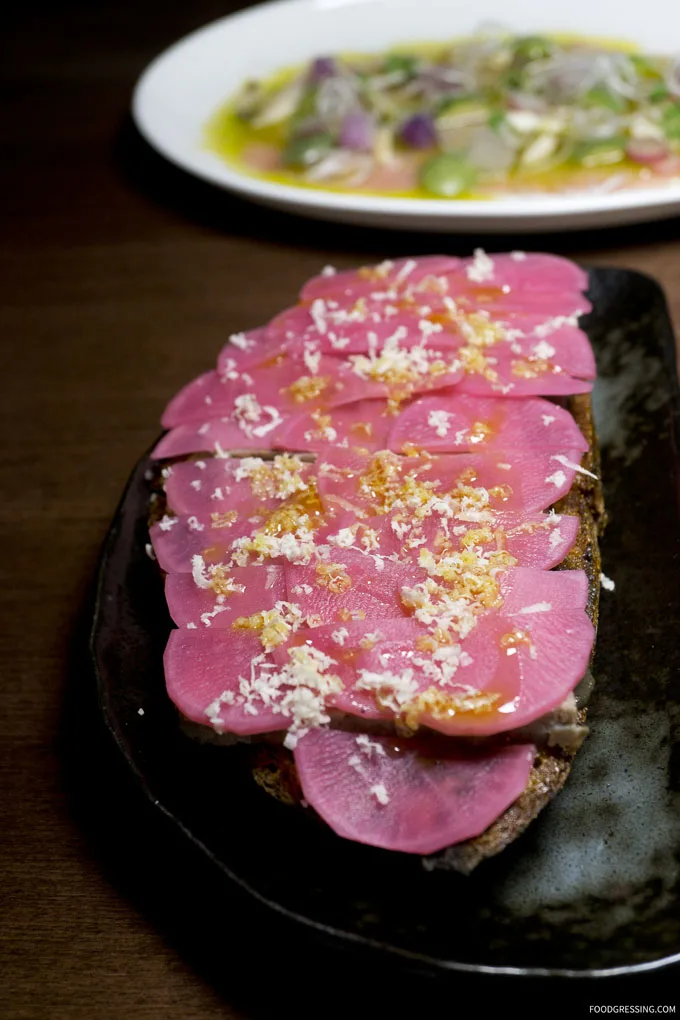 "Tender to the Tooth"
Moving on to pastas, the Tajarin was a luscious, silky ribbon pasta cooked with butter, roasted mushrooms and miso cured yolk. Simple and delicious mushroom pasta that had my lingering for more.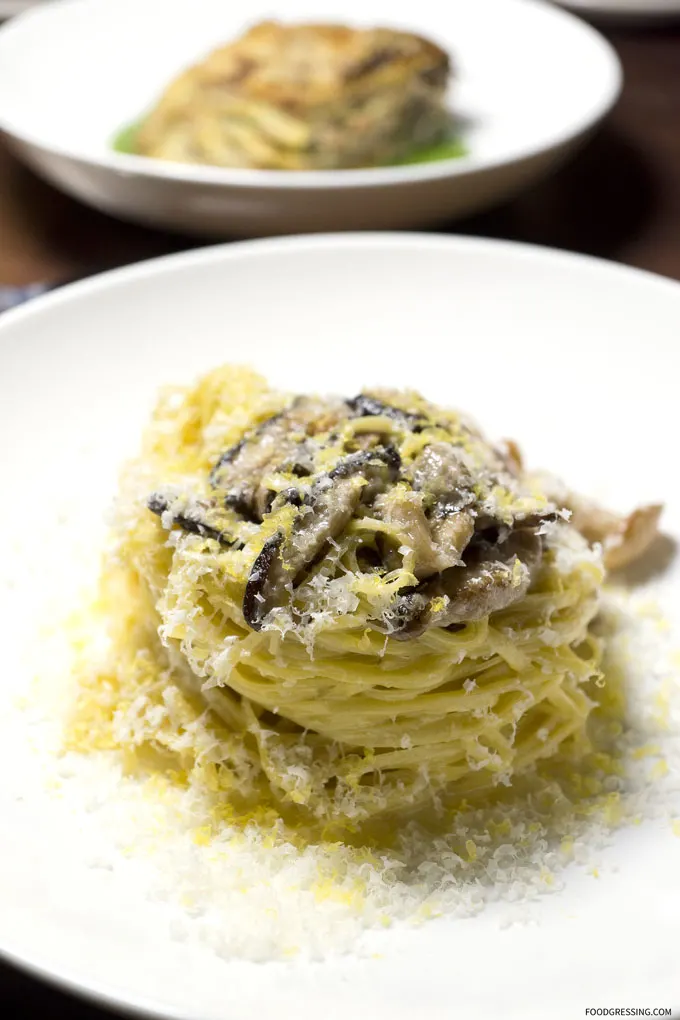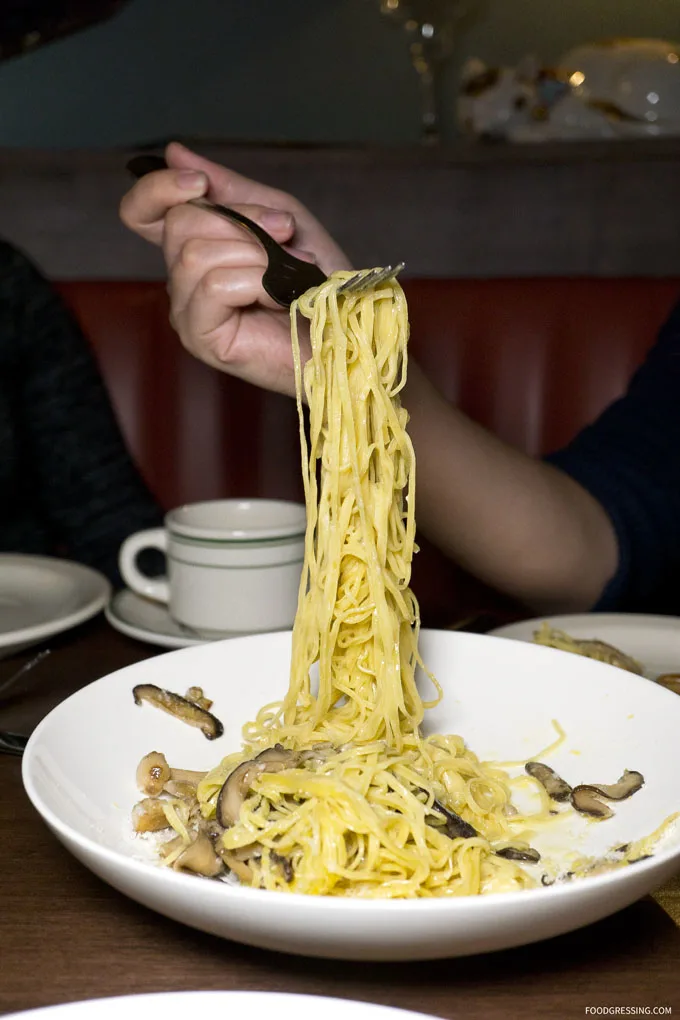 The Casarecce was twisted and rolled pasta in a chunkier meat sauce – a pork and sake kasu ragu. A hearty dish overall that felt quite like comfort food. Another simple and delicious pasta worth having again.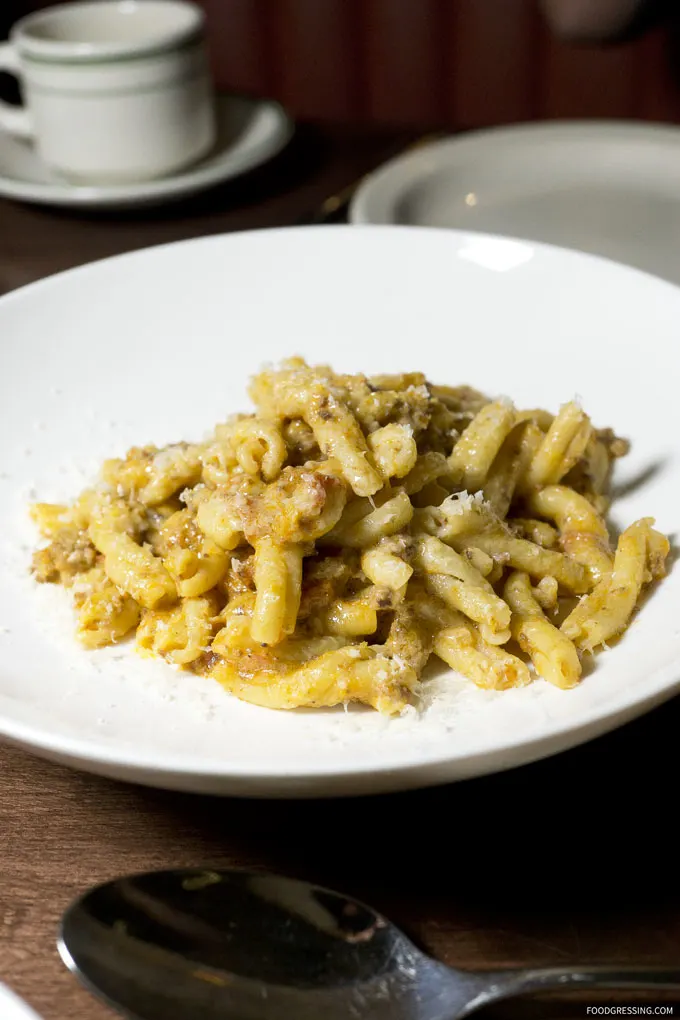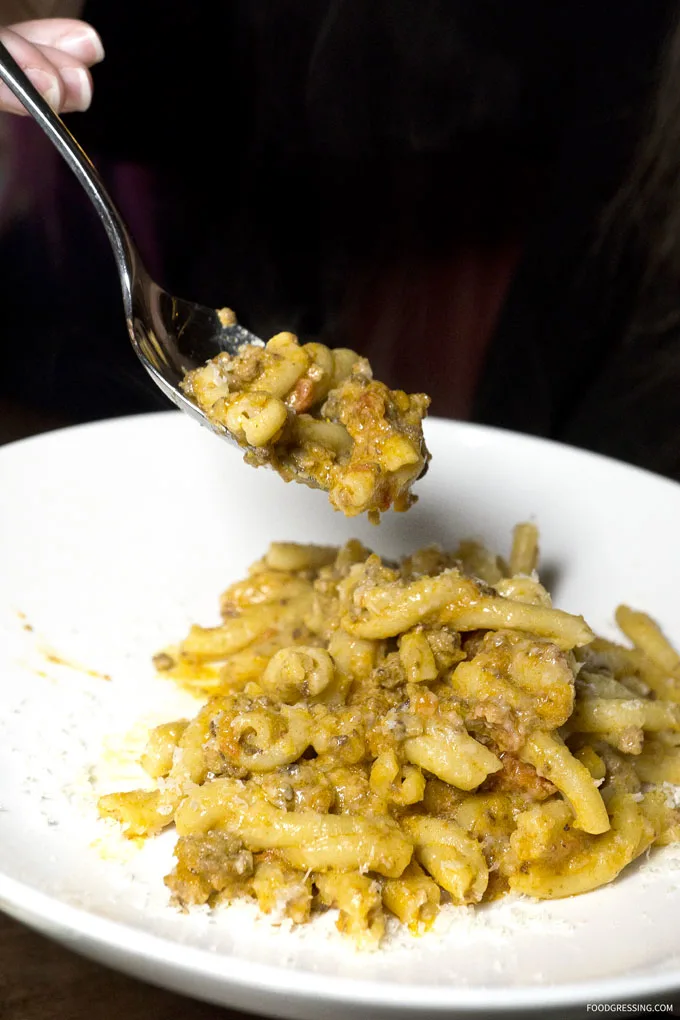 The lasagna of the day was a Pork and Winter Chanterelle Mushroom Lasagna with a miso bechamel and basil cream sauce. I wish I didn't have to share this dish with 6 other people as I loved all the textures and flavours. The pork and mushroom sauce was absolutely tasty while the miso bechamel and basil cream sauce was very creamy. The layers of lasagna were very tender. I would love to have this dish again.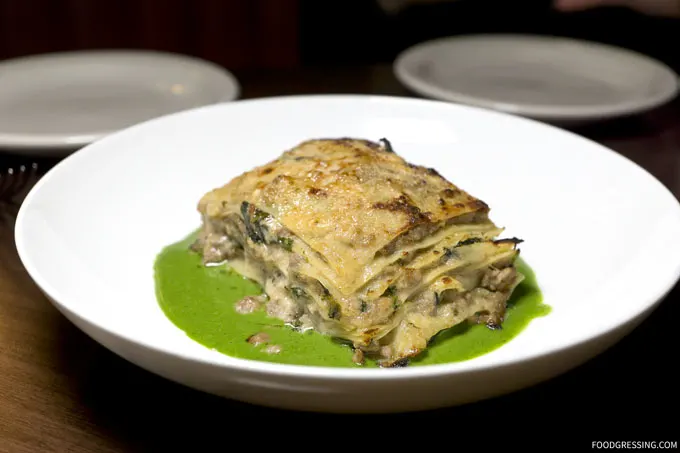 "Sharing is Caring"
We ordered the flash fried fish sharing plate which was sea perch on that day. Each of us torn away parts of the fish and they were super crispy without being too greasy. It came with a daikon soy dipping sauce but I didn't feel like I needed it.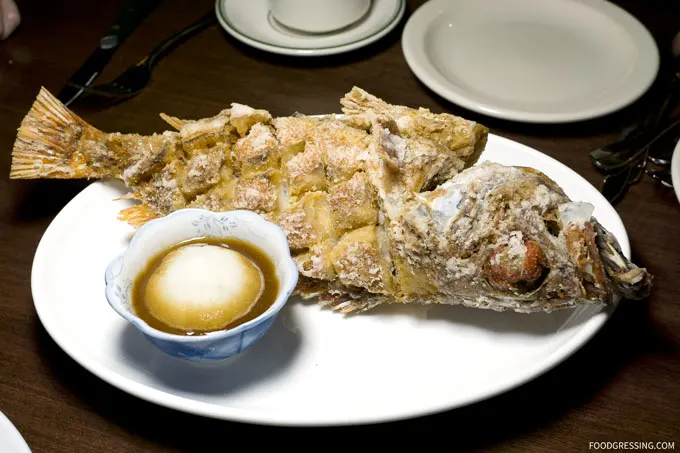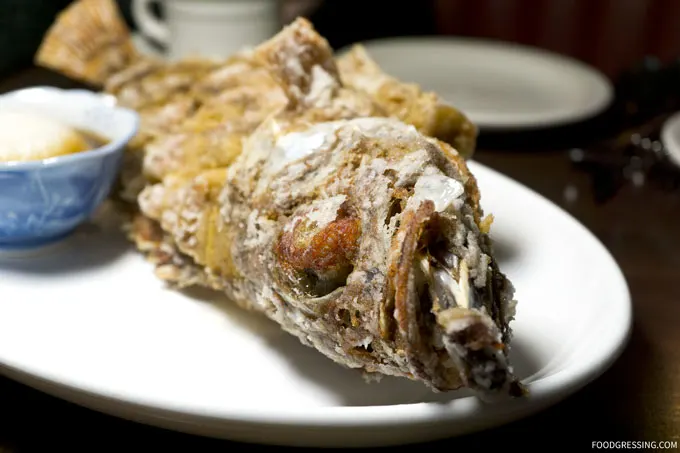 Another meat dish we had was the Beef Cheeks served with braised tomato and anchovies, and gnocchi. The meat was pretty melt-in-your-mouth but what I wanted more of was the gnocchi. The gnocchi were very soft, pillowy and delicious – too bad the portions served were so small.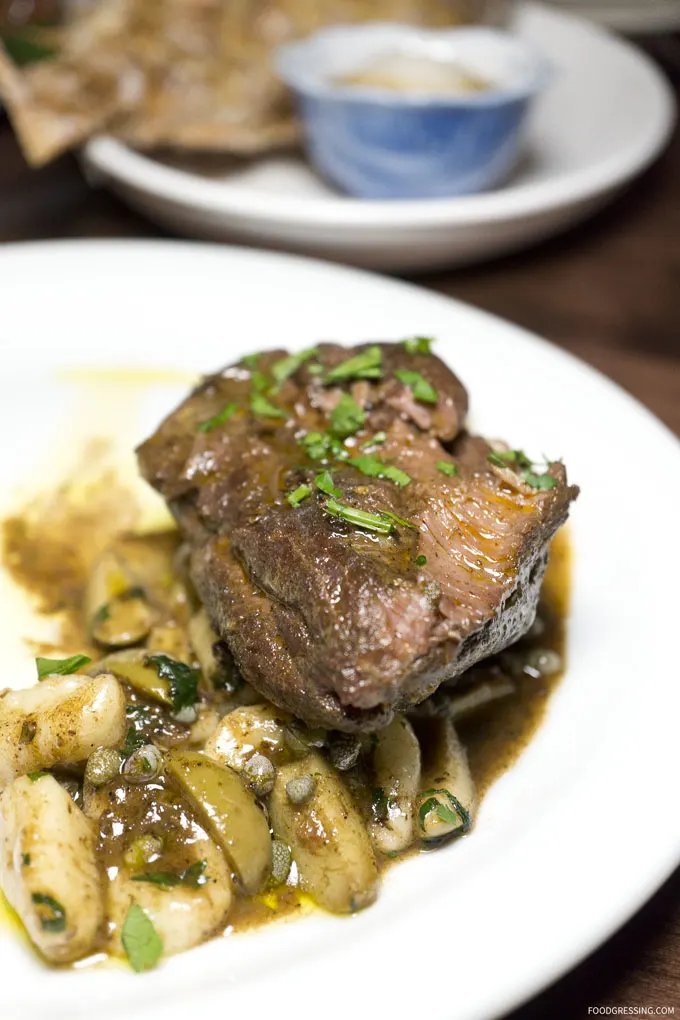 The Lamb Shoulder also had very tender meat and came with tosaka seaweed, fregola, anchovy butter, puréed egg yolk, Sicilian olives, and pickled peppers. It was a flavourful dish and the creamy egg yolk was a very interesting element for me.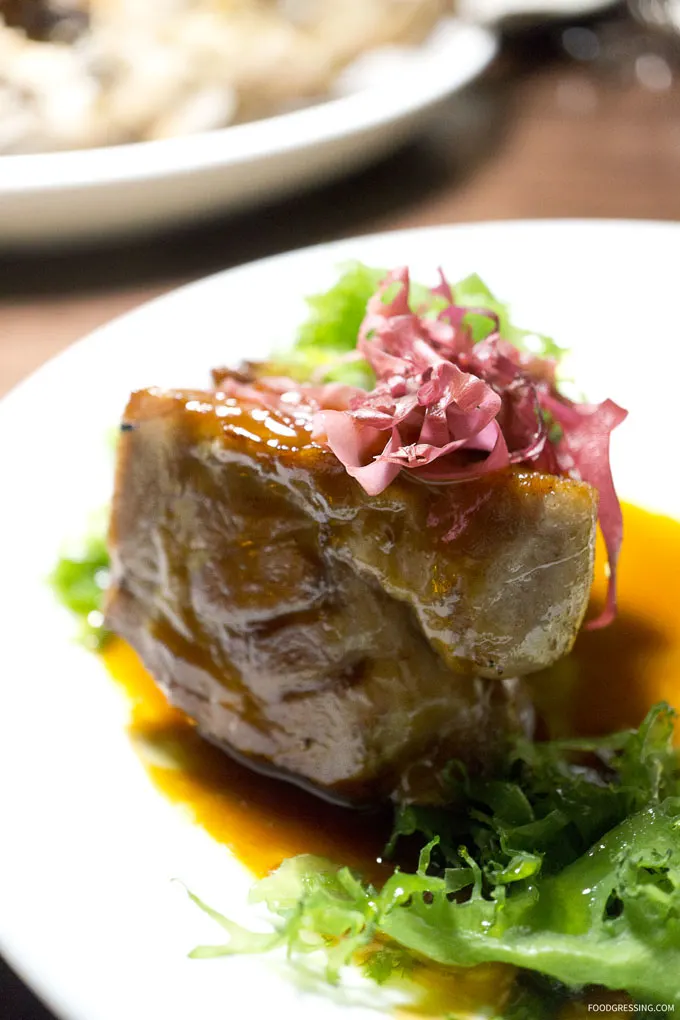 Dessert
We've finally arrived to the dessert part of the meal! One of the desserts we had was the Flourless Chocolate Cake with miso-caramel ice cream. The flourless cake was appropriately rich and dense/fudgey and it went well with the subtly salty miso caramel ice cream. A tasty dessert but nothing too impressive in terms of presentation or taste to warrant paying $12.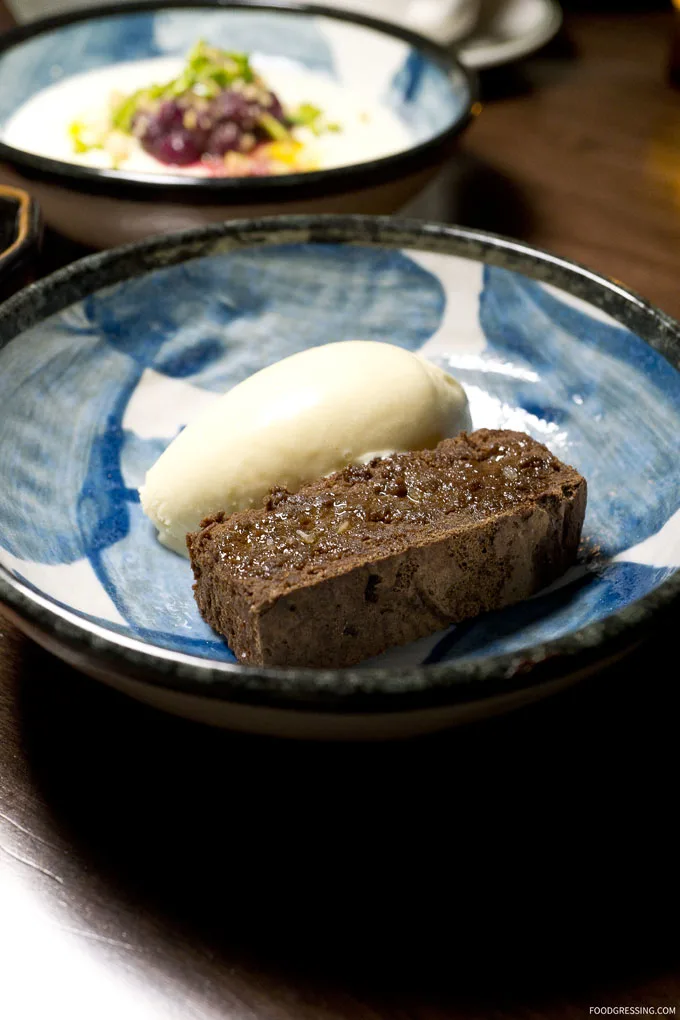 Kissa Tanto's version of the traditional Italian dessert, Tiramisu, incorporated a Japanese ingredient – plum wine. This Tiramisu was very spongy and seemed a bit to be on the verge of collapsing. A fruitier version of the traditional Tiramisu but still delicious.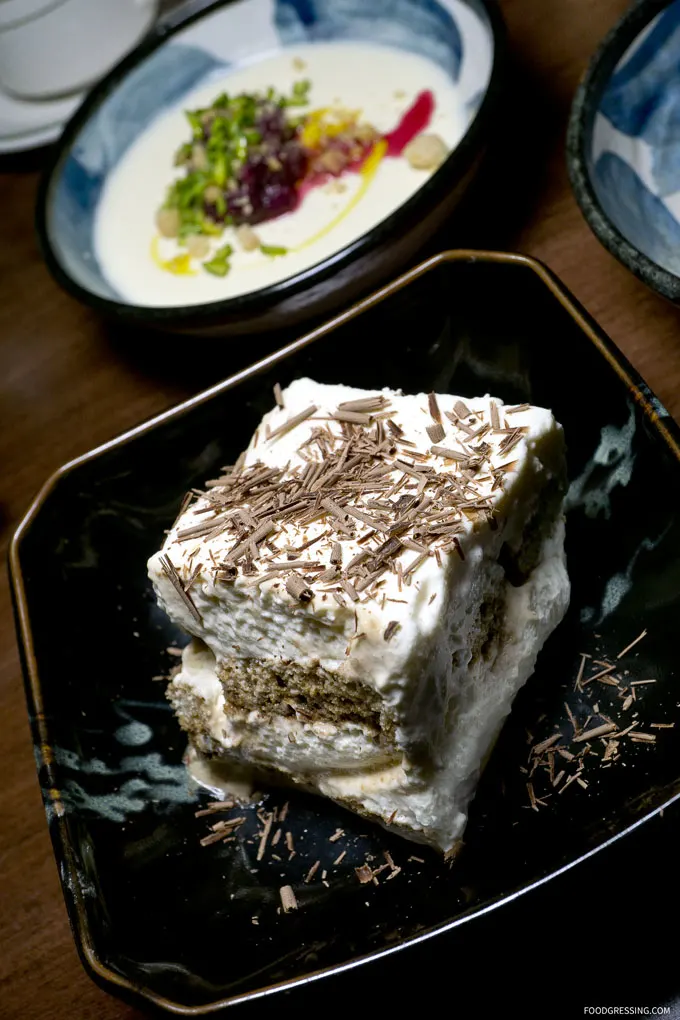 My favourite dessert of the ones we tried was the Yuzu Cream with Sicilian pistachios, olive oil crumble and season fruit. This dessert is just right up my alley – sweet, tangy, creamy, aromatic and irresistible.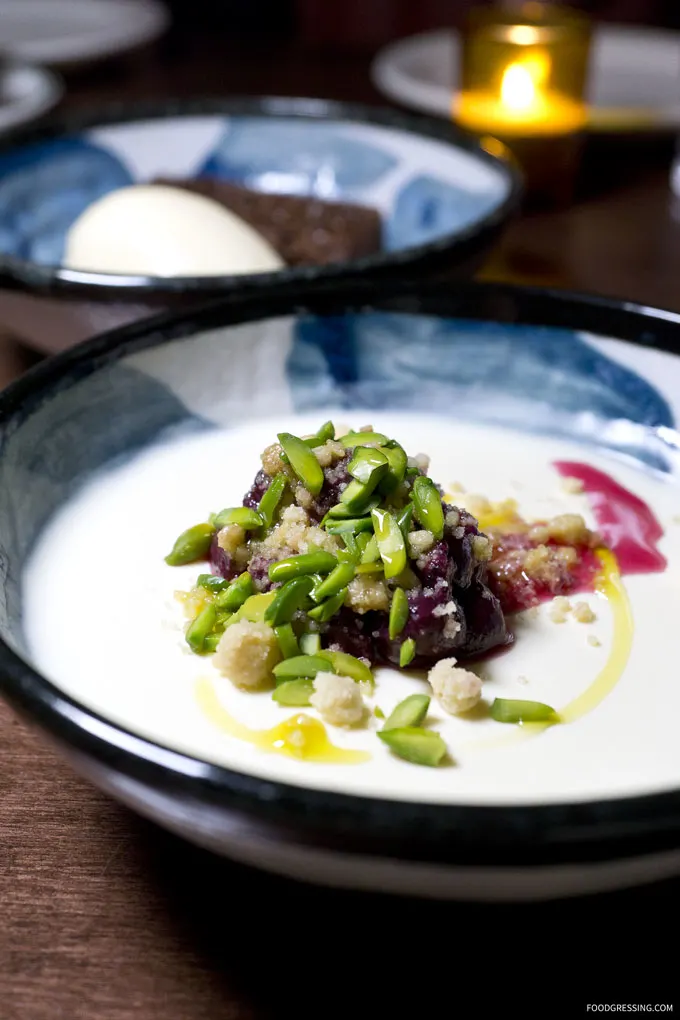 Overall Impression of Kissa Tanto
In all, I was impressed with how Kissa Tanto successsfully incorporated Italian and Japanese elements into their dishes. Lots of inventive and creativeness exemplified in their food. My favourites were the Frittelle di melanzane, Pork and Mushroom Lasagna, Ocean Perch and Yuzu Cream. My bill came to around $50 before tip and I was quite satisfied. Rating: 4.5/5