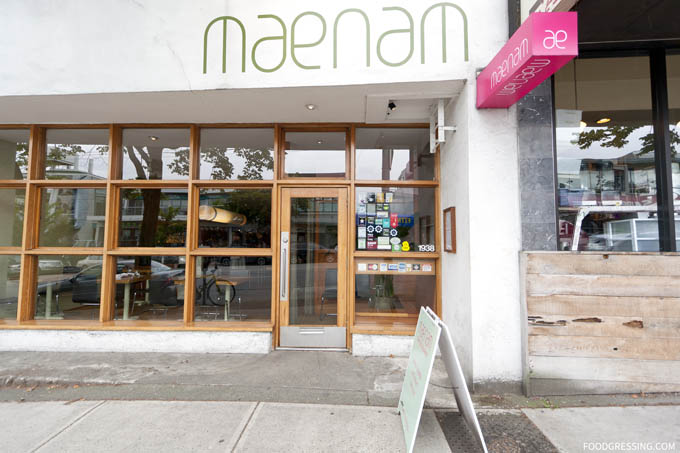 Since opening in 2009, Maenam quickly became a premier Thai restaurant in Vancouver. With their innovative take on traditional dishes, Maenam has received numerous awards and accolades. Most recently, they were given the prestigious title of "Restaurant of the Year" in 2016 by Vancouver Magazine.
The executive chef and owner of Maenam is Chef Angus An who trained at New York's prestigious French Culinary Institute and worked at the best fine dining restaurants in London. Maenam is his second restaurant venture with the first being Gastropod that closed in 2009 during the economic crisis. With Maenam, he's reinventing traditional Thai cuisine by making it contemporary, sexier but still keeping it simple and balanced with fresh flavours from locally-sourced ingredients. I ventured to Maenam for a lunchtime gastronomic experience last week.
Maenam Lunch
Because Maenam is only open 12 – 2 pm for lunch, I had to coordinate mine and my husband's schedules to make a special trip to Maenam. Reservations can be made via OpenTable.
For lunch starters, they have a selection of soups and salads priced between $12 – $16. There are 6 choices for lunch mains priced $16-$17: grilled hanger steak salad, pad thai, banana blossom and fresh baby corn salad, dry red curry of grilled albacore tuna, and stir-fried beef with holy basil.
What We Tried
For lunch, my husband and I had the following:
grilled thai sausage and crispy rice salad ($12)
dry red curry of grilled albacore tuna ($17)
stir-fried beef with holy basil ($16)
hand-made roti ($4)
We started off with the grilled thai sausage and crispy rice salad which was textually fun to eat. The house-fermented pork sausage had a sour taste and was better when eaten with the rice. The rice salad consisted of crispy curried rice puffs which I savoured small portions at a time.
The hand made roti was subtly sweet, super crispy on the outside and soft and springy in the middle. I really enjoyed the fact that it was considerably less greasy than roti I have had elsewhere like Banana Leaf and Kaya Malay. You could totally handle the roti with your hand without it getting messy.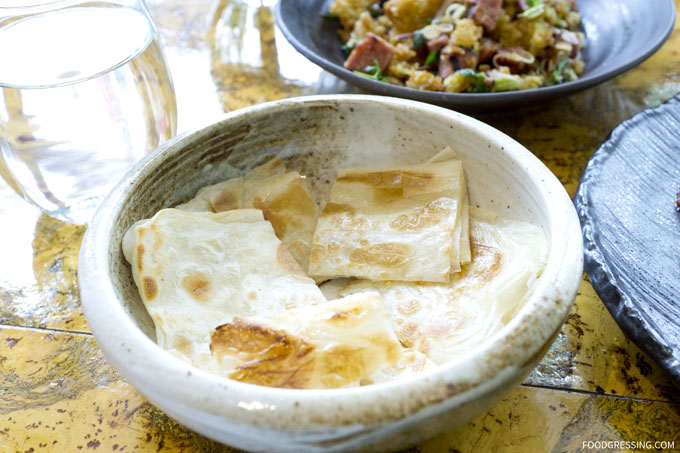 Moving on to mains, we had the stir-fried beef with holy basil with house minced hanger steak, bird's eye chilies, garlic, a fried egg on top of rice. The dish was wonderfully flavourful – a little sweet and a little salty. Definitely flavours that I have not had elsewhere. Adding a bit of chili oil made the flavours even more intense. A pretty amazing dish overall.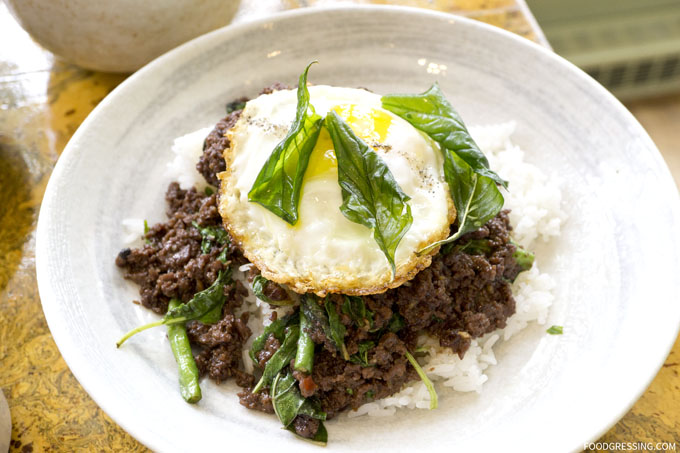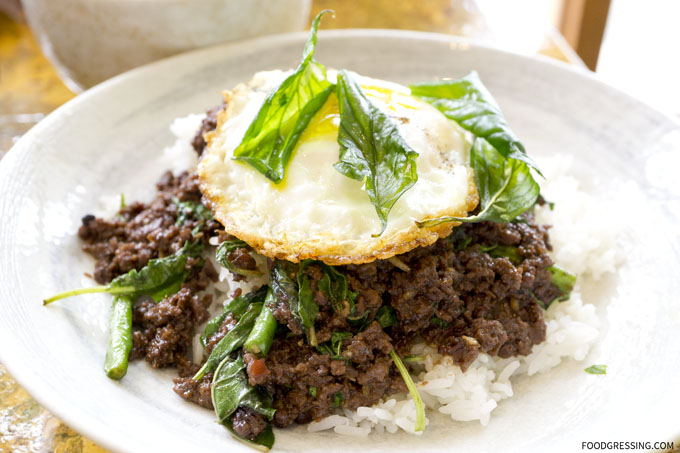 Much to our surprise, the dry red curry of grilled albacore tuna made our meal very *unfortunately* very memorable!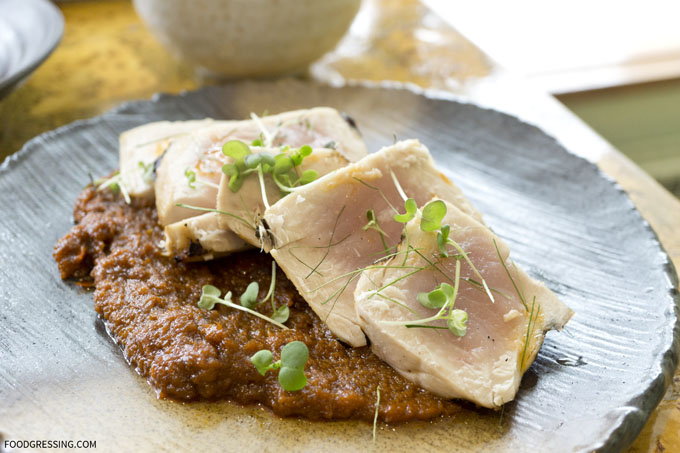 The dry red curry was very sweet and would have gone well with the tuna except that that the tuna was overcooked. In fact, the edges of the tuna pieces were very tough and dry. In 2 out of 4 pieces, there was no dark pink and tender middle; the middle was whitish as it had been cooked through and through. I politely brought this to the attention of the server though late in the meal as we had eaten 3 out of 4 tuna steaks. The manager then came over to review our dish with the last piece uneaten and after inspection returned it to the kitchen without hesitation. I commend the staff for handling the situation with swiftness and grace as well as removing the item off the bill.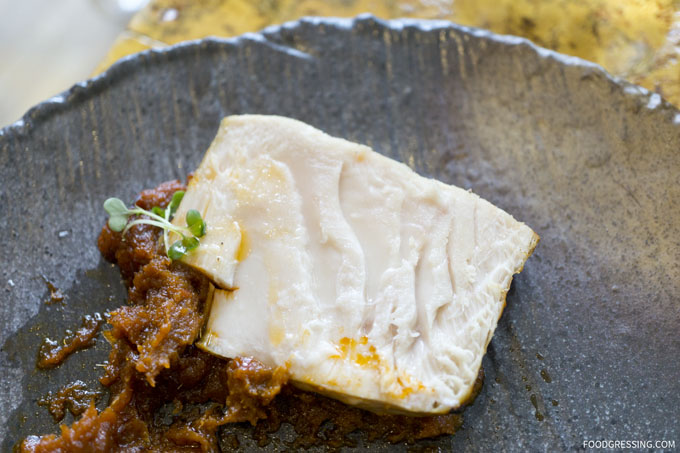 Service
While I am impressed with how the staff handled our overcooked tuna, I must admit that the service could overall be improved. There were two staff (one server and one manager) working and it seemed like they struggled to keep up with the busy restaurant. We did not have our water glasses topped up during the meal. Furthermore, the one server came to check on us 3/4 of the way through the meal which is a bit late. It also took a while for us to place the order and receive the bill.
Overall Impression
In general, I thought that Maenam had very intense and interesting flavours in their dishes. The albacore tuna entree was overcooked but I was impressed with how the staff handled returning of the dish to the kitchen with grace. Service overall could be smoother. Rating: 3.5/5
Website: www.maenam.ca