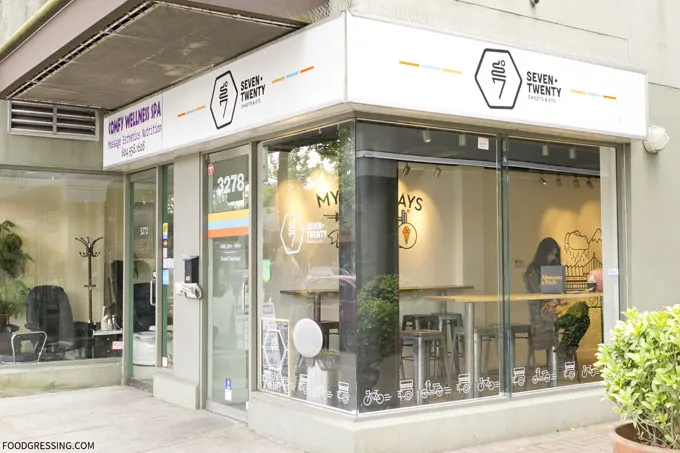 Ever since 720 Sweets made their debut into the Vancouver dessert scene last fall, local foodies have been on an Insta-frenzy over their smoke-emitting soft-serve ice cream. 720 is owned by a group of 20-something young entrepreneurs that wanted to bring this type of soft-serve experience that exists in Asia to Vancouver. Their branding is quite impressive for a small local dessert shop and they soon amassed a foodie following on social media. 720's visually appealing soft-serve certainly got me interested and I ventured to 720 Sweets on two occasions to try their frozen treats.
Kitsilano Shop
720's location in Kitsilano (West Broadway and Blenheim) is small but spacious enough for standing room. While there are no dining tables, there are a few high top counters with seating. It's bright and inviting with an overall minimalist feel.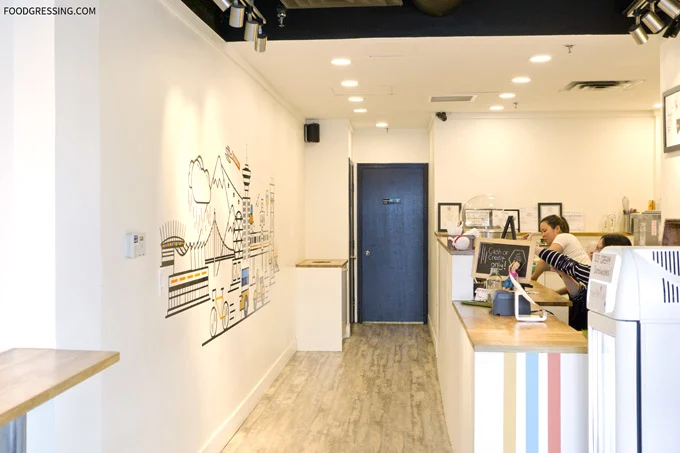 720 Sweets Menu
720 offers a small selection of soft-serve desserts priced at $5.95 each. Some of the options include Cloud 9 (crunchy almond stick, cotton candy popcorn and fluffy cotton candy) and Milk'ee (crushed walnuts, light caramel drizzle, espresso grass jelly and crunchy almond cookie). The sweetness level is indicated for each soft-serve option so that you can choose one that suits your sweet tooth. 720 also sells ice cream sandwiches (4 for $15) and has a new line of drinks.
What I Tried
The whole 720 experience starts off with dry ice and water being placed into the bottom of the soft serve cup. As the dry ice undergoes sublimation (solid to gas), a smoke is emitted. The dry ice is purely a visual effect for the dessert.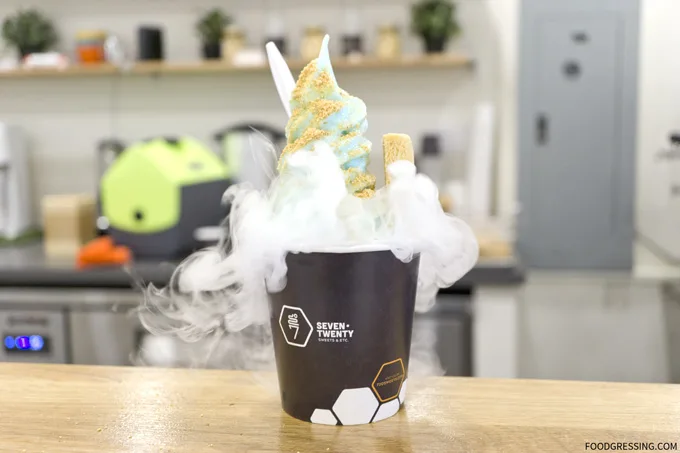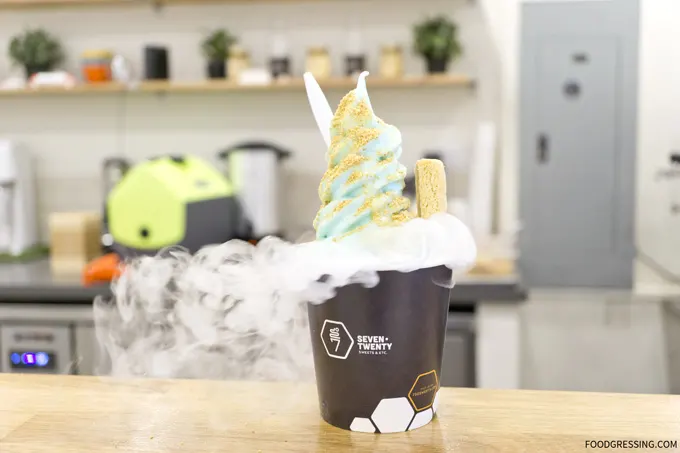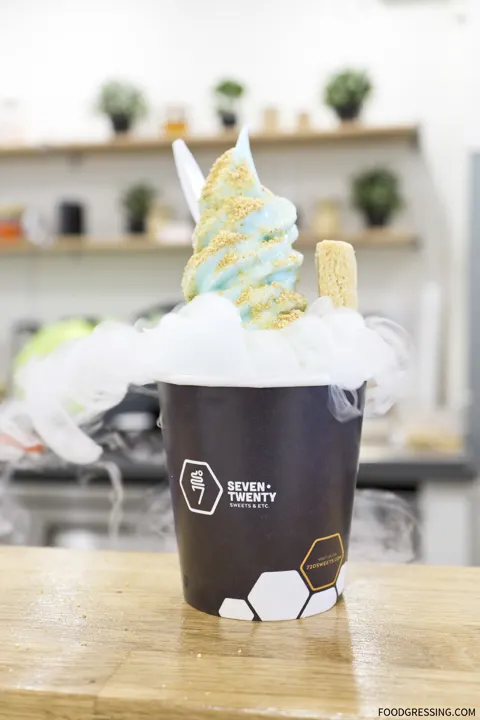 On one occasion, I tried the The Classic which had crushed graham crackers, sweetened condensed milk, and a baked butter cookie. The flavour of the soft-serve was okay though more on the artificial side; it tasted like frosted flakes more or less like it was supposed to. The texture wasn't as creamy and smooth as other places I had been to Vancouver; it was more on the slushier/icy side. The baked butter cookie was buttery and crumbly. I think the soft serve would have benefited fro more graham cracker toppings.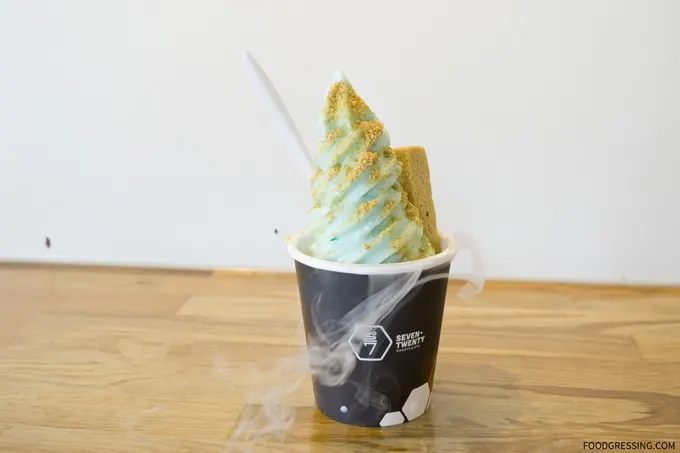 I did notice that there was a gaping hole which shows that the portions aren't as big as they seem.
Furthermore, the soft serve sits in a shallower cup inside the large cup to accommodate the dry ice.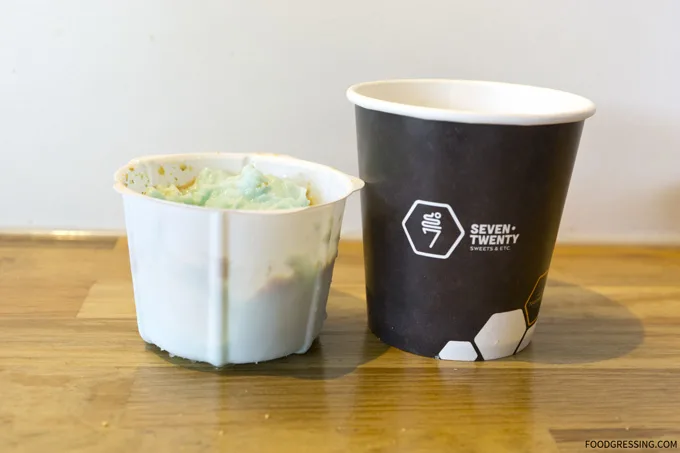 On another visit, I tried The Matcha which came with red bean and mochi toppings. The green tea flavour was on point and the mochi was chewy. Other than the dry ice smoke effect, it wasn't too special.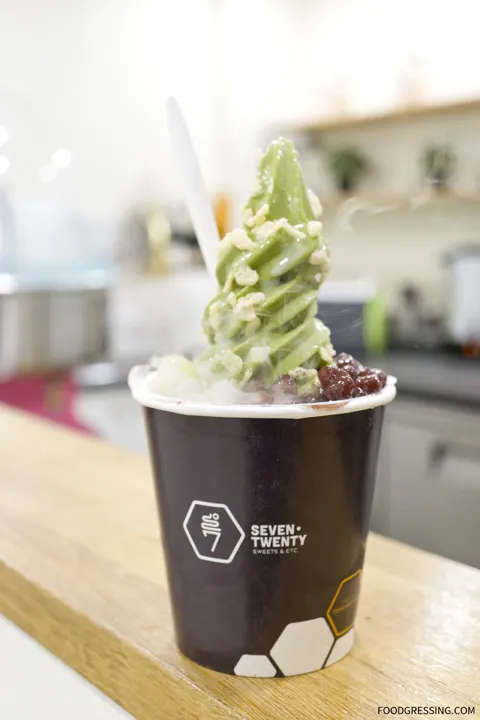 Overall Impression of 720 Sweets
Aside from the visually engaging dry ice smoke effect, the desserts at 720 Sweets that I tried weren't that memorable. I've had creamier and smoother soft-serve elsewhere. Their soft-serve is undoubtedly eye candy, but the experience essentially stops there for me. Rating: 3/5