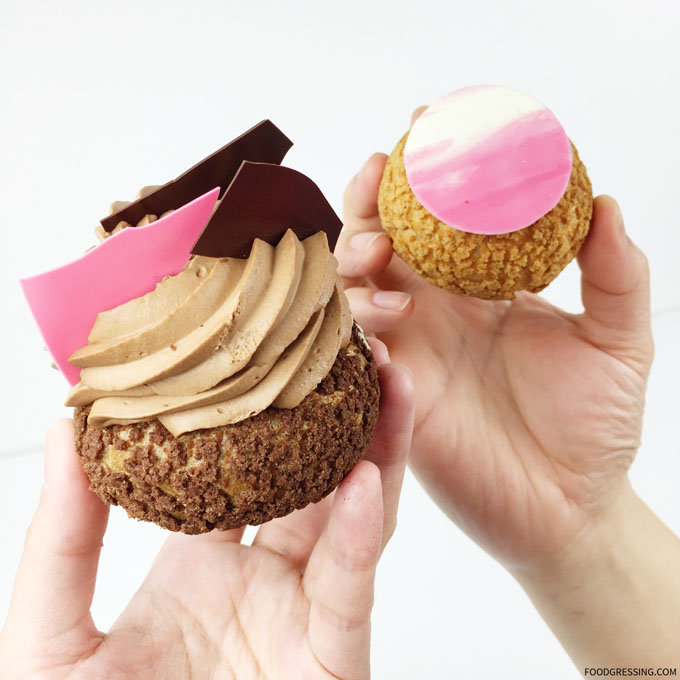 It is without a doubt that Beta5 is one of the top places in Vancouver for chocolates and pastries. Ever since they opened up a shop just off Main Street in 2011, chocolate and pastry lovers have been coming from all over to get their hands on one of their treats. Aside from their delectable artisan chocolates, their cream puffs are stunning, mouth-watering creations that make you want one after another. It's not secret that I love Beta5; I have written about their Mango-themed treats and their Spring product line. In my third post about them, I want to share with you my thoughts on their delicious signature cream puffs that were all dressed up for Valentine's Day.
What I Tried
This past Valentine's day, I bought four of their signature cream puffs for $16 which had special garnishes for the holiday:
Raspberry – Earl Grey
Salted Caramel
Variations of Chocolate
Vietnamese Coffee
If you haven't tried Beta5 cream puff's, then you might be surprised to know that they are actually quite large and filling. I would say that the puffs are about the size of a tennis ball (give or take). The shell is very crispy and thin but holds all that amazing creamy filling very well together. The shell is delicate but you can still handle it with your hands without destroying the shape.
And when you bite into one of these cream puffs, it's like heaven. Seriously. The filling is rich and flavourful but not too sweet. Furthermore, there is so much filling that one of these cream puffs is like a mini-meal on its own. I can live with that!
I enjoyed all the cream puffs (of course!), but I really liked the Vietnamese Coffee. A little cofffee and a little condensed miky-tasting.
Overall Impression of Beta5
Perfect as gifts or just to indulge yourself, Beta5 cream puffs are beautiful and scrumptious treats. Check their social media pages for special holiday offerings. Rating: 5/5
See my other posts on Beta5: Mango Treats and Spring Line.
Website: beta5.myshopify.com