The Acorn is one unique restaurant in Vancouver where you can indulge in a vegetarian-style gastronomic adventure. Even CNN named them as one of the World's 11 best vegetarian destinations. Their menu caters to vegans and gluten-free diners but still delivers uncompromising flavour and unadulterated pleasure. My friend and I wanted to try the Acorn for the longest time, and we finally made a date to visit them for brunch yesterday.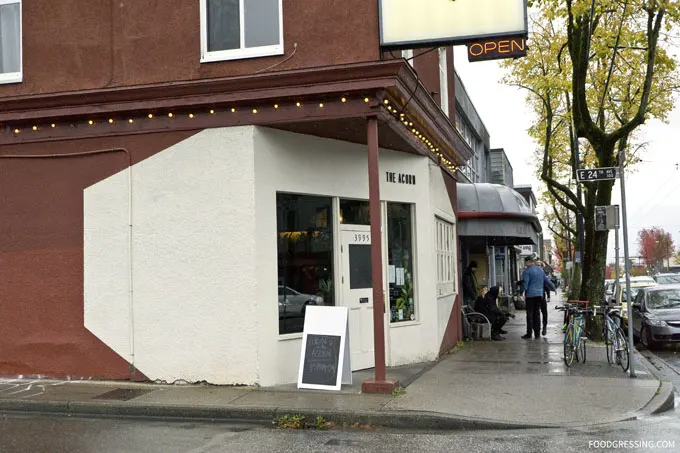 Weekend Brunch
Since the Acorn doesn't take reservations, we made sure to be there right when they opened at 10 am. There were a few people waiting but nothing too dramatic. The restaurant itself is pretty small and is divided into a main dining area and bar. We sat at a counter by the window near the bar.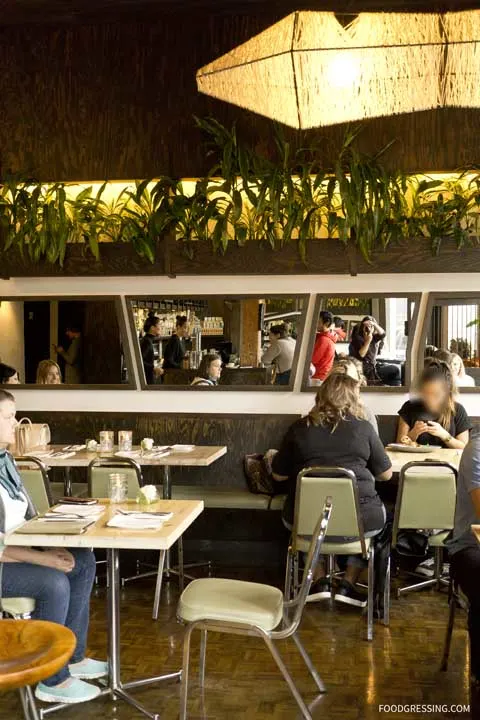 The brunch menu appears reasonably priced with dishes around $15. There were many side options including a poached egg, seasonal fruit, baked beans and more.
What We Tried
I had the Beggar's Banquet ($15) with an Urban Digs Farm Poached Egg ($2.50). My friend had the Artichoke ($15) also with an Urban Digs Farm Poached Egg ($2.50).
To start, we received some complimentary bread with a rosemary & thyme spread. The spread seemed be the nut-based and was very smooth, creamy and light.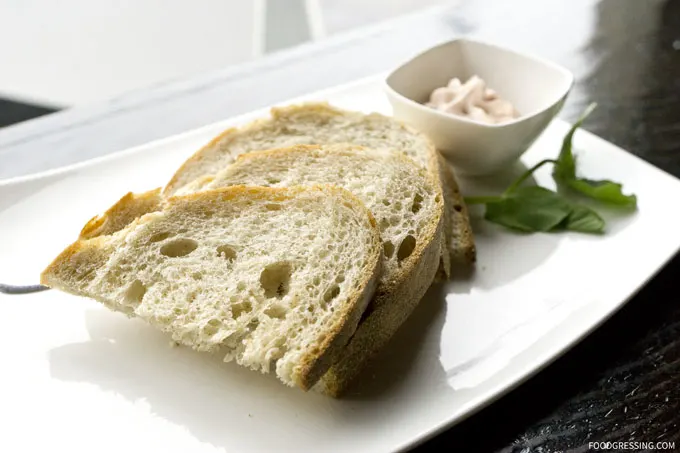 The Beggar's Banquet is an autumn breakfast harvest using seasonal ingredients from local farms. It changes weekly depending on what is available. This week's feature was a hazelnut tart with parsnip and cashew puree, parsley root "Parmesan" topping, pickled apples, toasted hazlenuts, with a parsley emulsion.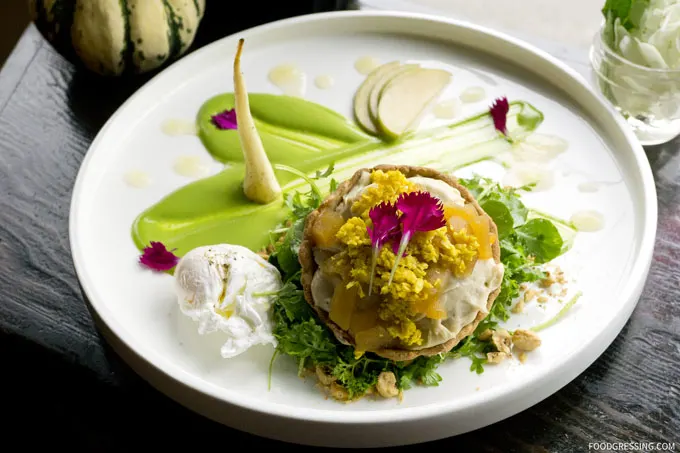 I was immediately impressed with the artful presentation of this dish. Too beautiful to eat!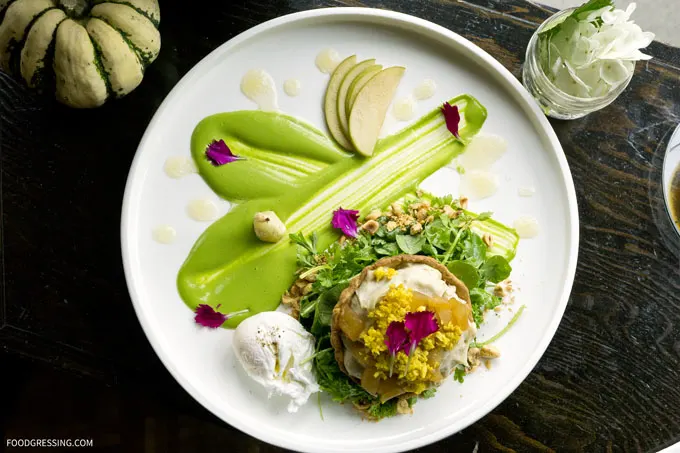 It was primarily a savoury dish that had lots of nutty flavours with a bit of sweet, sharp acidity from the apples. The hazelnut tart had a wonderful crunchy texture and the cashew puree was luscious, smooth and creamy. You could really taste the freshness from the seasonal greens. An outstanding brunch item.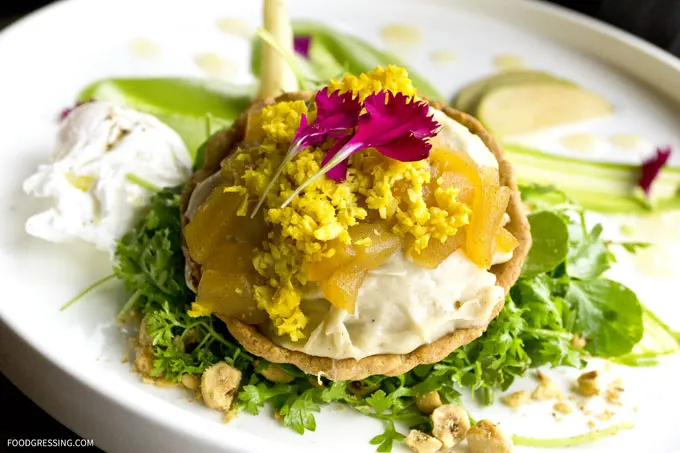 The Artichoke was a fun take on the classic fried chicken and waffles. There were southern fried artichokes, presented on a house waffle, and topped with pickled shallots. The sauce was a mix of bourbon maple syrup and mushroom red-eye gravy. Sampling my friend's dish, I found the artichoke to have a nice crispy exterior. The waffle was also light, fluffy, and crispy. The bourbon maple syrup was definitely sweet but balanced out by the gravy. Lots of interesting flavours with this dish.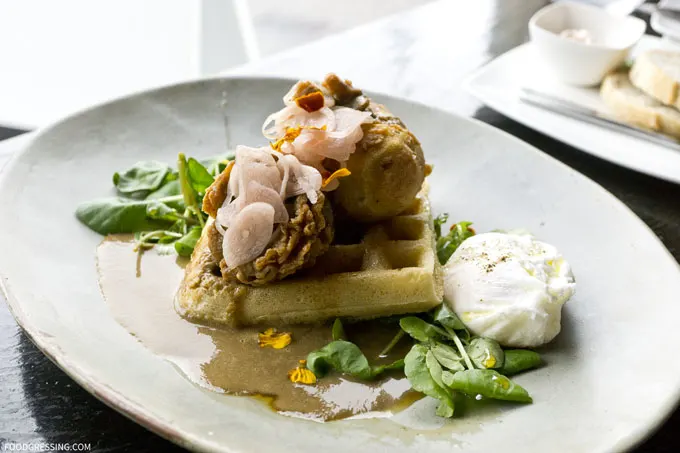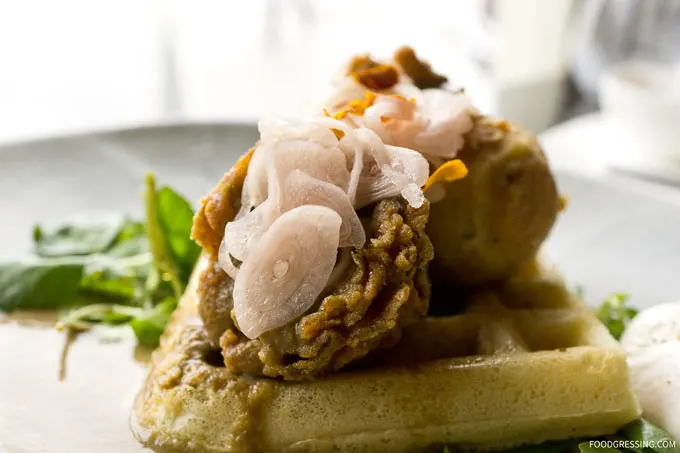 Overall Impression
I was really impressed with how much detail was given to the dishes. Flavourful, colourful, reasonably-priced items using seasonal ingredients. Great for a light brunch that won't leave you food comatose. I would love to return to the Acorn and try more of their menu. Rating: 4.5/5
Website: http://www.theacornrestaurant.ca/