M8 restaurant was the dining destination for my recent dinner with fellow food bloggers Sherman (shermansfoodaventures.com), Maggi (vieamaggi.com), Joyce (vanfoodies.com) and David (pickydiner.com). This newish Asian Fusion restaurant is located at 1010 Beach Avenue, right next to the North end of the Burrard Street Bridge.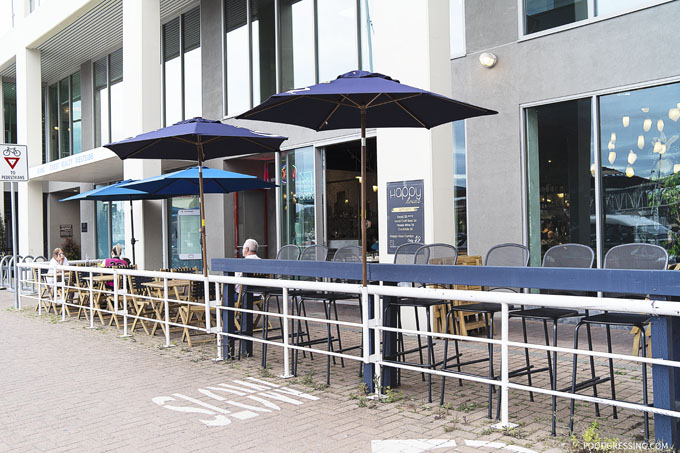 ---
Asian Tropical Atmosphere
M8's stylish interior boasts plush velvet banquettes, a large wooden communal table, a sleek marble bar, wicker chairs, and modern art on the walls. Greenery overhanging the bar contributes to an Asian tropical feel to the space. The restaurant also has a lovely outdoor patio where you can enjoy your meals while enjoying the waterfront views.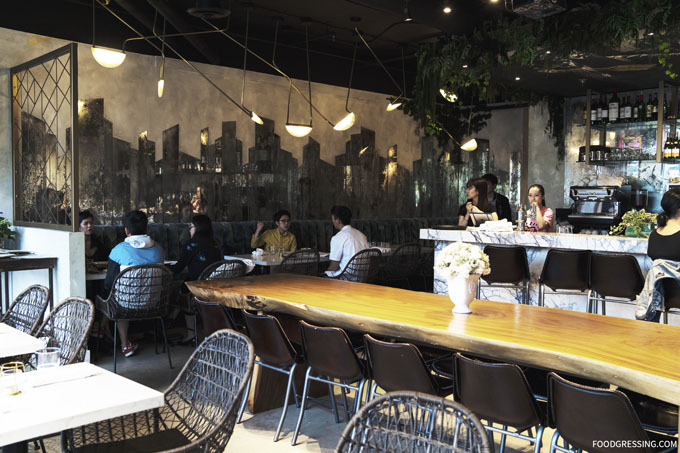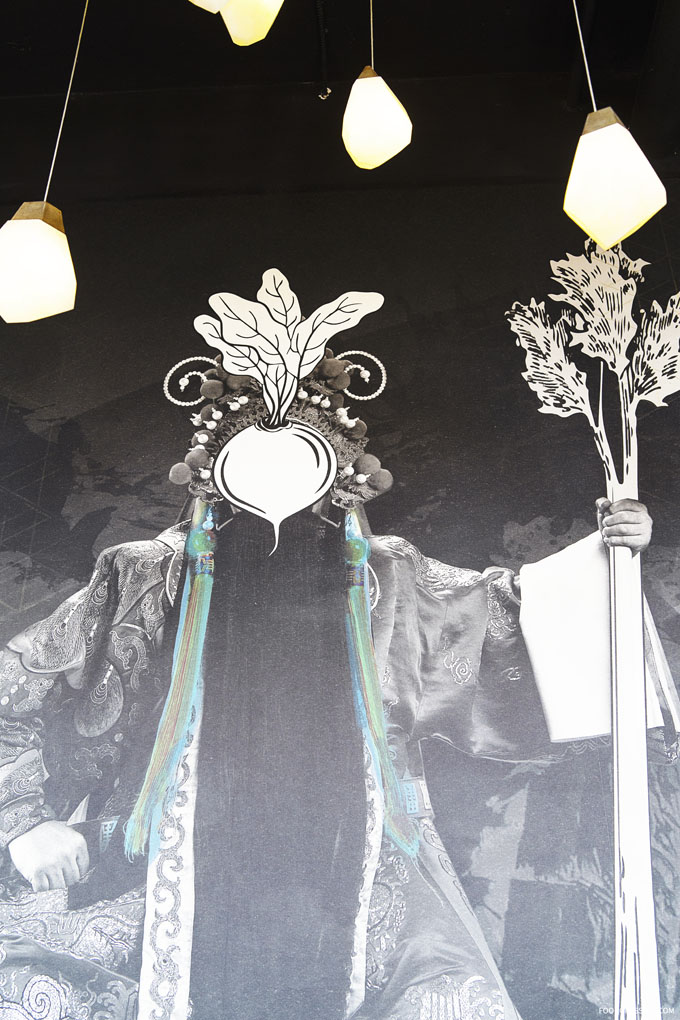 ---
M8 Menu
M8's Asian fusion menu features appetizers ($5 – $11) and entrees ($22 – $38). The menu seems very meat-centric so I wouldn't recommend dining here if you have certain dietary restrictions (ie, vegetarian, vegan, gluten-free).
You'll find chicken (like Crispy Chicken Skin, M8 Fried Chicken), lamb (like Lamb Belly and Spicy Lamb Meat Ball), beef (like Beef Cheeks and "Beef and Broccoli") dishes and so forth. There are are few pasta mains offered like Tagliatelle Bolognese and Tiger Prawn Bucatini.
A chef at M8 recognized one of the food bloggers and it turns out that the chef was formerly at Moma – an Asian-French fusion restaurant in Richmond that was closed a few years ago.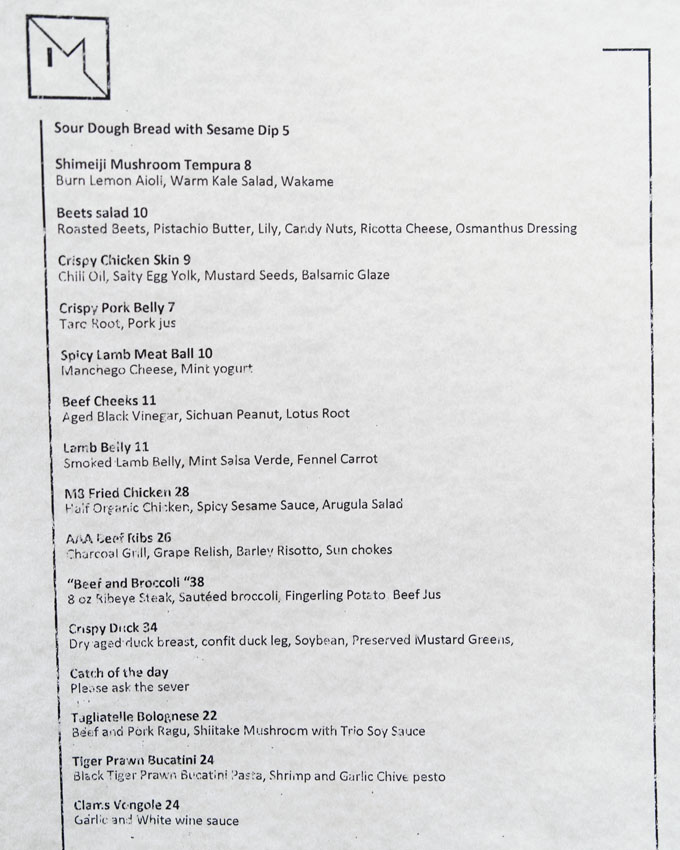 ---
What We Tried
We tried 9/16 dishes off the menu so I feel that we got a good sense of what they are offering.
Compliments of the chef, we tried the Shimeiji Mushroom Tempura ($8) on a bed of warm kale and wakame. This was one of my favourite dishes of the evening. The mushrooms were lightly battered and fried perfectly such that they were very crispy. The seasoning contributed to the umaminess of the dish.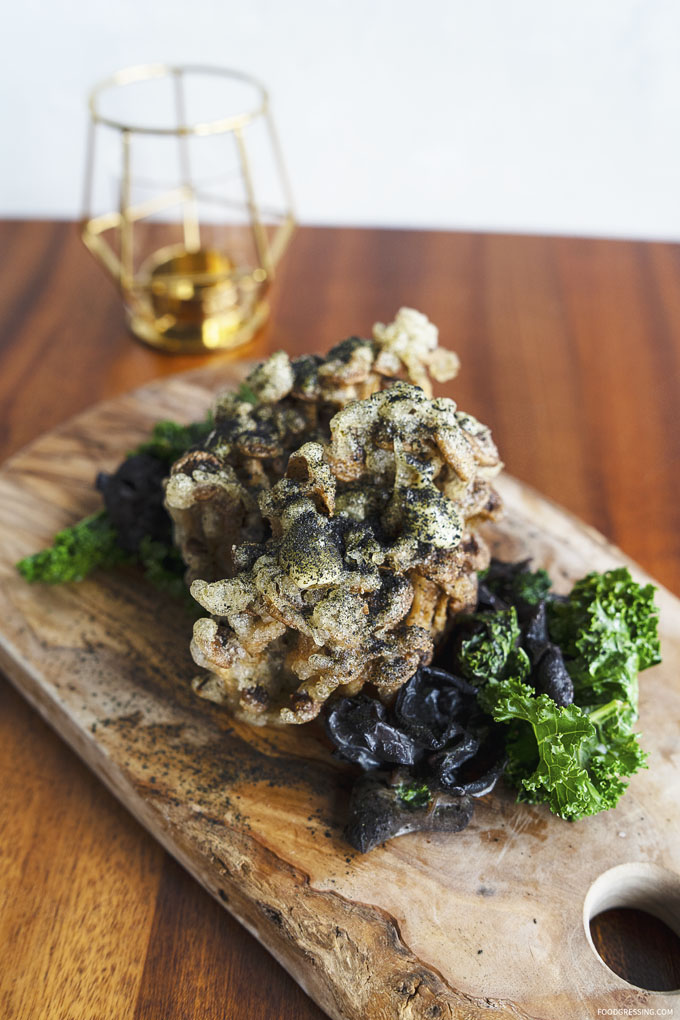 I very much enjoyed the Crispy Chicken Skin ($9). It was prepared with salty egg yolk (which you could taste) and chili oil, topped with mustard seeds (for textural contrast) and finished with a balsamic glaze. I also quite enjoyed the umami flavours for this dish.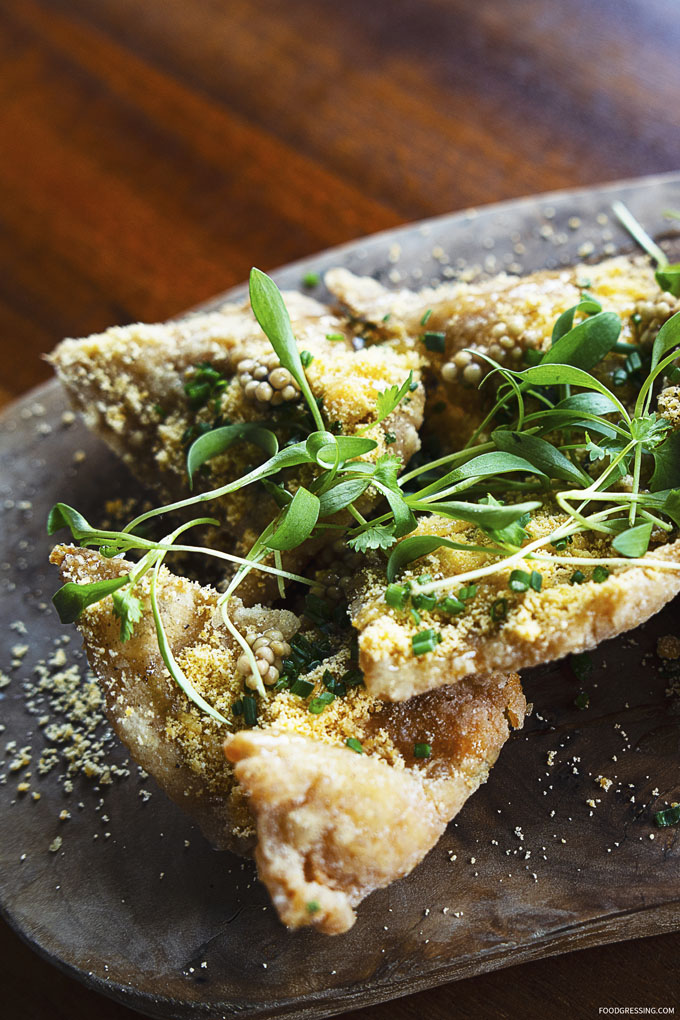 The Beef Cheeks ($11) had some heat behind it due to Sichuan peanuts to which I experienced some mouth numbing. The beef was nicely tender and I enjoyed the crunchy lotus root slices.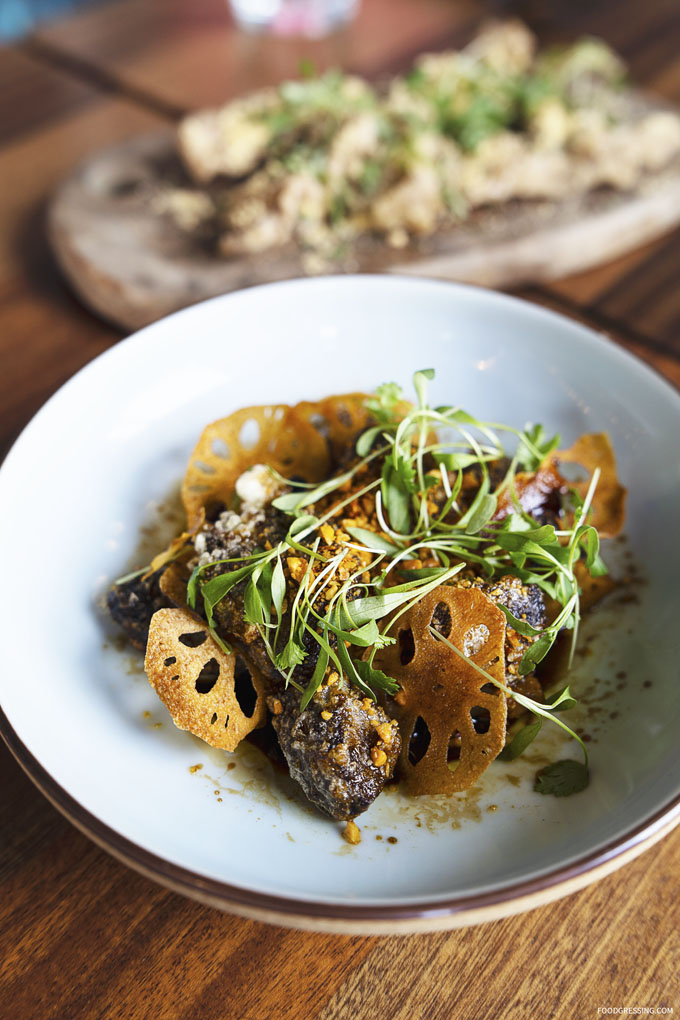 The Lamb Belly ($11) had some smokey flavours to it and was accompanied by a mint salsa verde and fennel carrot.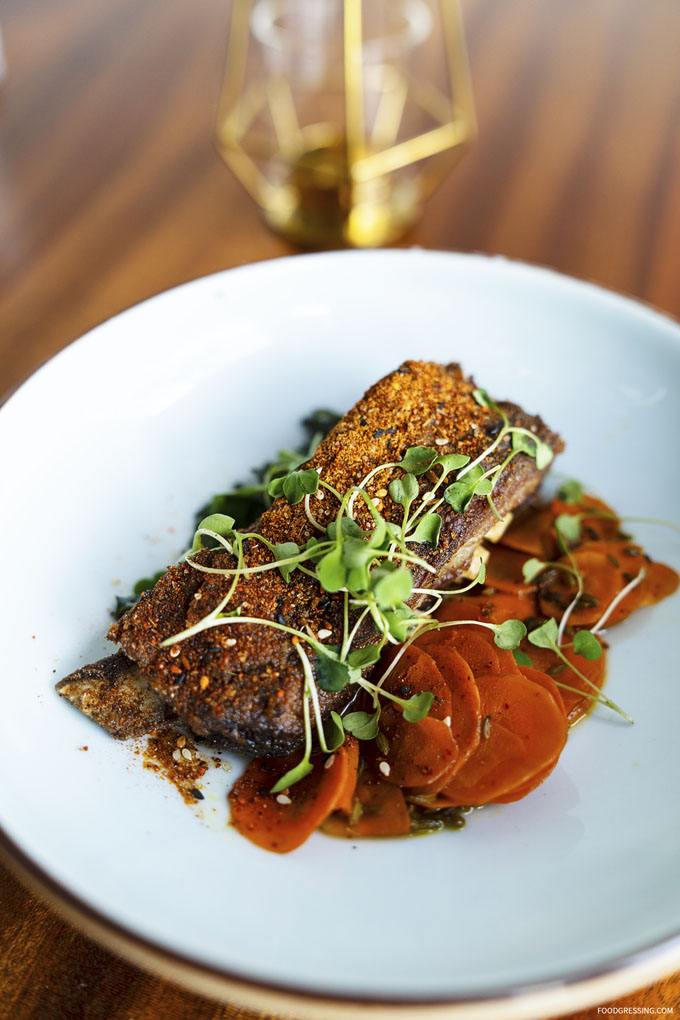 We also had the Crispy Pork Belly ($7) with taro root frites and pork jus. I think we all agreed that the size of the pork belly was generous for the price. The pork belly was nicely tender with a crisp crackling and I liked the presentation of the dish with the taro root frites on top.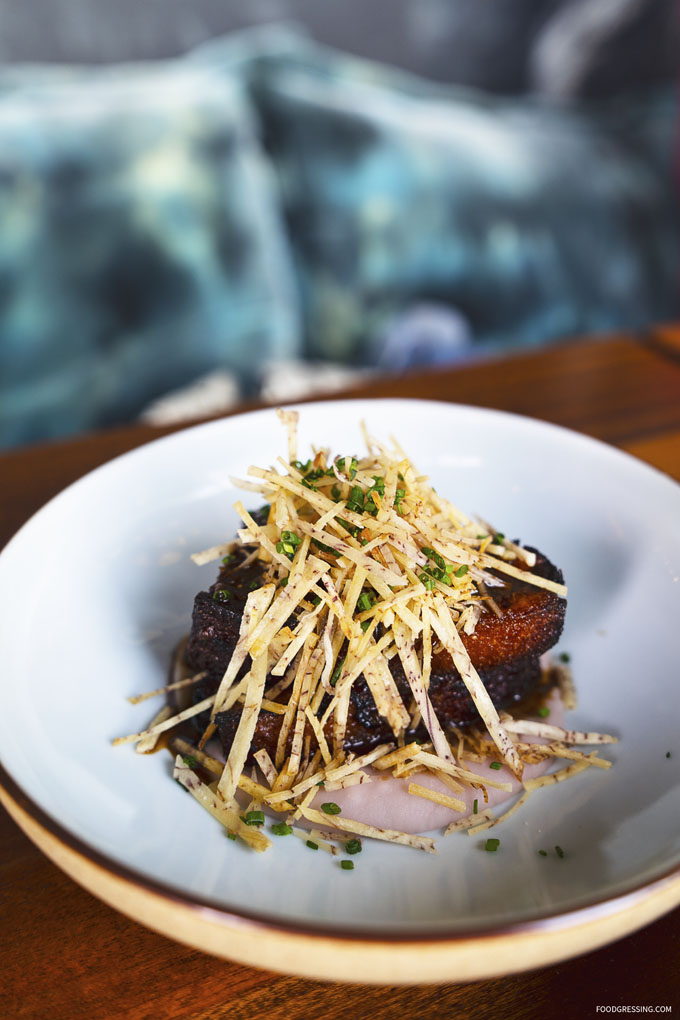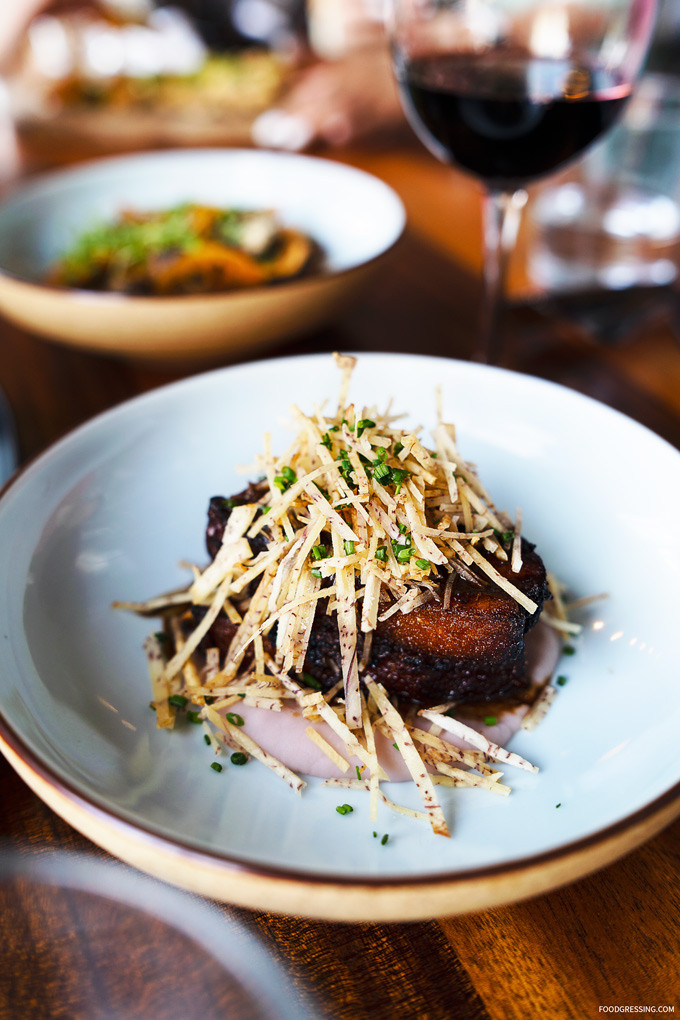 For mains, we started off with the Tagliatelle Bolognese ($22) featuring a beef and pork ragu and shiitake mushroom with trio soy sauce. The dish was quite aromatic and had more of a sweeter taste. The pasta was somewhat al dente but I felt the sauce was too overpowering.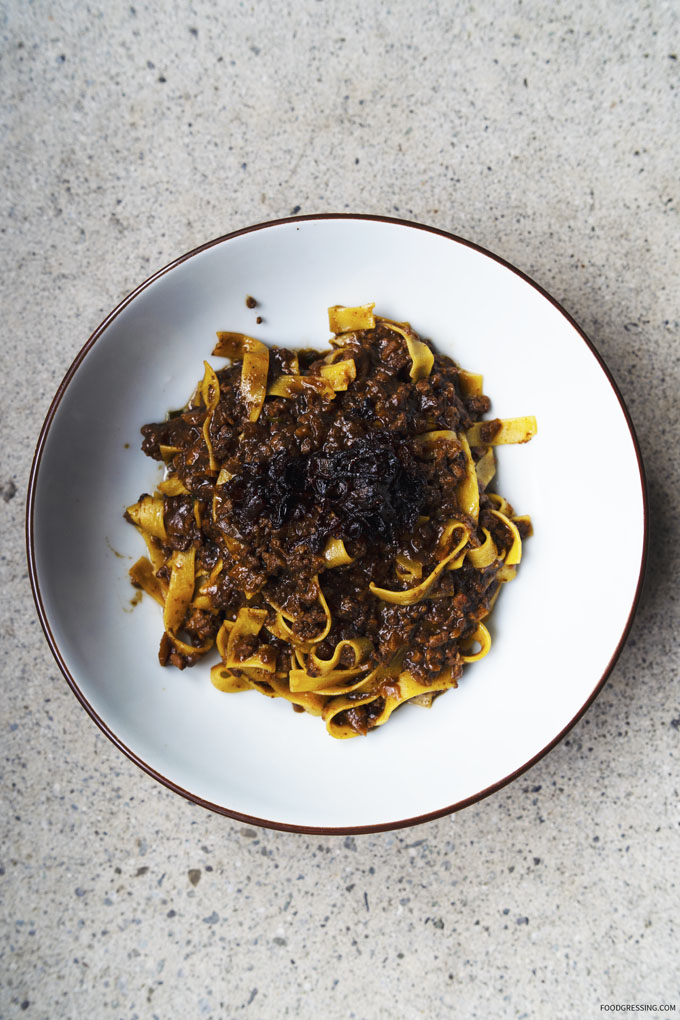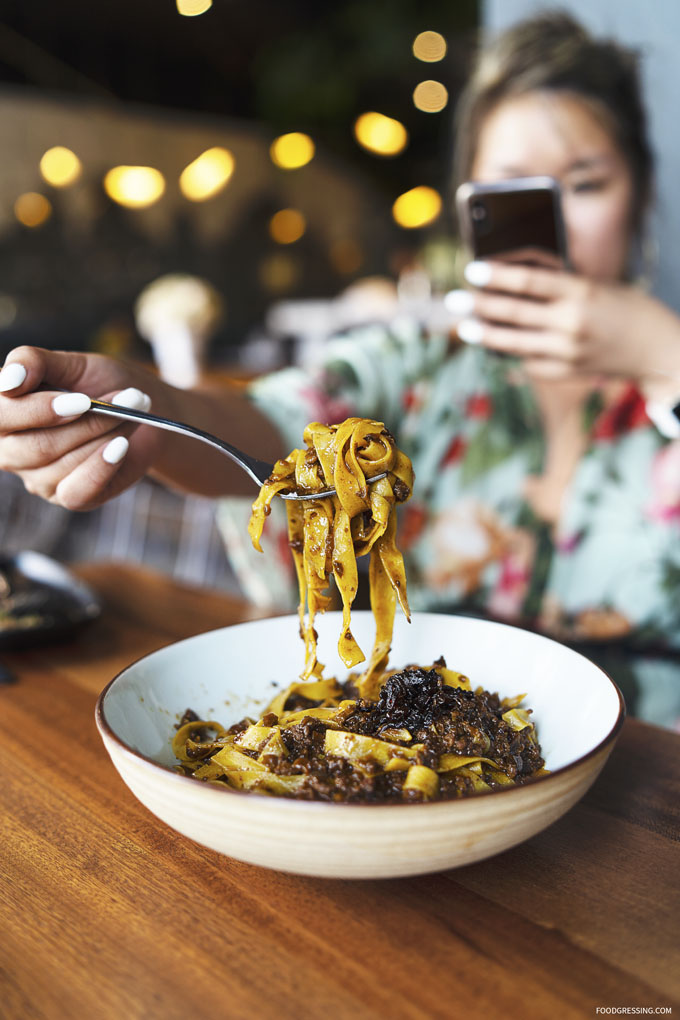 The Tiger Prawn Bucatini ($24) with shrimp and garlic chive pesto felt flat. I didn't like that they used corn which seems like a cheap ingredient (as in frozen corn or canned corn) when they are going for more elevated dishes.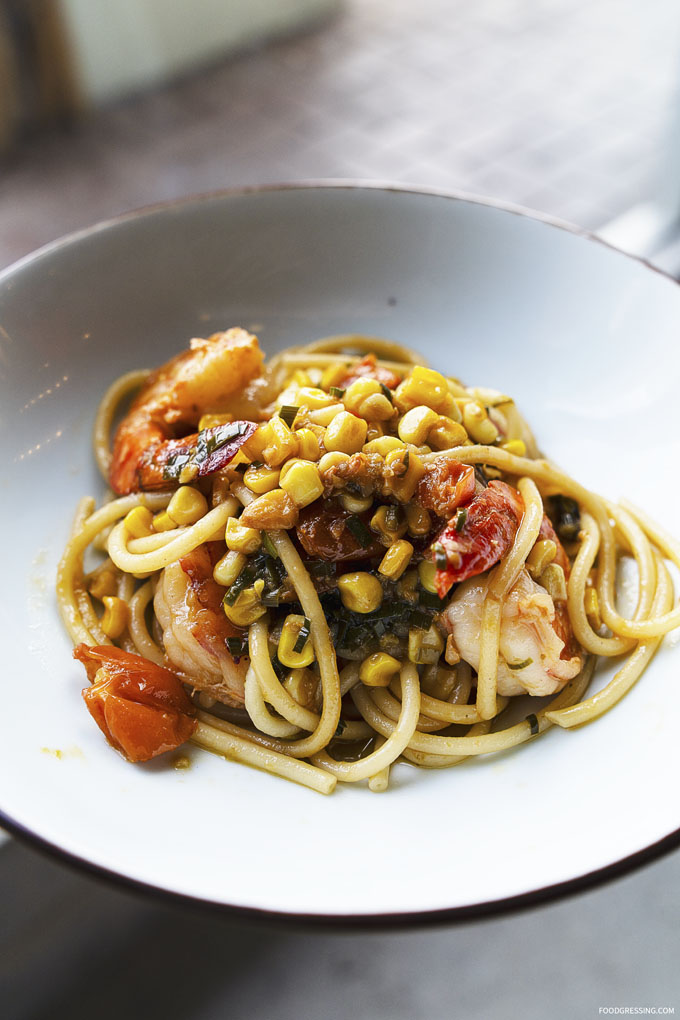 The Duck Breast ($26) was presented on a bed of soybeans, preserved mustard greens and celery root.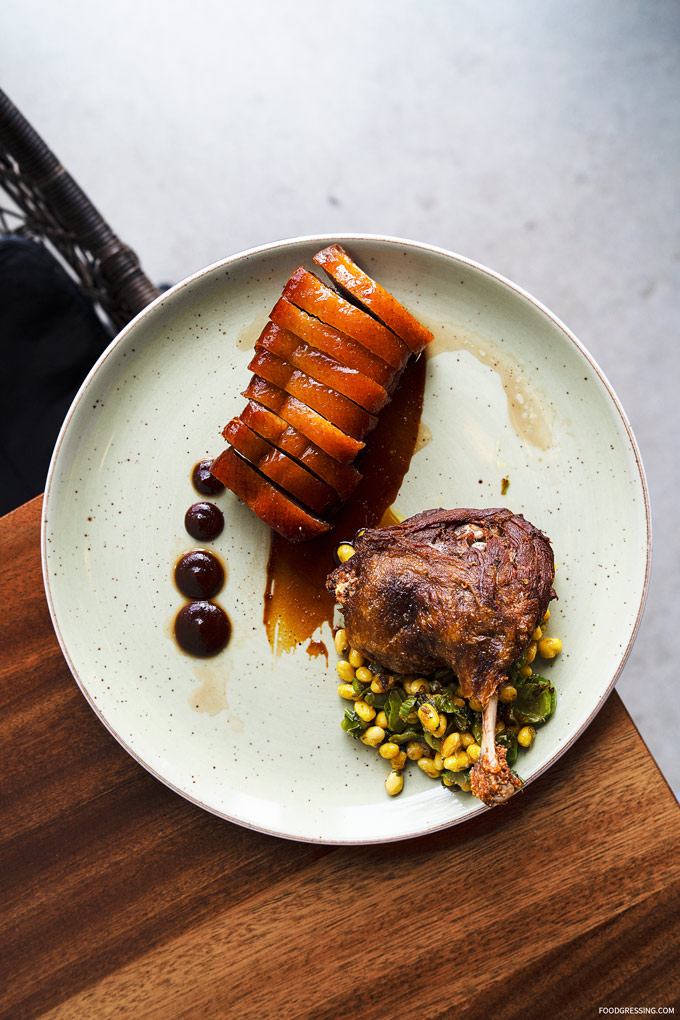 We also ordered the most expensive entree, "Beef and Broccoli" ($38) . It was an 8oz ribeye steak with sauteed broccoli, foie gras mousse, fingerling potatoes, and beef jus. We had ordered the dish as medium rare but it came to us as medium. The dish was sent back to the kitchen and we received a replacement dish which was less medium but not quite medium rare.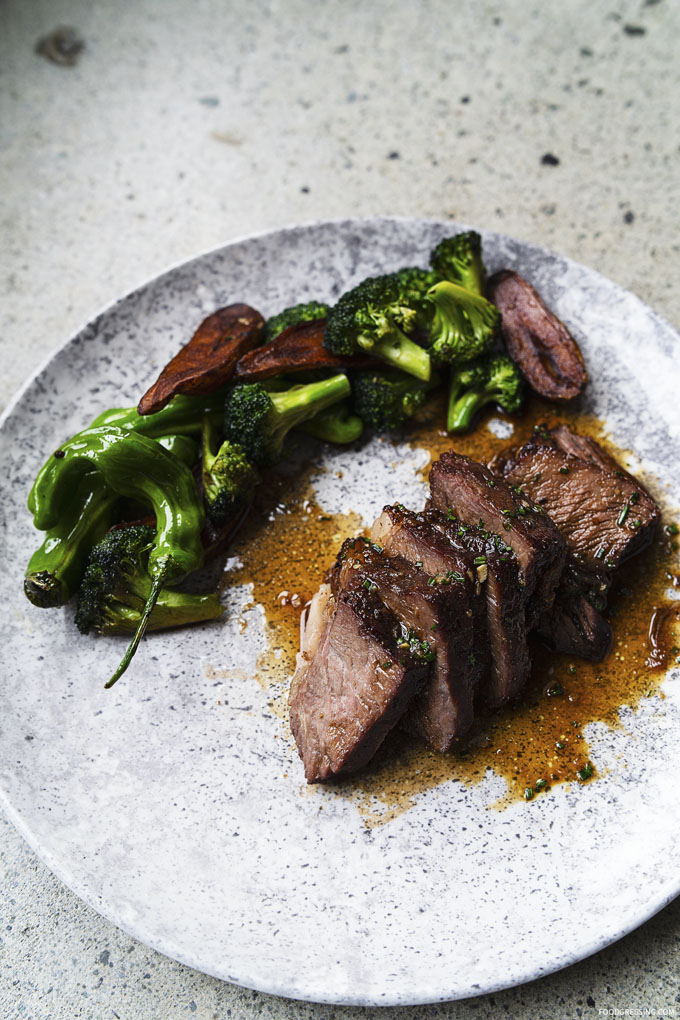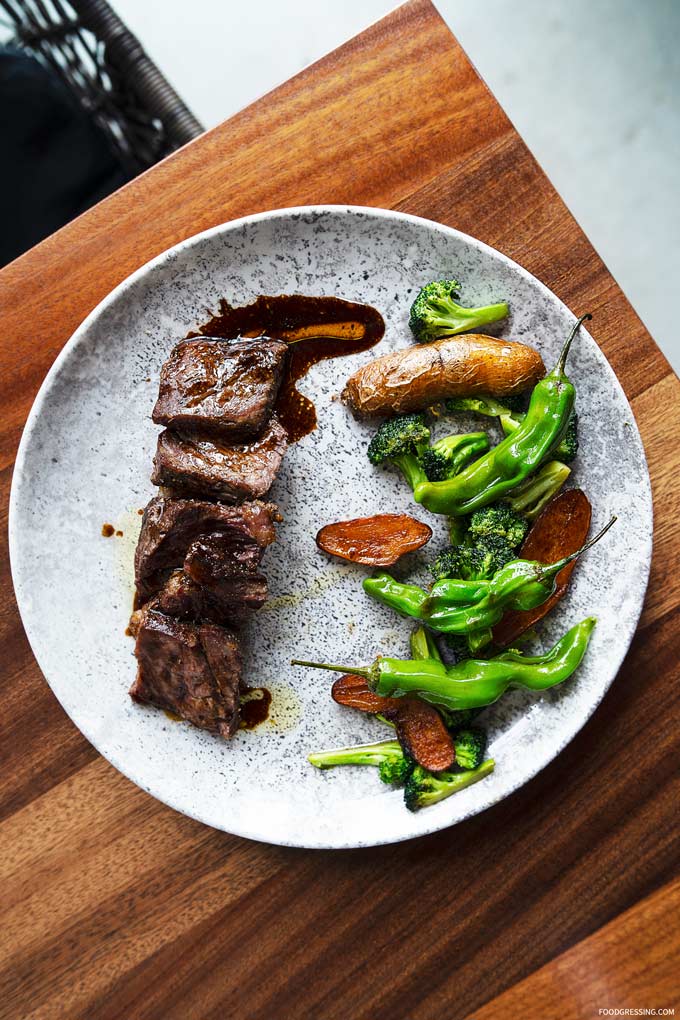 As the mains left much to be desired, we opted not to order desserts. Furthermore, the dessert options (which I can't remember exactly what they were) didn't spark much interest within the group.
My bill came out to $32 pre-tax and tip which I thought was low considering how many dishes we tried. I felt reasonably full but still had room for more if the experience warranted so.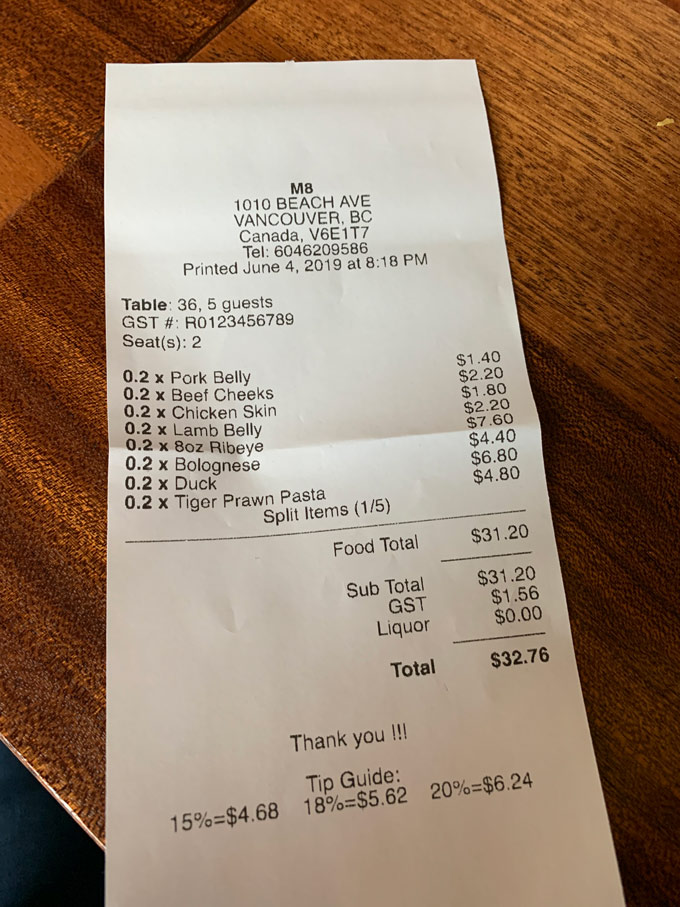 ---
Overall Impression of M8
The starters fared better than the mains at M8 in terms of flavour, presentation, and value; I would gladly order those appetizers again. Unfortunately, there wasn't much to write home about regarding the mains in my opinion. An ideal dining experience at M8 would be to enjoy a glass of wine and a few of their appetizers on their patio and taking in the views overlooking Granville Island. Rating: 3/5
---
M8
1010 Beach Ave, Vancouver, BC
m8yvr.com