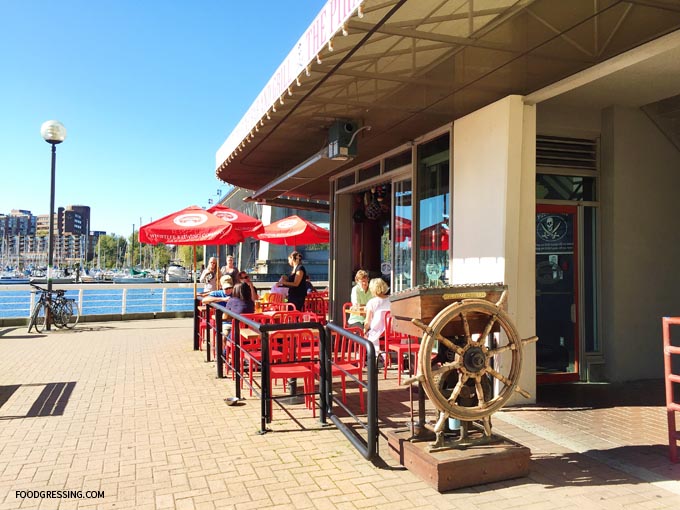 Located just beneath the Burrard Street Bridge, the Burrard Bridge Marine Bar & Grill is a popular place for pub food and drinks in the False Creek North area. The Burrard Bridge Marine Bar is otherwise known as "The Pirate Pub" and for being decked out in pirate paraphernalia. The staff aren't dressed as pirates fortunately (that would be too cheesy) but they do serve up some piratey eats. The Pirate Pub is currently undergoing renovation until Spring 2016. However, in this post, I will share my experiences from my two visits to the Pirate Pub.
Pirate Food
My first visit to the Pirate Pub was four years ago on a warm summer evening. My friend was back in town from Boston and me, my husband and our friend decided to go there for dinner. I remember sitting on their charming patio overlooking the marina, Burrard Bridge and over to Granville Island. It was a great place to people watch as there were many people passing by including cyclists, families with strollers, and people walking their dog.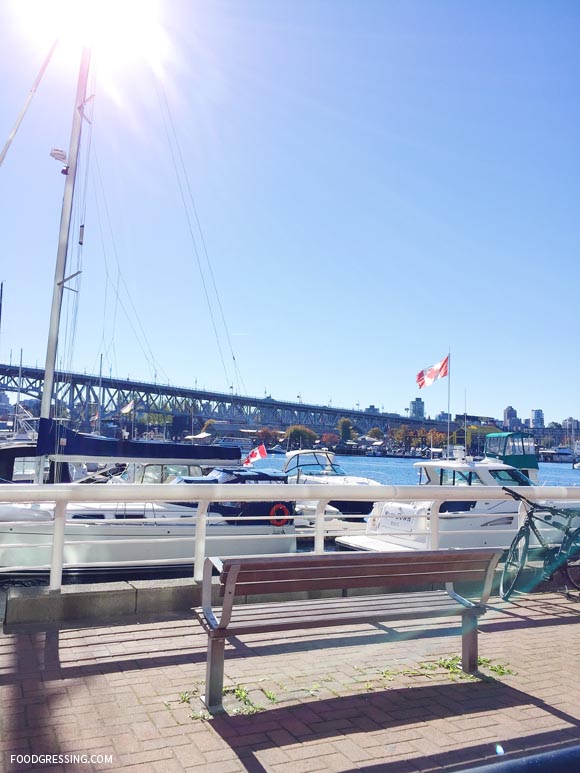 I had the Thai spicy tomato and lemongrass broth mussels while my husband had the Wild BC Salmon Burger. Our friend went with the AAA Angus Burger. The food was average I thought and portions seemed small for the price. Of course, this was not surprising given its expensive waterfront location.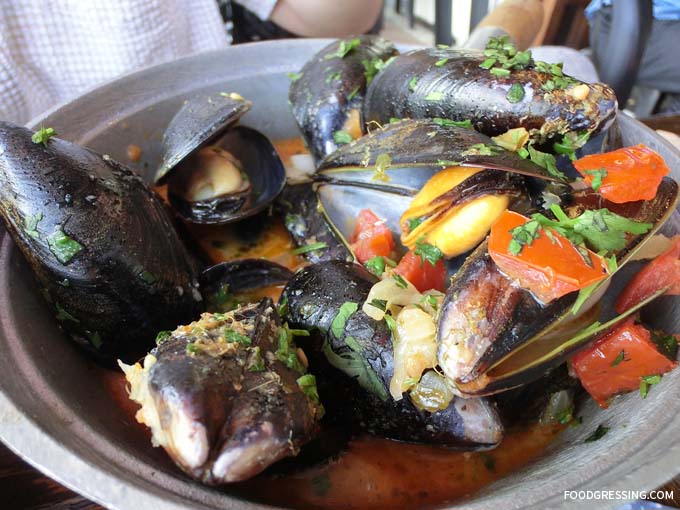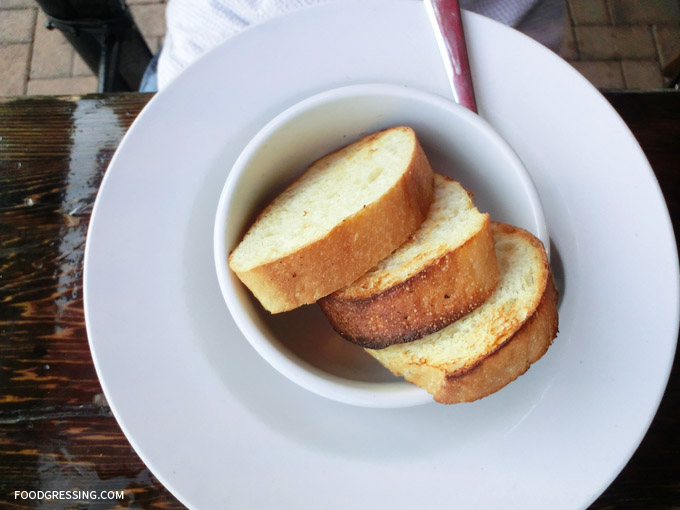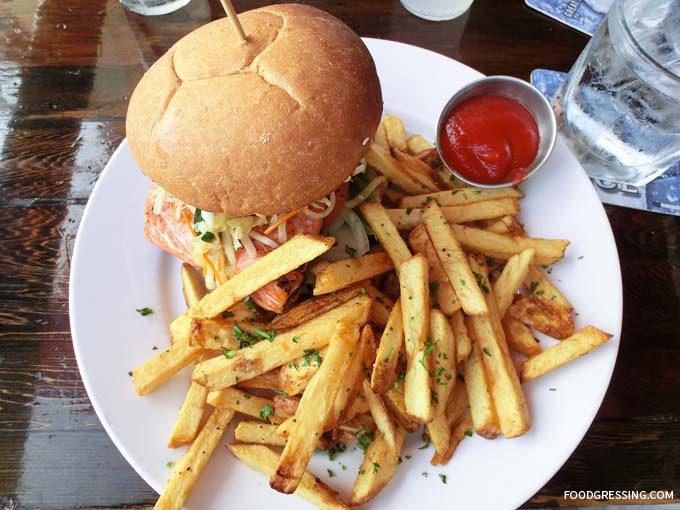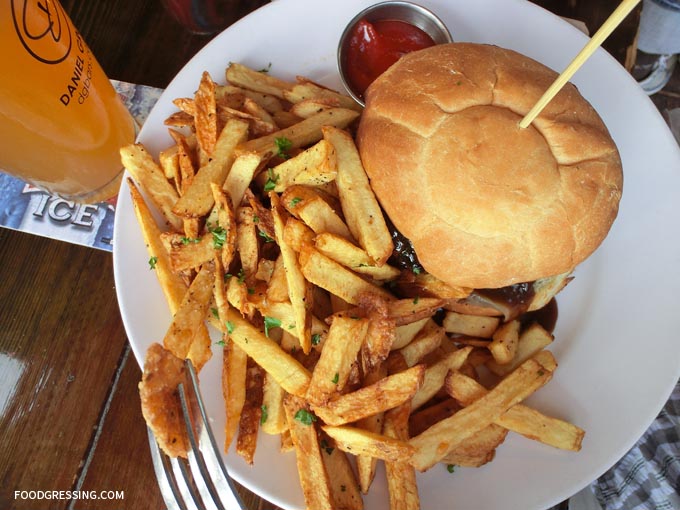 I decided to go for a revisit last fall for a late afternoon lunch. At that time, I ordered the oyster po'boy ($13.95) made with Oceanwise West Coast oysters, lettuce, tomato, tatar and spicy sweet pickles. It came with sea salted fries on the side. The portion appeared small for the price as expected. However, I appreciated that the batter on the oysters was light, but crunchy and flavourful. The French bread was light on the inside but had a nicely crackly crust. The fries were just okay and nothing to write home about.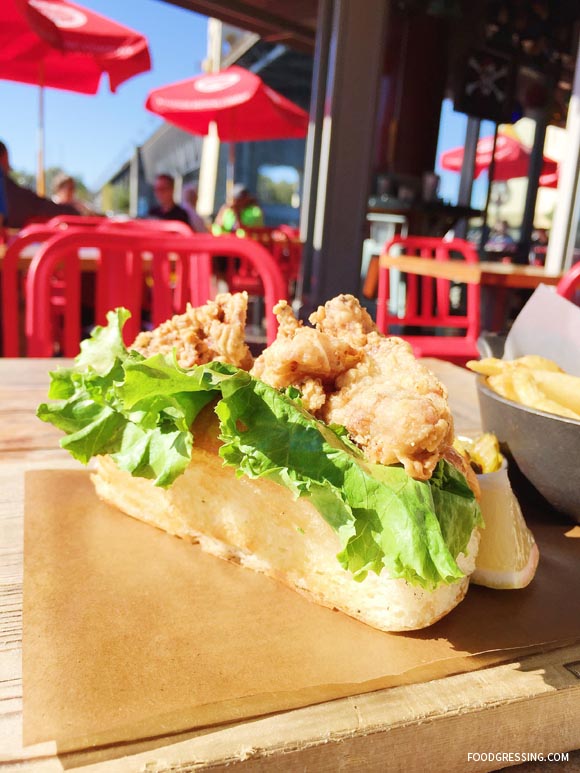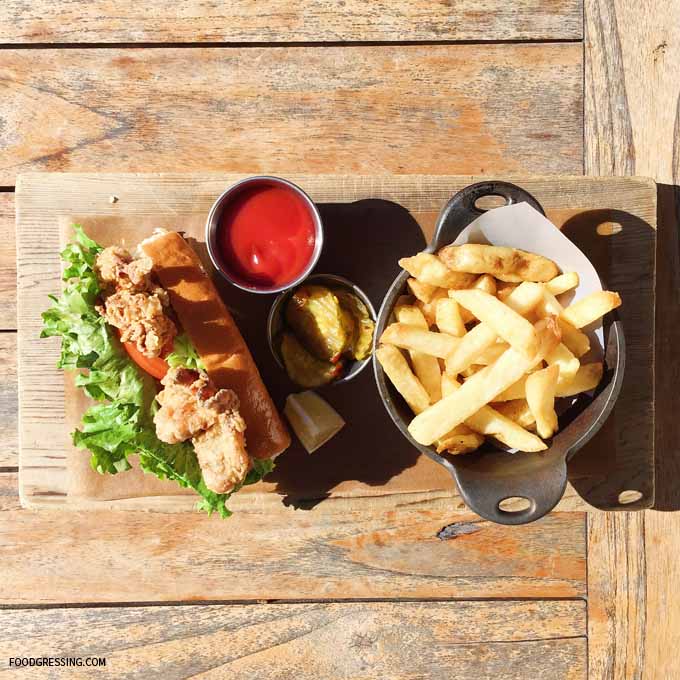 Can't PayWith That
I had been a user of Paywith, a Vancouver-based startup that offered virtual card payment. At point of purchase, I could present the Paywith app which would generate a virtual payment card that was linked to my credit card. It was handy in the sense that I could just pay with my phone. The Pirate Pub was noted as a participating business, and when I asked to pay with Paywith, the server had no idea what it was about. After checking with her manager, the server said they were not aware of being part of Paywith. It appeared to me that they did not make much of an effort to handle the situation. In fact, the appropriate protocol was for the restaurant to phone Paywith directly if they had issues. After leaving disappointed, I contacted Paywith about the refusal but they have not responded.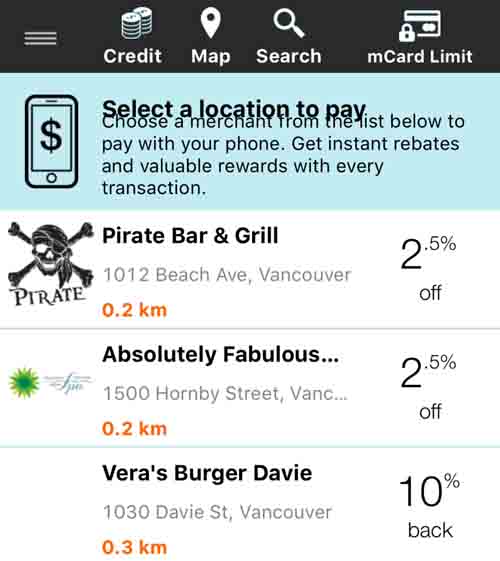 Overall Impression of Pirate Pub
The Pirate Pub's main charm point is the patio which offers a lovely waterfront view. However, I found the food to be on the pricier side given the portions. Unfortunately, the view alone isn't really enough to bring me back as customer. Rating: 3/5
For more information, visit the Pirate Pub at their website and on Twitter.