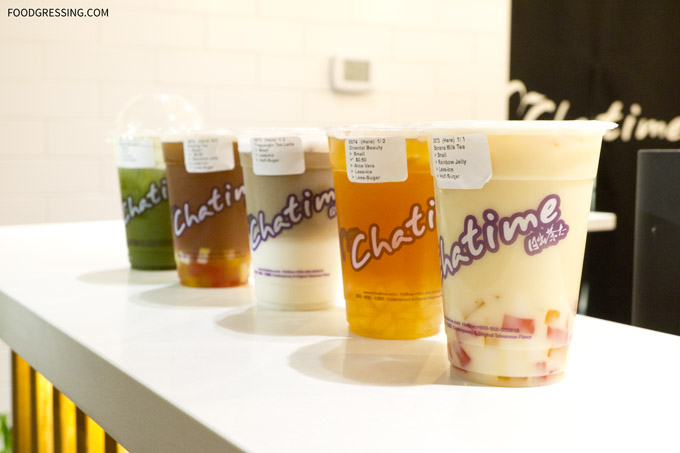 Disclosure: I was invited to a media event at Chatime Surrey. All opinions are my own.
Chatime lovers can rejoice as a new Chatime location is opening today. The new addition to the franchise in BC is Chatime Surrey at 10255 King George Blvd. Chatime Surrey has a fantastic grand opening special of "Buy One Get One Free" from January 3 – 5. The free one is either pearl milk tea or grass jelly roasted milk tea. You might want to hurry because you never know when the pearls might run out!
About Chatime
Originally form Taiwan, Chatime has over 1200 locations worldwide including Abu Dhabi, Miami, and London to name a few. In fact, 100 million cups of Chatime bubble tea are sold annually – now that's a lot of bubble tea!
In BC, there are four existing locations: 2 in Vancouver, 1 in Richmond and 1 in Burnaby. Conveniently located near the Skytrain station, Chatime Surrey is the 5th and newest bubbletea location for the franchise.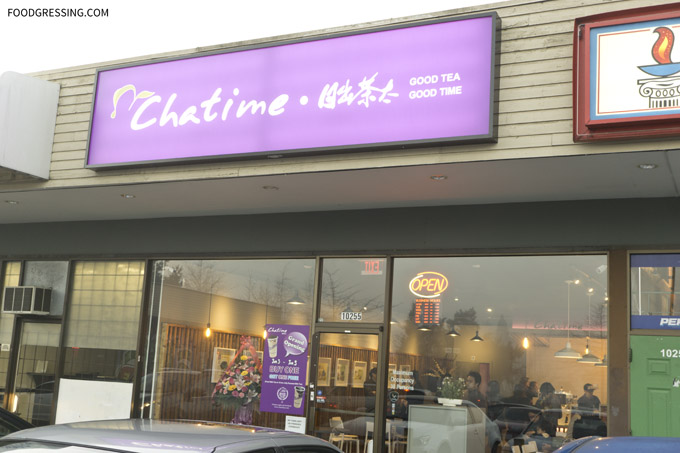 Quality is a Priority
To ensure the perfect drink, Chatime tea is brewed fresh in store. Their emphasis is on *natural*, using real tea leaves and natural ingredients. They rely on natural flavours, rather than using preservatives, pre-made tea and tea powder. Real fruit juice is used rather than powder and pearls are discarded after a few hours in order to ensure freshness. Chatime tea leaves are sourced from Taiwan including from their own tea farm.
Chatime Menu
Chatime has quite the selection of drinks which are organized by category. Some of the categories include Oriential Pop tea, Chatime Jelly, Milk Tea, Fruit Tea, and Mousse. Drinks range between $4-$5.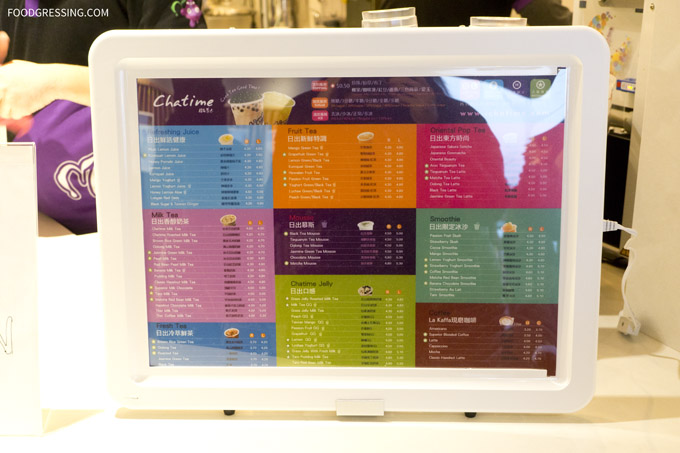 Customize Your Drink
Chatime is about making the drink right for you. You can decided on the ice level (regular, less, no ice) and even sugar level (extra, regular, less, half, slight or not sugar). They also have 8 toppings available: pearls, grass jelly, coconut jelly, red bean, coffee jelly, aloe vera, and rainbow jelly, pudding.
Chatime drinks come in regular (500 mL) or large (700 mL) for cold drinks and regular (500 mL) for hot drinks.
What We Tried
I only learned about Chatime when I attended a media event at their Downtown Vancouver store on Robson last May. Since then, I have been hooked and am a regular customer.
Yesterday, I was invited by Chinesebites.com to a media event at Chatime Surrey. My husband and son joined me at the event and we had the privilege of sampling any drink on the menu. While we are regular customers of the Top 10 Chatime drinks, we took the opportunity to try some ones that we normally do not order.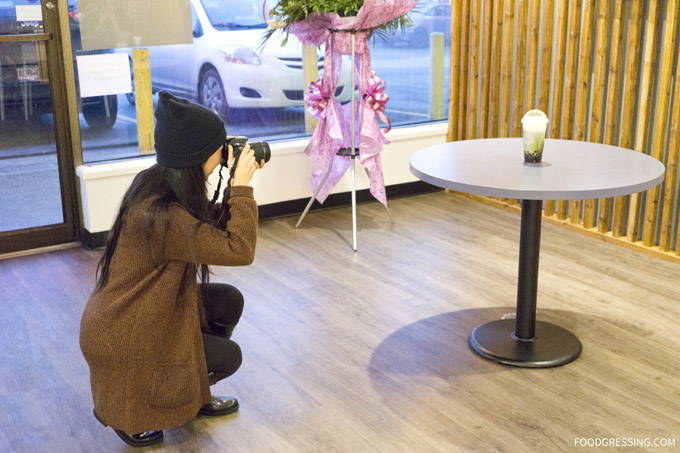 We started off with a matcha mousse with pearl (80% ice, half-sugar). The matcha flavour had just the right intensity without it being too bitter. This was my son's favourite drink of the ones we tried. Next up was the taro red bean milk tea (80% ice, half-sugar). The red beans were cooked just right – that is, not too mushy but not too firm.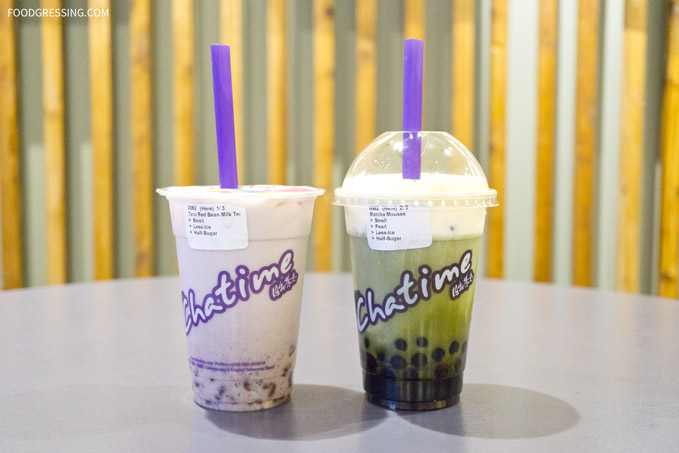 The hazlenut latte was the first hot drink I tried from Chatime. When I removed the lid, I was a bit surprised to find the drink not filled to the top. It was a regular size and I guess they don't have regular sized cups? The drink was hot but still drinkable and I even had red beans as a topping. Overall, it kind of felt like red bean and hazelnut dessert soup!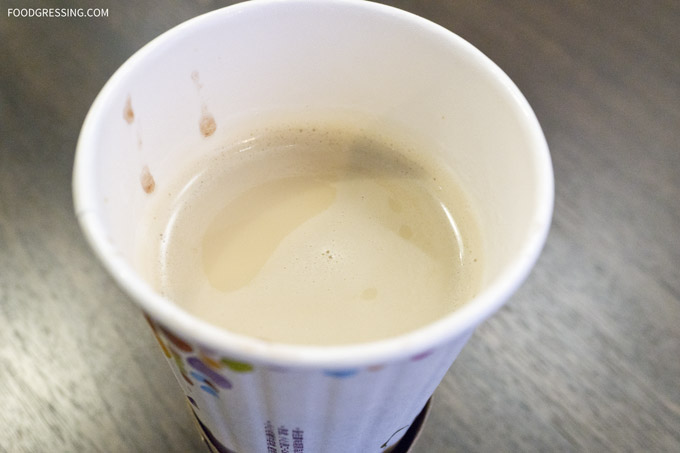 The last drink we tried was a banana milk tea with rainbow jelly. I have to admit that this was not an ideal combo. The banana flavour was very intense and did not go well with the mixed flavours of the rainbow jelly.
Overall Impression of Chatime Surrey
As a fan of the Chatime franchise, it is exciting to see a new Chatime location being opened in Metro Vancouver. The drinks I tried were overall very good but I would personally stay away from the rainbow jelly; it adds too many complex flavours to the drink. Rating: 4/5
For more information, visit Chatime BC at their website and on Facebook.