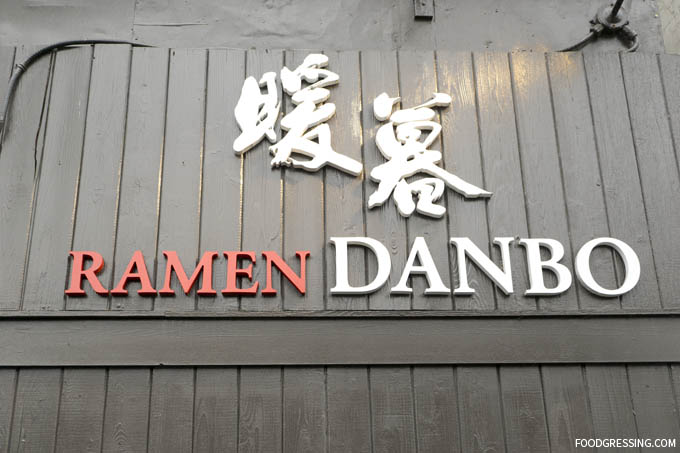 Happy New Year everyone! Wishing you tons of delicious eats in 2016!
The weather has been cold (*brr!*) and a hot bowl of ramen is just what you need to warm up. Located near 4th and Burrard, Ramen Danbo has been open since late spring last year. My husband and I were shopping on West 4th recently and we popped into Ramen Danbo to take a break from the cold. Ramen Danbo has been well-received by ramen lovers and has had favourable reviews overall on Zomato and Yelp. As a ramen enthusiast, I was eager to slurp their noodles and taste their savoury broth for the first time.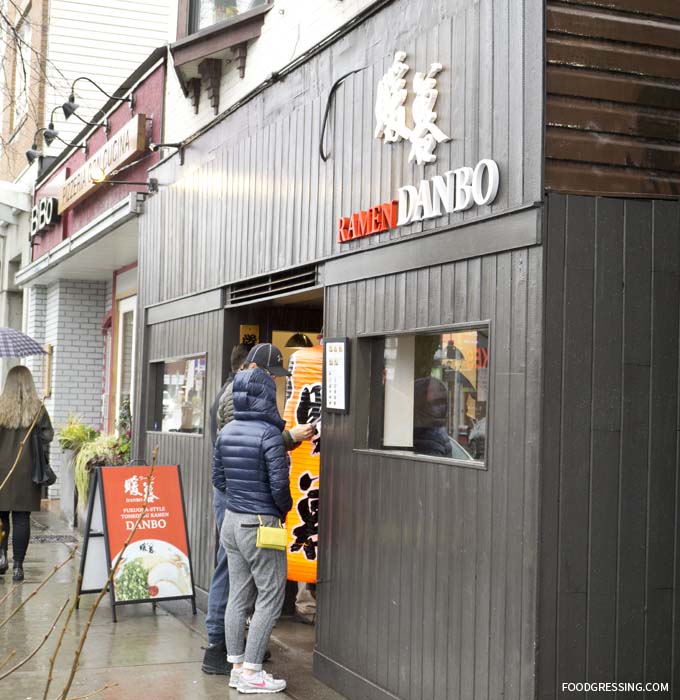 Fukuoka-Style Tonkotsu Ramen
Ramen Danbo serves traditional tonkotsu ramen (pork-bone broth) crafted in the Kyushu Hakata style (other popular regional styles are Tokyo and Sapporo). For some geographical context, Hakata ramen is from Fukuoko, which is Japan's sixth largest city and is located on the island of Kyushu. While Ramen Danbo has over 20 locations in Japan, their Kitsilano location is the first international one.
Seriouseats.com noted that many ramen broths are gently simmered to develop subtle flavors. However, tonkotsu broth is cooked at a rolling boil, which gives the soup its rich body, opaque appearance, and rich texture.
Ramen Danbo Menu
The Ramen Danbo menu is fully available online. It includes 5 signature ramen ranging from a classic tonkotsu ramen to a spicy blazing hot rekka ramen. The prices are standard for a ramen eatery with bowls between $9 – $12. The wonderful thing is that you can customize your ramen by choosing the thickness and firmness of the noodles, the thickness of the noodle broth, and the amount of lard and spicy tare sauce. While I have chosen the noodle type at other ramen restaurants, the latter options have not been offered in my experience. At Ramen Danbo, extra-noodles can be ordered as a half ($1.00) or full order ($2.00). Extra topping choices included the usual chashu pork, soft-boiled egg topping and seawood. They also offer typical toppings for Hakata style ramen which are kikurage (cloud ear mushroom) and Karashi Takana (pickled Japanese mustard greens with a spicy kick).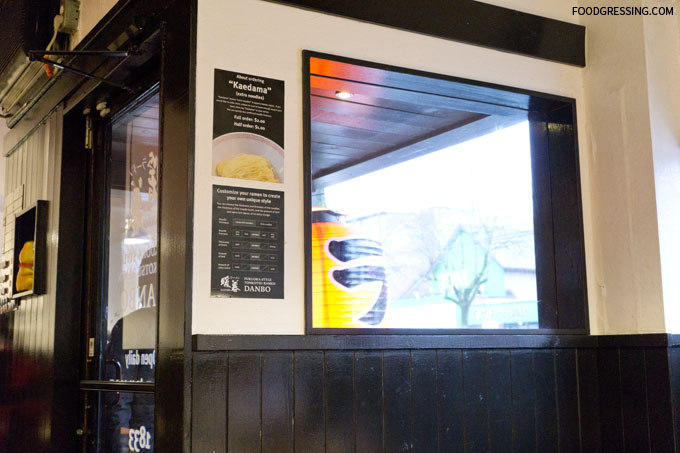 What We Tried
I chose the Negi-goma Tonkotsu Ramen which came with fresh scallions, 2 Yakibuta Chashu pork slices, toasted sesame seeds and white sesame oil.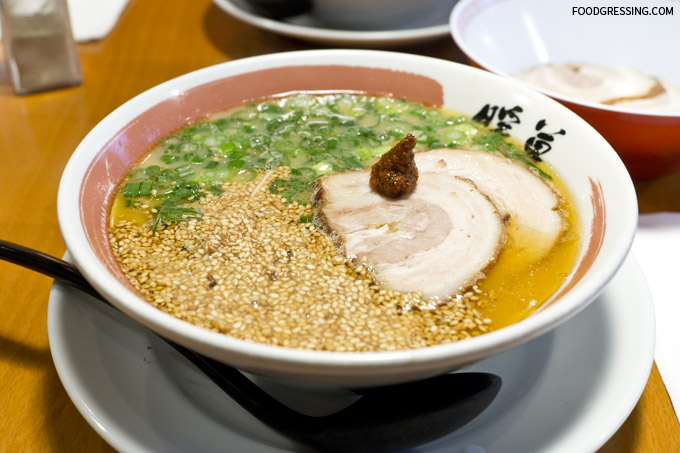 My husband – the spicy lover – had the Blazing Hot Rekka Ramen ($10.45) with a conservative choice of 5 times the standard spiciness (rather than 10, 15, or 20 times). The spiciness was courtesy of the Ichimi Togarashi red pepper imported from Japan. Since we just can't get enough of chashu, we ordered an extra three slices to share ($2.25). We also went with standard for all the options for noodles, broth, lard and spicy tare sauce.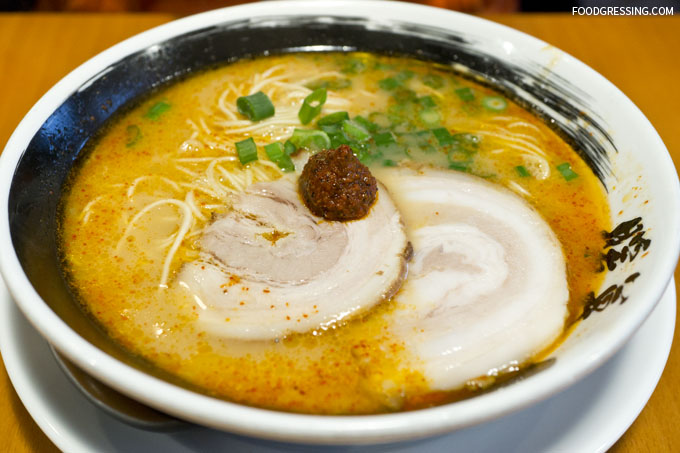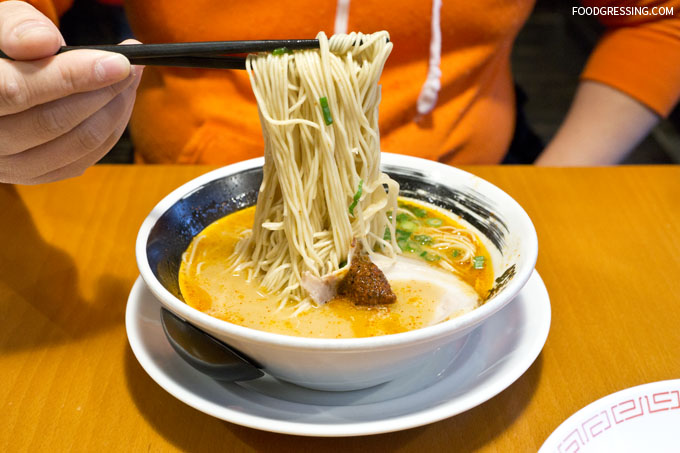 The order arrived quite quickly, and was piping hot on arrival. I found the broth to be nicely milky, golden in colour, and flavourful, while the noodles were thin but firm. The chashu, though not the most melt-in-your-mouth I have had in Vancouver, was still very tender. I loved the fun texture from the white sesame oil and toasted sesame seeds. My husband found his ramen to have a nice kick to it but he would take it to the max next time by choosing 15 times spiciness. I was reasonably full and having extra chashu pieces definitely helped.
Like many ramen restaurants, Ramen Danbo is rather small and you will most likely need to wait outside. However, the covered waiting area in their doorway is limited by one gigantic red lantern. My advice to management would be to remove it to allow a bigger covered waiting area. It is particularly helpful when it is raining outside!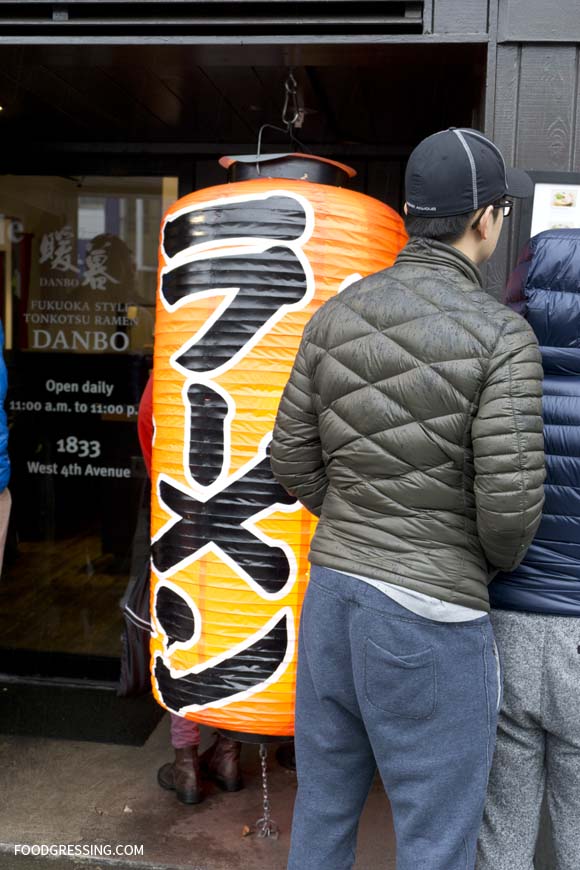 Overall Impression of Ramen Danbo
It was my first time trying Hakata style ramen and I found it overall very hearty and delicious. I love how they allow so many customization options. I would recommend getting extra toppings to ensure that you are full. Rating: 4/5
For more information, visit Ramen Danbo on their website.