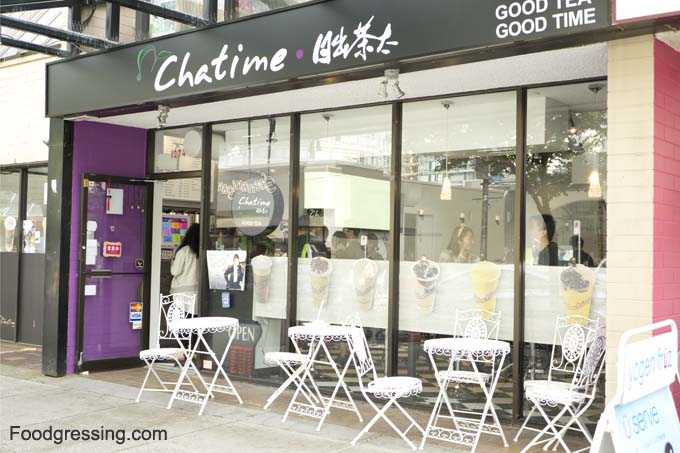 Chatime, known as the #1 bubble tea brand in the world, has opened two new locations right here in Vancouver. One location is at Robson and Broughton which is convenient for people looking for a break after an afternoon of shopping. The other is on Broadway and Fir which could be a great stop for anyone commuting on the 99 B-line. I was invited by ChineseBites.com to attend the media event at the Robson location to try out their handcrafted beverages.

#1 bubble tea brand in the world
Originally from Taiwan, Chatime has now over 1200 locations worldwide including Abu Dhabi, Miami, and London to name a few. 100 million cups of Chatime bubble tea are sold annually – now that's a lot of bubble tea! I had not heard of Chatime until they launched in Vancouver, but I expected them to be experts in making the perfect bubble tea drink given the size of their franchise.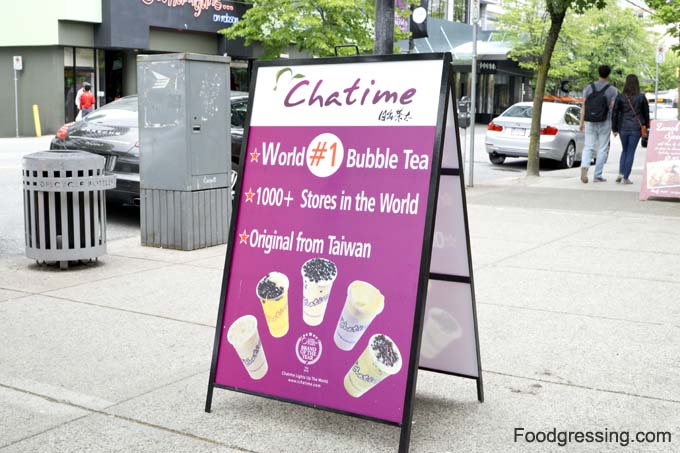 Quality is a Priority
To ensure the perfect drink, Chatime tea is brewed fresh in store. Their emphasis is on *natural*, using real tea leaves and natural ingredients. They rely on natural flavours, rather than using preservatives, pre-made tea and tea powder. Real fruit juice is used rather than powder and pearls are discarded after a few hours in order to ensure freshness. Chatime tea leaves are sourced from Taiwan including from their own tea farm.
Chatime Menu
Chatime has quite the selection of drinks which are organized by category. Some of the categories include Oriential Pop tea, Chatime Jelly, Milk Tea, Fruit Tea, and Mousse. Drinks range between $4-$5. For a photo of the menu, see here.
Customize Your Drink
Chatime is about making the drink right for you. You can decided on the ice level (regular, less, no ice) and even sugar level (extra, regular, less, half, slight or not sugar). They also have 8 toppings available: pearls, grass jelly, coconut jelly, red bean, coffee jelly, aloe vera, and rainbow jelly, pudding.
Chatime drinks come in regular (500 mL) or large (700 mL) for cold drinks and regular (500 mL) for hot drinks.
Top 10 Chatime Drinks
The Top 10 Chatime Drinks are:
Pearl Milk Tea
Grass Jelly Roasted Milk Tea
Taro Pudding Milk Tea
Brown Rice Green Milk Tea
Taiwan Mango QQ
Matcha Red Bean Milk Tea
Mango Smoothie
Red Bean Pearl Milk Tea
Matcha Tea Latte
Chocolate Mousse
My husband and I tried 5 of the top 10 drinks: Grass Jelly Milk Tea, Taro Milk Tea, Red Bean Pearl Milk Tea, Matcha Red Bean Milk Tea, and Taiwan Mango QQ.

The Grass Jelly Milk Tea consisted of black tea, QQ and grass jelly and was my favorite of the bunch we tried. I never had grass jelly in bubble tea before and it was interesting to slurp such large pieces of jelly up the straw.
The Taro Milk Tea had black tea, QQ (a mix of pearl and coconut jelly) and milk powder. It was a nice, light and refreshing drink.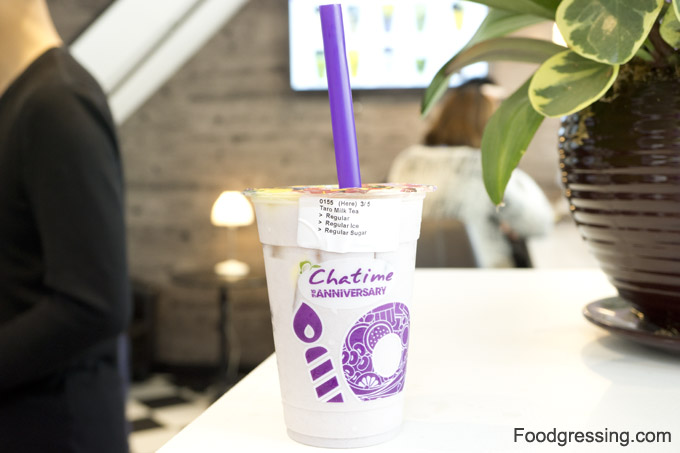 I love red bean in food so naturally I enjoyed the Red Bean Pearl Milk Tea the most. It had no pearls but a delicious mix of red bean, taro powder and milk powder. I was on the fence with the Matcha Red Bean Milk Tea. I regularly drink matcha tea and matcha lattes, but I wasn't in love with matcha mixed with red bean flavour.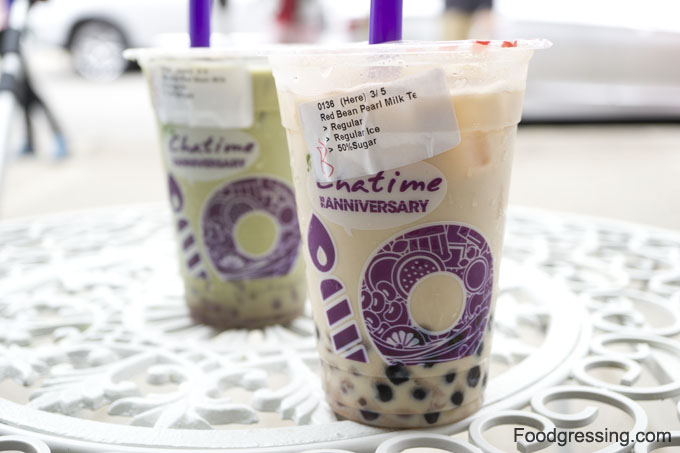 The Taiwan Mango QQ consisted of mango and QQ . It was my least favorite because the mango flavour seemed too intense.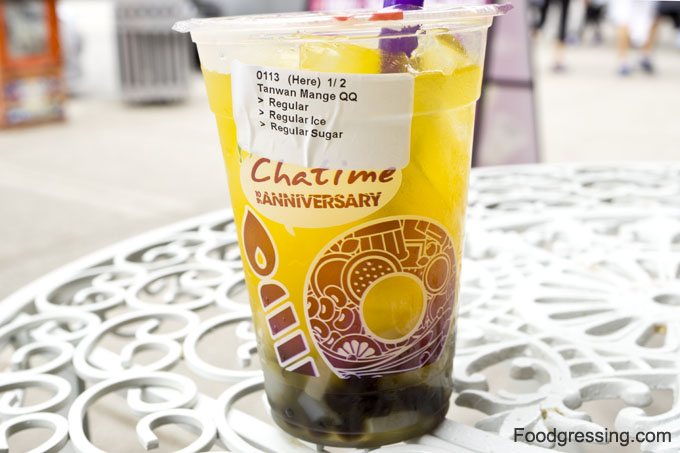 Chatime Rewards Program
You can pick up at Chatime Rewards card at one of the Richmond, Broadway and Robson Chatime locations and start earning points! You earn 1 point for every drink you purchase and redeem 10 points for one regular sized drink with one complimentary topping. You can also receive a free regular drink within 7 days of your birthday.
Overall Impression of Chatime Robson
I like that Chatime uses more natural ingredients and natural flavours in their bubble tea drinks. Allowing customers to decide on the ice and sugar level is also a plus. On my next shopping trip on Robson, I'll be sure to pop by Chatime for a refreshing drink.
Website: http://www.chatimeca.com/
Facebook: https://www.facebook.com/pages/Chatime-Vancouver%E6%97%A5%E5%87%BA%E8%8C%B6%E5%A4%AA/559699700808978