Newly opened on Commercial Drive is Ugly Dumpling, a restaurant specializing in pan-Asian comfort food with a farm-to-table approach. Ugly Dumpling takes over the space formerly occupied by the Merchant's Workshop at 1590 Commercial Drive.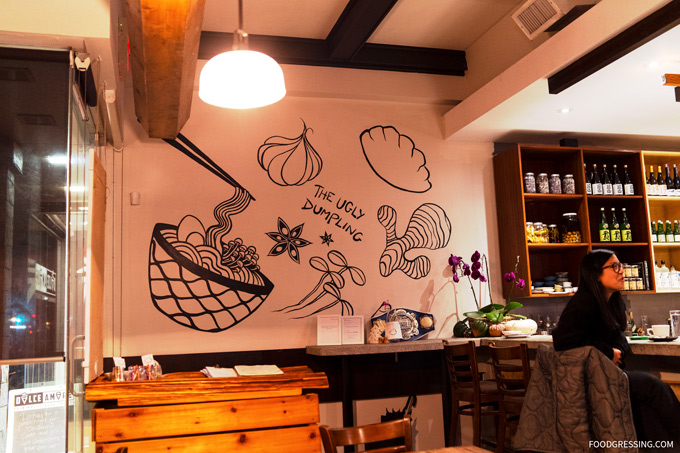 The restaurant is co-owned by Chef Darren Gee (formerly The Farmer's Apprentice, Kinome and Le Crocodile) and Van Doren Chan (formerly Le Crocodile, Hawksworth and Ugly Dumpling's sommelier).
Ugly Dumpling Menu
The menu changes seasonally as the ingredients are sourced from organic and local farms. Chalkboard specials featuring drinks, the daily dumpling and staff meal are posted on the restaurant's Instagram account.
The name of the restaurant is a bit of a misnomer as the restaurant isn't a dumpling house. There is just one daily dumpling and these are sometimes handmade by Van Doren Chan's mother.
The rotating beverage program features sake, sherry, wine, and local craft beer. Also available is house made kombucha and soda.
The beverage menu is whimsically presented as a coloring book. Crayons are presented on the table so that you can color at your leisure.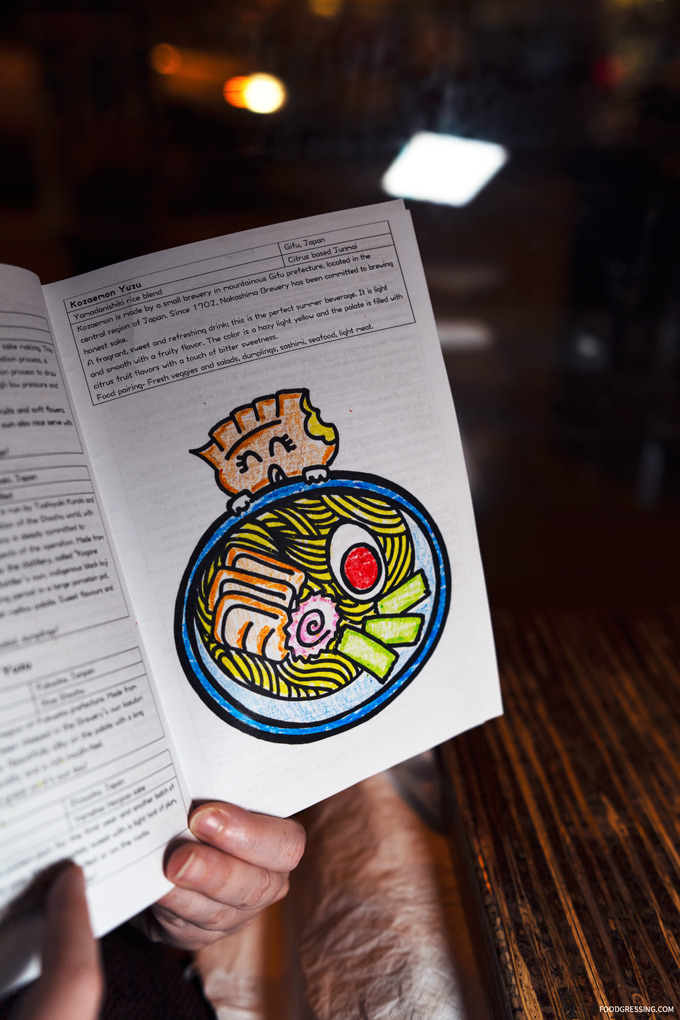 Interior
The decor seemed pretty minimal with dining tables of 2 – 4 and an L-shaped bar.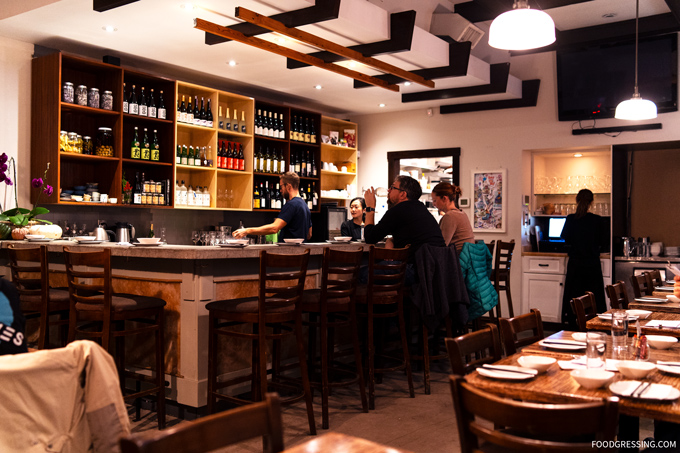 10-Course Family-Style Omakase
I visited Ugly Dumpling with my fellow foodie friends David (pickydiner.com), Hanson (noshandnibble.blog) and Kristina (drunkenoms.com). We went with the 10-course family-style omakase priced at $60 per person.
Note: None of the food nor drinks in this post were complimentary. This review is done anonymously.
The simple dishes that we had throughout the evening certainly exemplified the theme of food tasting better than it looked. In a previous article, Van Doren Chan had noted, "food doesn't always need to look good to taste good."
What We Tried
Homemade Pickles
To start homemade pickles featuring shoyu fennel, onions and oshinko (Japanese pickled radish).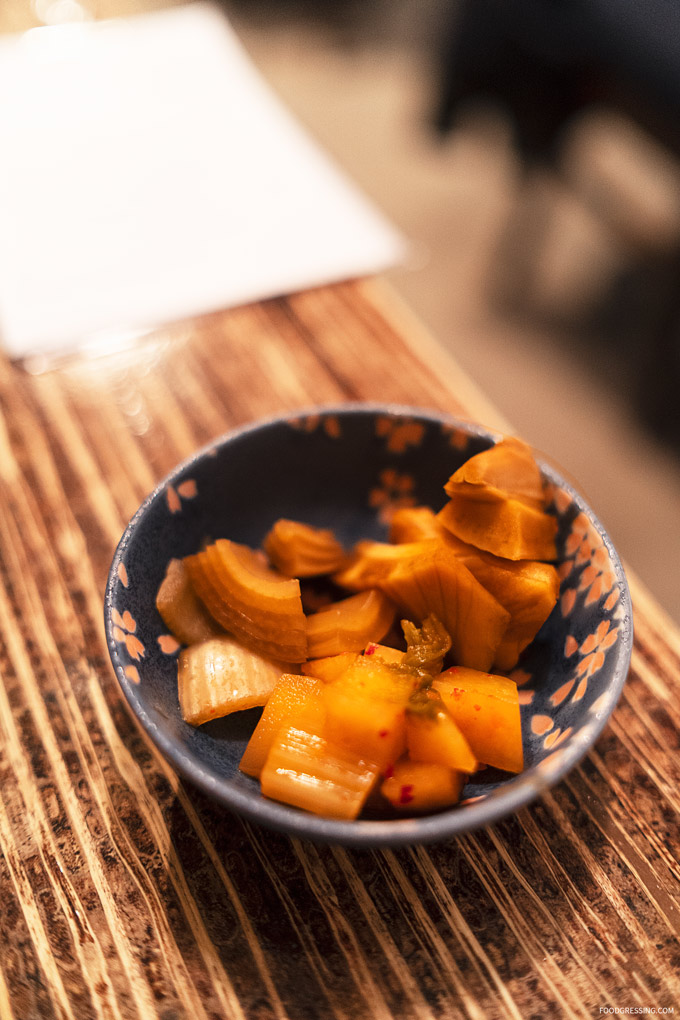 Marina's Gold Oysters, pickled grape, fresh horseradish
These wonderfully plump oysters have a salty and sweet flavour profile with a green melon finish.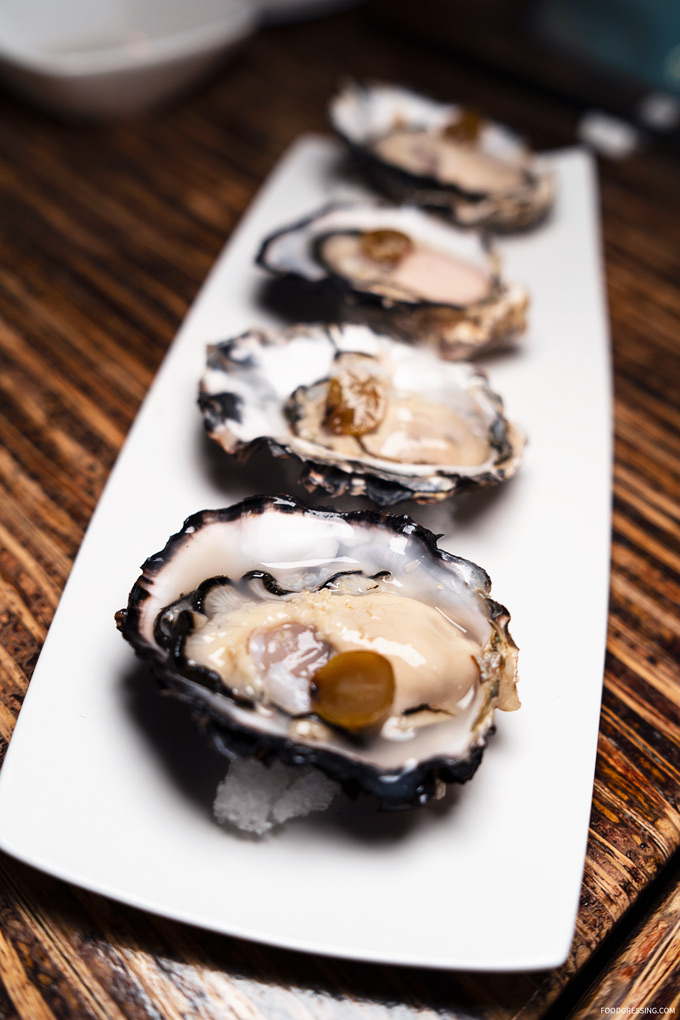 Winter Greens Salad, Asian Pear, Pickled Radish, Bonito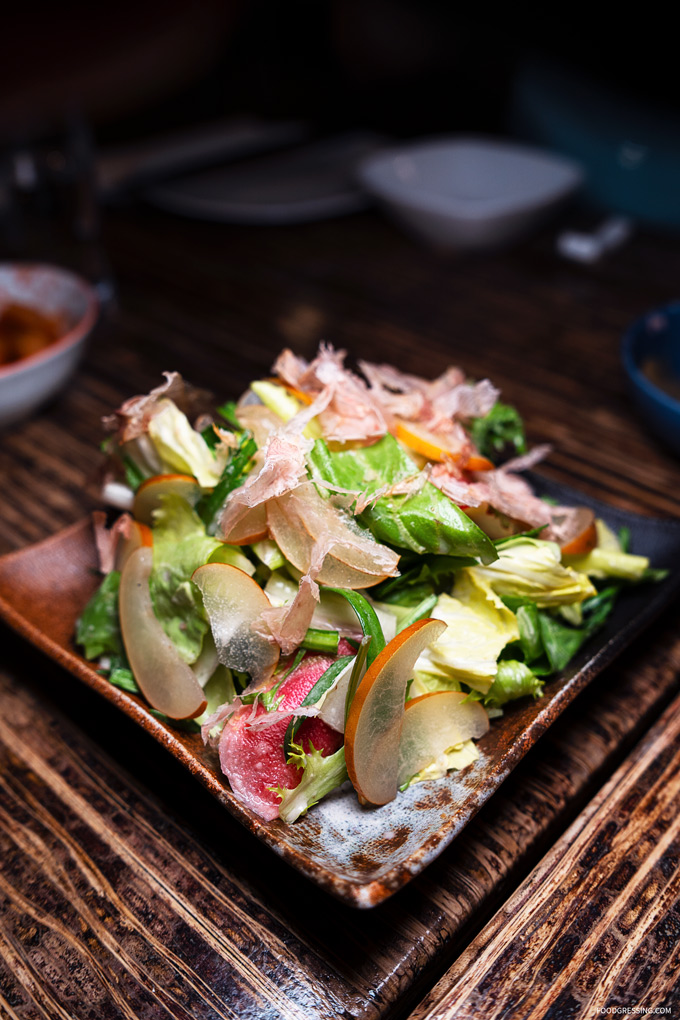 Spicy Marinated Burdock Salad
I'm not sure that I have had a burdock salad before so this was interesting.
The burdock had a crunchy texture and had a sweet, spicy and mild flavour. The salad also had celery and carrots.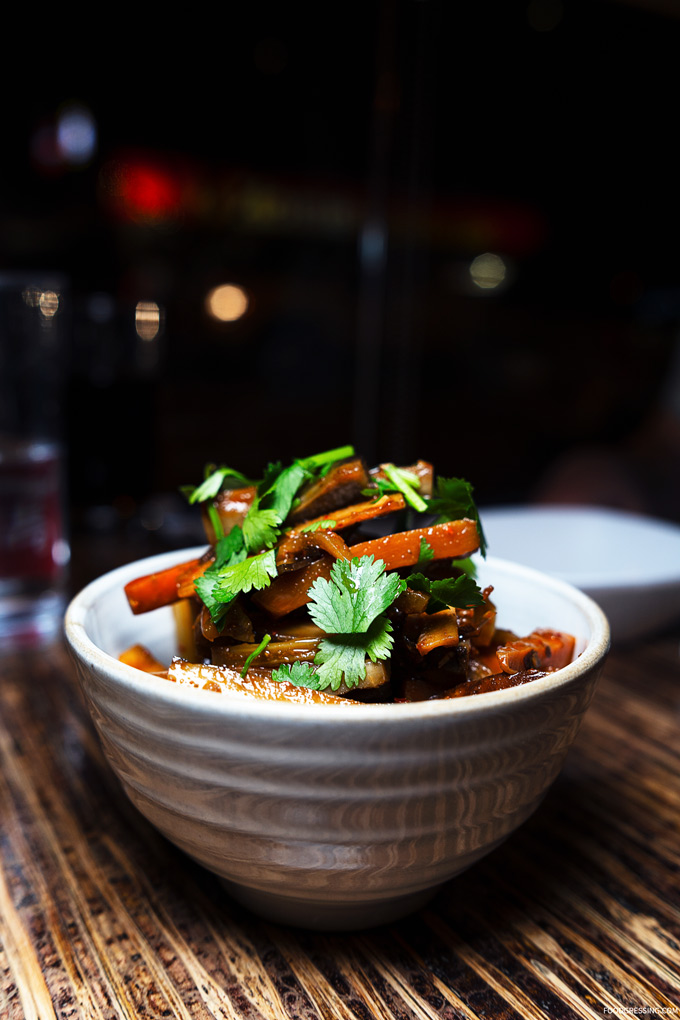 Pork, duck and mushroom pate with persimmon relish
The pate was mild in flavour and was delicate in texture., The persimmon relish was unique and added some sweetness to the pate.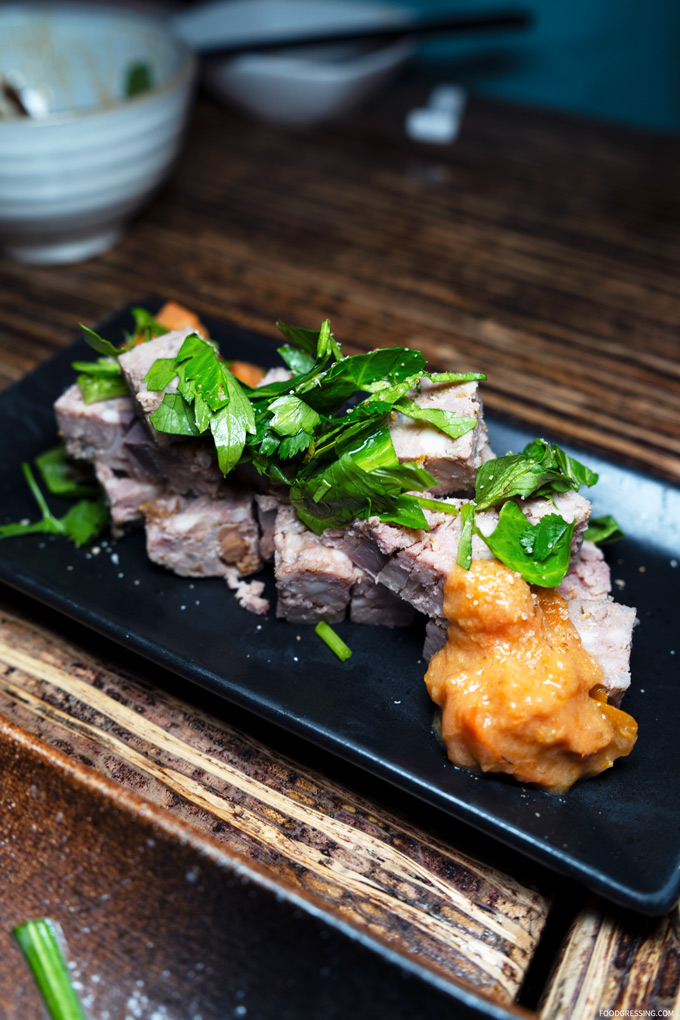 Steamed tofu and shirako with XO sauce and ginger
The most unique aspect of this dish was shirako otherwise known as salmon sperm sac. The sac was creamy and custard-like in texture, and had a slightly sweet and subtle savoury flavour.
Daily Dumpling: Pork, Spicy Cod Roe, and Cheese
Too bad we only had one dish of dumplings because they were really good! The dumplings had a crispy, golden exterior (although some were a bit burnt) and a very interesting savoury filling of pork, spicy cod roe and cheese. The filling tasted more meaty than fish and cheese.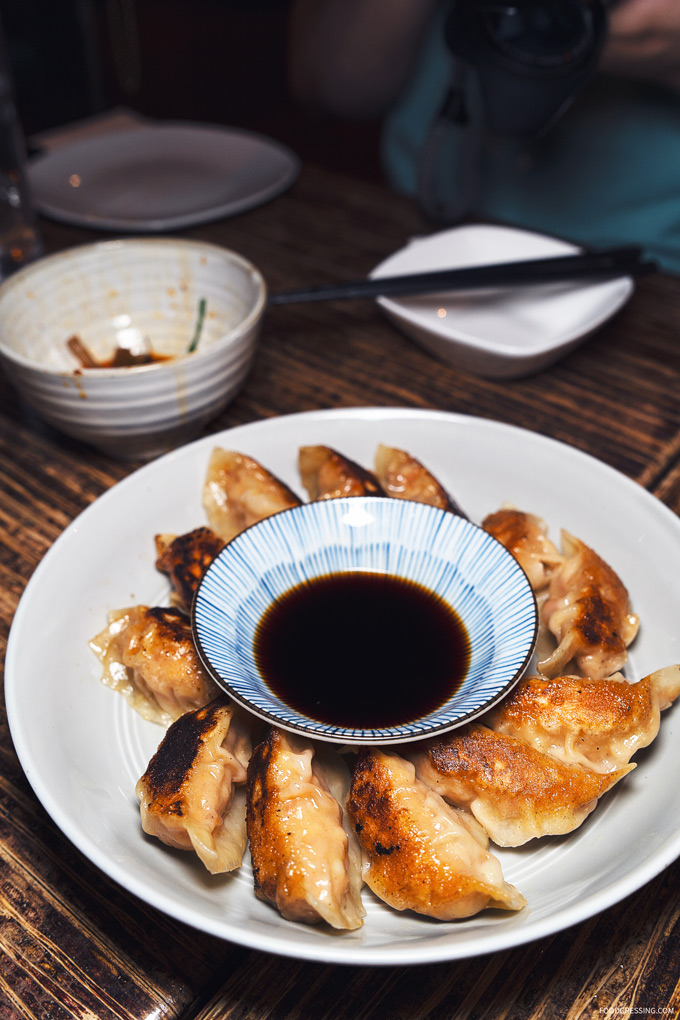 Steamed Radish Cake with Soy Bacon and Sour Cabbage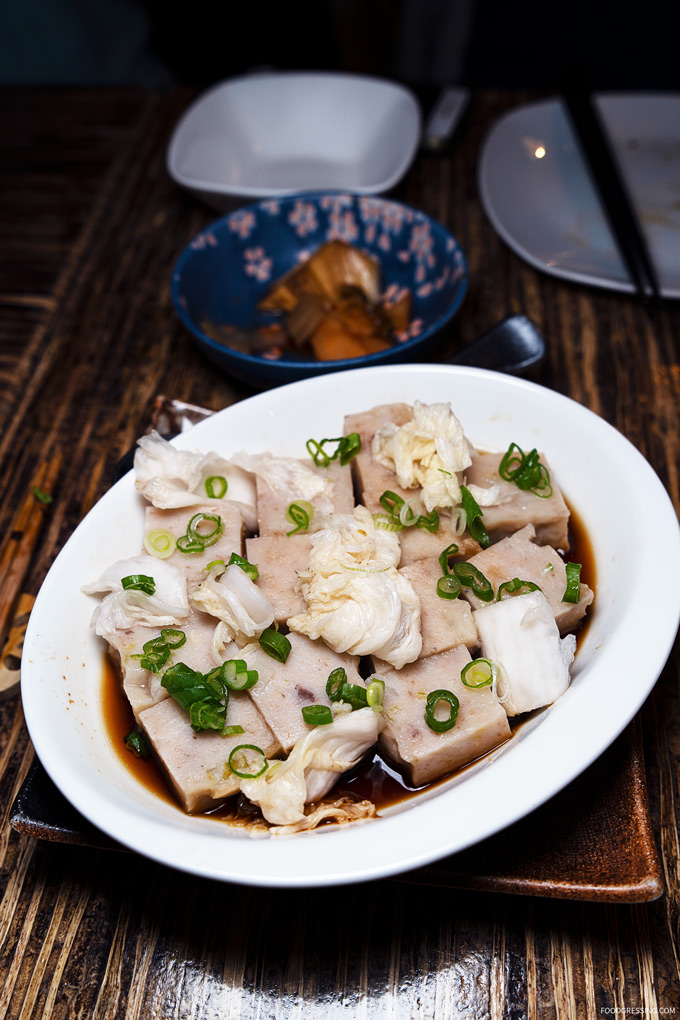 Tamarind Glazed Whole Lemon Sole, Komatsuna
I enjoyed the sweet and sour glaze with the tender meat of the sole. This dish was cooked with Japanese mustard spinach.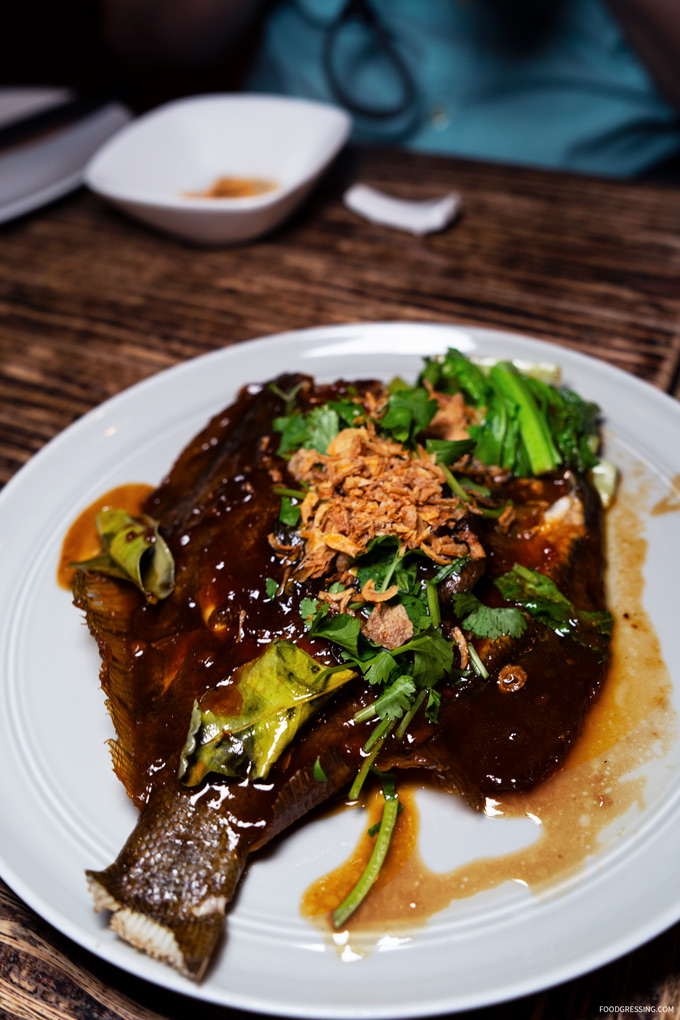 3-Week Aged Whole Quail, Turnip, Ginger, Scallion
Our group enjoyed the quail with the gently crispy skin and flavourful, tender meat.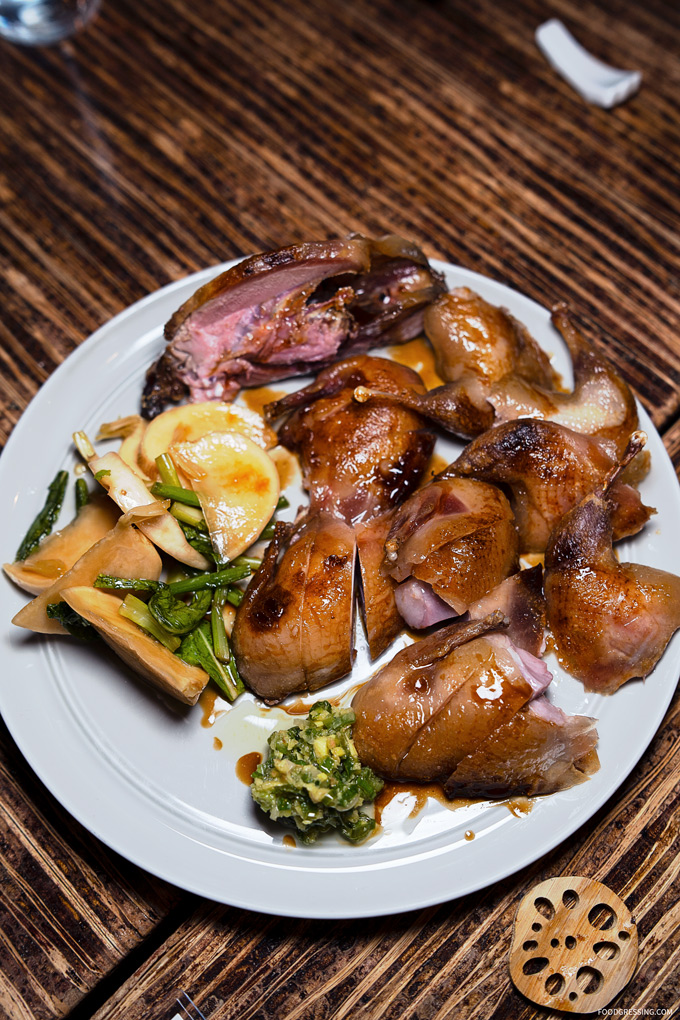 Housemade Noodles: TanTan Ramen
The ramen was not as good as we expected as the sauce was overpowering the noodles; there was just too much of it. I think that there should be just enough sauce to coat the noodles. The noodles weren't very al dente.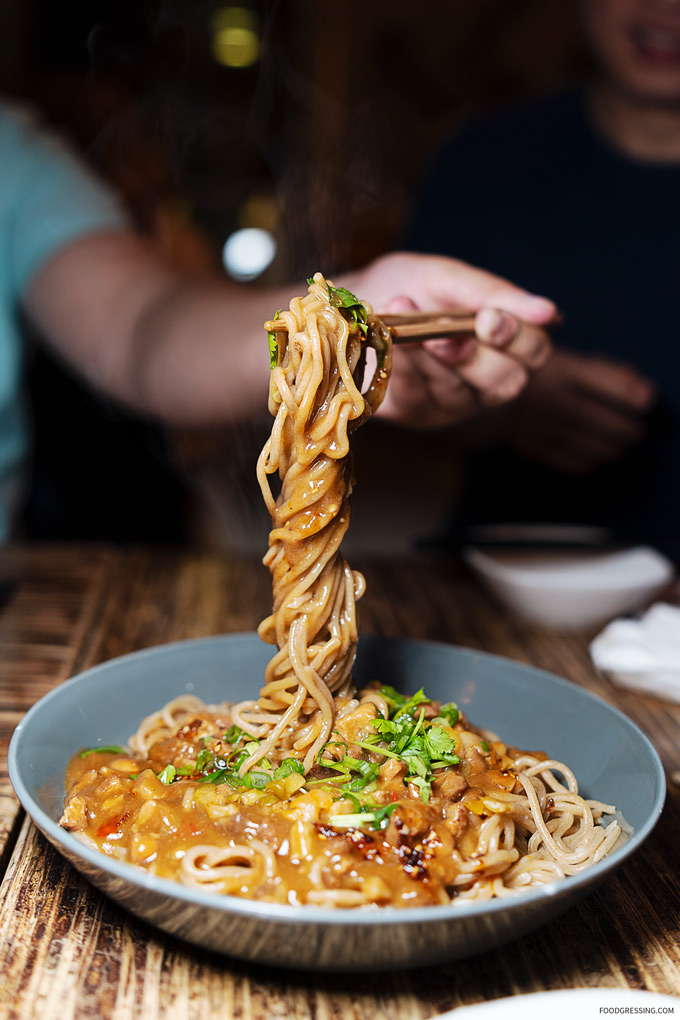 Steamed Black Sesame Cake, Quince, Matcha Milk
The steamed black sesame cake was very light and fluffy but the black sesame and matcha flavours were too subtle for me.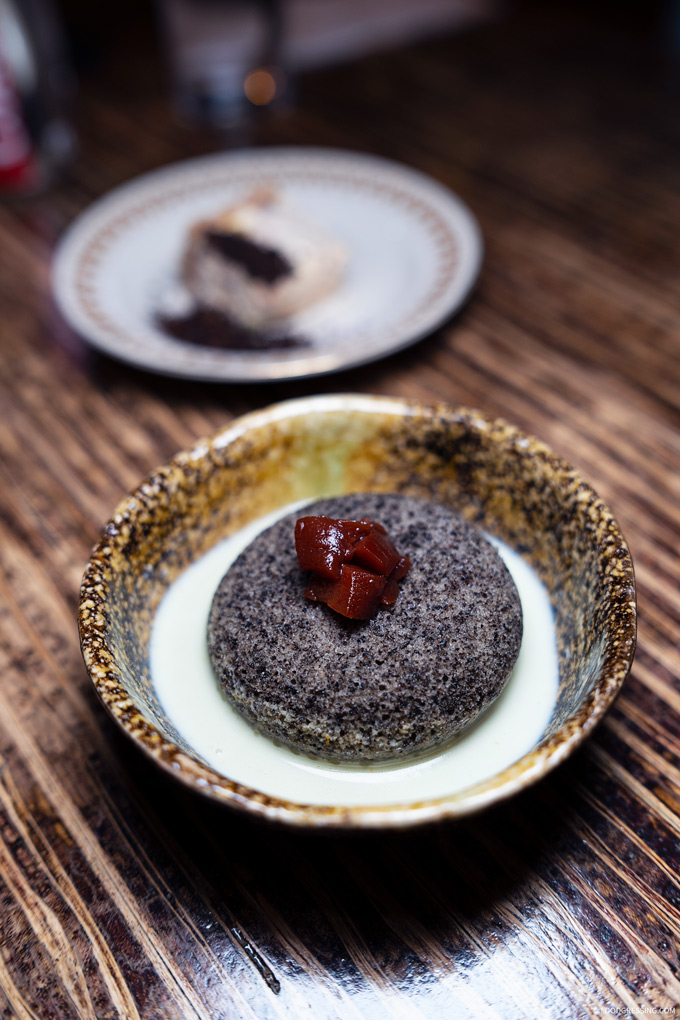 Red Bean & Yuzu Marble Cheesecake
Similarly, the marble cheesecake didn't have very pronounced red bean and yuzu flavours.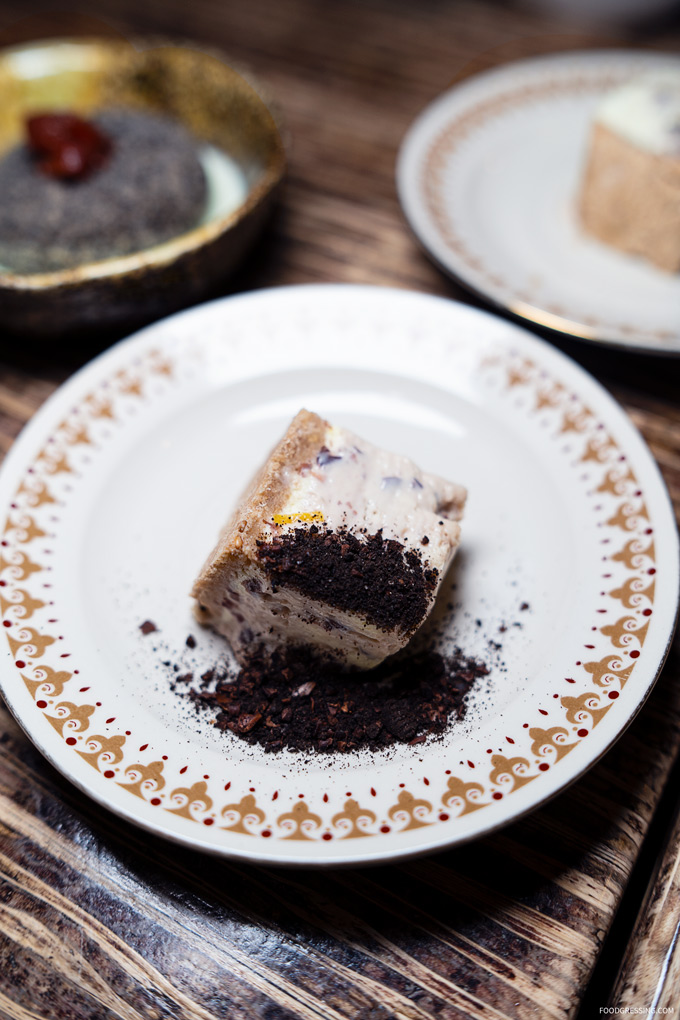 Ugly Dumpling vs Mak and Ming
The last time I tried a similar Japanese-influenced set menu (which is not sushi) was at Mak and Ming (see post here). I would say that Ugly Dumpling is more on the casual side with homestyle eats whereas Mak and Ming is modern fine dining. I thought that the dishes at Mak and Ming were somewhat more memorable than Ugly Dumpling.
Overall Impression of Ugly Dumpling
I thought that our omakase exerience at Ugly Dumpling was only OK because it was largely unmemorable despite having tried many of their dishes. I appreciated the simplicity, finesse and uniqueness of some of the farm-to-table ingredients but as a whole I couldn't find too much that really stood out to me.
If I had to pick out some notable moments, that would have to be the daily dumpling, the persimmon relish on the pate, the shirako (salmon sperm sac) with the steamed tofu and the 3-week aged whole quail.
All the dishes we had for the omakase are available a la carte. I would recommend trying the Daily Dumpling, the Tamarind Glazed Whole Lemon Sole and the 3-Week Aged Whole Quail.
Rating: 3.5/5
Ugly Dumpling
1590 Commercial Dr, Vancouver, BC
uglydumpling.ca