Mak N Ming is a new, modern fine dining restaurant in Kitsilano that serves cuisine with French and Japanese influences. They recently were nominated by Air Canada's Enroute Magazine to be one of Canada's top new restaurants. Kristina (drunkennoms.com) and I were curious about their menu so we decided to try them out recently for dinner.
\
Note: None of the food in this review was complimentary. This review is done anonymously.
Tasting Menus
Mak N Ming is chef-owned and operated by two chefs and husband and wife duo: Makoto Ono (Mak) and Amanda Cheng (Ming is her Chinese name). If you've dined at Gastown's Pidgin before (see review here), you might find an air of familiarity in the menu and ambiance at Mak N Ming. In fact, the two chefs formerly had worked there with Makoto in charge of the savoury and Amanda executing the pastry.
At Mak N Ming, there are only tasting menus: a 6-course one ($78) and a demi ($54). Both come with an amuse bouche and a plate of mignardise at the end. I must admit that the limited and higher-priced menu deterred me from visiting Mak N Ming until I found the right dining companion – the adventurous and amazing Kristina of drunkennoms.com – who was interested in doing the Chef's tasting menu as well.
Interior
The interior of Mak N Ming is small being just 850 square ft and accommodates up to 28 people. The design is minimalist but elegant and refined featuring wood, marble, and leather elements. The restaurant has no bar but there is a table in the centre of dining room which has wine glasses and wine chilled in galvanized tubs. This apparently was a clever design for a dining room that was too small for a bar.
The fact that they are offering a modern fine dining experience in the food hub of Cornwall and Yew makes them a bit of standout compared to the more casual pubs and eateries in the area. I mean, just across the street is Basil Pasta Bar which is known for cheap $10 pasta.
Chef's 6-course Menu
We started off with an amuse bouche that was very much like a corn fritter. I enjoyed the warm filling sandwiched between the light and crispy shell.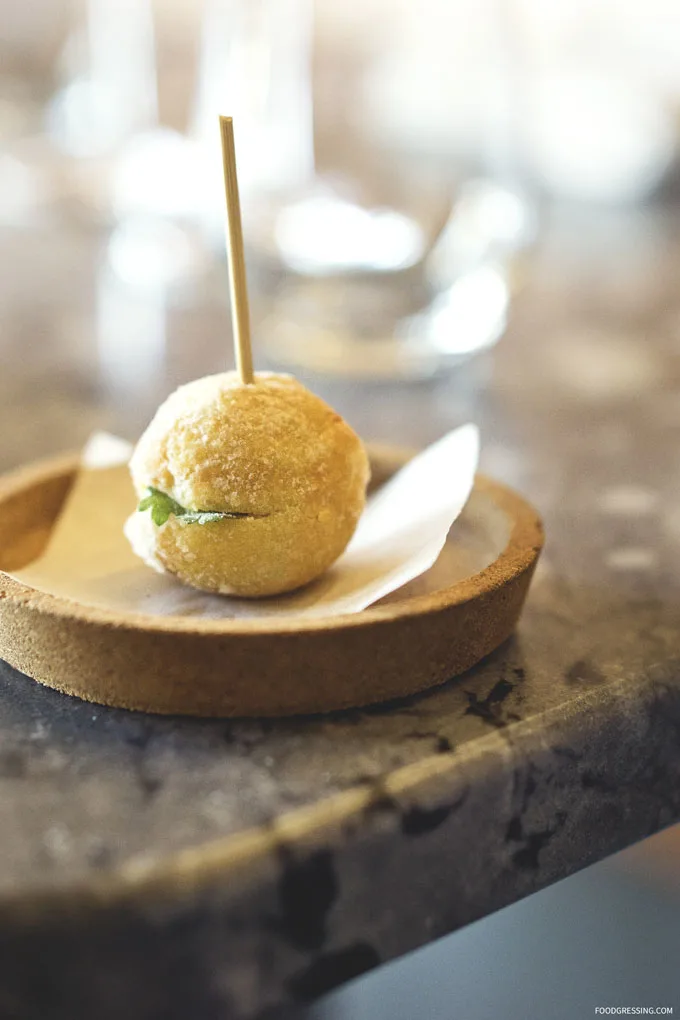 Next up was the New Zealand abalone which was tender yet still retained a nice amount of chewiness. The abalone was pre-cut into many slices that had a perfect thickness for eating. On the side was grated cucumber and black garlic sauce. For some added taste was sea salt which was placed underneath the abalone shell. The grated cucumber cleansed the palate from the sea salt and black garlic sauce.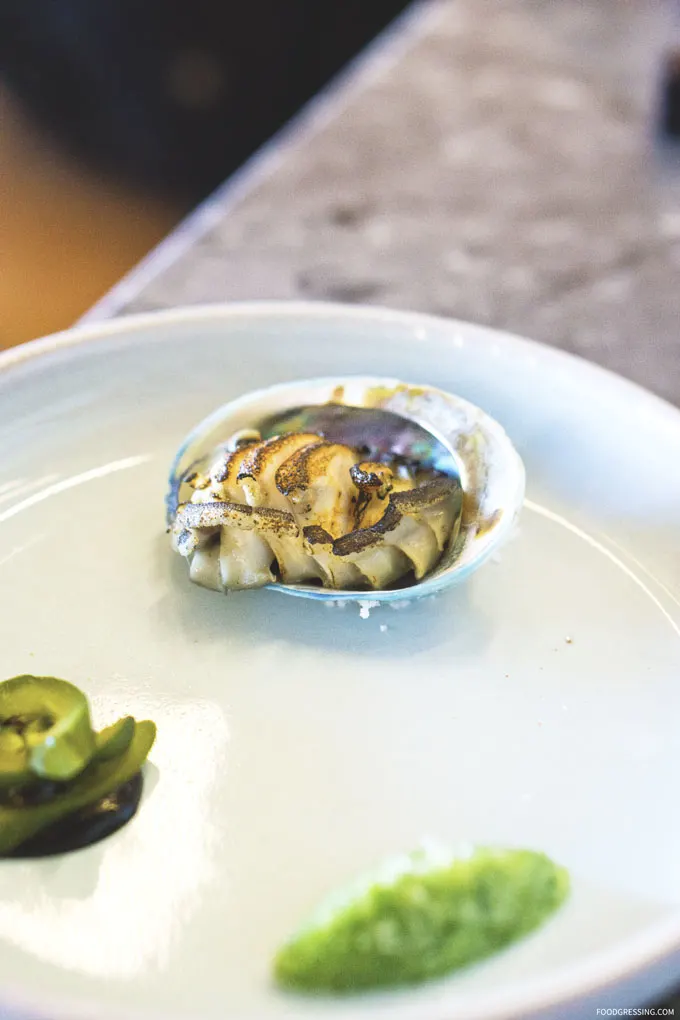 The third course was my favourite of the meal in terms of taste and presentation. The dish was Eggs and Green Peas featuring pea yogurt with crepe noodles topped with quail egg and tobiko. You needed to mix in the egg and sauces before eating. I loved the light and smoothness of the crepe noodles. The yogurt and egg added a creaminess to the dish. I enjoyed the textural contrast from the crunchy tobiko.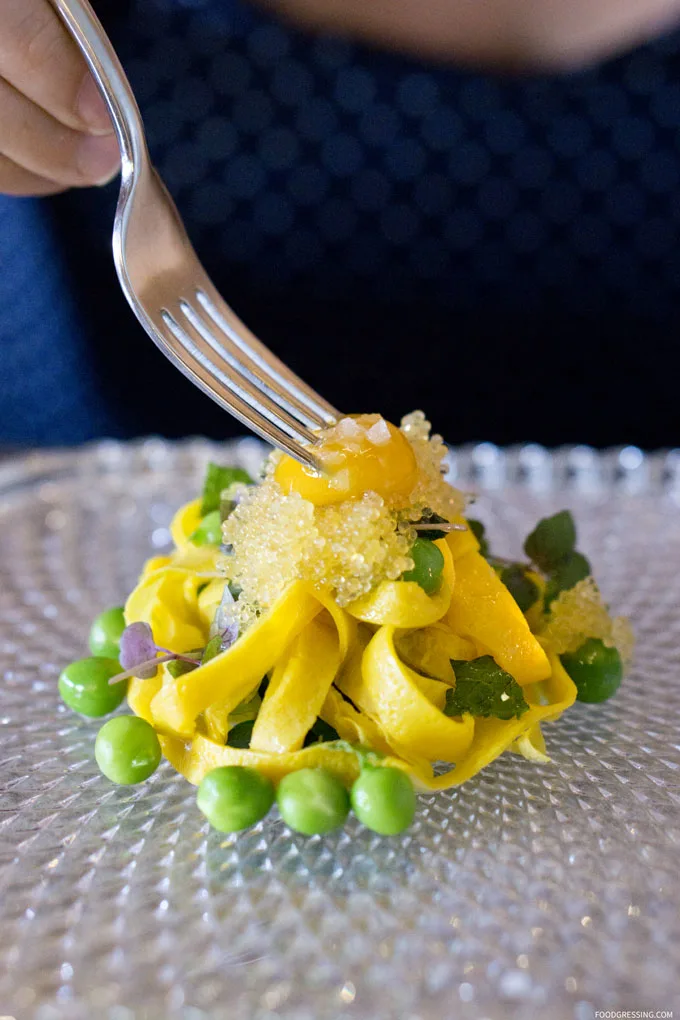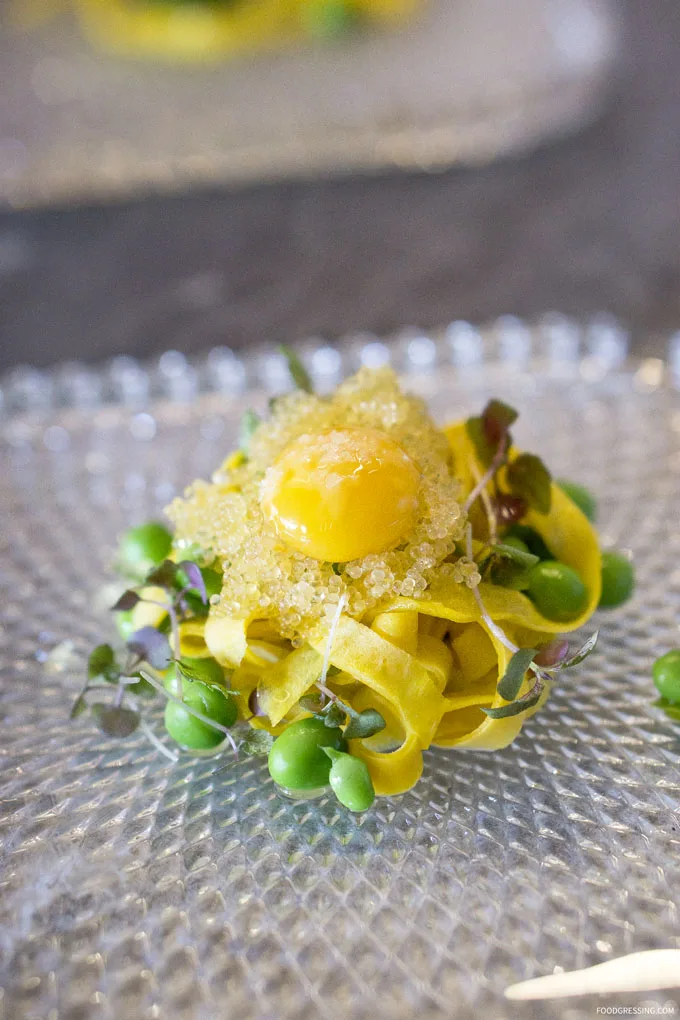 The Parmesan French-style bread with garlic aioli was a heavenly combination. The bread stick was light, crispy and could be dipped easily into the creamy, tangy, garlic aioli.
The black sesame glazed sablefish with lettuce on the side was an interesting dish. I must admit, not the most visually appealing of the dishes. I love a buttery, tender sablefish and this black sesame glazed one was delicious with a hint of nuttiness. The vegetable puree and lettuce cleansed the palate from the black sesame.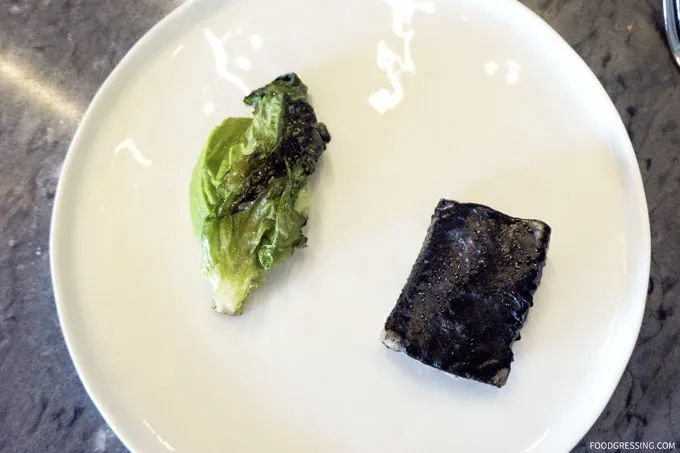 Moving on to starches, we had a bowl of crispy rice cooked in corn broth topped with ricotta, blanched corn, and crispy ginger. I can see that Chef tried hard with this dish but it didn't resonate with me. In my opinion, corn with rice doesn't seem inventive enough for me and lended more like "peasant cuisine" rather than fine dining. It helped fill me up but this rice bowl certainly wasn't a favourite of mine.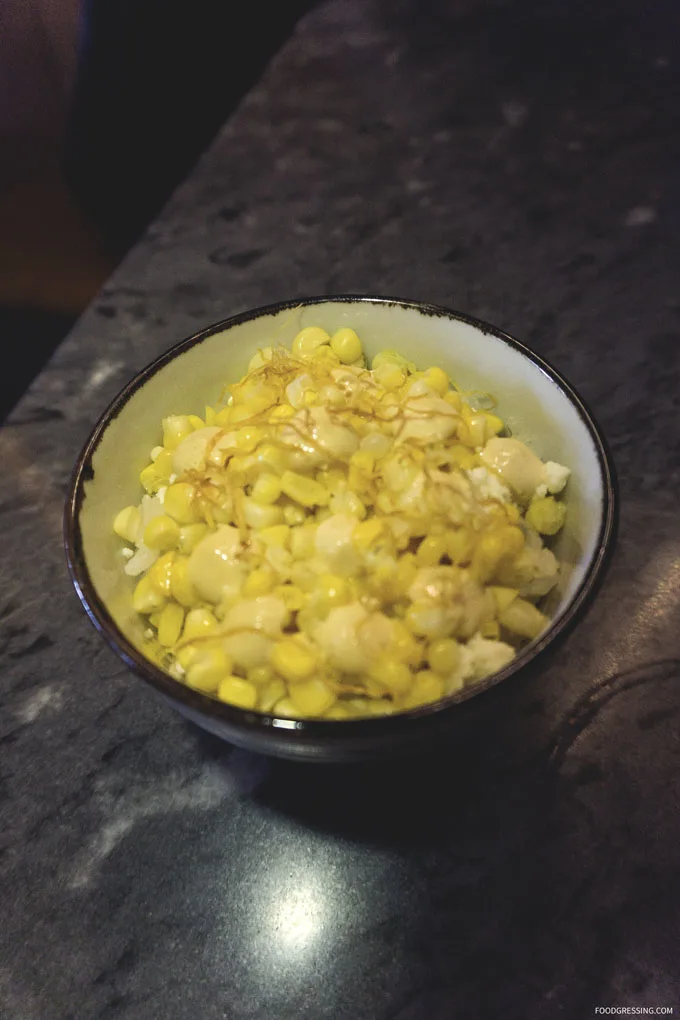 One of the desserts we had was the pickled blueberries with soft meringue and honeycomb. Now as a dessert fan, I was really expecting something more visiually appealing for dessert. So when we received a bowl of yogurt with blueberries, I wasn't terribly excited. I thought the meringue and honeycomb were nice touches but felt the dessert needed more effort particulary the presentation part.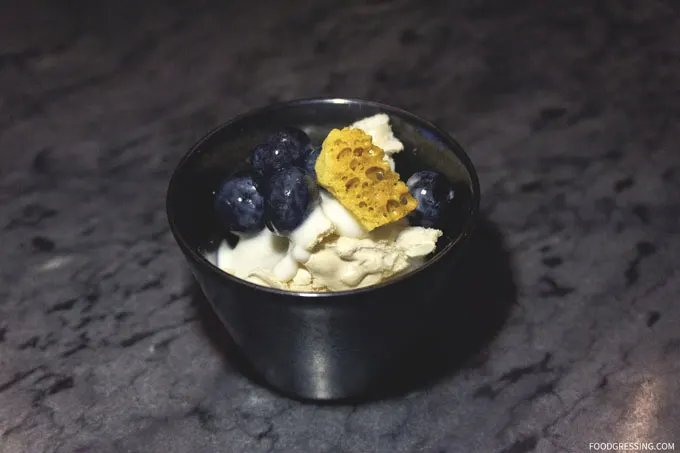 The Summer Peach, a deconstructed dessert, faired slightly better in my opinion. The dish featured a cardamom poached peach with vanilla cream and pate brissee. The pate brisee was insanely delicious being rich, buttery, crispy yet still crumbly. The peach was bursting with flavour and very tender and juicy. The vanilla cream was lusciously smooth and creamy.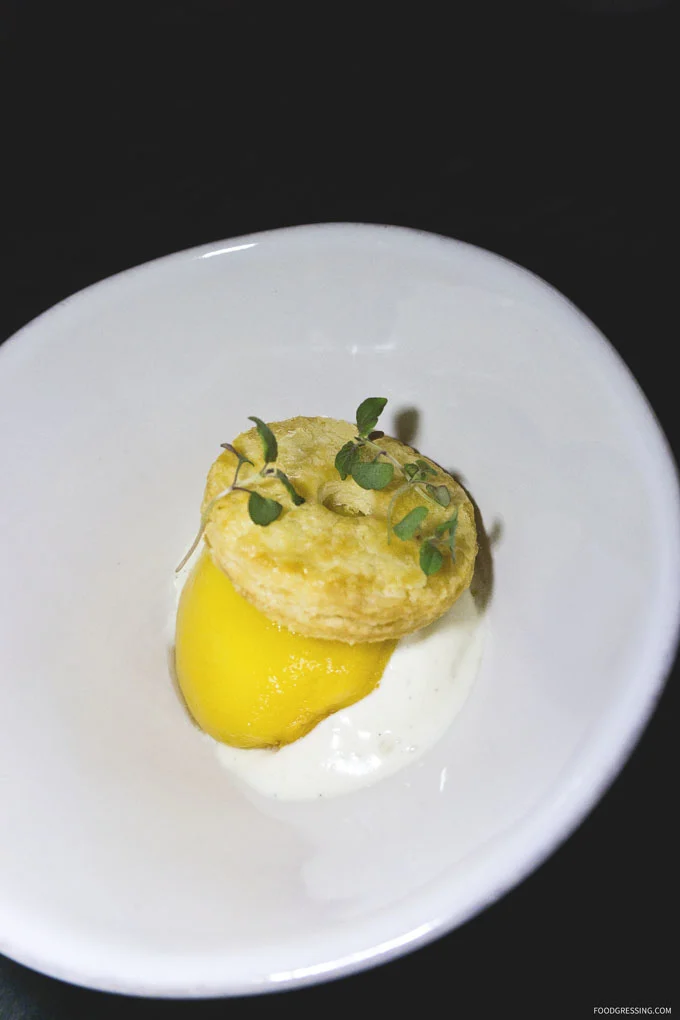 The plate of mignardise featured a blueberry financier, plum gelee and chocolate with malted chocolate ganache.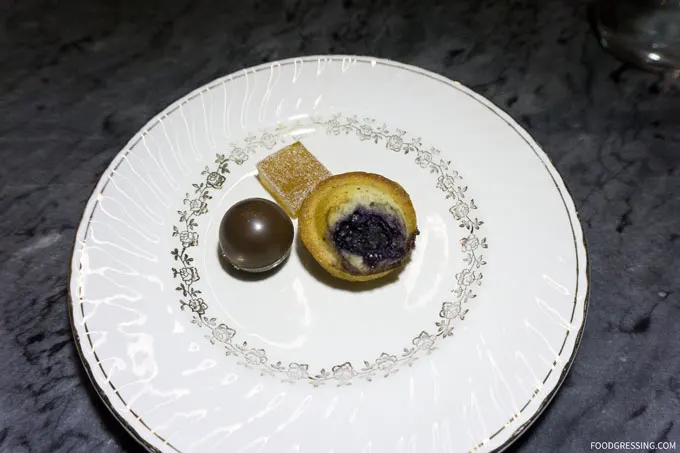 Overall Impression of Mak N Ming
In general, I thought the dishes tasted good overall and the flavours went well with each other from course to course. However, some of the dishes were just too simple for my liking like rice and corn and blueberry with yogurt. Unfortunately, the Chef's tasting menu at Mak N Ming didn't impress me as much as I had hoped. The flavours seemed to have depth but the presentation was too simple and were generally not very visually appealing. My favourites of the Chef's Tasting Menu were the New Zealand Abalone, Eggs and Green Peas, and Summer Peach. Rating: 3.5/5
Mak N Ming
Address: 1629 Yew Street, Vancouver, BC
Website: www.maknming.com/‎
References