In Vancouver, it is well-known that there are many Chinese restaurants. But, where does one go for an authentic Chinese fine dining experience? Located right on the waterfront of False Creek North, Chang'an offers customers Northern Chinese style cuisine from the Shaanxi province. Chang'an has also received accolades locally as they were awarded "Best Fine Dining" by diners in 2015 for the Chinese Restaurant Awards.
Disclaimer: All items in this review were complimentary. Opinions are my own.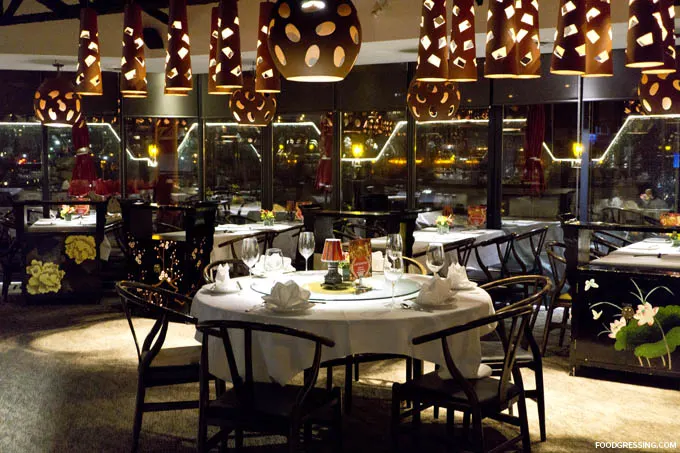 Chang'an is owned and operated by the China Folks Restaurant Group. While they own and run several fine dining restaurants in China, this location is their first foray into the International market. Their clientele are typically the wealthy from Mainland China. At Chang'an, noodles and vegetables dishes typically range from $15 to $22 while specialty plates are between $28 to $98.
An Elegant Dining Experience
With magnificient waterfront views of Granville Island and False Creek, Chang'an is truly unique in its location. The Asian-themed decor is elegant and charming and at night the dim lighting sets a cozy and romantic ambiance.
Clay sculptures are placed throughout the restaurant and they portray local customs and traditions of the Qinchuan region.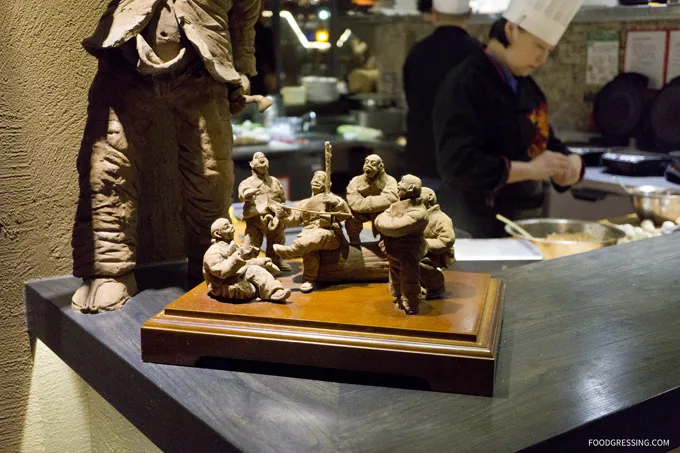 What I Tried
Last month, I was invited by Chinesebites.com for a menu tasting consisting of 21 dishes. We started off with a bread appetizer – the guo kui pita eaten with a spicy bean mixture.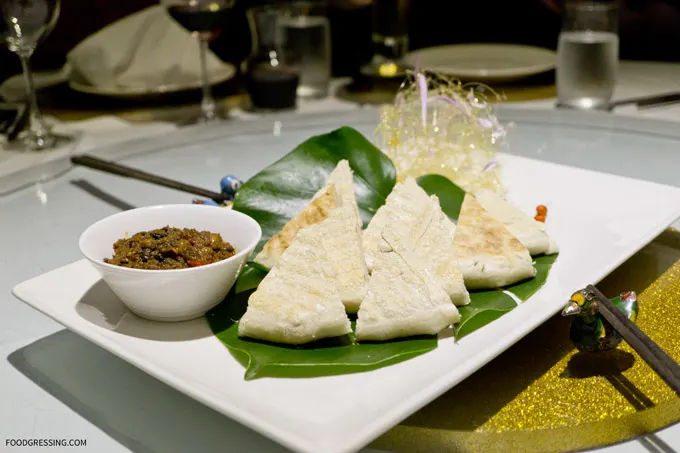 Next up was a four-item appetizer platter that included tossed cilantro, scallion and red peanut salad; marinated mushroom, crispy beef tongue, and honey grapefruit spare ribs. The marinated mushrooms were wonderfully flavourful while the salad was refreshing. The crispy beef tongue was the least appetizing with it being too oily. The spare ribs fell nicely off the bone and had a nice sweet and sour taste.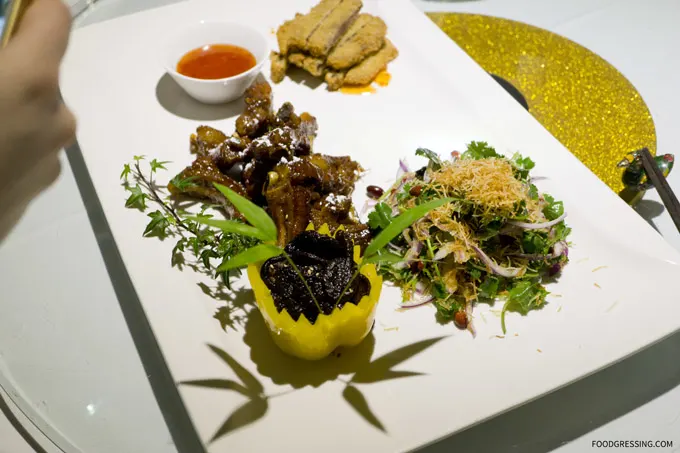 The Chang'an Roasted Duck, a signature dish, was a real treat. It is a reservation-only dish using Grade A ducks which are processed for 72 hours and roasted in-house for over an hour. Chang'an is not taking shortcuts compared to most restaurants that purchase their ducks from BBQ shops and just re-fry them prior to serving. Chang'an schedules the cooking process according to your time of reservation to ensure optimal tenderness of the meat and crispiness of the skin. The duck skin is eaten with brown sugar while the duck meat is eaten with hand-made flour wrappers and sides like hoisin sauce with cucumbers, strawberry sauce with pears. A truly magnificent and delicious dish. The second course of the roasted duck was the 5 spice duck ribs.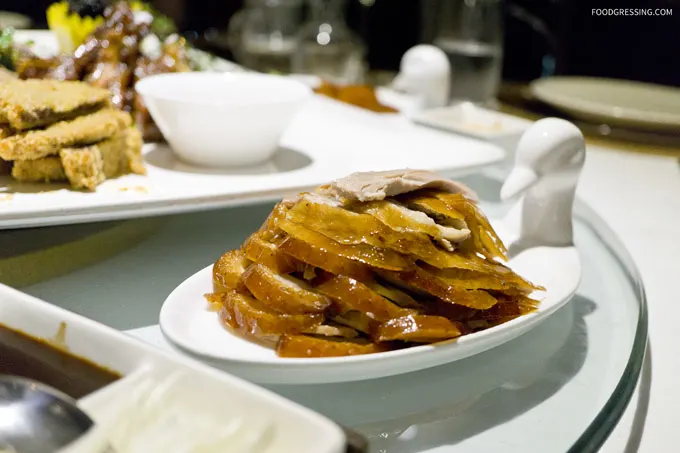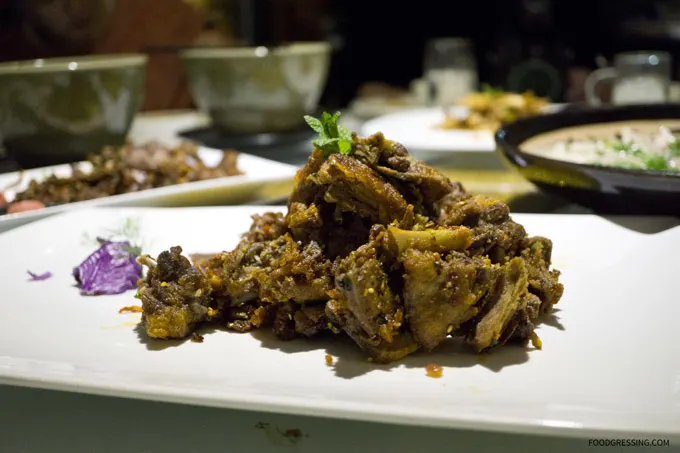 The braised cucumber was an delicacy that I very much enjoyed. The appeal in this dish is in the texture rather than taste – which is somewhere between firm and jelly-like. The sea cucumber was braised for 48 hours with 20 different herbs and spices. At $50 a dish, the braised cucumber was a fine indulgence that I would gladly have more of.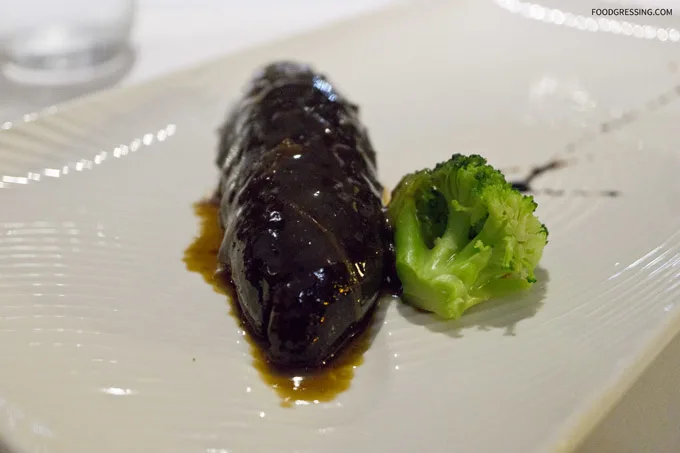 The Imperial sweet and sour soup was fit for royalty. Presented in an tall golden bowl, the soup definitely had fire under it such that it was a bit overwhelming for me. It was served with a Chinese donut that was very chewy.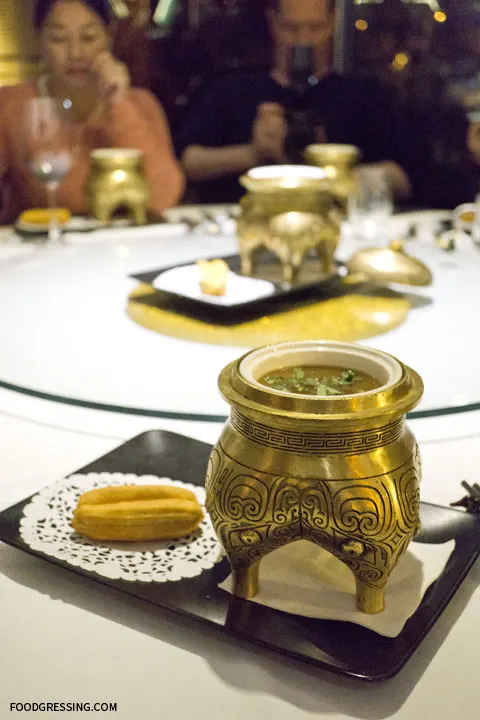 The house fried chili lobster was most definitely mouthwatering and came with a surprising side – crinkle cut fries! The lobster meat was tender and was easily extracted from the shells.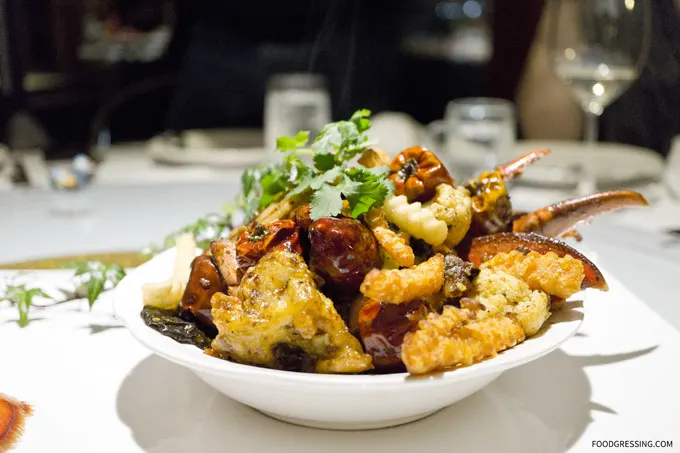 The Chang'an Gourd Chicken was a wonderfully crispy deep-fried delight.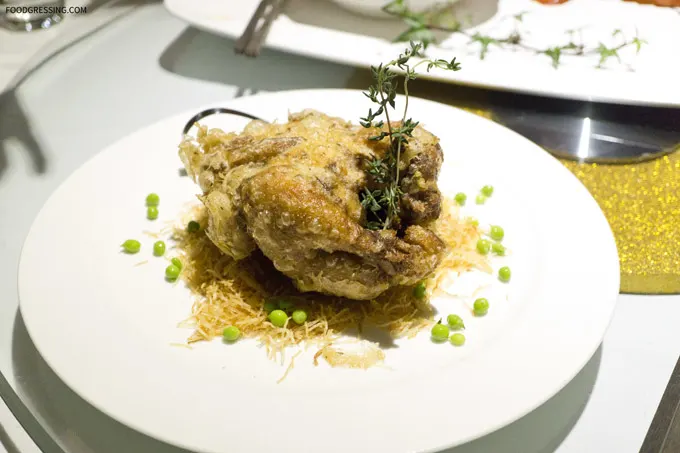 The Szechwan Peppercorn Sliced Beef was served in a stainless steel bowl within a tall wooden vessel. A spicy and flavourful dish with tofu noodles.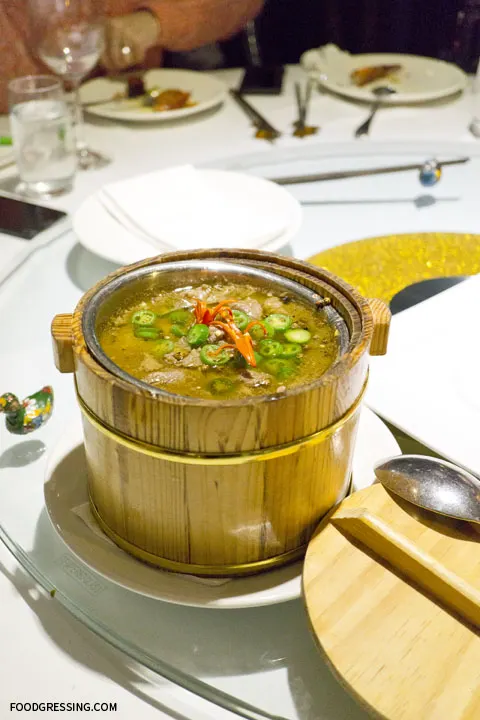 I loved the flavours of the Sweet & Sour Lychee & Prawns in a puff pastry. I thought that they lychee flavours really came through. I would have not thought of it be such a delicious pairing with prawns.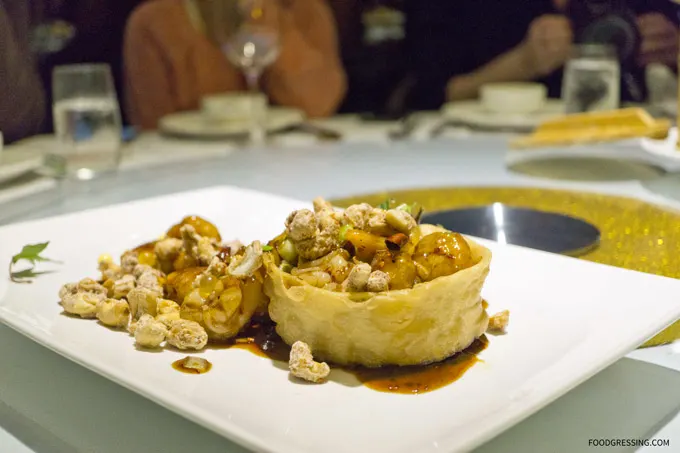 The Qin Style Roast Lamb Leg was another favourite of mine with tender, flavourful meat. Served on a two-tier plate stand, it was a comforting dish. The meat was eaten with a crispy flatbread pocket with sesame seeds.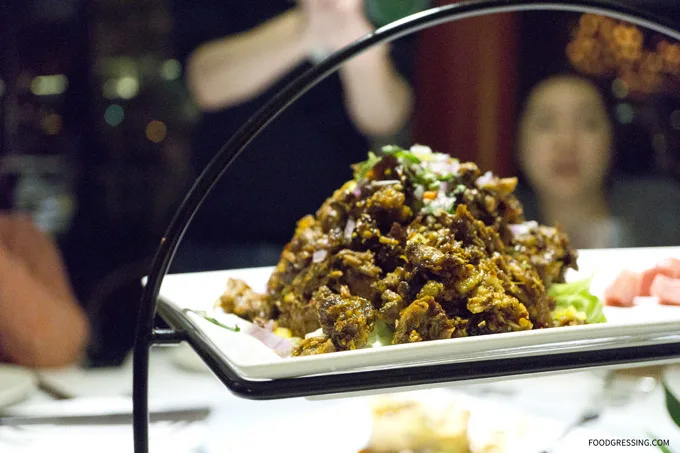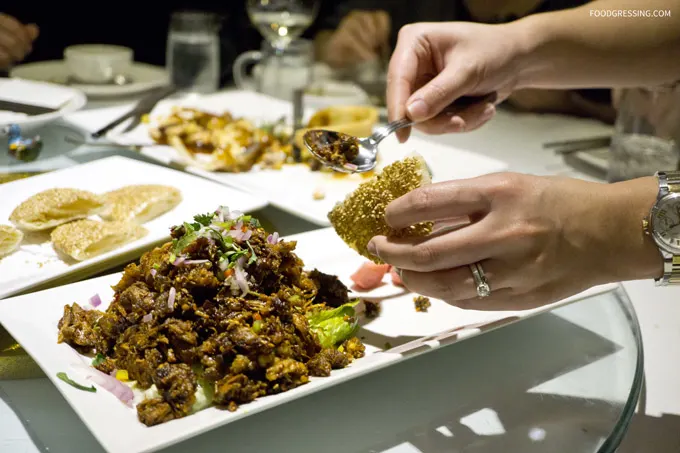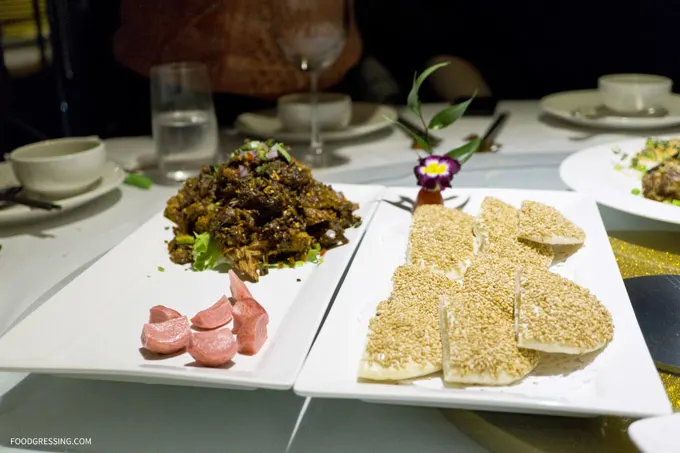 The next two were noodle dishes. First was the Three Sauce Noodle with minced beef, tomato, egg, celery, carrot, potato and tofu. This was followed by the Biang Biang Noodles, with thick noodles and Shaanxi special hot chili sauce. Both were good but nothing too memorable.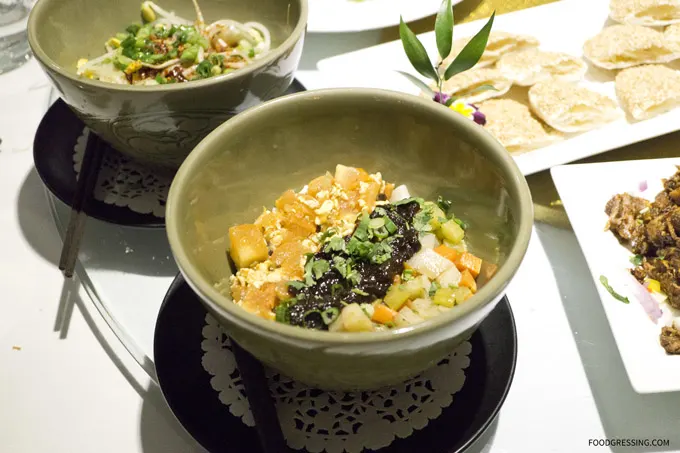 The Braised Whole Chili & Spring Onion Cod was a surprising hit. The cod meat was melt-in-your-mouth good while the broth was pleasantly spicy.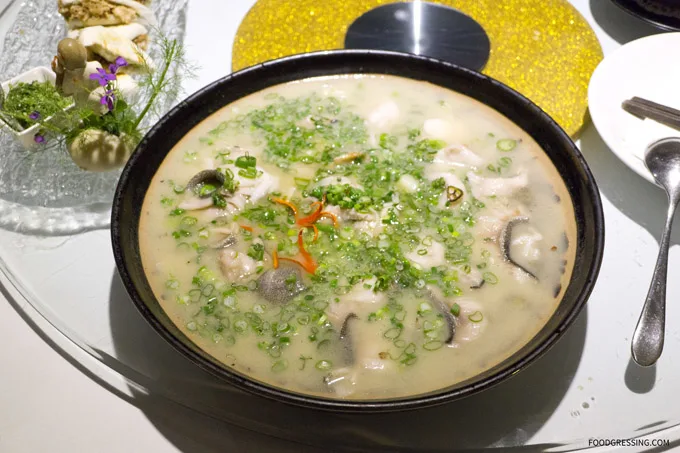 The Pork Belly Mini Sliders were presented in a long dish with a Chinese figurine. The pork belly was stewed in slow heat in a sauce containing over 20 spices and ingredients added to it, such as clove, nutmeg, ginger and cooking wine.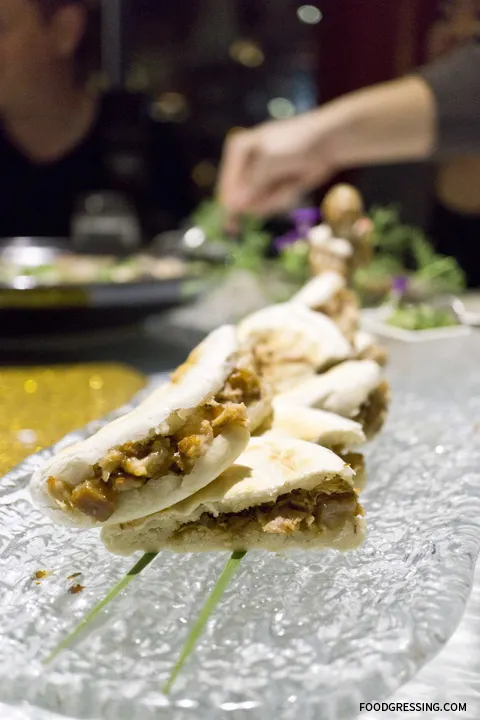 The King Mushroom Casserole was an elegantly presented dish that was simple in flavours but still delicious.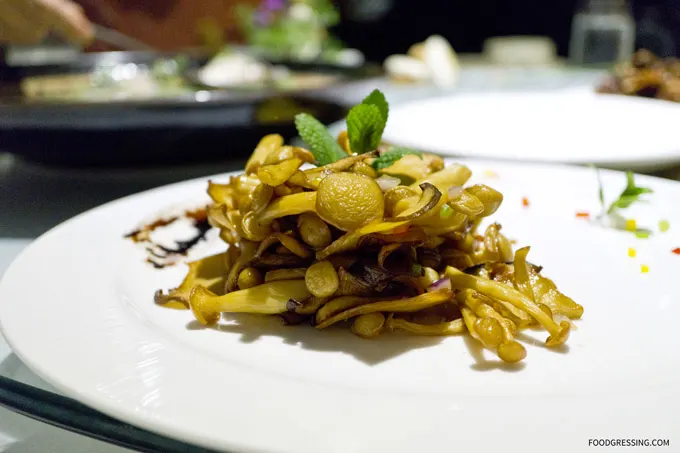 To finish off the feast, we received what I would call Chinese petit fours: yellow bean cake and red bean cake. Both cakes provided a lovely change of taste from our flavourful dinner.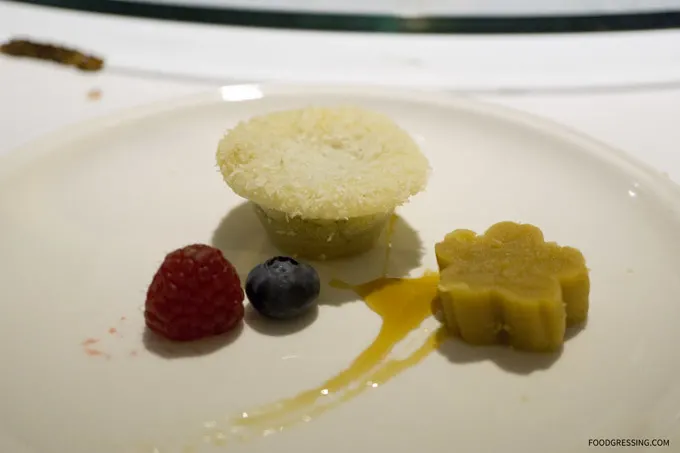 Overall Impression of Chang'an
My recommended dish at Chang'an is their carefully prepared signature Chang'an roasted duck. Other dishes I enjoyed were the house special fried chili lobster, Qin style roasted lamb leg, sweet & sour Lychee and prawns, and braised whole chili and spring onion cod. All in all, prices on the higher end but flavours were great. Rating: 4/5